Buchanan, MI
RedBud
Lucas Oil AMA Pro Motocross Championship
Former Grand Prix regular Jake Nicholls made his Lucas Oil Pro Motocross debut at RedBud over the weekend and went 9-13 for tenth overall in the 450 Class. Nicholls, who no longer races the FIM Motocross World Championship, currently leads the Maxxis British Motocross Championship in MX1 and also raced a Canadian National earlier this year, where he finished third overall.
Nicholls ventured over in hopes of landing a spot on Team Great Britain for the Motocross of Nations later this year at RedBud. Steve Matthes spoke with him after the race to get his thoughts on the weekend.
Racer X: Tenth overall. That's got to be feeling good. You wanted to get on Des Nations [team]. You wanted to come here. Spending your money to be here. I think you got to be happy with the day.
Jake Nicholls: Yeah, it was good. The first race was good. I had a really good start, and then when Marvin [Musquin] crashed, I was kind of, like, stuck because I had no choice but to go around him. I came through and rode pretty strong to the end. I was kind of tired with five minutes to go, and then I got a rhythm again at the end. Ninth was cool. It was good. I had so many messages and people from home because I guess it's obviously the most followed series. So that was nice. Then second race I had a bit of a crap start, and then came through. I think I just got into ninth and slipped off and just struggled so much to get my rhythm again. It was one of those tracks it wasn't quite as nice as I expected.
Like rough?
Yeah, it was more just like ruts everywhere, and the ruts were pretty shitty.
That's what we do in America. We water the shit out of them and we disc it like six feet deep. Almost every track is like that.
But I've watched it over and over on videos and it normally looks a bit nicer, like you can just let the bike eat in places. But today it was real sort of nitpicky and the ruts weren't that nice. But I really enjoyed it. I didn't jump LaRocco's Leap all morning. Neither practice I didn't do it, so I was like, shit.
That's really sketchy, by the way—just doing it in the motos.
So I just came around on the sighting lap and looked to my left and the top couple of guys did it, so I was like, right. Fuck it. If I don't do it now, then I don't deserve to have a good result. I overjumped it by about five bike lengths and was like, right, that's it. Done. Tick that one off the list. I made it hard for myself.
In '03, Red Dog never jumped it all day until the first lap of the first moto.
Yeah, I wasn't far off that.
That's awesome, man. Did you think that Eli Tomac was playing a game with you in the second moto? He crashed, he went by you, he crashed, he went in the mechanics' area. He was right around your spot.
I thought we were battling. I was hoping for a bit of TV time. It was a bit confusing what he was up to. I was kind of in my little area and then he was yo-yo-ing about.
Both motos it looked like you were battling a little bit with Cody Cooper, with a guy you were parked next to and a friend of yours.
Yeah, it was cool. The first race we had a good battle, then I got away. Second race I was winning until I crashed, so it was the same. It would have been probably a good battle. That was cool. It's quite cool we can turn up and just walk up and pay your entry and crack on with some of the best riders in the world. It was cool.
How'd you find the qualifying? We talked about it beforehand. You just got to pin it.
I loved it. Honestly, it was exactly as I thought. Just second, third lap, you just go. I much prefer it like that, honestly. It's so much better than the GPs, where you just fuck around for ages and ages. So I really liked it.
Then you got a Sunday morning warmup that means nothing. It's super weird.
But then they also hang out. It's like, what is the point in it? I really like the schedule. I think it's great. We can piss off home now. I really enjoyed my day. It was still a bit hot for me, even though it was not humid. Second race I was a bit like, whoa.
Cool deal, though. Third in Canada and you come here and you're top ten overall. You're leading your series back home. Really neat little schedule you got going on.
Yeah, it's cool. My dad just put a picture on Instagram. He's just learning all that stuff. He was like, "Raced in America today and got tenth overall and he was at work on Monday." I am a part-timer. So it was cool, just ticking things off the list. Making friends along the way. I've met loads of people. Just enjoying myself.
Thanks to Ryan Lockhart of the Ryan Lockhart Athlete Management company and GDR for this.
Massive thanks. You have Luth and GDR. Derek Diggs has just hooked us up. We've got a truck and a trailer, a bike, a spare bike from nothing. He's not getting anything out of it, but it's just a good bloke. I really appreciate that. Hopefully I can race for them again before the end of the season and maybe help Colton [Facciotti] win a championship, I don't know.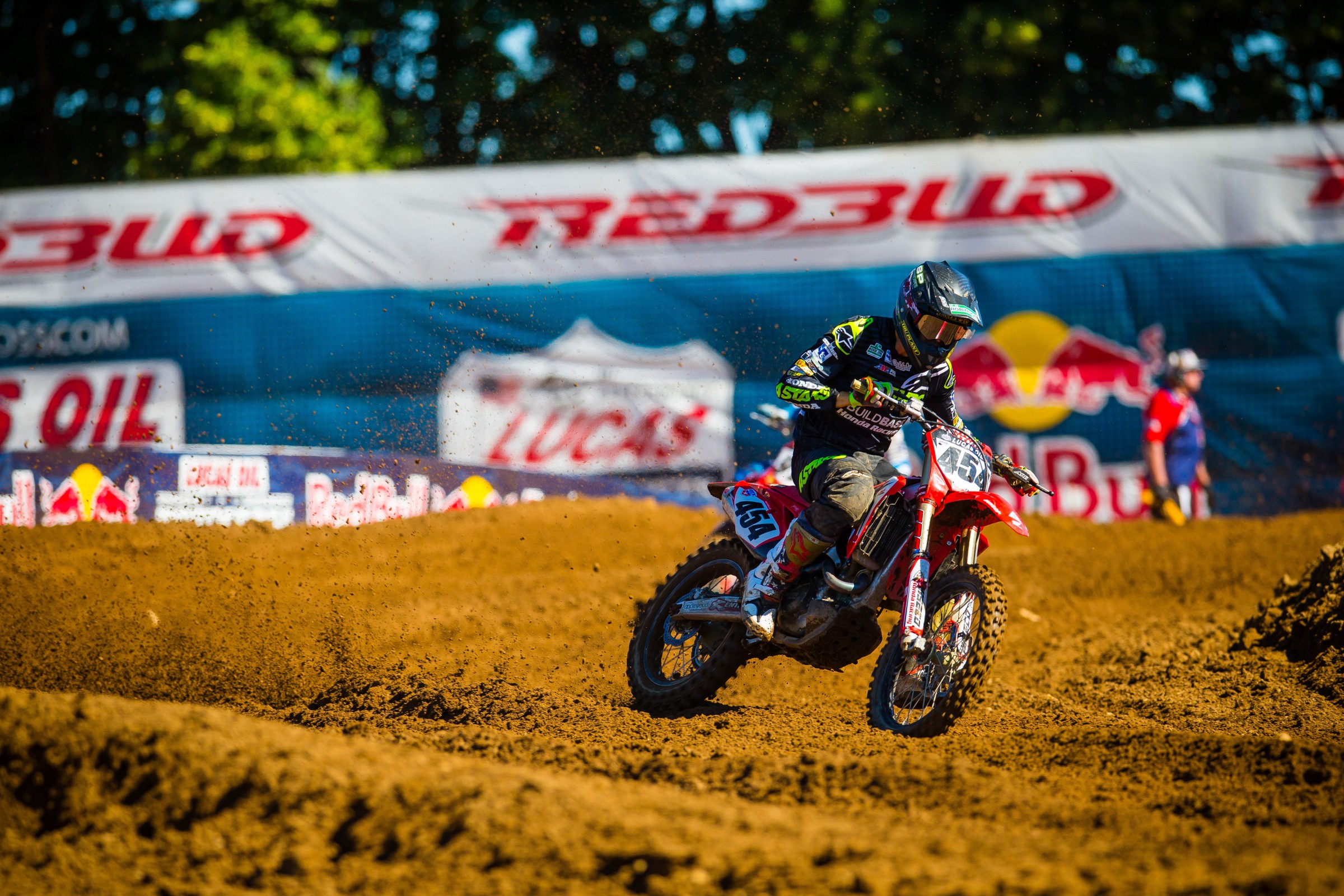 Are we breaking news here? You might come back?
Yeah, there's a possibility. They've talked about it. I've got two or three weeks free at the end of August, so maybe I'll do Ironman as well because it's the week after Walton, I think. Just good people. I like being here. I can get a little bit of time off and just do it. I'm 28. I won't race for the rest—I've only got so long. Just enjoying it.
Do you think we did enough to get on the Great Britain team here? Do you think we impressed enough?
I think so. I think second race wasn't the best, but I think I showed that I'm there and I've got my bike set up. I've got an idea to make it better for here. It's always difficult coming into a domestic championship. If any of these Americans, apart from maybe the top three, came into our national championship, would probably get pushed. That's just how it is. I'm pleased with that. I think I deserve a spot, but it is what it is.