Buchanan, MI
RedBud
AMA Pro Motocross Championship
REEEDDDBUDDDDD! If you have ever been to this race, you know what I am talking about. No other national on the calendar has the atmosphere that RedBud's Fourth of July race carries. It's an American tradition, and with the Motocross of Nations looming in October, this is a great warmup for fans and riders alike.
Red Bud Track 'N Trail, located in Buchanan, Michigan, is just a stone's throw from historic Notre Dame University in South Bend, Indiana. Most of the industry stays in South Bend, often at a Notre Dame-affiliated hotel. The college town feel always added a bit of flair to the event, as I grew up in Gainesville, Florida, another town devoted to college life (and Morgantown, West Virginia, the Racer X HQ, should be noted here, too, as another). I would often jog through the Notre Dame campus and imagine it being only a few months later with football season in full swing, but alas, the national is in July and football is still on the horizon.
Meanwhile, out at the track, the party will be raging. People pour in by the thousands ready for an Independence Day celebration. The camping areas are full of fans and amateur racers, all wanting to enjoy the weekend. There are amateur races going on, too, as if there wasn't enough excitement to go around.
As for the pro track, this is one of the best of the year. Twenty years ago, RedBud was hard packed and extremely slippery by the end of the afternoon. There's a lot of sand on the far corner of the property, though, and more and more of it has been brought over to the track to soften up the soil and add traction. The track now boasts some of the best dirt of the year and one of the most enjoyable layouts. Winding up and down a hillside before "crossing sides," there is a lot of racetrack to see and figure out for the riders.
One of the most critical aspects of RedBud is finding good passing lines. Most of the turns funnel into one or two viable options, so watch for riders to fan out down the straightaways, hoping to beat their competitor to the inside rut. They will then follow through the next turn and fan out again, often veering to the outer extremes of the track to avoid bumps and brake late into the turn. We have seen incidents stemming from coming back together when lines converge. Jason Anderson and Blake Baggett found themselves in this scenario last year and it cost Baggett a chance at the title. It's always a unique variable to keep an eye on for this race.
It's impossible to talk about RedBud without mentioning LaRocco's Leap. One of the biggest jumps to ever arrive on the Lucas Oil Pro Motocross scene, it has changed several times over the years. I jumped it when it was incredibly easy a la 2002, and I have also jumped it when 450s needed every bit of power and luck they could muster a la 2003. The variation can come from rain, the corner layout leading up to the jump, and the angle of the takeoff or height of the landing. The modern 450 is so powerful that we don't typically see any struggle these days, but the 250 can still get dicey if things aren't perfect. Watch for any mistakes in the corner before as riders have a split-second decision to make: leave the throttle on and hope for the best or let off, living to see another lap.
As for the bike setup, there are two critical aspects. First, riders will need to make sure they are able to push hard down the hills into very rough braking zones. RedBud's sand addition creates huge braking bumps, and if riders can't push through them, they will crash or be passed consistently in these sections. The other big point of emphasis is the sand rollers. The long set of rollers just after "crossing sides" is a difficult section that steadily gets tougher as the day grows long. We usually see at least one good crash here during the day, and everyone is hoping it's the other guy that gets bitten. These sand rollers also present a good passing spot, as many will try to slingshot around the outside of the prior turn and blast pass their rival by the end of the chute. It takes full commitment to make the move, but it's one we have seen work year in and year out.
Questions I Want Answered
Can Alex Martin use his expertise at the next two rounds to reel in AP23?
Who will make an impression at RedBud with MXoN looming?
Will Ken Roczen find any more improvement this summer?
How much can Justin Bogle and Cooper Webb improve in one week?
Can Mitchell Harrison repeat his 2017 RedBud magic?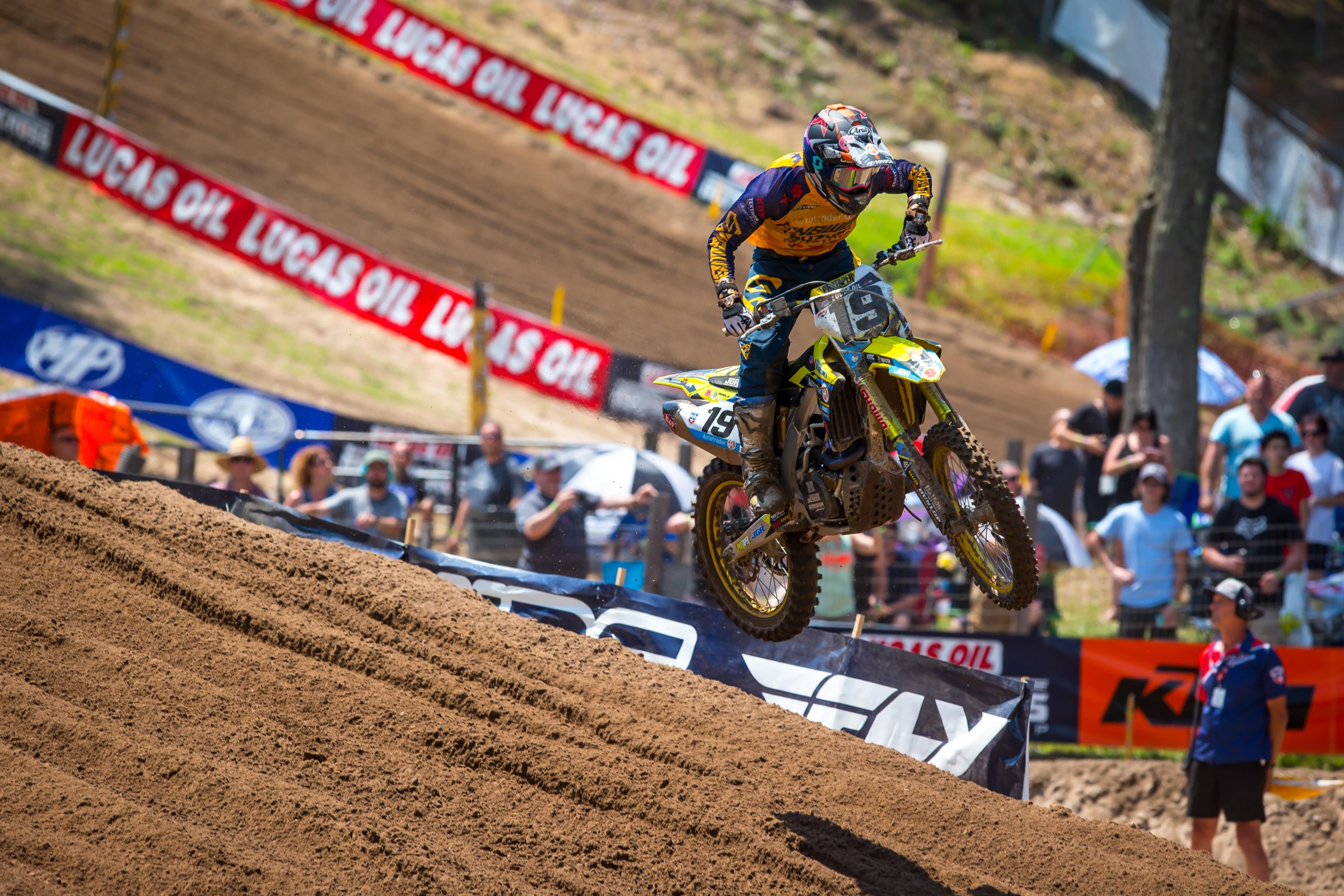 Who's Hot
Marvin Musquin grabbed his first overall of the season over Eli Tomac. He may not have been the fastest of the two, but sometimes patience pays dividends.
Lorenzo Locurcio put in a strong 7-7 ride, beating up on a few factory guys.
Dylan Ferrandis won the first overall of his career and also took his second moto win in consecutive weekends.
Austin Forkner didn't get the final result he wanted, but he was great all day.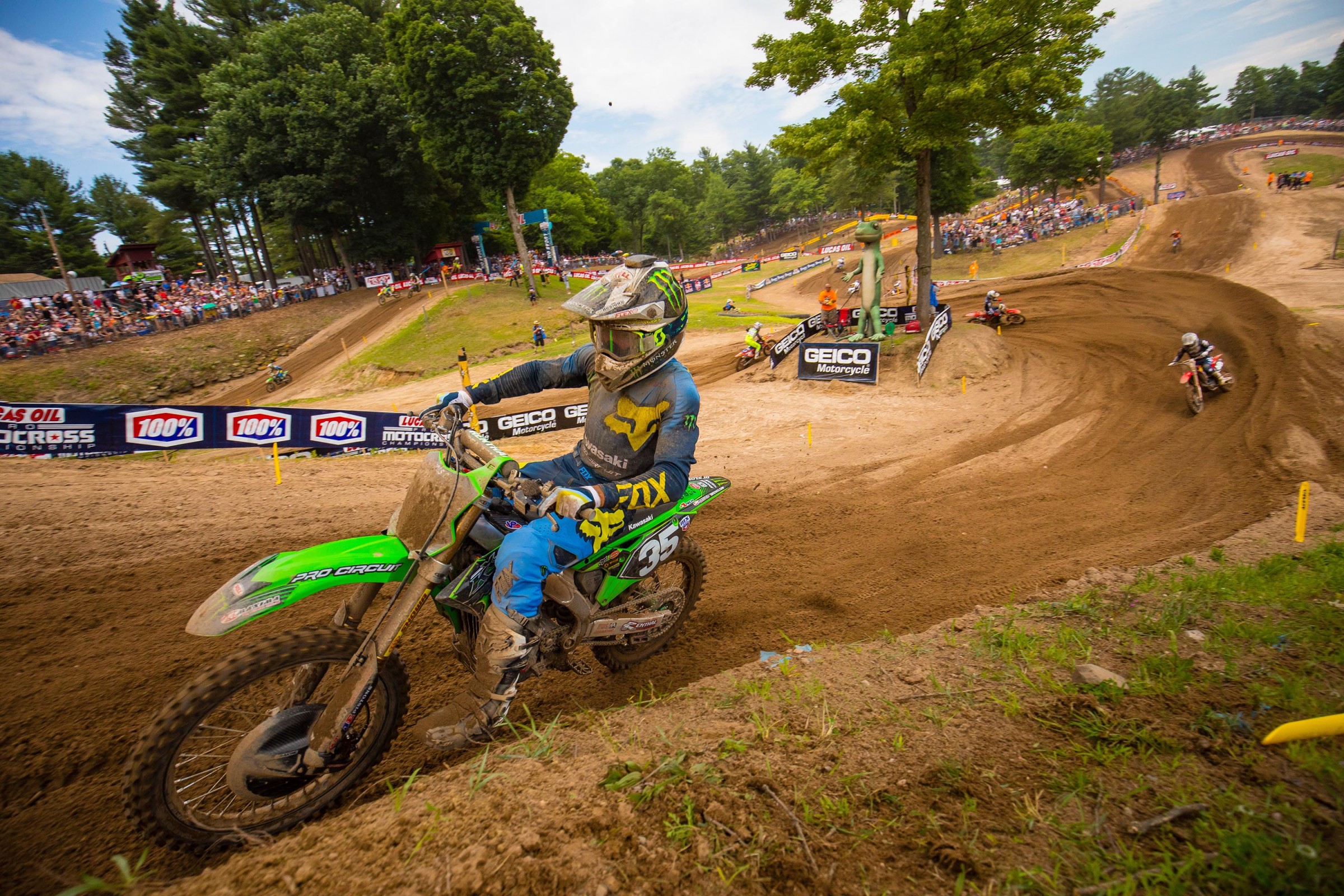 Who's Not
Justin Cooper crashed in both Southwick motos and has lost big points in three consecutive motos. His riding is incredibly good, but mistakes are killing his chances.
Aaron Plessinger has the points lead, but has struggled to find his best form over the last four motos. Things could certainly be worse, but if he had been able to throw a couple of 25-point scores on the board, this series could be virtually over already.
Jimmy Decotis had a rough day at his hometown national. He ripped (get it?) a good start in the first moto, but just couldn't seem to find the pace. The second moto wasn't much better and ended early.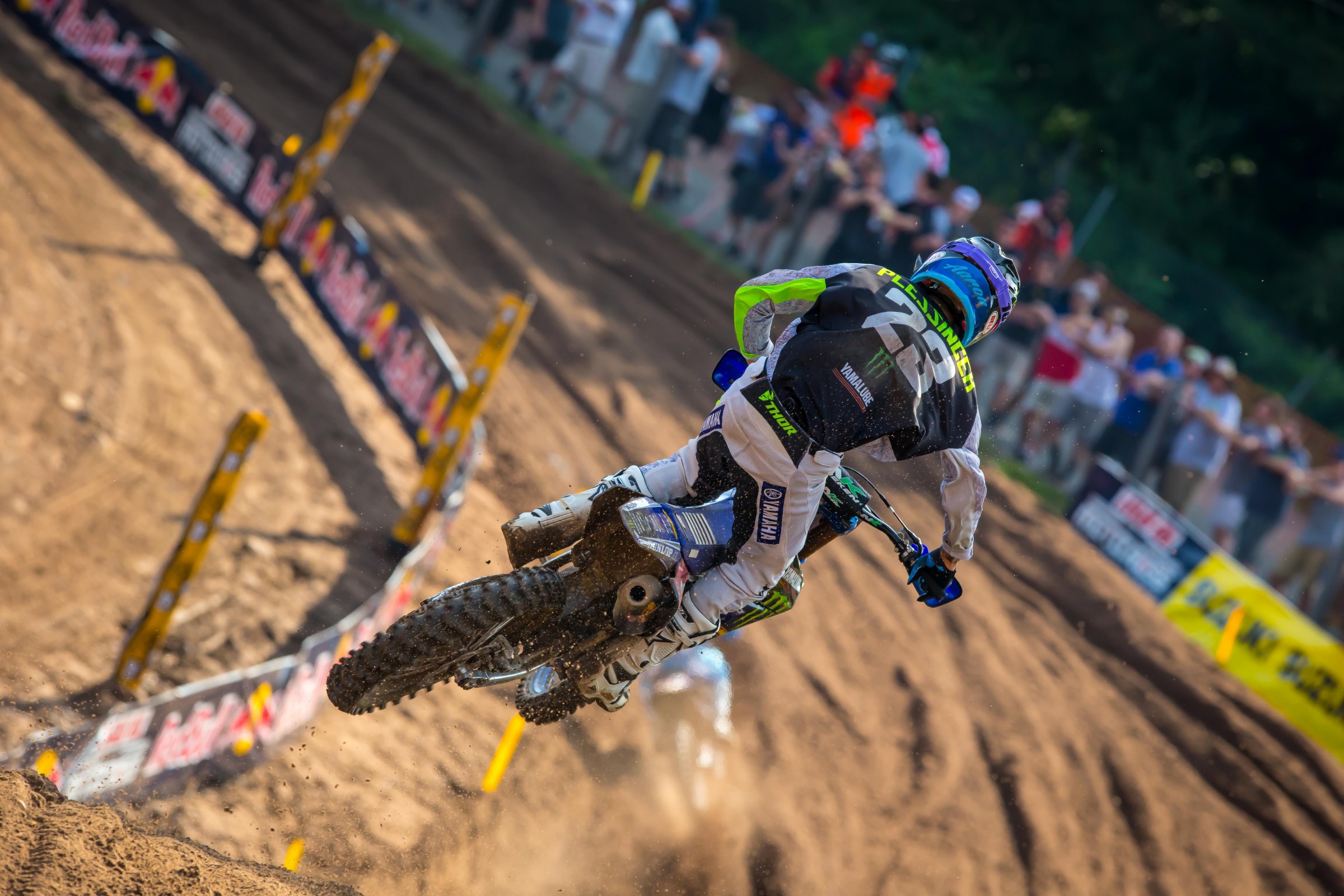 Bold Predictions
Eli Tomac wins both motos with a bald eagle perched on his rear fender. 'Merica.
Marvin Musquin wears medieval chain mail armor to the podium.
Alex Martin wins the 250 overall.
Someone named Justin holeshots both first motos of each class.
Over a thousand fans are still sleeping when the first moto begins.
Several ER visits are attributed to overzealous shouts of REDDDBUDDDDDD.
My Picks
250
Alex Martin
Dylan Ferrandis
Austin Forkner
450
Eli Tomac
Marvin Musquin
Justin Barcia