Bangka, Indonesia
MXGP of Indonesia
FIM Motocross World Championship
The first of somewhat unusual back-to-back dates for MXGP in Indonesia took the series to Pangkal Pinang once more, and the scene of the rain-lashed bog of 2017 that was high on fans, enthusiasm, and weird dramatic tableaus with a plethora of bikes submerged and abandoned in the ooze. Fears of a repeat were very real when the paddock arrived on the island facility to another shower-soaked landscape and high humidity, but the weather thankfully eased for what was a demanding 12th round of 20.
Why Indonesia? The public's insatiable appetite for racing (the following for MotoGP alone is one of the biggest in the world, never mind Asia) is based on the importance of the motorcycle in day-to-day culture. In 2017, almost six million bikes were sold. It's a hefty market for the brands. The inclusion of Hong Kong and China on the provisional 2019 MXGP calendar emphasises how the series is a visual and affordable promotional tool for the manufacturers in a corner of the world where image has a lot to say, even if the model range of motorcycles sold is actually quite small and orientated around scooter and small-capacity two-wheelers. With two races in the territory this summer, it will be curious to compare and contrast Semarang this weekend with Pangkal Pinang and where the longevity for MXGP could reside.
1. A KTM minefield
Where to start? How about the numbers? Jeffrey Herlings rode his 450 SX-F in free practice for the first time since collarbone surgery (insertion of another plate for multiple breaks) just 17 days beforehand. Red Bull KTM teammate Antonio Cairoli won his second Grand Prix of the year two weeks previously in Italy and chopped a 62-point deficit down to 12 in Herlings' absence.
Herlings somehow went 2-1, Cairoli 1-2. It was the eighth time in 12 rounds the duo went 1-2 on the MXGP overall podium. It was a ninth success for Herlings, an 11th podium (continuing his 100-percent record when active), and Cairoli's tenth. The gap in the standings stayed at 12.
Underneath the stats were some strange and incomprehensible occurrences. The pre-event showers meant that Pangkal Pinang started muddy and quickly dried across the 48 hours to be soft, very rutty and technical and a viciously sapping collection of lines. On this surface, Herlings admitted his objectives were modest.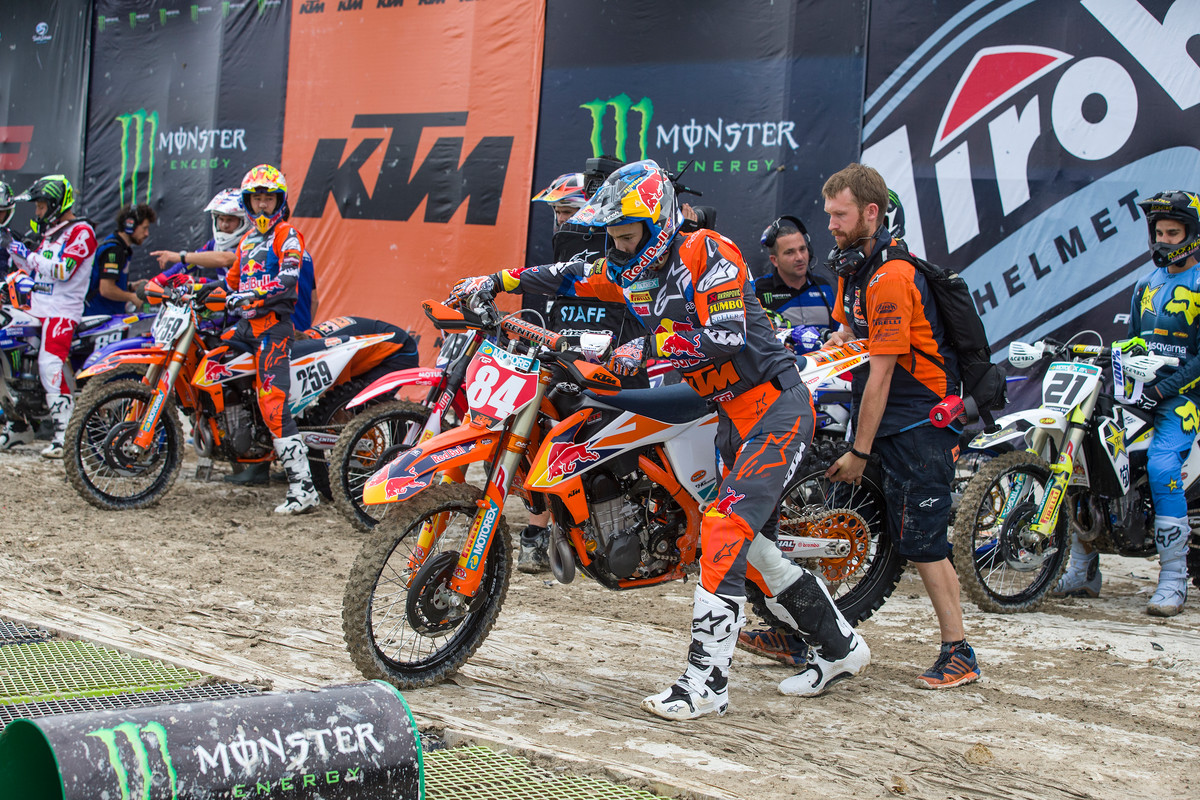 "My goal is definitely not to win…. I think around third should be my spot, and you know what? I'm happy with that," he sensibly but oddly confessed after taking pole position with qualification heat victory on Saturday and a signal of intent. "I wasn't even sure if I could ride here because the collarbone was still pretty sore at the beginning of the week. There is a big plate there. It is pretty incredible to be riding 17 days after surgery and at this level. I have been training a lot, but nothing is the same as riding a dirt bike. That feeling between man and machine is something you need to have almost on a daily basis. So to be out of the program, you have that doubt, you miss that feeling; when you need to shift and braking points and that usual routine, but now I was braking a bit late or just missing a rut.
"We came here for damage control and we'll put the hammer down next week," he added. "I'm prepared to give the red plate to somebody else, but after these two races, I want to fight back hard. I know I am not in good condition right now, and that's normal."
Herlings played second fiddle to Cairoli in race one, and although he lost only three points, was adhering to the script. In a rare display of fallibility, Cairoli then crashed twice in the second moto. Herlings also went down in the last three minutes while in a comfortable lead. Cairoli moved through but then had his second get-off right away, damaging his right handlebar and yanking his thumb. The championship pendulum swung one direction and back several times in the space of two weeks and two minutes. Cairoli will be disappointed not to have made sure of another 1-1 and narrowed the path to the red plate to just six points.
"We are going very fast and the risk of crashing is always around the corner," the Sicilian said after crediting Herlings' performance that weekend. The series leader, meanwhile, was bemused, relieved, and thankful.
The Indonesian public witnessed some unexpected and exciting moments (matched only by the thrust of a five-rider squabble for second place in the second MX2 moto), but this also weighed heavy for gravitas in terms of the bigger picture. The KTM duel rumbles on.
2. Cov looking for part-two tweak
Rockstar Energy Husqvarna's Thomas Covington repeated his scorecard from the Grand Prix of Lombardia two weeks ago and again managed to look exasperated by the 1-4 that saw the American deliver the goods in the first moto but fail to miss an effective start and toiled in the second. It was his third runner-up result in a row, which drags him up to sixth in the championship after losing points and ground due to a knee injury.
"Definitely happy to be on the podium this week, but still pretty bummed about the second race," the Husky man said after revealing that a stomach virus had not helped his cause.
Covington's form is prompting some thoughts of "what if…?" There is little doubt that he would be a firm title contender in 2019 if he stayed in MX2 for what would have been a last championship attempt at the class, but AMA competition beckons. For 2018, he is almost 100 points down on his teammate Thomas Kjer Olsen and the chance to finish third in the contest, so that is still a realistic goal to pursue with his podium prolificacy. More curious is how much of a say he'll have in the championship dispute between the Red Bull KTMs of Pauls Jonass and Jorge Prado, with just seven points splitting the Latvian and Spaniard.
3. Prado on the hunt
In 2017, the heat and humidity would have wilted Jorge Prado, the rookie Spaniard (who has lived in Belgium since his early teens and heralds from Galicia, the cooler Atlantic side of the Iberian Peninsula). After his tenth podium finish of the year in Indonesia (the third highest total from both GP classes), he is prowling after his first grasp of the red plate as championship leader. In the wake of round three, Prado was 45 points adrift of reigning champ Jonass, but has trained, matured, and developed to the stage where he is becoming more consistent that the famously regular and resolute Latvian.
Prado's starting prowess and technical capabilities were matched by physical aptitude, and although his package was not enough to triumph on this occasion, he still managed a 4-3 In Indonesia, mindful of Jonass' efforts.
"It was a short lap, but the jumps were fun," the youngster evaluated. "Here it is almost raining every day, so we cannot ask for hard pack; that's not gonna happen, so we just have to deal with it."
Jonass didn't deal with it so well. During the second moto, he was swamped in the fierce dispute for the runner-up position behind the disappearing Honda HRC's Calvin Vlaanderen and, like several others, said the harder he pushed through the lumps and bumps, the slower he went. Jonass' 2-7 meant that he missed the overall top three for the third time in the last four rounds, and Prado's threat is now very real. Seven points is nothing, and Jonass has to resurrect the kind of form (perhaps dispel thoughts of MXGP in 2019?) that saw him dominate the three opening fixtures of the campaign. The difficulty of a title defense is also being complicated by the diversity of challenges that are blooming in the category.
4. A weekend of firsts
"I was speechless. Since I was a kid I dreamt of winning a GP, so this is very emotional." Calvin Vlaanderen profited from his starts on the factory CRF250R to post South Africa's first Grand Prix win in almost a decade. Tyla Rattray last managed the feat in the summer of 2008 at Lierop in Holland.
The tall Honda man stretched a six-second gap at the front of the second MX2 moto, which kept Thomas Covington's ambitions for victory in check, and his 3-1 overall dispelled any hint that this milestone was fluked or undeserved.
Vlaanderen has blown hot and cold in his first term with the works CRF, and it remains to be seen whether this breakthrough could open the floodgates. It was rare to see a Japanese machine vying for holeshot honors in 2018—such has been the dominance of Austrian-manufactured machinery out of the gate. A regular threat to the 250 SX-F and FC 250s has been Kemea Yamaha's Ben Watson. Vlaanderen wasn't the only person to stamp Pangkal Pinang as the site of a personal milestone. The Brit, who has been arguably the breakthrough talent of the season so far, achieved a career personal best with his second position to Vlaanderen in the second moto. Only some hesitancy and a crash in the first race meant he was denied a second podium appearance, and he assumed the ranking of fourth that has become to be frustratingly familiar (this in itself is a mark of the 21-year-old's progress).
In a weekend where the MX2 Class numbers seemed particularly hard-hit, it was puzzling that 114 Motorsports' Hunter Lawrence was absent from the Grand Prix but yet appeared on Instagram feeds from the U.S. putting a CRF250R through its paces. A press release by Honda Motor Europe on Friday seemed to indicate that Lawrence needed time to recover from a hand injury and subsequent crashes, which made his presence in California more confusing.
The Australian won't be present in Semarang in a few days time, but most of the MXGP contingent will be seeking air-conditioned quarters until round 13 quickly arrives.