Southwick, MA
Southwick
Lucas Oil AMA Pro Motocross Championship
It was the right place and the right time for several contenders in Lucas Oil Pro Motocross' 250 Class. This increasingly wide-open series—headlined recently by Jeremy Martin's exit due to injury, Alex Martin's recent spate of crashes, Aaron Plessinger wrapping so-so days around overall wins, and Zach Osborne also going under the knife—means pretty much anyone inside the top ten in points has a shot to win this title.
As the Southwick sand loomed, several riders had to be liking their chances, even if they were facing considerable points gaps. They all came in hungry and ready—only to find out just how tough this whole championship deal can be.
First, Justin Cooper, who has quietly rounded from pre-season Stopwatch National Champion to a good starter with a lot to learn to an actual title threat. After his runner-up finish in the first moto at Muddy Creek, Cooper was up to third in points, but his second-moto Muddy Creek crash proved costly. Mostly, it ended Jeremy Martin's season, but for Cooper, it also resulted in zero points. No matter—he came to Southwick truly believing this title was in play.
I talked to Justin on Saturday morning and he told me that although he'd only ridden Southwick once on a 65 a long time ago, he already knew it was his favorite track of the season. Justin's background—raised in Long Island, New York—might be different than most, but he can claim he "grew up on sand" like so many others, be they from Florida, Minnesota, New England, or Europe. Cooper says all he used to do is ride sand pits. Visually, you could just see how pumped he was for this race, plus he didn't shy away when I started asking him about a championship. He said he just had to be consistent.
Then he went out and logged the fastest qualifying time, which is the third time this season he's done that—the most of anyone. Then he nailed yet another good start in the first moto. Justin ran second early, points leader Plessinger behind him, and this whole title thing was starting to look at real. But then a challenge came from someone else.
Austin Forkner was part of the title picture before the season, but it has turned into an up-and-down ride with strange results and crashes sandwiched by some good motos. He was ready for Southwick, though, and passed Cooper for second and dug into Shane McElrath's lead. Austin passed McElrath, then held off a furious late-race charge by Alex Martin to win his first moto of the season and his first since the end of 2016.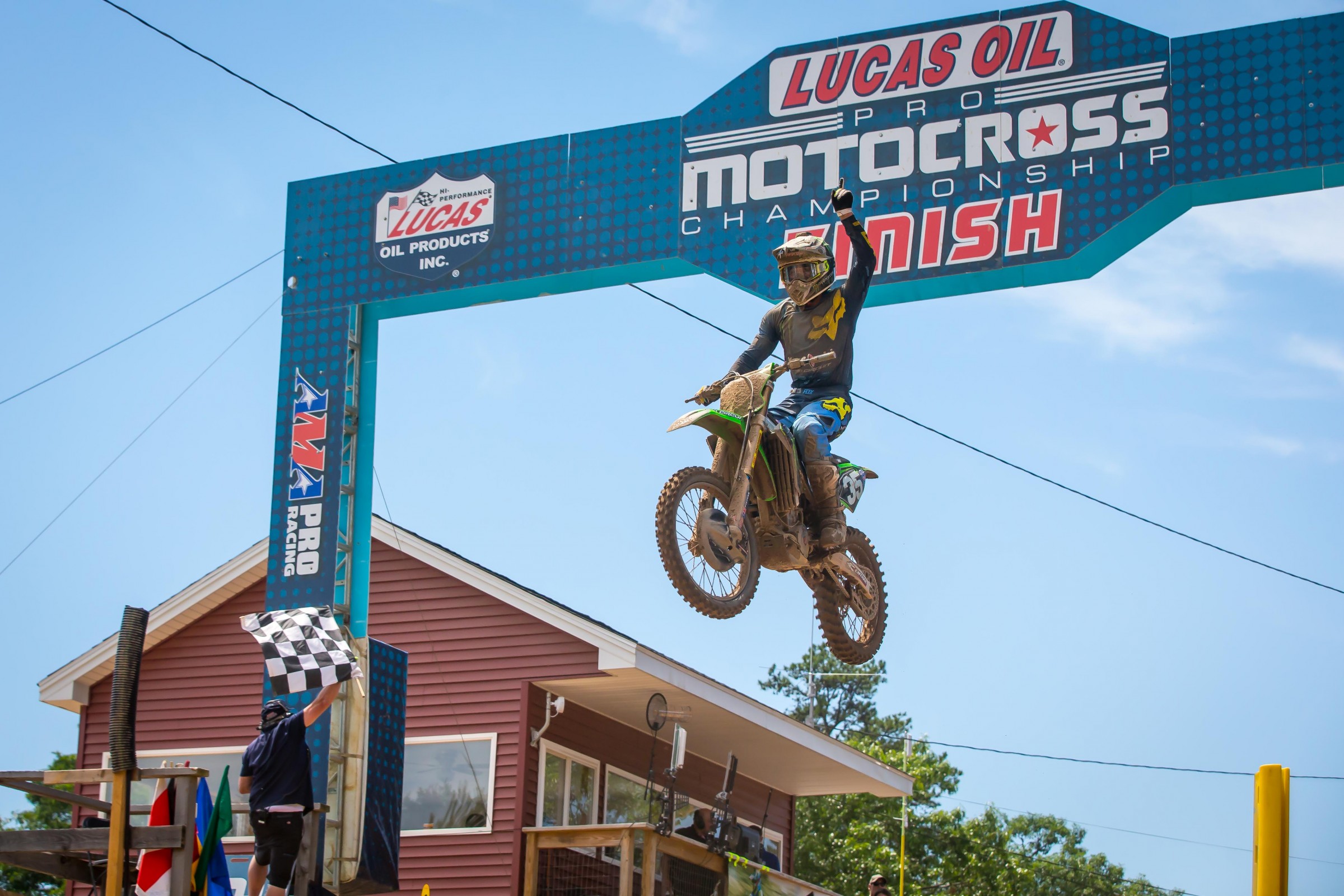 The fortunes of Cooper, meanwhile, had sunk. He crashed and finished 17th. He took ninth in moto two. His 15th overall ended up being his worst of the season.
(By the way, McElrath also made a quick trip on the 2018 rollercoaster, following his big win at Muddy Creek by holeshotting and leading Southwick only to fade to sixth, but then rebound for a close runner-up ride in moto two. So hard to predict, these darned races lately.)
Forkner's situation was even more heartbreaking. He grabbed the lead again in moto two, and still leading with four laps to go, he was in control of a 1-1 and a much-needed podium finish at the very least. This time Martin caught him, though, and pounced on his first pass opportunity, which resulted in a collision that sent them both to the ground. Forkner went from leading the moto to finishing 20th, a massive 24-point blow in one shot.
On a day both were ready to begin an honest march toward the title hunt, Forkner and Cooper ended up further back in points than they were before the day began, even though points leader Plessinger didn't even finish on the podium.
"I'm happy with the way I'm riding and I really expected to at least be on the podium today," Forkner said in a Kawasaki statement. "We've put in a lot of work, particularly for Southwick, and I couldn't have been more prepared for the sand. It's disappointing for things to end the way they did because I was doing everything I could to run clean and just put two solid motos together. We had a really good shot at the win, so it's hard to swallow having that taken away from us like that."
A win would have been huge for Forkner and his star-crossed Monster Energy/Pro Circuit Kawasaki team to get back on track, but further, it would have provided the momentum needed to get back in title contention. Momentum, though, has proven nearly impossible for anyone to find during one of the wildest 250 seasons in recent memory.