Damon Bradshaw earned his nickname "The Beast From The East" through a combination of hard charging and aggressive passing, as well as the occasional big crash. Bradshaw, a fan favorite, officially retired from professional motocross nearly 15 years ago. He went onto a successful career as a Monster Truck driver, crushing cars and flipping vehicles with the same aggression that he possessed as a two-wheel racer.
Over the years, one of his favorite (and successful) tracks to visit was High Point Raceway in Pennsylvania. He earned four overall victories at the southwestern Pennsylvania track, including his very last career victory on a muddy day in 1997.
Bradshaw returned to Pennsylvania for the 2018 running of the High Point National, and we caught up with him during the second 450 Class moto.
Racer X: What brings you out to High Point, and what are you up to this year?
Damon Bradshaw: It's great to be here. I'm a part of the Monster Energy family and the WPS Fly Racing group of companies. I also work with Gas Gas motorcycles. With that, I travel to probably 20 to 24 events a year, ranging from ride days to dealer visits to a few races for myself, as well as some outdoor nationals. Also, I've done a couple of UTV races as well, as WPS has a big presence in that segment. I raced the Baja 1000 last year; it was the 50th anniversary, so that was cool. So basically, anything that I can do related with racing and kind of working with WPS and Fly, being a part of that family. I never really did a retirement tour, but that's almost what I feel like I'm doing now. I get to go back around to all these dealers and tell stories and talk about stuff that I really didn't get the opportunity to do—as well as going riding a lot.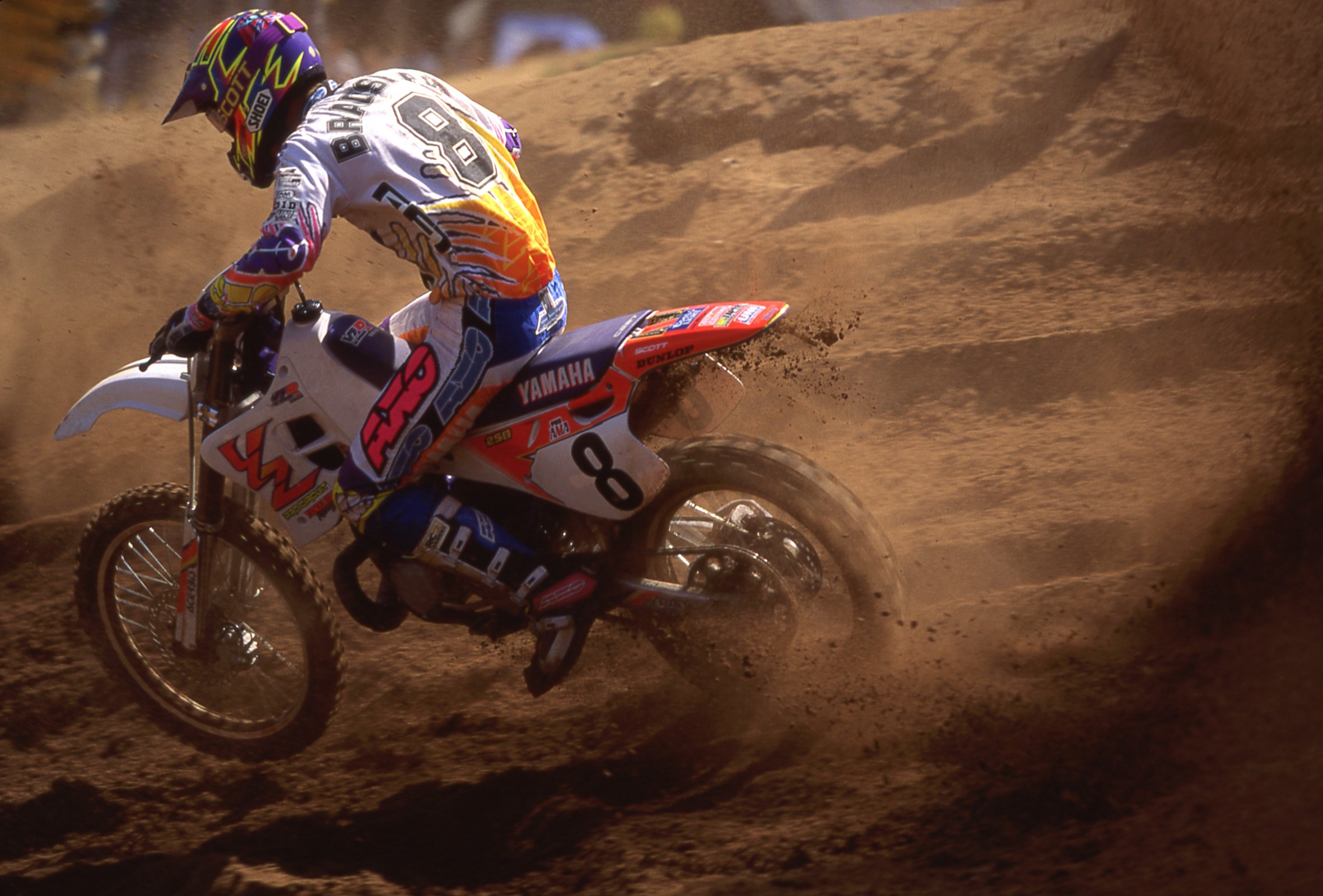 Sounds like you are pretty busy. How was the Baja 1000? That's quite a different type of racing than what you are accustomed to.
It was awesome. It's been kind of a dream of me and a good friend. We've talked about it for the last three or four years and finally put something together to go and do it. We raced Monster Trucks together. Once I was done with that [Monster Trucks] in '16, he was able to put the deal together and make me a part of it. So we went down and we did it! It's just an experience, and we really want to do it again. The first time I was able to do it, Monster Energy took 23 athletes down. That was the first hook, line, and sinker. I knew I wanted to go back, but I also knew I didn't want to race that course on two wheels. I wanted four wheels and a cage over my head. Again, it was a dream. I hope I get to go back and do some more stuff down there, even if it's UTV racing. The time we went, we raced a four-wheel drive truck that was amazing. I always made the comment that if the only way I could go back and race Baja was to do it on a three-wheeler, I would, but not a two-wheeler! It is that crazy of an event.
How did you guys do?
We ended up second in our class, which was really good. We finished a little ways behind Casey Currie. We had some trouble, but we were able to climb back. So it was a success. A lot of money was spent and it was a lot of effort from a bunch of guys.
Tell me a little bit about the Monster Truck program. I know you are retired from that, but that was a pretty cool deal.
It was awesome. It was a really good run. Just, unfortunately, we had contract issues putting together for '16, so it was time to move on. I'm really happy being able to—it's kind of the full-circle thing. I'm back in the business that I originally started in. Now my older son, Dalton, he also works at WPS in inside sales. So being a huge part of that company again, it's the family atmosphere that I had back when it all started for me and being loyal to a lot of the companies that I work with. Still to this day, I have a great relationship with them.
You have quite the history at High Point. I was here that day in 1997, as well as for some of your other wins. What do you think of the track today? It's changed a lot in the years, but it still has that same vibe.
It is, and it has changed a lot. I was talking to Davey Coombs walking down the hill just about how much it's all changed. Not just the track, but the parking and all of the amenities for the fans, and how you can make it more of an experience for the fans than it used to be. But it still feels the same to me, driving in this place and coming here and seeing how intense the fans are. They're intense all over the country and all over the world for motorcycles, but this track stood out for me the most because they just seemed to be the most hardcore here. I was fortunate to do well here in the dry and the mud as well.
What was it for you that did it for you at this track versus anything else?
It has to be the fans because they were behind me so much here, for whatever reason. This wasn't a home track for me. I raced here as an amateur the day before the national, always, and then obviously raced the nationals here. I think I drove off of that. That's what I feel like made the most out of my career, was being able to entertain people and they appreciated it here. When you ride around the track, whether it's in practice or a victory lap, and you see signs with your name and people that are just having a great time, it means a lot. It looks like that trend is still here.
What does the future hold the next year or two? What are in your plans?
I will be doing exactly the same thing I'm doing now. Things are going to continue to grow. It looks like I'll be at all 17 supercrosses with Fly Racing/WPS next year. What exactly I'm going to be doing is still changing, but I'm going to be involved. I'm really excited about that. We'll wait and see what happens with the nationals. I'll also be at Motocross des Nations. I look for this to be a long-term thing. I have a multi-year deal with Monster Energy as well. I'm very fortunate to still be a part of this industry. Having Monster Energy on board for so long, a lot of people don't realize that, but my relationship with them started clear back in the Hansen Energy days, and before Monster was even a brand. Again, I am just fortunate to still have them. They were a part of my Monster Truck career and are continuing with me.
Tell me about your relationship with Gas Gas.
Obviously, since I've been retired and started riding again, I've ridden more off-road, and I enjoy that because it's more of a laid-back atmosphere. You can go and ride with guys, whether it's dealers or whether it is consumers or just friends. I enjoy riding and talking about it, and then going riding again. I still like to race, and I still like to get on a moto track. The larger companies, I feel like they don't really need somebody in my position. I think I can be an asset to Gas Gas and help them with building a better motorcycle and putting that motorcycle in front of people that maybe it wouldn't have reached without me. I like being a part of the small company, and to be able to see the growth over the next five to ten years is the goal. They want it to be a long-term thing as well, so as long as I can stay healthy and continue riding, that's what I want to do. I enjoy it. It brings up conversation. That's exactly how they ask. They go, "Gas Gas?" Some people don't know what Gas Gas is, but a lot of people are and it's continuing to grow. To be a part of that and be able to see it, that's exciting for me.
Any racing in your future?
I've done a few GNCCs and I'd like to go back and do some more. Being as busy as I am doing what I'm doing and traveling and then getting a little bit of time at home, it takes a lot of training for me to be happy to go and race and be competitive. I enjoy the GNCCs. I've been to several of them. I love whether I'm going there racing or I'm just going to hang out. I've done that both ways. I have also done some Sprint Full Gas Enduro stuff, and I really like that format. It's a little easier on a guy that maybe doesn't ride every day or doesn't train every day. Again, I do like doing a few races here and there, but I really just enjoy going and riding with groups and doing moto ride days. I just did a deal with Justin Brayton back in his hometown in Iowa that went over really well and was a lot of fun. Got to meet fans that I haven't had the opportunity to meet before.
How is your family doing? Are you still in Idaho?
Yeah. We've been in Idaho for 20 years now. We are in a slow process of moving back to North Carolina now, though. It just been a process, and with all my travel and whatnot, its been slow. That's where my wife is from and where her family is from, and, obviously, so is my family. So it's kind of hard having our oldest son living in Idaho and working there, but we're kind of in the transition. The reason that's kind of all started is just wintertime. I love warm weather and I like being outside, and it's hard to do that when there's five feet of snow on the ground in Idaho. We'll still recreate there. I love being there during the summer and the spring, but the winters are a little easier down south, for sure.
Your last career motocross win was in 1997 and here at High Point. What do you remember about that day?
I think we won one moto and got a second or third, but it was good enough for the overall win. It was a nasty day. I remember it vividly and how nasty the track was and kind of what it took to win. I was telling some guys earlier up in the Fly tent that I had to throw my goggles off early on. I still had a lot of guys to pass in order to get the overall. I was able to do it without goggles. I think back to that day and that wasn't very smart. I know Bevo wasn't very happy with me, but that's what it took. It was my last one. To have that win here at Mount Morris and then the Yamaha guys, to have them come over and congratulate me, is pretty good being on a privateer Honda team that was put together with Jim Hale and myself and lots of other sponsors, including Manchester Honda. That was definitely a memorable year in my career and one of the best, for sure.