Welcome to Racerhead on a very busy week, with an even busier weekend upon us. The 2018 Lucas Oil Pro Motocross Championship is at Muddy Creek in Tennessee, and hopefully the fans there will get to see the kind of battles we saw at High Point last weekend, especially in the 450 Class. Monster Energy Kawasaki's Eli Tomac is no longer throwing a perfect game, but he's still undefeated in the overall column and 4-0 on the season. Red Bull KTM's Marvin Musquin rode an inspired race, maybe even more so in that dramatic second moto where he came up just a little short, as compared to the first moto, which he won. He knows he can beat Eli now, but Eli also knows he can cover Marvin more often than not.
The 250 Class got turned on its head when GEICO Honda's Jeremy Martin had his bike melt down as he was running away with the second moto. It came to a stop right in front of me in the first turn, and I could swear there were flames coming out of the left-side silencer. He got it pushed back to the pits right away, showing the grace of a champion by not just dropping the bike and walking away. But the team could not get him back out there, and the red plate left High Point in the hands of Aaron Plessinger of the Monster Energy/Yamalube/Star Racing Yamaha team. AP23 is a crowd favorite here—his home is next door in Ohio, and his family was around High Point often as his dad was going for GNCC and National Hare Scrambles titles—and he rewarded their enthusiasm with 1-1 finishes. The reset with Martin gives him some breathing room going into a race he won last year.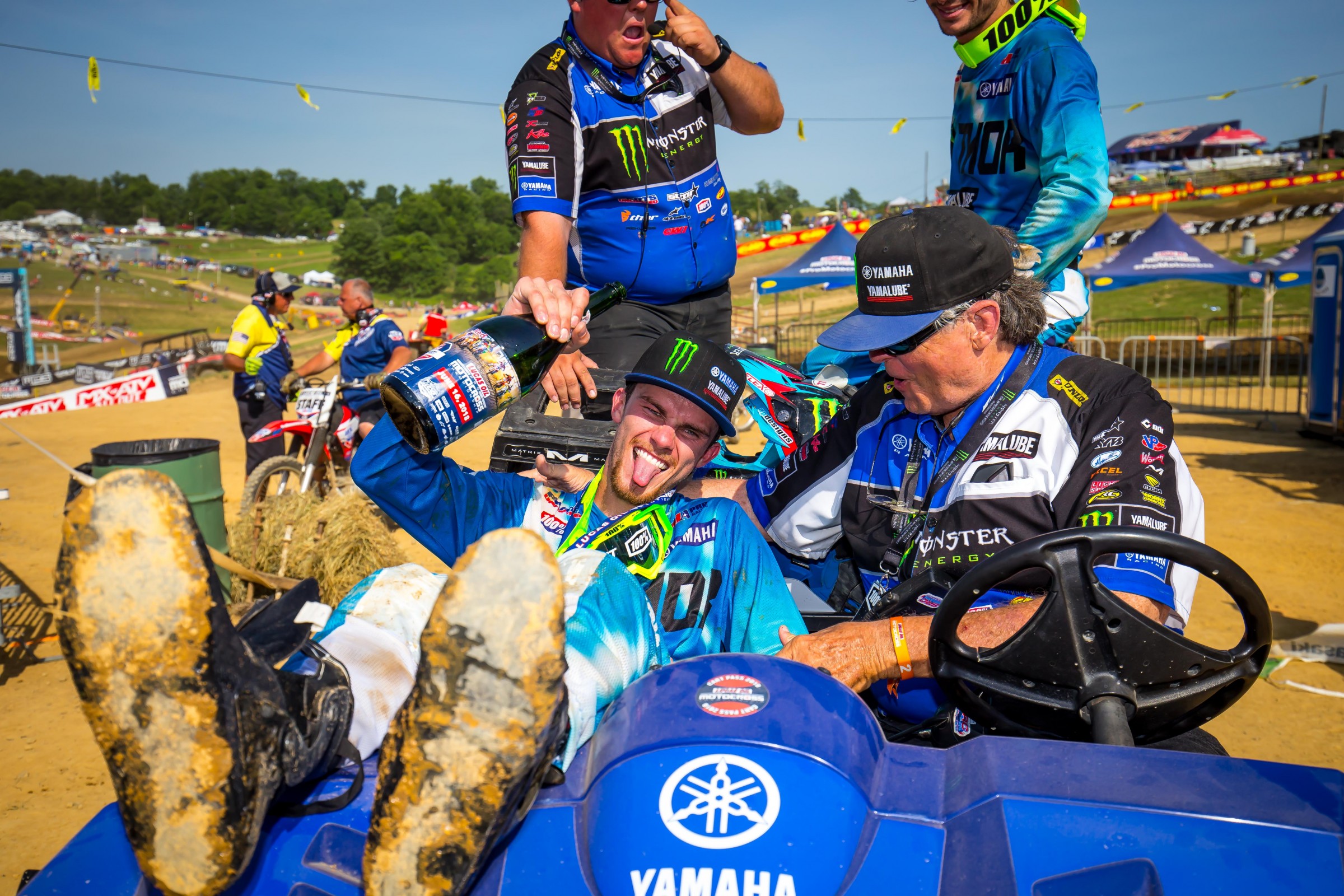 After the race, I turned my attention to a big magazine deadline, so I missed out on a lot of the news that was happening in motocross this week. I was very happy to see Tomac raise his hand for Team USA if he is chosen for the Motocross of Nations at RedBud in October, which is pretty much a sure thing. And I also saw that Jeffrey Herlings, the MXGP World Championship points leader, is planning to make the next race in Indonesia after being forced to sit out last weekend in Italy with that broken collarbone, allowing Antonio Cairoli to completely reshape the battle for what would be his record-tying tenth title. Cairoli took max points in Italy and is right back to within a dozen points of the otherwise dominant Herlings. (Tony's understudy Jorge Prado got a win in Italy, too, and is closing in on Pauls Jonass in the MX2 standings, as Andras will explain later.) MXGP is off this weekend, which certainly helps Herlings with his bid to be ready for the next round in Indonesia on July 1.
There is another big race this weekend: the Snowshoe GNCC in the mountains of West Virginia. This is an event and a party like no other on the GNCC schedule. The lifts are running, people are everywhere, and the track is steep and rocky. There's also Howard's Hole, where modern Mud Fleas gather to help riders through the mud like they used to do at the old Route 93 river crossing at the late, great Blackwater 100. I'm headed there rather than Muddy Creek and am looking forward to getting my hands dirty (though not mowing grass or pounding stakes!) and it's time to hit the road, so let's get into the week that was—and start with some self-inflicted drama on the two-stroke front.
Press Day (Jason Weigandt)
GEICO Honda was on the press day team list this week for Muddy Creek, so that meant plenty of questions about a rough outing last weekend at High Point. Jeremy Martin suffered engine problems while leading the second moto, Chase Sexton's bike also broke in the second moto, and Cameron McAdoo had a front wheel go completely taco on him in the first moto. The team explained today that the Sexton and Martin engine problems were totally different: Martin's engine died and just wouldn't restart, while, from what I can tell, Sexton's engine problem was bigger. The team went to work trying to figure out the problems and solutions. Kibby, the squad's technical director, told me today that the team has nine engines in rotation, and all nine will have to be changed based on what they learned post-High Point. The team got most of them changed this week, and Kibby was working on another here at the track this afternoon.
One thing that Martin's mechanic, Derek Dwyer, mentioned to me is that since this is a new CRF250R this year, the bike has been in a continual state of evolution all year, almost weekly. The team does a lot of testing with each new idea and component before it decides to use it at the racetrack, but some things still slip through. Kibby says a lot of times, engine failures come down to the tiny tolerances used in race motors, with one small part being the tiniest bit off and throwing off the entire equation. Either way, the team thinks it has solutions for both the Sexton and Martin issues from this weekend forward.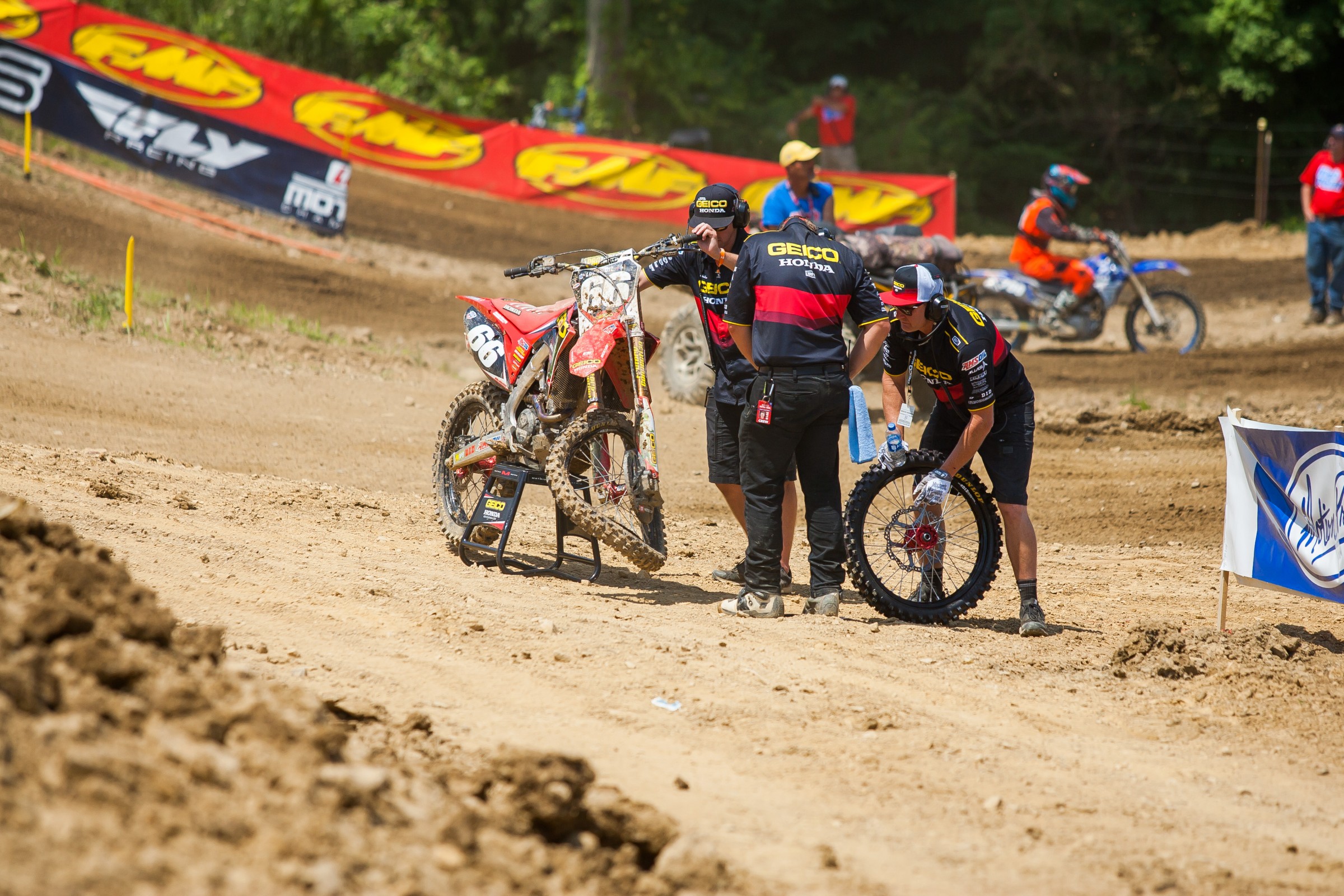 By the way, Dwyer is the new wrench for J-Mart. He was working with Christian Craig until Christian moved over to Honda HRC's 450 team, and Martin's old mechanic, Richard "Pedro" Sterling," has been moved into the GEICO Honda shop as an engine builder.
As for McAdoo's wheel, yes, a hard landing on a downhill somehow bent his wheel. McAdoo says he's hit harder than that a thousand times and never had a problem, but the team figures this must have been a one-in-a-thousand scenario where the right type of load was applied with the right force at the right time.
In one other piece of GEICO Honda news, I heard a rumor today that this team could have an additional, fifth rider under the tent at RedBud. Someone might be hunting for some new scenery a little earlier than expected.
Monster Energy Yamaha is also here, and Justin Barcia was absolutely rolling today. He told me his goal at High Point was to get back to the podium last week, and now his next goal is to win a moto as soon as this weekend. Barcia and the Yamaha team seem to really be thinking long-term—he and team manager Jim Perry were already hinting at expectations and goals for 2019, even though Barcia told me he's not officially signed yet. Clearly this relationship is going well and the two sides would like to continue.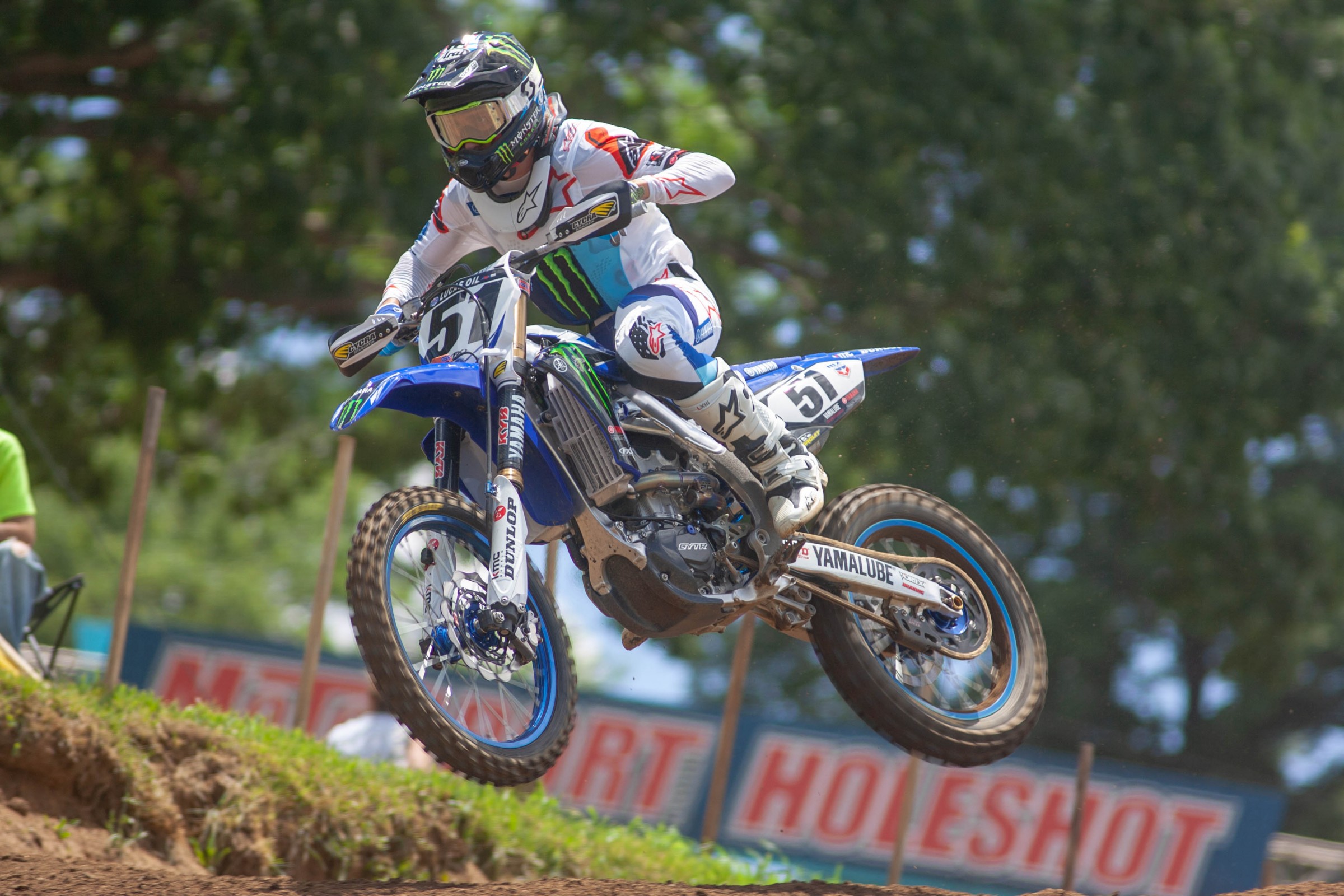 The Muddy Creek track has that big Bomber uphill triple, and it's the perfect challenge for a 250F. I saw Sean Cantrell case the crap out of it trying to get it, and eventually he and his teammates Jordon Smith and Alex Martin were jumping it with no problems. I didn't see Jeremy Martin get it on his Honda, but it's press day and that really doesn't matter. In fact, the big attention was on the lone 125 racing around the track: our own contributor Ryan Sipes, who looked good but could barely be heard around the mob of four strokes. People are going to be cheering hard for Sipes and also local product Alex Ray, who was given an extra week with Monster Energy Yamaha so he can race his home track.
A-Ray told some hilarious stories today as always, including stories of crashing here as a kid, then crashing in similar spots when he raced the national here in 2016. He also threw in a tip-over in a corner in press day today, because that's what he does. A-Ray is planning on sending it. I asked him and team manager Perry if A-Ray gets to stay on the team for Southwick if he goes 1-1 in the 450s tomorrow. Both agreed that if he won the overall, he would celebrate so hard he wouldn't be ready to race next weekend, so that's not going to happen. A-Ray rules.
CINDERELLA RIDE IS OVER (Steve Matthes)
Well, this is it for Monster Energy Yamaha's Alex Ray. His final race as a full factory rider. The CycleTrader.com/Rock River Yamaha rider was a bit of an unlikely choice to fill in for Cooper Webb in MX, as he didn't really have many nationals under his belt, nor has he scored that well at the nationals he did do. But I think Yamaha liked him and wanted to give a kid a chance at something he's never had. The original deal was for three races (Glen Helen, Thunder Valley, and High Point) and then, according to manager Jimmy Perry, "We'll see after that." I know Ray told me from the start that he REALLY hoped they kept him for Muddy Creek, because he's born and raised in Tennessee and it would be cool for his family and friends to see Alex Ray, Factory Rider.
And Yamaha did just that in giving him one more race before Webb is expected back, so that's cool and great for Ray as well. He's performed pretty well, also, with a lot of motos just outside the top ten, and this has been a feel-good story for everyone involved not named Brad Esper (a 450 Class privateer who says Ray took him out bad at High Point; Ray denies this and says Esper moved over on him. The PulpMX Show spent 40 minutes on this, by the way).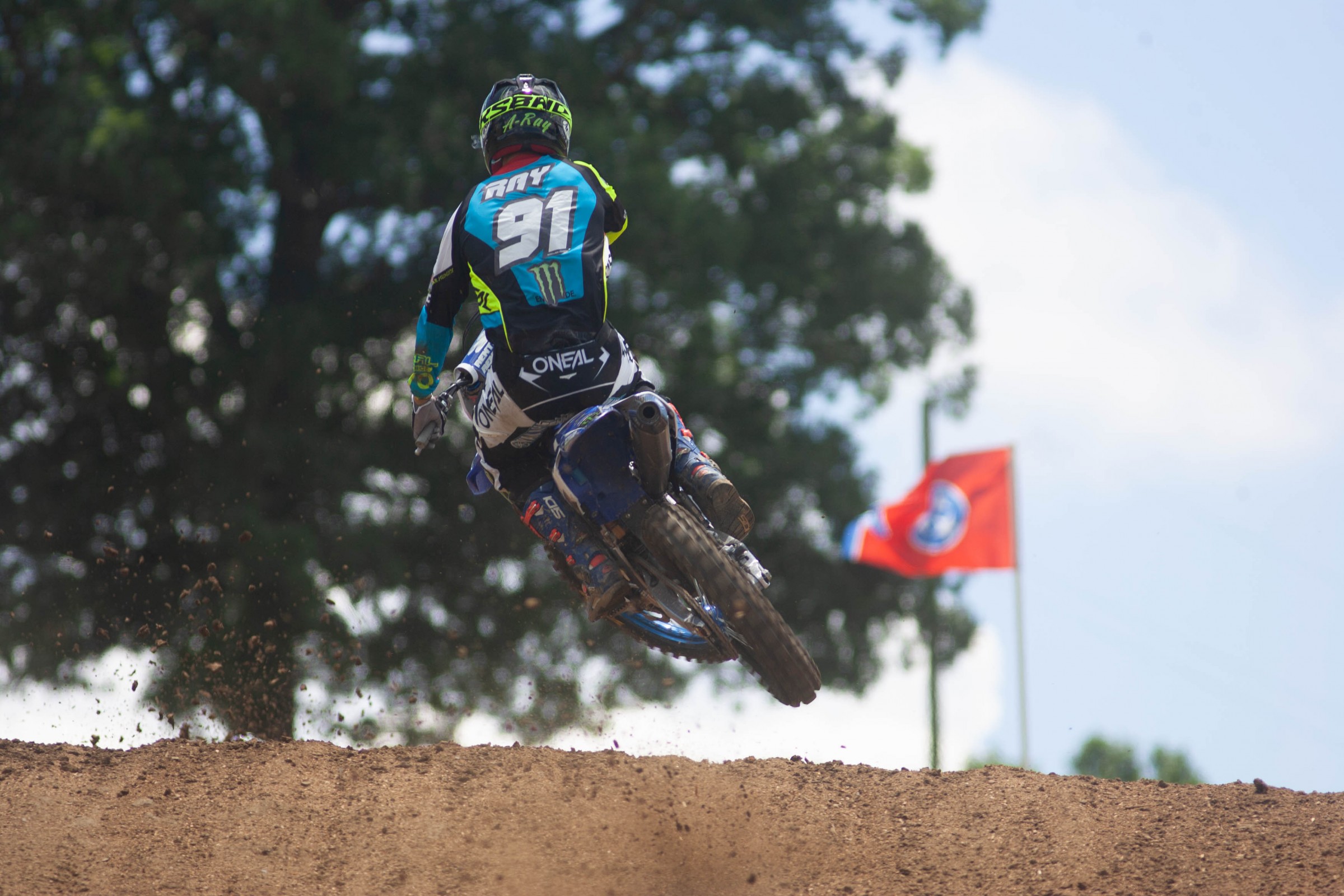 Yamaha is also giving Ray a couple of bikes after Muddy Creek to do the rest of the nationals as a privateer, which is way cool. Here's hoping Ray "sends it" this weekend and gets his best result for Yamaha and his family. That'll be cool.
We do a weekly column with Ray over on PulpMX.com. Our best reporter, Moser, gets to the bottom of what's happening with A- Ray each week. Here's the column this week. Please ignore the misspellings.
FAREWELL TRACKS (DC)
As you've probably heard by now, Zaca Station, the private motocross track in the Santa Ynez Valley in California just above Santa Barbara, has been closed for good by the family that owns the land. They were apparently trying to renew their terms with California's Williamson Act, which allows reduced tax rates for agriculture-only lands. Even though the motocross track was just a tiny spot on the nearly 10,000-acre cattle ranch, it was apparently getting some attention from local politicians, who were in turn getting pressure from environmentalists who just didn't like the track being there, despite it being private land and being three miles off U.S. Highway 101 and so on and so forth....
Nick McCabe and I have been working on a feature about the track, which played host to plenty of photoshoots and bike introductions and ride days. In talking to Ed Guajardo, the man mostly behind Zaca Station's 15-year existence, he was very thankful to the Chamberlin family that owned the land. He explained that his deal was with Fred Chamberlin, but Mr. Chamberlin is no longer calling the shots after he was injured in an unrelated accident. It's the next generation that decided against letting the motocross track continue, and they also clipped a mountain bike track and a hunting guide that was using the land, likely because of the Williamson Act provisions. Ed did say that he really enjoyed his time running the track, as well as all of the moto people he met along the way.
Anyway, while researching the story, I stumbled upon a couple of articles about other popular Southern California tracks that closed over the years. Carlsbad Raceway, home of the 500cc U.S. Grand Prix in the seventies and early eighties, was eventually overtaken by suburban sprawl. Hints of it are still there, but it's mostly been paved over. Saddleback Park was closed for good on September 7, 1984 after the operator, Marvin Hendricks, was told by the landlord, the Irvine Company (the commercial property giant in that area), to close the track for good after a rash of lawsuits—though it was said at the time that they wanted to develop it. The track is still out there (Simon Cudby lives nearby), and it's never been developed. One of my friends sent me a photo of what it looks like from above.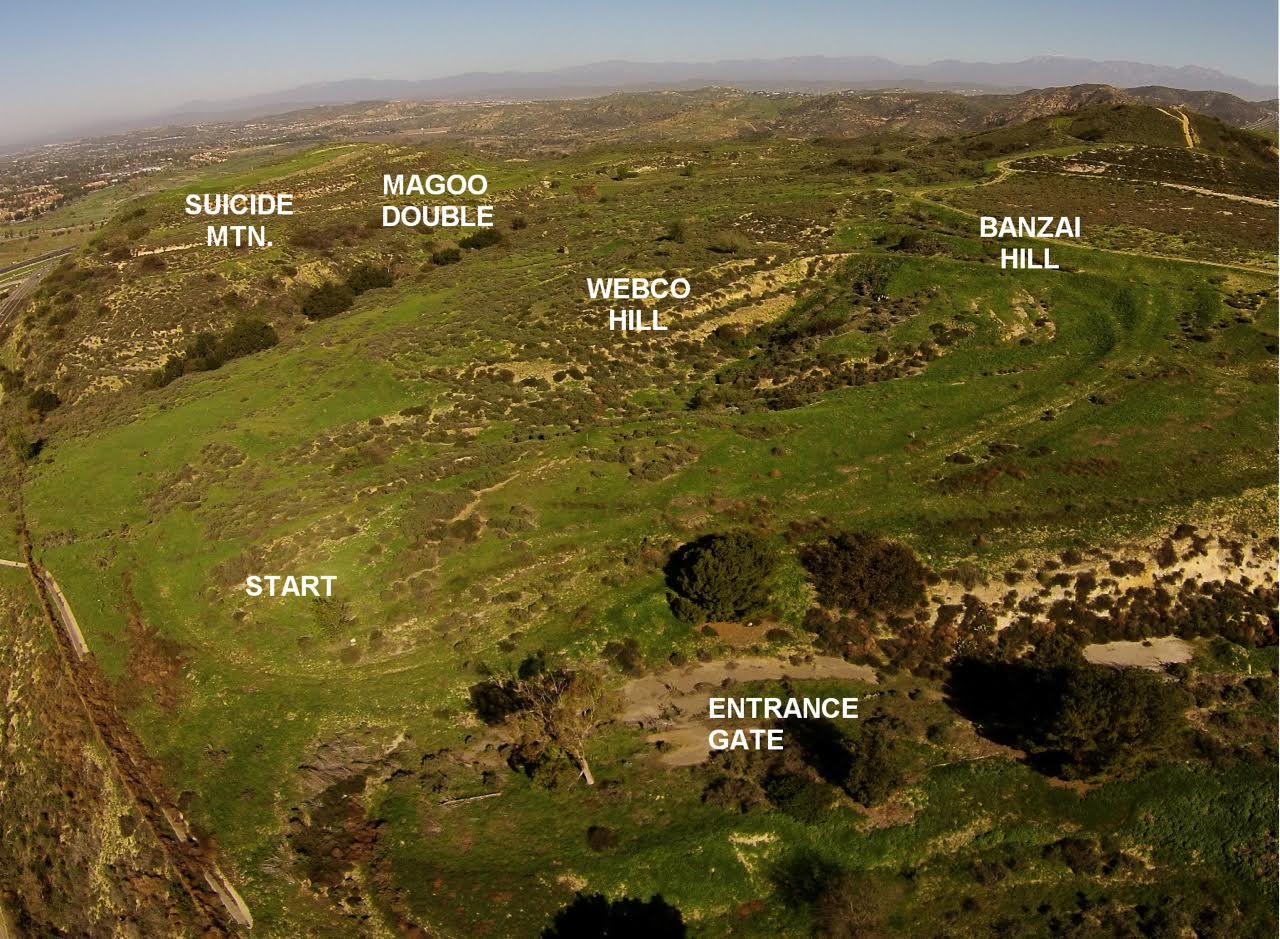 And then there's Indian Dunes, which was near Valencia above Los Angeles. I had heard stories about what happened out there, with some pointing to lawsuits from motocross riders in the sue-happy eighties, and also lawsuits related to movies filmed there, including the fatal helicopter accident involving the actor Vic Morrow and two children in the Twilight Zone movie (the chopper landed on them when it fell out of the sky during a nighttime shoot). What I found was a very interesting article from 1985 in the Los Angeles Times online archive that could very well be rewritten for Zaca Station.
I was lucky enough to go to Zaca Station once, but like a lot of people, actually riding there was still on my "bucket list"—something I've seen mentioned time and again by others who never got to ride there and probably never will. Coincidentally, I never got to actually ride at Saddleback or Indian Dunes, either, but I did visit both, and on the same trip! Saddleback because my dad was meeting up with Rick "Super Hunky" Sieman there before the '84 Anaheim SX, and Indian Dunes because my mom's high school friend, the actor David Selby, was up there shooting an episode of Falcon Crest. Strange, I know.
10 ON GREEN (Andras Hegyi)
Just as he did in Monster Energy AMA Supercross, Kawasaki's Eli Tomac is climbing up some all-time lists in Lucas Oil Pro Motocross. Winning a very memorable duel against Red Bull KTM's Marvin Musquin at High Point, Tomac got his 13th victory in the 450 Class. Tomac began the 2018 season with nine wins, so this year, regarding the number of victories, he has overtaken Kevin Windham (10 wins), 2009 champion Chad Reed (10), 1994 champion Mike LaRocco (11), three-time champion Gary Jones (11), three-time champ Jeff Stanton (12), two-time champion Ryan Villopoto (12), and 1993 champion Mike Kiedrowski (12). Tomac has tied Jeff Ward in the all-time 250/450 national wins list too.
Tomac scored his 30th podium in the 450 Class in Lucas Oil Pro Motocross last weekend, and he took his tenth win in the saddle of Kawasaki. Tomac is the seventh Kawi rider to get at least ten wins.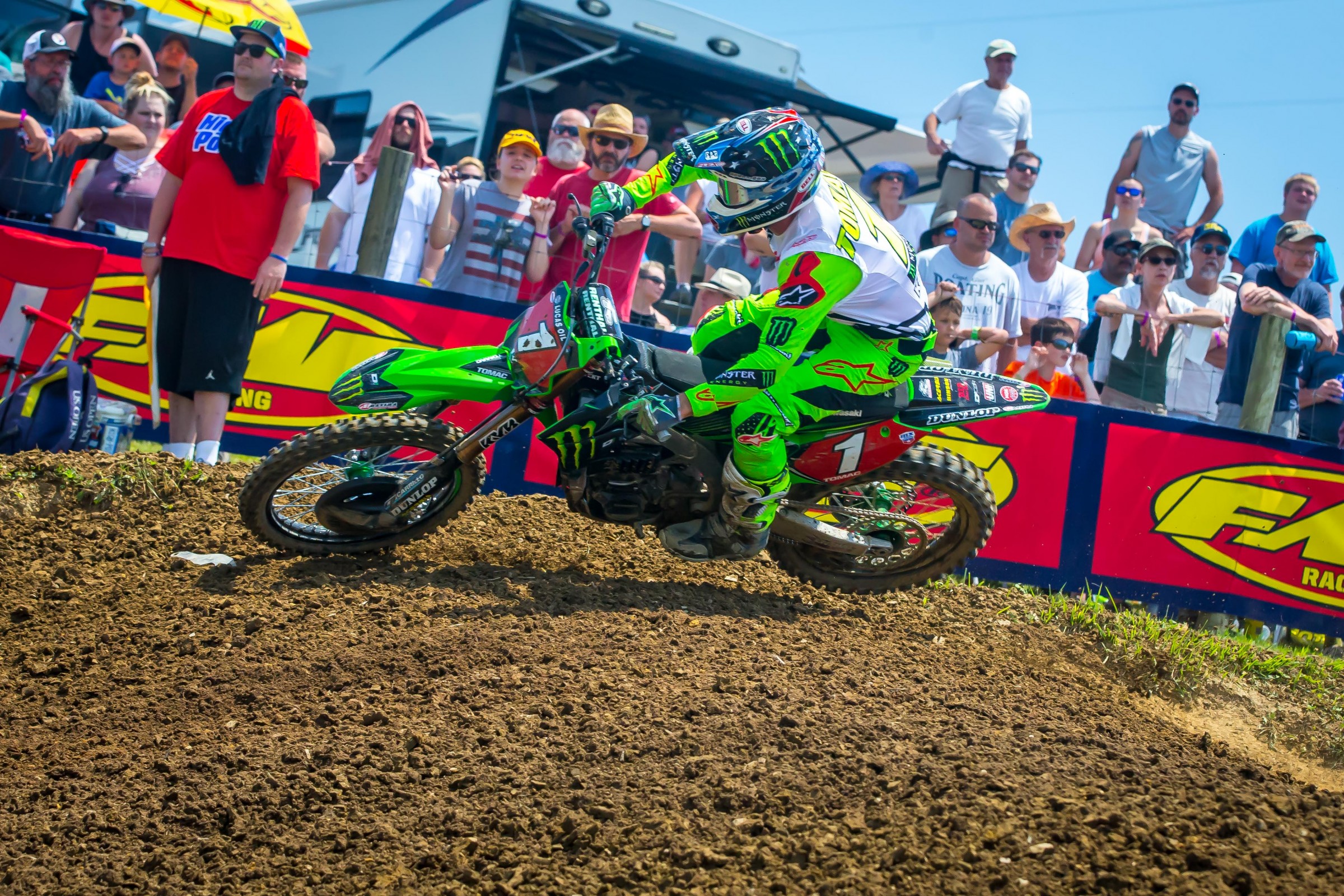 Kawasaki Riders With at Least Ten Wins in the 250/450 Nationals
Ricky Carmichael (16 wins)
James Stewart (16)
Jeff Emig (15)
Jeff Ward (13)
Ryan Villopoto (12)
Mike Kiedrowski (12)
Eli Tomac (10)
It is also worth noting that Jeff Ward won 12 nationals in the old 500 class while aboard Kawasaki. Mike Kiedrowski won three, and Mike LaRocco took two.
SPANISH FLY (Andras Hegyi)
Seventeen-year-old Spanish MX2 title contender Jorge Prado has transformed himself in 2018. He moved from Belgium to Italy, joining the Italian de Carli team to be an apprentice of nine-time world champion Antonio Cairoli. Thanks to those radical changes, Red Bull KTM's Prado has become faster, he can take the hot weather better, he can rewrite the Spanish record books, and, for the first time ever, he can fight for the MX2 world title.
In 2017, Prado suffered from the great heat and high humidity at Ottobiano, Italy. In Moto 1 he was so exhausted that he finished only 18th and was then taken to the medical center. Prado was so decimated that he was forbidden to start Moto 2. But this year at Ottobiano we saw a brand-new Prado. The young Spaniard did not suffer at all and was able to take both the heat and the humidity. The completely changed Prado got his fifth GP win of the season.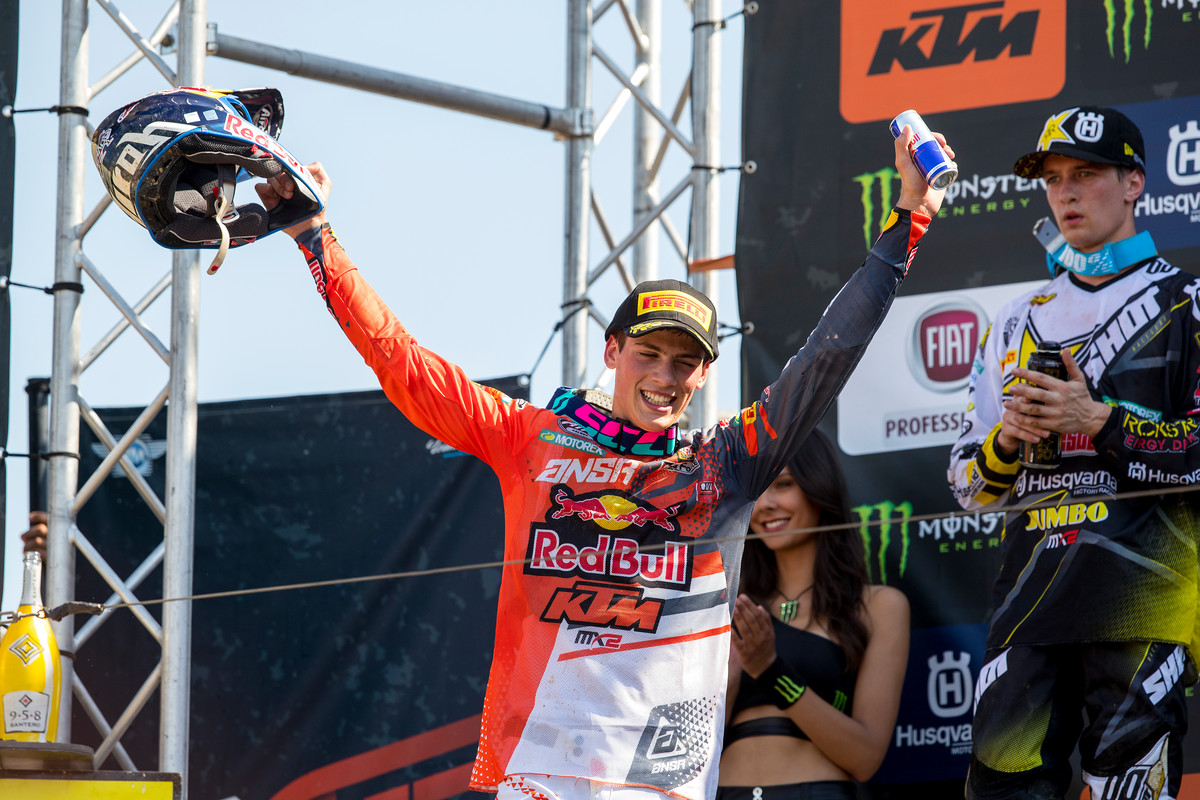 Prado has made the world title fight closer. The defending MX2 world champ, Pauls Jonass, had a 45-point lead over Prado at one point, but now the difference between Jonass and Prado has gone down to just nine points.
Prado has also rewritten the history of Spanish motocross, becoming the most successful Spanish rider in FIM Motocross World Championship history. Getting his eighth GP win, Prado has overtaken Jonathan Barragan and Carlos Campano in the Spanish all-time wins list. Both Barragan and Campano had seven GP wins (and all of Campano's wins were in the lesser MX3 division).
Jorge Prado—an FIM 65cc World and European Champion as a kid, then 125cc European Champion—debuted in the MX2 Class in 2016. He was initially pegged to go race in America but now seems to be settling in as the legendary Cairoli's protégé and possible successor one day. Stay tuned.
CHRIS AND CODY GRAGG MEMORIAL (DC)
No good deed goes unpunished, or something like that….
Last year, after the tragic deaths in a highway accident of local riders and community heroes Chris and Cody Gragg, there was an outpouring of sympathy leading into both the Steele Creek GNCC in Morgantown, North Carolina, and the Muddy Creek Pro Motocross National. Victory Sports decided to use their intermission for a memorial race in honor of the two, as Cody Gragg was a two-stroke fan and flyer—he has the last best finish of a two-stroke in The Vault (he finished 13th on a YZ250 at the 2015 Budds Creek 450 National). Fans and friends were invited to donate to a purse in the hopes of getting maybe $5,000 to share. Instead, they raised around $10,000, and what was supposed to be an intermission Memorial Race turned into something much different. The two riders at the front, Tyler McSwain and Caleb Carter, were absolutely charging for the win and big prize. They landed on one another just before the finish, and McSwain had to be carted off. Not the intermission anyone expected.
Last winter at the promoters' meeting, other tracks wanted to do their own halftime 125cc races, just like the OG one Joey Lancaster started at Washougal. We discussed a way to ease into it and hopefully keep it fun and entertaining and not as cutthroat as what had happened at Muddy Creek with the Gragg Memorial Race. We also suggested that when they raise so much money, they really should give some (or all) of it to a memorial fund for whomever the race honors.
Well, somewhere along the way, the message conveyed was misunderstood, and Victory Sports once again invited donations for the Gragg Memorial Race. And once again, the outpouring of support was overwhelming—about $20,000 worth of overwhelming. We didn't realize this until we started getting calls from factory teams wanting to send their top amateurs there and asking what the race format would be like, could they get extra practice, would there be transponders, which rulebook would they use, and so on and so forth. In other words, it was becoming much more than an intermission memorial race due to the size of the prize money.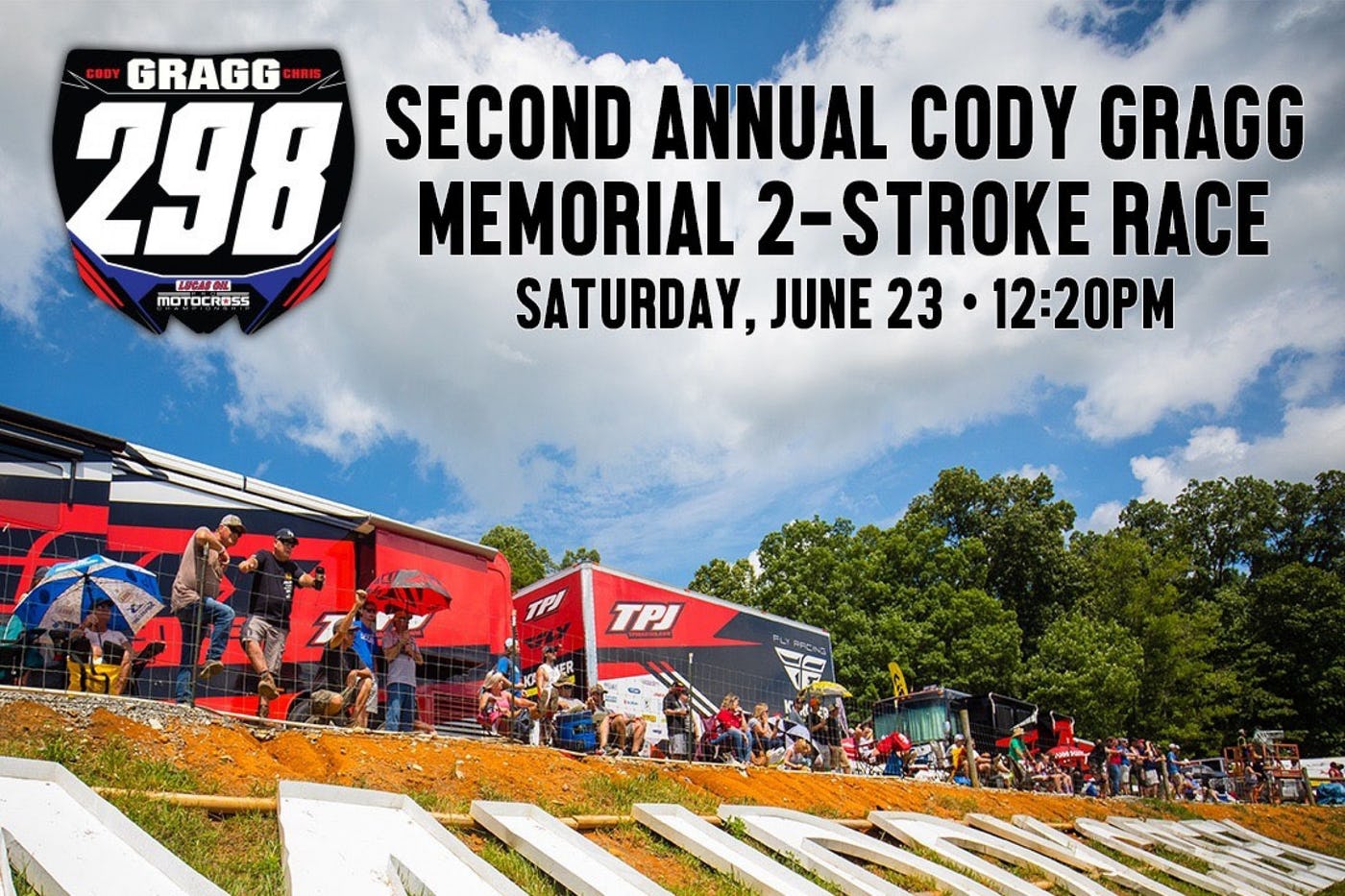 It was never anyone's intention to turn the Gragg Memorial Race into the biggest two-stroke bounty race in history. Instead, it was about the legacy of Chris and Cody Gragg and helping build a lasting contribution in their honor, in their community. So MX Sports Pro Racing asked Victory Sports to help turn the boil down on this by earmarking half of the money to a charity of the Gragg family's choice. (Lisa Gragg suggested the money be donated to the Foothills Outdoorsman Association Chris and Cody Gragg Memorial Fund in Colletsville, North Carolina, a nonprofit organization that is dedicated to helping the community and youth to promote education in conservation and firearm safety.
Of course, this did not go over well with the people gearing up to go after what would have been more than $6,000 for first place alone. I absolutely understand their anger and apologize for this change of direction, but it was getting out of hand and out of bounds. What was supposed to be a fun memorial for Chris and Cody has become a shooting gallery on social media. Even though it's still nearly $10,000 in prize money for what was supposed to be an exhibition race, we are getting pilloried, and rightly so—we should have kept a closer eye on what was being posted on Victory Sports' website and asked them to cut it off at a certain number. I apologize.
Our focus has been on Lucas Oil Pro Motocross and having a successful (and safe) series. Maybe next year they can have a crowdfunded two-stroke race on another date, where it can get the attention and officiating it would deserve, and we can just focus on the Lucas Oil Pro Motocross Championship and a fun, less-serious halftime exhibition race that honors Chris and Cody. Anyone who donated to the memorial race and wants their money back will absolutely have their donation returned. Again, I apologize for this getting out of hand and way down the road before we realized the oversight and the miscommunication.
Press Day Gallery (Derek Garcia)
Hey, Watch It!
RACER X FILMS: DARRYN DURHAM 125 ALL STAR RACE HIGH POINT FULL MOTO
You can check out even more helmet cam footage from that race here.
RACER X FILMS: TALON HAWKINS HELMET CAM 2018 MAMMOTH MOTOCROSS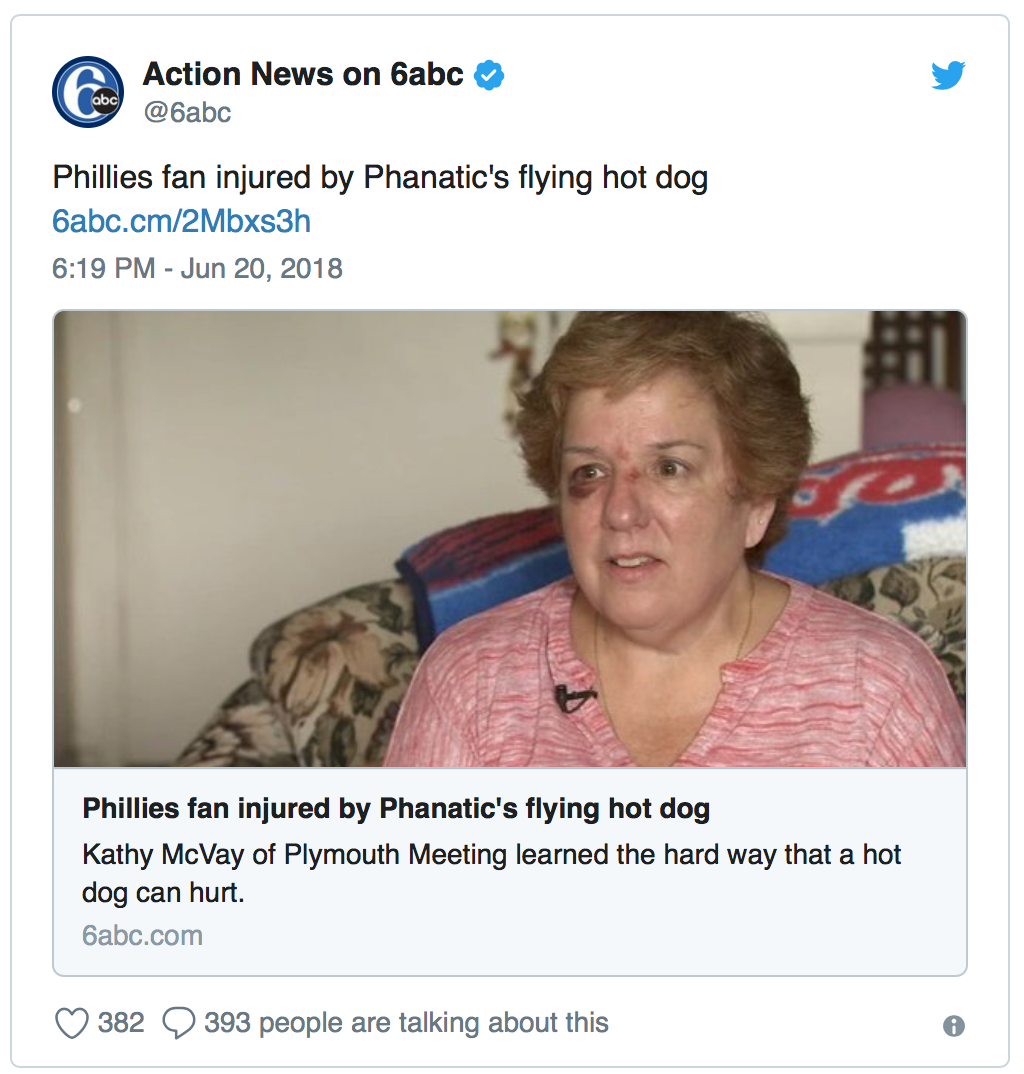 Random Notes
The Jessica Patterson Classic
June 30-July 1
Travelers Rest MX
1452 N. Highway 25, Travelers Rest, SC 29690
WMX Round 5&6 (Double Header)
Victory Sports Ultra Series — July 1
Costa Rica Unlimited "Guest Guide Tour"
Date: November 15-20, 2018
Price: $3,200 (Per Person)
Contact: 714-368-0656
Website: www.costaricaunlimited.com
Costa Rica Unlimited is inviting off-road riders to experience the adventure of a lifetime with five-time National Enduro Champion Russell Bobbitt as we ride in, over, and through the beautiful country of Costa Rica. Enjoy six days, five nights, and four riding days on one of our new 2018 KTM XC-Fs or Husqvarna FXs. This tour includes lodging at the CRU Compound in Playa Hermosa, airport transportation, breakfast and lunch, all fuel, lead and chase guides, as well as a nightly gear wash and mechanic service. Hang out, bench race, and ride with Russell Bobbitt for the ultimate gearhead getaway. The tour is limited to ten riders, so call today, visit our website, or email info@costaricaunlimited.com to secure your spot on this tropical motorcycle adventure.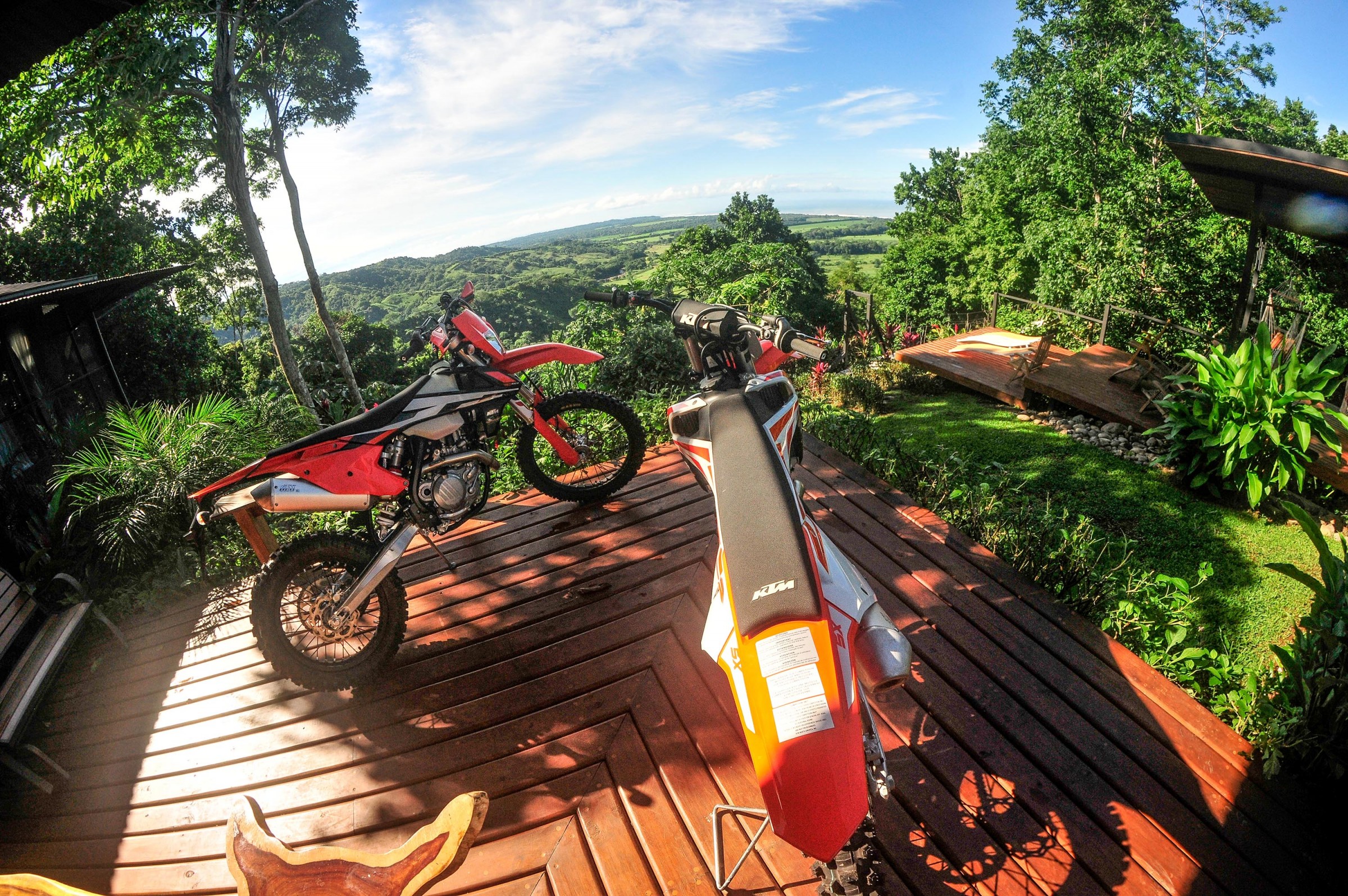 On Track School will be in attendance at round nine of the GNCC races at Snowshoe Village this weekend. Andrea Leib is looking forward to sharing this successful accredited online school program with students and parents. Use promo code GNCC9 and receive $100 off registration.
Subscribe at Muddy Creek and Recieve a FREE Set of All 12 Official 2018 Racer X Event Stickers
Are you headed to the Tennessee National this weekend? Make sure you stop by the Racer X booth, located in Sponsor Village, and subscribe for as low as $10 and receive ALL 12 Official 2018 Lucas Oil Pro Motocross Racer X event stickers. You will also receive a complimentary magazine and free Racer X stickers. Be sure to check out our Racer X Brand items on display and grab some gear. See you at the races!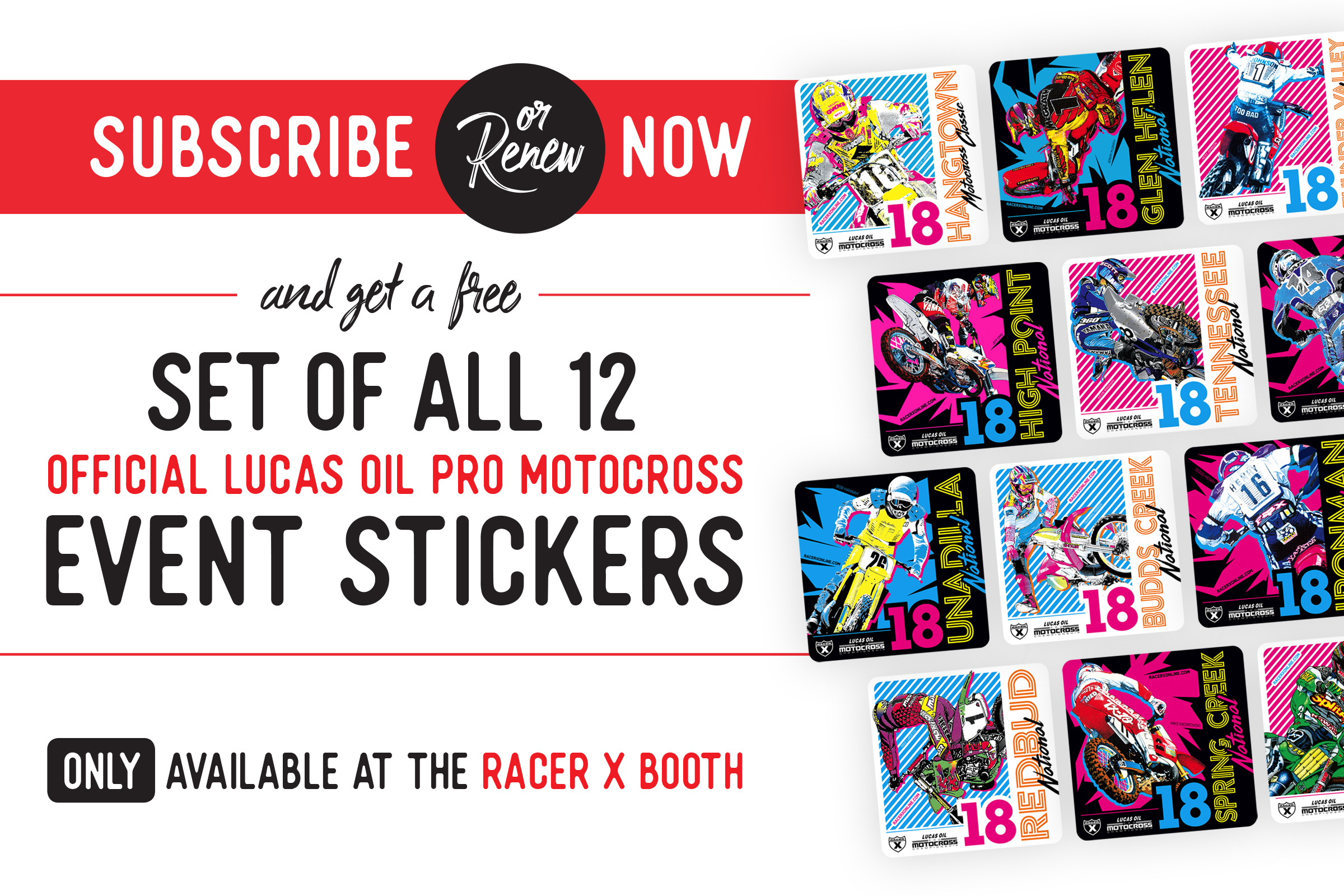 Subscribe or Renew Now and Get a FREE Set of All 12 Official 2018 Racer X Event Stickers
Subscribe now for as low as $9.98 and receive a FREE set of all 12 official Racer X event stickers, plus immediate access to our current digital edition.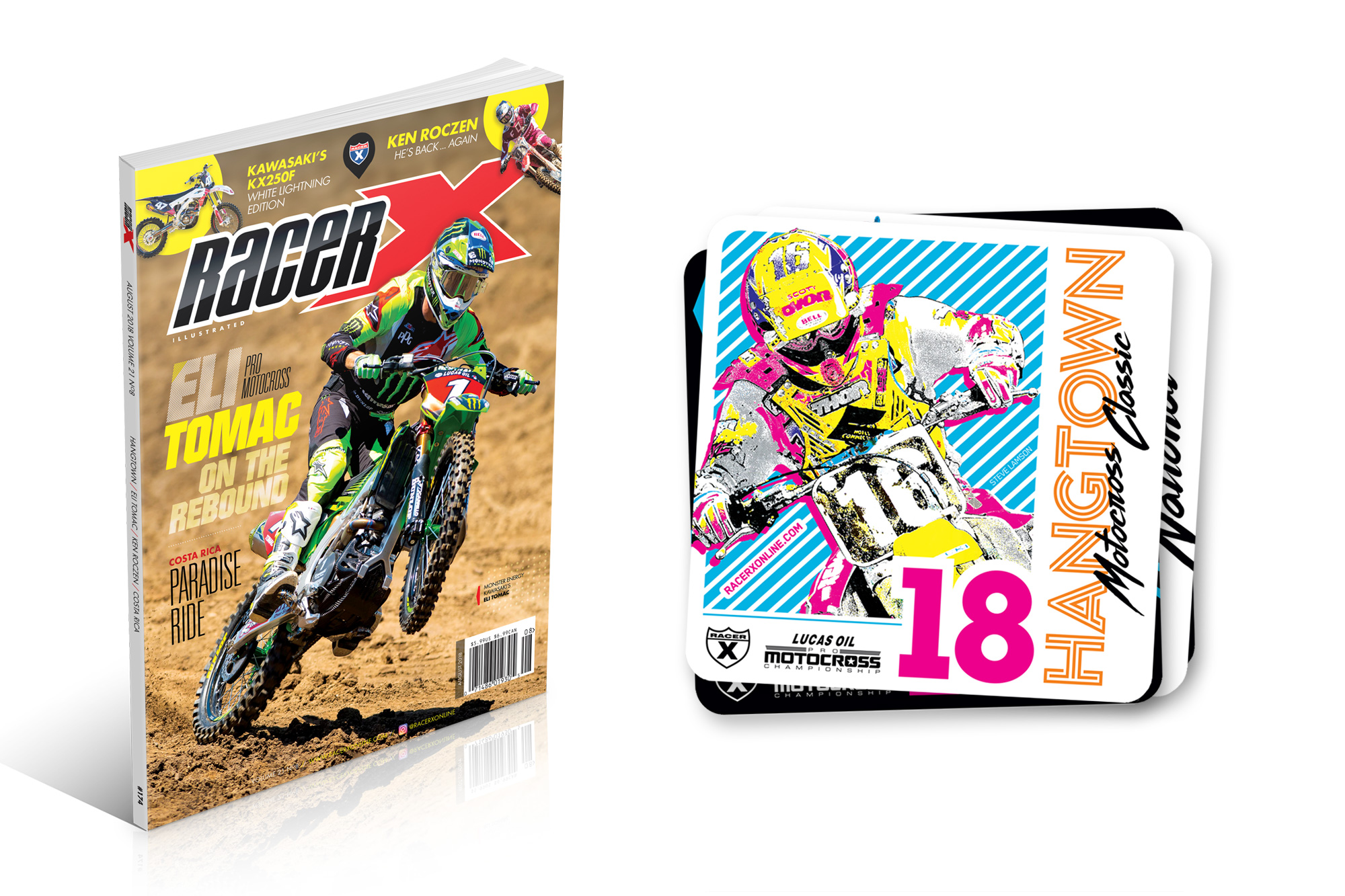 Going to the Tennessee Motocross National this weekend? Want to be able to get into the pits all day?
The only way to cruise the pits whenever you'd like is with the Racer X All-Day Pit Pass, but quantities are limited! Make you stop by the Racer X Pit Pass Booth, located in Sponsor Village, and purchase your Racer X All-Day Pit Pass while they're still available and receive all-day pit access, plus a one-year subscription to Racer X Illustrated, for just $50.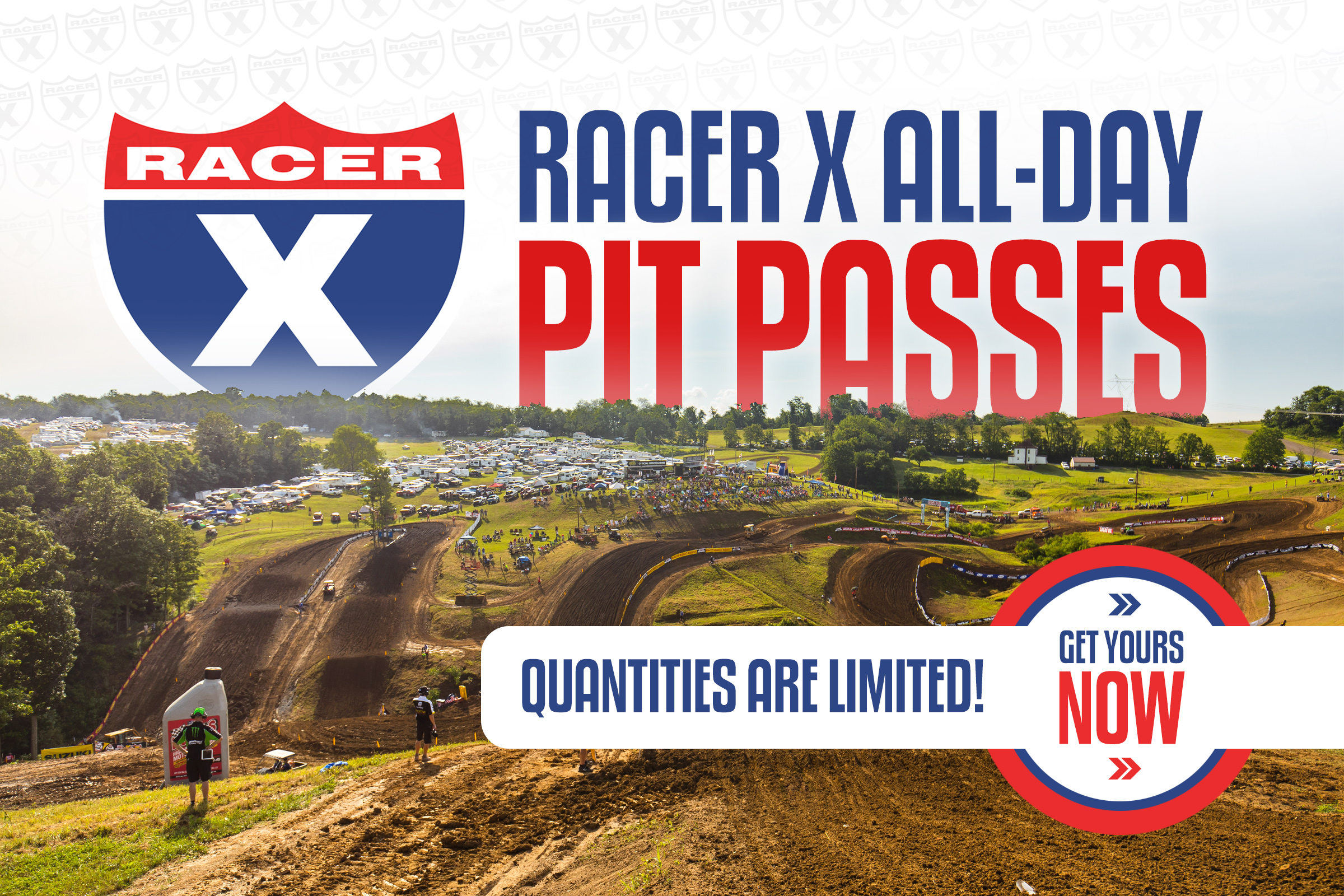 Racer X Brand New Product Release
We have new products now available on Racer X Brand! Click here to check them out.
Okay, that's all for this week. Thanks for reading Racerhead. See you at the races.