One of my favorite motocross images (though I never actually saw it in person) happened in August 2003. It was right after the Loretta Lynn's AMA Amateur National, though it took place on the side of a hill in Millville, Minnesota. That, of course, is where the Spring Creek National is located, in the backyard of the Martin family. John and Greta Martin were running the track back then, getting ready for the annual pro national and doing what pretty much every motocross promoter's family does: relying on the kids for some cheap (meaning free!) labor. There are two Martin boys, Alex and younger brother Jeremy, and they were assigned to do some weed-whacking on the side of the hill where the spectators would be standing that coming weekend.
But on this particular day they were going to have some help, because the Alessi brothers, Mike and Jeff, had gone with their parents straight to Minnesota after Loretta Lynn's—they wanted to check out the track where older brother Mike would almost certainly be making his professional debut after the following year's Loretta Lynn's. The Alessis asked John Martin if they could ride, and John pretty much told them the same thing he'd told his own sons, who also wanted to ride: As soon as this hill gets cut, you boys can ride.
The image in my mind's eye is of four of the fastest young motocross prospects on the planet at that time—Mike and Jeff Alessi and the younger Alex and Jeremy Martin—working four weed-eaters on the side of the same hill in a little Minnesota town, earning their keep before their parents let them ride the track. I love it because it reminds me of exactly the way my brother and sister and I grew up here in Morgantown, West Virginia, doing any and everything we could to help our parents run a motocross track, hoping there would be enough time left in the day to do some riding!
Here's what High Point Raceway looked like last Sunday...
...and what it looks like today after a week's worth of hard work!
In the time since that day in August '03, the Alessi brothers enjoyed long and relatively successful careers, Mike more so than Jeff, who suffered more than an unfair share of injuries. Alex Martin turned pro in 2008, followed by Jeremy in 2012. Both of the Martins have won AMA 250 nationals, and Jeremy is already a two-time AMA Motocross Champion. At the last round of the 2018 Lucas Oil Pro Motocross Championship at Thunder Valley, they went 1-2 overall, and not for the first time. Both are in the running for the championship, Jeremy on the #6 GEICO Honda, Alex on the #26 Troy Lee Designs KTM. People have gotten used to seeing these two up front in the mix, just as we did for a time with the Alessi brothers.
Anyway, that mental image of those boys all working together years ago came to mind again this week because one afternoon I found myself and my brother once again out at High Point Raceway, running weed-eaters side by side in the lower pro pits, doing our bit to help out a little. Neither of us were doing it to ride at the end of the day, though; we were doing it so our kids, who were also out there working, could maybe ride a little! We have come full circle.
High Point used to be on Memorial Day Weekend at the end of May, but the transition from supercross to motocross and the arduous travel schedule for the teams and privateers and series sponsors and vendors—specifically that cross-country haul from Hangtown or Glen Helen to Mount Morris, Pennsylvania—meant a big schedule change. High Point was pushed back into June and is now Father's Day weekend. With a weekend off before, we've had plenty of time to hang out and work together with the whole High Point crew—the Holbert family, the Cotters, and more. It also gave us a lot of time to think back on growing up at this place, which ran its first race in 1976 and its first national in '77. It's been 20 years since we lost Big Dave, but I'm pretty sure he's somewhere smiling at the fact that, after all these years, we're still out here on the weed-eaters, working side by side—only now we get to do it with his grandkids, too.
Happy Father's Day weekend to all of the dads out there, especially the motocross ones.
NEWCOMERS (Steve Matthes)
With the Lucas Oil Pro Motocross Championship heading east, there's a whole crop of new racers and teams making their season debuts in motocross.
Frenchman Dylan Ferrandis will make his outdoor debut for Monster Energy/Yamalube/Star Racing Yamaha after a bad crash in SX earlier this year. Ferrandis proved to be very fast last summer until he got hurt, and it might take him a race or two, but he should get up the podium more than a few times before the year is out.
Traders Racing Yamaha will be at High Point with Luke Renzland on the 250, and the team will put Nick Gaines on the 450. Crew chief Skip Norfolk told us back in SX that the team won't be doing outdoors, but it looks like they found some funding and will be doing the next few rounds, which is awesome. Renzland is still a rider I'm a fan of and who I think can get better if he's racing week to week.
Ben LaMay and Heath Harrsion will be there with a new Honda team based out of Charlotte. LaMay had been riding well for the Teddy Parks Experience team, but that's something where the rider pays to transport his bike, so there's no worries with him making the jump to this new squad. Harrison—like Henry Miller, who made his debut at Thunder Valley—has to be looking at the depth of the 450 Class right now and drooling at the chance to get inside the top ten soon.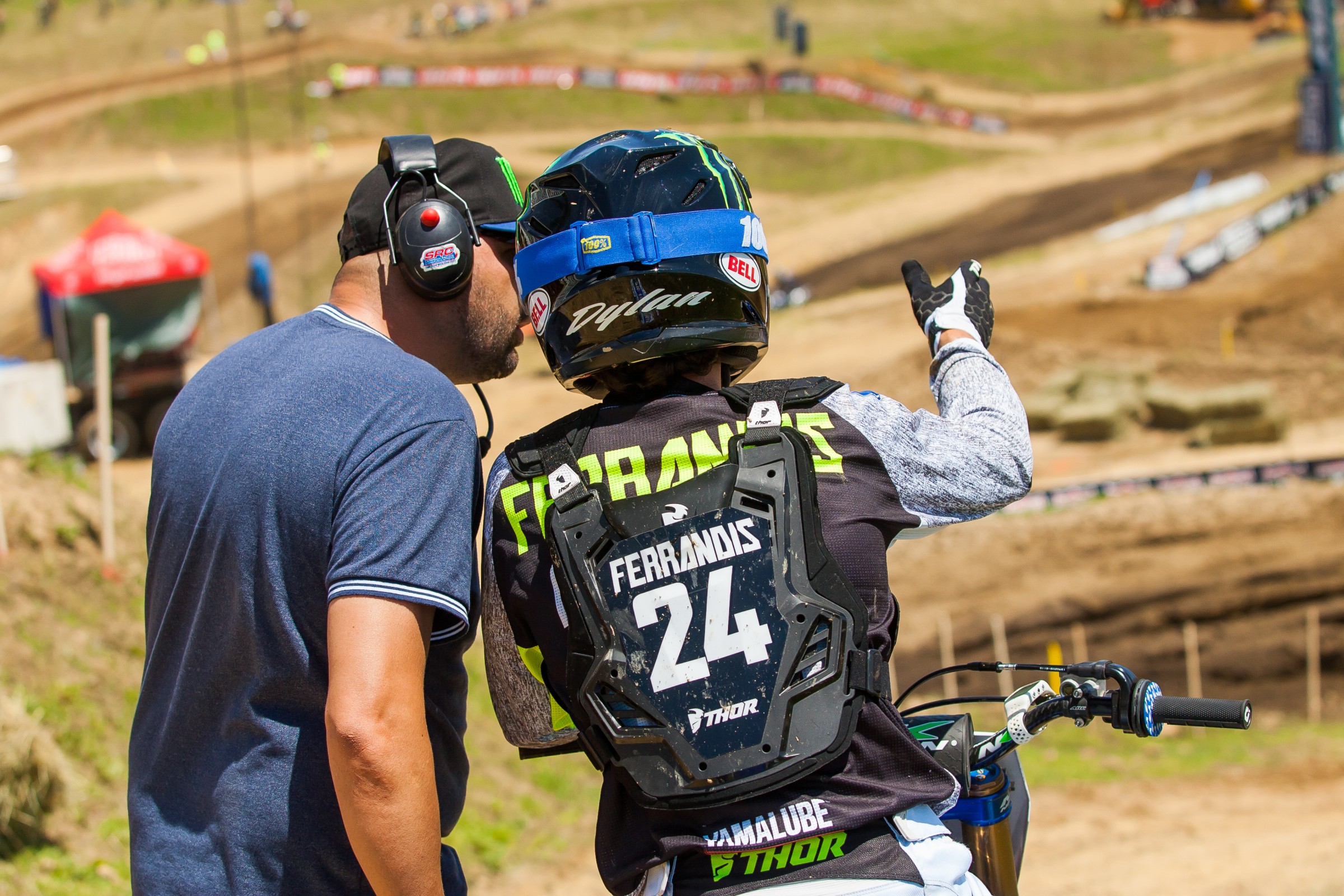 Monster Energy Yamaha announced that it is keeping fill-in Alex Ray on the squad for Muddy Creek. His deal was initially three races, but I guess it's working out for everyone involved, and Ray will get one more race before Cooper Webb comes back. From the beginning, privateer hero Ray told me he really hoped to ride well enough to have Muddy Creek included because that's his home track. His family and friends will be there to take in the glory that's Alex Ray, factory Yamaha rider, which is a feel-good story for everyone involved. And hey, A-Ray's been pretty good, right? The guy's come a long way from pink JT gear at SX to this.
Matt Bisceglia's been Instagramming his new Honda ride for the TiLube Honda team in the 450 Class. I heard he's going to start at Muddy Creek and not this weekend, but keep an eye open for him. He can certainly pull starts and put himself into a good position to get results.
I think that's about it. Go read PulpMX.com after everything on here, please and thank you.
Factory Phil-In (Chase Stallo)
Only Phil Nicoletti would move from a fill-in role with one factory team to a fill-in role with another—three races into the Lucas Oil Pro Motocross Championship! It just sounds so Phil, though, doesn't it?
The Rockstar Energy Husqvarna team didn't have plans to replace the injured Dean Wilson, who tore his ACL prior to the start of AMA Motocross in a practice incident at Glen Helen, but when Jason Anderson went down in practice—also at Glen Helen—a few weeks later, they need someone to ride the 450 Class. Enter Phil.
Phil was only contracted with JGR until Justin Bogle's return, which will happen soon, so there was no guarantee of riding a full season of Pro Motocross. Which is why, after five years, Nicoletti had to take the opportunity with Husqvarna.
"My agent had talked to Bobby Hewitt a little bit and kind of planned some things out and things started happening quick," Nicoletti told Steve Matthes. "Everything kind of got finished up on Monday. It was good. It's been a stressful, hectic, but awesome week."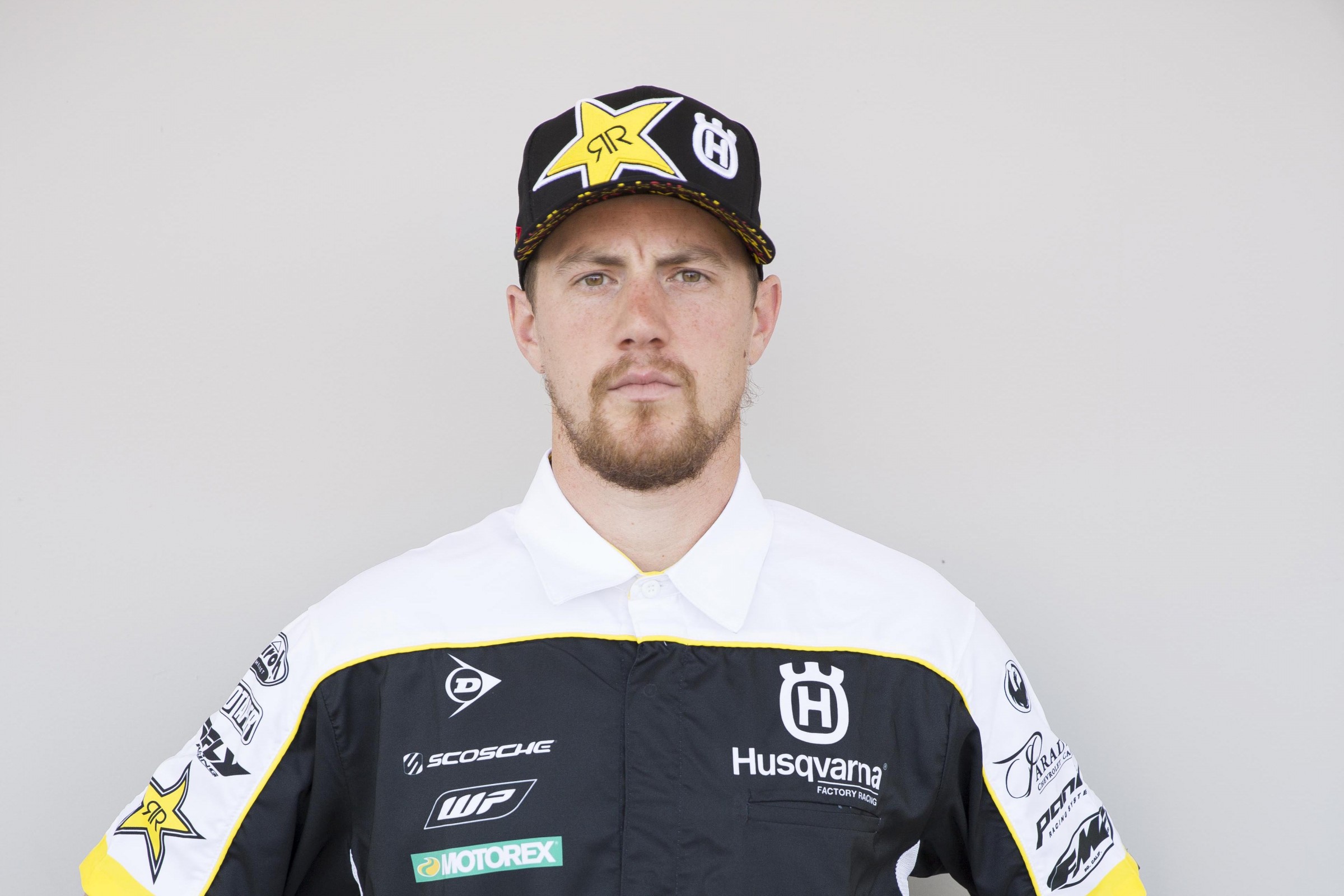 Nicoletti will ride the remainder of Pro Motocross with the team, beginning tomorrow at High Point. It's a quick turnaround for Nicoletti, who had ridden Suzukis all year, but he feels good after a few rides on the new bike.
"It's good. It was actually pretty ironic. I think I'm riding Deano's setting," he said. "At the moment, it's a little stiffer. Him and I are kind of the same way, but he's got a little more leverage than me, so I think that might play into it."
Read his full interview with Matthes here.
Three Winners (Andras Hegyi)
Heading into High Point this Saturday, there have been several big shake-ups. Title holder Zach Osborne got injured in a first-turn crash in the second moto at Thunder Valley, so the Rockstar Energy Husqvarna rider is out for the remainder of the season. And now Honda can be very satisfied leading the overall points standing again after 2013. Also, two-time champion Jeremy Martin has been able to get three podiums in the first three rounds, the first time since 2015 that Martin has been able to lead in championship points.
This is also the first time since 2013 that there have been three different winners in the first three rounds. This is the 14th 125/250 national season that has had three different winners in the first three rounds, but so far in the history of the 125/250 nationals, there have been six seasons where the champion did not emerge from those three riders who would win in the first three rounds.
1980
The three winners in the first three rounds were Mark Barnett, Brian Myerscough, and Broc Glover. Suzuki's Barnett became champion.
1986
George Holland, Erik Kehoe, and Keith Bowen won the first three rounds, but the champion was Honda's Micky Dymond, who got two podiums in those early rounds.
1989
Mike Kiedrowski, George Holland, and Damon Bradshaw won; the champ was Honda's Kiedrowski.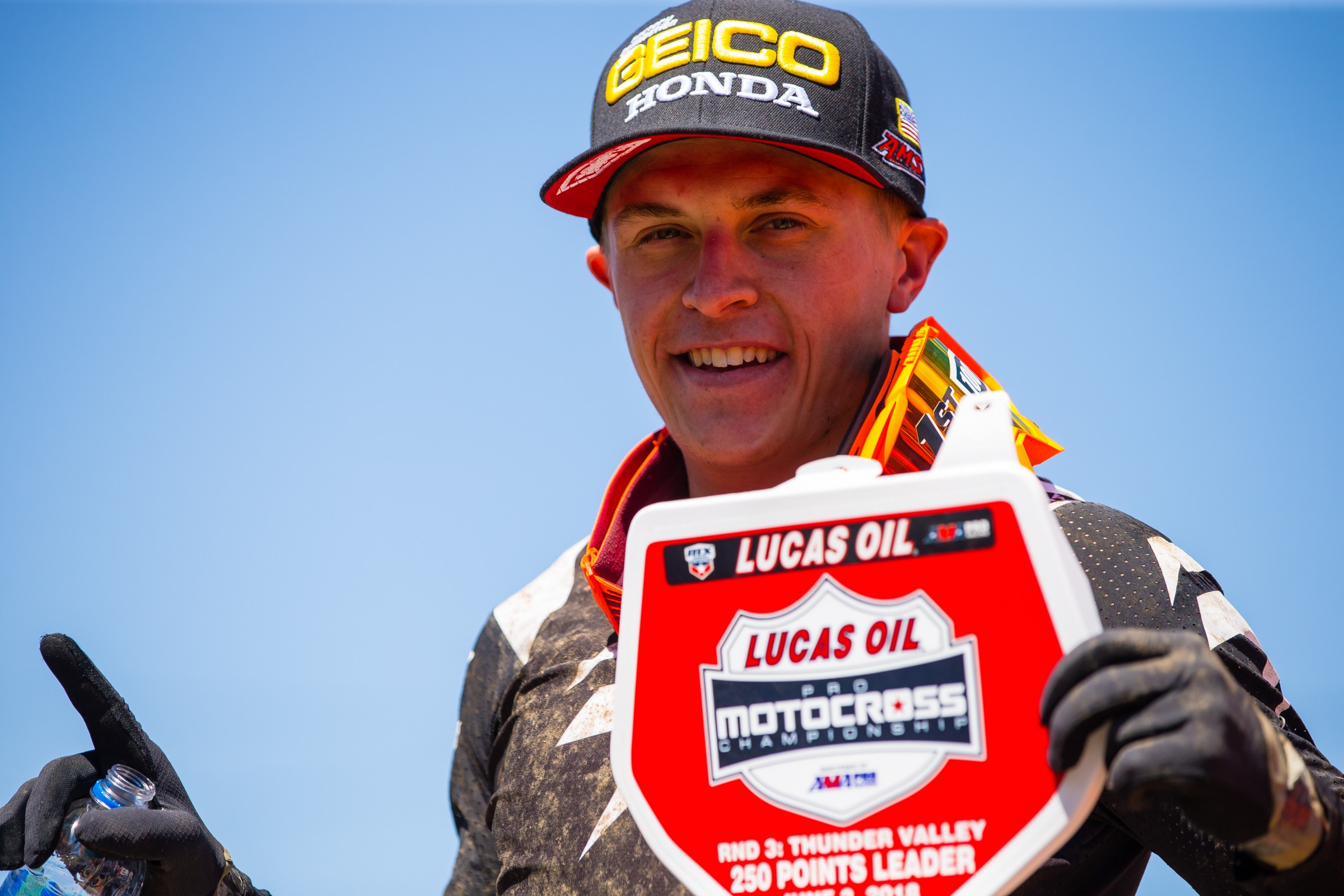 1990
Kiedrowski, Guy Cooper, and Frenchman Jean-Michel Bayle gained the early victories. The title went to Suzuki's Cooper.
1991
Cooper, Doug Henry, and the late Brian Swink were victorious. But Kawasaki rider Mike Kiedrowski would become champion after taking two third-place finishes in the first three rounds.
1993
Jeremy McGrath, Doug Henry, and Jeff Emig were winners at the first three rounds. Team Honda's Henry won the championship.
1994
The first three wins were shared by Jeff Emig, Damon Huffman, and Steve Lamson. But the champion was again Honda's Henry, who got only one third in the first three rounds.
1995
Kawasaki's Robbie Reynard, Ryan Hughes, and Tim Ferry took the first three wins. But the champion was Honda's Steve Lamson, who didn't even get on the podium in those first three rounds.
2000
Honda's Steve Lamson, Red Bull KTM's Kelly Smith, and Yamaha of Troy's Stephane Roncada carried the day, but Suzuki's Travis Pastrana became champion without any podiums in the first three rounds.
2006
Mike Alessi, Ryan Villopoto, and Andrew Short were the early winners. Pro Circuit Kawasaki's Villopoto took the title.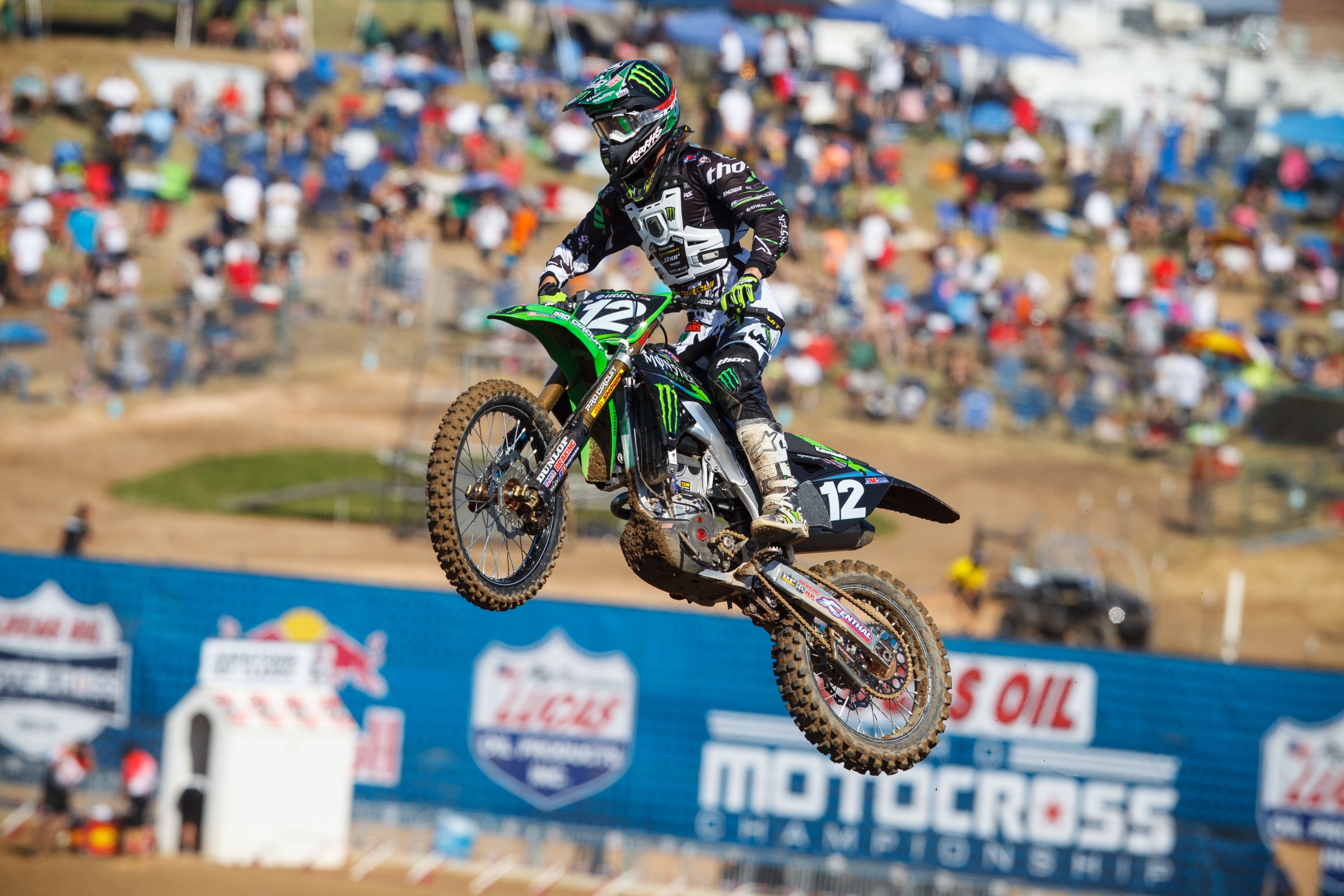 2010
GEICO Honda's Eli Tomac, Frenchman Christophe Pourcel, and South Africa's Tyla Rattray triumphed. But the champion was GEICO Honda's Trey Canard, with only one third-place in the first three rounds.
2012
Blake Baggett, Eli Tomac, and Justin Barcia prevailed. Kawasaki's Baggett got the title.
2013
Tomac and Red Bull KTM riders Ken Roczen and Marvin Musquin walked off with the wins. GEICO Honda's Tomac took the title.
2018
Zach Osborne, Aaron Plessinger, and Jeremy Martin were able to win in the first three rounds. Husqvarna's Osborne will not be champion due to injury. Monster Energy/Yamalube/Star Racing Yamaha's Plessinger has never been this far up in the rankings after the first three rounds, though Martin is the most consistent, being the only one with three podiums. Both Plessinger and Martin have a good chance to fight for the title, but will someone else be the champion?
American Abroad (Jason Thomas)
Greetings from warm and sunny Italy! I was fortunate enough to be invited over to take in MXGP and also take care of some business at Alpinestars' Asolo headquarters. As liaison between Western Power Sports and Alpinestars, it was a great opportunity to cover several fronts with sponsored riders, distribution business, and also take in the racing action on the weekend. It will be a busy weekend for me, watching High Point on my NBC Sports Gold app, commentating the Grand Prix on CBS Sports, and trying to keep an eye on MotoGP in Barcelona as well.
Speaking of racing, Ottobiano plays host to MXGP this weekend, and surely the news of the weekend is the injury to MXGP championship points leader Jeffrey Herlings. I was en route to the airport when I heard the news. As I am working with MXGP-TV's Paul Malin for the broadcast, my thoughts immediately went to the storylines and championship implications. Herlings carries a 62-point lead into the weekend, and with his broken clavicle as well as broken ribs, he will need every bit of that cushion. He is obviously ruled out of this weekend's Grand Prix, but is hoping to make the next start when the series heads to Indonesia in two weeks. Surgery on the collarbone will help stabilize it, but make no mistake, racing again in two weeks will be painful if even possible. Even then, what sort of level would he be able to manage in a very deep MXGP field?
Most of the racing world has been keeping a close eye on Herlings' seemingly impossible pace thus far and wondering if he could sustain it for the long term. This has been almost a yearly occurrence for the Dutchman, suffering injury at some point during the racing season. In some cases, he has been able to overcome and conquer. In others, it's cost him the World Championship. Fighting through the pain and minimizing the damage will once again be the task if Herlings wants his first MXGP championship this season.
For nine-time and defending champ Tony Cairoli, this is the break he needed. He has been the clear rival for Herlings, battling him to the flag nearly every time out. Cairoli has been fighting a knee injury of his own in recent weeks, a casualty of contact with Herlings at Matterley Basin. His mission is clear now, though. He will need to win and win consistently in the coming weeks. Herlings has opened the door, but only Tony can decide if it's opened wide enough to steal a tenth title.
TWO-STROKE RACING (Wheels)
Ah, the sound of wrung-out two-stroke dirt bikes. You love them, we love them, and now you have TWO opportunities to get your fix. As if the 2018 Red Bull High Point National wasn't chock-full of fun already, this weekend will also feature 125 All Star racing. These 125 two-stroke races have been a fan favorite this year, and the iconic High Point Raceway is the perfect venue for some premix fun.
Also, as a part of the 2018 Tennessee National, the Cody Gragg Two-Stroke Memorial Race makes its return to Muddy Creek Raceway in Blountville, Tennessee. This race saw a slew of two-strokes line up in 2017, with a guy on a CR500 nailing the holeshot! With a large purse, contingencies, and awards, this is a cool way to pay homage to a fellow racer and his dad.
There you have it. If you're looking to "mix gas and haul ass," look no further!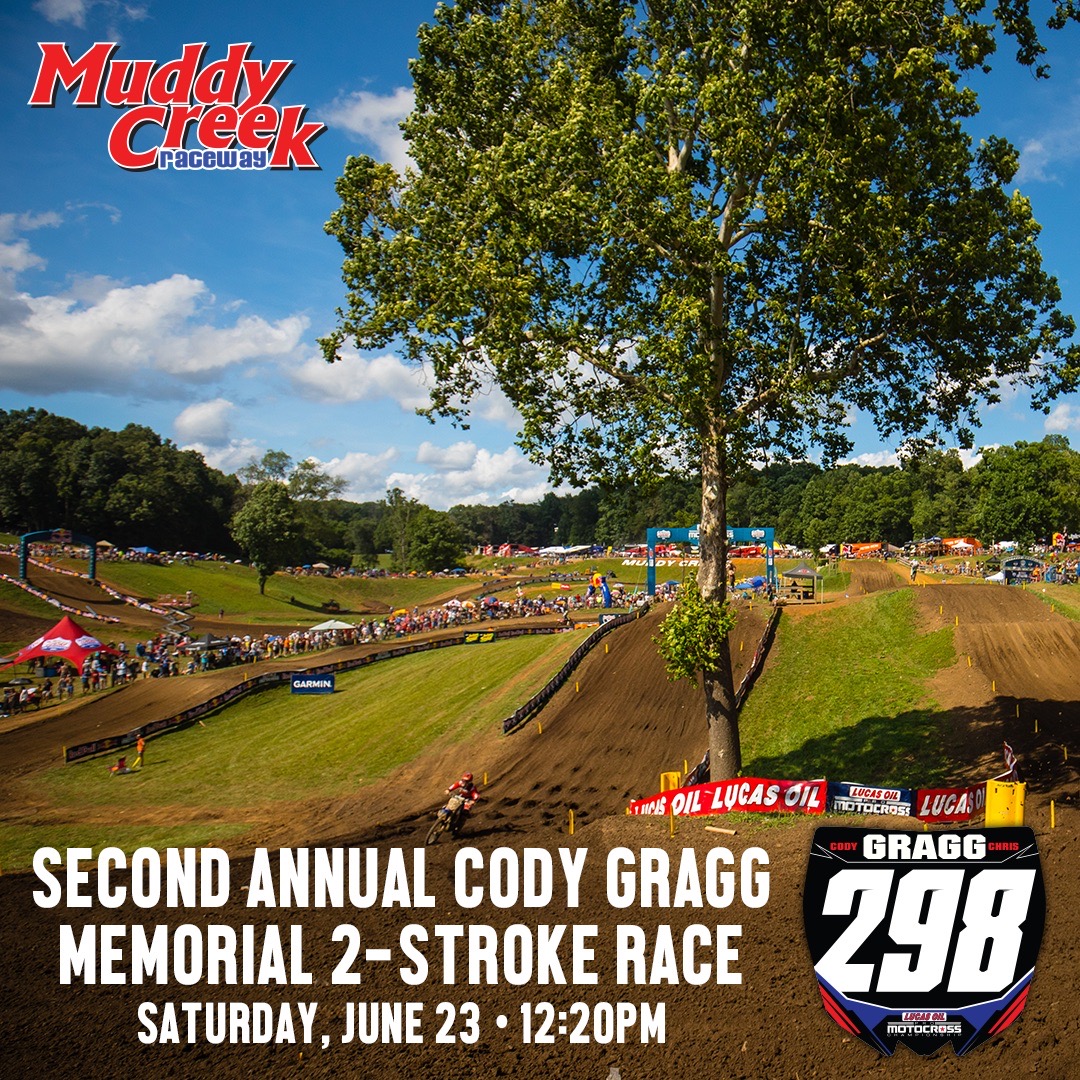 High Point Press Day Gallery (Andrew Fredrickson)
Three Hands (DC)
Carl and David Hand are longtime fast guys from Ohio. Both are in the Vault, and David had a decent career as a professional, traveling the world and racing pro for a decade. This weekend, their three sons are all racing High Point: Carl's son Jeremy Hand is entered in the 450 Class, and David's son Michael is in the 250 Class. And with the addition of the 125 All Star race this weekend, David Jr. is entered too. Carl and David lost their dad, Albert, earlier this year, as mentioned in a previous column. Al Hand was the man who got all of the Hand family interested in motocross, and he, too, must be smiling somewhere at the thought of all of his grandsons lining up for the High Point National. Here's a story with a little more on the Hand family.
Easy Listening (Chase Stallo)
If you're in the car this weekend or out taking care of some yardwork, here are two podcasts worth checking out.
On the Racer X Exhaust Podcast, Jason Weigandt went to lunch with Justin Bogle and his best friend Brad Frace—once a top amateur prospect before a crash left him paralyzed—to talk about life, racing, music, and how it all blends together. As Justin Bogle would say himself, it's a beautiful thing.
You can listen below, or subscribe via iTunes or your favorite podcast app by searching for the Racer X Podcast Network.
Steve Matthes had On Track Off Road's Adam Wheeler on the Fly Racing Racer X Podcast to recap the first half of the FIM Motocross World Championship. Later, Rockstar Energy Husqvarna's Zach Osborne joined the show to give Thomas Covington advice on "pulling an Osborne," his GP stories, and more.
Click here to listen to the show, or you can get it from iTunes under Steve Matthes Show. If you have a smartphone, get it from the Stitcher or PulpMX Apps.
This Week On Exhaust (Chase Stallo)
If you didn't know already, we have a new site. It's called Exhaust. It's fun. And goofy. And no, it's not a slow news day. We cover all kinds of things over there that you'd never see on Racer X Online. Go check it out—we think you'll enjoy it.
Are Honda Ridgelines taking over moto? Steve Matthes says they are.
The MotoHome is alive and well, and we have video!
Why is legendary filmmaker James Cameron wearing a 2010 Thor jersey in 2018? We don't know either.
On Friday, Owensboro, Kentucky, revealed a statue celebrating the life and accomplishments of the late motorcycling road racing champion Nicky Hayden.
Cory Graffunder found out the hard way that a teeter-totter is not very forgiving.
Jason Weigandt dove into the Josh Hill/Axell Hodges feud.
A flag gaffe at the Canadian Grand Prix on Sunday officially ended the race two laps ahead of schedule.
Hey, Watch It!
Racer X Films: 2019 Kawasaki KX450 Intro
Racer X Films: 2019 KTM 250 SX-F and 350 SX-F Intro
Racer X Films: 2019 KTM 350 SX-F Helmet Cam Lap with Ping
Head-Scratching Headlines of the Week
"Kim Jong Un strolls in the city, and Dennis Rodman appears hours before Kim's historic meeting with Trump"— CNN.com
Random Notes
Subscribe at High Point and Receive a FREE Set of All 12 Official 2018 Racer X Event Stickers
Are you headed to the Hight Point National this weekend? Make sure you stop by the Racer X booth, located in Sponsor Village, and subscribe for as low as $10 and receive ALL 12 Official 2018 Lucas Oil Pro Motocross Racer X event stickers. You will also receive a complimentary magazine and free Racer X stickers. Be sure to check out our Racer X Brand items on display and grab some gear. See you at the races!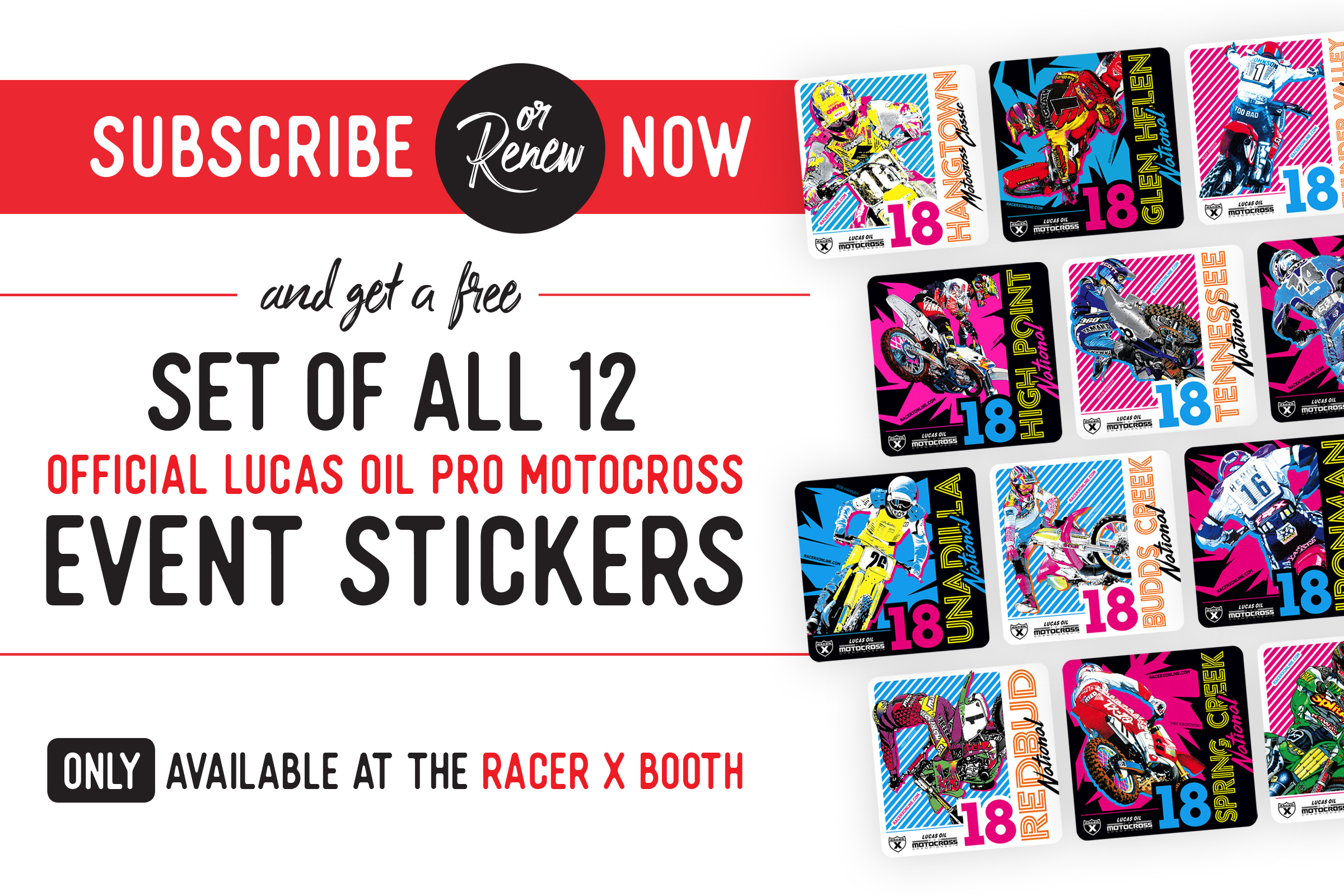 Subscribe or Renew Now and Get a FREE Set of All 12 Official 2018 Racer X Pro Motocross Event Stickers
Subscribe now for as low as $9.98 and receive a FREE set of all 12 official Racer X event stickers plus immediate access to our current digital edition.
Going to the High Point Motocross National this weekend? Want to be able to get into the pits all day?
The only way to cruise the pits whenever you'd like is with the Racer X All-Day Pit Pass, but quantities are limited! Make you stop by the Racer X Pit Pass Booth, located in Sponsor Village, and purchase your Racer X All-Day Pit Pass while they're still available and receive all-day pit access, plus a one-year subscription to Racer X Illustrated, for just $50.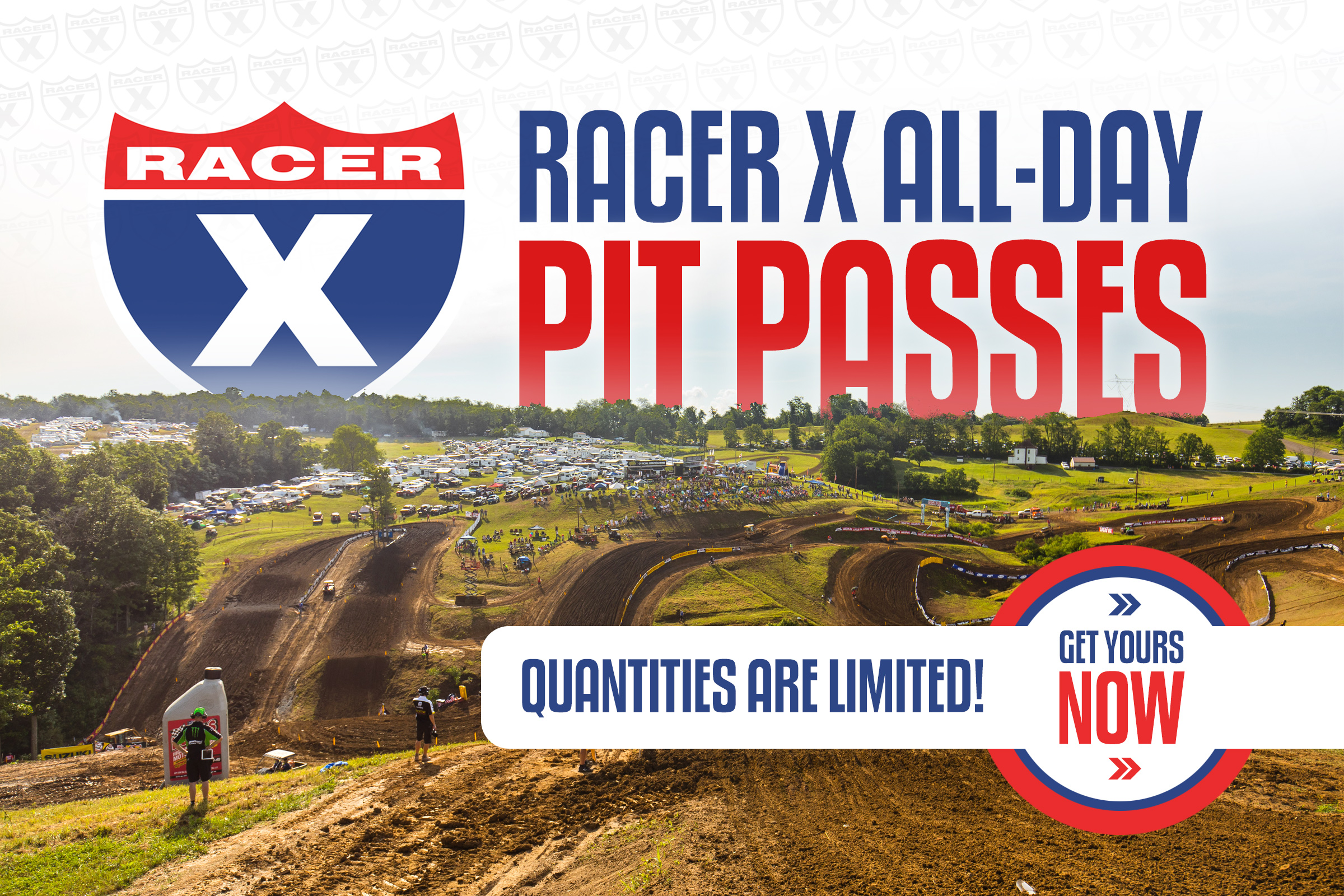 '89 High Point Shirts Available at High Point this Weekend!
If you are headed to High Point this weekend, make sure you stop by the Racer X Booth, located in Sponsor Village, and pick up your '89 High Point Shirt. Quantities are limited, so be sure to purchase yours before they're gone!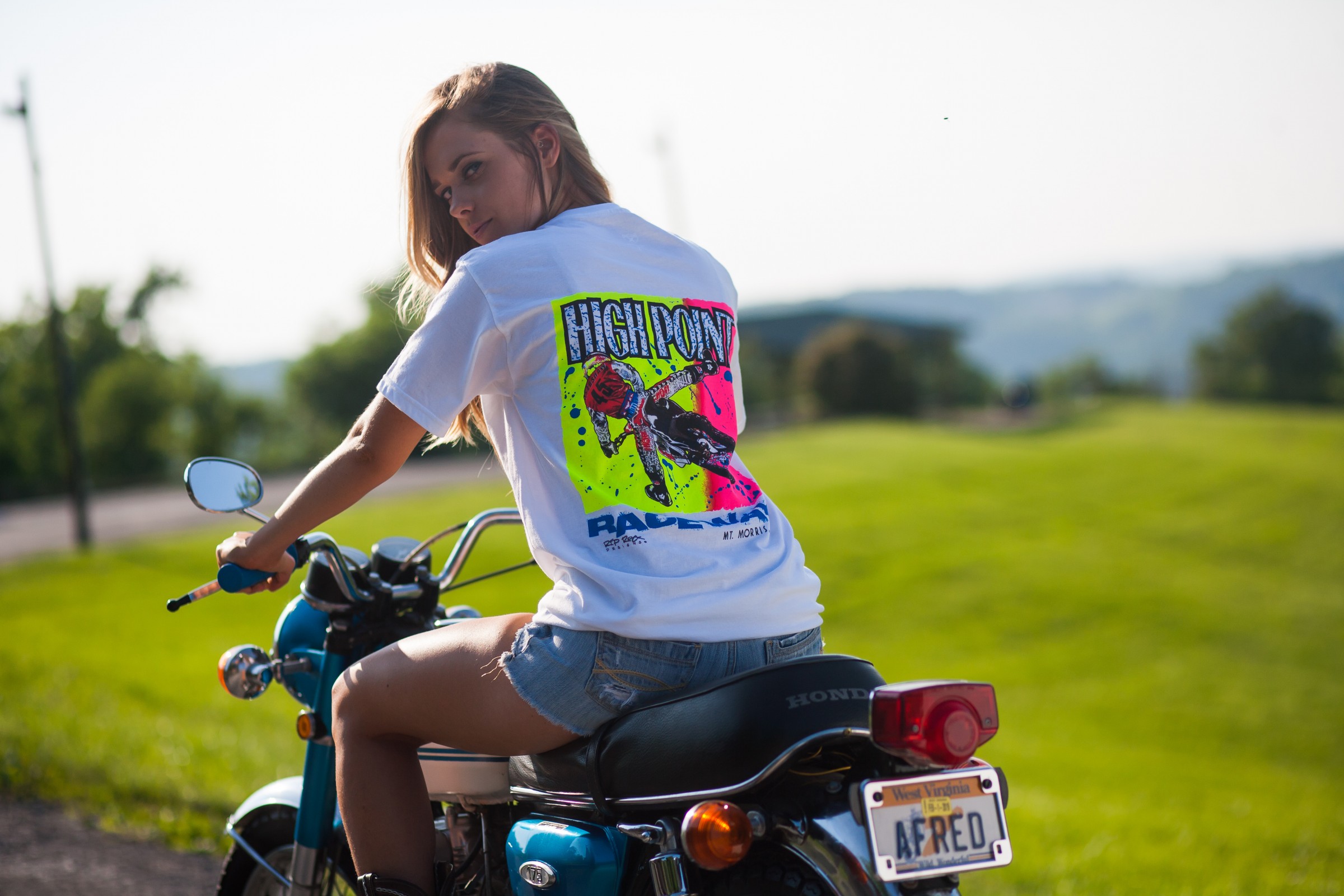 That's all for this week. Thanks for reading Racerhead. See you at the races.