Lakewood, CO
Thunder Valley
Lucas Oil AMA Pro Motocross Championship
You know the scenario—you're sitting with your buddies watching your favorite pro riders rip around the track, and after a few adult beverages, you think, "Man, I could do this." That's exactly what 28-year-old privateer—and rookie—Benjamin Lee did. He was at Muddy Creek Raceway for the Tennessee National two years ago and decided that he wanted to earn his pro license.
Two weeks ago at Thunder Valley, Lee took to the track for his very first attempt at qualifying for a Lucas Oil Pro Motocross National. We could go on about how cool of a story this is, but Ben tells it better, so we caught up with the newcomer out of Tennessee to talk about his experience.
(Note: This interview was conducted via iMessage and has been lightly edited for clarity.)
Racer X: Ben, you've just attempted your first-ever outdoor national, but before we get to that, tell us who you are, where you're from, that sort of thing.
Benjamin Lee: I'm 28 and have been racing since I was 14. I'm from a small town, Madisonville Tennessee, and grew up working on my family farm and family construction business. I built a track at my parents' house myself and always did all of my own bike work. I would buy and sell bikes to pay for my race bikes. I did okay racing C class in high school, and then I went to the University of Tennessee and graduated in 2012. Since then, I've worked for an auto auction full-time traveling a lot for work. I continued to ride during college but didn't take it very seriously because I was a broke college kid. Then when I started working, I didn't have time to ride much.
Two years ago I went to Muddy Creek to watch my first national and my buddy Zach Vaughn and I were having a beer watching practice, and he looks at me and says, "We could do this," so the next day I signed up for my first pro race and started getting my pro-am points.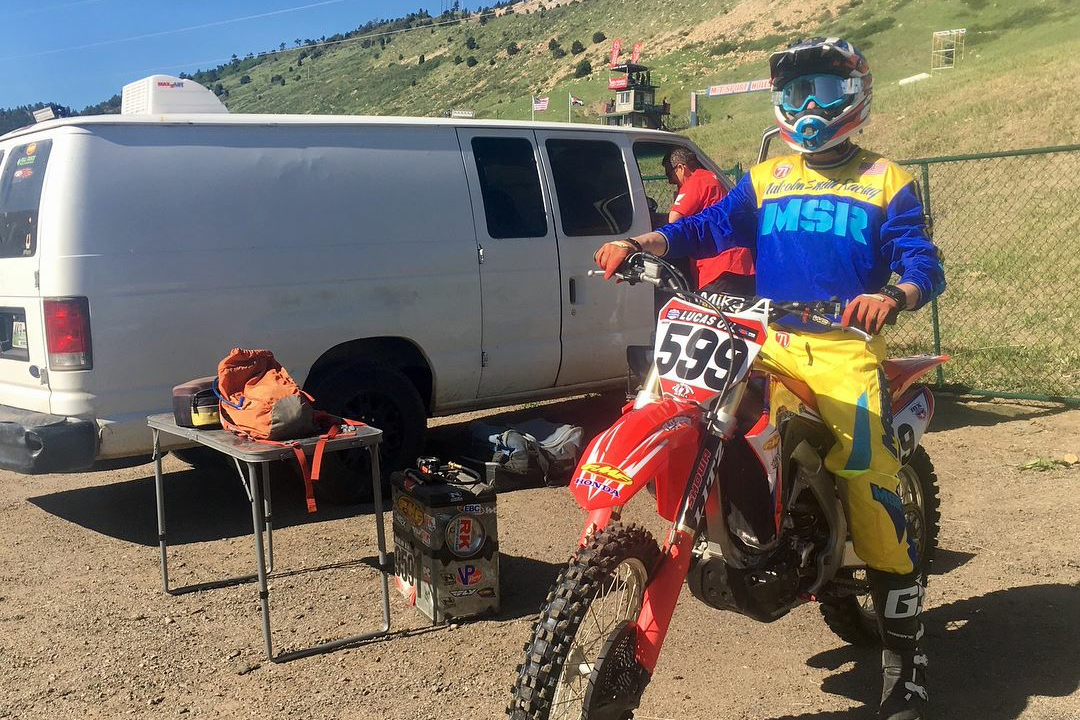 How long did it take you to get all of your points?
It took about a year and half. Like I said, I travel a lot for work and work full-time, so I could only make it to the local ones. I flew back early from a hurricane relief assignment in Houston to be able to race one at Lazy River. I worked 14 hours a day for 11 days, flew home, loaded up the bikes, and raced the next day.
That's some pretty solid commitment. What's your day usually like then? Sounds busy!
Right now, I'm working from about 7:30 a.m.- 5:30 p.m. Monday through Friday. When I get off work, I try to ride a day or two during the week and the other nights are usually bike work and a workout or other commitments. I moved into my house in January and still haven't hung any pictures on the walls or even a TV. I'm too busy for that right now [laughs].
Let's talk outdoors. Your first one was Thunder Valley, correct?
Yeah, Thunder Valley was my first one and I had a blast. Didn't ride well at all, but it was a great experience.
Tell us a little bit about the experience.
I bought a van on Craigslist about a month before the race, and my girlfriend [and I] drove it out there the week before so we could take a vacation. We spent the week trail-riding in the mountains, riding some local tracks, and exploring Colorado. Friday was really cool being in the pits with all the people I've read about and watched for years. Saturday was awesome going to riders' meeting and standing next to [Eli] Tomac listening to everything.
I was so nervous in the first practice, I just bonsaied everything on the second lap and had arm pump by the third lap. The track was so much fun, though. In the second practice, [I] was trying to find my groove and the track was still so much fun, but I couldn't put a solid lap together without messing up of someone slow in my line. On the last lap, I sent it and crashed my brains out! Bent my wheel and knocked the breath out of me. Steve Litz helped me change my wheel out while I gathered myself, and we showed up to the LCQ with about two minutes to spare.
I was so wound up, I was like two seconds late on the gate drop and stared dead-last. The next five laps were some of the most fun I've ever had on a dirt bike, though. I didn't ride that great, but man, was it fun racing on that track in front of a crowd! After that, we washed the bike and watched the first three motos, then started the 22-hour drive home.
All in all, you had the time of your life though?
Yeah, man, it was a blast! I was really frustrated and defeated after practice, especially ending with that crash and my bike being messed up. (I was on my 450 because my 250F that I planned on racing blew up two weeks before we left.) But when that LCQ started, it was so much fun racing on that track. Stuff like that is why we do this. It was an unreal experience!
Will we see you at High Point this weekend, or what's next for you?
I wish I could make High Point! But it wasn't in the budget and I don't have enough vacation at work. The plan is Muddy Creek and then go from there. I put a new engine in my 250F last night and today was the first day I rode it, so I'll build the engine next week before Muddy Creek and then we will see what happens.
Now that you got those first-race jitters out of the way, Tennessee should be a little less hectic, right?
Oh, for sure! I'm so glad I got one out of the way before Muddy Creek. I was just in awe at Lakewood. I'm going to be so much more prepared at Muddy Creek and I'll be ready to send it in the first practice.
You sent us a photo of you with a majestic mullet. What's the story behind that beauty?
What mullet?! That's my hair, bro! I go on a snowboarding trip with my buddies every year and we decided to do a video contest last year, so I got a mullet to make sure the video would be one to remember. After that I realized how good it felt to have one, so I grew my hair out all year and got another one this year. I rocked it for Atlanta SX, and this year I made some good pictures for my girlfriend for her birthday and my mom for Mother's Day. It's always a good time when you have a mullet! It may reappear for Muddy Creek if I can fit it into my schedule.
This is the most 'Merican, southern boy from Tennessee answer ever. I'm a fan.
Heck yeah, man! That's what the #599 is all about! Good times and dirt bikes.
Anyone you'd like to thank before we call it a night?
Steve Litz with Litz Racing has helped me out so much with suspension and the bike. Also, there's no way I could have made it out there without my girlfriend, Kerrie, and the Ferguson family for giving me a place to ride. The other folks that help me out are FMF, Jon Boruff with Flo-Vision Decals, No Toil, Honda of Prestonburg, GET data, Mika Metals, and Dunlop.