Watch GNCC Racing on RacerTV.com and NBCSN This Weekend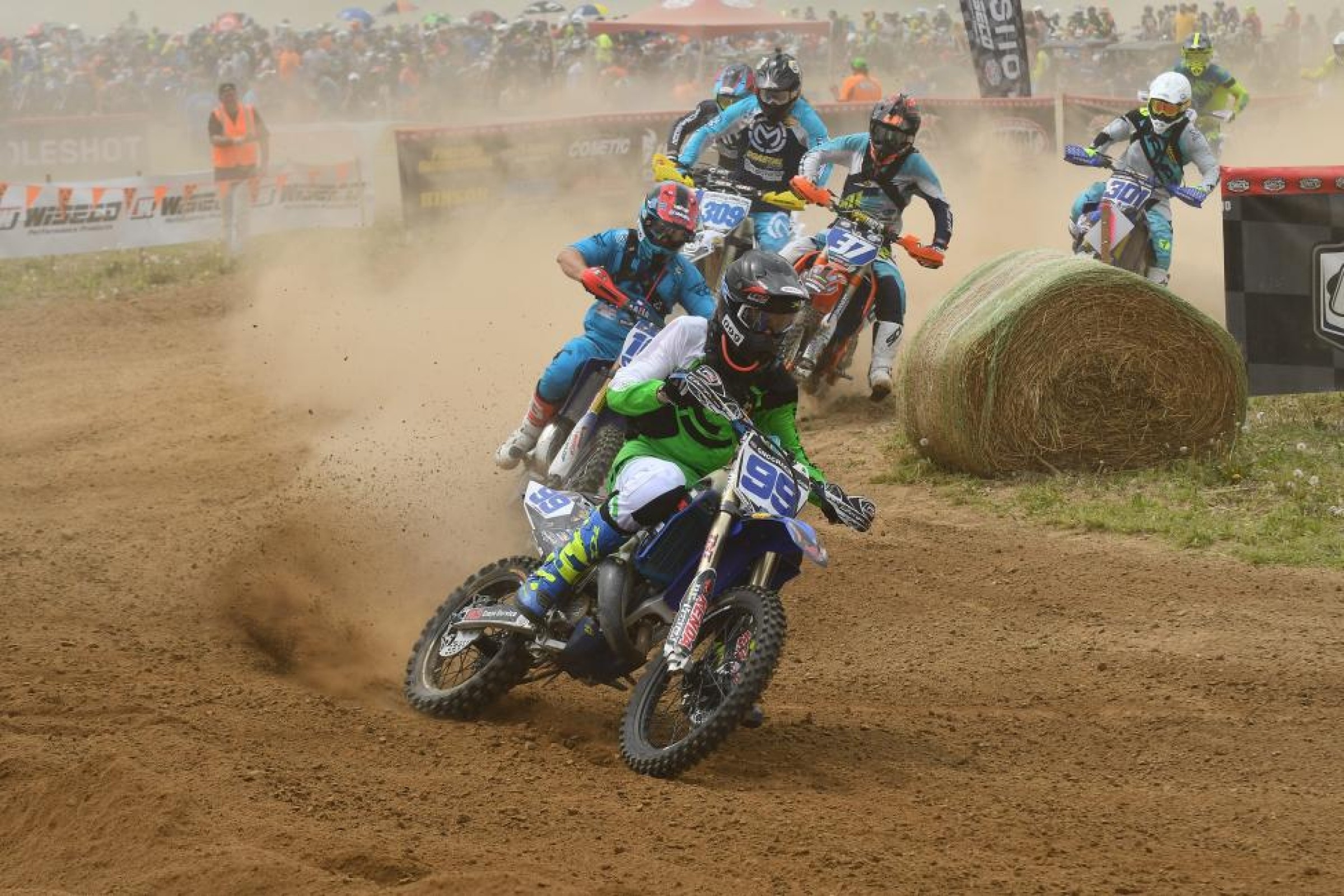 Millfield, OH
John Penton
GNCC Racing
MORGANTOWN, W.Va. — This weekend, do not miss GNCC Live on RacerTV.com from the 2018 Amsoil Grand National Cross Country (GNCC) Series, an AMA National Championship, for round 7—The Wiseco John Penton GNCC in Millfield, Ohio. The live broadcast starts Saturday, May 26, at 1 p.m. EDT for pro ATV racing and 4 p.m. EDT for pro UTV racing. On Sunday, May 27 at 1 p.m. EDT, tune in for Pro Bike racing.
Coming just two weeks after the X-Factor Whitetails GNCC, The John Penton GNCC marks the halfway point through the 2018 season. This could result in a change of strategy for riders who are gunning for the 2018 GNCC ATV National Championship, and in doing so, could have major impact on the outcome of the race. This event has the potential to make for an intense battle, as we have already seen four different riders earn an overall win this year.
Jarrod McClure comes into this weekend's GNCC eager to keep his momentum rolling after taking the overall win at the previous round. McClure currently sits third in the championship standings, but he is looking to earn valuable championship points, as he sits 17 points behind the leader. Another win on the season would be critical for McClure, as it could help to place him even higher in the championship hunt.
UTV racing action returns Saturday at 4:00 p.m. to The John Penton GNCC. Ohio native and Can-Am/Chaney Racing's Kyle Chaney took the UXC1 Pro Turbo win at the last UTV round in South Carolina after suffering from mechanical issues at the first two rounds. Chaney is hoping to earn his second win of the season before the UTV events take their summer break. Currently leading the points is Miller Brothers/Can-Am/Maxxis' Hunter Miller. H. Miller will be aiming to earn his first win of the season after a consistent start to the season where he has finished inside the top five at all three rounds.
On Sunday, the Pro Bike riders take on the course as Kailub Russell comes into his hometown round with five overall wins. He currently leads the way in championship standings. K. Russell will look to extend his points lead while he continues his quest to earn his sixth consecutive GNCC title.
As the 13-round circuit reaches its halfway point, the previous race just two weeks ago made it evident that the racing action is far from reaching its climax. The battle for the lead between K. Russell and Rockstar Energy/Factory Husqvarna Racing's Thad Duvall has been close at almost every event this season, and one thing that will be certain this weekend is no matter the outcome, we are promised a great race.
Tely Energy Racing/KTM's Steward Baylor Jr. comes into this weekend's GNCC third in the championship standings, along with a handful of top-five finishes in the first six rounds. Baylor Jr. will be aiming to battle through the XC1 Open Pro pack for his first overall win of the year. Baylor Jr.'s teammate and brother Grant Baylor had a breakthrough performance at the previous round, finishing third overall. G. Baylor will shoot to keep his momentum rolling and battle for the lead on Sunday afternoon.
Click here for Saturday's Pro ATV coverage.
Click here for Saturday's Pro UTV coverage.
Click here for to Sunday's Pro Bike coverage.
2018 GNCC Live RacerTV.com Schedule
| | | | | |
| --- | --- | --- | --- | --- |
| Round | Date | Time | Event | Location |
| 7 | May 26 | 1 PM | The John Penton ATV | Millfield, OH |
| | May 26 | 4 PM | The John Penton UTV | |
| | May 27 | 1 PM | The John Penton Bike | |
| 8 | June 9 | 1 PM | Tomahawk ATV | Odessa, NY |
| | June 10 | 1PM | Tomahawk Bike | |
| 9 | June 23 | 1 PM | Snowshoe ATV | Snowshoe, WV |
| | June 24 | 1 PM | Snowshoe Bike | |
| 10 | Sept. 15 | 1 PM | Black Sky ATV | Harpursville, NY |
| | Sept. 16 | 1 PM | Black Sky Bike | |
| 11 | Sept. 29 | 1 PM | Mason-Dixon ATV | Mount Morris, PA |
| | Sept. 30 | 1 PM | Mason-Dixon Bike | |
| 12 | Oct. 13 | 1 PM | Powerline Park ATV | St. Clairsville, OH |
| | Oct. 13 | 4 PM | Powerline Park UTV | |
| | Oct. 14 | 1 PM | Powerline Park Bike | |
| 13 | Oct. 27 | 1 PM | Ironman ATV | Crawfordsville, IN |
| | Oct. 27 | 4 PM | Ironman UTV | |
| | Oct. 28 | 1 PM | Ironman Bike | |