Rancho Cordova, CA
Hangtown
Lucas Oil AMA Pro Motocross Championship
The book on the 250 Class in Lucas Oil Pro Motocross is usually an easy read. While 450 prognostications usually require a deep dive into the history of the contenders, including their strengths, weaknesses, and tendencies, the 250s are much simpler. It's usually just a bunch of young kids who can go really fast, and whoever figures out the consistency part wins. It's different this year—two of the main contenders aren't kids. They aren't trying to figure out anything. They already know. That could make this summer's battle that much more intriguing.
Zach Osborne won last year's Lucas Oil Pro Motocross 250 National Championship in a romp. Jeremy Martin won the 250 National Championship in 2014 and 2015 and finished second to Osborne in 2017. Osborne is 28 years old, Martin is 25. These are experienced, veteran contenders, and both appear to be firing on all cylinders heading into Hangtown. Osborne is on the same program/bike/team that got him last year's title, and he just notched another 250SX East Region Championship in Monster Energy Supercross, this time with far less drama than last year. There are also no worries about motivation with Zacho—he wants it as badly as anyone, all the time.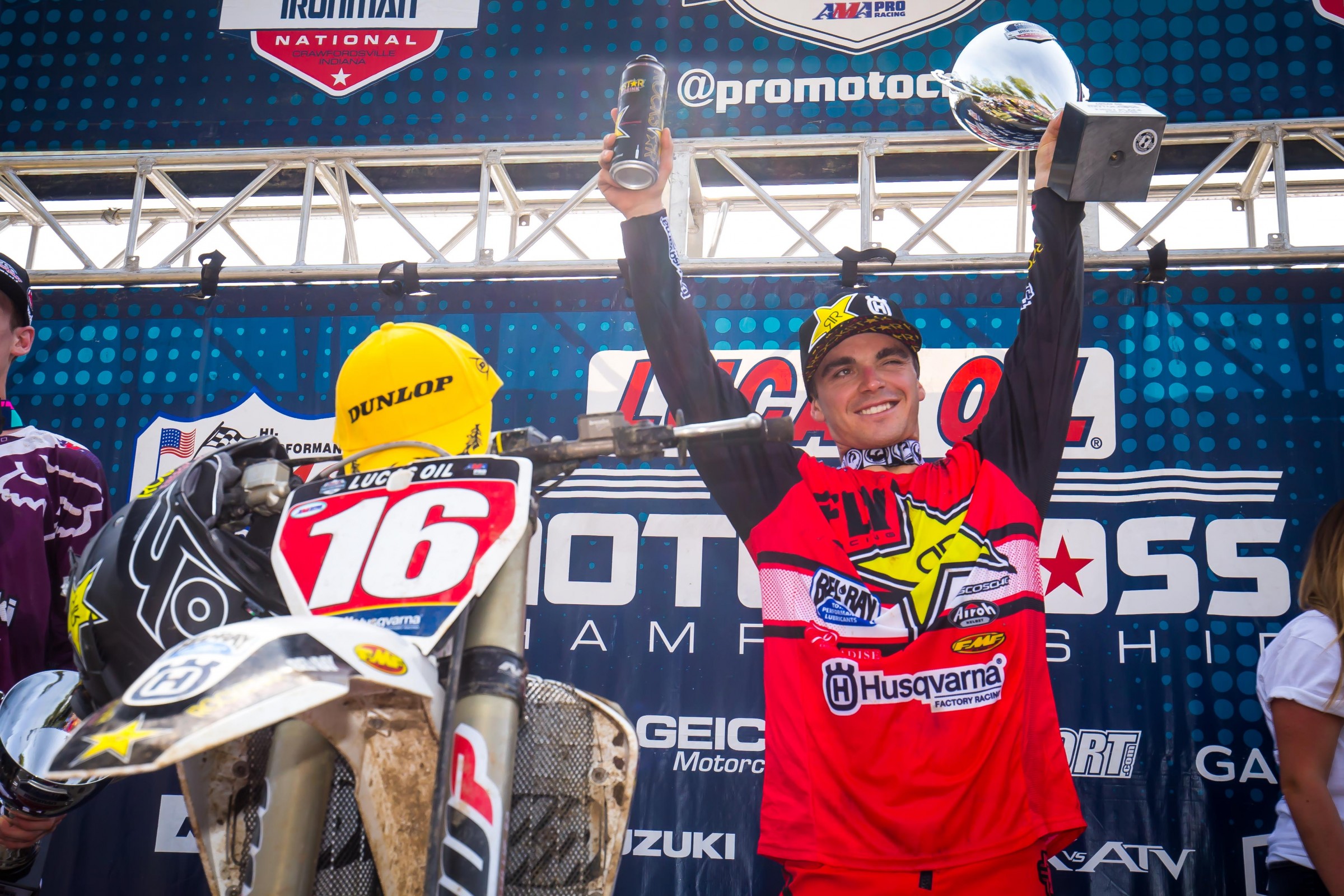 Martin wasn't quite a match for Osborne last year, but there's reason to be encouraged in 2018, starting with Honda's new-generation CRF250R, which J-Mart and the GEICO Honda team rounded into a solid platform in supercross. Last year, Jeremy's supercross season was a disaster. This year it was quite good, as he won two races and might have put real pressure on Osborne for the title if not for a few incidents—losing points due to a penalty at Indy and crashing on the first lap at Foxborough. Martin likes the newer Honda chassis much better than the old one. He never blamed his 250 last year, but he did love the new-style Honda when he jumped on a new 450 and podiumed at Daytona last year. This year, it took a few weeks of supercross to get the new 250 where he wanted it, but since then, he's been solid.
Still, Osborne bested Martin by a massive 81 marks in the final standings last year. It points to a superb season for Osborne—the result of determination, talent, prep, speed and more, yes, but also, sometimes it's just your year. In 2016, Osborne endured a horrible run of bad luck, with mechanical problems in five late-season motos. In 2017, his bike started smoking a few times here and there, but it never let go. The big swings instead went against Martin, starting with a mechanical-induced DNF in the very first moto of the season at Hangtown. Martin crashed moments after holeshotting motos at Glen Helen and RedBud. In those three motos alone, you're looking at probably 50 blown points, let alone the multiplying effect of confidence and momentum. If you want to follow the what-if trail, give Martin a 3-3 at Hangtown (instead of a DNF-3) and a 1-1 at Glen Helen (instead of a 1-7), combine that with Osborne's sub-par day at Thunder Valley (when he was sick), and Martin would have been in position to apply pressure all year. Instead, he was playing from behind. Big difference
Now, in sports, the line between what-ifs and just plain excuses are slim—the points standings at the end of the year don't lie, and Osborne is the deserving champion. Twenty-four motos make it pretty obvious who deserves the trophy. I only point out Martin's lows last year to illustrate how a championship can swing on a few key moments—and to bolster the argument for these two championship-proven veterans. Even though Martin took some lumps last year, he still ended up second in the points. He and Osborne have been through the battles and been through this drill. They're least likely to blow the whole season and throw their chances away.
There's never a shortage of fast guys in the 250 Class. An obvious example is Aaron Plessinger, who on any given day can beat anyone, and now has a supercross title to show some consistency, too. Martin and Osborne are good but not unbeatable, and it would not be shocking at all to see AP23 hoisting the number one at the end of the summer. Plessinger is riding on the exact career trajectory a top 250 rider is supposed to. He's 22 years old, this is his fourth year as a pro, and his previous points finishes are 6, 5, 4. He's on the upswing at the right time, but it just so happens that two vets are still in the class looking for more gold. Can he take it away from them? It will be one hell of a test.
With Plessinger, you're back to the standard 250 fare, which is guessing which fast kid will put the pieces together. Joey Savatgy has played that game before. In 2016, he won moto after moto early in the season and got to the halfway point holding the points lead. Jeremy and his brother Alex Martin got jacked up with mechanical problems at High Point, and Cooper Webb was dealing with a broken wrist. It was time for Savatgy to figure out how to handle his opportunity, but a huge crash at RedBud sent his fortunes falling. Webb healed up and started to rally, and Savatgy's summer fell apart. Savatgy has the ability, program, team, and desire. Can he connect all the dots? What about his teammate Austin Forkner, who is also fast and talented—is it too early to expect 24 motos of solidity from him?
In the 250 ranks, it's what you always find, this year and every year. Which kid will figure it out, and can the vets hold him back if he does? There are too many contenders to list in this class. Just pick one team as an example: The Troy Lee Designs/Red Bull KTM gang always seems to operate from dark horse status, but Alex Martin is always better than you think—he was actually second in points late last year before breaking his collarbone. Shane McElrath has scored podiums before and is said to be flying at the test tracks. Jordon Smith missed almost all of outdoors last year, but, like Forkner, certainly has the ability to make a run at this. That's just one of several major teams with several major contenders this summer—and that's what makes the 250 Class so simple and beautiful to watch. At the end of the summer, no one is going to be talking about age or experience; they're just going to count the points and hand out a number-one plate. Is it possible someone can rip it away from the riders who have held it before?