Kegums, Latvia
MXGP of Latvia
FIM Motocross World Championship
Round seven of MXGP hung in the eastern regions of Europe and basked in a similar early summer climate that blessed the Grand Prix of Russia two weeks previously. Kegums welcomed the FIM World Championship back for a ninth edition—and has also hosted a Motocross of Nations—and amidst minor celebrations for a returning world champ in Pauls Jonass, there were other emotions on people's minds with the one-minute silence in memory of Eric Geboers, who tragically passed away last week , another facet of this successful event. Here are four observations from the event.
1. Jeffrey Herlings' playground
As we hinted in last week's Racerhead, during the winter, Red Bull KTM's Jeffrey Herlings would probably have circled Latvia as one of his "bankers" for the coming season. A win on his first visit in 2010 as a 15-year-old, three further successes, and a maiden premier class victory almost a year ago and it was clear that the sandy texture of the Kegums layout—whether running clockwise or anticlockwise (as was the case with this 2018 refresh that gathered mostly positive feedback among the riders who were quizzed)—was an enjoyable challenge for the current championship leader. Herlings ended up sweeping the weekend. His fourth qualification heat in a row on Saturday was earned by seismic 50 seconds and led to comments such as, "I feel like I am really one with the bike here," "I could do my own thing," and "today was a bit like a walk in the park." This wasn't cocky or delivered with misplaced arrogance; Herlings just called it like it is.
On Sunday and across a track that was wetter, ripped, and rutty while still high-paced, the 23-year-old even gifted his rivals the advantage of two reasonably so-so starts and had to forage his way through the pack. Both times he passed world champion Antonio Cairoli and ended up with a six-point gain on his teammate; the gap is now up to 29 between the duo.
Cairoli is not being explicit with regards to his tactics, but once more he was in a winning position at a Grand Prix and was passed and demoted by his foe on the same motorcycle. Tony's smartest strategy now will be to apply constant pressure to the championship picture. To be a looming spectre around Herlings' efforts, wait for a moment of weakness and the right time to spook. His post-race comments hinted as much. "The level [of MXGP] is high, but I am happy with the results [so far] and we know the championship is long. Jeffrey was definitely the fastest here this weekend and I knew it would be really difficult…but I'm happy. It is important to always finish on the podium and when possible, try to win. This is how the championship grows."
In terms of outright speed, Cairoli knows he doesn't quite have the goods for Herlings (yet), but his tried-and-tested method of oppression through presence might just pay off once more as the vision of that tenth title could loom into view in a matter of months. Will it be a mirage?
Again, the Red Bull KTM riders seemed to dash where others hesitated to tread. Monster Energy Yamaha's Romain Febvre failed to finish the second moto and has a wrist injury that will be assessed today. Honda's Todd Waters returned to MXGP after three years to replace the injured Brian Bogers, but the Australian didn't even make it through Saturday before he fractured a collarbone. A grim year indeed for a glut of HRC riders across the disciplines. On a surface punctuated with holes and sharp bumps and terrain that could really bite back, it was no surprise to see riders like Monster Energy Kawasaki's Clement Desalle exercising slight caution. It was encouraging to glimpse Rockstar Energy Husqvarna's Gautier Paulin back on the podium (and at a track where he decimated the Nations in '14), and the class could use the mercurial Frenchman at his best to rock the KTM hegemony.
2. Goodbye, KTM dominance in MX2
After six rounds, Red Bull KTM were finally dislodged from their unbeaten status. Jorge Prado claimed the second moto, but crashed twice in the opening phases of the first, and Pauls Jonass' ineffective Saturday meant a 12th-place gate pick, and he faced an uphill task on what was a flat start straight. Enter Rockstar Energy Husqvarna's Thomas Kjer Olsen to replicate his maiden Grand Prix success from 2017.
Last year, the Dane built up to his breakthrough triumph at Kegums and then faded away from top-of-the-podium contention for the rest of his rookie term. He has been on the box five times already this year (three more than 2017) and has been the fastest athlete behind the KTMs. Even so, his 1-2 found #19 bemused at how and why he'd managed to do it again on Latvian dirt. His first moto holeshot—as rare as a Danish GP winner, in any case—helped enormously. Olsen is just 38 points from Jonass in the MX2 standings, and, despite the superiority of the orange brigade, is maintaining a challenge of sorts.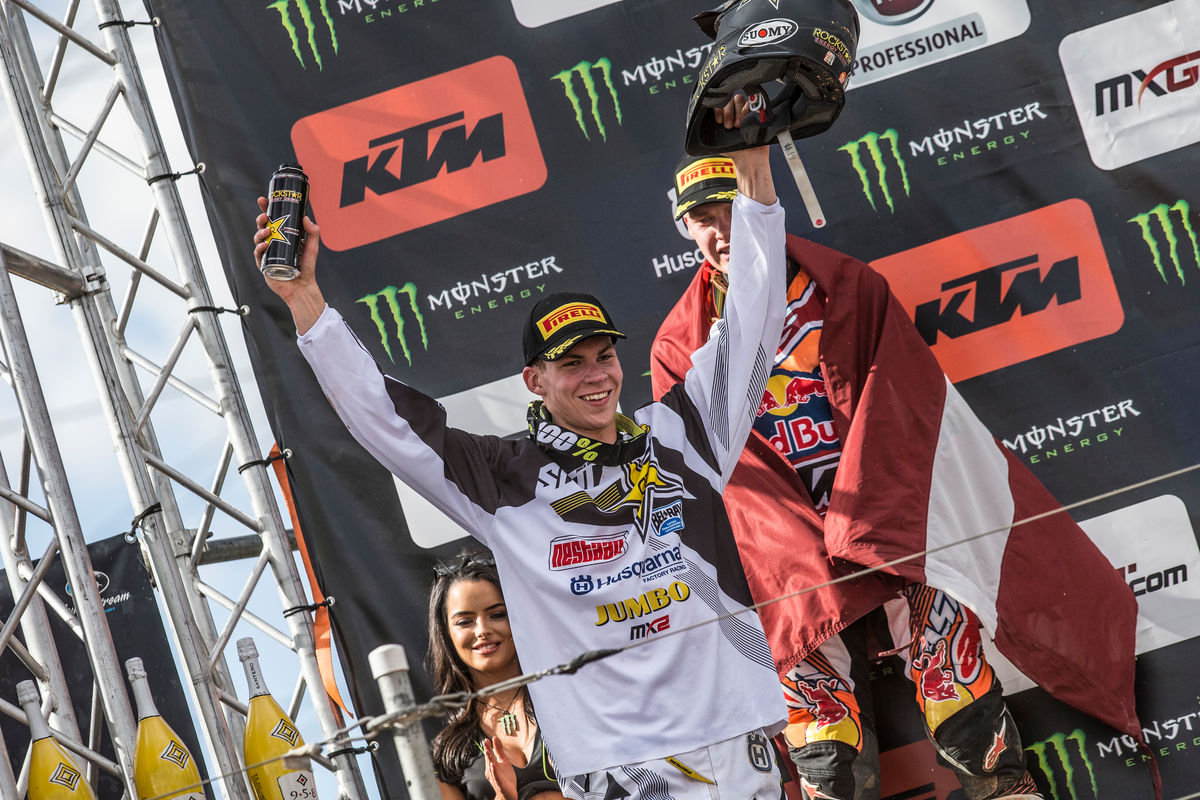 MX2 witnessed more celebrations for Kemea Yamaha. Former GP racer and team manager Marnicq Bervoets may have secretly hoped that both Ben Watson (fifth overall in Latvia but a podium in Russia) and 17-year-old Jago Geerts might have been in contention for a trophy, but the modest Belgian publicly spoke of "top-tens" and "points" pre-season. In the pace of two weeks, both riders have broken the seal on the bubbly, and Geerts' blossoming confidence marks the former Junior World Champ as the next exciting prospect from Belgium.
3. The heavy crown
MX2 World Champion Pauls Jonass has bounced from brilliance to baffling this season. Four Grands Prix have been swiped with the zeal of a professional pickpocket, and the Latvian has toiled somewhat in the other three; missing the podium in Italy and Portugal and trying so hard here at his home round but again falling short of the mark. The likeable Jonass is concrete evidence that the support for the sport and investment in the presence of Grand Prix in European countries that some might consider "off the beaten track" can actually bring some benefit. In 2009, Jonass was one of the goggle-eyed kids roaming the paddock and peering into the awnings of works teams, and 10 years on, he was the center of the storm.
His starts robbed his chances of victory, although he didn't have much to handle Olsen in the first moto, and a rally back to fifth in the second race meant the third step on this occasion. The first Latvian Grand Prix winner and world champion has yet to sample home GP glory. He admitted that the enormity of performing under a tighter microscope might have been a factor.
"Maybe a little bit of pressure didn't help. I didn't feel it…but I think it was in the back of my mind because home GPs are always a little bit more difficult," he said. "I'm thankful, though. The fans really cheered every single pass and it helped a lot and pushed me forward. I wanted to give them the win, but things don't always go to plan."
On Sunday evening, the Latvian Grand Prix was just one of 20 chapters of a title defence before a push into MXGP awaits for 2019. He could take some solace in Prado's mishaps, which meant he still gained two points over his Spanish rival and claimer of two meetings. The difference now rests at 22.
4. I feel the (k)need
While Darian Sanayei still convalesces from his knee injury sustained before round four, Rockstar Energy Husqvarna's Thomas Covington looked in a better groove in Latvia and demonstrated that an ACL-less left joint might not be the worst limiter for a Grand Prix rider. The Alabamian rode to just his third top-three moto classification of 2018 in the first race and knackered his front fork after over-jumping into one of the Kegums craters in the second outing.
"I'm feeling pretty good with the knee, actually," Covington said. "I put in a lot of time on the bike last week and I feel like it was what I needed to start trusting it again."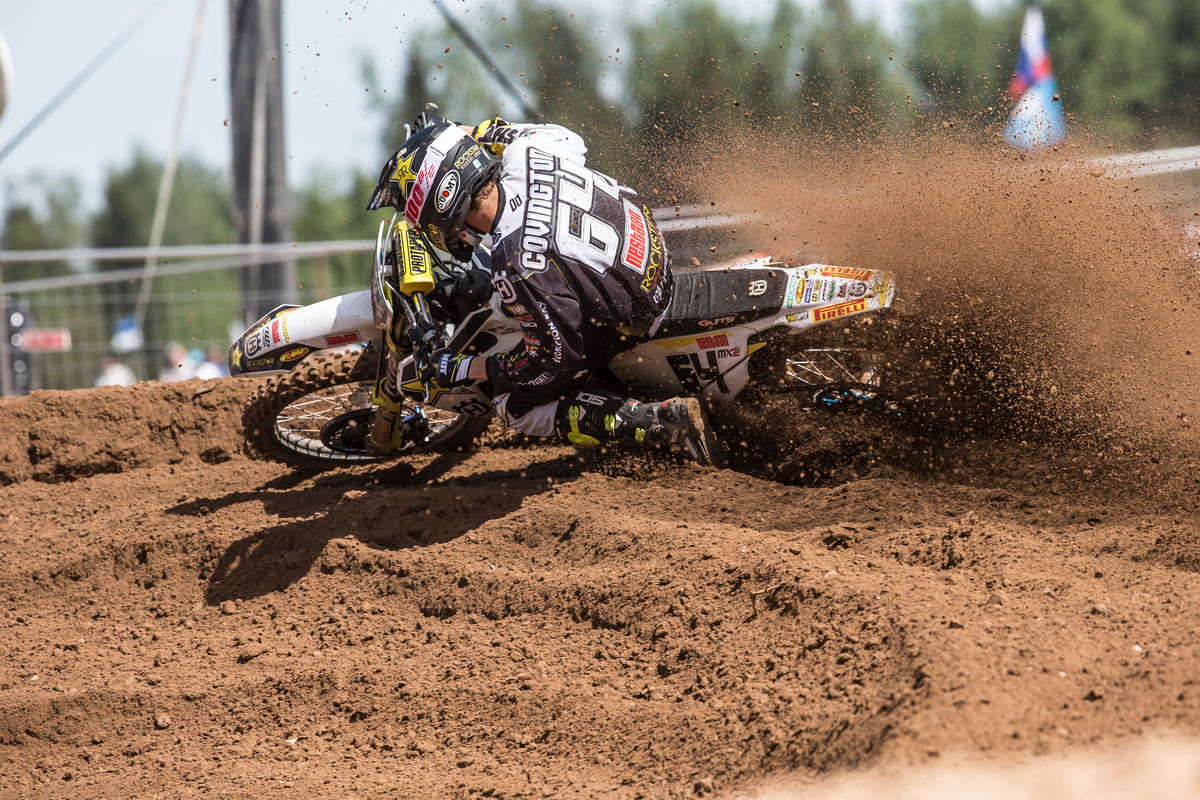 Covington's 2018 title ambitions might have withered with his ligament remnants, but his speed on the Husky means that he'll have plenty to say in the remainder of the championship story. 2019 will be his last attempt at MX2 glory before he hits the 23-age ceiling.
Round eight of MXGP might not be a friendly one for knees and ankles with the rutty hard-pack of Talkessel, Teutschenthal, in Germany up next in a few days.