"I'm jumping up and down. And was literally praying, God, give it to him! Come on!" This is how Smartop/Bullfrog Spas/MotoConcepts Honda's team owner Mike Genova described watching the final laps of the Daytona Supercross. "I had such joy, I was crying. Literally. I couldn't help that. And it was not for me. I feel like we've already won."
Brayton, on the MCR machine, would indeed hold on to win the race, the first victory of his career, and the first supercross victory ever for Genova's team.
"We do a good job. I know that. I do this for fun, and I do it at a decent level that other people maybe can't or don't, so I already feel like a winner on the race team," Genova says. "But to be able to see just how hard those guys—you know how much work it is, out at the test track in 100 degrees…. They just pound it, week-in and week-out."
The 2018 Monster Energy Supercross Championship just wrapped up, and 17 rounds later, it was a series that won't be written as a classic by anyone who covered it. Several contenders got hurt early in the season, but hey, that's sometimes just part of dirt bike racing, you know? But one memory that won't ever fade away into one of those "hey, what year was that when?" conversations was Brayton's Daytona SX triumph. That one will be remembered forever—Daytona 2018, the year Brayton won. It was Brayton's first 450SX win, he became the oldest winner in SX history, and the team won its first supercross. The win was big for many in the pits regardless of team because of Brayton's popularity with other riders.
This season marked a supercross renaissance for Brayton, as he finished fifth overall, and Vince Friese, a much-maligned rider over the years, had a career best finish of 12th overall in 450SX. It wasn't all great—the team's other rider, Jake Weimer, had a frustrating season filled with injuries. Before Las Vegas, it was announced that Honda had signed Brayton to a new two-year deal to ride red and stay with the Smartop/Bullfrog Spas/MotoConcepts Honda squad.
As much as Brayton and Friese surprised everyone on the track, it was also a bit of redemption for the MCR team. The SX/MX pits can feel a bit like high school at times, and MotoConcepts Racing was getting stuffed into lockers and having its underwear pulled up over its head for a long time. For many years, Mike Alessi and Friese were the main riders on the team, and it seemed there were more than enough take-outs, suspensions, fines, and drama to last a lifetime—never mind the Jeff Alessi laser-gate incident at Washougal National, although at that time Jeff wasn't an official part of the team. Overall, though, these things hurt the rep of the team.
"We earned some of that stuff," Genova told me. "The Jeff thing was nothing to do with us. His name happened to be Alessi and Jeff happened to do a screwball again. Did Mike mean to smash [Broc] Tickle? I still say I don't think he meant to, but that stuff happens. So, we've been doing things right as a race team.
"But I guess I feel a little bit more like…. We get a kick out of people who walk up and say, 'You guys are really doing things great now.' It's like, we're doing the same thing we always did. My truck always looked professional, and everything's paid for. We don't owe any money to anybody. Our bikes have always been pretty darn good, and all that kind of stuff."
Team manager Tony Alessi—who admits in a lighthearted moment that he's "50 percent less crazy" now that he no longer has to worry about his son Mike on the team—and Genova have got the team looking good, and public perception started turning last year when the team got official Honda support with hiring Brayton.
"I've always been taught from my parents that you don't really judge anyone by other people's judgment. My judgment was Mike Genova was a respectable guy. I had been around the sport a long time, so I would see him in airports or hotels. We would have conversations," Brayton says. "Always seemed like a really cool guy. But still I was a little leery of it. I hadn't worked with Tony Alessi at all. So there was a few questions in my mind, but I wanted to kind of see for myself, and it made the most sense for us to go there as far as Honda and myself. Looking back, it's worked out exactly how we both thought."
Brayton's arrival last year signified a change in the type of rider who would ride for MCR. Brayton has never been involved in on-track drama. Weimer, a past champion and well-respected in the pits, added to that mix this season. Combine that with Honda's support, and it's easy to see why people think the team is doing good now, even though Genova feels they're not doing things any differently than in the past. The team has been around since 2007 and had already scored some good results with Mike Alessi, Ryan Sipes, and Kyle Chisholm. This year's breakthrough, though, that Daytona win by Brayton, was big.
And through all of the ups and downs, there's been Mike Genova. He's a guy that does things a little differently, he's a little more outspoken than others, and does things his way. Does 2018 represent a little bit of redemption for him?
"I don't feel any resentment or anything else," he says. "I had to say to myself, 'Be okay with knowing that you're doing the right things, and if people don't want to accept you for that, you can't please everybody.' So I had to just walk tall, stay strong, and try to stay as nice as possible through those difficult times. Now I got people waving at me and high-fiving me. It's like, hey! You're one of them! So, why not? Life's too short. We're doing this for fun, basically. All of us. We could go do something else, whether we get paid for it or not. So it feels good to see people go, 'Maybe we were wrong.'"
Adds Tony Alessi: "I feel vindicated, obviously, for [Mike] Genova and the team and the crew because it's been a lot of years that we were kind of looked at like, 'These guys are sideways.' In actuality, I think that we've been trying to be innovative."
I've talked to riders and team personnel past and present both on and off the record about the team and how it's going for them. To a man, they praise Alessi for working as hard as they have ever seen a guy work and for being straight-up with answers, even if they're not always the ones they want to hear.
"In 2012, when I started with the team, my goal was to help Mike Alessi be champion," Tony Alessi says. "I thought that this team was the best way to do it. And we came close, obviously. In 2012 we were second [in 450MX], and sixth in supercross with Mike. It was great. I always felt that the program that we have here was enough to not only win races, but to win championships. So that was always the thought process. Brayton proved it to be true by going out and winning Daytona, getting podiums in supercross, winning five heat races. He proved that our system and our program and our way of doing things can battle and can compete for the top spot in supercross racing."
What's Mike Genova like as a team owner? I asked a couple of people who know him and worked for him.
"Anything that goes on with Mike Genova, whatever the problem is that you're working on, you have to have the solution in place, the cost for the solution, and how it makes sense," Tony Alessi says. "So before you even think you're going there with him for any kind of request, you have to have your ducks in a row. Then he'll either say one [phrase]—'do it'—or he'll tell you why it's not going to happen. But in terms of materials for motorcycles, he has never once, since 2012 that I've been with him, ever compromised at all on materials, and that, to me, is everything."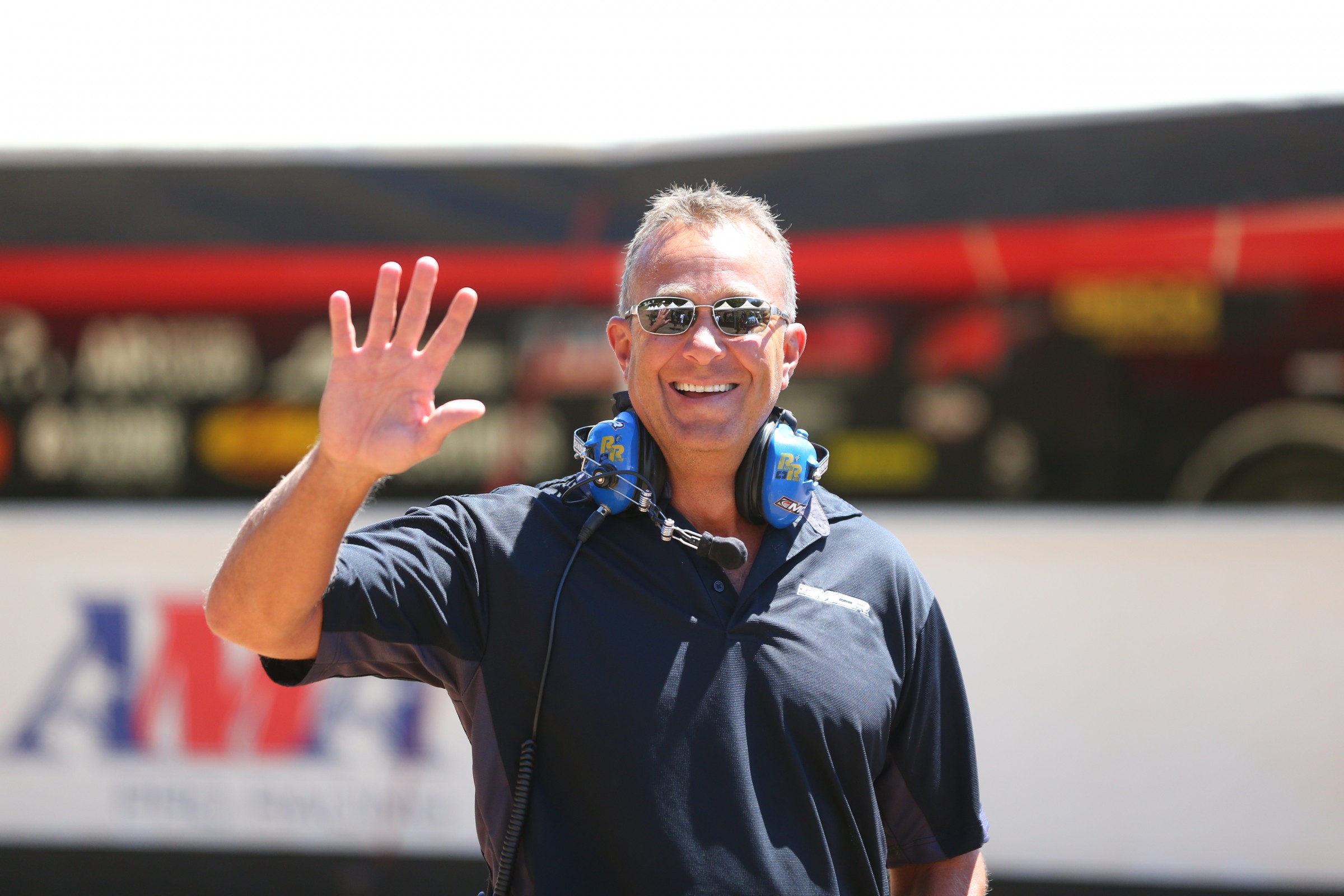 "Genova has been awesome. He has supported and believed in me for pretty much my whole pro career," Vince Friese says. "Sometimes he believed in me when nobody else did, including myself. He is a huge part of why I am where I am today. I don't know if I would even be racing still if it wasn't for him. It has been cool to learn and grow with him over the years. Sometimes him teaching me stuff, sometimes me teaching me stuff, and sometimes us figuring things out together as a team, along with Tony. This season was a good one in a lot of ways.
"The results I had, the results Justin had, and just the vibe of the group of guys on our team—it was a really fun year," he continues. "I think it was a big season for us as far as establishing ourselves as one of the elite teams, even though we already have been for a long time now, this season really solidified that, I think."
Former factory rider and MCR team manager David Vuillemin: "I really have to give props to Mike, Tony Alessi, and the rest of the team. They're doing a great job. The team looks great, cleaner than it's even been, and they're having their best season yet. It's tough to compete with big factory teams, and they mixed it up with them all season long with Brayton and even getting a historic win at the world-famous Daytona. I'm pretty sure I was the first guy to congratulate him [Genova] after Brayton's win. I texted him within the minute of Brayton's win. He called me right away and we chatted for a while. I was really happy for him knowing the money, time, and effort he spent on that program.
"He loved having huge team dinner on Friday," continues Vuillemin. "He's a huge people person and very generous. When I was there, the team was ran like a big family. During the season I worked for him, for the break on Easter weekend, he even bought me flights to bring my family to Cabo. I thought it was a very nice gesture. I seriously have nothing bad to say about the guy."
When asked about Alessi and the credit he deserves for the program over the years, Genova is happy with how he's managed the team.
"Tony's been a work in progress for four years. When Mike was here, he was still improving. But I take pride in saying I've helped Tony see some things from the business side, from the father side, and so on. I have nothing but positives to say about Tony. He's a hard worker. He does what he says he's going to do. He's relentless at getting the right answer. He doesn't give an answer if he doesn't have one. So those are fibers that you want in an individual, let alone an employee or a team manager. So, the guys love him. It's kind of our structure, too. We're not mad at anybody, other than if they just don't do their jobs."
"Tony has helped a ton. He knows the motorcycle so well," Brayton says. "He can sit in the stands and just pick apart the track. I like that because I'm kind of analytical like that as well. I like to analyze things. He tries super hard. I think a lot of people had question marks when I went there. I don't think there are many question marks anymore because they can build a really good bike. They've got great Honda support, and Honda's just not going to support anybody. That's probably the hardest manufacturer to get support from, and they're supporting them more and more each year."
Something unique that MCR has always done is pay the riders via a very incentive-heavy contract. If they're injured and not able to race, there's not much money there. But the higher you climb in the results, the more a rider can take home.
"Our tenth-place bonus is $5,000," says Genova. "The riders really like it, even a guy like JB. It's kind of like, if you went and sold your ass off and you get a big commission check, it's like, yeah, I did this, and it equaled this. Brayton many times has told me, I don't like to be paid a lot of money and not be doing good. Or I'm just not liking the bike or I'm not performing. Nobody wants to look at each other in the eyes when that's happening."
"I actually love it [the bonus structure]. My salary is not wonderful. From what I've heard, it's bigger than he's paid most guys in the past, but it's not that great," Brayton says. "But overall, just, for instance, this supercross season, I'm going to make the most of my career that I've ever made in supercross, and potentially with some off-season races and stuff, I'll make more than I've ever made in my career by just doing this schedule. So if you do well, he pays well. But the front number doesn't look extremely good, but it's just as good as I've gotten from a few other teams. It's just now top-ten bonuses. I like it. At the end of the night, it's nice to be on an airplane thinking, 'That was worth it.' There are several weekends where I make over $20,000 and not even get on the podium."
"What's really cool is Honda is asking us for advice on things" Genova offers. "They asked me if I would send a copy of our rider contract to them because they really want to start looking at maybe adjusting how they pay riders instead of it being 100-percent salary and a little bonus here and there, it's kind of like, we're going to give you a 40-percent salary and the rest is commission."
Genova admitted to me that a couple of years ago, he thought about folding the whole thing up ("It's just that we were not having fun, getting respect, arguing, and it's not about going broke," he says) but with Brayton and Honda on board, things are better than ever for the team. After not having a title sponsor for a long time, Mike hooked up with the guys from Bullfrog Spas this year, and it couldn't have worked out any better for Genova or the company itself.
"I looked at the management team [at Bullfrog Spas] and said, I think I got a product that you guys would be interested in," Genova explains. "It's called supercross. The president of the company is a dirt bike guy, so he kind of knows about it. But he's not going to just spend his money to just be spending money. I said, listen, I think it could really be a good platform for you. They're a $100 million-dollar company. Branding that kind of a product nationally is too expensive. So this is a great platform for them to kind of broadcast it nationally and not really cost a lot of money.
"They didn't know how good it was going to be. They were trusting me on the presentation. I didn't really give them a big spreadsheet layout or whatever. So it was like, let's really look at what next year looks like. So they're selling spas to supercross people that they can measure. How many, who knows?"
A while ago I was asking a VIP at a team about MotoConcepts turning some perceptions around. (In full disclosure, I've been a guy that's been caught in some of the drama that's surrounded the team, and in fact, I think I was banned from coming around the truck at some point. We're all well past that now, but it was interesting.) The VIP told me that Genova, who even named their bikes MCR 450s at one point when he had no OEM help, had changed and decided to play the game right, run a good program, and stay out of controversy. Then, an OEM—in this case, Honda—started to help them. This is a charge that Genova denies.
"That's not accurate. That is completely not accurate. I've never not wanted to play the game. I'm respectful to people. The list goes on. Perception's the reality a lot of the times. The Honda thing came about because of Justin Brayton, period. They love him, adore him. They respect him. He wanted to get back on a Honda. He didn't really have a whole lot of other places to go. He and I started talking two years ago around July.
"I lose a million dollars a year on this team. At some point, I can't lose two million," Genova says. "So I'm the one that's playing the game the wrong way, and that is paying Feld [Motor Sports] to be here. Paying to run everybody's brands and not getting paid for it. So, I don't think I've changed anything other than it's fun to see a little bit more love come back from the manufacturer of the bike, or the gear, or whatever."
As anyone who has listened to any of my podcast shows knows, I'm a firm believer that we need more Mike Genovas in the sport. Or Coy Gibbs. Or Forrest Butlers. The OEMs have been there for decades, but a private business man who loves the sport can help supply even more jobs to riders and team personnel, and that's required to keep the pits strong. Still, the guys have to find it worth it to spend the money to go racing year after year. Yeah, I've had my fun with MCR, Tony, and Mike over the years like everyone has, but the sport needs them, and Genova has been a steady place for jobs for many years now.
"I think for the most part, Mike Genova has been ahead of the curve for a lot of years. He thought of stuff, engineered stuff into the program. These are things that were looked at lots of times as obscure and strange," Alessi says. "But those things that we've done make sense to us as a team and to Mike, so we've kind of run that course. I think now more people are either more used to it or are starting to see it as maybe that's the right way to do it.
Says Vuillemin, "Mike is very passionate about moto. He obviously loves the sport. The sport needs guys like him spending his own money to put riders on the gate. He's been spending millions with no returns on investment."
"I'm still in, and willingly. But if something happened with my health or economy or whatever, fortunately I'm not going broke doing it, but I spend all the money I make during the week here," Genova says. "We spend a lot of money and energy to be up there fighting. So, the year Justin's having and winning Daytona, it's icing on the cake. It kind of exemplifies, I guess, that yeah, we've been doing things right."
MCR doing things right? That last sentence would have surprised people a few years ago, but you know what? Give credit where credit is due, because now it's clear that this team has been on a right track for a while now. Through the hard work of Justin Brayton, Tony Alessi, Vince Friese, and most of all, Mike Genova, MCR has turned a corner, not only in the results, but in the perception of the team to everyone outside of it. This team stuck to its course, and now things keep looking better and better.