Salt Lake City, UT
Salt Lake City
Monster Energy AMA Supercross Championship
One man's loss is another man's gain, and Red Bull KTM's Marvin Musquin took complete advantage of Jason Anderson's front wheel misfortunes in Salt Lake City last Saturday. Heading into the race, Musquin was 34 points behind Anderson; he now trails by only 14 heading into the season finale in Las Vegas. "The track conditions were crazy and dry, but the track crew did a good job. I had no idea about Jason," he said in a team statement. "Obviously towards the end I was going through lappers, and I knew Jason would take it easy today to get points, but I only knew how he did when the race was over. I'm excited to head to the final round in Vegas next week."
Rockstar Energy Husqvarna's Jason Anderson was looking to clinch the 450 championship this past weekend, but anything can happen in Monster Energy Supercross. Anderson was able to overcome the altitude sickness he normally struggles with, but after his front wheel became entangled off the start in the main event and several spokes broke, he was forced into the mechanics' area for a front wheel replacement. He finished a seasons worst 17th and enters Las Vegas with a 14 points lead. In a team statement, he said, "I was pretty good in practice all day. I had a solid heat race and qualified well. I just went down in the first turn in the main and had to go all the way around the track. I broke some spokes in the first turn and had to come into the mechanics' area to get my front wheel changed. By that time, I was two laps down. I was able to un-lap myself and get up to 17th and at least get some points. I'm going into next week in Vegas with a 14-point lead."
Monster Energy Kawasaki's Eli Tomac qualified fastest for the eighth time this year. Many wondered if he would seek revenge on Musquin after the take-out in last week's main event, but we'll have to wait at least another week. Tomac was on a charge and was getting ready to pass Blake Baggett for second when a square edge bit him in a corner and he had a quick dismount. Tomac was able to get up quickly and re-catch Baggett and make the pass stick. In a team press release, he stated, "It took me a while to find my groove in the main. Once I found it, I was able to make a lot of passes and catch the leaders. The crash was unfortunate, but I'm pumped to still finish second. Once again, the fans were awesome here in Salt Lake and I could hear them with every pass I made; that was so cool."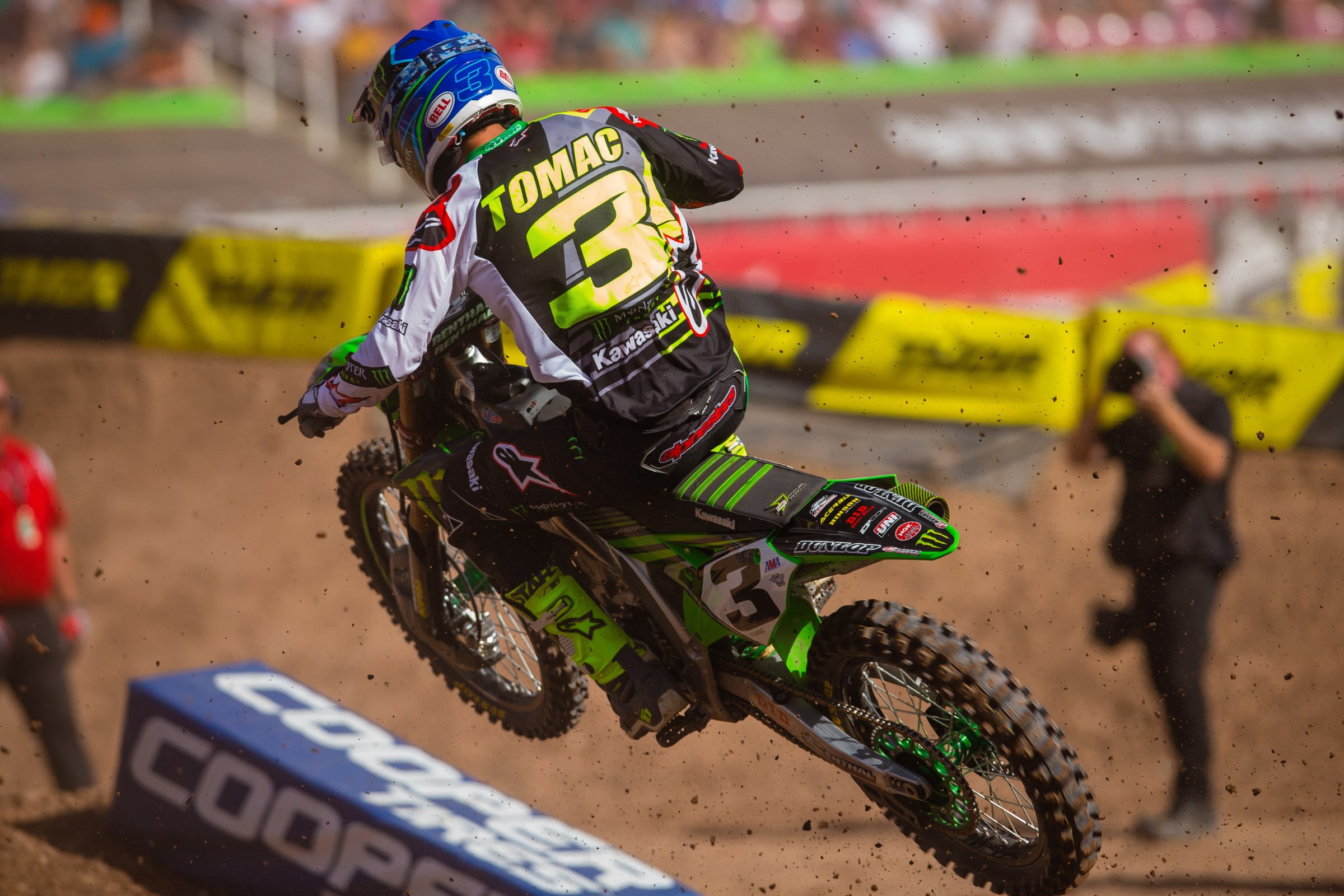 Rocky Mountain ATV/MC-KTM-WPS's Blake Baggett's third-place finish in Salt Lake broke his podium cold streak that dates back to round seven in Arlington. He was up front all day battling with Musquin in both the heat and the main. Tomac would eventually get by, and Baggett rounded out the podium. "It was a good race," he said in a team statement. "My starts were solid, and it felt good to grab that holeshot and to get back up on the podium. I'm ready for Vegas and to finish the season off strong with another podium." Baggett is now tied for fourth in points next to Justin Brayton.
Honda HRC's Christian Craig finally got back on track in Salt Lake. He rode strong in the main and finished fourth overall, his best finish since Daytona. "I made some mistakes in practice and had to regroup in order to go out there and do a good heat," he recapped in a team press release. "In the main, I thought, 'I'm just going to try to get a good start and stay up there with those guys,' which is exactly what I did. I latched onto the top two and put in my laps. It was a long main, especially on this track. I stayed with [Blake] Baggett for as long as I could. Eli [Tomac] was just on a mission. He passed me but fell, and I thought I might get a podium if he stayed down long enough. He got by me again, but it was a fun race. I've had some bad races since Daytona, and you begin to wonder if the Daytona ride was a fluke. It feels good to back up that fourth place."
In his third race back from injury, Monster Energy Factory Yamaha's Justin Barcia finished fifth. It was his second top-five finish in the last three races. "It was a decent day overall with really good practice sessions for me. I was happy heading into the races," he said in a team statement. "In fact, I felt the best I have in a while, so I know the speed and fitness is back and the Yamaha was working really well. In the main event, I got off to a decent start and pushed in the beginning of the race to get in touch with the top three. I had a couple good battles in the beginning of the race, and then I rode a little bit tight at the halfway point. Toward the end of the race, I found some better lines and loosened up a bit and rode a lot better. But it was too late to catch a podium position, and that's frustrating. I missed a good opportunity to stay up front all race, and I'm not stoked on that. The podium in Vegas is the goal, and I definitely have the speed; I just need to put it all together in the main event."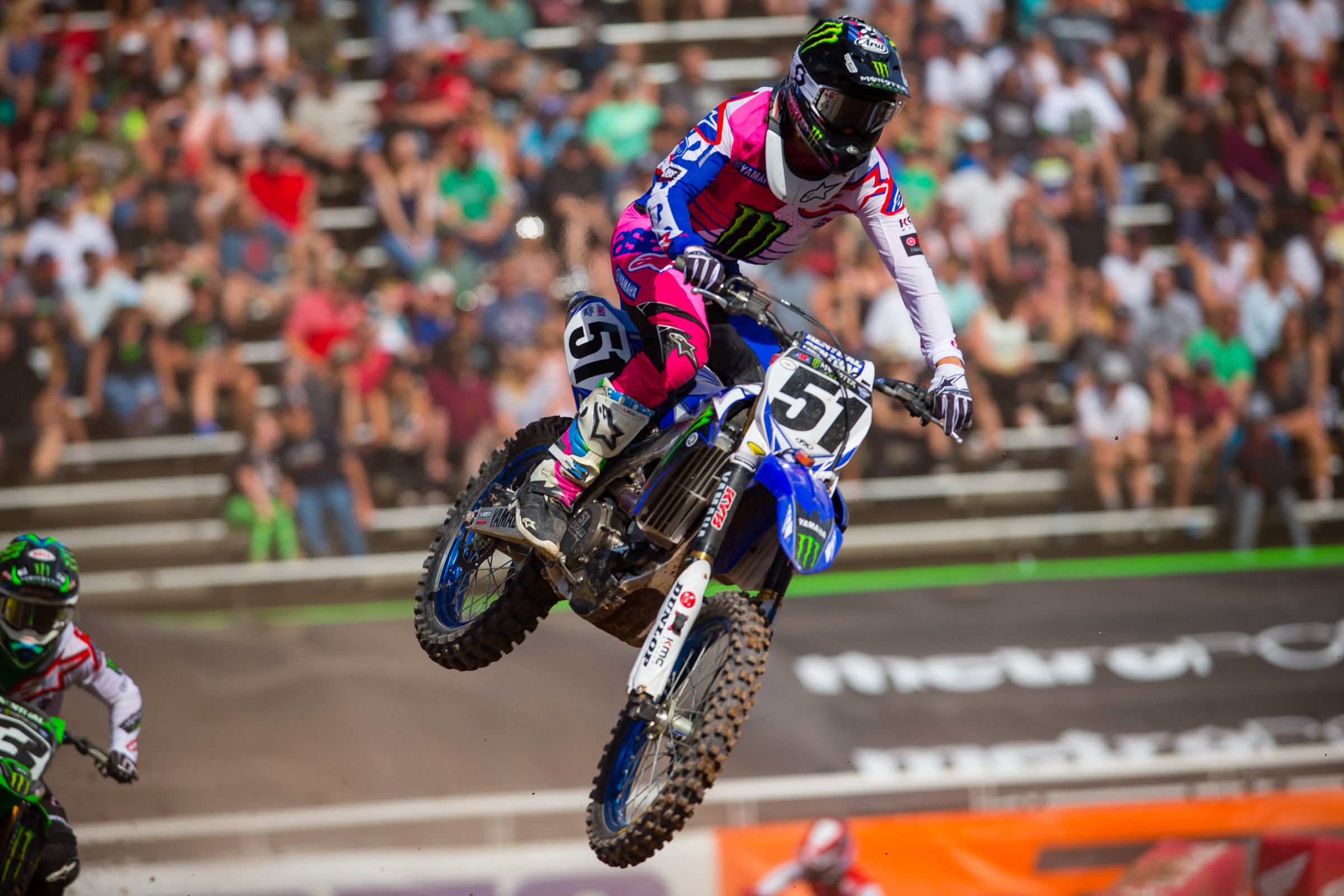 Monster Energy Factory Yamaha team manager Jim Perry added, "Justin Barcia put in a solid top-five finish on a brutal track in high elevation here in Salt Lake City. Justin made progress throughout the day adapting to track conditions and the elevation, and we looked good to be in a solid podium-finishing position. However, we were set up in a bit of a tough spot with gate picks after Justin struggled off the start of his heat race, where he finished fifth. Once the main event started, Justin put some speed in early but struggled with a couple things on the track. His top-five finish is solid, but not quite the finish we were hoping for. It's a little disappointing because we have a podium finish in us and we let it get away today."
Autotrader/Yoshimura Suzuki's Weston Peick had an incredible heat race, passing guys like Tomac, Barcia, and Anderson to grab the win. In the main, Peick was a magnet to the Rockstar Energy Husqvarna team. Anderson's front wheel clipped Peick's bike on the start, then he and Dean Wilson came together, dislocating Wilson's thumb (the real reason Wilson pulled into the mechanics' area—not team tactics). Peick commented in a team statement, "It was the same kind of deal as last weekend. I felt good all day. I went into the main event expecting to be on the podium. The start wasn't there again. I got antsy. I didn't leave too late, but had a bit of wheelspin in the dirt and got tangled up in the first turn. From there, I had to play catch-up. With the track being so slick and difficult, it was hard to make up time. I settled in and finished seventh. It wasn't the best weekend, but I had some speed. I am putting the pieces together. With one supercross race remaining, my plan is to get a good start in the main and put my Suzuki on the podium."
Autotrader/Yoshimura Suzuki team manager Jeremy Albrecht added, "Peick had an awesome day. He got tangled up in a start, but would have done really well. He fought hard all of the way up to seventh. [Malcolm] Stewart had a tough time in the whoops. [Phil] Nicoletti rode well in the main and ended up sixth. [Justin] Hill cased a jump in the mud and hurt his foot. He was riding well in the main, but tweaked his ankle again."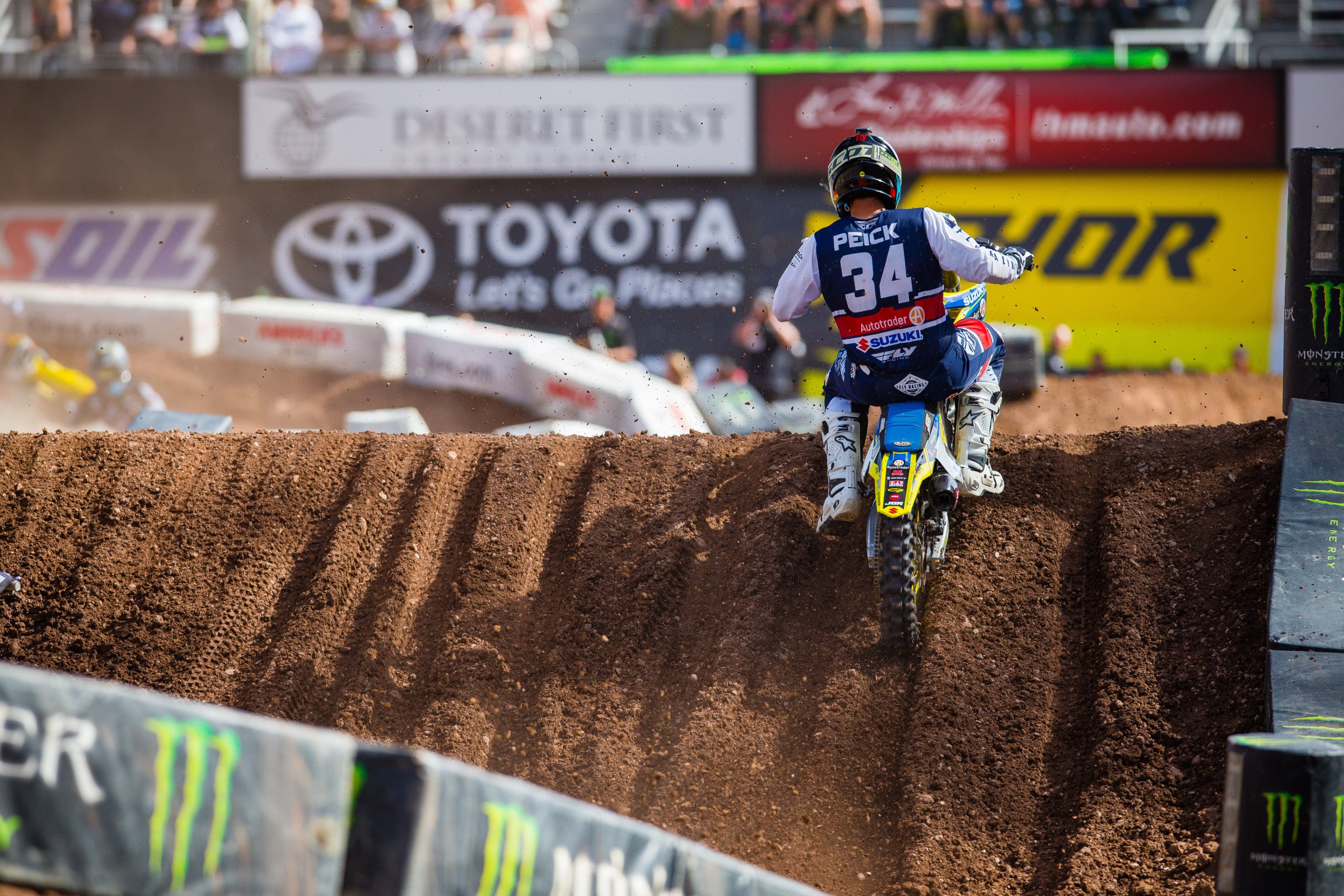 Rocky Mountain ATV/MC-KTM-WPS's Benny Bloss tied a season-high with an eighth-place finish. It was Bloss' second top-ten finish of the season. "I rode well out there," he said in a team press release. "Tonight was a big step in the right direction. My speed was there, and even though I had to work my way from the back of the field, I am excited about my ride. I am looking forward to Las Vegas and putting in another top-ten ride to end the season on a high note."
"It wasn't the best day for us, but it wasn't the worst day," Monster Energy Kawasaki's Tyler Bowers said following a tenth-place finish. "I struggled with traction all day today with the dirt being so rocky, but a top-ten is solid after a day like today. It was also good practice for Vegas conditions next week. I feel very comfortable on my KX450F right now, and I'm looking forward to finish the season off strong."
Both Rockstar Energy Husqvarna riders found them themselves in the mechanics' area in the early stages of the main. Dean Wilson, who collided with Peick while running mid-pack, pulled in to get his thumb popped back in to place, which dislocated in the incident. After getting back on the track, Wilson came back to 13th. In a team statement, he said, "I didn't get a great start in my heat race, but I came back to fifth and was feeling good for the main event. I had around a top-ten start in the main, but then was cleaned out by another rider and had to go to the mechanics' area. I only made it up to 13th, but there was nothing I could do. I'm just going to come back strong." After the race, he said he will need to go in for an MRI to evaluate the extent of the damage.
Monster Energy Factory Yamaha's Josh Hill, who is filling in for the injured Cooper Webb for the final two rounds of Monster Energy Supercross, struggled with the altitude and race pace in Salt Lake City. In a team statement, he recapped, "The weekend in Salt Lake City started off a little rough. I didn't qualify very well out of practice and didn't make it to the main out of my heat race, but I bounced back in the LCQ and got the win, which actually gave me some better ideas about racing lines so I could improve for the main. I ended up stalling on the second lap of the main event and that put me in last place immediately. I could only pass my way up 16th by the end. I definitely felt the elevation, and the track was really challenging. This weekend is something I can build on, and I'll feel a lot more solid and ready to race in Vegas."
TLD/Red Bull KTM's Shane McElrath got his second win of the year this past weekend after putting impressive passes on both Monster Energy/Pro Circuit Kawasaki riders and points leader Aaron Plessinger in the main. It was hot, windy, and dusty in Salt Lake, and he commented on the track in the press conference, saying, "It wasn't as dusty as I thought it was going to be, especially being behind those guys for the first bit of the race. There were places if they kind of landed good on a backside and just gassed it really hard, where it would just blow up powder, and I couldn't really see anything. A few of the jumps, I kind of just had to try and jump where they jumped. It's different. Sometimes change is good.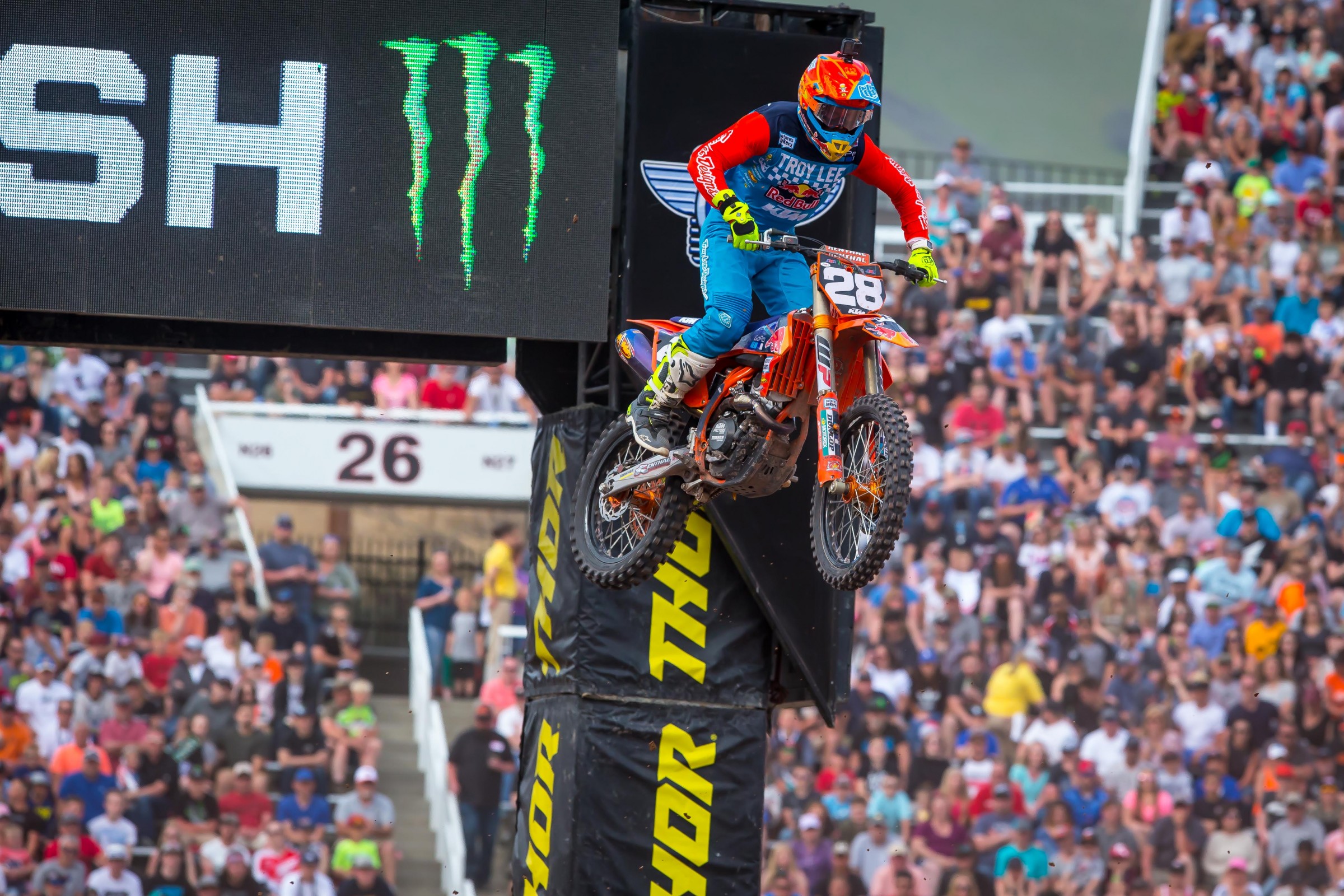 "I forget who said it, but this is 16 rounds in for some of the 450 guys, but for us in my case, I'm pretty far out of the points, so it's like, this is a different supercross race now. It's different conditions. It's at altitude. It's hot. It just kind of throws a loop. I think that just keeps you sharp. It's nice to just have something different. It's cool to have supercross at night for the show, but during the day, I like to get up early and get my day started. I guess it has pros and cons, but the wind just didn't help us out today. It wasn't really the track crew's fault. It was pretty muddy this morning and still it was really dry at the end. Can't really put any blame anywhere." McElrath sits fourth in 250SX West Region rider point standings heading into the 250SX East/West Showdown.
Monster Energy/Pro Circuit Kawasaki's Adam Cianciarulo challenged McElrath the entire race with a mere 0.4 second margin between the two when the checkers waved. In a team statement, Cianciarulo recapped, "Being at altitude and having two sets of whoops really held me back from getting into a flow for the main event. You had to be efficient, and this track really didn't allow for that. Considering I didn't feel overall that great, I'm happy to be up here [on the podium] in second, but I really wanted that win. I know I say this every time, but I'll be coming out swinging, and we'll fight until the end for that win."
Monster Energy/Pro Circuit Kawasaki's Joey Savatgy fell victim to a mistake while leading again and had to settle for third. "We started the day with a pretty different track compared to what we ended up racing on," Savatgy said in a team press release. "It's not the finish I wanted, but we're back on the podium, which is always a goal every week. I bust my butt at home to make sure I am the best at the race, so I'm a little disappointed I wasn't able to finish it off and get the win. I'm not a quitter, and I'm going to be ready for the showdown in Vegas. We had a good shot at making up a lot of points today, but couldn't quite get it done. Overall, the bike and the team were on point and we're still in contention for the championship.
Series points leader Monster Energy/Yamalube/Star Racing Yamaha's Aaron Plessinger got fourth on the night and leads by 13 points heading into the final round.
GEICO Honda's Chase Sexton finished fifth on the night. In a team statement, he said, "Felt good on the bike all day and qualified fourth out of practice. I was happy with my riding. In the heat race, I got the holeshot but hit neutral going into the corner, which let AP [Plessinger] around me. I pretty much just followed him the whole race besides for a mistake on the last lap, which gave him a gap. Ended up second. Going into the main, I felt good and was ready to get my first win, but lined up a little too far outside, which was my fault, and got pushed wide. Fought my way from mid-pack to fifth. For a while, I was right on the front four, but unfortunately I made way too many mistakes, which left me with a fifth. Not a good night, but not a bad night, either. I'm putting my head down this week to come out swinging in Vegas to the season on a high note."
"Honestly, the altitude was difficult," Autorader/Yoshimura Suzuki's Phil Nicoletti mentioned in a team statement after a season-high sixth-place finish. "Fortunately, we had the ability to find a variety of setup options that really worked to our benefit. I made some quick passes in the main and was on the tail end of the leaders. Late in the main, I had a few bad passes through the whoops, which took me out of it. I was within striking distance. The chassis on the Suzuki RM-Z250 worked really well, and I'm happy to get my best finish of the season."
"We're really closing the season off on good notes," 51Fifty Energy Drink Yamaha's Kyle Chisholm said after a ninth-place finish. "I feel like we were running up front all day and I had one of my best heats of the year, finishing in fourth. I was putting in good laps in the main, but that one little mistake sent me off and I had to spin around on the start straight. I lost some time, but I'm happy I landed another top-ten and closed in on more points. One round to go, and I'm excited to end it with some momentum moving into the summer."
Blake Wharton sustained a knee injury in the main, but toughed it out to finish 11th. He will undergo surgery and is out for the rest of 2018. In a team press release, he commented, "After an early fall in the main in Salt Lake City, I made my way back to eighth place, but with four laps to go, I dabbed my foot and felt a sharp pain throughout my leg. I just lost balance in the second set of whoops in that giant rut and tried to counter with throttle and weight displacement. Unfortunately, my knee ended up taking the brunt of it. I instantly knew it was injured, but I rode it out to finish 11th. After visiting with Doc Greenbaum, we verified it was, in fact, an injured ACL and a surgery will be needed."
Defending champ Autotrader/Yoshimura Suzuki's Justin Hill had a rough day. In a team statement, he said, "I was feeling good, but then jacked my foot up in practice. It was muddy and I framed the triple. I was chasing the leaders in the main event, switched up my line, and came up short again on a jump. After that, I was riding around cautiously. Initially I thought I broke my foot. There was no way I was going to pull off, but my result suffered. My foot seems to be okay, and I plan on racing the supercross finale. It's a bummer deal, but that's how it goes."
"I've been working really hard and feel like my results won't show that tonight, but I felt awesome all day," 51Fifty Energy Drink Yamaha's Hayden Mellross said after a disappointing 16th-place finish. "Qualifying and heats went really well and I posted some of my best times of the year, which is a big plus for me. I think I brought the intensity tonight, but disappointed with my main, the way I approached the second set of whoops, but I'm ready to finish off the season on a positive note next weekend."