Minneapolis, MN
Minneapolis
Monster Energy AMA Supercross Championship
Well, the three Triple Crown Monster Energy Supercross races have come and gone, and so, with the most significant supercross format change in the last 30 years, what do the managers of the teams think about the format?
Well, glad you asked! I went through the pits this past weekend and asked some VIPs what they thought of the three-race deal, both good and bad, and what should be done in the future. Here are the answers:
Dan Betley | GEICO Honda team manager
I like the concept. I can't see doing 17 rounds with them. I like the concept from the MEC [Monster Energy Cup] side of things, but then we started incorporating them into the series. I can take them or leave them. I like it. I think from a fan perspective, it's good when they tighten the show up.
When we did it at Anaheim, it was just too drawn-out. But also from the other side, from the mechanic perspective, I'm kind of worried. If something does go bad, are we going to have enough time to change an engine? Are we going to have enough time to, say he wads it up in a race, are we going to be able to fix the thing in time? So that's my only concern, but more so the intensity and the track getting chewed up and all that. I was actually just thinking the other day about how the intensity levels are up, and Feld is rumored to want more supercross races in the future. We're barely having any riders now. If we had another four races going in, how many riders would actually be left in this thing? The attrition is pretty bad.
Racer X: What would you change?
Maybe give us a little more time in between. I think it's from the time they come off the track to the time the gate drops, is like 50 minutes. That's not a lot of time, more from a mechanic perspective than a rider perspective. That's really my only complaint. Then if they were thinking of changing this format for all 17 rounds, I think it would be way too much.
So you're okay with them, but don't add any more? Three is good?
Yeah, I wouldn't want to see anything more.
Tony Alessi | Smartop/Bullfrog Spas/MotoConcepts Honda team manager
They've been very good for us and our team. We've had good results, so obviously I'm in favor of them. I think the riders have to work quite a bit harder, and I also think that the amount of time in between each of the races is too short. It just really exaggerates the problem. It's just really intense. Like I said, what I do like about it, it's been good for our team. We've been getting good TV time with it. I think that the fans like it. I think it's exciting. But I think there needs to be some kind of—maybe a reduction in laps, maybe like they do at Monster Cup. Three ten-laps is pretty good. I just don't like the length of the last moto. I just think it's a little long.
Would you add any more or less for next year? Or the same?
It's in the best interest of the sport, right? So if it's in the best interest of the sport, I would probably double the amount that they have now. I would double it, but I would reduce the amount of laps for the third moto or make it something that's more consistent, like three ten-lap motos. Or even honestly, two 15-lap motos would be cool, too. But I think the idea of the guys all qualify out right from the beginning is great. I love the idea of three main events, or even two main events where all the guys are racing each other. Every race counts. So for me, I'm in favor of the Triple Crown. I hope it continues. I guess we'll wait and see.
Erik Kehoe | Honda HRC Team Manager
I think they're very interesting. The only thing I know that we had at some of the events where we had that race, there was not that much time. I think getting back, if you had a problem with the bike, it makes everything really hectic with the schedule. So that part I didn't necessarily like. We need more time, or at least at the certain venues, the pits need to be closer to be able to get back and forth in case there are issues. But as far as the racing goes, I thought it was exciting. It's very interesting having all of the guys lined up on the line at the same time three different times. I know some of the riders mentioned that it's a little more hectic having three races where you're lined up against everybody, but it makes for exciting racing.
I don't think doing more of those events would be that good. I think right now, especially this year, we've been hit with injuries. We've had quite a few at the different teams out there. I think that might increase injuries. It just seems like it kind of puts them in that position.
Here's something that maybe you could help me with as a former racer. We saw five different winners at the first one, six at the next two. Why haven't we seen a rider or two be able to win two races or three?
It's tough. That first few laps, the start is so important, and there's other things that can go on there, other things that can happen. So I don't think anyone's been able to put those starts consistently together. I think the bikes are so good, everybody's so close, I think it makes it tough for those guys to be consistently right there.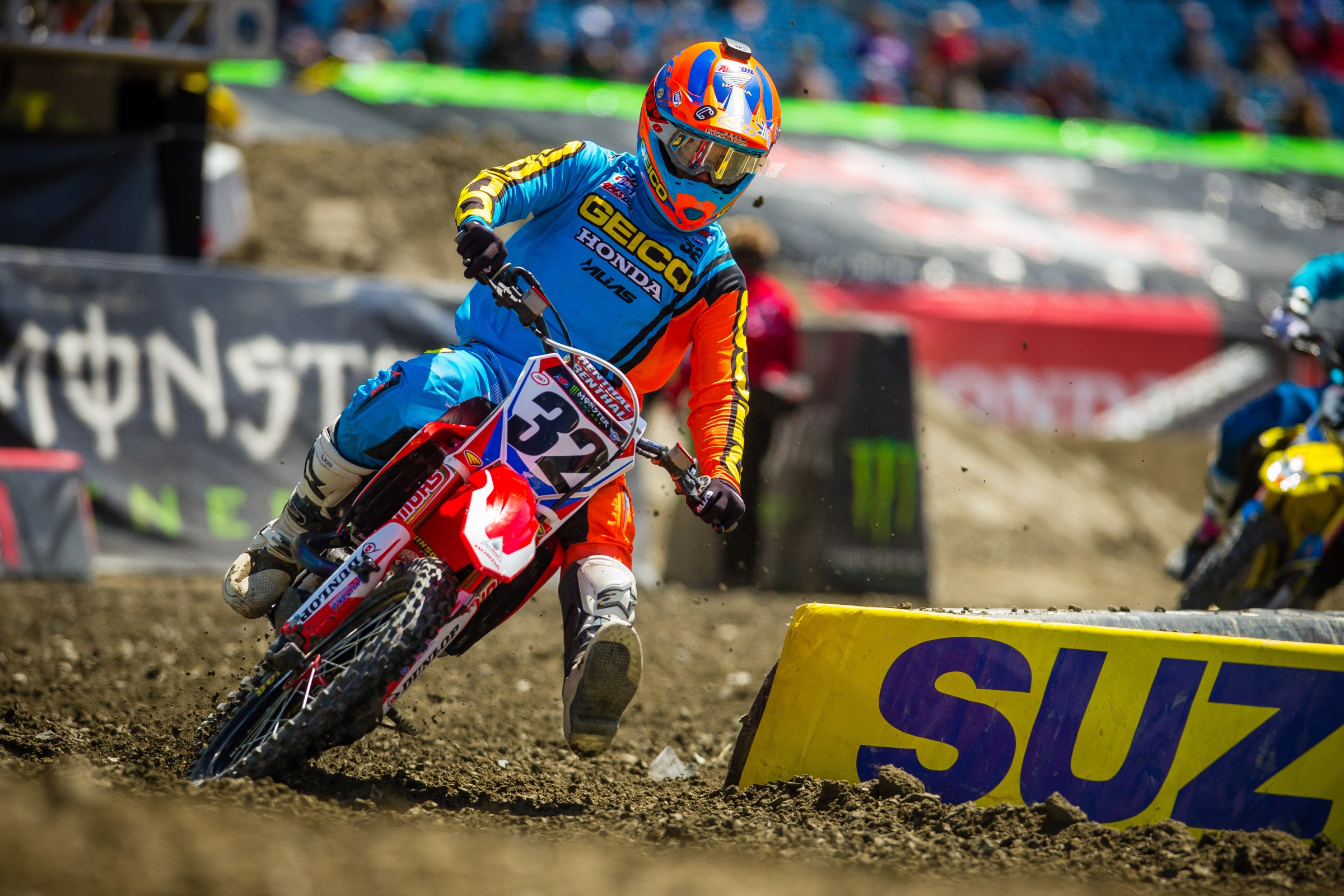 Jeremy Albrecht | Autotrader/Yoshimura Suzuki team manager
I actually like it because it's something different. I thought I would like it more because I thought there would be a lot of different winners. There was some, like when [Justin] Brayton won. I think the first one is really exciting, really good racing. The second one, still pretty good, and the third one is way too long. My opinion is there's too much racing, which, I have said that. I think if they were all a little bit shorter, more like Monster Cup-style, I think it would be really good.
So your one change would be the length of the three mains put together?
Yeah, the last one for sure is way too long. I think either eight and ten and ten, or at least do ten, ten, ten like Monster Cup. But for sure, doing it how we do it now is way too long. The short ones are very exciting, and they did go a little bit longer the second one. It wasn't terrible, except for, still, you have three. It's just a lot of racing, honestly. It's a lot. A guy, if he's not doing that great, he doesn't try harder in the third one like you would think. But I think if it was a little bit shorter still, you would get more people sprinting every time. But the racing was definitely great. I think we do need a little bit of change. I didn't expect—I guess we should have read our notes. I didn't know there was, like, a championship out of those three. That was different. That was something new. That was weird, but cool. I think it's cool to try. We need to switch it up.
I'd say the only negative for me is the length. It's confusing for us because we're so used to the same thing. It's kind of a weird day. It seems longer for some reason, even though it's really not that different. It's just really weird for us as a team. Next negative, which I haven't had an issue with, is if you had to do bike maintenance, because it's not a lot of time. I think that's what's really harder on the riders. They go do these sprints, and the sprints are usually harder on you, and there's no recovery time. So, I think it makes the guys way more tired than usual, which, good or bad…. It's good if you're in really good shape.
More or less for next year? Or the same?
I would do the same. We don't need more of them, but I think it's cool to do three different rounds like that. I think it's okay.
Michael Byrne | Rocky Mountain/ATV/MC-WPS-KTM team manager
My personal opinion is, I think that after we've had them all now, each Triple Crown, pretty much every single first, maybe second moto has been the most exciting and the most battles. So that tells me that I feel like they all should be more like Monster Cup, I guess, and maybe just all ten laps or ten-minute races, then obviously the longer they go, the more it stretches them out. That's why they have it, right? They want to try and mix up the points. I think that's your best way. You heard more random people winning, and people on the line that believed they could win the shorter ones. I definitely think also they did like 50-something laps last week, which I think is ridiculous. I think they should just all be ten-lap races or ten-minute races.
I still don't know about the points. I don't know if I feel like they should be if you win, you get 26 points each one. Obviously, still only one overall, but scoring it. I think if you shorten them up and then give it regular points per moto, and then calculate that up at the end for your winner.
But still only award them one main event?
Yeah, just like a National. It's accumulative. I think that would be maybe something interesting to try.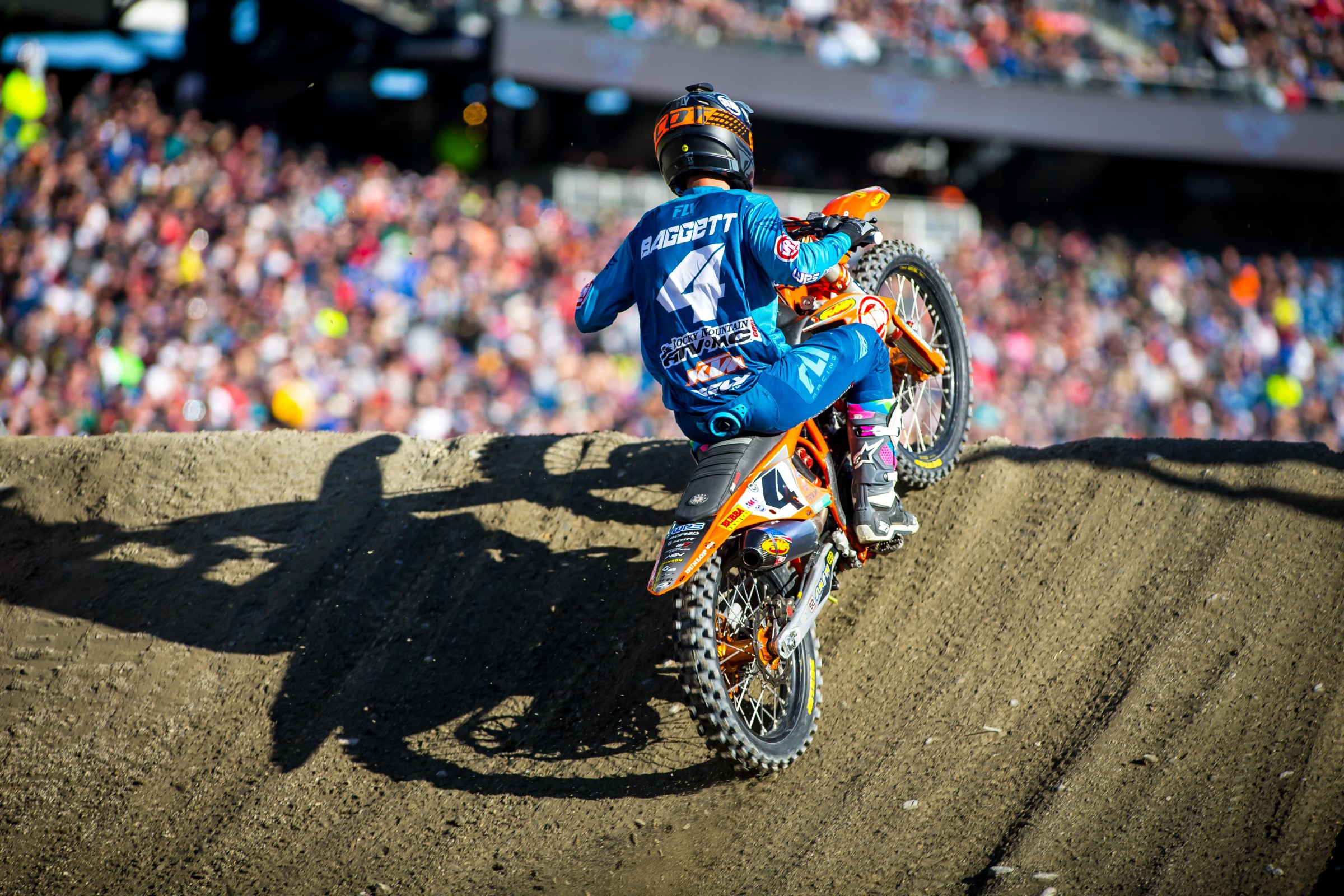 Some riders have told me that we're doing a lot more work, no extra purse money. They're racing more. Three starts are dangerous. They have a point I think. What do you think as a former racer?
I think a race is a race. It doesn't matter what the format is. I don't really know if I'm doing so much more work and not getting extra money for it, but the format's going to be the format. But I do think they're doing too many laps, yes. Especially when the laps are short. That's why I think ten lap races. Everybody on the line believes that they can win a ten-lap race.
More Triple Crowns, fewer Triple Crowns, or the same for next year?
I think just three, but just change the format. Just see how it goes.
Christina Denny | CycleTrader.com/Rock River Yamaha team manager
I guess off the top of my head, I like them because especially with my guys, I think they just see more race time and more gate drops. That's a perfect format for that. Three opportunities. Last weekend for example, Brandon [Hartranft] had a terrible first one, bad luck. He was able to come back and salvage.
Yep, if that's a regular main, he's out of it.
He's out of it. So, it gives them more opportunities. Since there's only eight races for Lites classes, that it's almost like nine, ten, 11, 12 by the time you're over with. So I like them. It's a lot quicker—faster, obviously, but I think with our scheduling and everything, that's really not a problem. I would say maybe keep two or three. I don't know that I would like to see more than that. But I like the time that they get to have more opportunity to have starts and not, say, a do-over, but kind of just get more time.
Jimmy Perry | Monster Energy Factory Yamaha team manager
I think that they were a good addition to the series. I don't think we need them every weekend. Three is probably a good number. It would be nice to have them all indoors, due to the weather. Could be very tricky on such a short turnaround if you ran into a problem. I thought the racing was good. I think it produced some different winners, which I think, where what's going on now, we could use that. Wish we could have been one of them, but easier said than done. I think for the fans and the hype, more starts, more racing, more tight racing. I think there's some people that used to get a lot of holeshots that wish we had this ten years ago. But I think ,all in all, it was okay.
What about the length of the three? It's something I'm hearing some people talk about. Would you like them different, all the same?
To me, I think as long as we know what they are in advance, I don't think it really matters. One extra minute, or two extra laps, I think if they pulled every race, said we're going to change our mind and do something a little different, that might not be right, but as long as everybody knows the rules in January or whenever they say they're going to do it, I'm okay with that.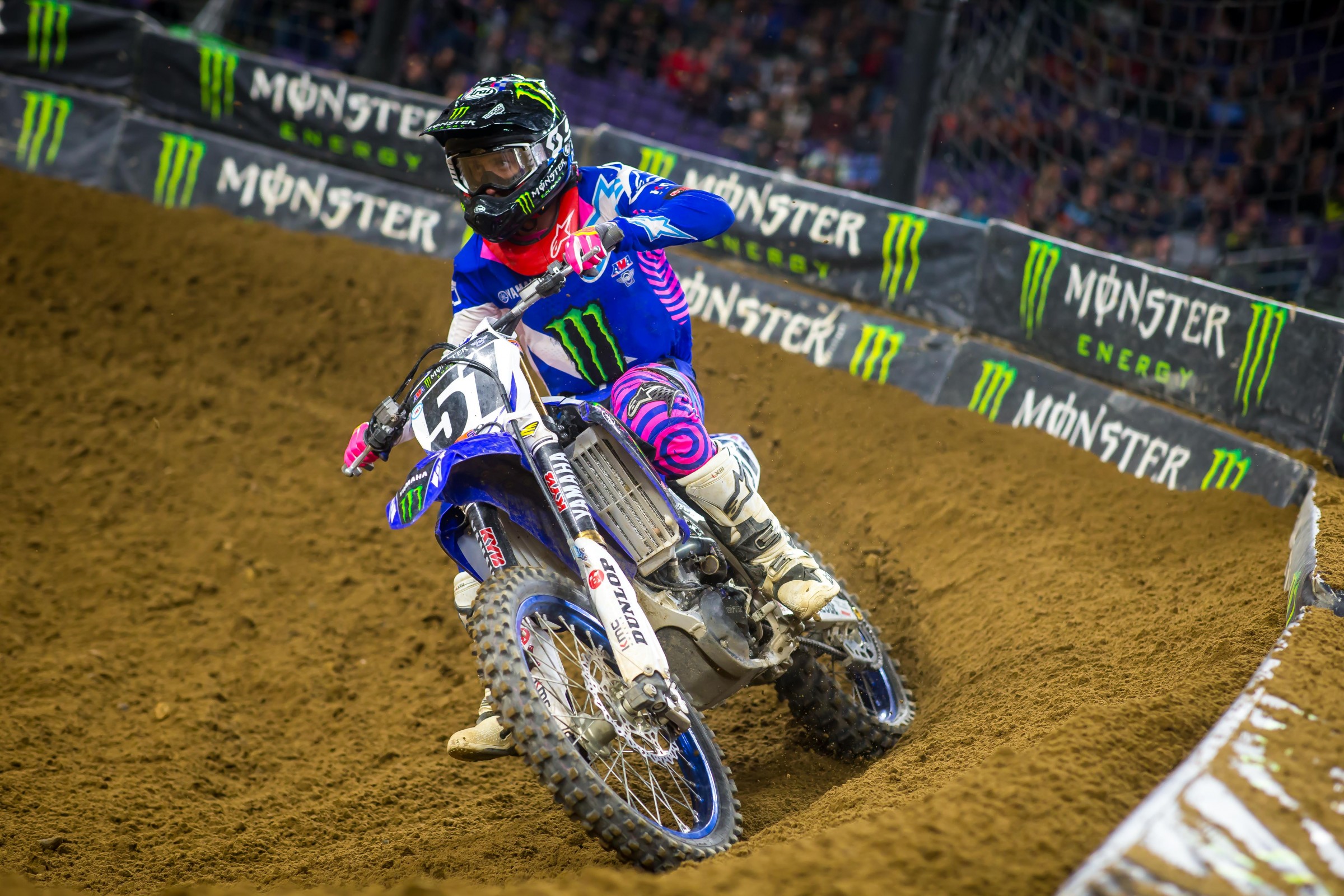 They added two minutes after the first one in Anaheim 2. What'd you think of that?
I think the first one they did at Anaheim 2, the track was poor for racing. So it didn't really matter what they did. If they would have had a 20-minute main event, I think it would have been a horrible race regardless.
So for you, three is good? No more, no less?
I think three is a good number.
Tyler Keefe | Troy Lee Designs/Red Bull KTM team manager
I think the first one they learned and they made a change, which was good. I think the first one was six minutes, then they went to eight. I thought that was better because the first one was way too short. I actually like them. I think for the fans' standpoint, what I have heard is a little confusing for the fans, but I think the racing side is really good. It's super intense. I think the fans get to see the main guys more. The racing is better. I think it's good. I think you could almost do half and half. But they need to do something in between the races for the spectators. An amateur class or something like that.
What about for you as a team—was it enough time?
Fortunately, yes, because we didn't have any major issues. If you had an engine [issue] or something like that, it's pretty tight.
So you'd be in favor of more of them?
I think so. I think it's time for a little bit of a change. It's maybe not the perfect change, but I think it's a right change.
Dan Fahie | Monster Energy Kawasaki team manager
I don't know if it worked. I think there's a lot of things to be learned from it, as with any change. The first race, for example, of the three was very intense. If that's your mission, it worked. The last race is a dud. It's too long and everyone knows where they need to be and they cruise around and finish where they need to finish. I think that's disappointing, from a fan's point of view. My mom, for example, she's not following the points, she's just watching guys race. I think we miss out on that race. We don't get tonight's show, for example. So I think there's a lot of work to be done.
More, less, the same? What would you do?
I would make a change and do the same amount, probably, if I had a choice. But that's just spit-balling.
Length of mains, change that?
I would make them probably all the same. Not as long as they initially were at the end. Somewhere in the middle there.