Gillette Stadium
Foxborough

,

MA
Foxborough
Monster Energy AMA Supercross Championship
Poor Kyle Peters. When you reach round 15 of the championship and the title has been out of reach for months, we "media-types" are searching for any and every good story, and we got a great one this weekend. Peters could have been the story of the weekend, until the final lap of the 450SX class happened. Then "the pass" became the story—a big one at that.
That doesn't mean Peters doesn't deserve all the accolades that may come his way. He put in a true ironman effort this weekend and should be recognized for it.
In Minneapolis the weekend prior, Peters crashed on a patch of ice outside of U.S. Bank Stadium while heading in for practice—the same patch of ice that took down his teammate Weston Peick (though Peick was uninjured)—and tore his ACL and MCL in his left knee. Season over, right? Well, not exactly. Peters rehabbed all week at the JGR facility and decided to at least try and race this past weekend in Foxborough.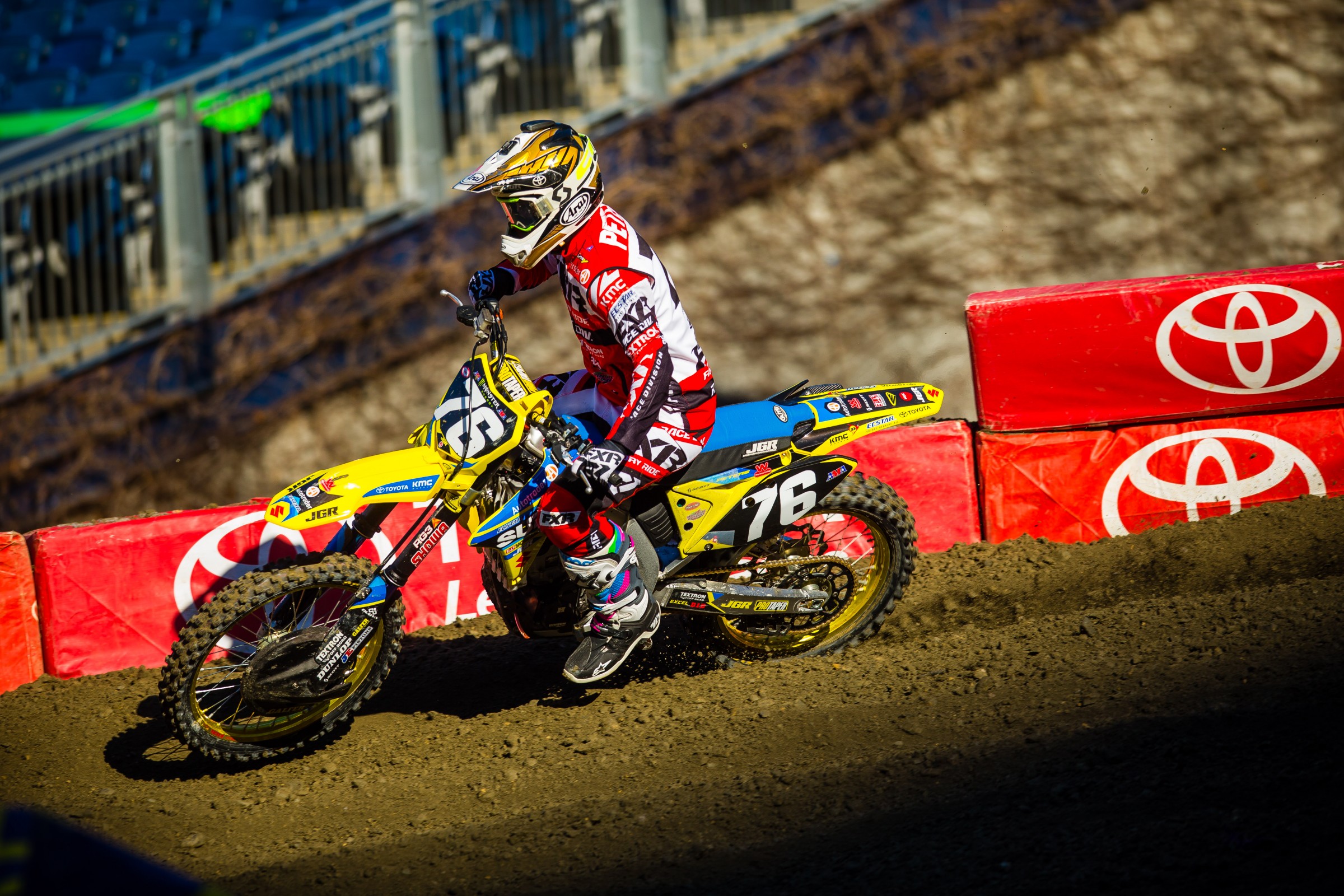 "For that to happen, riding down for third practice was just basically unbelievable. I was like, come on, are you serious? Then all week, going to doctors and seeing kind of what was up, finding out it was my ACL and MCL, I was just devastated. Like, come on, I can't go out like this," Peters said in the post-race press conference.
The Autotrader/Yoshimura Suzuki team put a bunch of grip tape on the left side of the bike to help Peters, and okay, he would attempt to race, sure, but what kind of results were he and the team really expecting? His knee was so bad that he decided not to ride press day, hoping to save it for when it counted on Saturday.
He made it even worse by going to the LCQ after crashing in the sand late in his heat (he got banged on his left knee in the process). He won the LCQ, but with a terrible gate pick, again, not much had to be expected, right?
Expect the Unexpected
Not much was expected of Kyle Peters back in 2013, either. A year removed from an injury-prone rookie season with Star Racing Yamaha, Peters was riding under what was essentially a privateer effort after not being re-signed. In a rather bizarre main event in Indianapolis where title combatants Wil Hahn and Marvin Musquin were down in the first turn, Peters turned in a miraculous night, riding to a still career-best second-place finish. He hadn't returned to the podium since (his best finish a pair of sixths) until Saturday.
On Saturday, Peters managed a top-five start in the 250 main event, but surely his knee would begin to give and he'd drop anchor. Surely.
Not exactly.
Peters once again defied expectations and began catching third-place Sean Cantrell. When Cantrell faltered, Peters took advantage. Surely his knee wouldn't hold on for much longer, plus, with Jeremy Martin making an incredible charge from dead last, this podium was in serious jeopardy.
Not exactly.
On laps 15 and 16, Peters had dropped into the 59s while Martin was running a blistering pace, putting in a 250 class-best 55.183 on lap 16. Peters obviously sensed he needed to pick up the pace and dropped down to a 58.160 on the final lap. Martin put in another 55 (55.611 this time), but it wasn't enough, and Peters held on for his first podium since 2013.
"I saw him [Martin] with a lap to go and I was like, 'No, not today, I've been through too much,'" Peters said.
Since losing his Star Yamaha ride at the end of 2012, Peters slogged through five seasons hoping for another shot with a factory team. He got a brief fill-in role with JGR last year while also spending time down in Australia. This 2018 season would be his first as a full-factory rider, from round one, since his rookie season. He wasn't letting this knee injury cut that short, painful or not.
While the conversation will surely continue about "the pass," let's leave some room for Peters as well. The man waited a long time to finally get back up on the podium.