Foxborough, MA
Foxborough
Monster Energy AMA Supercross Championship
With the season winding down and Jason Anderson holding a big points lead, there appeared to be little room left for drama in the 2018 Monster Energy Supercross Championship. Then the last lap happened at round 15 in Foxborough, Massachusetts, and all hell broke loose.
Up until that last lap, everything seemed sane. Marvin Musquin snaked his way into second early with some slick moves in the first few corners—and after leader Christian Craig hit some tough blocks and went down, Musquin took the lead on his Red Bull KTM. After a brief tussle for second with Anderson, Eli Tomac settled into second place on his Monster Energy Kawasaki and started stalking Marvin. He couldn't quite get to him, though, as Marvin expertly weaved his way through lapped traffic and downed riders while maintaining his pace under pressure from Tomac. From that perspective, Marvin rode a great race, but Tomac never gave up, and with two he closed back in and executed a quick and effective strike in the whoops. Just like that, Tomac had stolen the lead and seemed set for victory.
Musquin wouldn't to give up, though, so in a 180-degree turn on the last lap, he dove way down to the inside and smashed into Tomac. Tomac went down. Marvin stayed up and went on to take the win. Tomac, and most of the fans at Gillette Stadium, were not happy. Tomac received huge cheers on the podium while the crowd booed Musquin.
"It was kind of just cat and mouse the whole race there," said Tomac. "We were on the last lap, or a lap and a half to go. I ended up making the pass. Went outside before the short set of whoops. Got inside there and then came around off the finish line, down the straight. Then I just got blasted from the inside on that second turn. It was out of nowhere and it was a cheap shot. That was tough."
Musquin defended his actions by saying it was a race for the win and he was willing to push the envelope to get it.
"A lap and a half to go I was like, "Man, let's try to do something!"" he said. "It's for the win. I led so many laps. I was bummed. I felt like I was riding really good so I could charge. Then I saw right there, that inside and obviously I was going into that main rut the whole main. He cut really, really tight and I definitely didn't expect it. I came in here and obviously the outcome was pretty brutal. I'm sorry about what happened with the crash. It could have been bad for me too. For a 450 main win, sometimes you got to try your hardest. This year I've been taken out a few times. Jason at Oakland and Peick at whatever, Dallas. I had a couple crashes when people kind of hit me pretty bad. I don't know. I'm not known for a really aggressive rider like that, but like I said it was a great main and I just tried."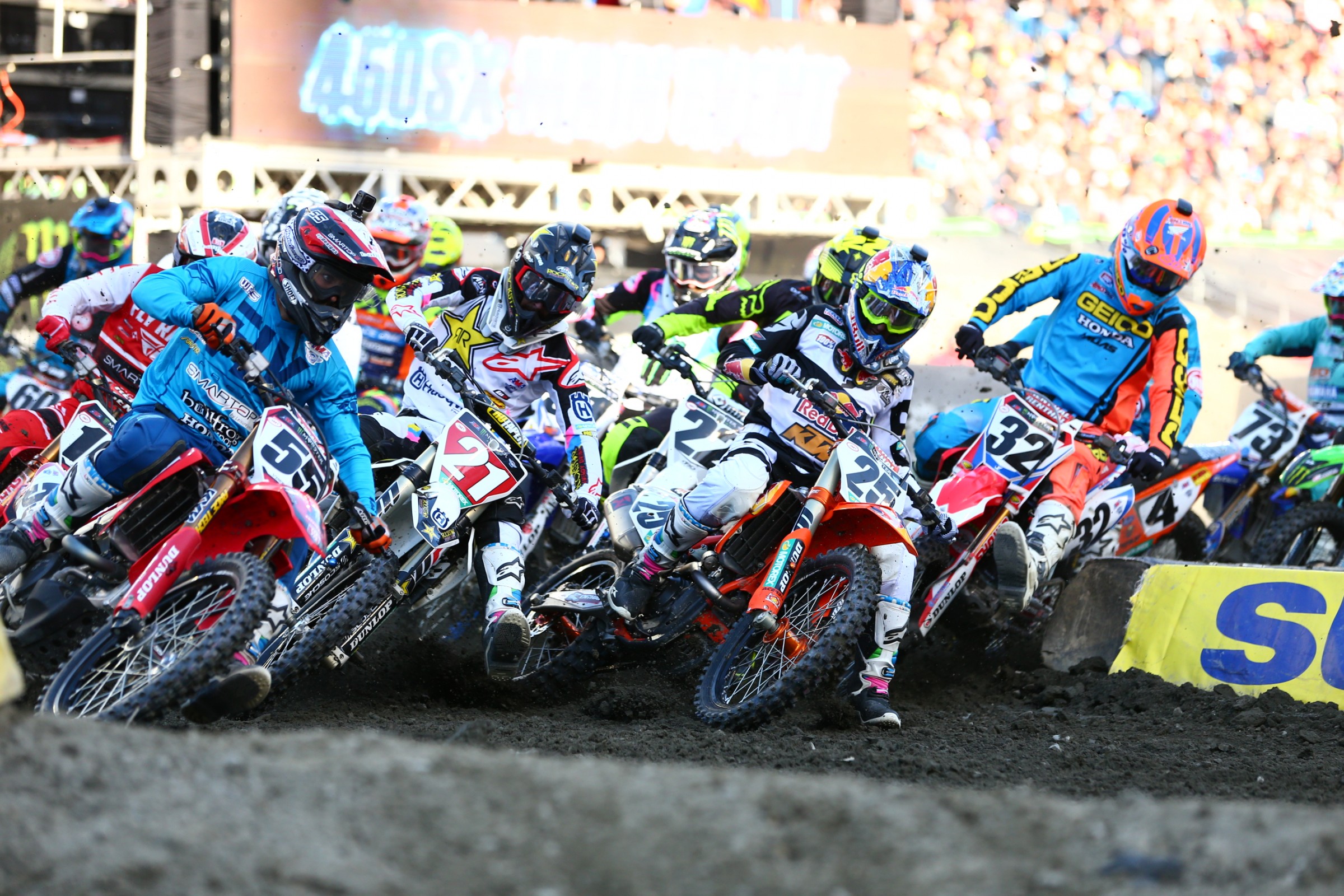 At that point, there was tension in the press room between Tomac and Musquin, but it went next level when Musquin said, "I think we've seen worse. Last year at Vegas for example at the final round," as a reference to Tomac slowing up the race and trying to jack around with Ryan Dungey last year. This only re-opened an old wound—Tomac has maintained he only used those Las Vegas tactics last year as revenge for Musquin pulling over for teammate Dungey the weekend before in Ne York. Here's the exchange:
Tomac: Yeah, you can fix a race in New York two weeks before that and not have anything happen. Then we'll get a $5,000 penalty, and that's like a drop in the bucket for the 450 class so why not just keep blasting people?
Musquin: I'm pretty sure we can talk about stuff like that…
Tomac: It's not points! It's not a freaking $5,000 fine.
Musquin: I know we can talk about stuff like that for a long, long time.
Tomac: Make guys think twice. Including myself and Marv.
Musquin: Josh Grant was right there in Vegas trying to help you. We could talk about stuff like that a long time. Things like that happen.
That brings up a good point. What is the right penalty for something like this?
Tomac: But it's like, where do you draw the line for a super aggressive pass? At the same time, there is a line. That pass was over the line. Where do you draw that line? I don't know.
Musquin: If you watch Jason [Anderson] in Oakland after the whoops, he cut way inside in the whoops.
Marvin, you said you didn't quite expect him to be where he was. You didn't expect that level of contact?
Musquin: No. I'm saying he turned, like he made a new line, like really tight. Anyway, definitely he didn't know I was coming.
Eli, were you cutting low in that corner to protect the inside there? Do you feel like you were out of line or did you cut…?
Tomac: That was as low as you could go without being on the flat ground. No one was going on the flat ground for the 25 laps or 24 laps before that.
On it went, Tomac super mad and Musquin trying to use more examples of previous aggressive riding to explain he was only doing what others had done before. This situation got real.
Meanwhile Rockstar Energy Husqvarna's Jason Anderson finished pretty far back in third, the first real moment this year where the points leader visibly backed it down in order to stay out of trouble.
It's the same goal all the time [to try to win] and I keep saying that, but tonight honestly it [the points lead] did [enter my head]. At some point I just kind of was like… I went double single on the triple the last three laps because I was kind of scared of it!"
Anderson started the race close to Musquin and Tomac but an early mistake really cost him. "Everyone was doing that table onto table," said Anderson. "You're right; that one lap I came up so short. I was hitting the rhythm fine. It's just you hit a soft spot out there sometimes and it will catch you off guard. I did that and honestly even the triple and stuff like that, I never really felt fully comfortable to push it and keep pace with these guys. It was a tough night for me. Like you said, I had a little bit of a moment and just wanted to keep plugging away and try and do the best I could with the cards I was dealt."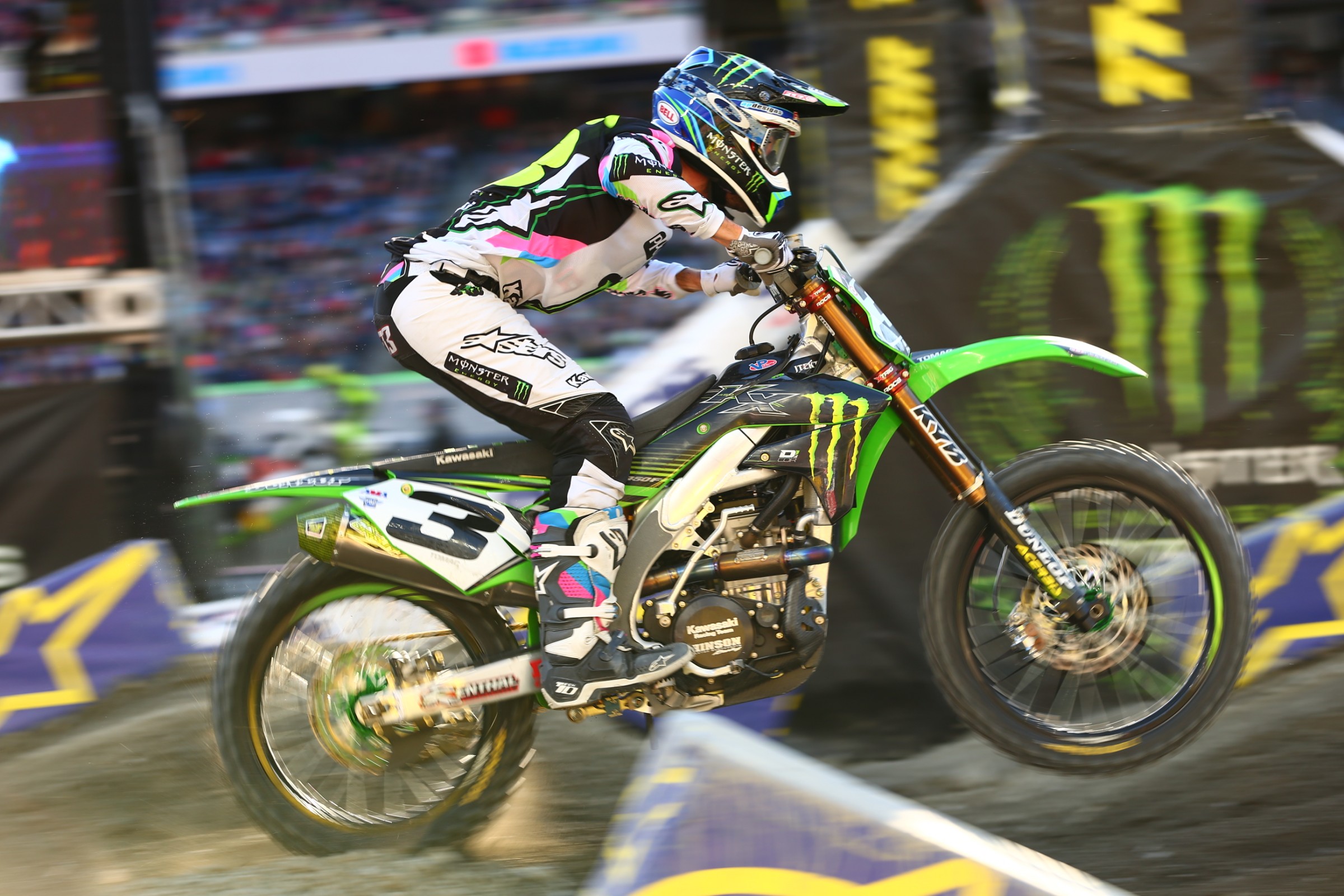 The race was a bit of a mess for some others, including Honda HRC's Craig, who went down while leading, and Chad Reed who was down in the first turn. Vince Friese got a good start and held a solid fourth for a long time, but then it seemed like the pace caught up with him, and he started going backwards. He finished 12th. Blake Baggett rode a quiet, solid race for fourth on his Rocky Mountain ATV/MC KTM. Dean Wilson was the same, taking fifth,
"This was a step in the right direction," said Wilson. "I started ninth then came through the pack up the fifth. I would have been happy with a fourth, but fifth is still good. The sun was so bad, and the track was super rutty, but I made it through. I'm really happy with my riding, and I've got good speed. Today was good and I hope to carry it on to the next weekend."
The 250 race, was, well less dramatic than the 450 race. Jeremy Martin was trying to stretch his win streak to three and absolutely dominated practice and qualifying. He and his team were quick to point out means nothing in the grand scheme of things, and they proved themselves right when Martin crashed on the first lap of the main. It took forever to get unburied from the tough blocks, and any chance at the win was gone.
Plus, Zach Osborne got a good start and the early lead, a rarity for him. The Rockstar Energy Husqvarna rider knew what to do from there, and even though Jordon Smith rode well and kept him close, it wasn't close enough to force Osborne into a mistake. The race win gives Osborne 15 points on Smith with one 250SX East race remaining, the finale in Las Vegas.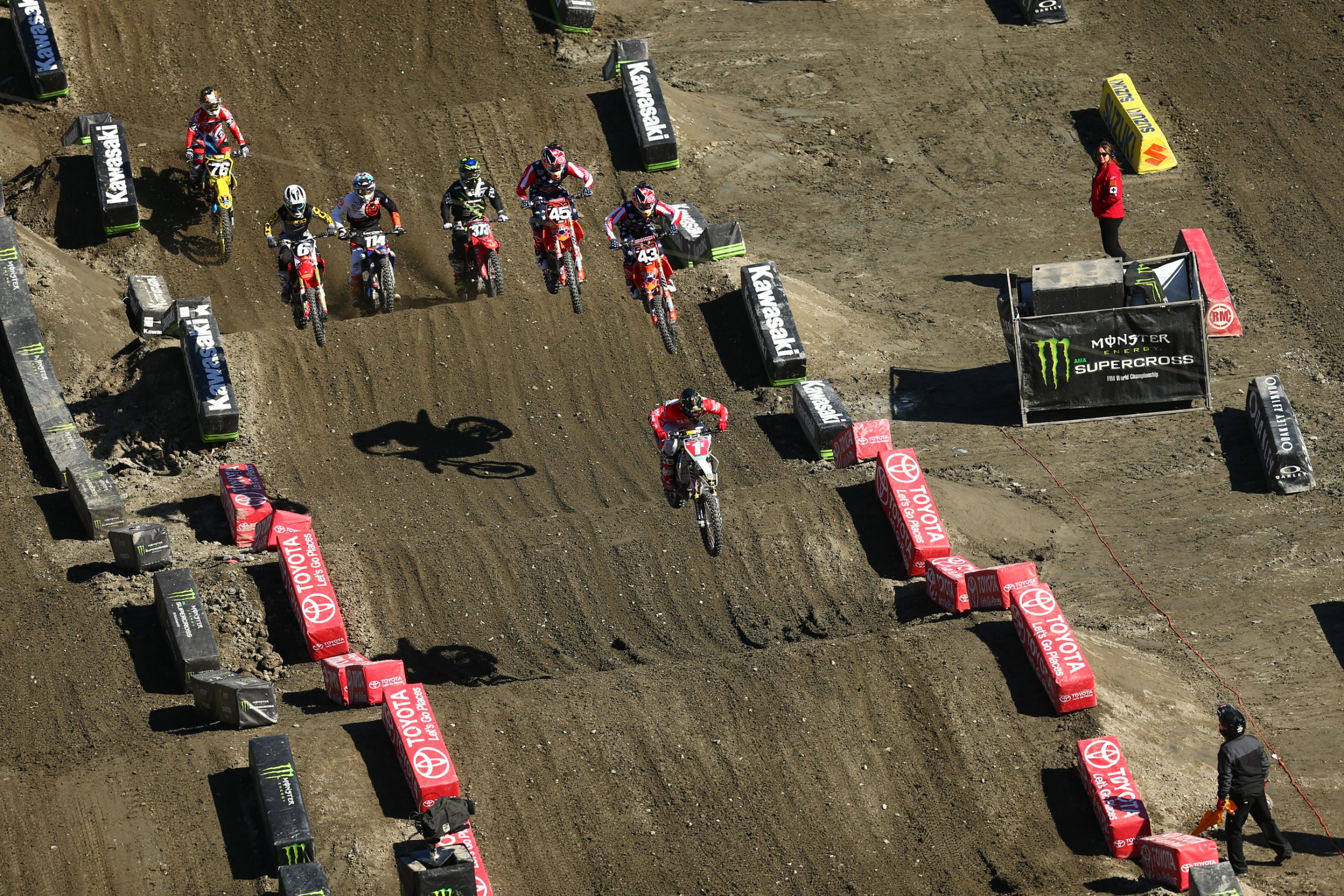 "The track was just absolutely brutal," said second-place Smith, of Troy Lee Designs Red Bull KTM. "Everytime I would try to make a run on him or a charge on him I would make a mistake and he would get away. I put in a good charge at the end and I looked at my lap times, and I think my second lap time was my best lap time. I tried to get close enough to him to pressure him into a mistake."
Perhaps the feel-good story of the night was Kyle Peters run for third on the Autotrader.com/Yoshimura Suzuki. A week ago Peters tore his ACL and MCL…by crashing on the ice while riding from the team trucks to the track in Minneapolis. He says he could barely walk this week, but he tried riding on Thursday and decided to try racing. A crash in his heat sent him to the LCQ, and then he somehow pulled a decent start in the main, got around the downed Sean Cantrell, and held on for a podium.
"I was just like "Really?" said Peters after his crash on the snow last week. With a lap to go, Martin's furious charge from last put him into fourth, with Peters in his sights. "I saw him with a lap to go and I was like 'No not today, I've been through too much," said Peters.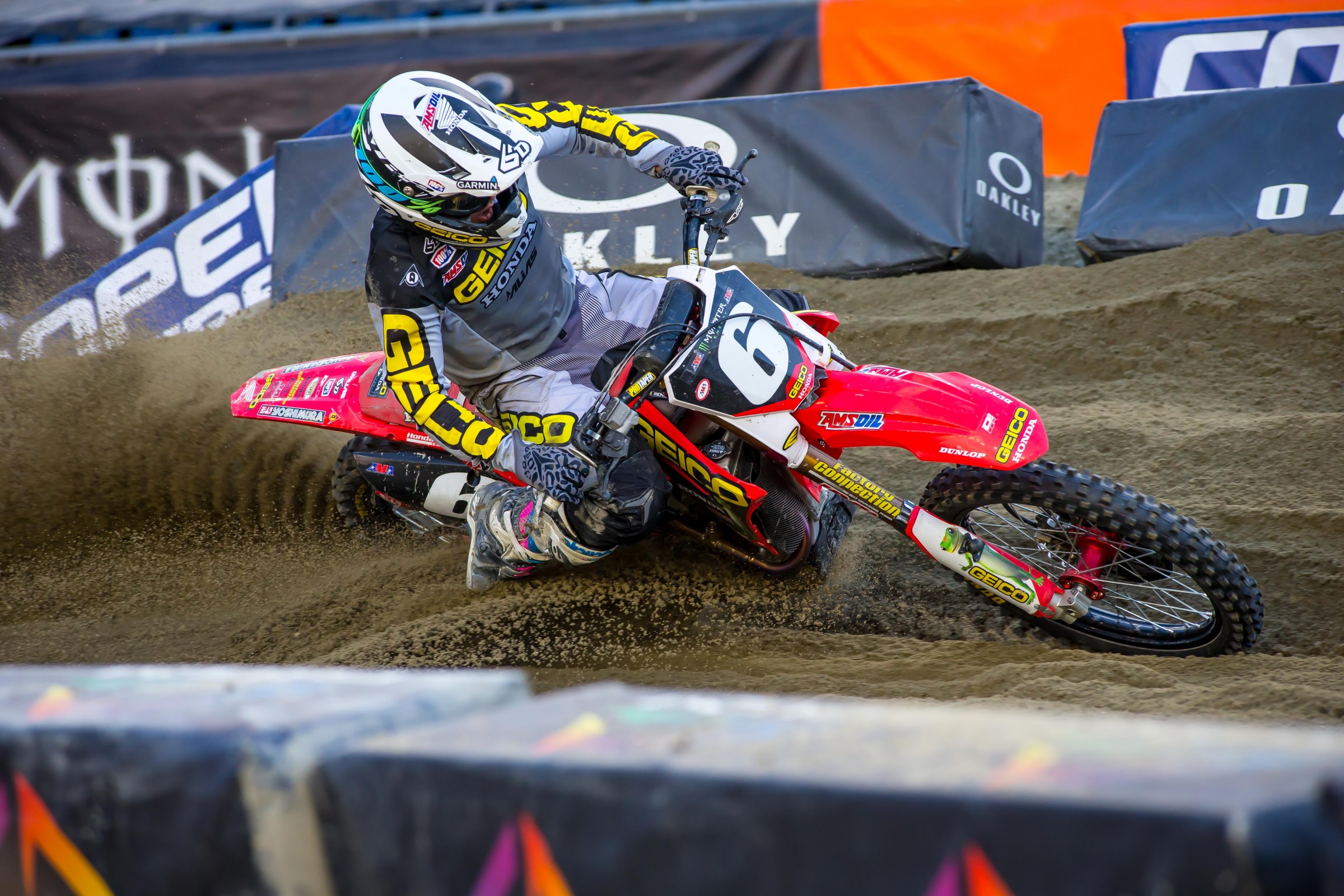 Martin's speed was blistering at Foxborough, perhaps even better than with his race wins in Indy and Minneapolis. On the first lap, though, he ended up too far wide on the landing of a jump, hit the tough blocks and went tumbling. He was probably a half lap down on last place when he finally dug out, and his charge from the back gave the crowd something to cheer for. However, they saved some emotion for the 450 race, which brought straight fire on the final lap.