Foxborough, MA
Foxborough
Monster Energy AMA Supercross Championship
Racer X: Kyle, congratulations. We're all pretty aware of what happened a week ago. Obviously, it's probably a tough week, even a tough day today. Just kind of take us through the emotions of what you've gone through the last seven days and obviously how it feels to be on the podium today.
Kyle Peters: For that to happen, riding down for third practice was just basically unbelievable. I was like, come on, are you serious? Then all week, going to doctors and seeing kind of what was up, finding out it was my ACL and MCL, I was just devastated. Like, come on, I can't go out like this. Then Thursday we were like, all right, we'll see what we can do. I'll go. I already have my flights. We'll see what can happen. Thursday, I rode a little bit. I was like, it could be possible. We'll go. I'll try my best and see what happens. Struggled all day with riding and whatnot. I think the LCQ actually helped me out a lot with keeping me warm and keeping me going. The whole Autotrader/Yoshimura Factory Suzuki Racing JGR team was unbelievable with all the help and support, J-Bone [Jeremy Albrecht] and Buddy [Antunez] and my dad. It's just truly a blessing to even be up here.
Jordon, congratulations. You kind of sat right there behind Zach most of the main event. I watched. Made some little mistakes, would lose time, gain time back and forth. Was it just putting together maybe a run of five laps that you needed to get closer enough to make it somewhat of a battle?
Jordon Smith: Yeah. The track was just absolutely brutal. Every time I tried to push hard, it might work for a lap or two or half a lap and then I would make a big mistake. I could see that Zach made a few mistakes. I was just trying to keep the pressure on him and charge as hard as I could. The track was just like I said brutal. I was just happy to make it through the main. I made a good charge at the end. I looked at the lap times and with two laps to go was my fastest lap time. So I was just trying as hard as I could, and to just try and at least push Zach into a mistake.
Zach, congratulations. This season's been pretty good for you but you had to do a lot of work from the back and first turn crashes. For you today, being able to get out front in the heat, pull away, main have that open track. How huge was that for you? You haven't really had that this year.
Zach Osborne: Yeah, I haven't had that in a while. It was nice to just get out there and kind of be able to control the race from the front and relax a little bit. The two or three laps that we had to roll the triple, I felt like kind of killed my flow a little bit and just kind of put me off a little bit. I don't really know. Like they said, the track was getting tough. But that's kind of my niche when it's like that. I enjoyed the main event. I feel like I've kind of finally made some progress with my starts. So that takes a lot of pressure off of me—not only for Vegas, but for the rest of the year as well.
Kyle, what was it like riding today? Did it actually hurt? Was it difficult to ride? Was it something that actually came together when it mattered?
Peters: Definitely kind of came together in the main event. But all this morning, all of practice, I couldn't hold onto the bike, couldn't squeeze. Shifting was a real problem. I was like, you know what? We'll do what we can. Find the lines that work for me and make it happen.
What kind of things did you do during the week to try to rehab?
Peters: JGR has a therapist. We couldn't really do much. Tried to keep the swelling down and get it flushed out. Couldn't hardly do anything, really. Couldn't really walk around or work out or anything, so I pretty much just sat on the couch and hung out.
Kyle, what kind of changes did you make on your bike? I saw the inside of your knees after the race and pretty torn up. Maybe some extra grip tape? What other things could you do?
Peters: Yeah, we went full Jimmy D-style with the grip tape. That was the only way to really hold on on Thursday. That was a big deal for me, and being able to put the bike where I wanted to still and it not ride me.
[Sean] Cantrell went down. That put you in third. Jeremy Martin was coming really fast from the back. Did you know where you were? Were you thinking podium? What was your mindset there while you were running third late?
Peters: Yeah, I knew I was fourth by Cantrell. I was just kind of working on him, waiting for time to go down and make a push. He went down and then I was just trying to focus on my own race, not worry about it and keep going forward. I saw him with a lap to go and I was like, not today. I've been through too much. I was able to stay in front of him. It was a good night.
Jordon, can you talk a bit about what you were thinking? Were you thinking about the championship with Zach right in front of you? That was some pretty important points. It ended up being a six-point difference, whether it was the first and the second tonight for you.
Smith: Yeah, I was for sure thinking about the championship. I got off to a good start and right behind Zach. That's a position that you want to be in. Getting off to that good start is so important, especially on a track like tonight where so many things could go wrong. I was trying to push as hard as I could, and I was struggling really bad in practice and the heat race. We actually made a huge change on the bike in between the heat and the main event, to kind of a setup that I haven't raced since the first two rounds this year. I went back to that and I felt really good in the main event. I made a couple mistakes in the middle of it and let them get away a little bit. My mechanic had on the pit board "all out." That's what I was trying to do, just go as hard as I could. I caught him a little bit at the end, but just too little, too late.
You mentioned the track was really tough today. Can you talk about how it compares to some of the other races? I know Indianapolis for sure was really soft, but you mentioned that with the wind, it was drying out a lot. Was it also soft, too?
Smith: Yeah, it was really different. The dirt was really different. It was like you said, really soft, but it was like a spongy soft, kind of. For the most part, didn't really rut up. It was kind of just like berms for ruts. Then it was really dry, even underneath where they had watered it was really dry. We rolled the triple on the second or third lap, maybe, and I was right behind Zach. I got a huge dirt clod stuck in my throat. It was just so dry, and my throat is still hurting now. It was tough with the shadows and everything that went into it with the wind and everything. It made for a tough race.
Zach, anything different with the day format and having to be up earlier, and even with the lighting would be different, as opposed to a night show? Was there anything impactful having a day race?
Osborne: Not really. I'm not really a morning person. I'm not a 6:00 a.m. guy. I'm like a 7:30, 8:00 kind of guy. But I'm also not like a midnight guy, either. So if I had to choose, I would choose the day format. I like the racing during the day. I think it's really good for us to be on the big network. I don't know why, but it feels a little less tense during the day races. I've only done one before, which was New York last year, and that was also a win for me. I feel like I excel in this format. I feel just a little bit freer. I actually kind of had a nap between the day and night show, or whatever you want to call it. It kind of feels better to me when we race in the day. I don't know why.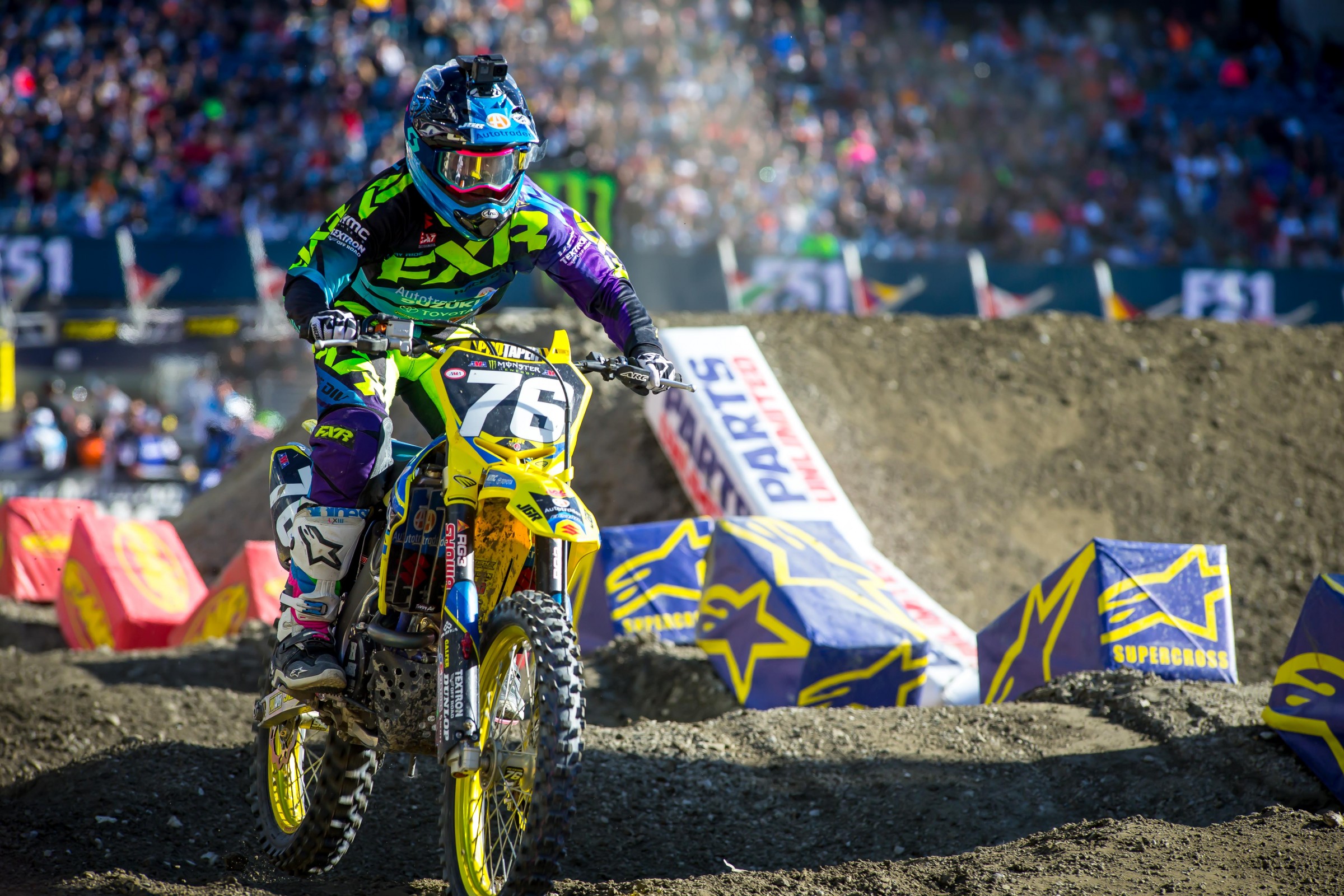 Did it affect either of you guys much?
Peters: Not too much for me. It was definitely early track walk for sure. I had a hard time like normal schedule for eating. I couldn't get a hotel breakfast and had to come back and make something. Overall, it was good. Sun didn't play too much of a part of it, so that was good.
Smith: I think one of the biggest things with the day program is just kind of the track. It's usually not so great in the day for practice and then it gets better for the night show. It was kind of the same way. It's just really hard for them to keep watering everything on it in between the races. I agree with the 6:30 track walk and really cold weather. That wasn't the best. Once you get through the first part, it's all right.
This question is for all three of you guys. You get a weekend off, which that's going to help you. You got the showdown coming in Las Vegas. Are you looking forward to that again?
Osborne: Yeah. Our series kind of feels broken this year, like broken up more. We've had a race here, a weekend off, a race there…I wish it was just kind of straight through. It is what it is. We'll just do some outdoor riding, maybe, and start with that program and get into the summer on the right foot. Just keep plugging away on the supercross deal until Vegas.
Smith: I'm ready for the showdown in Vegas. It didn't treat me the best last year, so hopefully I can get some sort of redemption this year.
Peters: The weekend off is going to be really good for me. Just keep rehabbing my knee and get it as strong as I can for Vegas and hopefully get back up here.