Earlier this week, DMXS Radio had Red Bull KTM team manager Roger DeCoster on to discuss the provisional suspension given to Broc Tickle by the FIM last week for failing an anti-doping test. According to the press release sent out by the FIM, Tickle tested positive for methylhexanamine, which is on the World Anti-Doping Agency banned list.
David Izer had a detailed discussion with DeCoster on everything and granted us permission to run the interview. If you'd like to listen to the interview, visit www.dmxsradio.com or search DMXS Radio on iTunes or your favorite podcast app.
Jason Weigandt also wrote about the situation after talking with Broc's trainer, Aldon Baker, in Minneapolis. You can read that here.
DMXS: Welcome back to the show, Roger DeCoster. How are you?
Roger DeCoster: Could be a little bit better, as you can imagine.
This is what sucks. You have all this stuff going on with Broc Tickle. Then I called you and you were at the dentist office, so you have a dentist problem and then a WADA problem.
Yeah. Surprisingly I don't have a headache right now!
You're not drunk. You should be drinking wine immediately right now. Let's go ahead and summarize. Broc Tickle failed a WADA test on February 20 at San Diego. He's on a provisional suspension. He has appealed, and there's a possible four-year ban. What is the latest? Get everybody up to speed.
First of all, KTM did not give an appeal or anything like that. This is completely on Broc. Of course, we like to believe that it's a mistake, something that happened that is a wrong finding or that it is a mistake, an unintentional mistake by him. That's what we are trying to find out what actually happened. We know the chemical they found, it's methylhexanamine. We have asked him several times backtracking what he did, what he ate the day before, the couple days leading up. What did he drink? Did he take some cold medicine or whatever? Try to backtrack and find out, because if we don't find out, then we cannot take care of anything.
Have you talked to his trainer?
Yeah. All these guys take some supplements and vitamins and nothing from what he takes, that we know, is on the [banned] list. KTM and Aldon [Baker] as well are all very careful about this stuff because we have read enough stories about how things can happen with just a nasal spray or something. So, we are very careful. KTM has a very strong policy of no drug use. Our contract is very strong. If Broc, if the proof is there that he took something, that product, and it was intentional and all that, then his contract is going to be finished immediately.
There's a clause that he would have to pay the salary back. Is that true?
That's true in some of our contracts, but there is some penalty that he would have to pay to KTM on top of being terminated.
I've heard some rumors from some other trainers that this year the trainers had to sign something saying that they were culpable if a rider failed a test. Do you know anything about that?
No, I don't know anything about that.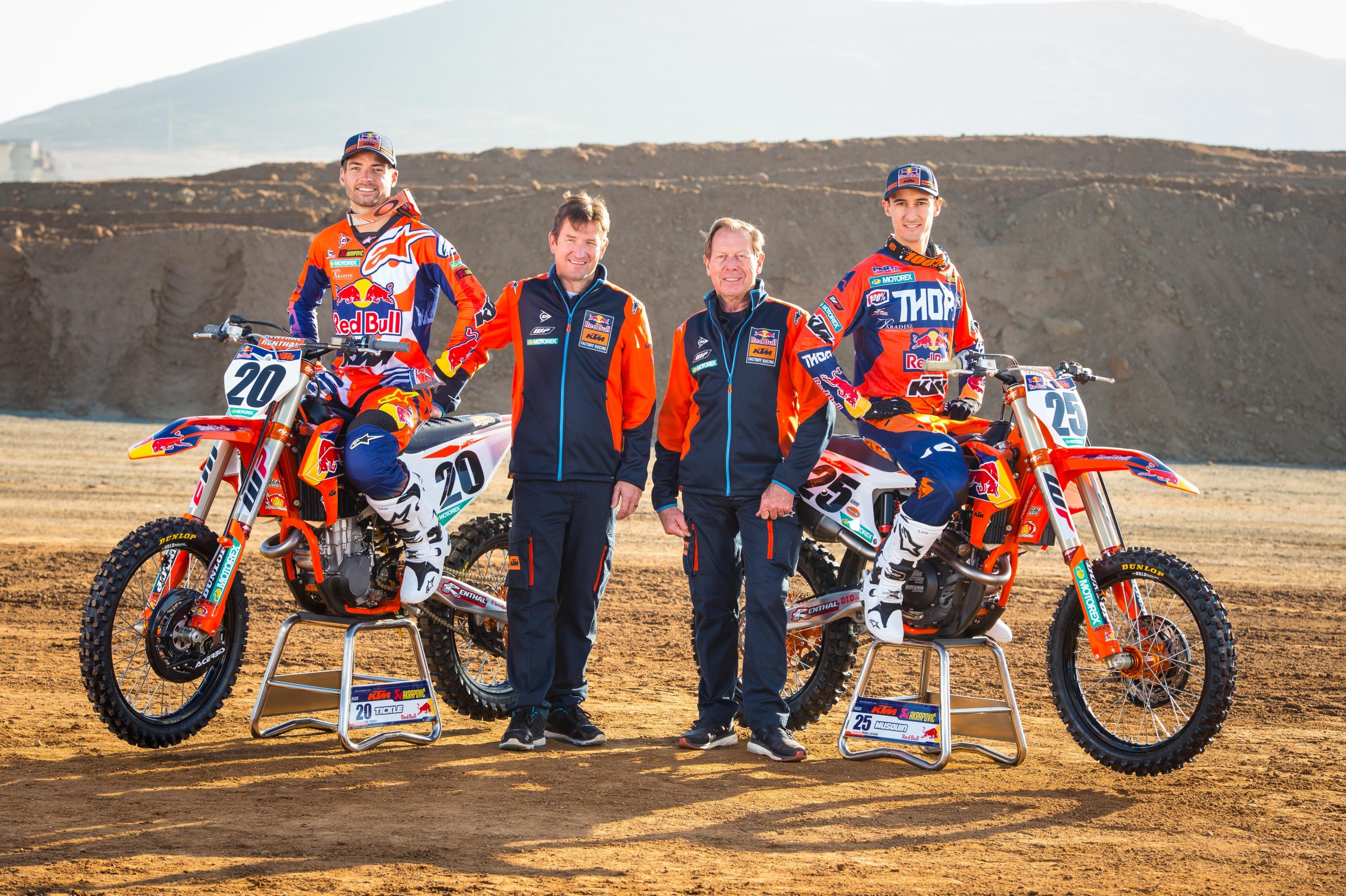 If that would be the case, that's something new this year that would tie a trainer to a rider, so if a rider fails a test and is penalized, that could possibly bleed into the trainer as well.
I don't see how that would happen. How would you keep an athlete from going to another trainer or a friend that thinks he has something that can help you? I don't see how that could work.
What did Broc tell you? How did you find out?
I was having dinner Thursday night and I got a call from Ian [Harrison, of KTM] who had gotten a call from Broc with the news that he got an email from the FIM saying that he was provisionally suspended because they had found that chemical in his test.
So, he immediately told you, or everybody said to you that this was an accident, that this was not intentional? At this point, we still don't know where this came from. He does not know, or at least telling anybody where this got into his system, right?
We don't know. I have asked him several times. Not only me, Ian has asked him. Everybody has asked him. He seems to be sure that he is not taking anything but the products he has shown us, which are not on the list. If one of those products had something inside that is on the list…. Those supplements are not really regulated like a real medicine. They don't always have in what it says on the box. They sometimes have things inside that is not on the box.
That's the whole thing with supplements and vitamins, like you said, they're not regulated. What are your thoughts on testing? Do we need it in this sport?
Yeah. We need testing. Basically, all the factories have been pushing to get the test. So, I do think that some of the rules need to be tightened up and be more reasonable. I think if some kid takes a nasal spray because he has a cold, something over the counter at the drug store, and he gets pulled for that for four years, that's not reasonable, I think. Now, if the guy is on an EPO or something like that, that's a completely different story.
How far back do you believe that if testing is needed in your opinion, how far back do you believe that people have been trying to skirt the rules and possibly cheating?
I think since sports existed. This has probably happened with these different things. As time goes by, there's always new things. People always searching to get an advantage. There's always people that search. In the process, some people are willing to cheat and then take products that are on the banned list. Some will go take everything possible that is not on the banned list, but that would give them some help and some advantage.
Do you miss the days when you rode and the only testosterone a rider had or needed came from his own balls?
[Laughs] Actually, I got tested a few times [when I was racing]. I don't think the tests at that time were as detailed as today. They could find any hormones stuff or steroids and all that, but now it's way more sophisticated, and they have masking agents, which I don't think anybody knew about at that time.
You said KTM has some very strict policies, so obviously this is very important to them. What is the word from Austria? What is the corporation saying? Obviously, that's just a rider that works for them, but I'm sure this has gone across the pond, too.
Yeah. They basically told me to be in support of Broc as long as there is doubt and that it was an accident, as long as there's no real 100 percent proof. They want to make sure that there was no mistake in the testing. They want to the test a B sample. But I think if the B sample comes out the same, I'm going to be told that it's over.
You guys will cut ties if and when the B sample tests positive?
I think soon [after that], unless there's still an appeal possible from him. As long as it's not 100 percent confirmed, we will stand behind him. But once it is confirmed, we can't.
Do you have a contingency plan in effect right now for that, to put somebody else on that bike even through the appeal process for the rest of supercross?
No.
No riders? Nothing?
No. I don't want to jump the gun. It's not that simple. If you're going to put another rider on the bike, he needs to train. You need to test with him, to balance the bike for him and so on. It's not that simple.
Have you reached out to [Ryan] Dungey? Let's make this happen!
[Laughs] Dungey is bummed like everybody else on the team.
That is a gut blow. Here's the thing, too—and I'm not slamming Broc—but he's not winning races. He wasn't a podium guy, a consistent [podium] guy. So, whatever this was in his system, his results have been this way for years around that same time. So it's not like he took a magic bullet to try to all of a sudden win races.
I believe that if a person was intentionally going to cheat, they would take another product than this product. This stuff may help a little bit, I don't know, but I don't think it can make a big difference. It's like drinking some cup of coffee, I think.
That's the whole thing. Obviously, trainers in our sport, it's almost mandatory now to have that. You as a team manager and having all this oversight, how nervous are you when you guys really have nothing to do with these riders except when they show up on the weekends? This is all out of your control, but it directly reflects on KTM.
He [Aldon] is so strict with them on what they take, even food-wise, because there's been some athletes that have picked up something from eating red meat. He doesn't even want any of these guys to eat red meat! That's how strict he is. I have a hard time to think it comes from that side.
So you're addressing the cloud of suspicion that seems to have followed Aldon around. It seems like whether his riders all win, or when they come to him they get better. You're saying in your heart of hearts you have no qualms in saying that you have no suspicions about anything illegal going on on that side?
No. I've been there, Dungey has been there a long time. Dungey has been tested over and over and over again. Dungey is so straight that he could not live with himself if he would take something! There's no way.
So you're saying his conscience wouldn't allow him to cheat to win?
Right. He could not live with himself. He's so straight and so Mr. Perfect, there is no way that he ever took anything.
Do you just believe that cloud of suspicion that follows Aldon, you think that's just jealousy or haters or people that want them to fail? Why do you think that persists over the years?
If it happens with an athlete that dominates and wins a lot, people start thinking he must be on something. I had people saying that when Ricky was so dominant. Ricky ate a lot of candy in our truck [laughs], but he just wanted to win back then and did the work during the week. That's what Dungey did. That's what going on at Aldon's. They work hard there. They put in the time. When the rider does something wrong, I think it more comes from some man friend or somebody that thinks they can help and maybe they think the thing they recommend is something that is clean, but they don't know enough about it. When the guy is struggling or something, that's when they're going to be more open to try something that somebody comes and gives something to them.
The man groups and the entourages are definitely where some influence might come in. I just want to clear this up with you. You agree with testing. You believe that cheating's been in our sport for a long time, and it's mandatory for testing. You just don't like the four-year ban. Are those the things you're talking about maybe changing and customizing to motocross?
Yeah, to be more proportional to the infraction, or say the stuff you take on. You can get popped for drinking too much coffee. If you take steroids or if you take EPO or something like that, I think that's way more serious. Blood doping or things like that.
Let's face it. Even a rookie right now, a four-year ban would pretty much put you out of the sport. At Broc's stage in his career, this is career-ending. He's done.
Yeah, exactly.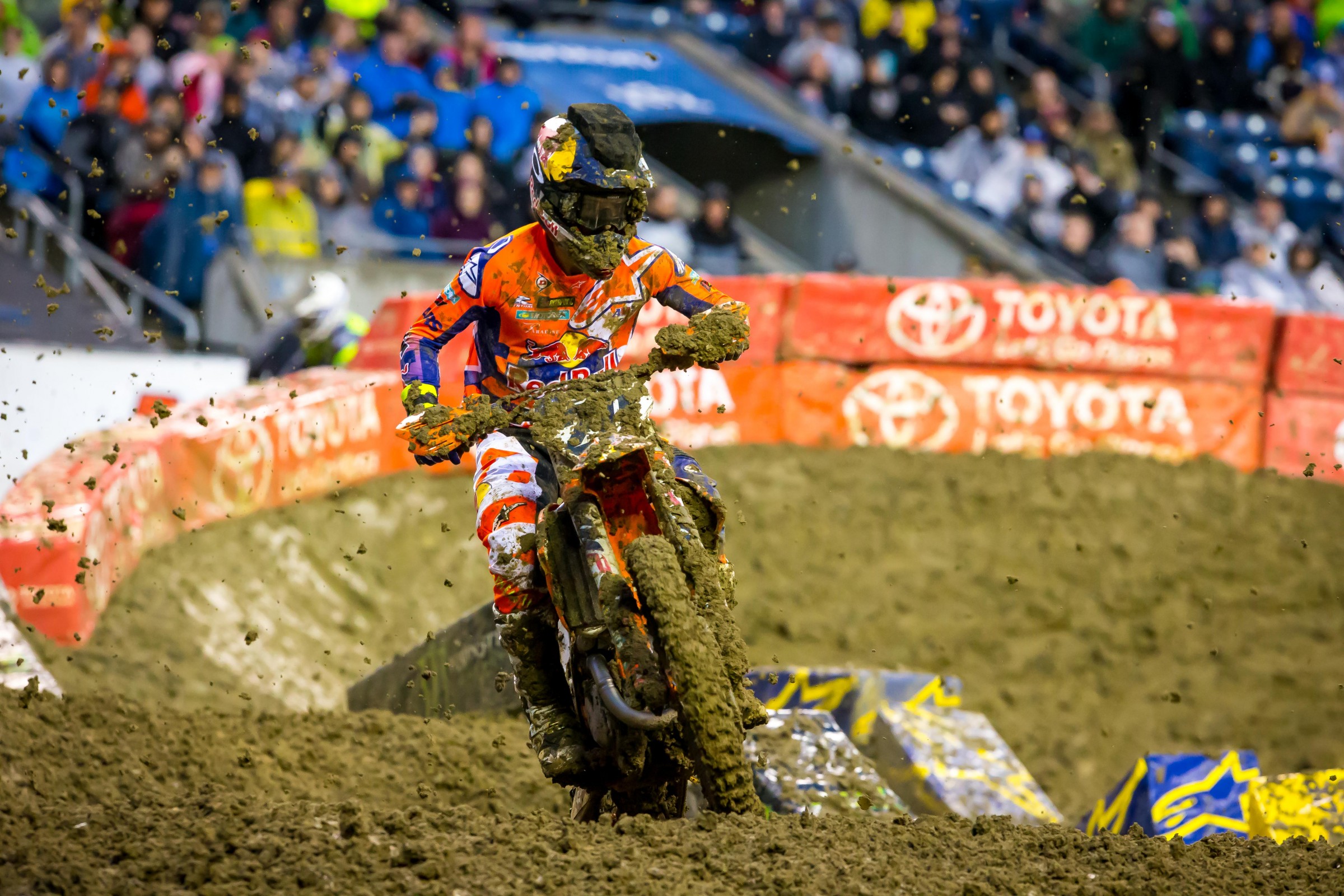 That is unfortunate. On a scale of one to ten, how much do you miss Ryan Dungey?
[Laughs] Ten.
Are you saying unequivocally that you know that he is not coming back to race the outdoor Nationals? You know people want him to. So you're saying right now that he's not going to?
Yeah, a lot of people want him to, but he won't.
He won't do it?
No.
Maybe he'll jump on a 125 and race that new 125 series in the Nationals. That would be pretty cool.
The two-stroke, yeah. We were joking about that the other day, actually. One more thing I wanted to say is that another thing that is kind of not reasonable is that he [Broc] got tested in San Diego and he got notified basically two months later.
So, if he were in a championship hunt or if it was coming down to Vegas and this were to drop, that would be detrimental to the sport because it would take the championship out of the rider's hands.
Way too long.
You're saying with the clause in his contract, there might be fines or penalties with the salary, but it's not where he has to give back all of his salary? Is that what you told us?
It's not exactly that, but there is a big penalty in our contract.
And a replacement rider right now, you're saying that you will not put somebody else on his bike right now?
That's correct.
What if James Stewart came to you right now and said, for the outdoor Nationals, no salary. No salary at all. I'm going to ride on just sponsor dollars. Would you give him a bike this summer?
No. It's not a question of salary or things like that. You need to be organized and prepared. It's not that simple these days.