Foxborough, MA
Foxborough
Monster Energy AMA Supercross Championship
For the second time in 30 years or so, we head back to New England for Monster Energy Supercross. Robert Kraft's Gillette Stadium hosts round 15, and after last weekend's snowy disaster, let's hope for some decent weather. With forecasted rains on Friday and highs just above 50 degrees, the track should be rutty and technical by race time. When we came here two years ago, it was a muddy mess that saw riders struggling to put the track together. I don't think it will be that weather-worn this year, but it's still going to be tricky in the main events.
The start is almost identical to last week in Minneapolis. It is a bit shorter than most, with a 180 left sending riders directly into a rhythm section. Look for riders to swing wide and go 3-3 here if the ruts allow. There is an inside jump that changes the rhythm, but I just don't see it being a good option.
A bowl berm slingshots riders over another triple (or double-single), and then a standard supercross triple. Another bowl berm greets riders upon landing (look for nets here) and leads into the longest rhythm section of the course. The fastest way looks to be to triple out of the turn, landing onto the tabletop. Riders will step-off the tabletop over a single, then triple over the five-foot jump (always jump over the big jumps if possible). Riders then hit the takeoff of the next tabletop and jump to the next tabletop, clearing a jump in the middle. They would either downside that tabletop or step-on/step-off of it and into the turn. That is a difficult combo to put together, so if conditions deteriorate, look for riders to downsize quickly. The triple to start the section will be tough, as ruts will form in the turn, but it will be much faster, so watch for the elite riders to do everything possible to maintain that line.
A 90-degree right leads into the first whoops section, and with the New England dirt, look for both sets of these whoops to break down badly. After another bowl berm (more nets probable), the second supercross triple sends riders into yet another bowl berm, but this one will be a sandy right-hand 180. This should be similar to Detroit last year where two or three lines formed, but the inside is used most often.
Riders cross the start straight and the mechanics' area before a 90-degree left-hander. The longer second set of whoops awaits, and this should be a good passing opportunity. If riders can get to the inside and beat their competitor to the berm, they can make a pass right before the finish line. A few bumps lead into the 180 back onto the start straight for lap two.
Questions I Want Answered
Will Zacho extend the lead and take the pressure off going into Vegas, or will Jordon Smith and J-Mart make this interesting?
Can Eli Tomac put his eighth win on the board?
With a 6:30 a.m. track walk, how many gallons of coffee can I drink before practice starts?
With rains this week, will the track be affected for Saturday afternoon?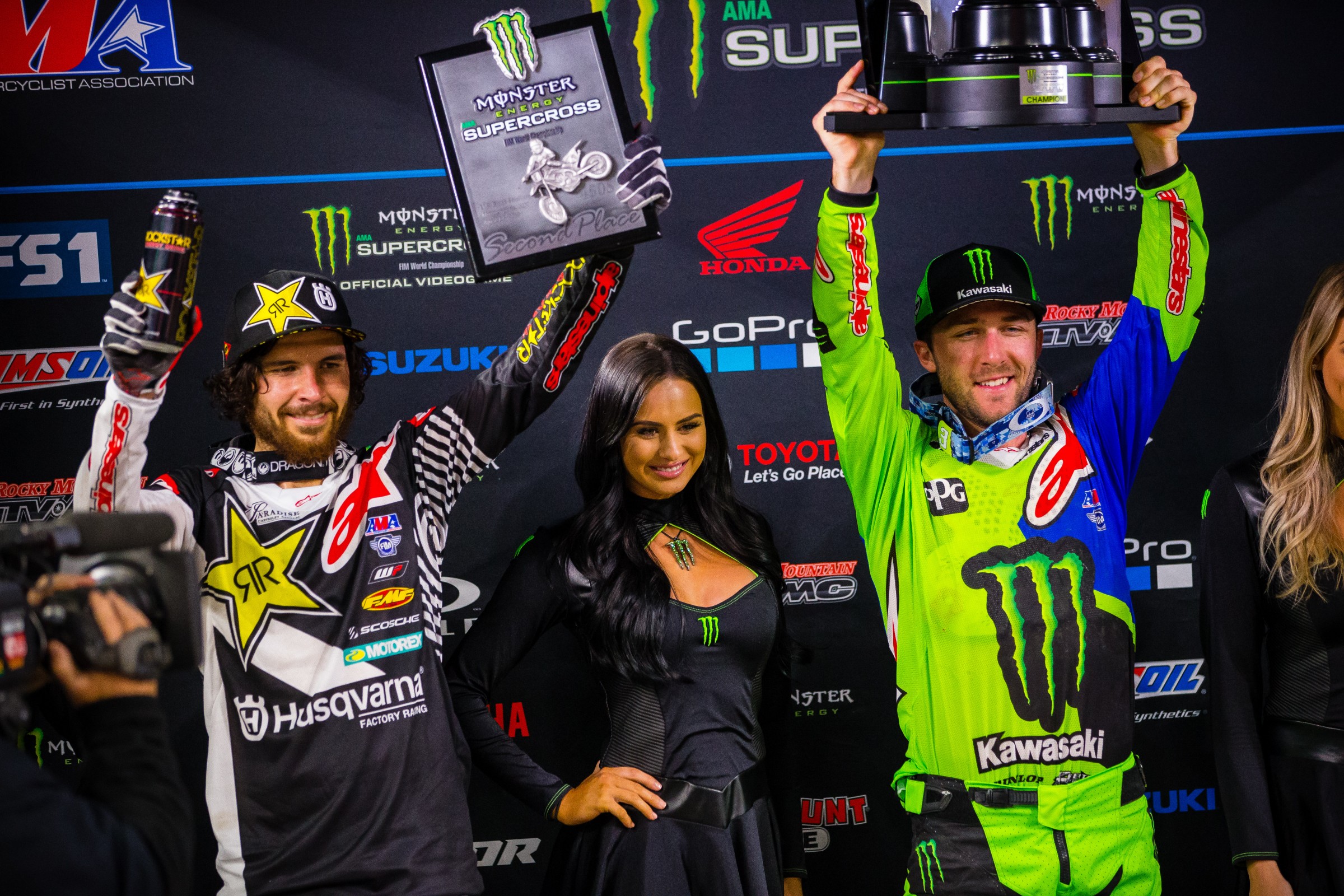 Who's Hot
Jeremy Martin won his home town race of Minneapolis in impressive fashion. His speed has never been a question, but his consistency in supercross has been fleeting. These last eight weeks have been a nice turnaround as we head outside next month.
Eli Tomac won his second race in a row and eighth of the season. The title is long gone, so it's all about race wins and outdoor testing from here on out.
Jason Anderson had a great day and is moving steadily along toward his first 450 title.
Zach Osborne lost the overall, but extended his points lead with two rounds left on the East Region schedule.
Who's Not
Austin Forkner had a tough second Triple Crown race with four crashes and hurt himself in the third and final race. He will be scrambling to make Hangtown now.
Broc Tickle was suspended by the World Anti-Doping Agency for the foreseeable future after testing positive for a banned substance in San Diego. This is a bad deal, folks. We may not ever know EXACTLY what happened, but I feel this is going to be overkill on all fronts.
Cooper Webb suffered yet another setback with a broken bone in his leg. He only made it about 100 yards into the first race Saturday night before tangling with other riders.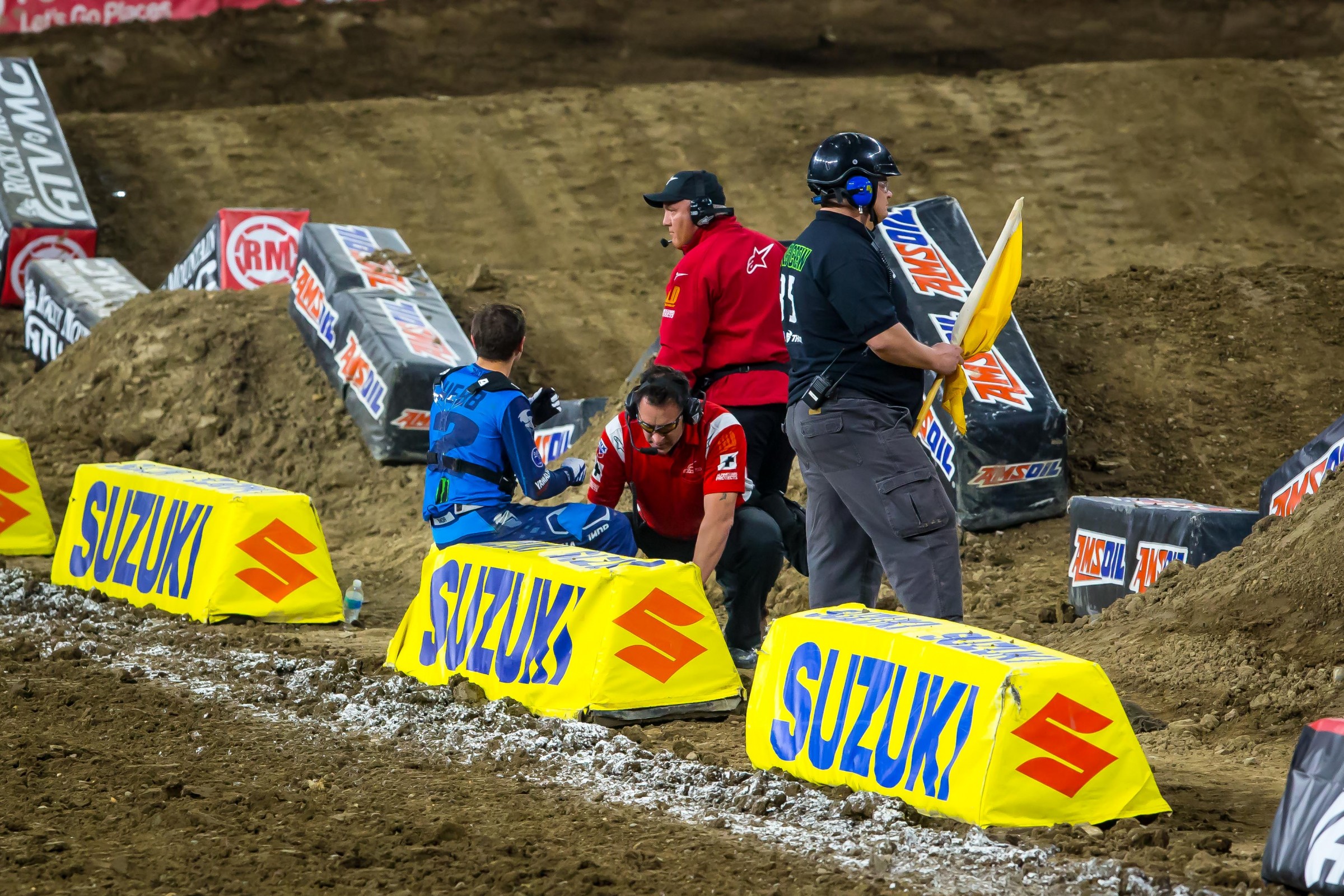 Bold Predictions
Chad Reed sets the record for most main event starts at 235.
Jeremy Martin wins a rutty Foxborough event, but Zach Osborne keeps his points lead in the double digits with a safe podium ride.
Gronk and Weston Peick hold a "last man standing"-type brawl during opening ceremonies. John Gallagher referees the exhibition and quickly black-flags both fighters.
Bill Belichick bursts into the post-race press conference and tells Daniel Blair to get out of his building and that SX is on to Salt Lake City. Daniel asks for a round of applause.
My Picks
250
Jeremy Martin
Zach Osborne
Jordon Smith
450
Eli Tomac
Marvin Musquin
Jason Anderson