Centurylink Field
Seattle

,

WA
Seattle
Monster Energy AMA Supercross Championship
After the first week off of the season for Easter, the Monster Energy Supercross Championship picked back up last weekend in Seattle for round 13 of 17. The Emerald City is one of my favorite spots in the U.S.; I love the Pacific Northwest, despite its penchant for moisture.
In the past, we've been lucky in Seattle. We haven't had disasters of a track and have avoided the rain for the most part. Since Seattle came back on the schedule, it's been rutty and tough to ride on, but it's been raceable. (Is that even a word?)
Well, the luck ran out this year. Rain all week meant the dirt was already muddy when it was moved into the stadium. It was new dirt this year, also, and much harder than before, which made it not as responsive to soaking up the rain as in the past. This race was, as you all saw, a complete mudder all the way through.
The world's best supercross racers were reduced to looking like rank amateurs at times, and there were maybe three doubles capable of being jumped by a few all night long. Look, on the entertainment scale, it wasn't exactly an all-timer. If you like train wrecks and clown cars, then this was a race for you. Me? I'll take a hard pass on this sort of racing. I understand it happens from time to time, but to me, the folks at Feld and Dirt Wurx really missed out on an opportunity to try some things out and improve the show for the many hardcore fans who came out and sat in drizzling rain for most of the night.
There was always going to be a very good chance of rain this weekend, and it was always going to be a mudder (especially since the dirt was already muddy as it was moved into the building), so why the crew went and built a full-on supercross track was a bit puzzling. More than a couple of riders told me that rolling the finish line was really hard because it still had the way-steep backside like it normally does. That usually doesn't matter since few riders ever roll in the finish, but in a mud race, this becomes important. The whoops were practically impossible to get through without incident, and as I said, there were about three doubles out there.
My question is, how is that entertaining to people? I guess in a morbid way, watching these riders fumble and stumble while pointing and laughing like Nelson from The Simpsons was something some people were into, but count me out. I wanted to see actual, you know, racing. Knowing the weather situation, knowing they were moving mud into a stadium, this was a great chance to modify the track a bit to help things out. Take out the whoops right away (they did it before the LCQs, which was a tad weird. The qualifying practice wasn't enough proof?) and maybe build some waves like they have in MXGP. Roll the finish line and push the landing closer to the takeoff to try to see if some guys wanted to try to go outside and jump it. Take a few jumps out of the rhythm lanes to increase some speed and help the riders jump a few things. Instead we got a full-on regular supercross track that riders could only roll around on. I know it's easy to sit back and criticize, but I thought that someone really missed a chance to help the program out a ton.
Anywho, just one man's opinion. Let's move on to talk about the race. (By the way, even my DVR decided this race wasn't worth watching again and for some reason didn't record it.)
The winners, Aaron Plessinger and Eli Tomac, were no doubt picks before the race, and they didn't disappoint when the main event gate dropped. This was especially true for Plessinger, whose father was a mudder (GNCC champ!), and you could see Aaron is right at home in the conditions. He used his long legs to soak up the obstacles and just sort of let the bike go underneath him and do what it wanted while he squirmed all over to keep upright. It was impressive for sure, and with Joey Savatgy's bad day (crash and got lapped), Plessinger opened up his lead to 17 with two races left.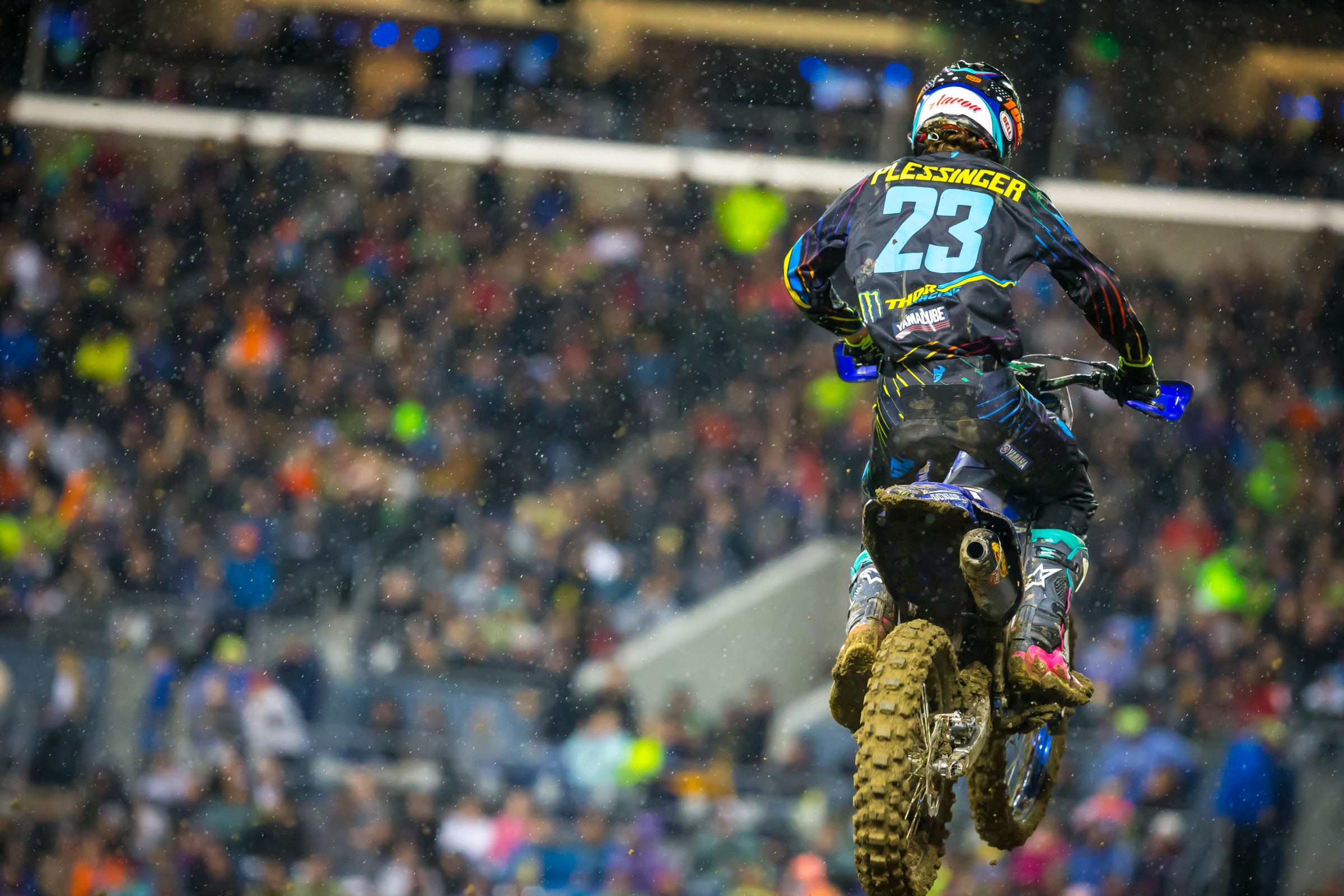 Chase Sexton rode a calm and steady race to get second. It's weird, I don't know if I even noticed him all day long, but there was Chase, finishing far ahead of the carnage behind him and far back of Plessinger. Nice job to the kid!
Joey Savatgy needs a track-cutting intervention. In the heat race he crashed in the whoops, picked up his bike that had landed half in the other lane, and just kept going. It was oddly like his move last year in East Rutherford that cost him valuable championship points. He was docked two positions in the heat, which isn't a huge deal but I'm just not sure why Joey thinks this stuff is okay to do. We need to sit him down and invite him to join the fight to stop this track-cutting. Savatgy was running second in the main before going down in a rhythm lane. Took him awhile to get going. Savatgy's got to be shaking his head at how many times he's come close to this title before disaster strikes.
Adam Cianciarulo was one of those guys that couldn't stay off the clutch in the heat and his Kawasaki came to a halt. From there he had to win the LCQ and then in the main, from 18th gate pick, work his way up from 14th or so, and grab a fortunate third when Shane McElrath fell apart in the last couple of laps. Savatgy turned a potentially a great race to poop while AC did the opposite.
As far as Tomac, he played a waiting game with series points leader Jason Anderson. It was a cat-and-mouse game where he didn't seem to mind Anderson passing him early in the main and stretching out a lead one bit. I'll talk more about Anderson in a bit, but Eli, as we've seen more than a few times, is a lot like Plessinger and uses his legs to guide the bike around under him. He started doubling one of the sections in the rhythm, which was big (when you're the only guy jumping a five-foot double and you're then killing it, maybe that's a sign the track should be modified?). Tomac was probably banking on the fact that Anderson couldn't maintain that pace without making a mistake, and he was right. Anderson stalled and got hung up, Tomac zipped by and took his sixth win of the year. Great riding.
Yeah…Anderson. Well, I've got to say I admire the way he rode. With a big points lead and everything to lose in conditions like these, Jason seemed determined to try and ride like it was dry every time he went out on the track. Anderson already has a good mud riding style when it's dry (in that he moves all over the bike and lets it do the work for him), so he was, at times, very fast. This style bit him in the heat race when he crashed a few times, but in the main, as I said, it worked pretty well and he limited the big mistakes to just one. Jason Anderson was given lemons in Seattle and decided he wanted to make lemonade.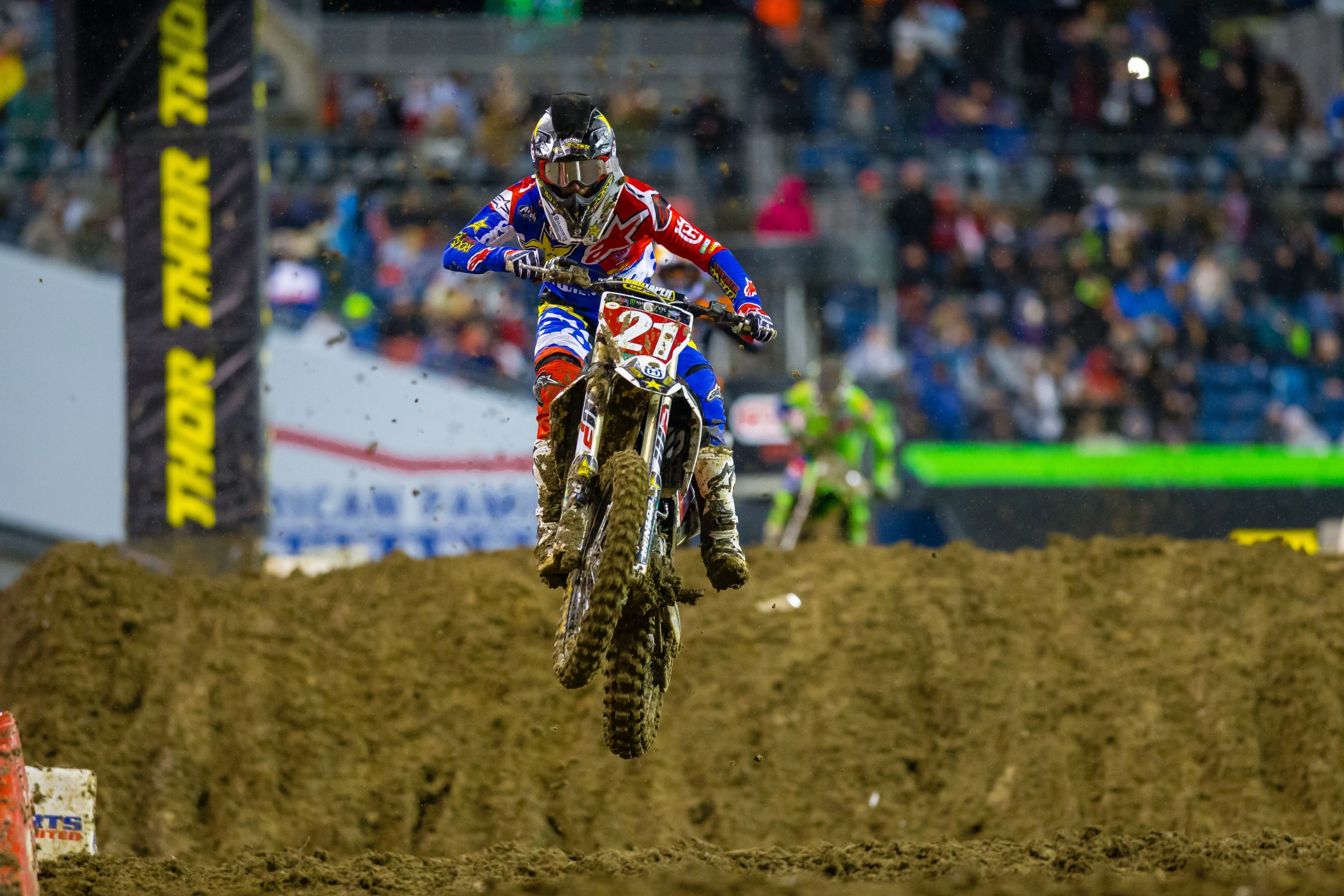 Probably the coolest story out of Seattle was Cedric Soubeyras, the French rider filling in for Matt Bisceglia on the Nut Up/LVN100 Suzuki team, being stranded in Seattle (starring Meg Ryan) by the team and yet still racing. The HEP Suzuki guys helped out Cedric by building up a bike they had on the truck that they had disassembled with some parts from Autotrader/Yoshimura Suzuki and put Cedric out there. What a cool story by two teams to help out a dude who they didn't know and wasn't from America. And hey, he's no slouch, either, as he beat all the HEP riders and one JGR guy! And as we talked about on the PulpMX Show on Monday, the HEP team has decided to help out Cedric for the rest of the supercross season. Really cool story, and Soubeyras seemed pretty appreciative for the help.
Why did the Nut Up/LVN100 Suzuki team drive to Seattle and then drive back home with Soubeyaras' boots, helmet, and bike in the truck? To park inside in Seattle, the trucks had to have one-fourth of a tank of gas or less, and the team had a full tank. And it's $600 to fill up a tank, I guess. So rather than dump the fuel (teams were notified beforehand about this policy, but whether the team saw it or not is unclear), the team decided to go home. Very odd, yes, but there's probably more going on here with team finances than we know. Hopefully they show up before the end of the year with Bisceglia.
All hail the privateers out there. The mud is a great equalizer, and riders like Jess Pettis, Chance Blackburn, Dylan Summerlin, and Kele Russel all made their first main events ever (as far as I can tell), and Brandan Leith qualified fastest overall (with a tad bit of track help) and also made the main. This kind of stuff is awesome to see, and mud races make anything possible. Somewhere out there, Rick Ryan is smiling.
We saw so many bikes out there just quit working. Christian Craig, Adam Cianciarulo, Malcolm Stewart, anyone who rode for CycleTrader.com/Rock River Yamaha and some others. Frankly, it just makes me shake my head. The motors weren't blowing up—the clutches were frying and causing the bikes to stop. I was talking to a data guy from an OEM and asking what they do to try and make the bikes last. Most people put stiffer springs in to help out, but as this guy told me, it boils down to the riders being smart about trying to get their bikes to last.
As I was saying on the PulpMX Show on Monday night, you drop 20 riders in from MXGP this past weekend onto that track and I'd bet none of them burn up a clutch so bad that the bike stops moving. Our riders just can't seem to lay off the clutch when it's dry, and throw some mud in there and all hell breaks loose. I mean, come on guys, you gotta be smarter than the motorcycle. Former pro David Vuillemin said in his weekly column: "Bros, if you can't finish a 15- or 20-minute main with your clutch, you're doing something wrong somewhere."
It seemed like a very bizarre call by Monster Energy Factory Yamaha to have Josh Hill, the retired racer whose last race was three years ago, fill in for Justin Barcia, but really, when you think about it—why not? Yamaha needed a rider who could put it into the main event with no obligations and someone that would be happy to leave when the #51 gets back. [Ed. note: Barcia is back this weekend.] Hill had quit racing and was working at Monster when he probably realized that real jobs suck compared to being a pro rider, and he started racing one-off events here and there. Anyway, Hill's from the PacNW and probably wished Seattle was dry, but he still looked pretty good out there as he ran fourth for a few laps in the main.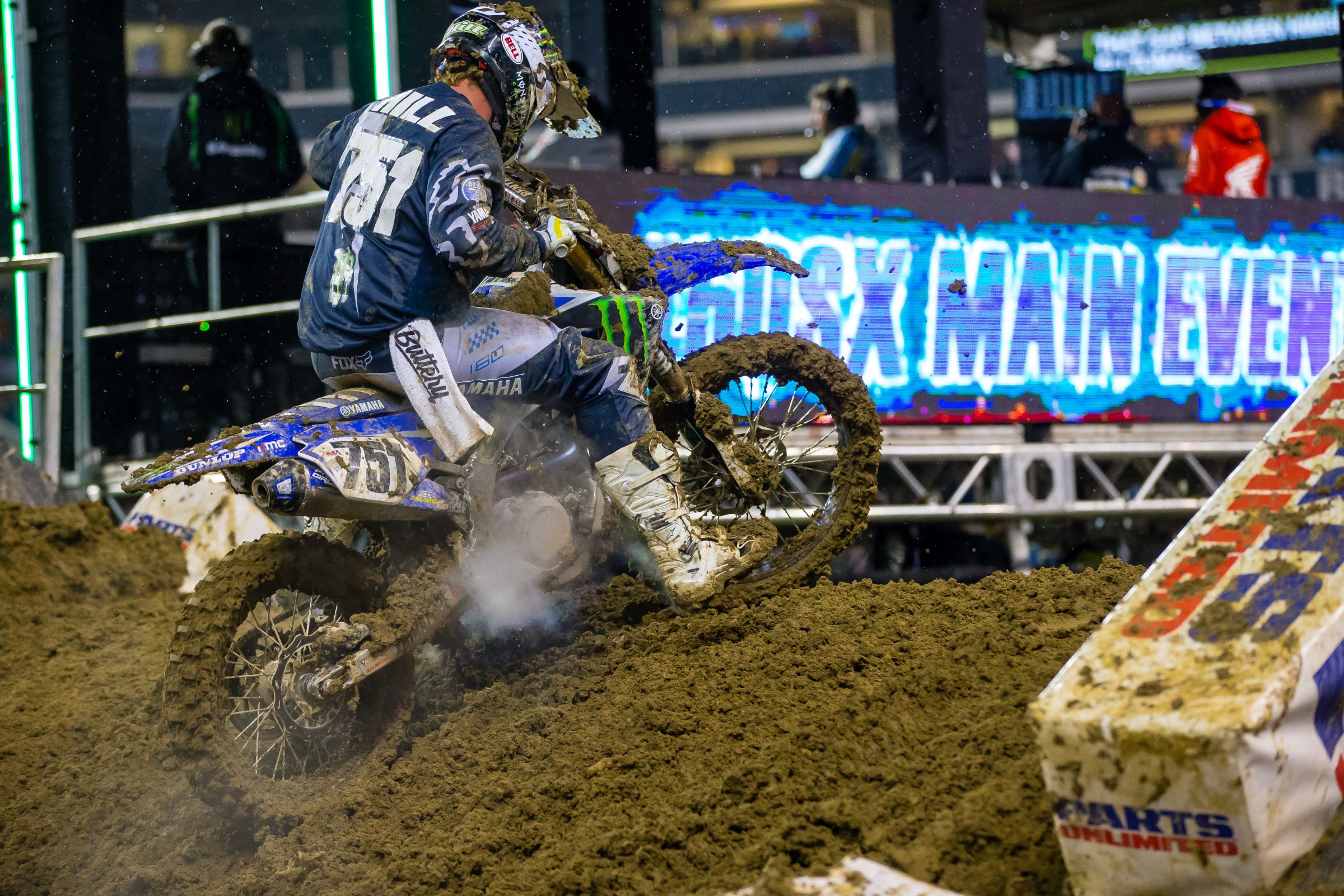 You know who absolutely hated every second of this race? Justin Brayton, that's who. The surprise of the season is not an accomplished mud rider in any way, shape, or form, and he showed it in Seattle. Brayton barely made the top nine in the heat (he rode himself into the spot from the back, probably after he realized that he was Justin "Effing" Brayton and decided to get on it), and in the main, he started poorly and ended poorly. Oh well, JB, this weekend we're back to a dome!
Figures that someone nicknamed "Filthy" would do well in Seattle, and that's what Phil Nicoletti did in winning his heat race. He was around 30 seconds back with two laps to go and put in a heck of a ride (and got helped with a crash) to win his first heat race. What a day for Phil. Of course, in the main he got stuck in a huge mud pile that was off the track and he finished outside the top ten, but hey, not everything can go Phil's way, right? Phil's on a PulpMX sticker deal and has a huge four-figure bonus if he ever got to mention PulpMX on the TV show. So, of course he forgot, and of course he said he remembered right after the interview! I asked him about this after the race.
"Yeah, I am [pissed I didn't mention PulpMX]. If I would have mentioned it on TV, I would have made more money than my actual Pulp deal was. That's kind of a bummer. They rushed me. I only had like maybe 8.8 seconds to rattle off some bullshit. But it was good. I was bummed about the main. Obviously, I let that one go."
Thanks for reading the Observations from Seattle, everyone. Appreciate it, and this weekend, the TRIPLE CROWN IS BACK!!!! Can't wait. Please send emails to matthes@racerxonline.com if you want to chat about this or anything else.