Seattle, WA
Seattle
Monster Energy AMA Supercross Championship
Adam, congratulations on a hard main event. In that heat race, though, you kind of pulled a little bit of an amateur move and fried that clutch. What happened?
Adam Cianciarulo: Fried the clutch pretty much like I do every day at the practice track, honestly. The problem is, obviously, you're supposed to roll the clutch back and make it looser and looser. I didn't get to it quick enough, so it tightened up on me. Then I was like, oh man, I got to roll it back. By that time, it was kind of a little bit too late. That was a bummer.
You've been professional for quite a while, though, so is that something that we can take care of for the future?
Cianciarulo: We could probably work on that. It wasn't a good move. It could be worse, I guess.
Chase, congratulations. Take us through just the conditions tonight. You're still new to your pro career, and obviously it was pretty messy tonight. Just take us through it.
Chase Sexton: Yeah, the track was pretty gnarly. I was expecting a little gnarlier in the main. I actually thought the main was better than the heat race. First time riding a supercross track in the mud was definitely new to me. I was looking forward to it in practice and then went out there and qualified like 16th, so I was a little bummed. The heat race was good. I threw it away in the last lap and the main event, obviously, was good. I got a good start and just pretty much tried not to fall.
Aaron, congratulations. Are you dried up yet?
Aaron Plessinger: Yeah, I got dried up right after that.
Cianciarulo: What did you do? Did you just face plant straight in the mud?
Plessinger: Yeah. They acknowledged it, so I just belly-flopped in the puddle.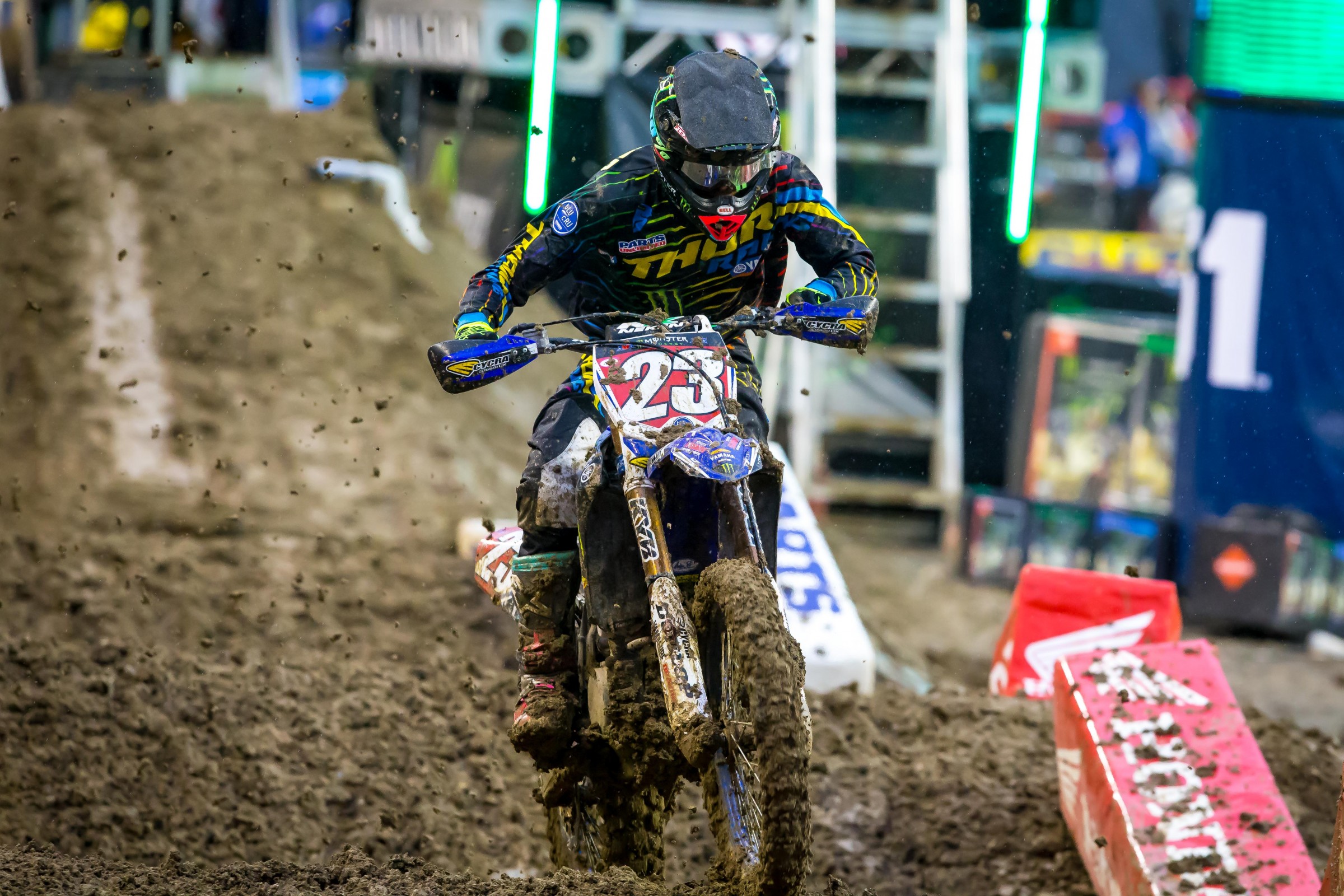 Was it cold?
Plessinger: It was pretty cold, yeah. But I didn't care. It was pretty cool. I was pretty soaked. It was a gnarly race. We got down to the plywood. It reminded me of GNCCs. It was fun. A lot of standing up.
Wet, really muddy. Can you share with our audience what technique you have to employ to navigate that kind of track out there?
Cianciarulo: I think you just have to have a lot of balance, for one. You got to be stronger than the bike. Be on the pegs as much as you can. See, guys like Aaron, he likes to stand up a lot. He likes to be on the pegs and kind of comfortable being a little bit uncomfortable, if that makes sense. You're never really going to do the same line every lap when the track's how it is. When you go over the jump, there's a lot of ruts and you're kind of probably taking a different one every lap, even if it's by accident. So, it's just about being stronger than the bike and just kind of leading the bike and not letting it kind of pull you around.
Sexton: Pretty much what he said. I was sitting down a lot out there, which I was kind of bummed about. I was just paddling through the ruts. Not good on my part. Aaron was standing up a lot, and obviously it showed that he won by like 30 seconds.
Cianciarulo: So, we keep that in mind. We stand up if we're going to be playing in the mud.
Plessinger: Yeah. You could tell even by watching the TV when anybody sat down their bike would just go all over the place. My dad always yelled at me when I took my feet off the pegs, so I try not to do that anymore.
Aaron, was that premeditated, your mud bath there?
Plessinger: Not really. I told somebody I was going to do it if there was a puddle, so I held up to my deal.
Adam and Aaron, maybe you could fill us in on if you had any strategies coming into this race. Obviously, you're leading and you don't want to give up too many points, but it looked like you were going for it out there. Adam, being in a situation where you need to make up points, but you're not really that far out of it that if you have a catastrophic night…. Take us through your strategies coming in.
Plessinger: Mine is pretty much playing it safe. Obviously, I'm going to go out there and go for the win, but I don't want to throw it all away in one race, and I could definitely do that. So, I'm just being smart and smooth and riding with my head.
Cianciarulo: Yeah, 12 points for me coming in. That kind of puts me in a position where I'm not really worried about it. I just am going out there and doing the absolute best that I can. Obviously, I got to beat Aaron to make up points. It puts me in a position to not have to really worry about it. I just have to go for it and make something happen. Preferably not get third like I did tonight.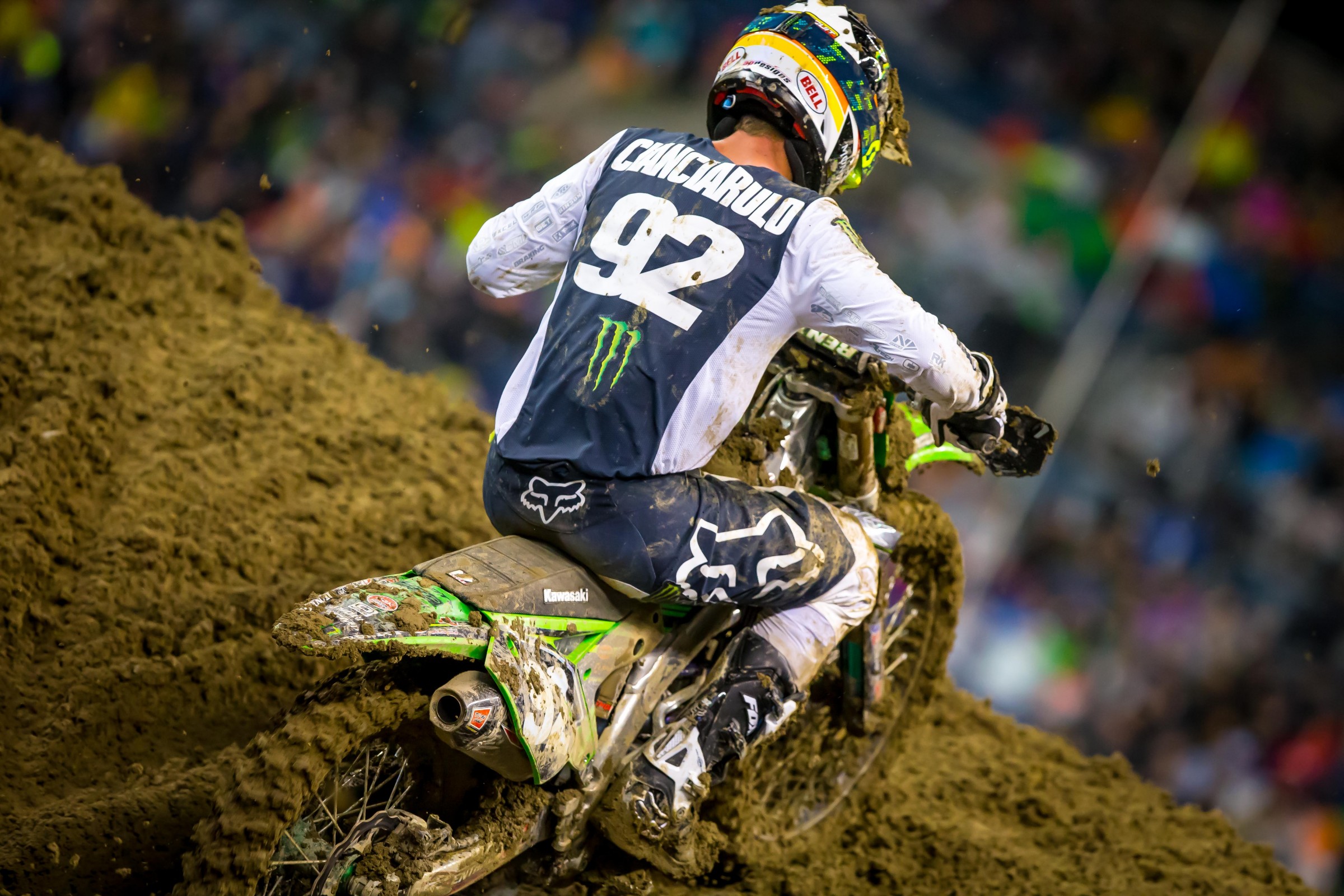 The race was shortened a lot. For you guys, it was only two minutes longer than your heat races. Can all three of you touch a little bit on what you thought about how short it was and the changes to your racing because of that?
Cianciarulo: Aaron loved it.
Plessinger: It wouldn't have mattered to me if it was 15 or eight or whatever. I had fun. I was having fun out there. When I came around and saw the two laps on the pit board, I was like, nice, nice. I was like, it's already over. Holy crap. It's going quick. Not used to the short mains, but it was pretty cool.
Sexton: On the starting line, I heard the AMA guy talking and he was like, "Eight plus one, right?" I was like, I didn't know that. So, I was like, I have to get a good start. If it would have been any longer, Aaron might have lapped me. So probably good it wasn't longer.
Cianciarulo: I felt like I did maybe four or five laps, just because I was coming through too. Got a not-that-great start. Especially when you're coming through, even if it was 15 plus one, it would have felt short.
Adam, what's going through your mind during the heat race when you're standing on the side of the track and your bike is stuck in the mud vertical?
Cianciarulo: The first thing that came through my mind is, hopefully a few other people didn't finish as well. I was pretty close to getting to that lap mark, so I was hoping just by the grace of God I could maybe just get in the heat race and not have to go to the LCQ. Then once I realized that was pretty unrealistic, then I was like, now I got to go back, got to wash my boots, got to wash my helmet, got to get new goggles, and then got to make sure everything is dialed in. You don't really plan to be down there another time. There's only 20 minutes between the LCQ and the main. So, that whole thing was a disaster. I just remember thinking, I'm going to be so happy when this is over. I'm so happy. But I shouldn't have fried my clutch. Rookie move.
What was it like going through that first turn? How hard do you push it going in there? How slippery was it?
Plessinger: It was pretty slick. I saw Chase on the outside of me and didn't want to run into him, so I tried to turn and my front wheel kind of knifed a little bit. So, that scared me. But I'm pretty sure I drifted around the whole first corner. I was just holding her wide open. First good start I've gotten in a couple races. It was pretty sketchy, but it was fun.
Cianciarulo: I started three gates from the outside and I started right next to Justin Hill, and I don't know what happened with him, but he ended up coming right and went the wrong way. So, I went the wrong way. So, I was like halfway down the start straight and didn't even want to look over to my left because I just knew it wasn't good. I knew I was going to see the whole field. I really just pinned it around and kind of hugged the Tuff Blox around the outside and was able to sneak out okay. I think I maybe came around the first corner in tenth or so. It could have been worse.
Sexton: I got a good start for the first time in a while. I saw Aaron on the inside and I was like, man….
Cianciarulo: And you let him beat you by 33 seconds man, geez!
Sexton: I know. I said he probably could have lapped me if it was longer. I'm just glad Aaron didn't keep holding it wide. I would have got a lot worse start than he did.
Plessinger: I think we both would have went down.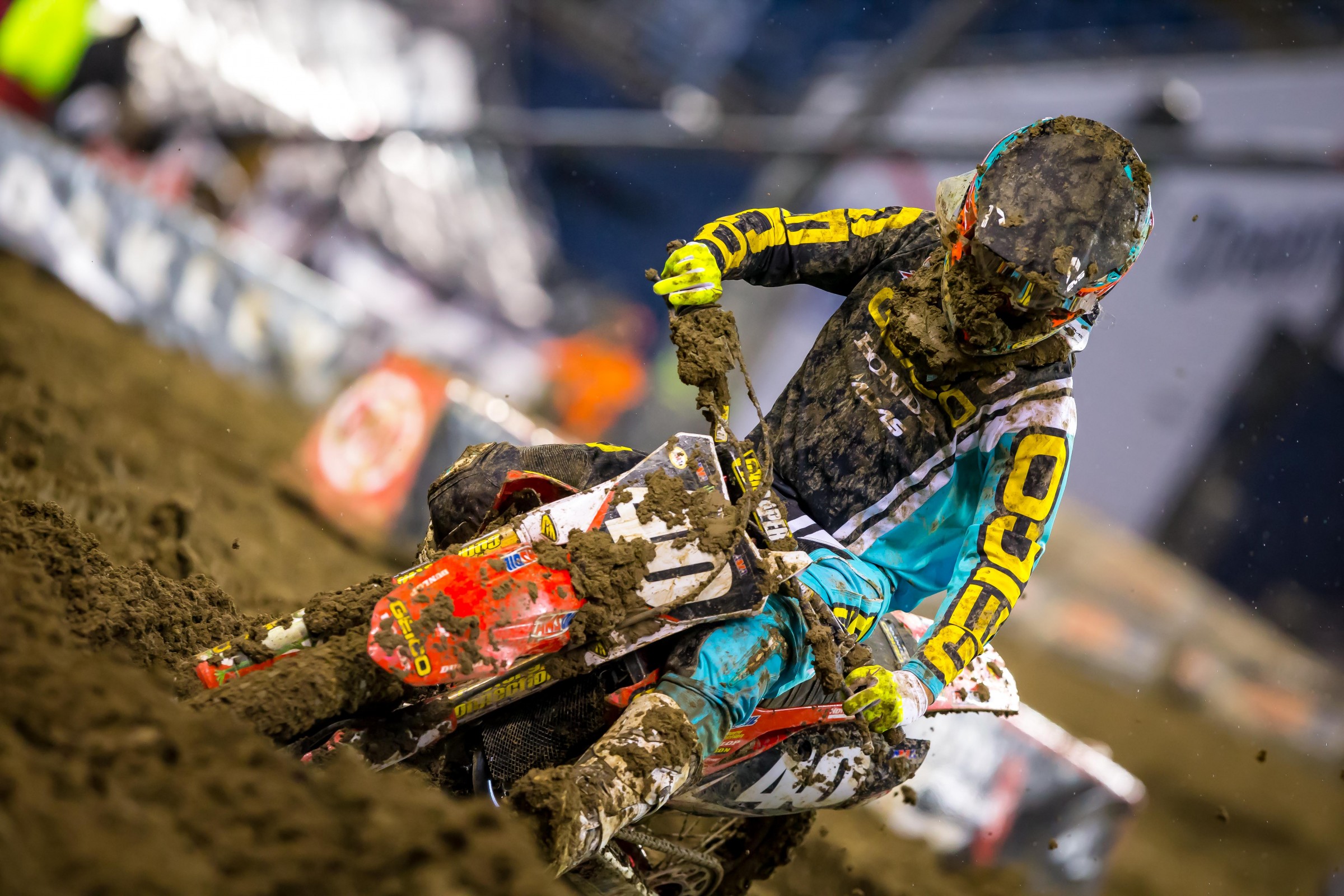 Seeing the type of turnout under this conditions in Seattle, what does that say about the sport and how it's growing and the type of loyalty that you have, where these people are coming out under such treacherous conditions?
Plessinger: It's awesome to see everybody here in the rain sticking it out. It tells me that they're real fans and they want to see their guys race. It's pretty awesome just to see them out here and sticking it out for us.
Sexton: Yeah, for sure. When we walked the track, I was surprised how many people were in the stands already. I was like, man, these guys are committed. It was raining. It's pretty cool that everybody comes out again. Indy it was a pretty good turnout with it snowing there, too, so they're pretty committed and dedicated. It's awesome.
Cianciarulo: I think the whole general vibe with the sport this year, even with the hype with the 450 class and the 250s, too, with some format changes and stuff like that, I think it's really brought some exciting, just a general vibe. Everybody seems to be super stoked on the racing. It shows when you come to a race like this where in the forecast kind of all week, we all knew it was going to be just a complete disaster out there. For everybody to show up, it's like windy and cold and rainy, it's cool. It's always nice when we have those conditions—tough conditions—and look up and still see a lot of people in the crowd, a lot of people making noise. It's fun.