Welcome to Racerhead, this one something of an international edition. While Monster Energy AMA Supercross is picking back up after the much-needed Easter break in Seattle, I took a plane ride to Italy to check out the MXGP of Trentino, visit with series organizers Youthstream (yes, I am sure e-bikes will be discussed), check on U.S. campaigners Thomas Covington and Darian Sanayei, and take a tour of the Alpinestars headquarters, which is about an hour from the track. There was also a little time to feed my geek factor and do a history tour/boat ride around Venice, easily the most unique city I have ever visited in the entire world.
As far as supercross goes, it's hard to bet against Jason Anderson at this point. The kid from New Mexico has been on a solid march toward the championship—something I don't think many people expected when this season was shaping up as a battle between Eli Tomac and Ken Roczen and Marvin Musquin for Ryan Dungey's abdicated title. But the Rockstar Energy Husqvarna rider came out strong, fast, and consistent in January, and he's been steady ever since. That can't be said for anyone else out there. Barring something strange and unexpected—and that can always happen when bad weather attends the races in Seattle—he's going to be tough for Musquin or anyone else to get close to. And Tomac is almost three races down with just five to go. His mistakes (and subsequent delays in getting back into the races) is a big topic of discussion even over here. I would not be one bit surprised to see Tomac win out from here, but it won't be nearly enough for him to snatch the title that should have been his last year too.
Here in Europe, I'll get to see what should be another instant classic at Trentino. This was the place where Antonio Cairoli had that amazing moto last year, passing almost all of his primary contenders in the same turn, lap after lap, as he came from well back in the field. He's got quite a battle raging now with Jeffrey Herlings for MXGP supremacy, and Jeffrey would probably like nothing more than to get a win from Tony in front of his home fans. And I'm also curious to see the speed of Pauls Jonass, so far undefeated in the MX2 class this year—he's six for six in motos and three for three in overalls—but maybe Covington or Sanayei can stop all that this weekend.
Trentino is also the track where Ryan Villopoto's MXGP campaign (and ultimately his career) came to an end with that crazy loop-out in 2015. I was here for that event, too, and wasn't far from where RV went down—I still remember feeling it in my feet when his butt slammed down onto the terra firma, cracking his tailbone and ending his season. It wasn't the history I was expecting to see that day, but it was definitely the end of an era.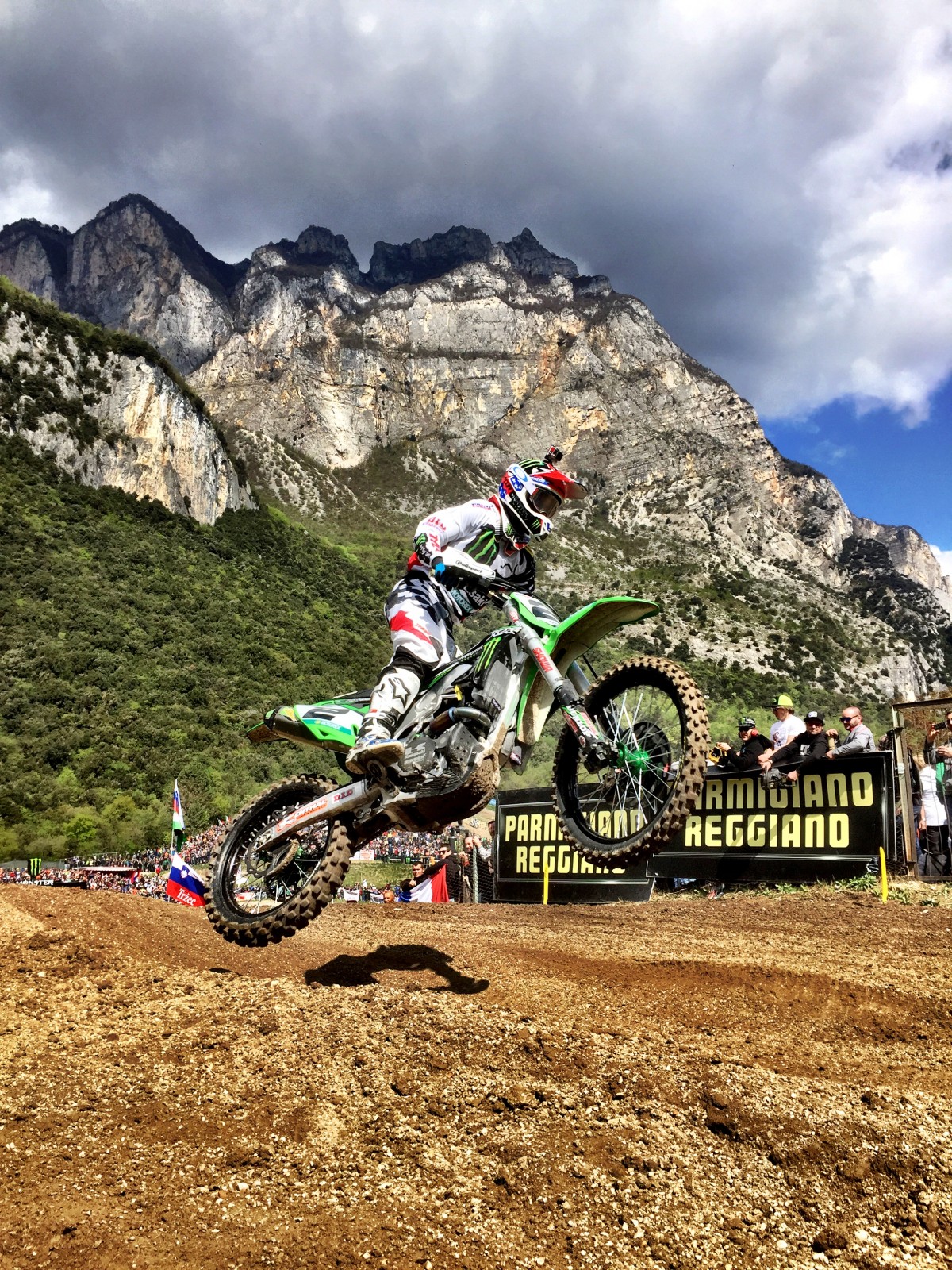 Since I was gone most of the week, I should turn it back over to the guys back home and start up into the mountains of Trentino. See you at the races.
MXGP of Trentino Preview (Adam Wheeler)
In the Yamaha preview press release emailed out this week, 2015 MXGP World Champion and Monster Energy Yamaha star Romain Febvre described racing at Pietramurata for the Grand Prix of Trentino "like riding on one big stone." So MXGP, for round 4 of 20 (the calendar boosting back up thanks to the recent reestablishment of the Bulgarian stop), leaps onto the hard-pack for the first time in 2018.
The Grand Prix of Comunitat Valenciana gave the MXGP and MX2 hopefuls a light taste of the hard stuff almost two weeks ago, but the loose, red terrain was a "hybrid" course of sorts. Pietramurata is classic Italian: compact, narrow, slippery, and located among one of the most breathtaking landscapes on the entire schedule. The Dolomite mountain range in the north of the country is not only an epic stage for this event, but the mammoth wall of beauty is a constant reminder of the slick and tough surface the riders will face.
Another dwarfing prospect this weekend will be the presence of #222. Tony Cairoli holds the red plate despite tying on points, moto wins, and runner-up positions with Red Bull KTM teammate Jeffrey Herlings so far in the three events and six races. The 32-year-old Sicilian has the honor after his first GP triumph of 2018 in Spain. The fact that the Grand Prix of Trentino is the first of three fixtures to occur on Italian soil is testament to Cairoli's draw and popularity. That a major Italian TV network, RAI, will be broadcasting the second moto live on Sunday is another feather in the cap for both the reigning world champion and the MXGP series. Cairoli, KTM, and his legion of fans and followers—as well as those potentially new to the sport, thanks to the TV screen—will be hoping for a sliver of the drama that occurred at Piertramurata 12 months ago.
On that occasion, Cairoli (who claims that hard-pack is not his preferred type of "going") rallied back from a first-turn crash and almost last position in the second moto to pass Evgeny Bobryshev on the final lap for second place (around a layout that is stingy and difficult for overtaking) for the overall win. It was an astonishing performance and the thrust that Cairoli seized upon to take eight podiums and another four wins in the next ten events to lay the basis for his first title since 2014. That Sunday in April saw Herlings in the final stages of his recovery from a broken right hand and adjustment to the demands of MXGP. A week later, at round six in Holland, he would have his first trophy on the 450 SX-F and has only missed a GP rostrum celebration three times since.
Pietramurata could well entertain another chapter of the Red Bull KTM story, because the series has been juiced by the orange troupe so far. Despite the efforts of athletes like Febvre and Monster Energy Kawasaki's Clement Desalle, as well as Rockstar Energy IceOne Husqvarna's Gautier Paulin (who showed a fierce turn of pace in Spain but was undone by race crashes), Cairoli and Herlings have engaged in their own duel. Although last year Cairoli threw the notion out of the window that the course was difficult for passing (he made most of his progress through an inside line on the central step-up that many others will now be wise to), the parity of speed through the top 12 of MXGP this season means lively moto starts will be more essential at Pietramurata, perhaps more than any other circuit.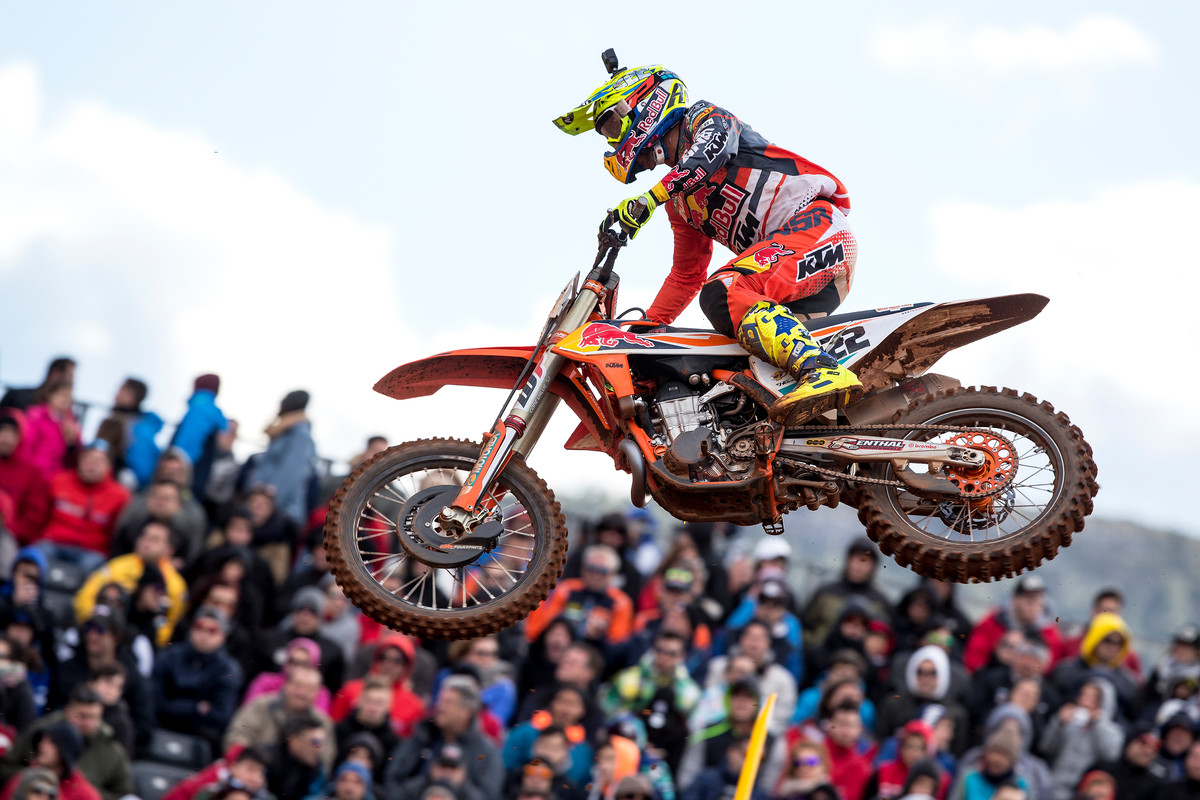 KTM is undefeated in MX2, thanks to Pauls Jonass, but young Spanish teammate Jorge Prado will call on some past positive vibes in Trentino; it was here in 2016 where he gained a first EMX podium finish (just his fourth race on a 250 four-stroke) and maiden GP win in 2017. The teenager has gathered two consecutive pieces of silverware as runner-up this season and could be primed to burst Jonass' bubble.
Running out of space here in Racerhead, but a worthy mention goes to Kiara Fontanesi. The five-time WMX World Champion—who won the 2017 contest by just one point in the final race of the year—will be another star attraction for the crowd in the opening salvo for the ladies as her partner, Aprilia's Scott Redding, attempts the Argentine round of MotoGP at Termas del Rio Hondo on the same day.
Injury Bug (Chase Stallo)
Unfortunately, injuries have always and will forever be a part of this sport. This year seems as hard-hit as any, with numerous stars missing multiple rounds. Or have they? This is a strange season when you look back and realize Marvin Musquin and Eli Tomac missed just two rounds combined. It wasn't necessarily the gravity of their injuries, it was the timeliness. Both sustained shoulder injuries early in the season (Tomac at round one, Musquin at round two), which held them back for a number of weeks and effectively ended their title runs before they began. Yet each was able to push forward and eventually returned to winning races.
Further, you have riders such as Blake Baggett (wrist) and Weston Peick (heel, shoulder), who, despite injury, haven't missed a round. You also have a case like Dean Wilson, who injured his shoulder at the opener and despite missing a few rounds still isn't quite 100 percent. Or, more recently, Cooper Webb, who injured his shoulder, missed St. Louis, but returned a round later in Indianapolis.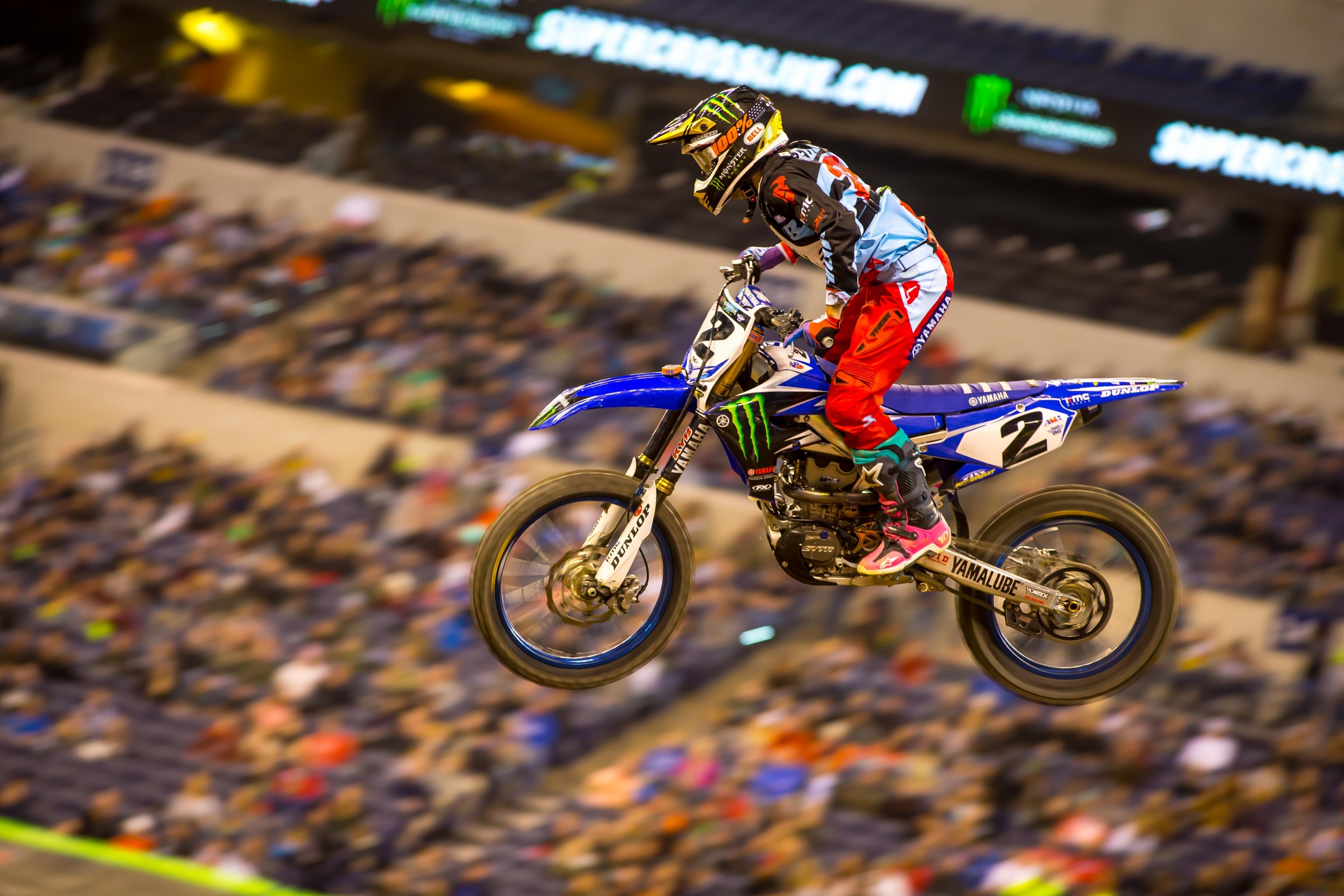 You do have the classic cases like Ken Roczen, Josh Grant, Justin Barcia, Cole Seely, Justin Bogle, and Jake Weimer, who have all missed five rounds or more—and a majority are not expected to return until outdoors .
When you put it down on paper, this year doesn't appear particularly injury-filled, with the top ten in points only missing a combined five rounds and riders just outside the top ten, like Chad Reed and Malcolm Stewart, missing zero due to injury.
When you examine it closer, though, even though races missed may not appear huge on paper, the impact has been felt by everyone.
| | |
| --- | --- |
| Top 10 in Points | Races Missed |
| Jason Anderson | 0 |
| Marvin Musquin | 1 |
| Justin Brayton | 0 |
| Eli Tomac | 1 |
| Blake Baggett | 0 |
| Weston Peick | 0 |
| Broc Tickle | 0 |
| Cooper Webb | 1 |
| Dean Wilson | 2 |
| Total | 5 |
| Other | |
| Chad Reed | 0 |
| Malcolm Stewart | 0 |
| Vince Friese | 0 |
| Tyler Bowers | 0 |
| Total | 0 |
| Missed Multiple Races | |
| Jake Weimer | 11 |
| Justin Bogle | 10 |
| Ken Roczen | 6 |
| Josh Grant | 6 |
| Justin Barcia | 6 |
| Cole Seely | 5 |
| Total | 44 |
SEATTLE SMOOTH (Steve Matthes)
In a 2018 series that's been beset by injuries and a touch of weirdness (thank you, Triple Crowns, for putting some spice into SX), Seattle this weekend offers up another obstacle in the form of the track. As Chase Stallo laid out in an Exhaust column yesterday, Seattle's always been a tricky track due to the weather this time of the year, and the 722's Instagram showed that this year's track is going to present its own challenges. We could see some shakeups in points this weekend if one of the bigger-named guys crashes his way out or even fails to qualify. Yeah, I said it. It's a remote chance, but from the looks of things, we're going to have a mudder on our hands—and trust me, I know. Anaheim 1, 2005, was a massive mudder, and my rider, Tim Ferry, didn't qualify for the main event!
We used to not have this problem at the old Kingdome, and I see the tweets coming up in my timeline about how you people can't believe you wouldn't cover the stadium in the Pacific Northwest like the baseball team did next door. I've told this story before, but I was talking to a Seahawks employee one time early on when we started going there, and I mentioned that I couldn't believe it wasn't covered. The guy told me the owner of the Seahawks, Paul Allen, didn't want a dome (believe me, he could afford it) and went through a hundred years or whatever of weather in Seattle on Sundays during football season and actually saw that it didn't rain that much during the NFL season. Of course, sometimes it does, but this guy was telling me that Allen's research proved correct and they really hadn't, at that point, seen much rain on game days. And Allen didn't care about the SX getting rained on or anything else for that matter. I don't know, just passing that story on.
Chad Reed Read (DC)
Our longtime contributor Brett Smith has been working hard to get his own site, We Went Fast, up and running, and he has his first major feature now posted. He explained his concept below:
"I'm not exactly sure why, but I wanted my first article at We Went Fast to be about Chad Reed. Obviously, that didn't happen because I launched a month ago. Better late than never; here it is.
"I spent the weekend at the Tampa Supercross in February around the CR22 truck and then part of the next morning at their house. The deeper I got into research and writing, the more I realized I wasn't going to be able to rush this one. This is a long one. I'd budget 45 minutes for it. And the crazy thing is that it doesn't talk about anything that happened between 2002-2017. Enjoy."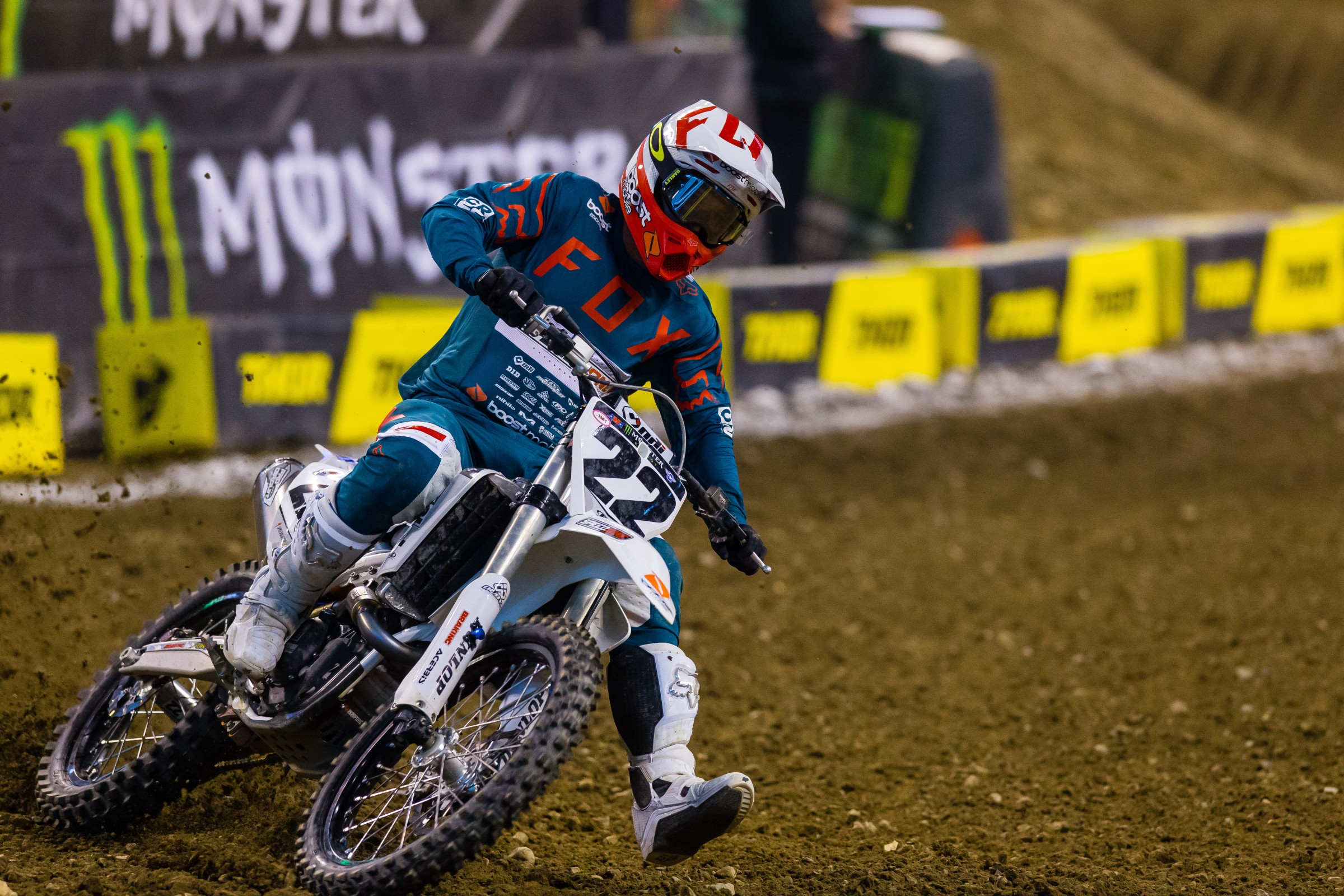 Pro Perspective (Jason Thomas)
It's going to rain in Seattle—that much we know. With a 70-80 percent chance of precipitation during the nighttime schedule, teams and riders are preparing for mud. Just how much mud can vary quite a bit, though. It could be just like the 2006 event, which was a complete mud bog and nearly cost Ricky Carmichael the SX crown that season. It could also be more like 2010, in which the dirt is soft and rutty but not necessarily a mudfest. That 2010 race was dependent on the dirt being that black, soft, and, most importantly, water-absorbent composition that they utilized that year. From the pictures I have seen on the interwebs so far, however, I think we are in for more of the 2006-style mess. It looks to be more of a clay mix, and that will be a travesty of a track if we get the expected rain. I'm talking stuck bikes, stuck flaggers, and a "who is actually winning this race?" type of travesty.
In these situations, I always just accepted my fate and hoped for the best. I went in knowing it was going to be a mess, and once I stopped hoping for a miraculous weather shift, things became easier. I tried to embrace the mud and have fun riding it. I wasn't very good in the mud, but every time I have ever seen someone riding it exceptionally well, they seemed to be having fun. They found a rhythm somehow, and you could almost see a smile under their helmet. As I became better and better at it, I learned some valuable lessons.
Recommended Reading
First, keeping your tires clean and clear is mandatory. The only way to do that is by going fast enough for them to sling the mud out and off. Once the mud is cleaning out like the tires were designed, you actually have some grip. If you have ever seen a rider rolling slowly around a muddy track with both feet off the pegs and the bike seemingly with a mind of its own, that's because the tires are completely packed full of mud and no better than road slicks at that point. Also, keeping your hands clean is a godsend. One little tip-over that forces riders to put their hands in the mud can change the whole race. That mud gets on your gloves and then is transferred to the grips, and voila, all of that ability to hold on to the handlebars is out the window.
Lastly, finding ways to get mud off of the motorcycle is a must. This can be accomplished pre-race by spraying under the fenders with WD-40 or some equivalent, but knowing what to do during the race is even more important. If the race is as muddy as I think it will be, the bike will gain 50-100 pounds of mud if left to its own devices. That mud will also keep riders from airing out the big obstacles and more than likely will have everyone rolling around the track. It's really important to find ways to jump the bike even in the worst conditions. As cool as jumping sounds, it's critical in knocking some of that mud off the bike. Whether it's jumping a single onto a flat straightaway or casing a double on purpose, that force of impact will remove a lot of mud. In a slow main event like Seattle, there is plenty of time to think about these things. I would find a safe place to jump and create a big impact and lighten the bike up. The difference between a 250-pound motorcycle and a 320-pound motorcycle can't be overstated. It can be the difference in a good finish and a bad finish.
Nine To One (Andras Hegyi)
After the Easter holiday break, Monster Energy AMA Supercross is restarting with five rounds to go. As it stands, one in nine riders still mathematically have a chance to conquer the title.
Jason Anderson (265 points)
Anderson has a straight shot at rewriting history and becoming the first Husqvarna premier-class champion, as he leads Musquin by 35 points. Through 12 rounds, Anderson has four wins and eight podiums, with an average score of 22.08 points per race.
Marvin Musquin (230 points)
In the first 12 races of 2018, Musquin has two wins and seven podiums. He has accumulated only 230 points and runs second overall. He still has quite a considerable gap to Anderson, mainly due to the shoulder injury he suffered in Houston and a subsequent zero-point race.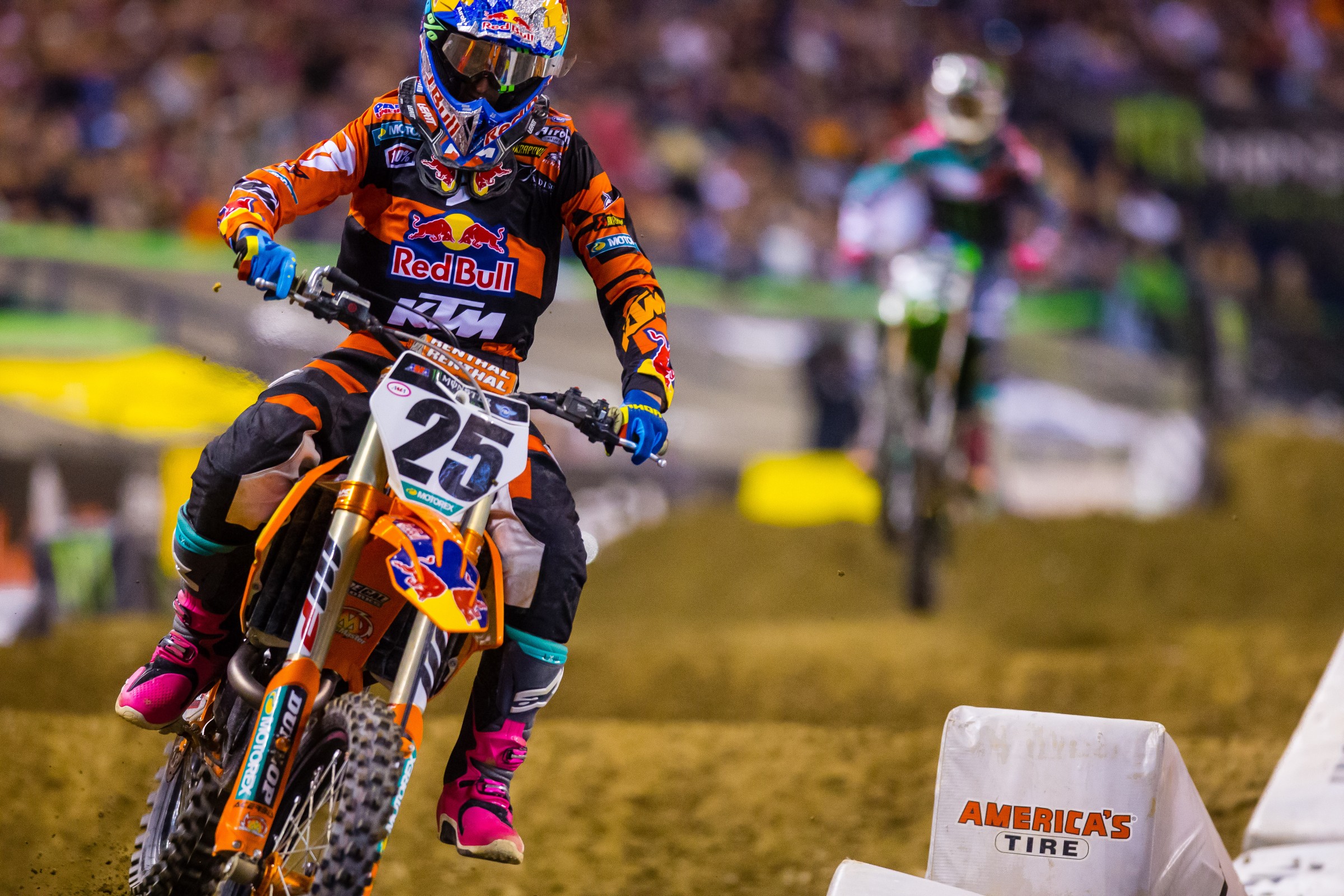 Justin Brayton (210 points)
The veteran Brayton is having a career year. At 33, he got his maiden 450SX victory, making him the oldest winner as well. In addition, he is the best Honda rider too. If Brayton finishes in the top three in overall points, it will be his best overall result in his long career. It will also be quite an honor for the whole Smartop/Bullfrog Spas/MotoConcepts Honda team.
Eli Tomac (194 points)
Monster Energy Kawasaki's Eli Tomac is still one of the fastest riders in the world, and when he's on, he's the best supercross racers out there. The problem is that when he's off, he's way, way off. After 12 rounds, Tomac has 194 points, seven podiums, five wins, but is only fourth in overall points, with a 71-point gap down on the leader.
Blake Baggett (194 points)
Blake Baggett strung together three consecutive podiums but injured his wrist in Atlanta and has been struggling to regain his form since.
Weston Peick (172 points)
Weston Peick is the best Suzuki rider in the series, but hasn't seen the podium yet, which would be his first since 2015. So far, his best results have been fifth-place finishes.
Broc Tickle (165 points)
Tickle hasn't had the year he wanted, but was in podium contention in Indianapolis before Wilson took him down late in the race.
Cooper Webb (162 points)
Last year, as a rookie in 450SX, Webb only made the podium once. In his sophomore season, he again has only one podium. He's been dealing with a shoulder injury in recent rounds.
Dean Wilson (138 points)
Rockstar Husqvarna Racing's Dean Wilson has a very, very, very minute chance to be champion. He started this once-promising season with an injury, but right before the Easter break, he got his maiden 450SX podium. If anything, Wilson can start trying to put some good races together and look forward to starting the outdoor season healthy and confident.
Hey, Watch It!
Check out the latest video drop from the Inaugural Ryan Villopoto Amateur Motocross Cup at Pala Raceway during New Year's weekend.
Racer X Films: Cole Seely Extended Injury Update
Garage Build: 2018 Yamaha YZ250F
Listen: Jason Weigandt talks with Rick Johnson about 1990 Atlanta SX and more.
Head-Scratching Headlines of the Week
"Guy is Caught on Tape Having Sex with a Golf Hole" —metro.co.uk
"Snoop Dogg tops gospel chart" —BBC News
"Police: Man killed dad with butter knife, took out eyeball" —NY Post
"Pizza driver comes to rescue in house fire" —ABC News
"India police arrest man for keeping mother's body in freezer" —Washington Post
Random Notes
David Alari, international sales manager at Mickey Thompson Tires and Wheels, is taking part in the Great Cycle Challenge this year to help fight childhood cancer. His goal is to ride 250 miles throughout the month of June to raise awareness and money to fight this disease. You can donate to David's cause here.
Subscribe Now and Get a Free FXR T-Shirt
Subscribe now for as low as $9.98 and receive a FREE FXR t-shirt, plus access to our digital edition.
June 2018 Issue of Racer X Illustrated Digital Edition Now Available
Pick up your copy now and read about the Daytona Supercross' new role as the industry's backyard race, the resurgence of amateur supercross, and two teammates' battle for the MXGP title. Also learn why Eddie Hicks' legendary amateur career never carried over to the pros as well as the freshly rebranded flat track scene.
Winner Announced: Supercross Hangout with Matthes, Weege and/or Jason Thomas
The winner of the 2018 Supercross Hangout with Steve Matthes, Jason Weigandt and/or Jason Thomas has been chosen. Congratulations to William Stuber! Since the Hangout includes two tickets to a supercross event of his choice, William and his son have chosen to attend the Foxborough Supercross at Gillette Stadium on April 21. If you entered and didn't win this year, no worries—there's always next year!
Stay tuned for more promotions and giveaways soon.
Winner Announced: Racer X Reader Survey
The winner of the Racer X Reader Survey has been chosen—congratulations to Armando Lomely! Everyone who completed the survey was entered to win a FREE Racer X Brand Gift Pack. As the randomly chosen winner, Armando will receive a T-shirt, hat, koozie, and bottle opener of his choice. If you entered and didn't win, you'll get another chance soon with our next Reader Survey. If you didn't complete this one, make sure you do next time for a chance to win more cool stuff!
Racer X Brand | RCRX Established T-Shirt Now Available
Dropping letters in the name is something we've always talked about, but never made happen...until now. The RCRX Established shirt is available in black and white (with a twist on colors). This t-shirt is everything you've dreamed of and more. It feels soft and lightweight, with the right amount of stretch. It's comfortable and flattering for both men and women. The shirt is 100 percent cotton. Visit Racerxbrand.com to get yours.
That's all for this week—thanks for reading Racerhead. See you at the races.