Lots of cool stories coming from the 250SX East/West Showdown this past weekend in Indianapolis. We covered Luke Renzland the other day, and runner-up for cool story would probably be IB Corp Racing Yamaha's Blake Wharton coming out of retirement after four years away and running inside the top ten for most of the race before fading to 14th. Nevertheless, it was a great return for Wharton, a past winner of 250SX races with both GEICO Honda and Rockstar Energy Suzuki (now the Husqvarna team).
We had Blake on the PulpMX Show this past Monday night, and he elaborated on the race and his comeback to the sport.
"I thought the race was good. We need more gate drops to get comfortable again," he said. "We knew that there's only so much you can do without racing. It takes racing to get really that race shape back and that cardio. We only had a month on supercross with the IB Corp guys to get ready, so that's not a lot of time either. One of the biggest differences of the night compared to what four years was, my starts were pretty bad. But I was able to make some things happen the first lap and in the whoops and stuff.
"The racing, a lot of things happen and they happen quickly. So at a Shootout, it's even more so because you've got everyone diving in on you. Everyone's fast. So, I guess just things happen quickly. So maybe that caught me off guard a little. But, ultimately, I wasn't really surprised with anything. We know we need a little more time. We need some more cardio. But for our first race back after four years, we were pretty excited with it."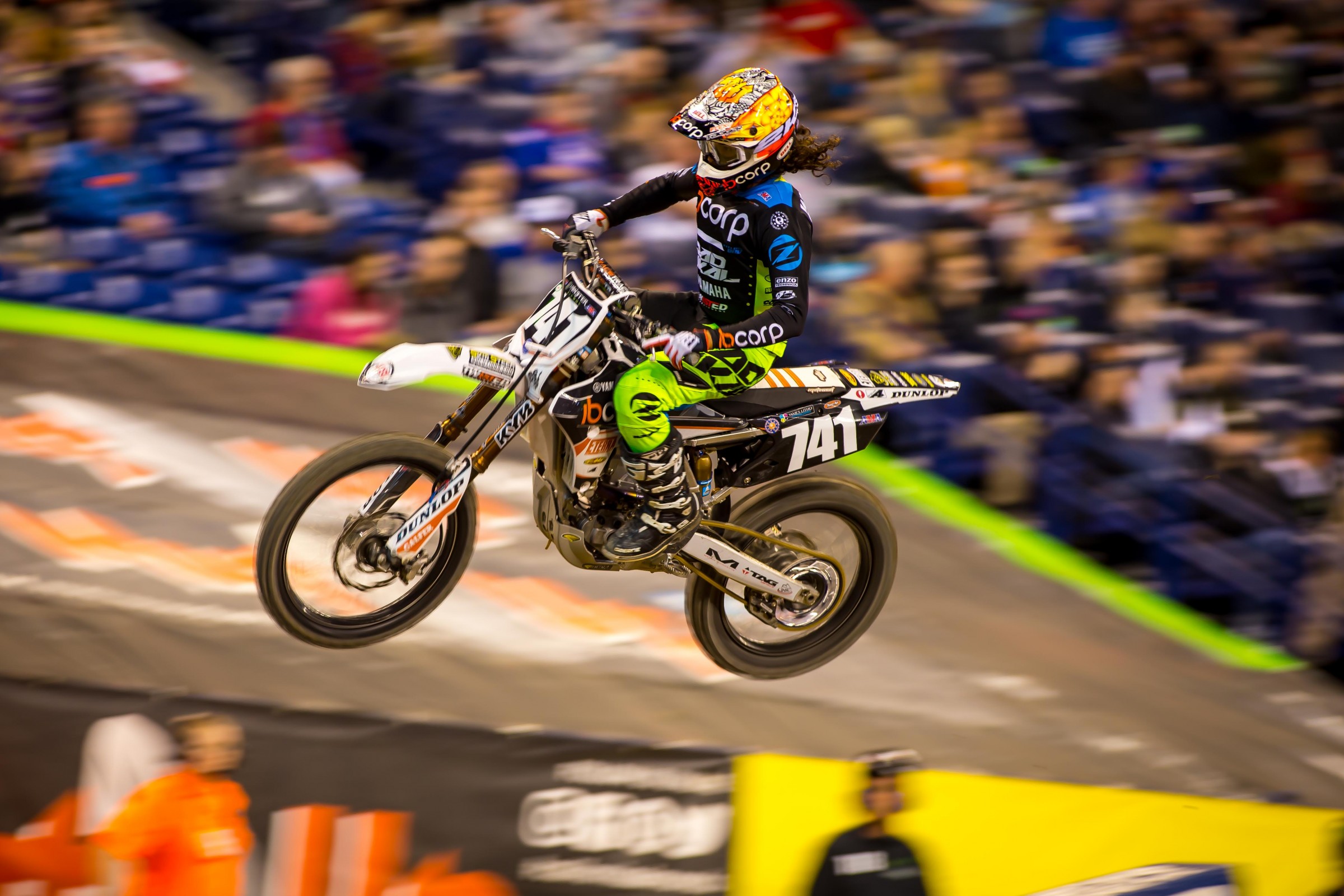 Wharton last raced in 2014 and scored a fourth at Daytona as a fill-in for the GEICO squad. A small injury knocked him out of the rest of the series, nothing catastrophic. And then…nothing. No rides for him in 2015 or 2016 and so on. Wharton didn't retire, though—he says the desire to race was still there and he was making some phone calls.
"Honestly, I've stayed in contact and talked to teams over probably the last two years. Things just didn't work out," he told us. "Maybe the timing was wrong. Maybe the spots weren't open. It's tough coming back to the sport, even if you've missed a year. I would imagine it's hard to get a ride unless your name can carry you that far. But I had wanted to come back and try it. So, most people probably don't know that because they saw me being busy doing other things, but I was keeping my eyes and my pulse on the sport. We pretty much told ourselves we were going to make this happen one way or another around Christmas, I would say. A little before, which wasn't a lot of time. Fortunately, I had been in motion and been riding and been in pretty good shape up to that point."
Wharton's a pretty interesting dude, and even though he's been away for four years, he's just 26 years old. Who knew? But talent is talent, and Wharton's always had a lot of that. First scheduled to ride East Coast for Munn Racing Husqvarna, IB Corp came calling to ride Yamahas on the West when they were hit by injuries. And coming back for his first race at a stacked Showdown race? Yeah, why not, says Wharton.
"The Shootout was a tough round to go to, like we had talked about originally. But we kind of had to do it, right? We only get four races, so we want to make the most of them. We basically showed up and put our best foot forward," he says. "As far as the team goes, it hasn't been easy for the squad with so many injuries right out of the gate, but Wharton seems happy with them, and it sounds like the feeling was mutual.
"The guys were really good to work with. I've known most of the guys for a long time, so it's not really anything new. Josh Barnet, who's my mechanic, I worked with him on Rockstar Suzuki. Then Jamie Ellis, who is our team manager, but also the motor builder, I've known him for some time," he continued. "So, the guys were really pumped. They were really excited because they've had a tough year this year. They have the equipment and the backing of a team that should be consistently probably top-ten. They just haven't had that this year. They've had some injuries and they've had a rough go at it. But the team was excited. It was kind of a shot in the arm, I guess you could say, for them."
Wharton admitted to feeling some nerves, but nothing too bad on his return to the track. He said in the end, the number of hours he's put into practicing and racing his dirt bike is something easy to fall back on. And in his usual fashion, Wharton broke it down for us nicely: "It's still the fastest man to cross the checkered flag, right? It's evolved a bit, but it's still the same game—it's still racing dirt bikes and we're still on two wheels. I guess until we go to hover bikes, it's still something we're familiar with."
I don't know where this thing by Wharton is going to go; most comebacks to racing after long absences don't really work out, but as we said, Wharton's just 26. Most riders are older when they try to jump back in. The team looks to be set to do the West Coast rounds of Lucas Oil Pro Motocross Championship as well, so with some good indoor rides and good moto scores, perhaps someone will come calling to Blake for the rest of the summer.
"I'm still fast. I'm still here to do battle. The best is yet to come," he told us.
And you know what? He might be right.