Indianapolis, IN
Indianapolis
Monster Energy AMA Supercross Championship
Cody Vanbuskirk has spent the past three seasons honing his skills as a professional dirt bike racer in the confines of Amsoil Arenacross. During these seasons, Vanbuskirk earned an Arenacross Lites West Championship, as well as two top-ten overall season finishes in the premier class. This season, however, he has decided to go all in as a regular competitor of Monster Energy Supercross. So far in 2018, Vanbuskirk has made three 250SX main events, and this past weekend in Indianapolis, he decided to give the 450SX Class a try and he qualified for his first 450SX main event in his first attempt. We caught up with Cody this week to chat about it.
(Disclaimer: The following interview was conducted via iMessage and has been lightly edited for clarity.)
Racer X: Cody, I wanted to catch up with you to talk about your season so far. This is your first year racing supercross, correct?
Cody Vanbuskirk: Yes, this is my first year racing supercross. I raced the Amsoil Arenacross Series the last three years. This year I really wanted to race East Coast SX, so I made it happen and it's been going pretty good!
That's what I thought. Let's backtrack a little to arenacross. How did that series go for you?
In 2016 I won the Lites West Coast Championship and also placed ninth overall in points in the AX class. Last year I ended up seventh overall in the AX class. It was a solid year—had some ups and downs but stayed healthy for the full season, so I was happy.
Now you're all in for supercross?
Yes, I'm all in! Planning on doing the last two East Coast rounds on the 250, and if everything goes perfect I really want to race Salt Lake and Vegas on a 450.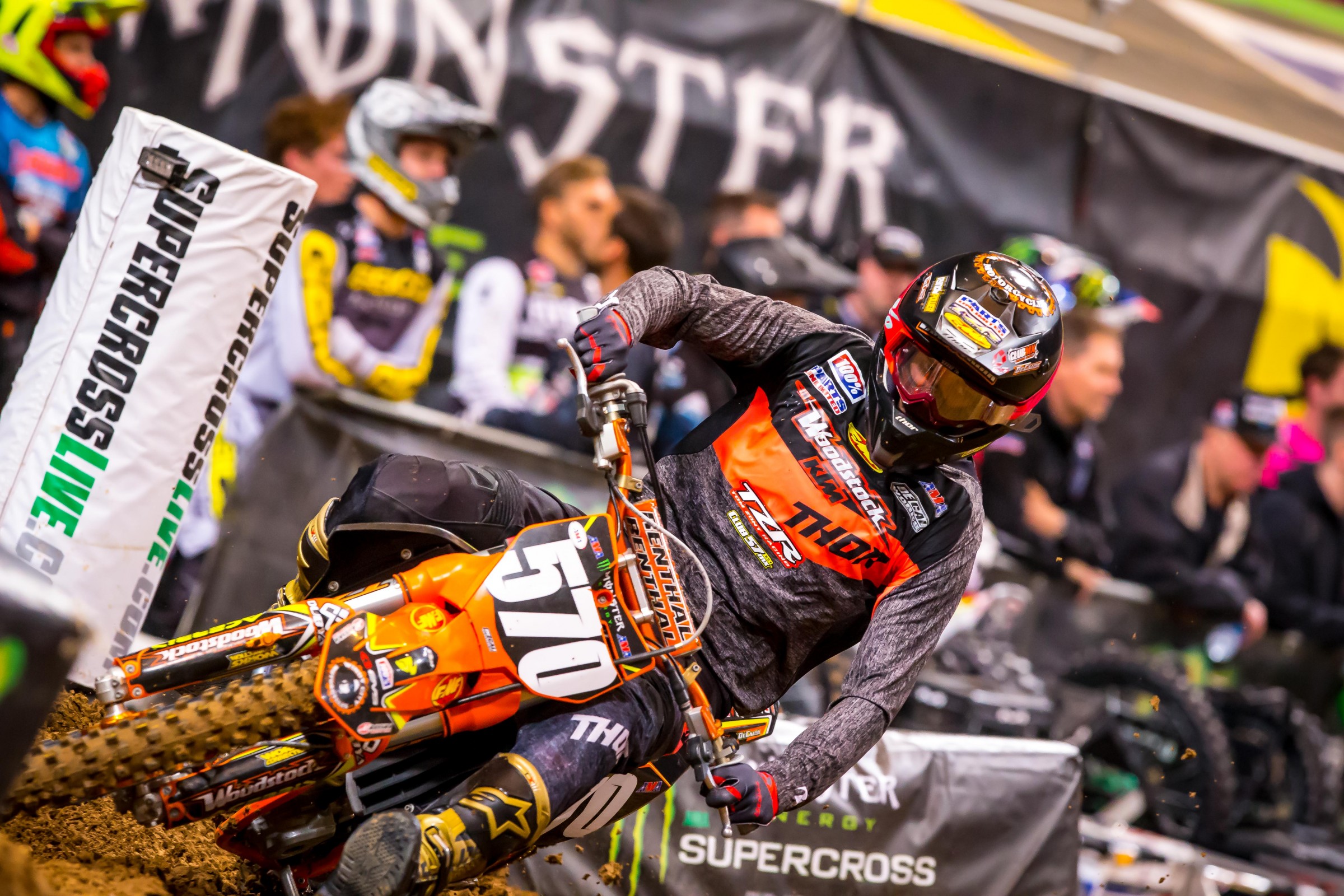 What's your idea of everything going perfect?
I am trying to find a way to get myself and my 450 out to Salt Lake, Vegas, and back home to Illinois. So, everything going perfect would be figure that out and also finish out these last two rounds strong on the 250!
You've made three mains so far in the 250 class. Is that on par with your expectations, or is there still room for improvement?
Yeah, I'm happy with those three mains. The couple I didn't make, I was really close, but had some issues. All three of the mains I was in, I finished inside the top 15, with a 12th being my best in Daytona. I definitely have room for improvement. I've been staying at the Club MX practice facility for the last few months and driving back here after all the SX rounds. Trying to better myself for each weekend.
In Indianapolis, you rode a 450, though, and made the main event in your first try.
[Laughs] Yeah, I was pumped, man! It was kind of a last-minute decision to. The Monday after St Louis, I took my suspension off my 250 and threw it on my bone stock 450 (which only had a couple hours on it); it's basically been sitting all winter. I rode the 450 in supercross for about 2.5 hours leading up to Indy and felt better and better with every lap. Showed up to Indy, felt comfortable right away, and put it in the main!
Congrats on that. Does making the 450 main feel more rewarding than a 250 main, or are they equally as awesome?
I would say the 450 main might just edge out a 250 main. I mean, you're racing the best of the best. When I showed up to my first-ever SX this year in Dallas and made the main, I was so pumped! Now to also make a 450 main my first try is absolutely awesome. Either way, they are both pretty cool.
What was your mindset lining up for the main event? Stoked and ready to go, sketched out of your mind, both?
I was ready to go. The track was gnarly, but I just wanted to ride solid laps and make it through the whole main. Getting lapped by the top few guys so soon wasn't too fun, but other than that, it was solid.
Switching gears a bit. You mentioned you train at Club MX. What's a standard day there like for you?
Yes, I stay on the practice facility side. A standard day like today: wake up, go for a little mountain bike ride, kind of for a warm-up, usually check out the tracks and whatnot. Gear up and start riding around 10-11 a.m., do some motos. When I'm done with that, get the bike ready for the following day. Hit the gym in the evening, then make dinner and get ready to do [it] all over again the next day.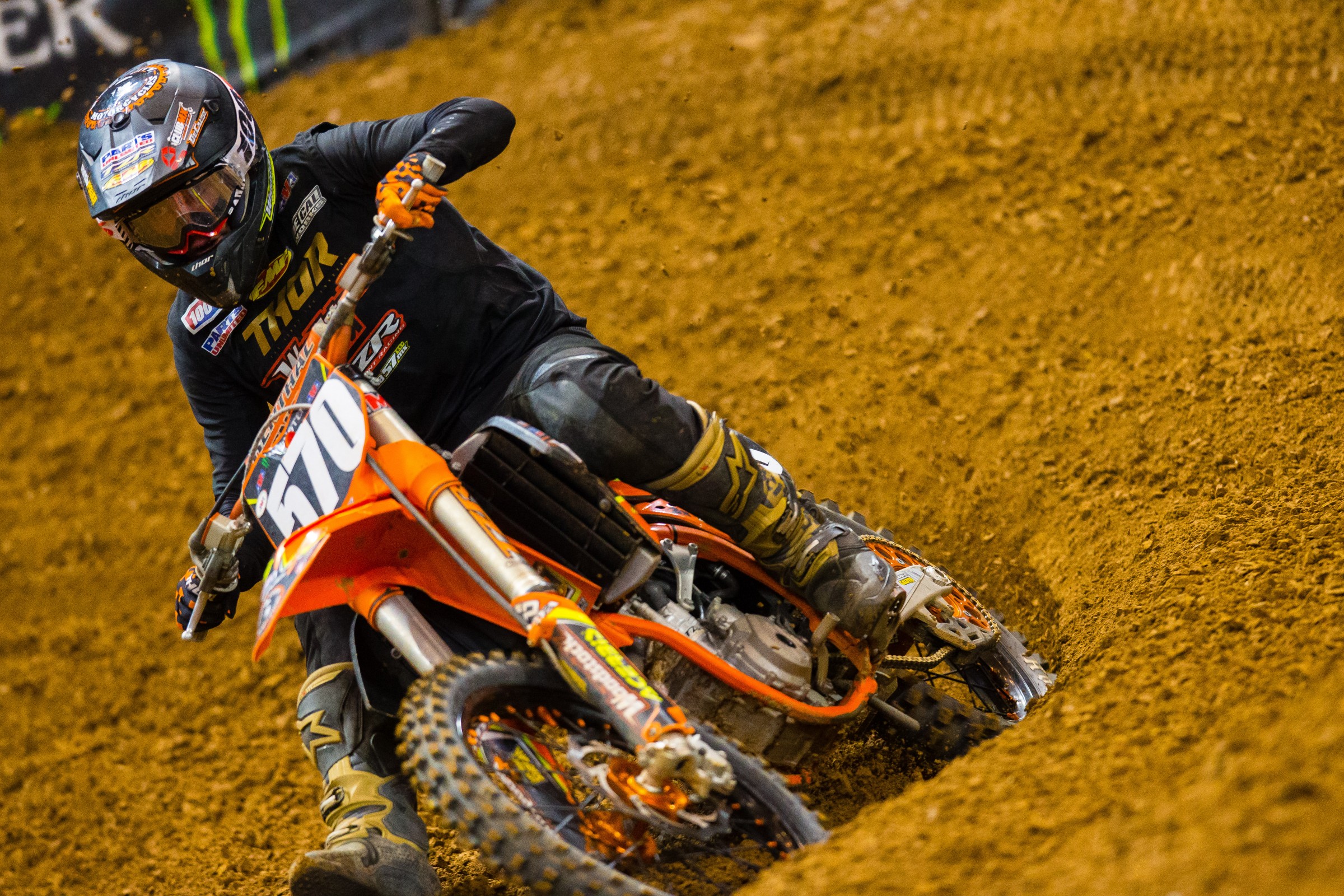 Any hobbies? Anything you do to relax or is it all moto all the time?
Well, living down here, there isn't much to do other than moto and train! [Laughs] I really like fishing, so I try to do that when the weather is nice. During the summers, I work for my dad doing carpentry and spend as much time as I can at the beach or on the water with a line in.
It's cold here, so that sounds awesome. Anyone you'd like to thank before we end this?
Yeah, I'm heading back to Illinois next week so I'm hoping the weather gets nice quick. [Laughs] A huge thank-you to my family, friends, and everyone that supports me and is helping make this season possible. Woodstock KTM, Windy City Motorcycles, Tom Zont Racing, Decal Works, Parts Unlimited, Hoosier Tires, EVS sports, 100%, Thor, Alpinestars, Ryno Power, Acerbis, Renthal, Moto Seat, Works Connection, FMF, Dubya Wheels, Maxima, Rekluse, MX Tech, DW Performance, and also Club MX for having an awesome facility with all the tools needed to be successful.