Castellón, Spain
MXGP of La Comunitat Valenciana
FIM Motocross World Championship
Last weekend marked round three of the FIM Motocross World Championship. First came the lengthy flyaway race to the sun-splashed MXGP of Argentina. Next up, it was snow flurries, frigid temperatures, and the sandy Eurocircuit of Valkenswaard, Netherlands. This past Sunday, it was all about sunshine and red sand—and, to be brutally honest, abysmal 17-19 moto finishes. And present at all three of the Grands Prix was American Thomas Covington.
Now in his third year with the Jacky Martens-led Husqvarna race effort (Martens won the 1993 FIM 500cc Motocross World Championship on a Husqvarna four-stroke), Covington, who represented Team USA at the 2017 Monster Energy Motocross of Nations in Great Britain, is still getting back to critical mass race speed after suffering a left ACL tear at that very same race. Ten-18 moto scores at the Patagonia GP looked a bit wobbly, but the #64 bounced back nicely at Valkenswaard, winning his Saturday qualifying moto and placing a solid fifth overall.
On the Sunday night after the MXGP of La Comunitat Valenciana, Racer X spoke with the 21-year-old American racer who has done a remarkable job of adjusting to the European way of GP racing life.
Racer X: Thomas, a bit of a rough outing today.
Thomas Covington: Yeah, it just wasn't a good weekend for me. I struggled to get a good race pace. The track here in Spain was super fast, which kind of made it hard to make passes. I struggled with my starts in both motos and that didn't help get good results. In the second moto I also had a small crash, which made things worse. It is what it is, and we will continue working hard. We now have a small break and I'm looking forward to returning home to continue working. We have our eyes set on round four now in Italy hoping for some improved results there.
Due to the knee injury you suffered at the Motocross of Nations last October—and the subsequent surgery that came along with it—you didn't race a single moto during the off-season. Were you a little bit rusty at the championship-opening Argentinian Grand Prix?
Yeah, for sure. I was off the bike for four months. I felt good going into the race because I worked really hard during the off-season on my body and physical stuff. I trained really hard off the bike and I actually felt really fit and in shape. I expected to do a bit better there in Argentina, but things didn't go the way I planned. That's pretty normal for being off the bike for so long and then just jumping right back into it. I've never done that well at the track there, either. I've always kind of struggled with that track for some reason. Yeah, it wasn't a good weekend. Last weekend at Valkenswaard, it was good to kind of turn it around for myself, mentally. It proved to me that I'm not that far off. I've still got it! [Laughs] I didn't lose any speed or anything—it's still there.
And winning the qualifying moto in that deep sand on Saturday afternoon had to be good for your confidence.
Yeah, for sure. The two weeks after Argentina, we did a lot of testing and we really got my bike dialed in the way I wanted it. Being injured the whole off-season, I wasn't even attempting things that we needed to do. We're on the new Husqvarna. Unlike the American guys, we switched to the new one, and I really think I needed a few more weeks to really dial the bike in. Argentina was a good test for me too. We got it working good and I was comfortable on the bike, and we came out swinging on Saturday at Valkenswaard. I wasn't expecting that at all. I got a good start behind Jorge Prado and just tried to stay with him, because when he gets a start like that, he's unbelievably fast in the sand. I just thought, If I can just [ride close to] him, that'll be a good race for me. I was able to stay right on him, and towards the end of the race, I started closing the gap a little bit and put some pressure on him, and he ended up making a mistake going down a hill and I went into the lead on the last lap. Yeah, that was a fun race. And Pauls Jonass was behind me as well. I was expecting him to come up a little bit harder. For some reason on Sunday, my starts were a little bit off and the way that track was, if you weren't in that top three on the first few laps, it was pretty much hopeless to catch those guys. Those first guys could just send it on the first lap wide-open and not have to deal with any riders or any roost.
Or snow….
Yeah, those were some real MXGP conditions, huh?!
Yes, not Glen Helen Raceway mid-week in, say, July…
No, definitely not. I rolled up to the track on Saturday and I was just sitting in my car and the snow was coming down. I sat in my car as along as possible before I had to go out in the cold. I think the only time I left the truck on the weekend was on my bike. It was hard just to stay warm. It was pretty crazy. We were really worried about the track being frozen on Sunday because it got so cold on Saturday night, but they did a really good job working on the track. I think they had the machines out there all night ripping it and keeping it moving so it didn't freeze up. The track was surprisingly in good condition, it was just the hands and feet were frozen after the motos.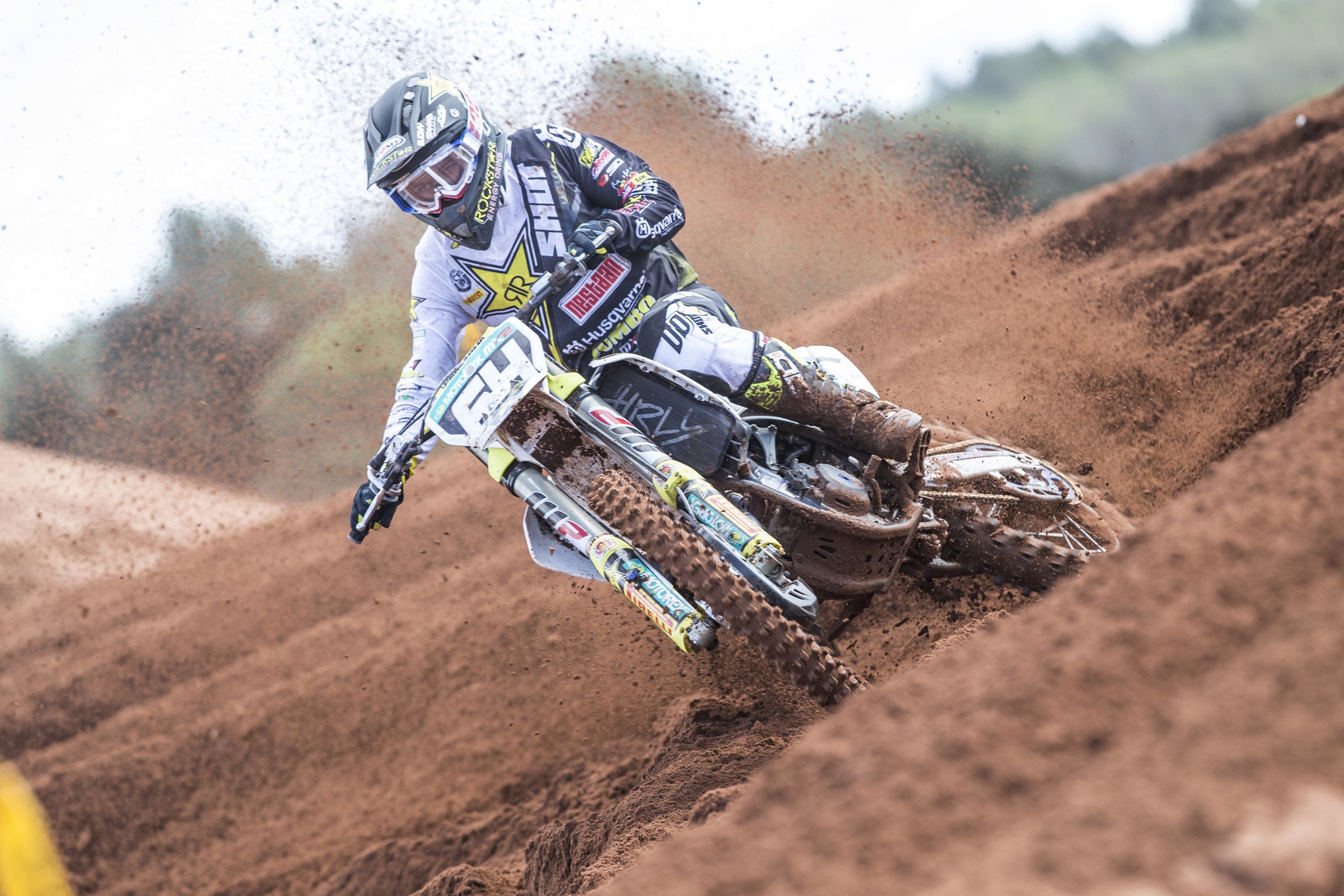 All in all, a couple of solid results for you a mere three Grands Prix into this 2018 world tour.
Yeah, it was a solid weekend overall. It's kind of where I expected to be the first few rounds, you know, right there in top five. I wasn't really looking for anything more than that coming into this new season. Obviously, it's not where I want to be, and I'm just going to keep working every week at the practice track with my trainer Joel [Roelants]. We feel a little bit better and little bit stronger every week. Hopefully the results will show that, too.
Reigning MX2 World Champion Pauls Jonass has come out swinging early on. What do you think?
Yeah, Jonass has been really strong here coming into the season. That's probably just the confidence of being World Champion last year. He's defending his title, so I think I just need to get up there and get of pressure on him. Maybe he'll make some mistakes. The first couple rounds, he's been flawless. You can't really say anything bad about him. All the other guys too… Hunter Lawrence, Prado, my teammate Thomas Kjer Olsen, they're all strong this year. I think everyone feels like they have a chance at the title and they're just going for it. Yeah, it won't be easy.
I've know you for quite a while now and you sound great. You sound calm and confident. Are you looking at the big picture here, come the next six or seven months?
For sure. But I try not to think about the big picture too much, actually, as I just want to go out there, and every time I'm out on the track, I want to be the fastest guy out there and not worry too much about the end result. You know, this is my fifth season in the GPs and I'm just kind of learning to deal with the highs and lows. Motocross is so up and down. One week you have one bad race and you're at the lowest of lows, borderline ready to quit, and then the next weekend, you win a moto and you're on top of the world and everybody wants to talk to you and be your friend. I'm just trying to keep an even keel throughout the season. When it's going well, you just try to stay calm, and when it's going bad, it's not that bad. That's the biggest difference between my first couple seasons in the GP and being here and now.
You're contracted to race American supercross and motocross in 2019. Still, I know this season in the MX2 World Championship is very important to you. Too early to start weighing in on all this future stuff right now?
I can race MX2 one more year if I wanted to with my age. Yeah, it's kind of up in the air. [Laughs] I'm not sure what the future holds, really. Hopefully we'll know pretty soon. I guess I'll have to make a decision here pretty soon.
Well, you know how it is. You go out there and perform and get the podium results, and maybe score a few wins—well, you can pretty much dictate your own fate, know what I'm saying?
Yeah, that's the thing. As long as the results are okay, the opportunities are there to do whatever you think is best.
Last question: Come the next race—the MXGP of Trentino in Italy—what sort of result and performance will put a smile on your face?
You know, we're always going for the win. I just really need a solid weekend and to get some points. Yeah, if that means getting a win, that's fine; If it's another top five, that's good, too. I'm just going to go out there and, like always, ride as hard as I can and hope for the best.