Indianapolis, IN
Indianapolis
Monster Energy AMA Supercross Championship
Jeremy Martin is tough to figure out. His outdoor dominance in his first two seasons had him on a trajectory that most could never hope to achieve. Winning back-to-back outdoor national championships right out of the gate had most thinking that he would win a supercross title on the 250 along the way as well. It just hasn't come to fruition when it comes to supercross titles and consistent success. With his last four rounds, though, maybe there is light at the end of that tunnel. Or is there?
Going back to 2015, Jeremy Martin was on a similar pace that we have seen lately. His first four round scores of 4-1-2-3 had him trailing Marvin Musquin but sitting a strong second in points, certainly in the mix for title conversation. The problem arose when we arrived in Indianapolis. J-Mart would have issues in both the heat and LCQ, finding himself on the ground in both races and missing the main event. In a short series, missing a main event just isn't conceivable when seeking a championship. Marvin Musquin was sucking the air right out of that series with win after win. For J-Mart, he needed to be right on Marvin's heels. After his misstep, Martin bounced back with 4-2-4 scores, but the damage had been done. Not only did the Indy DNQ cost him any chance at a title, but he also lost second in the series to Justin Bogle. It left a black mark on an otherwise great series performance.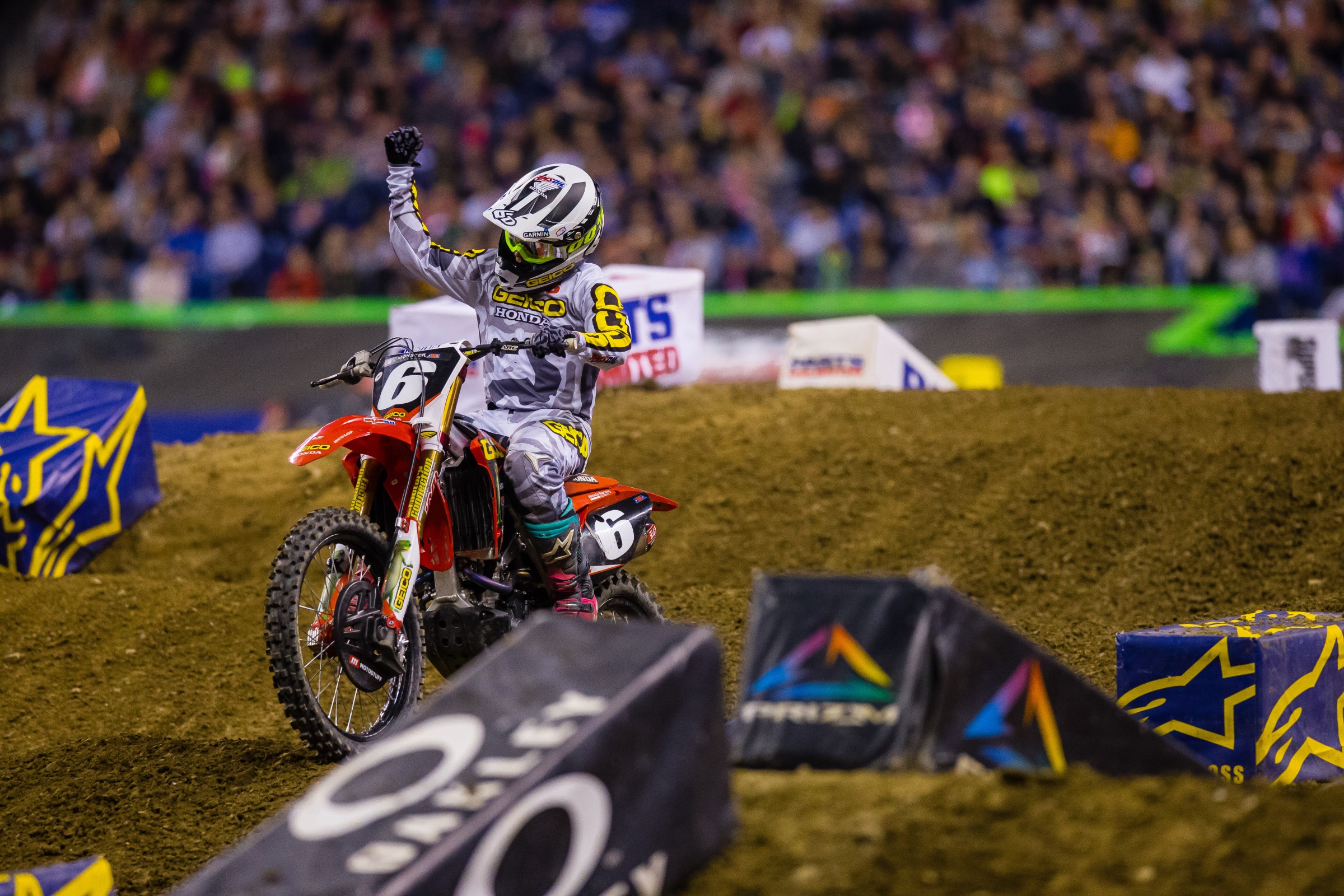 This same issue struck him the previous year, too. Coming in as a championship hopeful, Jeremy would DNQ at the first two rounds in Atlanta and Arlington. He would slowly but surely figure it out, scoring a runner-up finish in East Rutherford and even winning the Shootout in Las Vegas that year. That was what made the missteps so frustrating. He had these troubles in 2014, sorted them out, came out swinging in 2015, but still had the big mistake in Indy. So many bright moments were being undone by one or two mistakes each season. For a multi-time champ who had proven he could seal the deal, it was strange to see the same pitfalls jump and grab Martin time and time again.
So now we sit in 2018 and we face the same scenario yet again. His start to the season was troublesome with two crashes in Tampa that left him with a 12th-place finish (it could be argued that both came at the hands of other riders running into him, but the points only count one way). He rebounded nicely, though, and has gone on a run that has him back into the championship picture. His last four race finishes are 5-2-2-1 and he's looked great along the way. His only real difficulty as of late was the seven-point penalty imposed last weekend for jumping in a red cross flag situation. Had he not been penalized, he would be only 12 points out of the lead and very much in the mix. As it sits, he will need some help from Zach Osborne, Austin Forkner, and Jordon Smith to switch his black plate to red. With his momentum it's possible, however unlikely it seemed just a few short weeks ago.
The 250 East Region has been anything but stable, opening the door for anyone who gets hot at the right time. Osborne has been unable to solidify his first lap positioning, Forkner has left points on the table with his 3-5-6 recent finishes, and Jordon Smith's first two finishes of 6-6 put him in an early hole. With three rounds to go, including his home race of Minneapolis, a Martin-friendly track (soft and rutty) in New England, and another huge points opportunity with the Las Vegas Showdown, 19 points is not out of the question. The real question is whether he can avoid the mistakes that has plagued him throughout his supercross career.
Speed has never been the problem. Winning races has never been the problem. Having one bad night that eliminates him from contention is the eyesore that he absolutely must master. His competition has left opportunity to capitalize on. The one difference has been that they have been able to minimize the damage when adversity strikes. Osborne's first-lap crashes have been costly, but he's also been able to get back to solid points paying positions. Forkner's crashes in St. Louis gave away a red plate, but he was also able to keep himself inside the top five. Jordon Smith was all over the place in Arlington, picking himself up off the ground in the first turn and then blasting Martin on the last lap. All of these incidents have given a glimmer of hope for Martin, but he will need three perfect rounds to make it interesting. He has typically finished strong in these 250 East series runs, and 2018 will have to be no different.
I think Minneapolis and Foxborough will be critical for all of these contenders. Las Vegas is going to be chaos; we know that already. Whoever can dominate these next two rounds can change their entire strategy for that final showdown. J-Mart has nothing to lose. He should be able to attack with reckless abandon and put the pressure on those in front. He will have his family and all of District 23 behind him when they reconvene in Minneapolis on April 14. A month ago, the picture looked so bleak and that I was left shaking my head during Tampa's main event. Suddenly, this might not quite be over for the #6 GEICO Honda rider.
---
Check out Racer X Brand's new styles, like the Moto Mag Blue T-shirt, the Maroon Shield T-shirt, and new hats now available for purchase. Also, take free shipping on orders over $40 this week only with coupon code FREESHIP.