Indianapolis, IN
Indianapolis
Monster Energy AMA Supercross Championship
Racer X: Justin, congratulations.
Justin Brayton: Thank you. Not bad for an old man, huh?
Not bad for an old man. In that main event, the lap times obviously varied from the beginning to the end. Just kind of take us through what it looked like. You guys ended up doing in the upper 20s of laps. I can only imagine what those last five laps would have looked like. Just kind of take us through the transition of the track and then what it looked like there late.
Brayton: Yeah, the track was tough. I knew that you needed to gate well and get track position because I knew it would separate out. The top five would be gone by lap ten. I actually came out of the gate awesome and I missed a shift. So, I was kind of buried around the first turn. But I made some passes on the first lap and then rode solid. With about ten or twelve to go, I really started to feel it. To be honest, I haven't rode since before Daytona. Just been sick. So, I was pretty fatigued there through the halfway point. Then towards the end I started to get a little second wind, but by that time I was pretty much just doubling through the rhythms. I had kind of gone away from doing the quad and triple onto the table. Mainly just because I was making so many mistakes doing it. I could be consistent going double. So, I would say the track really became basic because of the ruts. But one of the most difficult tracks I've ever raced.
Dean, congratulations. Are you and Broc [Tickle] going to dinner tonight after the press conference?
Dean Wilson: No, that was unfortunate. Just kind of a stupid move on my part. We all make mistakes and I think that was one of them. That's it. I don't really want to talk about it anymore. It was just a mistake on my part. A little bit silly. Came in, through the whoops, my arms were a little bit tight. I just didn't expect him to cut down super hard because there was a lapper there and I just cleaned him out. So, it was unfortunate. I'll talk to him later on once he's cooled down. If the roles were reversed, I would be mad, too. It is what it is. I just want to move on from it, and I'm stoked I'm up here.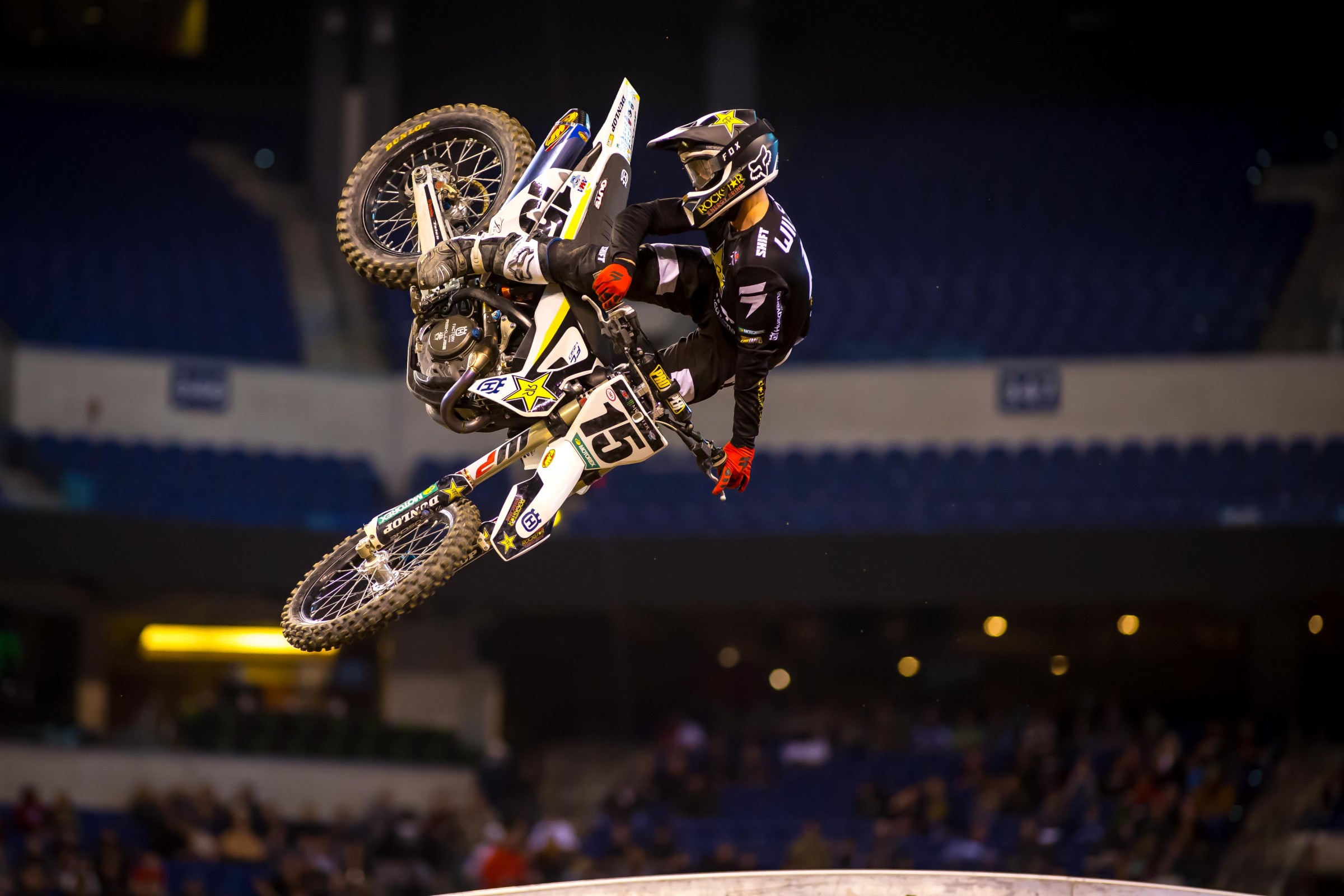 On a serious note, though, take us through that ride. You got to be pumped, just the way the season's been and the way it started, to be up here tonight getting second.
Wilson: I'm really happy. It's been tough because we've worked really hard this off-season—November, December. I've worked really hard. Then to just kind of crash out at Anaheim 1 was such an upset. Then trying to come back and riding injured…. I still feel like I am kind of riding injured a little bit at the moment. It's just so hard to heal up when the 450 series is every single weekend, so you're trying to heal in between the race season. You're still training and riding. It's just been tough. It's tough when you're working hard and you don't see results. I've been getting eighth, eighth, seventh. So, I finally got a good start. The track was just treacherous out there. I just tried to hit my marks. Made a couple mistakes. To get on the podium and get second is amazing. It's a good feeling to be on the podium in the 450 class because I've never done it before.
Marvin, congratulations. With the lap times again being what they were, you guys did a lot of laps. You spent the entire race by yourself. Just take us through what it was like to kind of stay focused. I know you're used to going 20 plus one, but those laps, did it kind of mentally get to at some point as you were just going round and round?
Marvin Musquin: Yeah, just at one point I looked at the clock and I couldn't really see the pit board really good, but anyway, I don't think Frankie would have told me how much time would be left. But I looked at the clock and it was maybe seven minutes to go or something. And, you know, it's actually a lot of laps because the lap times were a little bit shorter than usual. Like those guys said, that track was really tough, and same for me here. I stopped doing those bigger rhythm sections, like the three on the table, stuff like that. I just went basically 2, 2, 2. I just wanted to make sure I don't make a mistake. I had a good lead and the pace was good at the beginning. I thought it was Jason [Anderson] behind me, to be honest, because I saw a Husqvarna pit board on the very first lap or second lap, but obviously that was Dean's pit board, maybe. I thought it was Jason. The pace was good. I was trying to be very consistent. I could hear the bike behind me. I never looked back, and then until I heard the crowd really loud when Tomac went down. It shows you how technical and tough the track was, and then he made a mistake and it cost a lot. So, I'm really glad I stayed on two wheels and be consistent and smart the whole race.
Dean, in spite of maybe that little bit of an incident with Broc, this second place has to be huge for you. Like you said, it's your first podium in this class. Do you feel like this is going to be kind of a turning point in the series for you?
Wilson: Yeah, I would like to hope so. It's just nice to see a little bit of a turnaround. Like I said, the beginning has been rough, but I haven't gave up. I'm glad to see the results coming. But I hope I get some momentum off of this and just keep doing what I'm doing and keep the ball rolling. Hopefully be up here more often. That's what I wanted to be doing at the beginning of the season. It's nice to be up here. I don't really know what to do. I've mumbled my sponsors up there and everything, so it's nice to be up here.
Justin, this has been a very good streak. I think almost every week we've talked to you and it's been a really good result. Riders talk about how after they have one good finish, there's this breakthrough and then everything comes easier. What is it that's coming easier? Is it a mental hurdle? Is it knowing what pieces need to be put together? It's kind of like unusual for a guy all of a sudden just to come on now.
Brayton: Yeah, I think even if you look back at Anaheim 1, I led the first heat race of the year and nearly won it. Barcia ended up winning. I got second. Then a couple weeks later—Phoenix—I win the heat race and was top three in practice. I just think all year coming into the season, I was really prepared with the team and the bike and just been really awesome this year. I really trained hard when I was over in Australia and did a true kind of boot camp-type thing. I came in prepared. The bike is amazing. I seriously haven't even hardly touched it since last October or something. If you look back at the very beginning, it's been good. But you're right, as of late since Atlanta, I went on a little bit of a dry streak, I believe it was Tampa and Dallas, just wasn't really feeling that great. Then Atlanta was really good. Obviously, Daytona was great. Winning three heat races in a row has been awesome. Two podiums in the last three races. Even last week in St. Louis, I rode really good in the main. Just by the time I got to fourth, the top three were already gone. It feels good. I'm riding well. I don't take it for granted, that's for sure. I've been working at this for a long time. To finally feel this good at 34, I'll take it. Keep it going.
Dean, first podium ever in the 450 on a really gnarly track and you had people behind you, right behind you the entire race. What was going on in your mind? Were you nervous about that? Were you thinking about that first podium as the laps were winding down?
Wilson: Yeah, I kind of knew where I was at, but it's just it was a tricky, tricky track. It's kind of funny, these guys saying that they started doubling stuff, because in my head I thought they were all jumping everything still. So, I'm still trying to hit this quad and cross-rutting and all over the place. It was good, and then I seen Justin coming up and I was just like, come on. You start kind of talking to yourself and convincing yourself. My mechanic wrote, "Four laps to go," and I'm like, I'm not going to lie, I was breathing pretty heavy. I was a bit like an English bulldog. It was just slobber hanging out of my mouth. But I was like, come on! I can do this! It was so rutty, and if you hit some sections good it was like an energy-saver, but sometimes if you were struggling with something, it was like you were wrestling a bull. So, I felt like I was doing a lot of wrestling out there, but it was good. When I got like two laps to go, I pretty much told myself, come on, just one more lap. It was cool, but Marv kind of smoked us. Other than that, it was awesome. I was actually telling Justin, he's not supposed to be getting faster as he gets older. He's supposed to be getting slower, and he's supposed to be getting those results where he should be thinking about retiring. So, it's kind of pissing me off that he's doing so well. No, Justin's a great dude. Always has been. It's cool to see him up there. We all work hard, so it's good.
Speaking of wrestling, that jump before you guys crossed in front of the mechanics' area, what was going on with the rut there?
Wilson: I was trying to get some trick points that lap. The rut was just so sketchy. Like I said, I was tired and Broc was right behind me and I just hit this thing. It came the other way. Man, the bull was bucking. Broc, I felt bad because he was behind me and I think he did the same thing. I was just holding on. I had a few of those moments.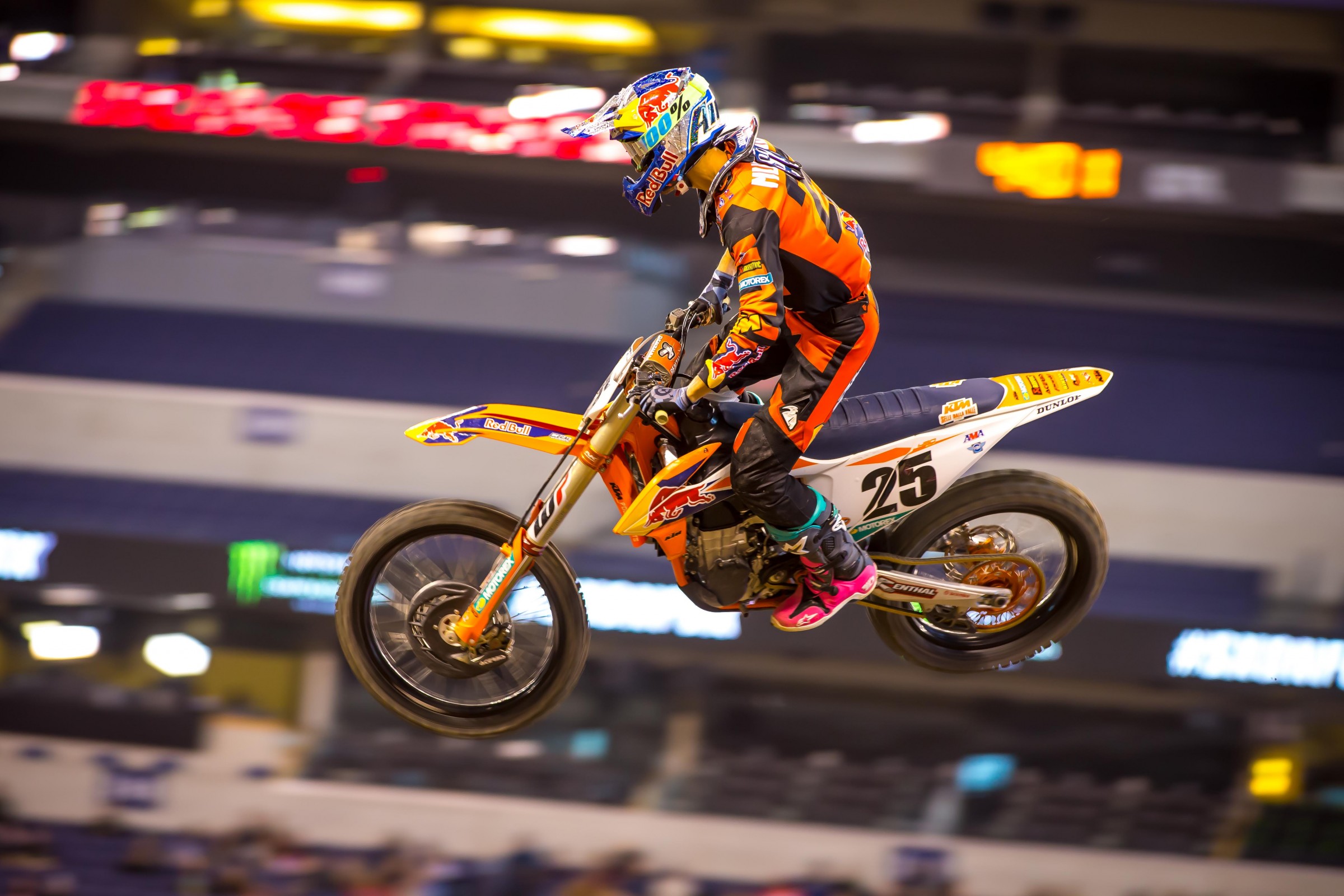 Justin, I think you said after the race that you wanted to do this a few more years. Like you said, you just turned 34. Do you have a timeframe in mind, or is it just as long as you're improving, you still want to continue?
Brayton: I think as long as I'm motivated to do well, I think that's the biggest thing. If I come in and I'm dreading the flights and I'm dreading the training…. I really know what it takes to be at the highest level, and if I'm just not willing to put in that work, where right now I'm honestly having more fun than I've ever had, just because I have so much fun with my family at home during the week. I can kind of get away from the scene, if you will, and kind of get away from the training. I'll just fit in training during the week when I can, in between my daughter's swim lessons and taking her to school and that type of stuff. So, I think the biggest thing is, even before the main event, I'm just kind of like, I just ride a lot more free and I'm not stressed out. I'm not so anxious. I think I've rode probably 80 percent to my capabilities my whole career, mainly because I've always been nervous or anxious. I've kind of been a shell of myself. Now, kind of, the pressure is off. It doesn't really change my life one way or the other.
To be quite honest, Daytona is kind of a life-changer, but I've said this whole year, either way it doesn't matter. My daughter really doesn't care how well I do, or my wife doesn't like me any more if I go get a podium. And that's a good spot to be, because my whole life has been based on this number. That number that you get on the weekend, whether it's third or tenth or first or whatever. If it's not good, if it's a tenth, it carries into your whole week and you're bummed, and your phone never rings. Then you win and your phone rings off the hook, or you get third. I just have balanced that out really well. Going into this year, I didn't really know. All my contracts were up at the end of this year and I was kind of like, if I'm enjoying it, I'm going to keep going. If not, then we'll just see what happens. But as of now, I don't really see an end in sight. I think I'll probably commit to another two years and go from there. I really think I can be competitive and keep doing what I'm doing.
Justin, did you say after Daytona your wife didn't like you any more?
Brayton: She may have liked me a little more. That's what's cool. I walked in the door and it was kind of just a weight off everyone's shoulders. She knows how hard I work and how much goes into that. Everyone in this room knows how much goes into this, for even the 12th-place guy tonight. Right after the race, I told Dean, I was like, "Man, I really wanted to pass you, but part of me didn't because I'm so excited for you." It's really cool to see a story like his, not giving up, and now he's second. I didn't realize it was his first 450 podium. That's awesome. I think it's a testament to a lot of people that if you just don't give up and try not to carry that weight around with you all week—which is really tough to do, because I did it for eight years—I think it's great. She didn't like me much more.
Marvin, did your wife like you more after winning Monster Cup this year?
Musquin: That's not fair, she said. No, I don't know what to say.
Two questions for Marvin. First, you were fast earlier today in qualifying, led from the start, 29-second margin of victory. How big is this win for you from that standpoint? You were kind of dominating today.
Musquin: To be honest, I've been waiting for that win for a long time. Last one is Anaheim 1, and I felt like I was riding better and better after I got that dislocated shoulder in Houston. I was getting better and better. I thought Daytona was going to be a good main, until I crashed. That's racing. Like I said, I feel like I'm definitely capable of winning, but you got to put everything together and that's not easy. Then today it was good. To be honest, we got the bike better this weekend, and that last practice, I know the track was better because they fixed it, but I was riding really smooth. I was the fastest by a little bit, too, so I was really happy. I just needed a good start and raced my own race. That was awesome. Obviously, you can say Tomac crashed, but he was still behind me and I was ready for a battle. That's a bummer for the fans to see that, but I'll take it. I was up there and riding my own race. To be honest, when Tomac went down after that, it was a big gap. It's hard to keep pushing, but at the same time, you don't want to make mistakes. I played it safe until the end.
You alluded to it a little bit, but after Tomac crashed and you realized it, what was going through your mind for the rest of the race?
Musquin: I was like, okay, now I'm leading by a lot, but it's still a long race. When he went down, then I had a big gap and I was like, okay, now you're leading by a lot, but it's not finished. You still have maybe over ten minutes to go, and that's a long main and a lot of laps. It was not easy, but in my head, I'm like, why it has to be so easy to win sometimes? To be honest, sometimes you fight so hard for second or third, and sometimes you win like tonight with such a big lead. It happened to me quite a bit back in 250s, and sometimes also in the 450. My first win in Dallas last year was just one of the easiest mains ever. It doesn't happen all the time, so we'll take it today.
All three of you, obviously you guys are going to ride whatever track is built, whatever track is in front of you, but for you guys, the track changed fairly decently between your first qualifying and your second qualifying. How did that kind of adjust your specific lap and race for you?
Brayton: We kind of knew the track was going to break down quite a bit, but I honestly think the track crew did an awesome job today. They really took the time to make it good. Even before the main event, I thought the track was really good. We could race it from lap one. It was just when we do that many laps, 27 laps, St. Louis last week and Indy here, just 27 laps with 22 450s on the track is just never going to hold up, especially with dirt like this. But I think they did a great job, so hats off to them.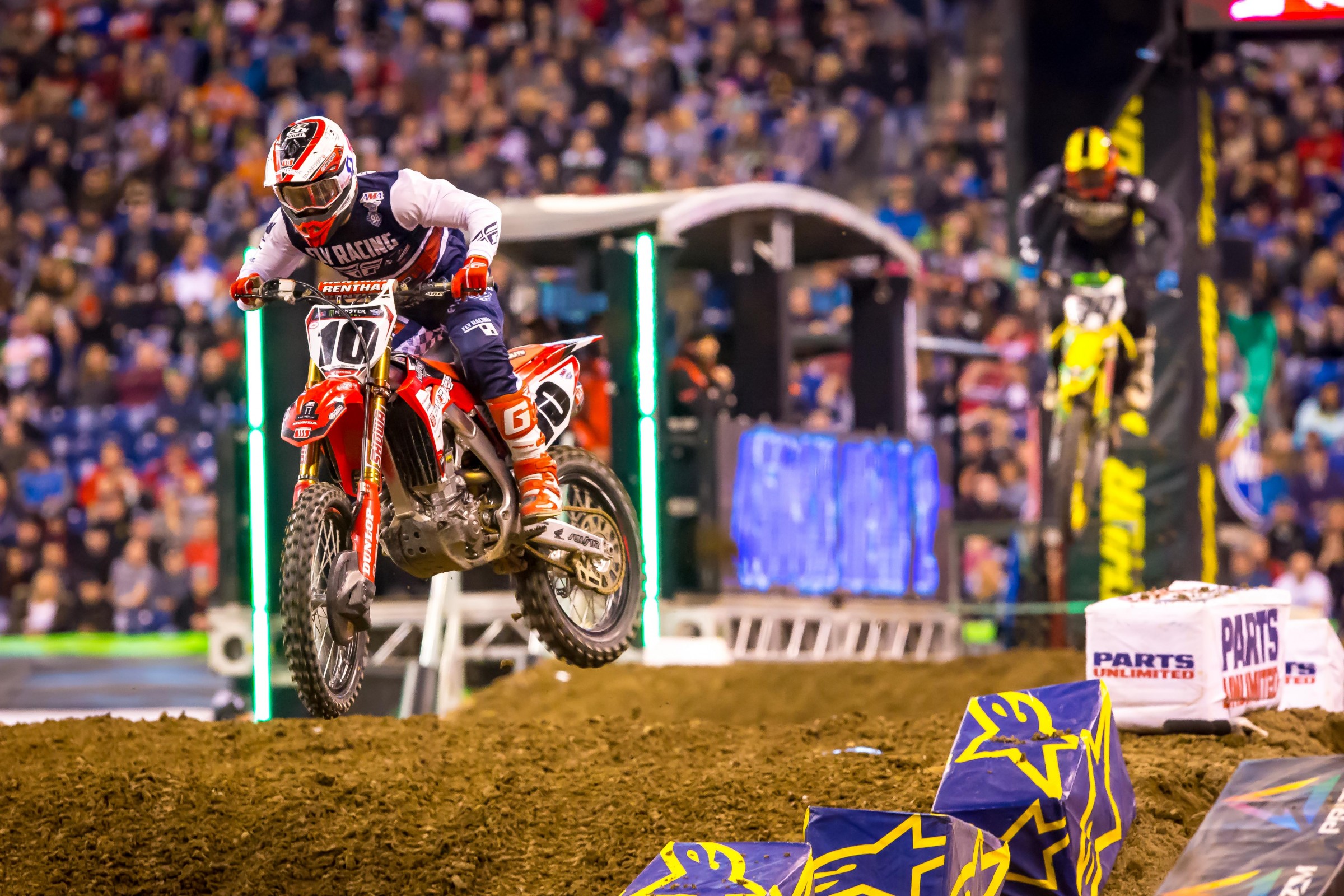 They kind of leveled the jump before and the berm before….
Brayton: Yeah, someone broke the net. That actually changed the whole turn. We ended up going double single to the inside. So that kind of changed the way we raced that whole turn.
Musquin: Like Justin said, they did a really good job, and I talked to them after the main and I really thanked them for their work, because some of the jumps, yeah, the finish line jump but also the big triple, if you leave all the ruts on the first few laps when everybody is together, is can be really dangerous. It's really good that they fixed that. It makes it safer for all of us. They're not going to rebuild the whole track, but some of the jumps, you can't leave all the ruts because they're not as big as a big triple or finish-line jump. I think we're lucky to have those guys. They put in a lot of work, even in between main events and heat races. Make the track safer and better for racing.
Wilson: I think Dirt Wurx did an awesome job. Going into this race, you know it's going to be soft and rutty. What was actually kind of interesting to me was, when I walked the track, the whoops were almost like they were built backwards. They were quite flat, but they were still super tricky in the main. You tried to ride the main rut in the middle and it's like a balance beam. Then the other side is little kickers. I thought it was cool that they didn't just build some gnarly whoops and then they would have just been super sketchy. I think they did a great job. They put the time in. It's just a track that gets rutty, and they did the best with what they had. So, thanks to those guys.
Marvin, you've been a top-five machine for the last two months, but we hadn't seen you get a victory since Anaheim 1. Does that make this one a little more special to you to finally kind of get over the hump when you've been so close?
Musquin: For sure. It feels great. Like I said earlier, I've been waiting for that one. The other guys have been riding really well. You got to put everything together, a start and the 20-minute main event. It's tough. The competition is tough. Everybody's working hard. It's been a crazy season. To win the opening round and to get an injury after that—mentally and physically, it's tough. Never give up. We try our best every time. That's all I can do. To be honest, today I knew it was going to be good, but obviously you never know what can happen. But I put everything together and today was the day. Looking forward to two weeks.
With how strong you've been for the last two months, you look over the season, that's got to be great for your confidence. Does that almost make this season give you kind of a "what could have been" feeling going through it?
Musquin: We can always say that. If you look back at last year outdoors, it's the same. Winning a lot at the end, but it was too late. Came up short in the championship. This season has been crazy. A lot of guys got injured. I got injured the second round and I was far back in the championship, and then I came back, other guys got injured. I know it can be easy to say other guys got injured, that's why I came back so good in the championship in second place, but it happened to me at the beginning, also. Right now, I'm feeling really, really good. I show it on the track. You can always look back at every single main event, I could have done that or this or that, but I don't want that. I have more experience now. I look forward. Like a race like Daytona, it was really hard to swallow, but the next day I put that behind me and I looked forward. Go back to work on Monday. I've been doing really well, so I'm happy.