Indianapolis, IN
Indianapolis
Monster Energy AMA Supercross Championship
Racer X: Luke, congratulations. A couple weeks back, I had a chance to talk to you before the race and you said that consistency wasn't really an issue, but you were pretty frustrated. You were looking for a breakout ride but needed a start, and ultimately tonight, that helped. Take us through the rest of the main event. You were up front and held your ground for the entire race.
Renzland: Yeah. It's crazy. At this East/West Shootout [the 250SX East/West Showdown], this is the last place I pictured getting my first podium. All year it's been like between seventh or sixth and tenth. It's, like, mind-numbing, coming off the track knowing that I'm just coming from 18th to seventh again. The last two weeks, actually, I haven't done one lap on my supercross track. I've just really been working on starts. This week we got six hours' worth of starts in. Clutches were smoked. My brain was smoked. But finally, in the main event, I was able to execute exactly what we've been working on, and getting out front was crucial on that track. The way it was breaking down, it was great to get out front and be able to just ride my own lines and kind of try to trail Jeremy [Martin] as much as I could.
Adam, congratulations. Had a couple tough get-offs today in qualifying and practice, and then abandoned that quad jump that you tried earlier.
Adam Cianciarulo: I still tried it in the heat race.
How'd it work out?
Cianciarulo: I framed it.
And then abandoned it.
Cianciarulo: Yeah, I didn't do it in the main.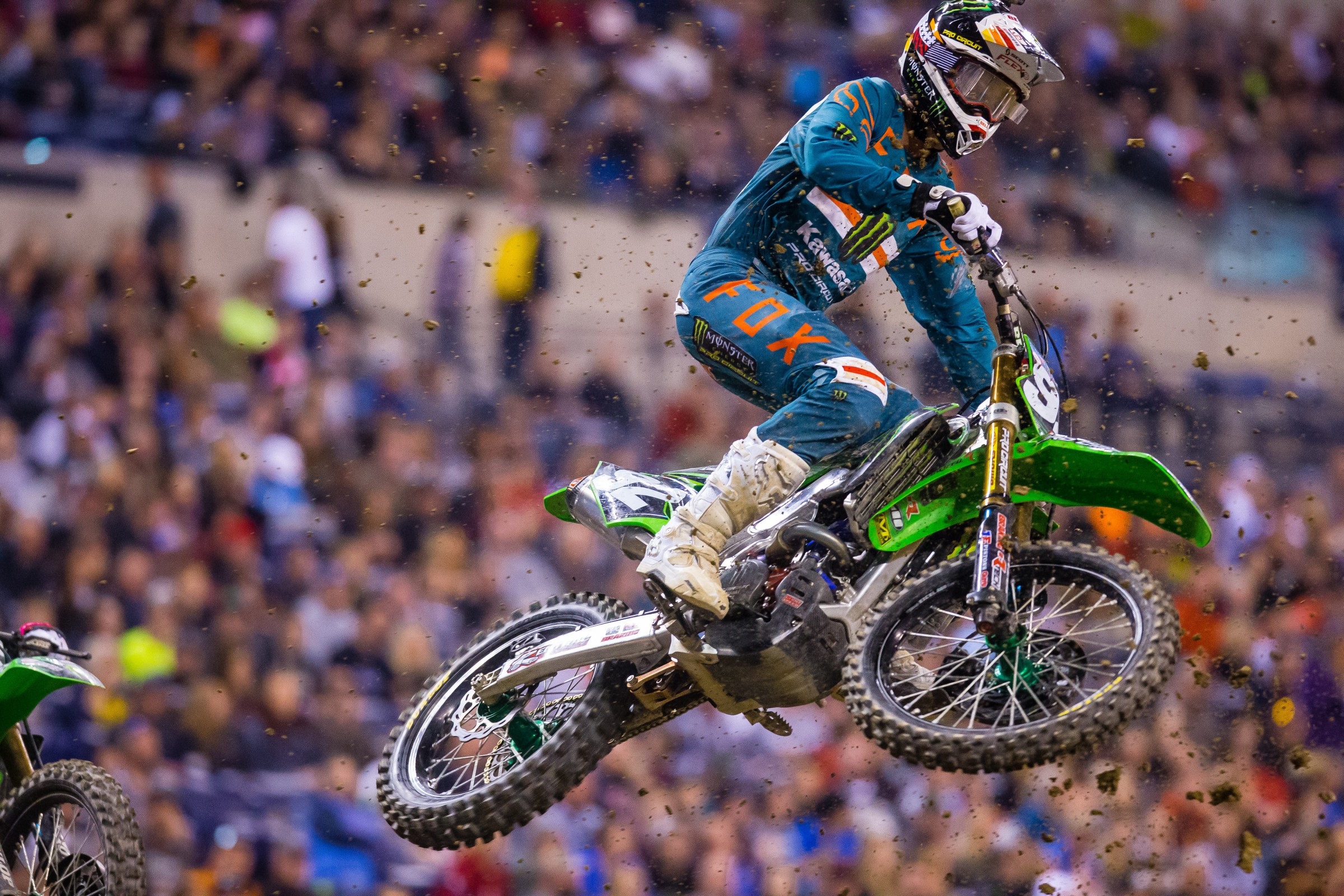 Take us through the main event. I know you had to make some passes and do some work. Just kind of take us through the 15 minutes plus one.
Cianciarulo: It felt like a long time tonight, especially the lap time was so short. For me, I always struggle coming off these races and really remembering what happened. The first couple laps was just kind of a blur to me, honestly. Somebody almost landed on me over that little double before the mechanics' area. I rolled the triple on the first lap. I'm probably five out of seven rounds rolling the triple on the first lap, so that feels good to still be alive. So, after I got through the first lap, I think I was right behind Joey and made a pass on him before the finish line. Especially with these guys in the East/West Shootout, I really wasn't looking too far ahead. I didn't know how many people were ahead of me. I was just focusing on getting the guy that was directly ahead of me. By the time I got behind Jordon Smith, I was in fourth. I kind of realized that. I got around him and just tried to catch Luke and was able to get him at the end. I felt good. It was probably my best ride of the year. Just kind of focused on myself. The start wasn't the best. The first couple laps weren't great, but I think we made the best out of it.
Jeremy, congratulations. With the lap times the way they were, you ended up going 21 laps. For you, you got out front early and pretty much rode by yourself. Just kind of take us through the mental side of things as you're doing lap after lap, and what's going through your mind? Did it get lonely out there? Just take us through how hard it was to kind of stay focused for that many laps.
Jeremy Martin: Yeah, it was like you said, a lot of laps tonight. I got the holeshot and rode good for a little bit. Then I saw the boys behind me. The track was pretty tricky. I'm not going to lie. I had a couple sketchy moments out there. I saw Luke was in second. I kind of looked around. I kind of just was trying to maintain it. I had a couple close calls out there. But we were able to lead from start to finish and have a good race.
Aaron and Zach, you guys both had the issue there on the start and obviously were buried. You knew what was in front of you for the next 15 minutes. Just take us through just the emotions, maybe, that you felt right then and there with the points lead and knowing that you were put in a pretty difficult situation. Aaron, I'll start with you.
Aaron Plessinger: It was kind of like old times, coming back from the back of the pack. I didn't really freak out. I knew if I freaked out, I probably would have went down and did worse than I would have if I didn't. I just tried to keep my composure. I did just that, and it kind of played out in my favor.
Zach Osborne: For me, I felt like I did the best race start I've done all year. Starts have been kind of my vice for a little while now. I went home this week and really focused on the fundamentals and basics of how to do a start. I felt like in the main event, I did a really, really good one, the best one I've done all season, like I said, in the race. To come out dead last after the Tuff Block came in front of me, it sucked. I was pretty bummed. I looked over maybe six or seven minutes into the main and Austin [Forkner] was still seven or eight bikes in front of me. I was like, all right, it's time to grind now. To come back to seventh and have a decent main event was pretty good. I feel like all in all, I salvaged decent and rode okay.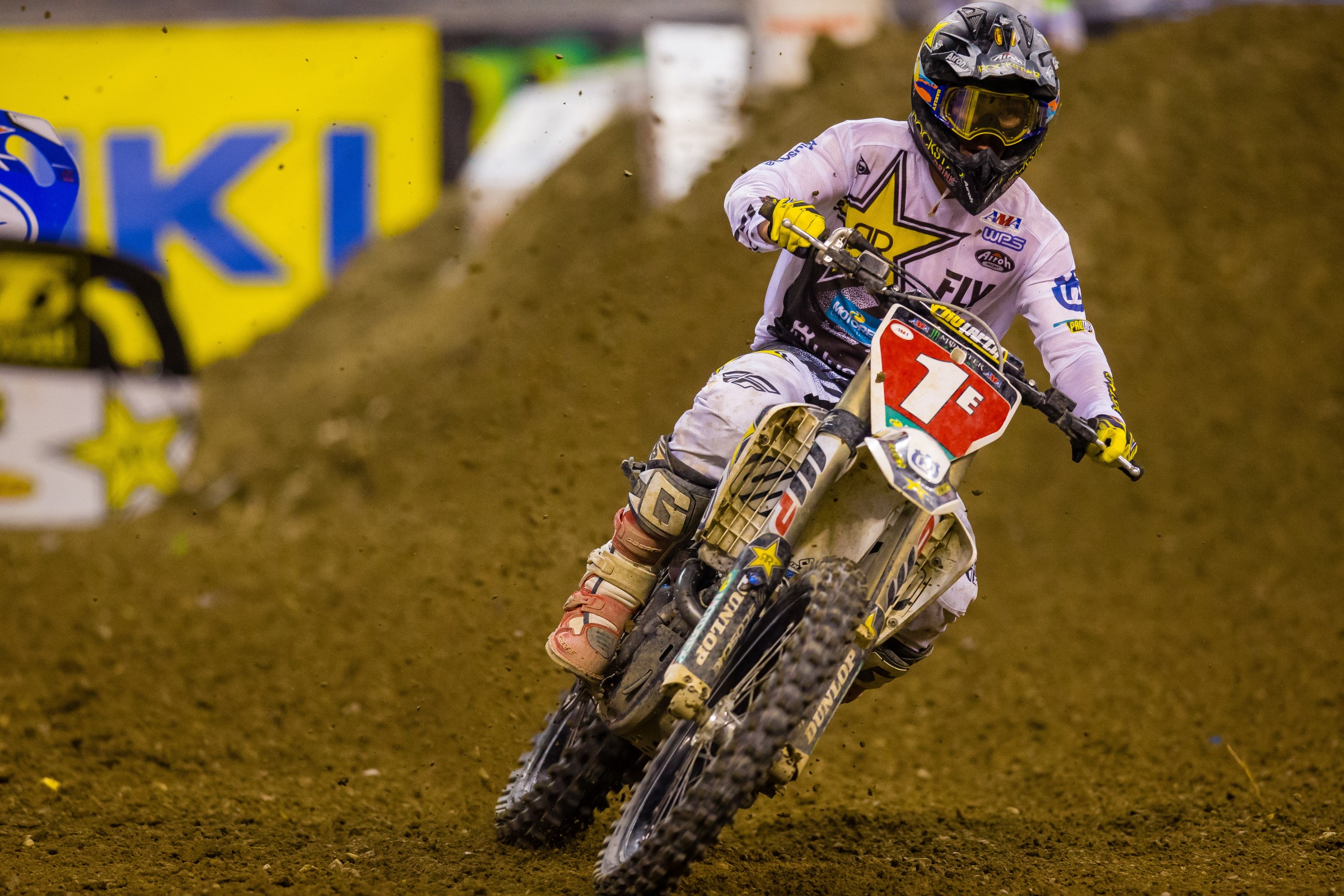 Adam, you know that you pulled that Tuff Block out and you caused all that.
Cianciarulo: Yeah, I know. I think for me, it sucks. The starts, I have to leave my brain in Florida when I come to these things. This whole thing, supercross in general and the first corner and the first couple laps, it's so not me. I have to be a completely different person. If you don't take it in that first corner, which, you don't need to be an idiot, but if you don't take it in the first corner…. Like, Joey was right in front of me. He likes to start outside. He kind of had a bad gate pick, so he started out there. But he really came over a lot. I was braking as hard as I can. I was actually yelling in my helmet at him as loud as I possibly could because I was coming in hot. There was no other way about it. He pushed me into the Tuff Block, and it sucks because, obviously, you get guys like Zach and guys that are fighting for a title. It's tough. Really, when you go out there—and all these guys will tell you the same thing—it's every man for himself. At the time, you just have to make the best decision you can for yourself. I'm not worried about anybody else other than me, really. At the end of the night, I go to bed and nobody else cares about me, so you got to care about yourself when you're out there. Again, not the point where it needs to be dangerous or stupid, but you guys get the point.
Jeremy, I was at the media day on Friday and there was probably fifteen different riders where I noticed you really spent a lot of time walking the track and looking at different sections that day. Can you kind of maybe just say a little bit about what you were looking at?
Martin: Just checking out that track. It was good. Felt pretty good in press and then completely yard-saled into a Toyota tuff block. Bent my shifter all the way back and my subframe was tweaked. I was like, oh, cool, great day at press. But it was good. We were all checking the track out, just seeing what's going on. Just trying to get comfy.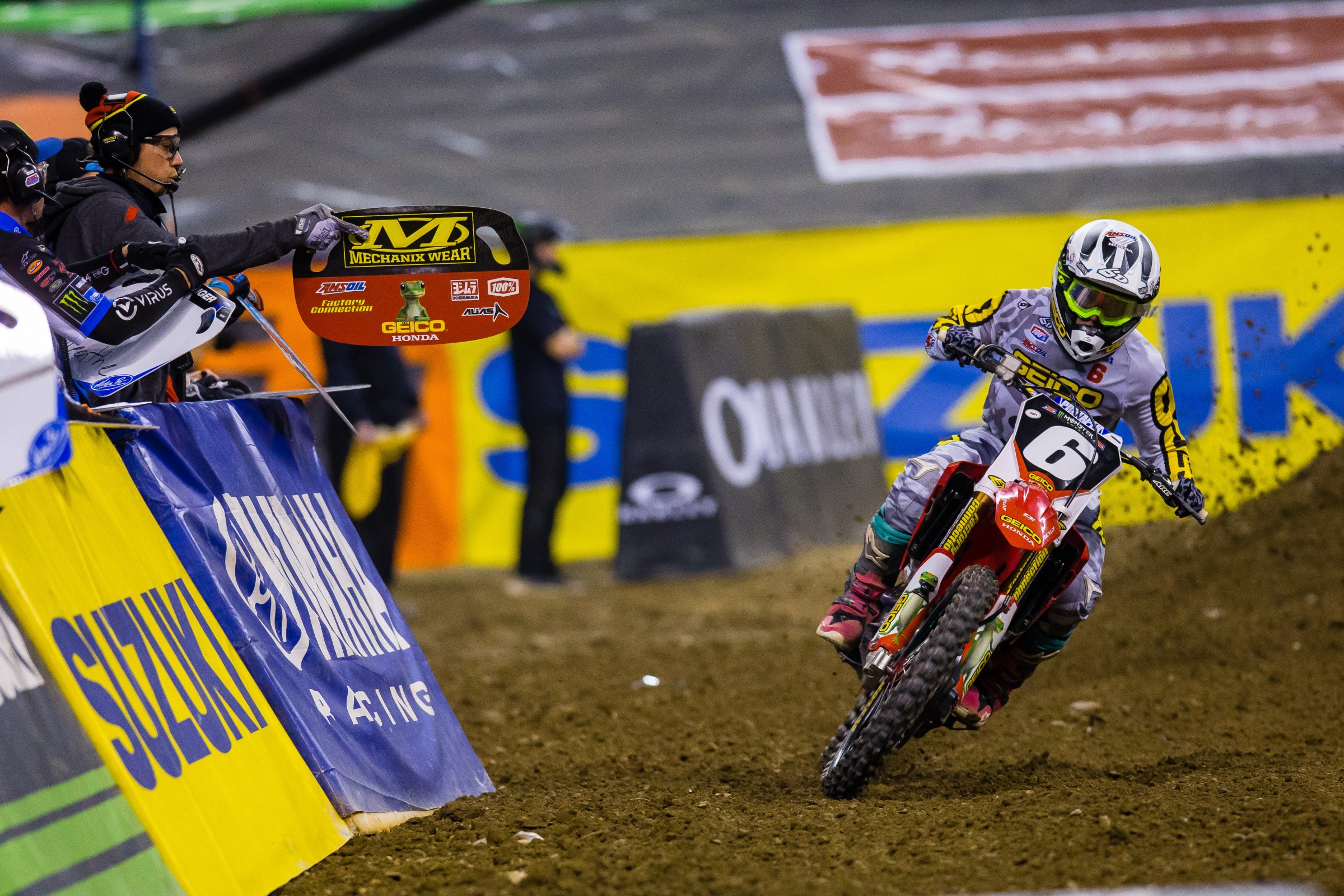 Jeremy, I saw when there was the medical flag, the red cross flag on the triple, you did a single double, and typically you have to roll all of them. Can you talk a little bit about what you were thinking, and perhaps what the appropriate penalty should be? In the past, it's been docked positions.
Martin: I don't know what the outcome of it is right now, to be honest. From my perspective, I came around the turn and I didn't see the medic flag waving. I saw the lights on the triple. I'm like, I think those are red. So, I rolled the face of it, and then I looked and saw that the area was clear and there was no medic flags after that, and then I doubled it. It was an honest mistake. There's not much to say other than that. We'll see what the outcome is. [Note: Martin was docked seven championship points, but will keep the win.]
Luke, for that ride that you just put in right now, you've never been in that position before to have the entire field chasing you for that long. What did you do to stay comfortable out there? Because you put off a lot of charges, had a steady gap and never really seemed to make a lot of critical mistakes.
Renzland: Honestly, for it being my first time in that position, it felt pretty calm out there. Jeremy had a little bit of a lead right away because I had to get around [Anthony] Rodriguez off the gate. So, it took me a couple laps to get a pass in on him. By then, Jeremy already had a pretty good gap. I had a little bit of a gap from him to me. I think I had a little bit of a cushion behind me as well. Honestly, it kind of felt more like just riding laps back home. I felt really comfortable, more comfortable than I thought I would feel in that position. I've always enjoyed when the tracks break down. It's something that I feel really comfortable with. I just really felt like I was in my element. I was gelling. Honestly the last two laps were the worst for me. I couldn't stop the shakes, just knowing that the podium was within grasp. The last two laps felt like forever, but before that, I felt in my element for sure.
Aaron, before the parade lap, the gate drops and you sit there. What's going on with the bike, and also what was going on with your heart rate?
Plessinger: I actually don't know what was going on with the bike. All I know is, I thought I shifted into gear and it felt like I was in neutral. Then I downshifted to first and the bike wouldn't go. I'm not really sure what was going on with the bike. I kind of kept myself from freaking out. I just said, if they fix it, they fix it. If they don't, they don't. It's kind of out of my power. I don't want to get all worked up over something that I can't control.
It looked like you kept real loose and smiling.
Plessinger: I didn't want to tighten up and freak myself out, so I just kept calm and kept a smile on my face.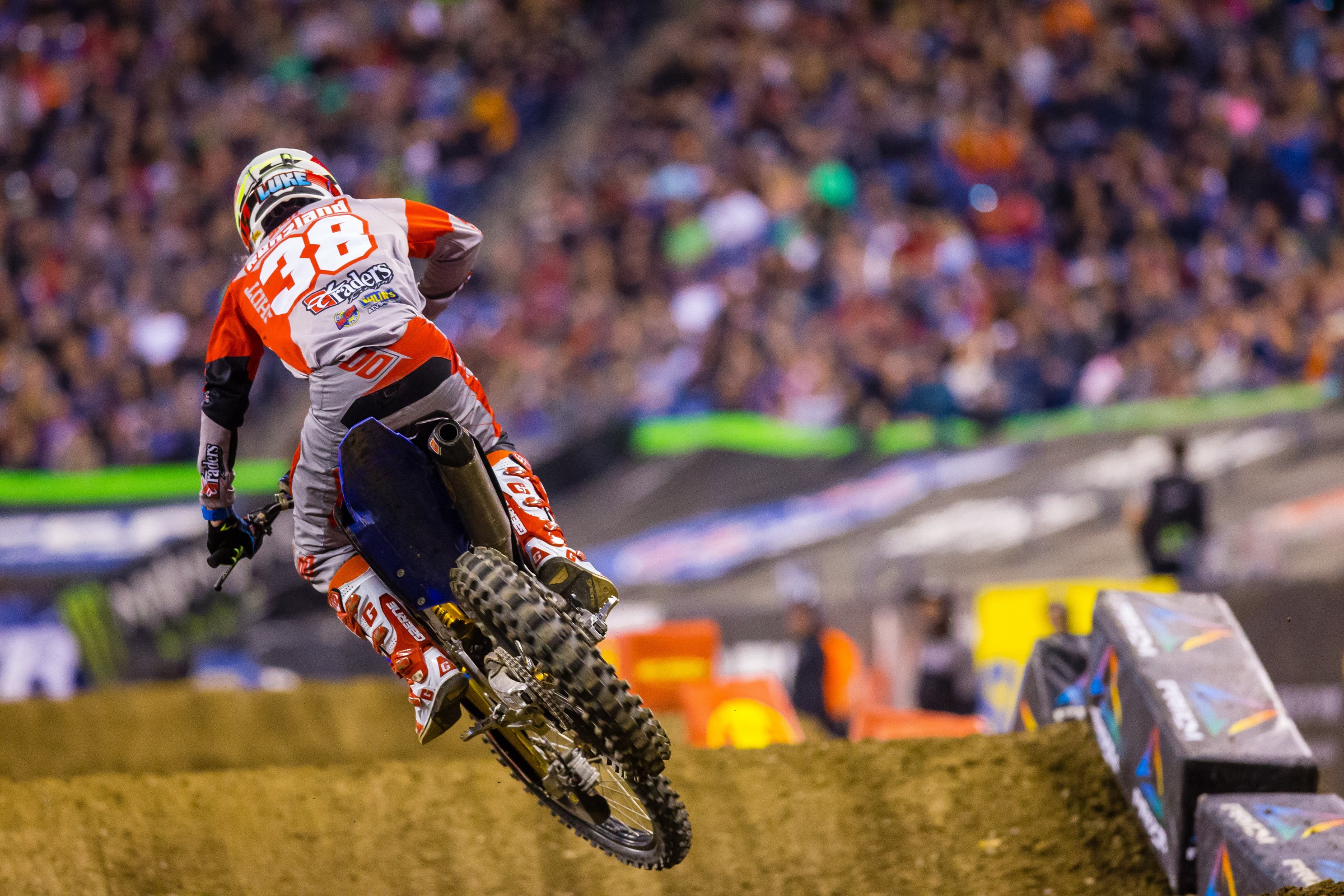 All five, what did you guys think of the Shootout in the middle of the season, and would you like to see more, zero?
Osborne: I think it should be a 17-round series. The racing in the Lites class is as good as any. There's a lot of teams on a high level now that can make it happen. There's no reason for us to not all get to race each other every weekend.
Cianciarulo: I did well this weekend. I did well at all the other East/West Shootouts I did. I'm with Zach. Let's just run 17 of them. No, but for real, I think it's good for the fans. It's so stacked. I know we had some injuries. Especially on the East Coast, there are a few guys that are missing just in recent weeks. I think all in all, when you put us all together, it's world-class talent. Obviously, the 450 is the premiere class and it's the main attraction, but I definitely think we give those guys a show.
Renzland: Obviously I enjoyed it, for sure. No complaints here. I thought it was a little funky to have the West guys come off of such a long break into it. I think maybe that could be change a little bit, just to give them a little bit more of a comfortable feel coming back into it. I think it was cool doing it in Indianapolis, one of the gnarliest tracks every year. Put some bad dudes on one of the baddest tracks and see what everyone has. I enjoyed it. I think it should happen more often.
Plessinger: I liked it. It was definitely a change. I liked racing these guys. It was fun. It was pretty cool. This is my home race, so I wish I could have done a little better….
Cianciarulo: You have the points lead.
Plessinger: Yeah, so I can't complain about that. I thought it was fun. I think more in the future would be pretty cool.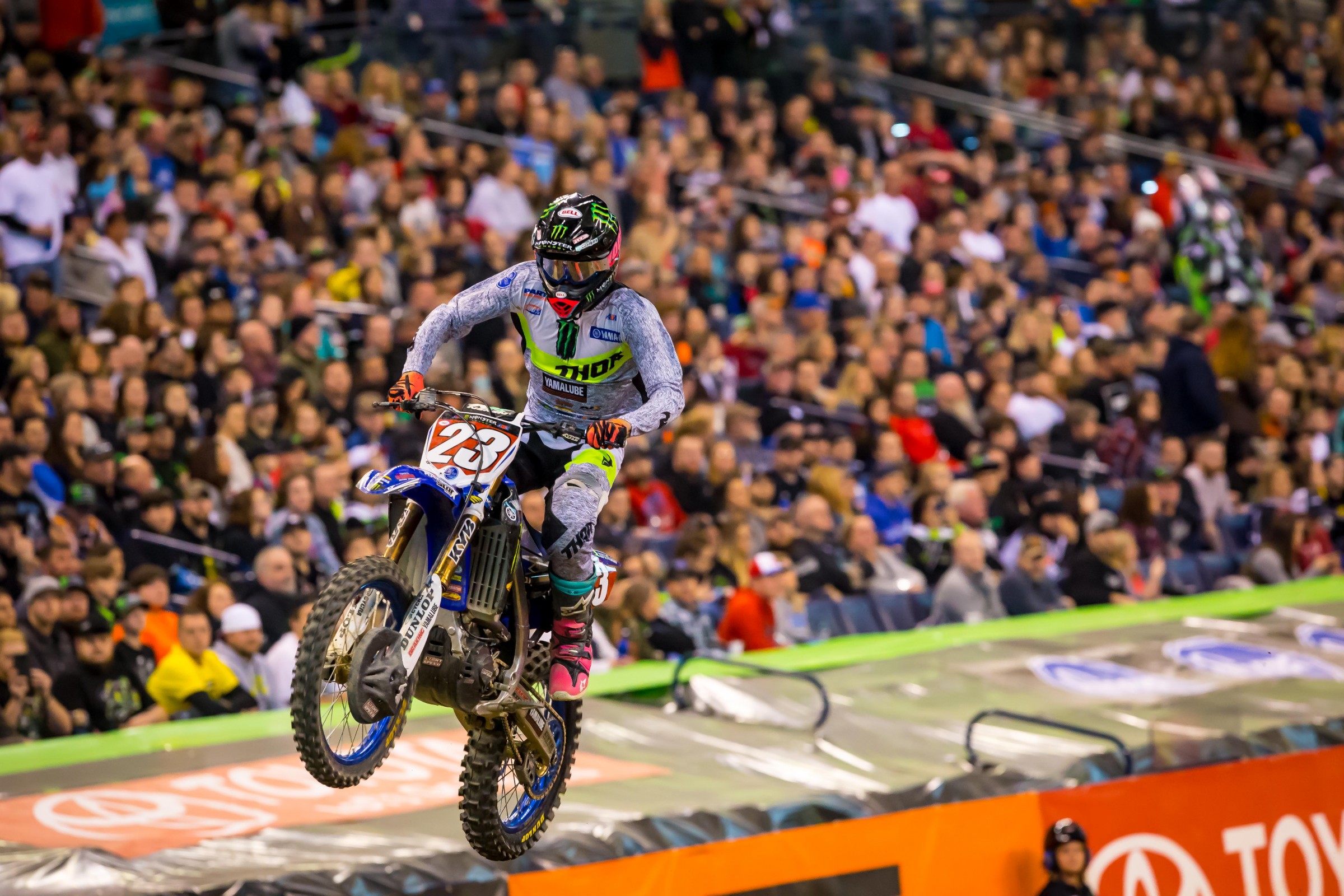 Martin: I mean, I did get the win tonight. But I think it's cool, but there's been a lot of change this year in this series, I'm sure you guys can agree. This is when you grow up you dream to be a professional supercross racer and a professional outdoor racer, and I think that there's a lot of change. It's cool in the past because we've done the East and the West Shootout in Vegas, and it's kind of been a last race of the year deal, kind of all the marbles, let's have fun. But we're in a series, and it would be kind of cool to see, like, if we're going to do it, then we should do it the whole year. That's kind of what I think. I get that there's a trial and error period, but we've done, like, a Triple Crown. The East Coast does nine races or whatever, and the West Coast does one more round. So, to me, that's a little bit different. But I understand that sometimes change and it's good for the fans and stuff, but I think in the future, it should be kind of ironed out. Like the 450 guys, it's 17 rounds. It's professional. You know what you're going to get. I'm not trying to complain.
Plessinger: I can vibe with that for sure because, I think from a fan perspective, throwing these races in here, even with our championships combined, it's just creating chaos. So, if I'm a fan, I'm absolutely loving it. I was a little bit down on points coming in, still am. Eighteen down, so I was coming in like, this is the perfect opportunity. Get a start, maybe nothing bad happens to Aaron, but maybe he gets eighth, ninth, make up some points. That would feel good. I think it's chaotic and it's good for the fans, but from a rider's perspective, it is a little bit crazy just to throw in two rounds and be like, all right, boys, go for it. Actually, I want to bring this up real quick. I was battling with Forkner there in the first couple laps and I'm like, man, this guy is in a championship battle and he had some serious intensity. I'm like, I am in a championship battle, but I'm like 18 down. I kind of felt a little bit bad. That was my perspective.