Indianapolis, IN
Indianapolis
Monster Energy AMA Supercross Championship
Odds were in favor of unpredictable results as Monster Energy AMA Supercross trudged into snowy downtown Indianapolis for round 12 of the championship and the first of two East/West Showdowns. But even Nostradamus himself would have missed the mark on what went down tonight.
All eyes were on the 250 class as Indianapolis combined the East and West Regions, the latter having been off since February. Meanwhile, the East was coming off five consecutive races. The soft, rutty dirt was expected to favor West Region points leader Aaron Plessinger, who grew up riding GNCC in nearby Ohio, and is a past winner here. And with a start, it may have been his night again. We'll never know, as Plessinger and East Region points leader Zach Osborne were buried at the end of the field after terrible starts (Osborne clipped a Tuff Block off the start) and had to fight tooth and nail just to salvage championship points. More on that later.
Up front is where the unpredictability started, as Anthony Rodriguez and Luke Renzland ran two-three behind early leader Jeremy Martin. Rodriguez would eventually come back to Earth and finished 15th. As for Renzland, well, he never did. The Traders Racing Yamaha rider held strong in second until the final lap when he relinquished the spot a charging Adam Cianciarulo. Nevertheless, Renzland rode amazing to claim his first career podium.
"It's crazy, this East/West Shootout is the last place I pictured getting my first podium," Renzland said in the post-race press conference. "The last few weeks I actually haven't done one lap on my supercross track. I've really just been working on my starts. This week I got six hours worth of starts in."
Needless to say, the work paid huge dividends for Renzland in Indy.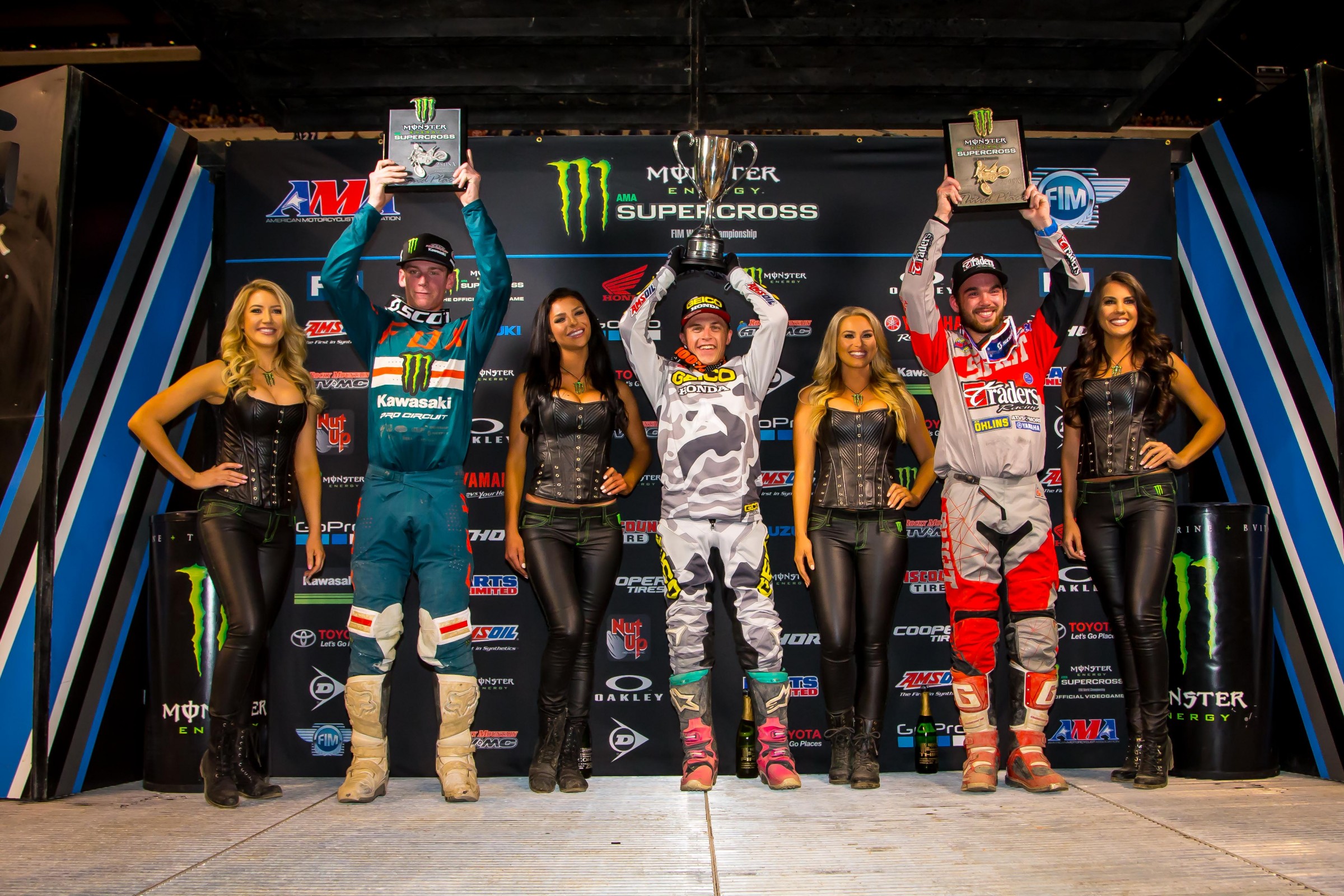 Jeremy Martin rode flawless up front, leading all 21 laps en route to his first win of 2018. But, even that didn't come without controversy. Martin was protested after the race for jumping on a red cross flag. The AMA ruled that he will keep the win, but determined he would be docked seven points. Instead of getting 26 points for the win, Martin will get 19. Prior to the ruling being announced, Martin was asked what he thought should happen in the press conference:
"From my perspective, I came out of the turn, and I didn't see the medic flag waving," he said. "I saw the lights on the triple, and I was like 'I think those are red.' So I rolled the face of it and then I looked at saw the area was clear and no medic flags after that and then I doubled it. It was an honest mistake."
So, essentially, Martin will go down as the winner in the record books, but won't get the max points. At this time, the official AMA results still show Adam Cianciarulo receiving second place points, not first.
Back to the points leaders. They rounded the first lap 21st (Osborne) and 17th (Plessinger) respectively. To make matters worse, they were facing a ton of great riders, with the East/West combined format.
"It was kind of like old times, coming from the back of pack," Plessinger said post-race. "I didn't really freak out. I knew if I freaked out, I probably would have went down and done worse. I just tried to keep my composure and I did just that and it played out in my favor."
With his fifth-place finish, Plessinger actually picked up points on Joey Savatgy, who entered the race second in points. Savatgy had a tough night, as he went down prior the first rhythm in the main and finished tenth. Plessinger leaves Indy nine points clear of Savatgy and 12 ahead of Cianciarulo, as the series heads into Easter break before returning in Seattle.
As for Osborne, he limited the damage as well, working all the way back to seventh, just one spot behind title rival Austin Forkner. Osborne lost just one point after starting dead last.
"I felt like I did the best race start I've done all year," Osborne said. "I went home this week and really focused on fundamentals and basics of how to do a start and I felt like I put in a really, really good one. To come out dead last after the Tuff Block came out in front of me, it sucked. I was pretty bummed. I looked over and Austin was still six or seven bikes in front of me, and I was like 'all right, it's time to grind now.'"
Troy Lee Designs/Red Bull KTM's Jordon Smith wasn't able to take full advantage of Osborne's bad start either. Smith finished fourth and picked up just three points on Osborne. He is ten back entering the break. The East Region returns in Minneapolis on April 14.
The 450 Class wasn't immune to the unpredictability, even with Marvin Musquin's win. The drama started early, as a first turn pileup claimed points leader Jason Anderson, Blake Baggett, Cooper Webb, and Tyler Bowers. Up front, Anderson's title rivals Marvin Musquin and Eli Tomac were running one-two and a heavyweight showdown was in the works.
And we got it for 12 laps, as Musquin and Tomac were separated by seconds. Tomac would push and close, then Musquin would respond and pull a little gap. The gap never reached more than a second or two, though, and it appeared it would come down to the wire. It didn't. Tomac came up short trying to quad in the first rhythm and crashed hard. He walked off the side of the track and sat on a Tuff Block before rejoining the race. He finished a disappointing 15th.
Musquin's lead quickly ballooned to more than 20 seconds and he cruised to his first win since Anaheim 1.
"To be honest, I've been waiting for that win for a long time," Musquin said. "I felt like I've been riding better and better after I got that dislocated shoulder in Houston. I thought Daytona was going to be a good main until I crashed. I feel like I'm definitely capable of winning, but that's not easy."
With Tomac out, the final podium spot would be decided between Dean Wilson, Broc Tickle, and Justin Brayton. Wilson held second for four laps after Tomac went down before Tickle, who had already gotten around Brayton, made the pass. A few laps later Tickle went down, but was able to get up quickly and held onto second. His crash allowed Wilson to close up and the two went through the whoops side-by-side. When they exited, Wilson came in hot in the corner and took Tickle down.
"That was unfortunate. Kind of a stupid thing on my part," Wilson said after the race. "We all make mistakes and I think that was one of them. I came in through the whoops, my arms were kind of tight and I didn't expect him to cut down super hard because there was a lapper there and I just cleaned him out. It's unfortunate and I'll talk to him later on once he's cooled down. If the roles were reversed, I'd be mad to."
After the incident, Wilson's night was long from being over. He still had to deal with Brayton over the last few laps. Brayton closed late but wasn't able to make anything stick. Wilson would hold on for second, his first career podium in 450SX.
"It's been tough, because we worked really hard this off-season and then to crash out at Anaheim 1 was just such an upset," Wilson said. "Trying to come back and ride injured—I still feel like I'm still riding injured a little bit. It's just so hard to heal up. The 450 series is every single weekend and you're still training and riding… it's just been tough."
What else is there to stay about Justin Brayton's recent streak? The 34-year-old is riding the best of his career, and despite not riding much since prior to Daytona due to illness, he's gone 4-1-4-3 over the last four rounds and is third in points. Brayton has credited his success to finding a good balance between the races and home life and said he's having a blast this year and doesn't plan on hanging it up anytime soon. He said he'd like to race at least two more years.
"Going into this year, all my contracts were up at the end of the year, and I was kind of like 'Look, if I'm enjoying it, I'm going to keep going; if not, we'll see what happens," Brayton said. "As of now, I don't really see an end in sight. I think I'll probably commit to another two years and go from there."
Points leader Jason Anderson limited the damage after his first turn pileup, as he charged back to a fourth-place finish.
"My weekend turned out to be good," Anderson said in a team statement. "I went into the pileup in the first turn in the main event, but I worked as hard as I could to make it to fourth. It was good."
Anderson enters the break with a 35-point lead over Musquin.