Last week, Alta Motors invited us to Perris Raceway and gave us an introduction to their 2018 Redshift MX and all-new Redshift MXR. The MX is a slightly improved version of the 2017 model and the MXR is their new premiere line bike. The motor is the same as last year, but they've found a way to squeeze some more power out of it. The MX has improved to 42 horsepower (compared to 40 from last year's model), with the MXR at 50 horsepower. From fully empty, the new MXR will charge in 1.5 hours with their new "R Charger."
What is the difference from the MX to the MXR? About 20 percent of the parts are, in fact, different. The major differences? The MXR has a new battery that produces half the amount of heat and has improved re-charge speed, it's lighter, has upgraded suspension and linkage, has different tires, and the seat cover has more grip. People were complaining their boots were catching on the frame guard while riding, so they've improved the ergonomics to prevent that, too.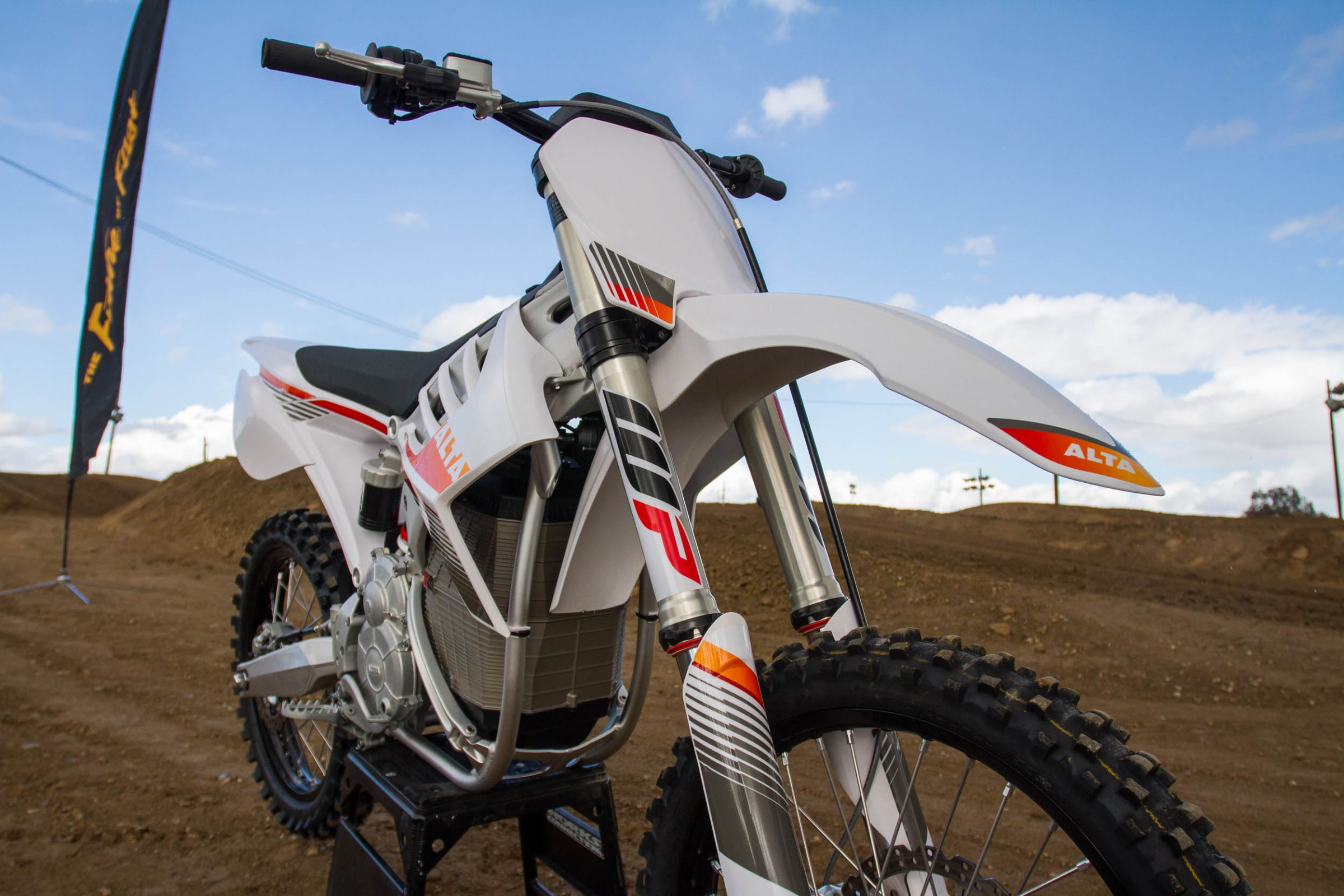 I spoke with Alta's chief technology officer and co-founder Derek Dorresteyn and he said what they're most excited about with their 2018 bikes is the price. They've dropped the former $14,995 price tag by several thousand dollars. Go here for a full break down on price reductions.
Alta is working on their homologation status with the AMA and do want to race professional motocross and supercross. They are authorized in professional EnduroCross, but are still declared an open class amateur bike for motocross and supercross. They have competed in Red Bull Straight Rhythm for the past two years and someone raced one in the amateur supercross this year—Alta definitely wants to do more.
They also just announced their partnership with Harley-Davidson. Be on the lookout for a contingency program from Alta soon.
See the full breakdown below:
| | | |
| --- | --- | --- |
| Model | MX | MXR |
| Price | $10,995 | $11,995 |
| Horsepower | 42 horsepower | 50 horsepower |
| Top Speed (mph) | 65 | 65 |
| Front Tire | Bridgestone Battlecross X30 | Dunlop Geomax MX3SF 80/100-21 |
| Rear Tire | Bridgestone Battlecross X30 | Dunlop Geomax MX3SF 100/90-19 |
| Front Fork | WP 4CS | WP AER 48 |
| Rear Shock | WP 5018-Link | WP 2018 Alta Custom Spec |
| Weight (lb) | 265 | 259 |
| Wheelbase (in) | 57.5 | 58.562 |
| Seat Height (in) | 37 | 37.5 |
I'm still on the mend from a big shoulder injury and haven't been riding, but I've been waiting for an opportunity to try out the Alta, so I didn't want to miss my chance. I geared up and spun a few laps for the first time on an electric motorcycle. All in all, I was definitely impressed.
One thing that was weird to me at first was the lack of gears. I found myself reaching for the shift lever to downshift going into corners out of habit, but after about three laps, I got used to it. Although I was only riding at about 50 percent effort on the vet track, I can definitely say it was the least tired I ever got from riding. I typically ride a two-stroke, so not having to clutch and shift and keep it on the pipe required way less energy to ride and was less to think about. I was able to focus more on body position while cornering, and the instant power was really nice.
Without the engine noise drowning everything else out, it was a bit strange being able to hear the tires, chain slap, roost hitting the fender, and rocks bouncing off. However, I do like not having to turn off a bike or scream to talk to someone. The length of time that you can ride was the biggest downside, along with the recharge times. While our bike was charging, I borrowed Transworld Motocross' bike and did 12 or so laps and the bike's battery was already halfway depleted—sorry, Transworld. They say that you can get about 25 minutes on an outdoor-style track, about an hour doing backyard motos, and about four hours in single track and woods riding.
All in all, I think the Alta is great. You can watch the video below to see what David Pingree (who was also at the Alta ride day) thought about it.