Atlanta, GA
Atlanta
Monster Energy AMA Supercross Championship
Racer X: At the triple crown in Anaheim, the track was fairly simple. The dirt was pretty solid. It didn't change too much throughout the night, but tonight it seemed like every main event was almost a completely different style of track. Take us through those main events and how it changed and how maybe that affected the outcome tonight.
Marvin Musquin: Everybody knows that here in Atlanta we have really, really good dirt. It develops a lot of ruts. To do three main events like that, it was definitely a crazy track for that. We made it through. We've seen unfortunately a lot of crashes, especially off that big triple. There were some sections on the track where it was really sketchy. You really had to be really precise, on point, and safe. I'm glad I ended up on a good note in the last moto. Going three main events like that, especially on the last moto, we had a sighting lap and you could see the track was really, really rough. But I'm glad I made it.
Jason Anderson: The West Coast one, obviously Anaheim, I think the track was a little bit more simple. I think the racing was harder in a sense to where a lot of the other guys were just as fast as us, so it made it if you got a bad start, it was so hard to pass some of the guys because the track was a little bit more simple and dry. Tonight I think the other element that we had was the track just broke down. It was so rutted. I think that last moto it was pretty insane. The far rhythm section was sketchy and the whole track in general. It was crazy how much it broke down, but it was a true East Coast track for sure.
Eli Tomac: I'm with these guys. It just broke down a little bit more each race. For us, we didn't quite get the starts tonight to be competitive. That fifth really hurt us in that first moto there. That was a little bit of a bummer. But it's racing. Just glad to get through it healthy. The three starts with all of us out there is pretty gnarly. Just like I said, glad to get through it.
Could you guys just talk about that first race? It was crazy. You guys were passing each other almost every lap. Justin Brayton ended up winning. Just give me the perspective, all three of you, of what was going on in that first race? Because it looked like about six guys could win.
Anderson: I started behind Brayton and Christian [Craig]. I felt like for me I was playing defensive and trying to pass them at the same time because I had three of the fastest guys that I've been racing against—Eli, Marv and [Blake] Baggett. They want to get by me and pass those two and I want to pass the guys in front of me, but the track was a little bit like heat race-smooth. It's harder to pass them because I feel like they were riding good and attacking the track just as good as we were behind them.
Musquin: I wasn't part of the battle in the first moto. I didn't get a good start. But at one point I was by myself and then I was able to catch the group, but it was not enough. I got Craig, but then I was behind Baggett and ended up fourth. It was a little bit of a bummer because the battle up front, I felt like I had really good speed but it was too late for me to get those guys.
Tomac: I got close to that second-place pack and I made a good run one time up the whoops, but then just like I went backwards. I missed the triple in that next rhythm section and then Marv got by me. At one point I was in a really good spot and then I just got shot off the back and got a little bit tight. It didn't go the way I want it to go, but it's racing.
Jason, congratulations on giving Husqvarna their first win in Atlanta. You've now won the first race in the Mercedes Benz Stadium. Fifty-eight starts, seven wins. You're tied with Jeff Emig, Johnny O'Mara, and David Vuillemin. You got the red plate. You're the only racer to be in the top four the whole year. What's your program and just consistency that has come into your racing this year?
Anderson: As far as my program, absolutely nothing has changed. I've always believed in what we've done. I think the biggest thing for me right now is obviously my starts are better. I'm putting myself in a better situation. I think it's just experience. It's my fourth year in the class and I think I've learned a lot and somewhat progressed with the way my race craft is and just putting myself in better situations. I think that's about it.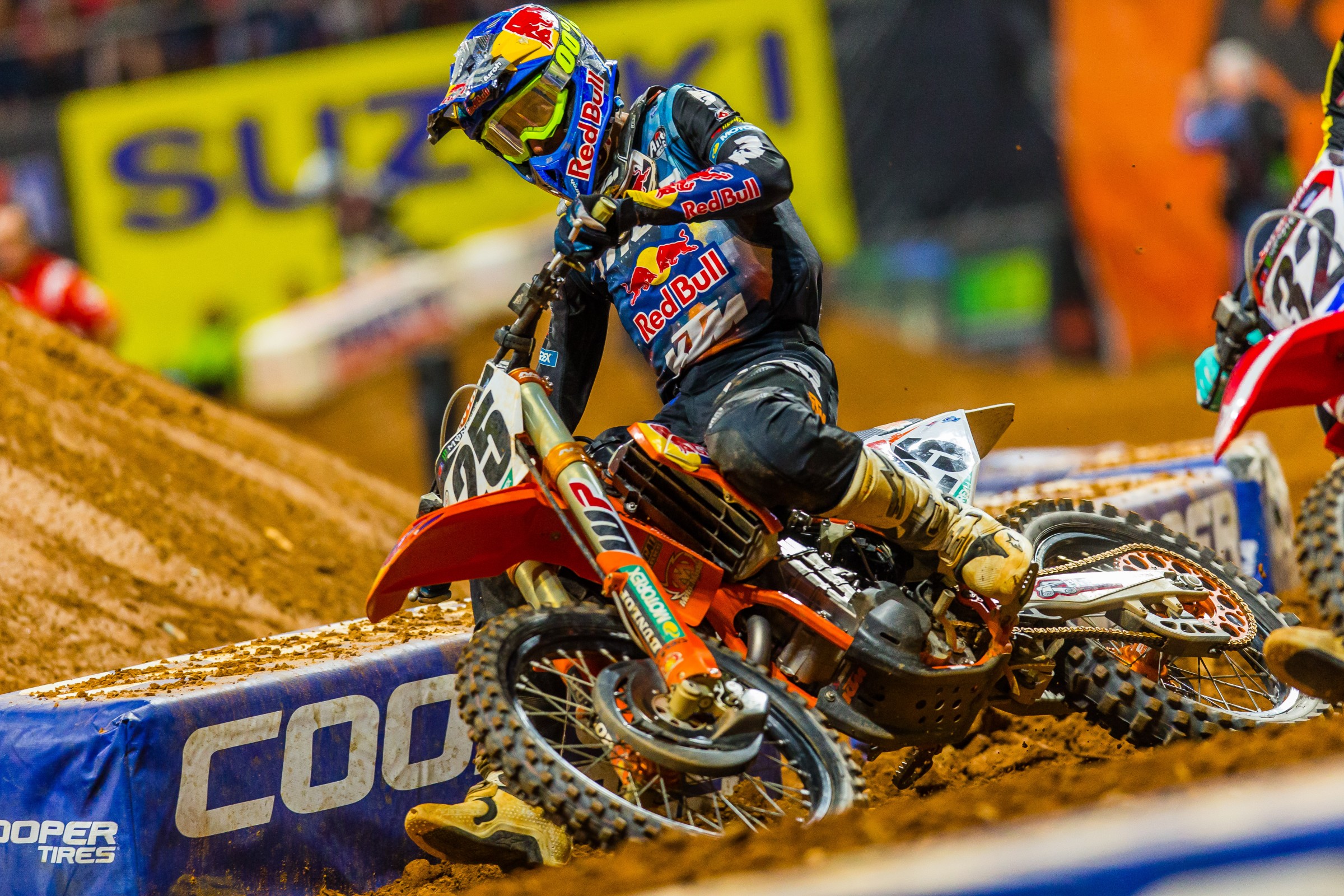 Eli, the one line that you had pretty much in your back pocket all day was that three, three in the one rhythm section. Where did you find that during the qualifying and why were you able to basically uncork it whenever you wanted?
Tomac: I just did it early in practice. I was just riding high on the berm and doing a seat bounce. I just had it. I think the toughest time was maybe in the second moto it was a little bit more blown out, but it was good. I made some time there, made a few passes. It was a good one to have in the back pocket. I just didn't start up front.
The first moto, you were so close to that pack of guys that it actually made it more difficult for you to make a pass there because the rider up in front of Baggett was actually so close that you almost couldn't get in front of him.
Tomac: That was Jason right there. I knew I had Baggett passed right there, but then Jason squared right there and I had to slam on the brakes and not go into him. That was just part of it.
That far rhythm section, I could not figure out even in good conditions what the fastest way was through that, so I can't imagine as the night as it deteriorated which was the fastest way. So each talk about that. Then Eli, about your sports center-esque save you made on that back rhythm section, can you talk about that as well?
Tomac: The main line was to go triple out of the corner, then you'd triple onto the tabletop and off. So that was the line most of us were doing in the main there. If you missed it, you would lose quite a bit. But going to the last main, I overshot the off and went buck-wild into the ruts and just fully had my bars to the stops on the triple clamps. Should have went flying off the track, but saved it. I guess the one thing that saved me was momentum at that point. I don't know, it was pretty wild.
Anderson: That whole rhythm section, obviously that was the fast line, but you land on top of that thing, it's soft. It could make your front wheel go one way. Sometimes you're going faster than what you think. The track would catch you off guard quick. Although if we were pumped on it being tacky, it was also very sketchy at the same time at some points.
Musquin: That was a good rhythm section. I thought it was going to be maybe a different way to go over that, but obviously the three and three on the table was really fast. I tried something else but it was slower, especially in the motos, but like they said, going on that big table top and going off, every single lap I was making sure I was hitting that clean. If you clipped that off, then you had the next one right after and it's rutted. That was definitely tough. But that's supercross, man.
They added time to the first main. From all three of you guys' perspective, did it make it a little less frantic? How do you deal with the fast turnaround times between those mains?
Musquin: Especially today, going back to the pits it was quite a long way, especially they made us push the bike quite a bit today. I wish I could have rode my bike all the way back there, but anyway, it was okay. Physically I've been feeling good, so I was able to recover pretty well and get back at it and feeling strong. So I'm happy. Definitely better than Anaheim 2. The first moto was a little bit longer, but it's only two minutes. I don't think it changed much—physically I'm talking about. Then racing-wise, if you have to catch up on somebody, then it kind of helps a little bit longer.
Anderson: I think if you get a bad start in that first one, if you have an extra two laps and you can maybe get one or two guys, I think that would have at the first one been a lot more helpful to some of us that got bad starts. Then the turnaround time, I didn't even go back to the pits. I just hung out down there all night.
Tomac: It was better. Like these guys said, a couple extra laps helps you make passes if you can or just get in the mix. Personally I'm not a fan of it, even though we won the first one.
For all three of you, obviously in a typical race format you're running usually two gate drops but one being a heat race, so you're not competing with the 22 fastest guys. For three gates drops, how do you kind of prepare yourself mentally, and what changes for you that it's three main events up against the 22 fastest guys all three gate drops?
Musquin: I guess that's the way it is. We have no choice. Just got to go for it and try our best right away. Obviously, it was not a heat race. It was right away a main and all together. Nothing really to say about it. Got no choice. You got to do your best.
Anderson: The first weekend in Anaheim that we had it, I think the first race honestly kind of caught me off guard. Definitely this weekend I felt like I did a legit warmup. When I was at Anaheim I was just kind of doing, for me I don't really do too much, but this weekend I definitely was ready for the first main. It's a lot more stressful, these races, because you have three gnarly starts with all the gnarly guys. It's a stressful night from beginning to end. Usually it's a heat race and if you're top three and it's too hectic to put it in on a guy… Right now the first race means quite a bit.
Tomac: It's just hectic. You got to be ready right when that first gate drops. You got to be on your game and go out there and do it.