The second edition of Monster Energy Supercross' new Triple Crown format delivered the goods as far as close racing (helped by a track that was much tougher than the first attempt at Anaheim 2). With six winners in six main events, the racing was unpredictable and allowed plenty of riders to shine. Don't get too carried away analyzing the good or bad of this format, though, because when it comes to the end results, the cream always rises. The overall winners were not surprising—Jason Anderson locked in his fourth victory of the season by riding 2-1-4 finishes to the 450SX win, and Austin Forkner went 4-2-3 to go back-to-back in the 250s.
Atlanta's track was tough for two reasons. The overall design was busy and tight with lots of turns and jumps. The soil was also softer than recent Atlanta races, with deeper ruts and holes—it wasn't the Atlanta rut fest of the mid-1990s, but it wasn't hard, slippery Georgia clay either. Throw in a rapidly challenging track with the chaos-inducing Triple Crown format and consistent became key. This played into Anderson's hands. With a huge points lead, the Rockstar Energy Husqvarna rider is probably riding a little smarter lately. That worked perfectly with this format on this track—he had the least chaos of anyone on the night and that got him the win.
"I was really able to pull through for the races," said Anderson, of Rockstar Energy Husqvarna. "Practice didn't go as well as I had hoped, but I pulled through. I was consistent during the races—that's what helped the most. The whoops were sketchy, but I had enough of a cushion in the last main to not have to push it so hard and still come out with the overall."
Anderson won the final main in the previous Triple Crown at Anaheim but an eighth in race one cost him any chance at the overall. He was ready this time.
"The first weekend in Anaheim, the first race honestly caught me off guard," said Anderson. "This week I did like a legit warmup. For me I don't normally do too much, but this weekend I definitely was ready for it, the first main. It's a lot more stressful. You have three gnarly starts with all the gnarly guys. It's a stressful night from beginning to end."
Last week's race in Tampa was Marvin Musquin's best since an early-season shoulder injury. This was even better, as Marvin marched forward after so-so starts in the first two races, then won the third. His 4-5-1 finish put him in second overall. Marvin said he was happy with his speed but was bummed he didn't get the start he needed, especially in race one. But he was happy, mostly, to avoid any big mistakes on the tough track. "Everyone knows here in Atlanta we have really good dirt," said the Red Bull KTM rider. "To do this type of format on that type of track was pretty crazy. But we made it through. We saw a lot of crashes and there were some sections on the track that were really sketchy and you had to really be precise, on point, and be safe. I'm glad I ended up on a good note in the last moto. But to do three main events like that, we had a sighting lap before the third race and you could see the track was really, really rough.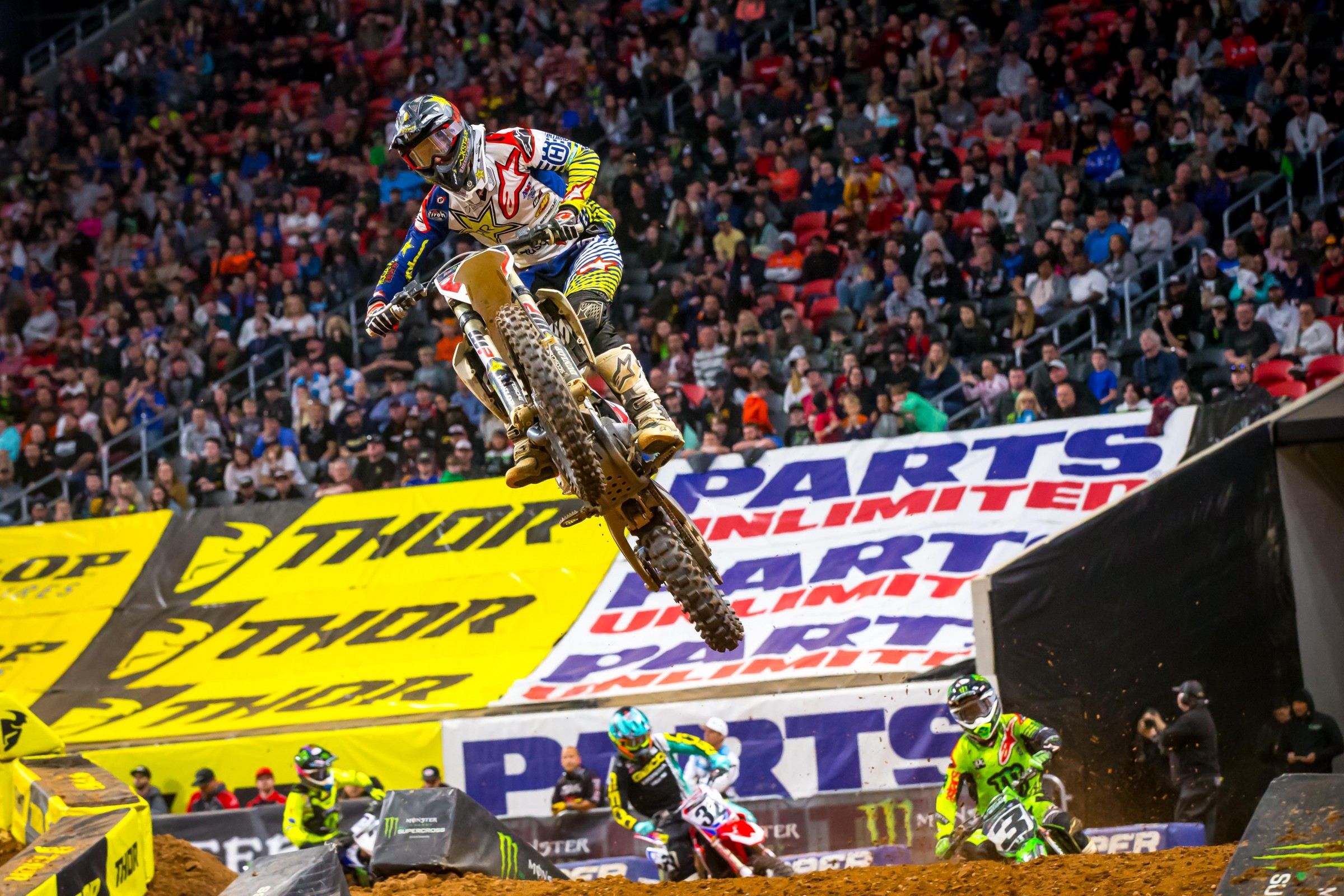 One could easily argue that Musquin and Eli Tomac rode just as well as Anderson, but this race came down to the details. Both started behind in the first race and while they eventually caught the lead group, they couldn't make any moves stick. It pointed to how close the racing was on the night. Tomac logged a big run in the whoops in the first race and it looked like he might pass everyone. He couldn't repeat that run, though, and Musquin ended up getting by him to finish fourth. Second race, same thing, as Tomac caught Cooper Webb in a battle for second but couldn't make a pass, and then lost a little ground late. In the final race, the Monster Energy Kawasaki rider closed on Musquin and tried to get the race win, but was just short. A few small bobbles from Tomac here and there cost him the positions to get the overall win—that's how close it was between the lead group on this night.
Others had a chance to star on this wild night. That news starts with Justin Brayton winning the first main on his SmarTop Bullfrog Spas Honda. Yup! Brayton worked past early leader Christian Craig, fended off two laps of pressure from Anderson, and actually pulled away on the last two laps to lock down the win. Brayton started this season strong but struggled at the last two races, saying those two tracks didn't suit him. He was much more comfortable in Atlanta and it showed, but Brayton did admit that, once he won the first one, he was so happy that he couldn't really lock in and focus for race two. He finished sixth there. He rode better in race three but was still sixth, although closer to the lead group. Big night for Brayton and his team. He was fourth overall.
Christian Craig's jump to the 450s with Honda HRC went well. He nailed the start in race one and three and led some laps. Eventually the 450 establishment wore him down, but 6-7-5 scores and fifth overall as the fill in for Ken Roczen and Cole Seely is exactly what Honda was looking for.
Blake Baggett. Coulda, shoulda, woulda. First, Blake nearly pulled all three holeshots, getting huge jumps and screaming out of the gate, but he came into turn one too hot and drifted wide each time. He went wide in the first race, way, way wide in the second, and then almost held tight enough to lock down the holeshot in race three, but Craig slipped inside. With three good starts Baggett was in contention for the race win. Anderson knifed ahead of him in race one and Baggett stayed glued to his rear fender the rest of the way. In fact, this probably allowed Brayton to win, because Anderson was too busy fending off Baggett to try to get Brayton. Blake was fourth in race two. Then in race three it came undone when Blake cased a rhythm, hurt his wrist, and went down. That ended his night. The Rocky Mountain ATV/MC WPS KTM team is hoping the wrist is only sprained.
Another star? Cooper Webb. A big crash with Broc Tickle ruined Webb's first race, but he battled Anderson tooth and nail for the second-race win, getting to Anderson's fender on the last lap and coming so close to making the pass for the win. Crowd went nuts on that one—probably the Monster Energy/Yamaha racer's best race of the year. He was in the mix in race three, passing Anderson and taking third. Scratch the first race and Webb was podium level in Atlanta, another sign of progress.
The rest of the night had bad news for some. In practice, Weston Peick wadded huge when a tuff block ripped him from his bike over a triple. Any other rider on the circuit would have been carted off after that, but "concrete for breakfast" Weston kept on going. His heel was hurting, and then he crashed early in race one and finished 19th. He battled back for 8-7 scores and 12th overall.
Might have been even worse for Peick's Autotrader.com/Yoshimura Suzuki teammate Justi Hill, who was caught in a first-lap pileup in race one, then wadded in race two and, according to his Instagram account, broke some toes. So much for Hill's promising start on a 450—we'd have to assume he'll be parked until the 250 East/West race in Indianapolis.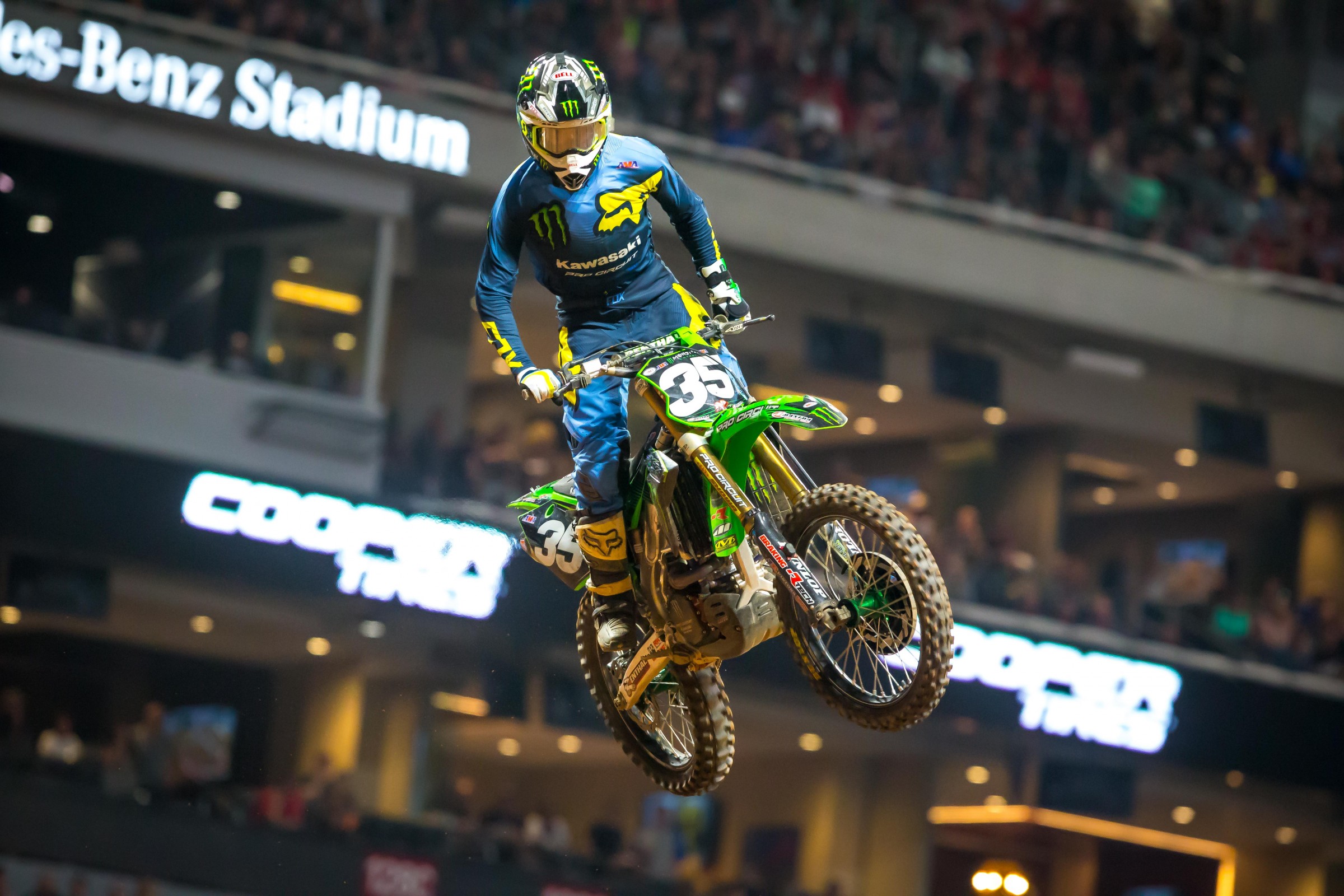 The 250 riders did 250 things in their three races. It was nutty. So many guys could have won. Martin Davalos had things in his hands multiple times and threw it away. Jordon Smith was in position to win at one point. Jeremy Martin won a main. Zach Osborne held the overall on the very last lap…but Austin Forkner dug super deep, made a last lap/last race pass on RJ Hampshire and shifted the overall in his direction.
Forkner is proving to be a real force now, with back-to-back wins, and he rode smart turning a bad start into a fourth in race one.
"I wasn't really bummed with that fourth in the first moto, I knew it was just about consistency," Forkner said. "The last time they had this it was like 1-5-3 and that won, so I knew just if I could get consistent top fives and top threes, at least the way the first triple crown was."
Race two got crazy, as Osborne tried to pass Forkner and Austin veered sideways on a jump. Cross jumping? Cross rutted? Osborne went down.
"I don't know," said Osborne. "I haven't seen the video yet, I don't know what happened. It was just unfortunate."
Forkner was already in trouble due to bending a brake pedal on a tuff block, which opened the door for his teammate Davalos to slide past and win the race. Davalos, though. Man, Davalos. He led race one early until he crashed. He was still in position to possibly win the overall in race three when he crashed in the whoops. This is the stuff that always bites Marty just when it looks like things are about to come his way.
In the final race, Osborne got caught in a first-lap crash and had to come from way back, but as the white flag flew, he was in position to salvage the overall win. Forkner's mechanic wrote "Go Now" on the pitboard and Forkner did, jumping the biggest rhythm when the track was really deteriorated to pass Hampshire. It was clutch, and enough for Forkner to tie Osborne in points for the night, and win the tie-breaker with the better finish.
You could argue Osborne rode better here than at the previous two races, but ended up losing the tie breaker to Forkner and finishing second. "That's my style I just fight for everything that was there," said Osborne about the first-lap pileup, and comeback. "I managed to come back to fifth, but it was a little bit disappointing to lose it due to circumstances out of my control."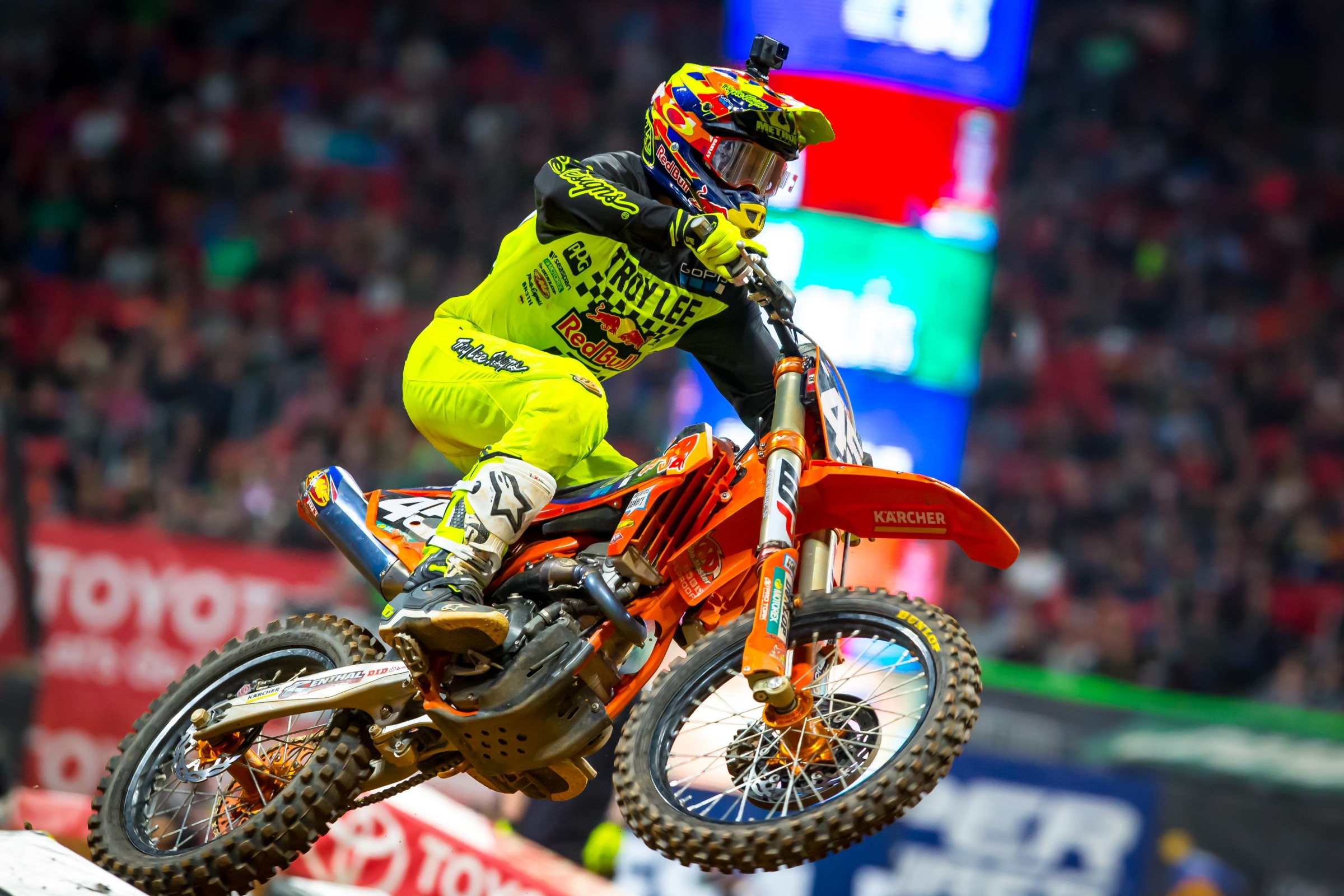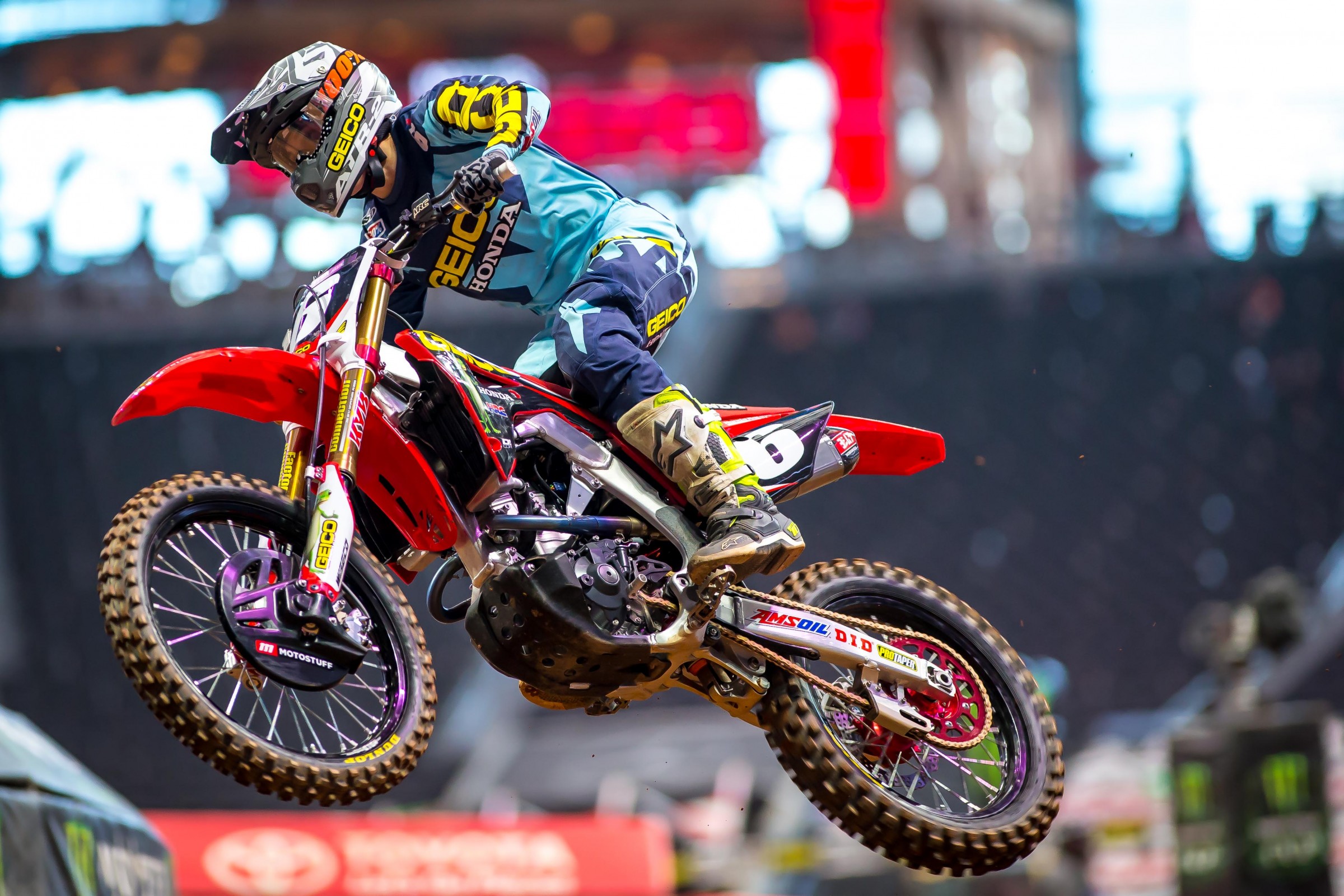 Troy Lee Designs/Red Bull KTM's Jordon Smith has been fast but struggled with starts this year. This time his starts were on point and when Davalos crashed out and Osborne was in the back, he was in positon to win the overall. He didn't know that, and he also said he didn't ride well. "Mechanic's area was in a tough spot. I didn't know where I was at, I didn't see the pit board once," said Smith. "I just didn't feel comfortable tonight. I got better starts than I did at the first two races but then I didn't ride as good. That was pretty frustrating. Then RJ [Hampshire] caught me [in race three] and I didn't really hear him back there, I caught his rear wheel and went down. It was frustrating to ride like that when you get such good starts."
Contender Dylan Ferrandis crashed huge on a triple and completely destroyed his bike, and ended his night early. We'll look for updates on the Frenchman when they are available.
You know what's crazy? Forkner didn't win one of the three races. They went to Osborne, Davalos and Martin. Triple Crown, you so crazy!