Tampa, FL
Tampa
Monster Energy AMA Supercross Championship
Eli Tomac | Monster Energy Kawasaki | First in 450SX
Racer X: You did it again. Congratulations on the weirdest supercross season ever. You've won four races and you're 70 points down. It's amazing. Good job tonight. As you said in the press conference, you got better as the laps clicked on, huh?
Eli Tomac: Yeah, I got better. It was just weird. I just got passed there in those first few laps. Normally if I get the holie… Actually, Cooper [Webb] squared me up in that second turn and got by me. Then I got back in the lead and ended up getting passed by Marv [Musquin] and [Justin] Hill there. I kind of had the feeling they weren't going to get away, but I was like, all right, let's get in the groove here. I knew it was going to be a lot of laps. Hill went down. He was doing a crazy quad-quad at the end of that big rhythm lane.
Didn't you do it in practice though?
Not the second one.
I think you faced it one time.
I was overshooting stuff in that rhythm all day. It only shrunk about three inches the one time I cased something. Anyway, I got back in the groove and was able to pull that inside-out in the bowl turn and get by Marv. He made the pass back and I was able to do it in the same spot. Second time it stuck, so it was good.
The sand section. All day long, guys were really struggling with it. What'd you think? I liked it, but I didn't have to ride it.
At first I hated it, and then once I got the combo down, which was like a double-triple, I was a fan of it. It was just technical enough to make a difference but wasn't too bad. Like I said, first I wanted no part of it. It's gnarly going through that stuff with supercross suspension. It's not your typical moto suspension, just getting good traction. It was tough for everyone.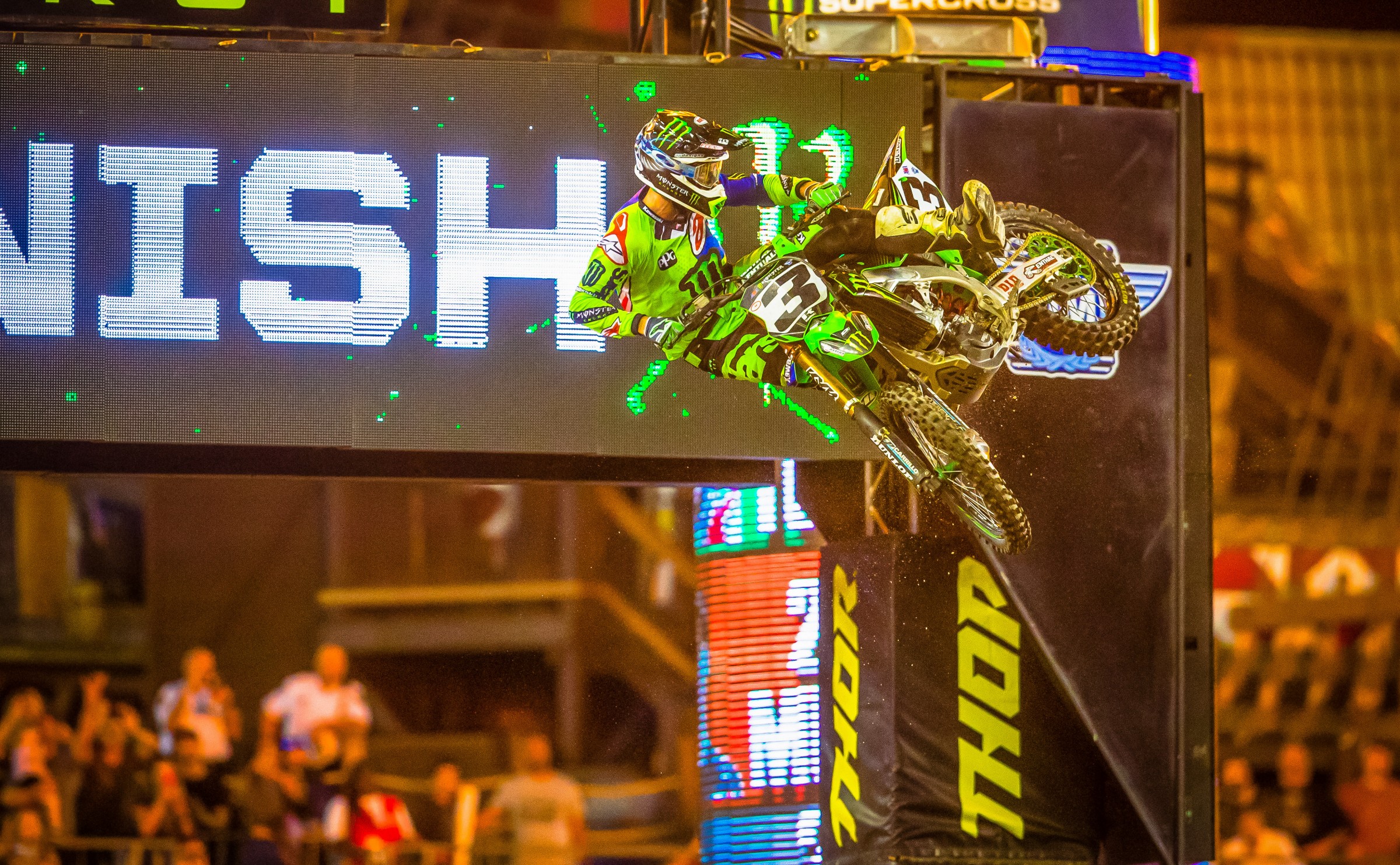 And you were tripling out of the sand, the only guy I think I saw do that. A couple times it caught your wheel.
Yeah. It was like a double or triple or whatever it was. Had one little moment there with three to go with a lapper. Got on my main line and sketched out but held onto it.
We were talking about you, of course, on one of my dumb shows this week and we were like, look, all he can do is win races. His title's not looking good. If you win a bunch of these races that are left but you don't win the title, is it a bummer year, or do you go, hey, I still had a good year? What's the mindset like?
If I do go on and do that, it's just disgusting. The way I lost it last year by five points, that was bad enough. It's going to be tough.
Chad Reed tonight set the all-time main event record. You haven't raced him that much. You raced him a little bit, though. It's a pretty amazing record when you really think about how long it is, 131 podiums or something.
Yeah. The stats are just crazy. The wins, the podiums, the starts. The funny part is, I used to watch those guys from the stands. Those guys were my heroes. I watched them. I tried to learn technique from them. Ricky [Carmichael], James [Stewart], Chad, those were the three guys. I always loved watching Chad. I felt like he was the guy with the technique. So, going back to the starts, it's unbelievable. I don't think I'll be making it that long, so props to him. That's gnarly.
That was my next question. Are we going to see you here?
No. I won't be breaking Chad Reed's start record.
---
Malcolm Stewart | Autotrader/Yoshimura Suzuki | Eighth in 450SX
Racer X: Good race for you tonight. "Heat Race Mookie" was back. That was exciting. And then the main event, good start, hung strong, finished pretty well. Were you happy?
Malcolm Stewart: Yeah. I was happy until the last four laps. I started cramping up. Deano [Dean Wilson] got around me.
At the end, you were kind of hopping.
That was hamstring. I've been cramping a little bit. This is probably the fourth time I cramped this season. So, I got to go back and start really digging down and trying to figure out exactly what's going on. I know I've been drinking enough water, but it could be a little bit in the nutrition program, not eating the right stuff or something on race day. Got to get that fixed. Overall, I hung in there. I hung in there for the last pretty much, I would say, all 20 minutes. I couldn't be more than happy with that. I'm not sure if this is my best result. I'm not sure what I got…
Ever?
In the 450 class.
It might be.
I'm not sure. At St. Louis I had a pretty good one, too, so I'm not sure exactly what I got there. I couldn't be mad. I got top ten. We're doing good. Unfortunately, I just want to say a lot of riders did get hurt tonight, so definitely a prayer for those guys. We lost a really good rider tonight, Cole Seely. I haven't heard any update on him, but hopefully… I heard he did get up, so that's the biggest thing, and a bone will heal. Like I said, I couldn't be more happy with the team and everybody. Justin Hill, shoutout to him. He rode good. The #46 blew by me so bad it made it look like a #64. He was riding good, man. Like I said, everybody on the team is riding good. I couldn't be more than happy with the whole JGR Suzuki. It's cool.
You're finally getting testing going, I heard from the JGR guys? You were a fill-in guy and now you're on the team with Bogle's injury. So, you're finally getting some settings down?
I spent time up in North Carolina all week, actually, and I got some good testing in. There was some good times. You leave the track and it's 4 p.m. and you know it was a pretty good day. We got testing done with that. Obviously, it definitely showed in the results. My time was better in practice and the heat race was good. In the main event, got a top ten. So, obviously we're moving in the right direction. Like I said, I couldn't be more than happy.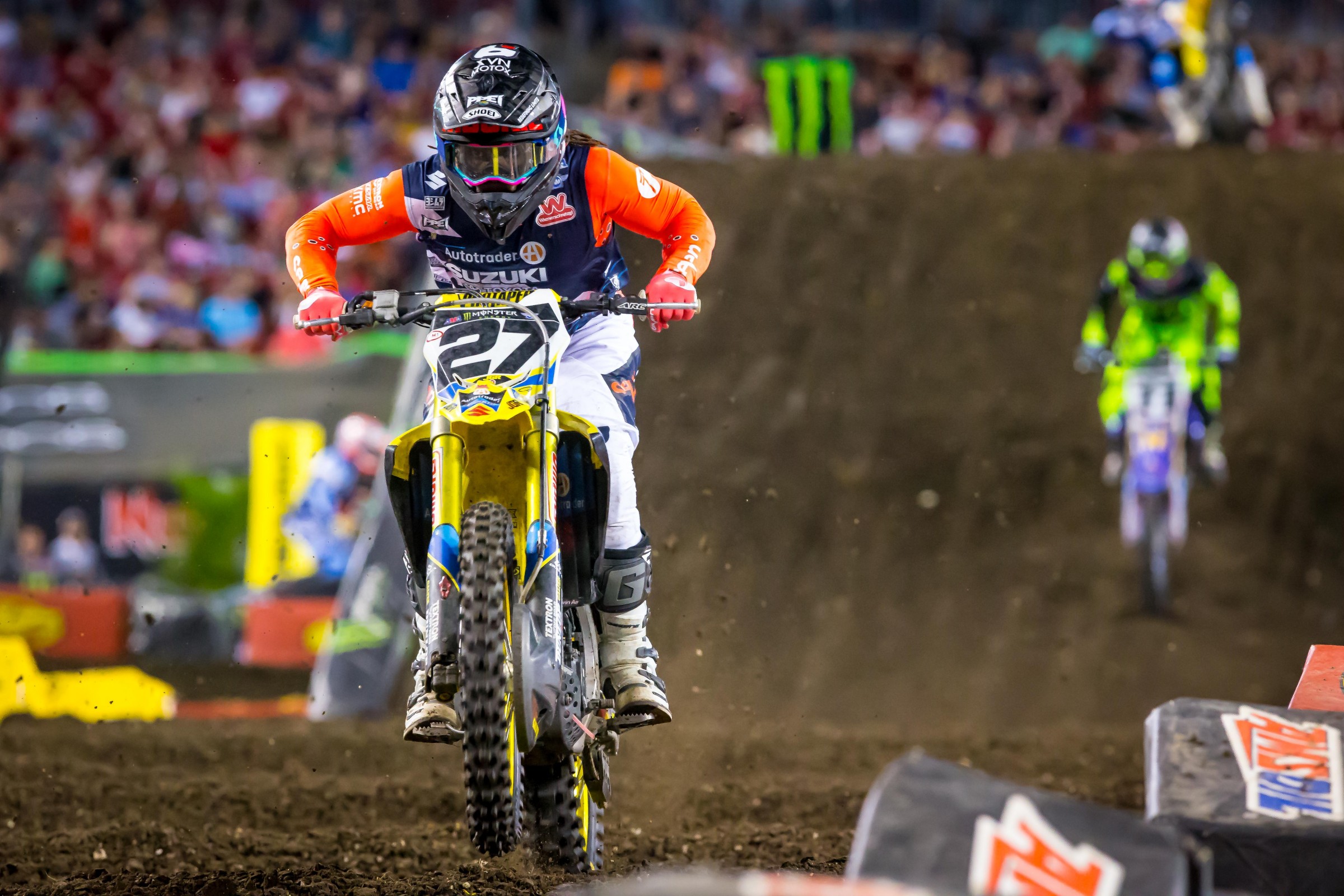 Mentally, does it help? You were a fill-in guy. Week to week, you literally didn't know if you were going. Now with Justin's injury, unfortunate, but you're on the team now. Does that help you? Do you feel more relaxed? Does it matter?
Yeah. It's definitely a mental thing. Nobody wants to sit there… When you're sitting there, this is the first time, believe or not, we actually had a little bit of legit testing. Any time that you're on the team and you're not sure how it's going to go and you get the final decision and it literally stands at 11 at night, that determines if you're going to be on the team or not, or the Monday meeting call at 12 and you're not sure if you're going to ride the Suzuki track or you're going to go on your own. It's definitely a mental thing. I just want to be on something where I know I'm set for the rest of the supercross season. That definitely helps me out mentally. Now it's something that I'm like, all right, I can actually work on my motorcycle. The team did some testing and stuff like that. When you're sitting there and you're like, this could be my last time riding this motorcycle. There's a reason why we're not getting any testing done. So, it was like that for about six races.
Like I said, finally got some testing. The results were better. Can't complain. We're going to keep moving forward. It's a real short week this week, then we're in Atlanta. Couldn't be more than happy. It's the first time I think anybody's been in the Mercedes Benz Dome since the Georgia Dome. It's going to be good. It's going to be real good. Couldn't be more than happy. I got a lot of family up there too.
A lot of guys didn't like the sand. You're probably not one of them. You probably liked it.
Not that sand.
You're a Florida guy.
Ever since I grew my hair out, I didn't like sand anymore because that's a two-hour shower. That's the reason why I don't like sand. Sorry, fans. Anybody who's listening to this, just say Mookie's not a fan because of his hair. He cares about his hair more than he cares about the dirt bike track.
I think you're an interesting guy to ask this question to. Chad Reed set the all-time starts record tonight. 228. You've often probably hated Chad. He diced with your brother for a long time. But at the same time, I imagine you could admire a guy like that. He's the all-time record holder. Thoughts on that?
Dude, Chad's awesome. When he did race James, that had nothing to do with me.
You were probably angry sometimes.
At the end of the day, of course. Chad's a hell of a racer. Any time both of them two were going back and forth at each other, of course I wanted James to win, but at the end of the day, Chad's still cool. Believe it or not, I rode at his house last year and I threw up an Instagram post and people were like, oh my god. It was like, let it go. The past is the past. Moving on. Chad can come around to our house if he wanted to. He's more than welcome. All that drama is definitely way in the past. Huge shoutout to Chad. That's awesome. One hell of a guy. I hope I'm as good of a man as he is.
Can you go 228?
I'm at like maybe 22. We all know Hill's at one. We got a long way to go to do his. Like I said, to do that, that's a big achievement award. If he was around, I'd give him the biggest high-five and a kiss right now.
Weston Peick | Autotrader/Yoshimura Suzuki | 12th in 450SX
Racer X: Bummer for you. Went down in the sand. Otherwise you were fifth, I think, and kind of right in that main group and then the sand got you.
Weston Peick: Yeah, the track was kind of tough all day for me, practice and the heat race. I was struggling quite a bit and just kind of over-riding the track and whatnot. I went into the main and got a good start. Was running about actually fourth or fifth for about half the race and then I just made a big mistake in the sand and the rear end came out on me, endoed over the bars, caught my leg and whatnot. Then just trying to get the bike out of the sand was a pain in the ass. So, it took me a little bit too much time to get out. Then I think I ended up 12th on the night. But I was riding good. I was happy with the night overall, but just kind of got to minimize, obviously, those little mistakes and stay up there.
It didn't look like, again, that's the pace you're comfy with. You could have done that the whole time.
Exactly. Like I said, I just get more comfortable every weekend. The pace keeps getting faster every weekend, I feel like. It's like everybody's pushing.
You notice it?
Oh yeah. Everybody's riding fast. Everybody's kind of getting in their groove and going fast and it's just push, push, push until the end. Obviously, like I said, you got to minimize those mistakes and try to be up there every weekend.
Do you like that sand or did you hate it? I thought it was cool. Guys made mistakes. But I'm not riding it. What'd you think?
It was tough. It really threw a curveball into the actual race, which, obviously we need some of that, but it definitely brought us to the next bit of technicality on that. So, I think it's okay every once in a while, but I definitely wouldn't want to race on it every weekend for supercross.
How about the Hill guy? He was getting frisky out there.
Yeah. He's got nothing to lose, man. He's on the Lites bike and he rolls out on the 450 and he's comfortable. He rides it good. Like I said, he's fast and he's got some good technique. He rides well.
I think a little bit is, you're right. No pressure, right? It's a little bit of hey, whatever.
Yeah. You see it all the time when Lites guys come up and get the chance to ride a 450. They always do good. There's no pressure. They're not grinding with us in the series, so they come in free-minded. They can care less if they do good or bad because they're not expected to do good. But that's not taking anything away from him. He rode good all day.
Are you relocating to Charlotte soon, or are you going to be doing that?
No, I'll be back in California for most of supercross.
And then back to Charlotte?
Yeah, back to Charlotte for outdoors, mostly.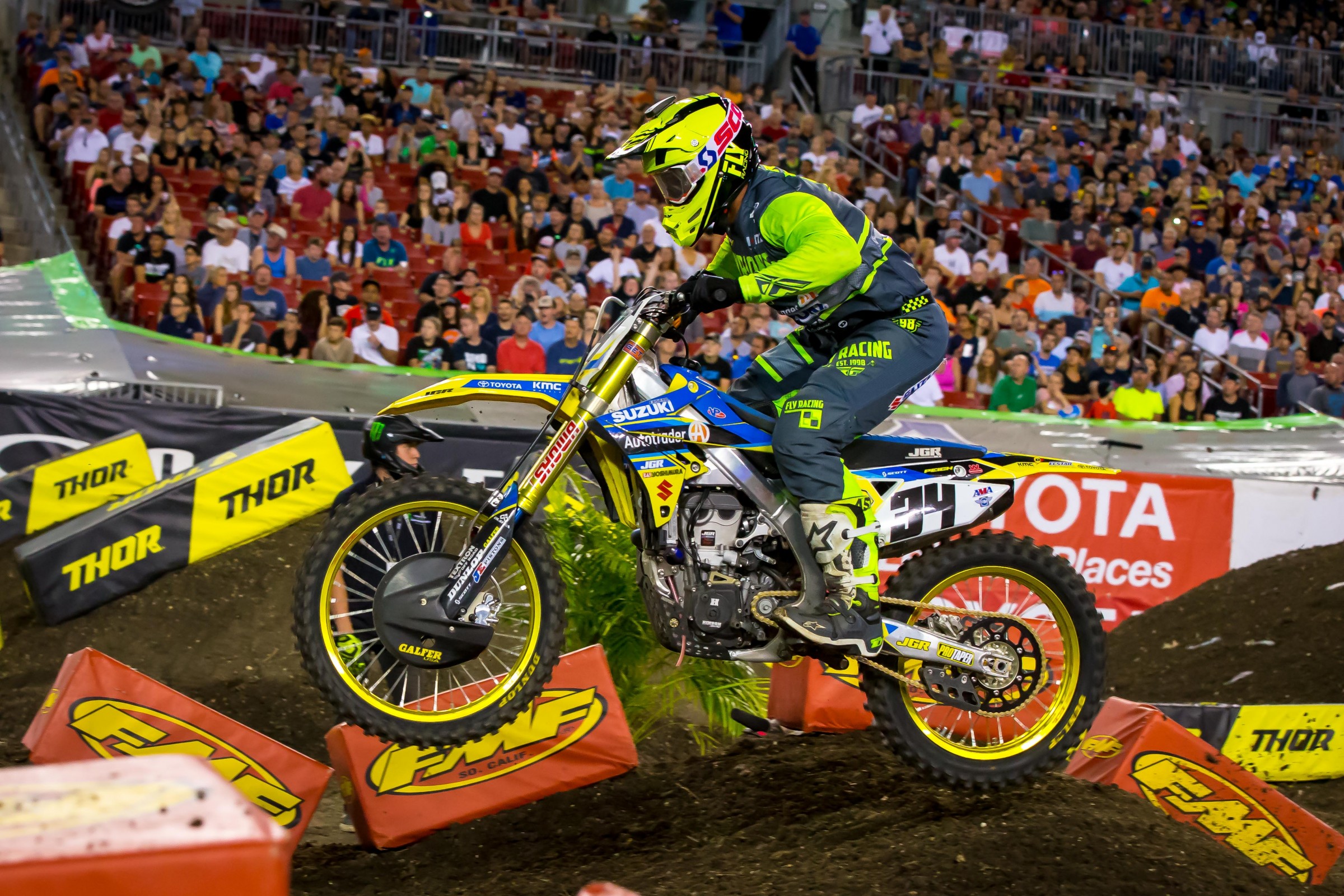 Austin Forkner | Monster Energy/Pro Circuit Kawasaki | First in 250SX
Racer X: The nets were good, right? You felt safer out there?
Austin Forkner: Absolutely. Last weekend was my first race. The safest I've ever felt by far.
Congratulations. First win. It seems like you've been up front and you've got podiums, but I guess last year was your rookie year and it didn't work out great. So, your first win's got to feel good, especially the way you did it.
Yeah. Kind of having to pass a few guys, I didn't just get the holeshot and lead, no problems. I had some guys throw it in. I threw it in on some guys. Had to make some passes to get to the front. The track was tough with the sand section, and then the rest of the track was pretty slick. You just had to hit your marks every single lap. That's basically just what I did. [Dylan] Ferrandis got close to me at the end. He almost passed me, actually, but I knew that if I could get to the whoops, that was my strong suit. So, if I could get there, then it would be game-over, and that's what I did.
I was going to say you were really good in the whoops. At one point in the heat race you almost went through the turn you were so fast through them. It was a strength of yours.
Yeah, definitely. I'm not obviously the biggest guy, so smaller guys tend to struggle a little bit in the whoops. That was not the case tonight. We made a bike change after the first practice and I think that that helped, because after that I was by far the fastest guy. Just from what I watched in film and everybody. They were like, dude, you're really fast in the whoops. So, they were like, don't worry about the whoops. Just focus on hitting your marks and doing all the rhythms and stuff the same every lap, so that's basically what I did.
Little extra mustard, maybe, on the Osborne pass? After what happened last week, everything was fine, it's racing, but maybe a little bit of extra mustard?
Just wanted to make sure it stuck.
I talked to Mitch before the East round, maybe a couple rounds before, and I said, how's your guys? He undersold you a little bit. He's like, he hasn't been back on the bike that long. He's going to take some rounds to get up to speed. You were really good last weekend except for that crash, and then this weekend you won. So, I think Mitch undersold it. How bad was it?
My wrist was toward the end of November, maybe even December, I broke it and it was a pretty bad break. I've never really had anything… I've broken stuff before. Collarbones, I even broke my hip and my back, but never anything like that to have surgery. This thing was W'd out. Broke four bones in there. Most of the time I can just come back and basically just go straight in and be back up to basically full in a couple weeks. This took me a solid three weeks of riding, about two weeks of outdoors, then slowly working into supercross. No whoops at first. It was definitely a much bigger recovery process than I thought. Even my doctor, even what she thought. She was just like, five weeks you should be good. I was like, all right, five weeks. No problem. I'll be riding first of the year.
Wasn't the case. I think I rode the 7th of January, so within the first week. But that only gave me just over a month to get ready. Basically I rode two weeks of outdoors, so I had about three weeks of supercross. I was coming in not 100 percent, but my wrist does feel 100 percent now, which is good. I'm wearing a wrist brace, which, honestly, with a week to go, I was like definitely not going to be 100 percent. I would say 85 percent, but my wrist is definitely… if not 100 percent, it's close. So, the last week it made a lot of progress, so I was really happy.
The good news is Trey Canard has broken everything, so he can offer you advice.
He was bummed whenever it happened, obviously, because I was riding really good and I was going to be doing West Coast, I would think, because I was riding really good. As soon as it happened, he wasn't even there. He had left. Canard was actually out training us that day. As soon as that happened I was like, I think I broke my wrist whenever I slammed on the ground. Then I slid my sleeve up and I looked at it and I was like, we got to go to the hospital right now. It was hurting a lot. I broke a bunch of bones, dislocated it and displaced it. It was all jacked up. So, I think that's why it took a little bit longer to heal. It feels fine now. I'm good from my concussion at the end of last year outdoors, so I feel great. I just really wanted to get back and do some racing because it's been seven months before the first round since I raced with the concussion. So, it's been a while. I just wanted to get back, do some races and try to get better and get some wins in the process and hopefully get the championship. I just wanted to do some races and be up there.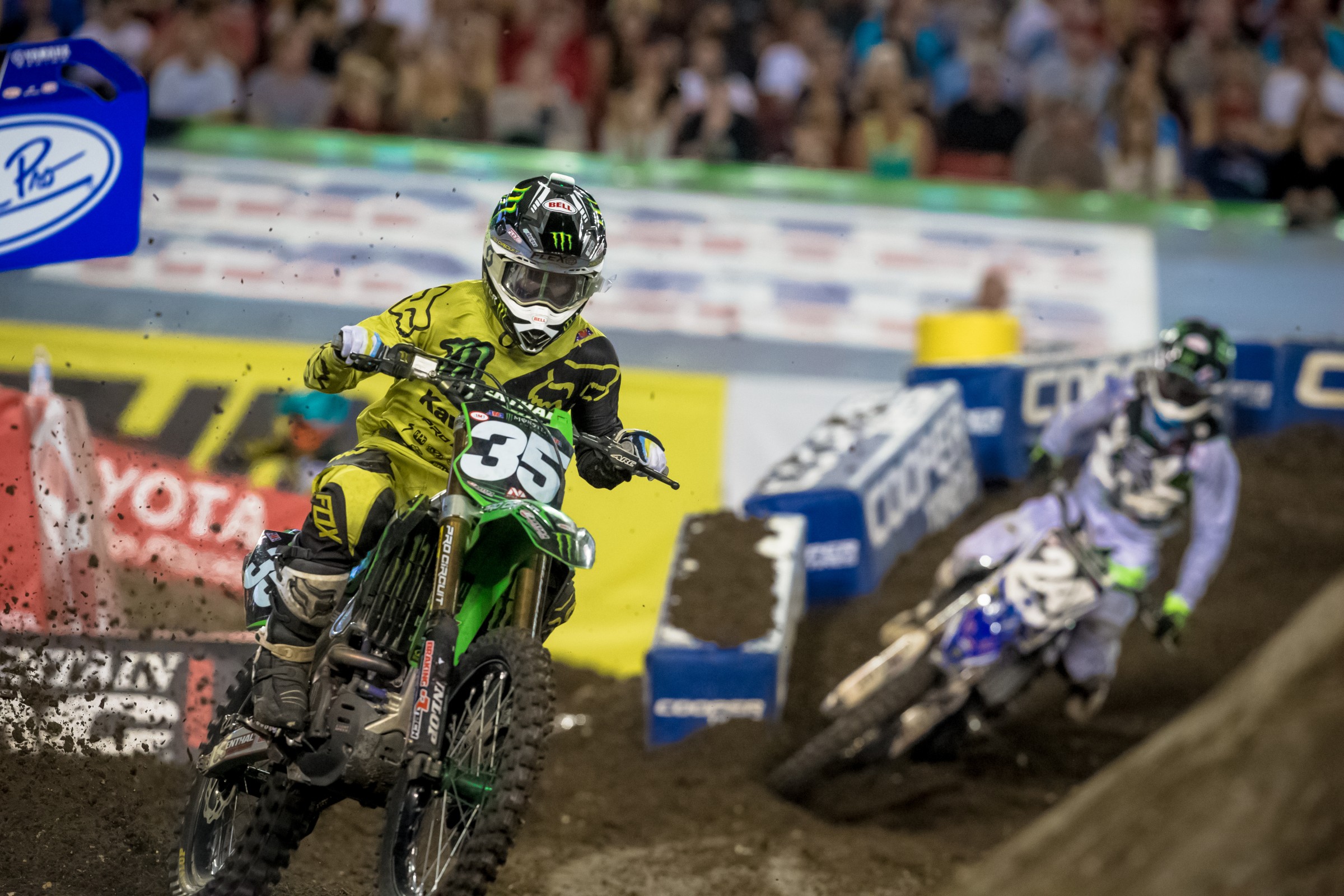 Luke Renzland | Traders Racing | Seventh in 250SX
Racer X: Nice start. Ran fifth for a long time, finished seventh. You got to be stoked with the opening two rounds for you. Last week you came from 14th or something to tenth.
Luke Renzland: Yeah, last weekend I was the guy stuck on the Tuff Block on the bowl turn 200 feet the opposite way at the start. This week was good. Me and [Sean] Cantrell ended up locking bars right out of the gate. We were first and second gates all the way to the left, so we were kind of in a sticky spot. He's kind of a skinny kid. I just dozed him, honestly. I dozed him right out of the gate. Came into the first turn pretty far behind, but I was on the inside so I just kind of did some wizard moves around there and passed a bunch of guys down the rhythm lane. There was just kind of an open hole on the left side. I passed [Martin] Davalos and a few other factory dudes down the left. Came out good. I felt like my pace was really good in the beginning, but with the whole bad start thing and my whole career, it's kind of weird for me to be up there.
You're like, what is this? Nobody's around me.
So about halfway I made a big mistake in the whoops, a big old huckabuck, and Smitty [Jordon Smith] got around me there. Then Davalos nabbed me two corners later. It kind of just threw my whole focus off for a little bit. I got the lap times back down a little bit toward the end again. I felt like if I had that focus in the middle, I would have been able to pass Martin after he crashed in the whoops or wherever he was. Take the good with the bad. I'm happy with it. I feel like the East Coast is pretty stacked this year. It's kind of deep.
I think us experts missed out on the East a little bit. We talked a little bit how big the West was. I think there's way more race winners in the West, but it's just as deep on the East with solid guys.
Exactly. I almost feel like we have more podium contenders, just less guys that have proven themselves already.
Only two guys who have won races, or three guys who have won races.
Yeah. Either way, it's a great day. Lit Kit award winner.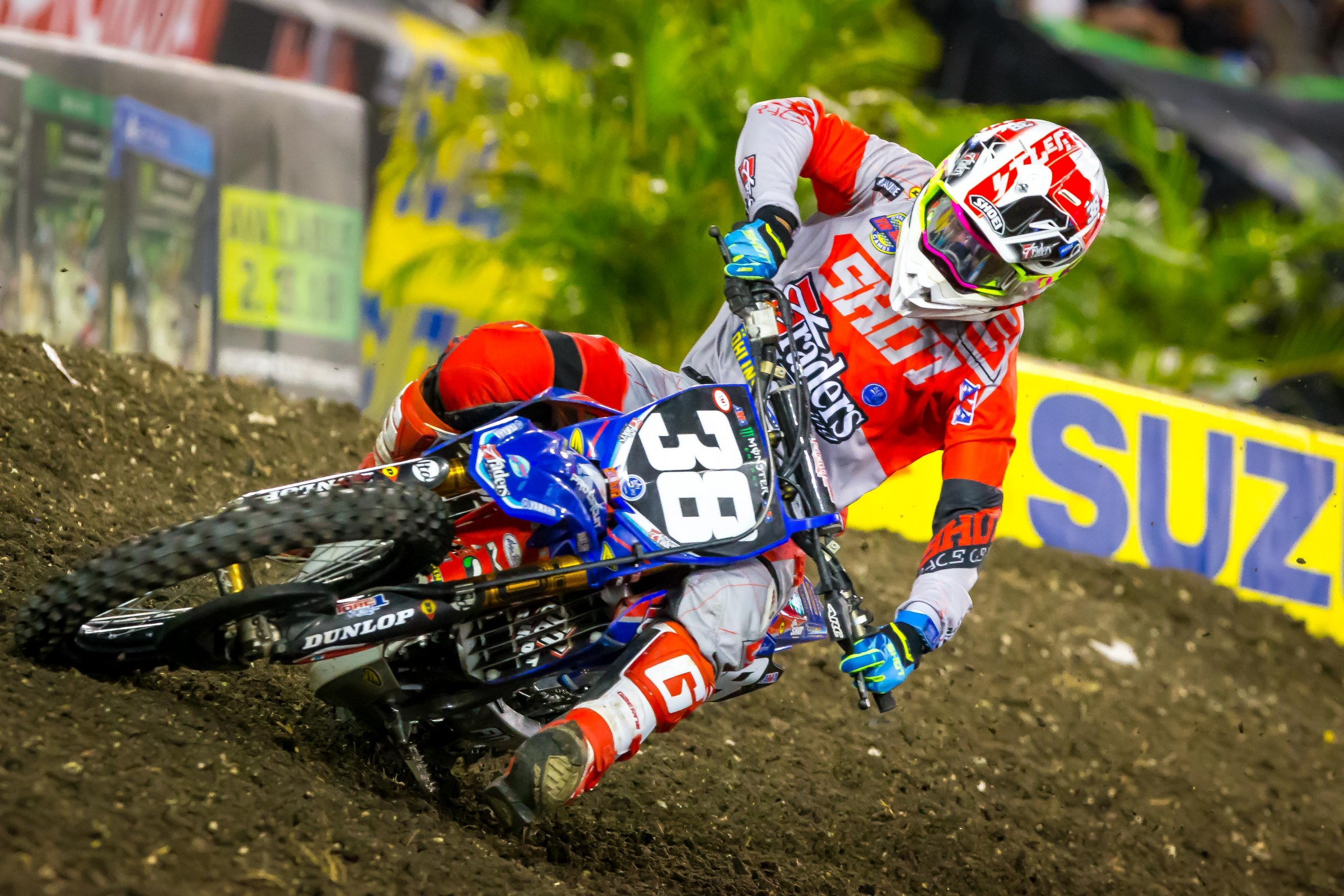 El Dozer nation really pumped those votes up by the end. Almost like there was some sort of arranged voting.
There was. Nominate me again and I'm going to get the voters together at the end. I had more than 50 percent of the votes total, man. I was so pumped. The people really liked what they say out of El Dozer. They liked that Shot race gear.
We nominated you because of the bike package too—the bike and the gear and everything. It was a total overall package. That's how you made the nomination.
Traders Racing is coming in hot this year with a little bit of red on the blue. Mixing it up a little bit. Not just looking like the same old plain blue, dark Yamaha. I'm going to hang that trophy high. Go back home. Be excited about that, excited about the seventh place. Atlanta last year was my best finish of my career, so looking forward to going back and racing in that new stadium.
Chad Reed set the all-time start record tonight. He's a legend. What do you remember and what do you think about him setting the record?
They actually came and did a Fox photoshoot at our place last year and Reed was there. He told my brother to get on the water truck because it was getting a little dusty. He kind of had a little bit of a mean way of saying it. That's my biggest memory of Chad Reed. It's pretty personal. It's good.
This question and answer didn't go the way I thought it would.
No, not at all. It's El Dozer, man. That's why we show up to the press conference. Give you some different answers.