Raymond James Stadium
Tampa

,

FL
Tampa
Monster Energy AMA Supercross Championship
Justin Hill made a statement on Saturday. While some might snap back that he didn't even finish in the top five, his ride was much more impressive than that. From his elite lap times in qualifying to his heat race win, Justin was on top of his game. When many were a bit unsure what to expect, he under-promised and over-delivered. He clearly knows how to ride a 450 at the highest level—he proved that.
As much as he showed us he already knows, I believe he also learned a lesson Saturday night. Racing against seasoned veterans like Eli Tomac, Marvin Musquin, and Jason Anderson takes a lot of experience. Knowing when and where to strike is just as important as the ability to be able to. Patience was the one element of his arsenal that he didn't execute perfectly and the lesson I think he left Tampa with.
As Justin systematically moved through the pack, he was making moves and getting aggressive. He pushed Tomac out of the way with relative ease and set off after Musquin and the lead. He had the rhythm section dialed in with the 3-4-4 variation and he was one of only a couple of riders to pull the trigger on it at all. He was able to make up a lot of time there and it allowed him to pull up onto the back of Marvin before entering the sand section.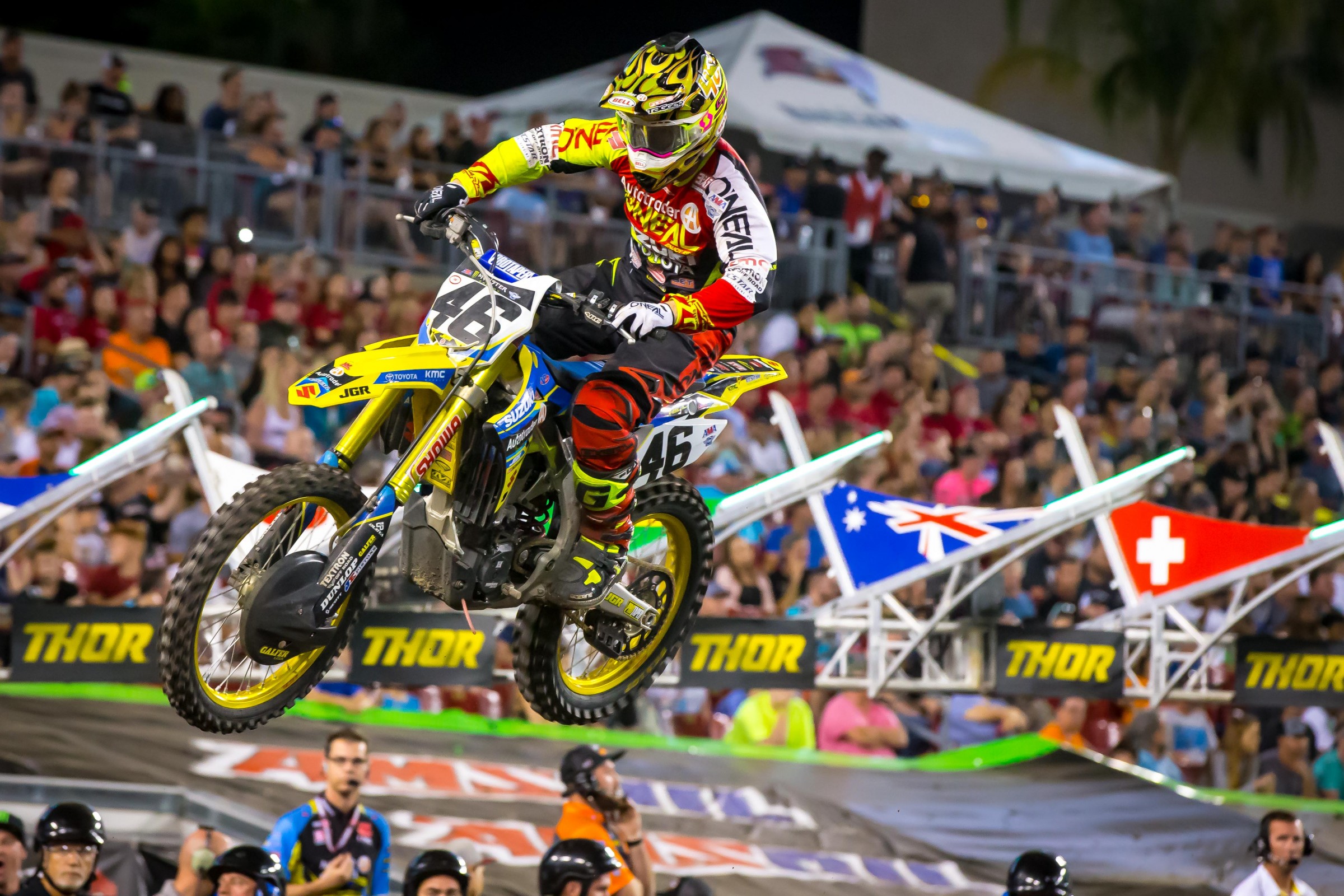 Most of the passes made in the sand were sketchy, as the middle line was the most predictable and the most popular among riders. To pass there, most riders had to get out of that line and take a chance of losing control in the softer lines on the side. This particular lap, Justin got a good drive up the left side of Marvin and was alongside or even ahead of Marvin entering the turn before the finish line. It's important to note that he was attempting to pass one of the shrewdest racers in the world. Marv knew that Hill was alongside him, but he also knew that there would be nowhere to go once they reached the berm. As threatening as it looked entering the berm, as long as Marv maintained the side-by-side dynamic, he would simply ride to the top of the berm and Justin would be pinned there and unable to make a move.
Even more clever, Marvin slowed here slightly and intentionally disallowed Justin from cutting under or railing around the top of the berm. Marvin would dictate Justin's line by pacing him into and through the turn. This happens all the time in supercross berms and these elite-level riders are usually playing chess when mere mortals would be playing checkers. So as Justin entered this turn, he had to realize that Marv was in control with the inside line. If Marv decided to slow up and pace the turn, Justin was powerless to do anything but ride it out and fall in line. If he tried to rail around the outside of Marvin, he would be put into the berm at the top. If he tried to brake early and cut under, he would lose his front wheel into Marvin's rear end.
Marvin dictated those scenarios by a subtle slowing and intentional momentary hesitation in the middle of the turn. He wasn't trying to make Justin fall, of course, but he definitely wanted to protect against any move Justin could make. It's high-level cat and mouse, and Marvin is a master of it. This moment is where I think Justin got a tiny bit impatient and where he will learn moving forward.
As Justin entered the berm, he had to know Marvin was anticipating a move. He was on the outside, so he was in the vulnerable spot. With seemingly no available move, he had to use patience here and simply wait on Marvin to pick his line. He could then accelerate through the turn and hope to scrub next to Marvin over the finish line. Passing in this spot wasn't possible, so don't force the issue. Patience paired alongside aggression is a vicious weapon. One without the other will always expose vulnerabilities and unpredictability.
It's probable that he simply got too excited in his march to the front. After all, he was about to take the lead in his first-ever 450 main event (excluding Monster Energy Cup). It's completely understandable that he would get anxious and rush things. I'm sure he knows more than any of us that he missed an opportunity on Saturday. Lessons like that one are usually hard-earned, but extremely valuable.
So, the next time we see him ripping through the pack, I will be curious to see if his approach reflects any wisdom gained through his hardships. As John Powell once said, "The only real mistake is the one from which we learn nothing."