Tampa, FL
Tampa
Monster Energy AMA Supercross Championship
Racer X: Jason, congratulations. In the early laps of the main event as the leaders kind of separated themselves, were you keeping an eye on them a little bit? You were kind of buried in a little bit of a pack pretty much in that five, six, seven range.
Jason Anderson: Yeah. I started seventh, I think, eighth or seventh. At the beginning of the race, a lot of those guys were riding good at the beginning. This track was kind of tough. I felt like I was pretty good in the sand to be able to get by a bunch of them. But man, I think it took me eight, ten minutes to really get into third place. Then after that I was checking on them, but at the same time I was just trying to close the gap and just stay riding fast. Track was slick. It was tough to make up time. They were riding good.
Marvin, congratulations. Take us through some of the battles tonight. You had a good one with Justin Hill. You and Eli went back and forth a few times. It seemed like the track ended up developing into a good race track. Take us through those battles a little bit.
Marvin Musquin: Yeah. First of all, it was great to be leading the main event. It's been a long time since I led a few laps. I put myself in a great position in the main and that's what I needed tonight. I knew I was not going to run away from those guys. They were right there. I knew it was going to be good battles. He [Eli Tomac] was right there. I tried to keep him honest. Tried to pass him back when he got me. It was a good battle. I think it was good for the fans. I tried my best and then he got me. I think he was a little quicker doing that rhythm, that quad. I was missing a little bit of time right there. Gave my best and ended up second.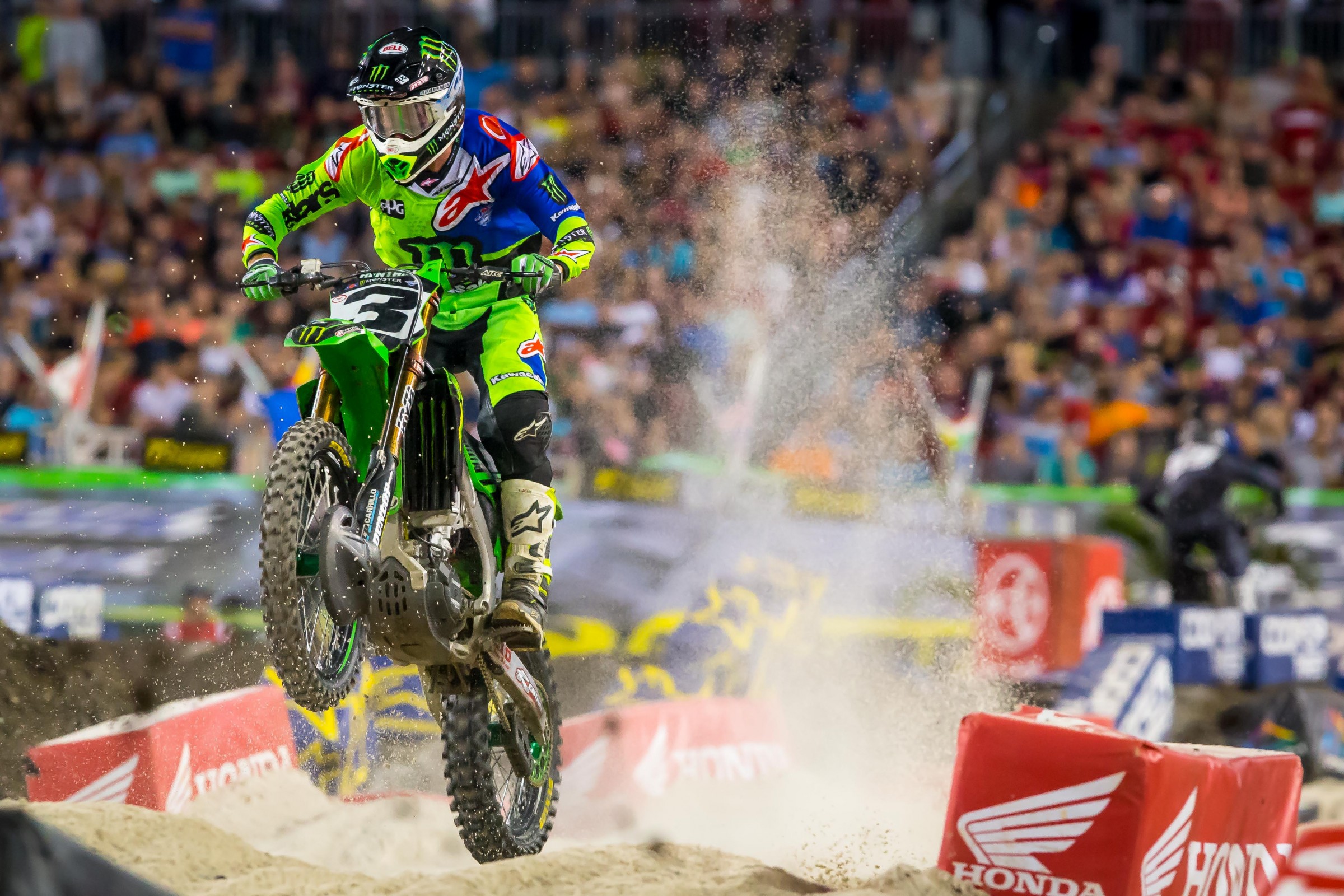 Eli, congratulations. Early in the main, maybe four, five, six minutes in, you seemed to have a couple goofy laps where things didn't look right. Then all of a sudden it seemed to click and everything changed. Was that just something with you, with the track? Take us through that moment.
Tomac: I just wasn't riding the way I was riding later in the main there and got shuffled back. I got passed once and then twice. Then I was like, holy crap, what are you doing now? So, once Hill got by me, that's when I really got my groove. Once he was able to get past me, then I got my flow there. Then after that we just slowly started chipping away, getting close to the lead there. I had that inside line in my bag from the heat race. That's where I was able to get Marv the first time. The second time I was able to make it stick. It was a good racetrack for us. It definitely took the day for it to come to us, but it was good for the main.
Eli, you were making your 70th start tonight. You got your 17th win. You're now tied with Jeff Stanton and Mark Barnett for 12th on the all-time win list. You're putting your name up there with some really good legends. That's got to be motivation in itself.
Tomac: It's awesome. Just a single win in the 450 class is one of the hardest things to come by. I'm grateful for it and just grateful I'm here to be in the position to go out there and race and try to get those wins.
Marvin, where are you physically? How's the shoulder? Do you feel you're still behind a little bit or are you pretty much back to where you want to be?
Musquin: No, I feel great on the bike. So that's the main thing. I'm able to train really good during the week. It's really good right now. I don't even think about it when I ride, so that's awesome.
For both Marvin and Eli, Justin Hill was in there battling with you guys. He's never raced in the 450 class before besides Monster Cup. What was that like battling and having a new guy in there who you really haven't ever raced before?
Musquin: Some of the things he was doing out there, he made it look easy. To go quad, quad on that section was pretty nuts. That was crazy. He has good technique. He showed some good riding tonight for sure.
Tomac: He was riding good. He's got a good flow for that 450. Like Marv said, that quad, quad—the second quad was pretty huge. I wanted no part of it. He was doing it. It was pretty cool.
Musquin: Even with the nets, I didn't want to do it.
Eli, you said you had that inside line in practice after the rhythm section before the sand. When you passed Marvin the first time, did you know that he was going to leave the inside open or you were just kind of hoping that would be the case?
Tomac: Well, I was hoping that's the case. I was able to get there but then he was able to get back by. We were side by side there. Then he squared me up over there by the mechanics. At least there was an option there.
For any of you guys that wants to answer, talk about that area in front of the mechanics' area. Watching you guys light it up through there every lap, how do you try and find traction through there? What was it like? Was the moisture coming up, also?
Musquin: I was actually trying to go straight through that really shiny section. It was tough. Obviously, you didn't want to turn into it. It was really, really slick.
Anderson: I was coming inside and trying to hit the cushion just right outside of the shiny stuff, but I was getting honestly pretty close to the mechanics. I was coming, like, that close. We're searching every little inch of that track just trying to get traction. Tonight I went out there for the heat race and I looked at the track and I thought it was so tacky. But even in the heat race, it caught me off guard with how slick it was sometimes. It wasn't the sand that you would expect in Florida, that's for sure.
Eli and Marvin, looking at that sand section tonight, there was a lot of lap traffic going through there, especially later in the main event. For you guys both being in the lead and in second place, when you ran into those lappers, it kind of stopped up your momentum. How much does that really affect your focus when you're also in a battle with each other?
Musquin: For sure, especially on that section it was not easy to deal with the lappers. The one time I went to the right and the guy was actually going to the right as well. I don't think it really bothered me that much. I was able to go through that pretty good. Maybe a couple times in the whoops when I ran into behind those guys. Lappers is never easy. They're also racing for their spot. I think it wasn't too bad tonight.
Tomac: It was pretty sketchy all day. Looking at the track map before the race, you're like, oh yeah, it's going to be fun. We got some sand rollers. But, honestly, if you missed the main line, it was just like a disaster. You're going left and right and squirreling everywhere. I had one really close call there with probably three to go or so. Getting outside that main line again and almost tucking my front end at the end. It was tough.
This is the first time in almost 20 years that the supercross series has been here in Tampa. For all three of you, just general reflections on how you think the community responded to the event and how you think the track was in general.
Anderson: I like coming to Tampa. It's one less flight for me that I have to do a year. At the same time, it's cool. I like to watch some of the races back in the day. It's cool to be in a place to where some of those nineties Youtube… I always follow nineties motocross on Instagram and kind of amp out on some of that stuff. We raced Tampa Supercross. It's cool.
Musquin: I'm glad to be able to race here in Tampa. Like I said, growing up watching the supercross on TV in '98, 20 years ago, it's pretty cool to be here and get on the podium and race in front of the fans here in Florida. It was good. It's always cool to drive from where you live to the race. It's been a good weekend so far. We enjoyed it.
Tomac: It was good. First time here and got the win, so I like it so far.