Tampa, FL
Tampa
Monster Energy AMA Supercross Championship
Monster Energy Supercross return to Tampa for the first time in nearly twenty years did not disappoint, as both the 250SX and 450SX main events offered up some awesome racing. The crowd was pretty good in size (announced as 42,411) and very vocal in support of the action. While there was a damper put on the evening as yet another 450SX contender went down with injury (Cole Seely, who crashed hard in his heat race and is reported to have fractures to his pelvis and tailbone), there was the excitement of some fresh blood added to the mix, with 250SX Champion Justin Hill making a sparkling debut in the 450SX class by mixing it up for the lead. All in all, another wild night in what has become one of the strangest seasons in recent memory.
The strangest part, for sure, is Eli Tomac's stat line. The Monster Energy Kawasaki rider has won half of the races this year—now four out of eight—yet sits 65 points back due to bad results in the other four races. His win tonight was a little strange, too. He started up front and battled with Cooper Webb to secure the lead, but then Marvin Musquin and Hill blasted past him. For the first few laps, Tomac was struggling in third, but then he put it together in the second half of the race and caught back up to Musquin. They battled, but Eli had a slick quad jump through a rhythm lane that Musquin wasn't willing to do. Marvin fought back, but Eli put the hammer down and got away.
"I just wasn't riding the way I was riding later in the main," said Tomac of the early laps. "Got shuffled back and I got passed once and twice like "Holy crap, what are you doing now?" Once Hill got by me is when I really got my groove. I got my flow there and after that we just slowly started chipping away. We were able to get close. I had that inside line in my bag from the heat race, so I was able to get my Marv the first time, and the second time I was able to make it stick."
"It was great to be leading a main event, it's been awhile since I've led a few laps," said Musquin, of Red Bull KTM. "I knew I was not going to run away from those guys, they were right there and I knew there were going to be good battles. Eli was right there keeping me honest, I tried to pass him back when he got me. It was a good battle and I think it was good for the fans. He was a little quicker than me doing that quad, I lost a little bit of time there. I gave it my best and ended up second."
Musquin's early challenge came not from Tomac but from Hill, who had actually beaten Marvin straight-up for a heat race win earlier. Hill got Tomac for second and started pressing Musquin, then set him up for a pass after the sand. He was also busting out a quad-quad rhythm that even Tomac said he "wouldn't touch." But the Autotrader.com/Yoshimura Suzuki man tried to cut down in a berm, tagged Marvin's rear wheel with his front, and tipped over. Hill had no hard feelings toward Musquin after that, though, admitting that it was a lesson learned for him to not try to cut down on a 450 veteran like that.
"They're smarter [racers than in the 250 class]," said Hill. "Much smarter. It actually felt slower than a 250 race. It is a thinking man's class that is less hair ball. Everyone knows what they're doing out there. It's way more enjoyable. I hate riding with them dudes that are "I'm 17 and I'm going to just pin it until I win!" That move with Marvin was a perfect example. He knew he didn't have to rush out of that corner, he knew he wasn't going to lose if he didn't rush it. And there's me, the new guy, like "Oh I've got to get him!" That's not normally me. But you get excited! Truthfully I wanted to get by him because I had put a pass on Eli that probably didn't make him happy. I knew if Eli had a shot [at me] he was going to take it. So it's a learning curve for me. But overall this was a fantastic night for the team and the bike."
Hill's front brake was bent down in the crash and it took a few laps for him to hammer it back up to use it again. He was able to climb back to sixth.
Jason Anderson did exactly what he needs to do. He took a quiet third after starting around seventh on his Rockstar Energy Racing Husqvarna. "I felt like I was pretty good in the sand and was able to get by some guys but by the time I was behind them they were pretty far ahead," said Anderson. "I was trying to catch up but these guys were riding good and the track was slick, and tough."
Cooper Webb continues to make progress on his Monster Energy Yamaha, he led early after a great start. He didn't have the pace of Tomac, Musquin, Anderson or Hill, but he was still happy with his recent gains.
"It was a hard main event tonight, between the sand and the heat and we did a lot of laps," said Webb of a demanding evening. "It was a much better night for me, for sure. I led the heat race in San Diego and won that, but I haven't led a main for awhile, and it showed. Got a little flustered, yeah, tightened up a little bit. Got into the flow once everyone got around me, and started turning in some good laps."
Broc Tickle is back to doing Broc Tickle things. Nothing flashy but he's solid, maintains the same speed all night, and ends up in the top five. He was fifth for the second-straight race.
Oh what could have been for Blake Baggett. The Rocky Mountain ATV/MC KTM rider was the first to do the big quad-quad (he did it on the last lap of practice) and then holeshot his heat and busted it out again—but it busted him when he crashed the landing and went flying into the Steve Matthes Memorial Safety Net on the side of the track. Baggett then busted the jump out again on the next lap! In the main, though, Baggett and his teammate Benny Bloss came together on the first lap and both went down. Baggett might have been faster in Tampa than the previous three races where he made the podium—but he only ended up ninth due to the early crash.
Supercross
| | Rider | Time | Interval | Best Lap | Hometown | Bike |
| --- | --- | --- | --- | --- | --- | --- |
| 1 | Eli Tomac | 48.757 | 26 Laps | | Cortez, CO | Kawasaki KX450F |
| 2 | Marvin Musquin | 48.752 | +04.536 | | La Reole | KTM 450 SX-F |
| 3 | Jason Anderson | 48.903 | +12.065 | | Edgewood, NM | Husqvarna FC 450 |
| 4 | Cooper Webb | 49.384 | +17.845 | | Newport, NC | Yamaha YZ450F |
| 5 | Broc Tickle | 49.800 | +21.854 | | Holly, MI | KTM 450 SX-F |
Full Results
"There was no crown" in the 250SX East division, as defending champion Zach Osborne had all the challenge he could handle on this night from Austin Forkner and Dylan Ferrandis. Those two got the better of him in this main event and took the battle for the victory down to the last lap, with Ferrandis trying hard to get around the young Monster Energy/Pro Circuit Kawasaki rider. Both riders admitted they were tired at the end but they left it all out on the track, and Forkner hung on for his first career victory.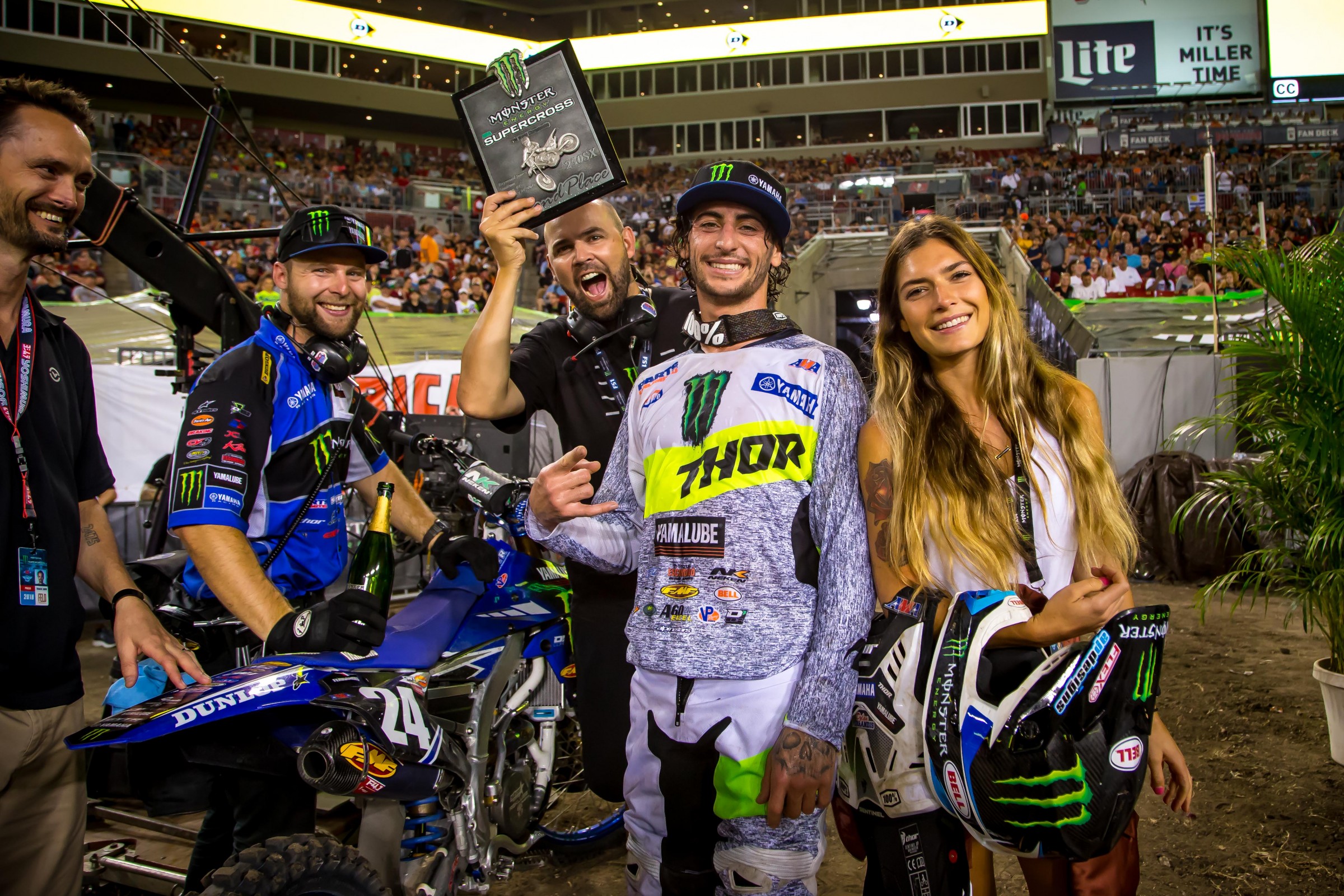 "I'm really happy," said Forkner. "Last year didn't go quite as planned, my rookie season. I came into this season with a broken wrist. I feel good now but it was kind of iffy coming in. I'm just happy with where I'm at, I'm happy with my speed right now. I tried to sprint hard at the beginning, but if you sprint the whole way you're going to gas out. Three minutes to go, I was definitely feeling it, but basically I just had tunnel vision of hitting my marks every lap and doing what I needed to do."
Ferrandis was very quick in practice and looked great all day. He just couldn't make it stick on Forkner late in the main.
"For me it felt like my first race of the season because last week I had that crash off the start, I had to go to the mechanics' [area] and I hurt my leg a little bit," said the Monster Energy/Star Racing Yamaha rider. "I just missed a little bit of racing. I was a little low on oxygen on the first few laps. I was low on oxygen, but I tried on the last few laps. It's okay. We'll fight for the win next weekend."
Although Osborne won last week and finished third here, he said he was actually happy with his riding compared to last week, when he never felt right.
"In the beginning I felt a solid but then mid-way through the race I made some mistakes and Dylan got by me," said Osborne, of Rockstar Energy Husqvarna. "I need to work on the hard packed tracks a little bit for my future. Just traction. Felt a little loose in some places. Wasn't able to attack at the end like I would have liked. But it's a good night for the long haul."
Supercross
| | Rider | Time | Interval | Best Lap | Hometown | Bike |
| --- | --- | --- | --- | --- | --- | --- |
| 1 | Austin Forkner | 49.872 | 20 Laps | | Richards, MO | Kawasaki KX250F |
| 2 | Dylan Ferrandis | 49.557 | +00.905 | | Avignon | Yamaha YZ250F |
| 3 | Zach Osborne | 49.830 | +06.865 | | Abingdon, VA | Husqvarna FC 250 |
| 4 | R.J. Hampshire | 50.495 | +18.558 | | Hudson, FL | Honda CRF250R |
| 5 | Martin Davalos | 50.279 | +20.301 | | Quito | Kawasaki KX250F |
Full Results