Arlington, TX
Arlington (Dallas)
Monster Energy AMA Supercross Championship
JMC Motorsports' Jon Ames was involved in a horrific head-on collision this past weekend in the 250SX heat race in Arlington, Texas, when another rider bumped him off of the track during the closing laps of the first heat race of the night and into another lane. Ames collided with privateer Chaz Braden, who wrote on Instagram that he was "fourth gear pinned." Both riders remained down for a while and were attended to by the Alpinestars Mobile Medical Unit.
Braden wrote on Instagram that he made it out with a "bum knee," while Ames suffered a broken femur as a result of the crash. Curious to see how he was feeling, we sent him a few texts.
Below is a transcript from our brief conversation. Jon would like to add that he feels this incident was an accident and no one's fault.
(Note: This interview was conducted via iMessage and has been lightly edited for clarity.)
Racer X: Hey, Jon, how are you feeling? Can you provide the fans an update on your injury and condition?
Jon Ames: I broke my distal femur, which means on the bottom of my femur by my knee. I had reconstructive surgery to fix it with plates and screws on Monday. As far how I am feeling, I am still in disbelief that this happened to me and am a little frustrated.
As far as recovery goes, what's it looking like for you?
Well, since it's such a weird and awkward break, the only therapy I can do is work on flexibility, no weight-bearing, so hopefully the recovery is only 12 weeks.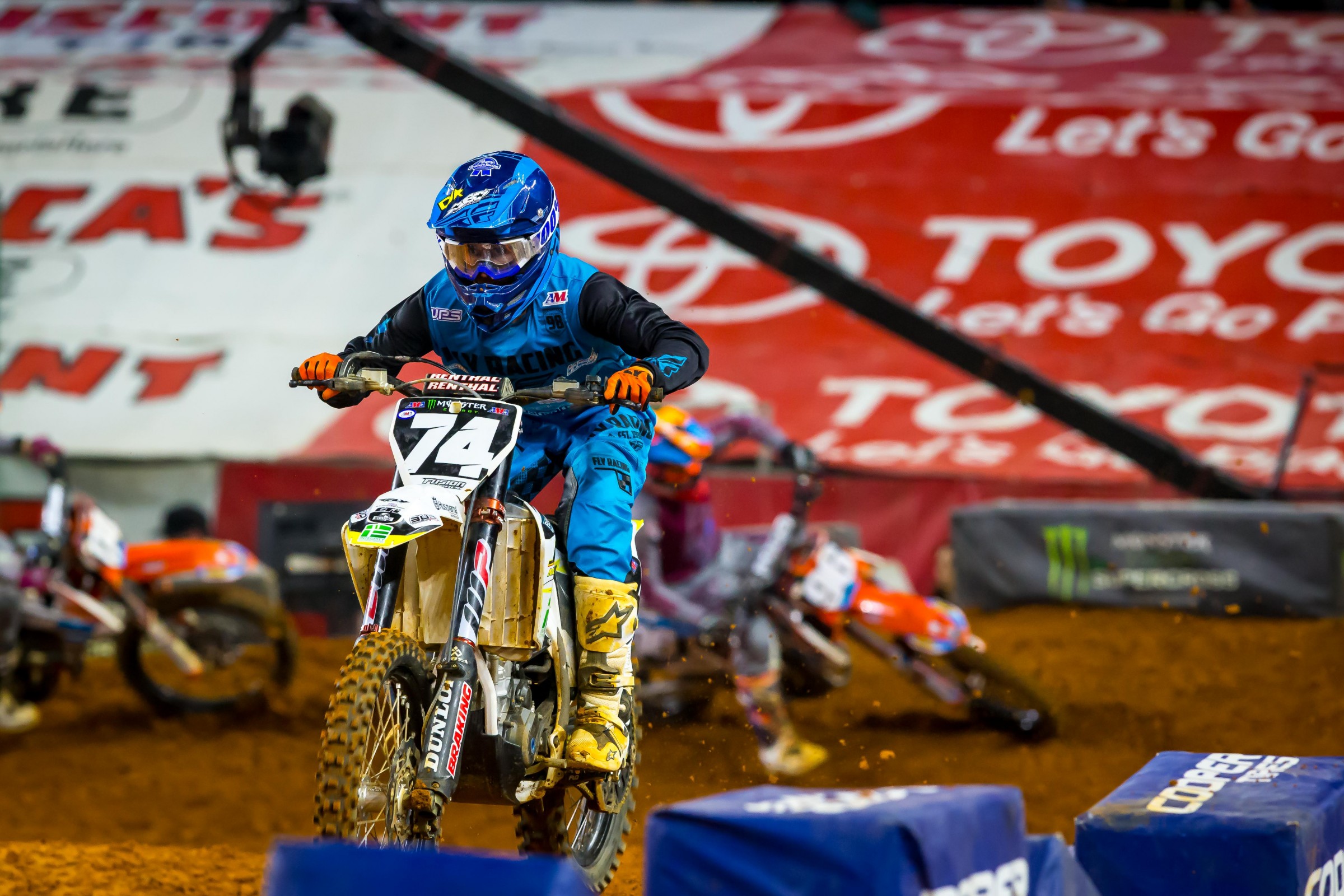 Let's talk about your day leading up to the heat for a little bit. How did Arlington begin for you? Solid qualifying?
No, I did not qualify good at all. I don't even know where I qualified at. Practice for me, I had nerves and just couldn't find a flow. It wasn't good practicing for me, for sure, but I knew as soon as that gate dropped I could flip a switch and race with everyone.
As far as preparations for the season, what were some of your goals coming in? And how was your program?
Preparations for the season were a little rushed. I was coming off an injury so I had four weeks on the bike, but my program was great, training with Tommy Hahn on the bike and Charles Dao in the gym. My bikes were amazing. They were fast, cornered awesome, suspension was working with me, I couldn't ask for more. My goals for this year were to come out swinging show some speed and race hard.
An injury similar to this one, correct?
Yeah, I broke my femur at Red Bull Straight Rhythm. Similar scenario, just a weird situation.
Getting back to the heat race in Arlington, can you walk us through what happened? Your version of how things went down, so to speak.
Heat race for me was going good. I got a third-place start and was racing with those guys, but around two laps to go I made a big mistake in the whoops and got passed but was still in a qualifying spot. Then with a lap [to go] I made another big mistake in the whoops and tried to cover the inside so I wouldn't get passed again, but I didn't cover it enough and got hit off the track into an oncoming lane. When I was in the other lane I tried to get out of the way, but everything just happened so fast I froze up. It was a very scary situation and I still see it in my nightmares.
You mentioned that you're a bit frustrated. With the pass? The whole situation?
Not frustrated in the pass; racing is racing, just frustrated with being hurt again. It's a long hard road, plus all the people saying that I was being a squirrel and almost hit the other kid because I wasn't paying attention. I am very clean racer and hate to see it when people get hurt, and I was really looking forward to this season.
Any uplifting support from friends, family, other racers, who've reached out to see how you're doing?
I've had nothing but positive support from my team, family, and friends. Everybody is praying for me telling me I'll come back stronger. It really does make me feel better when I'm down like this.
Will we see you once pro motocross rolls around, or is it too soon to even talk about that?
You'll see me at the pro motocross nationals for sure. I'm a racer and love racing. This injury won't slow down anything.
Thanks for taking the time to chat. Anyone you'd like to thank before we let you go?
The whole JMC Motorsports crew for sticking behind me, CTI knee braces, Dedicated clothing, Fly Racing, my mechanic/brother Jake Ames, Twisted Development, Fluid Focus, 100% goggles, HGS Exhausts, Braking, Renthal, Bud Racing, DT1 filters, Fusion Graphics, Flo footpegs and rotors, A.F Horton tree trimming service, WestPac Pipeline, Inc., and my mother and father.
Another huge shoutout to the Alpinestars medical crew for helping me so much when I was on the track. Bailey Baggett was there to hold my hand and tell me everything would be okay, and that's something you just can't find in a person these days. Again, thank you, guys and girls.