AT&T Stadium
Arlington

,

TX
Arlington (Dallas)
Monster Energy AMA Supercross Championship
Mixed emotions throughout the 250SX field in the East Region opener. Austin Forkner came in after a severe wrist injury and felt pretty good, but also says he was taken out by Zach Osborne. RJ Hampshire got to lead laps for the first time in supercross, but says, "I felt like crap all day." Sean Cantrell was racing his first supercross and was even in podium contention for a while. But he was happiest of all!
Here's more from those three.
RJ Hampshire | GEICO Honda | 4th in 250SX
Racer X: Thought you were going to win for a little while. Did you?
RJ Hampshire: I didn't realize I could win it until…. Well, dude, I was riding so bad all day. Making too many mistakes. I shouldn't have been leading the main event. I holeshotted and even the second lap, I almost endoed off a dragon's back, had to roll the whole section. Messed up in the whoops. Was just riding like a squirrel. It was just sloppy. To be leading with three minutes and thirty seconds to go, I was just like "Dude, what is going on?" A lot of people crashed. I kind of got comfortable in the middle a little bit and was kind of clicking them off. I think I was 50.8 and 51.0, around there. By the time Zach [Osborne] got into second, I should have had a ten-second lead if I was riding with no mistakes. But I had a two-second lead. Of course, I knew he was going to get me. I should have held it together and shouldn't have made those mistakes. But I've never led laps before and I've never gotten a holeshot in the main event, so that's something. We're going home next weekend.
Was there a time in the main where you were like, "Dammit, I finally got a good start and I'm finally leading one of these and it's on a night where I just don't feel good."
Yeah, exactly. I felt like crap all day. I crashed four times today. Couple of them were pretty hard, too. To be out front, I was like "Where's everyone at?" I made some big mistakes and I could have gotten passed. Once he [Osborne] got by me, I was just so flustered. I'd never led a lap before, so you live and you learn. But I'm getting old now, so I can't keep learning for long.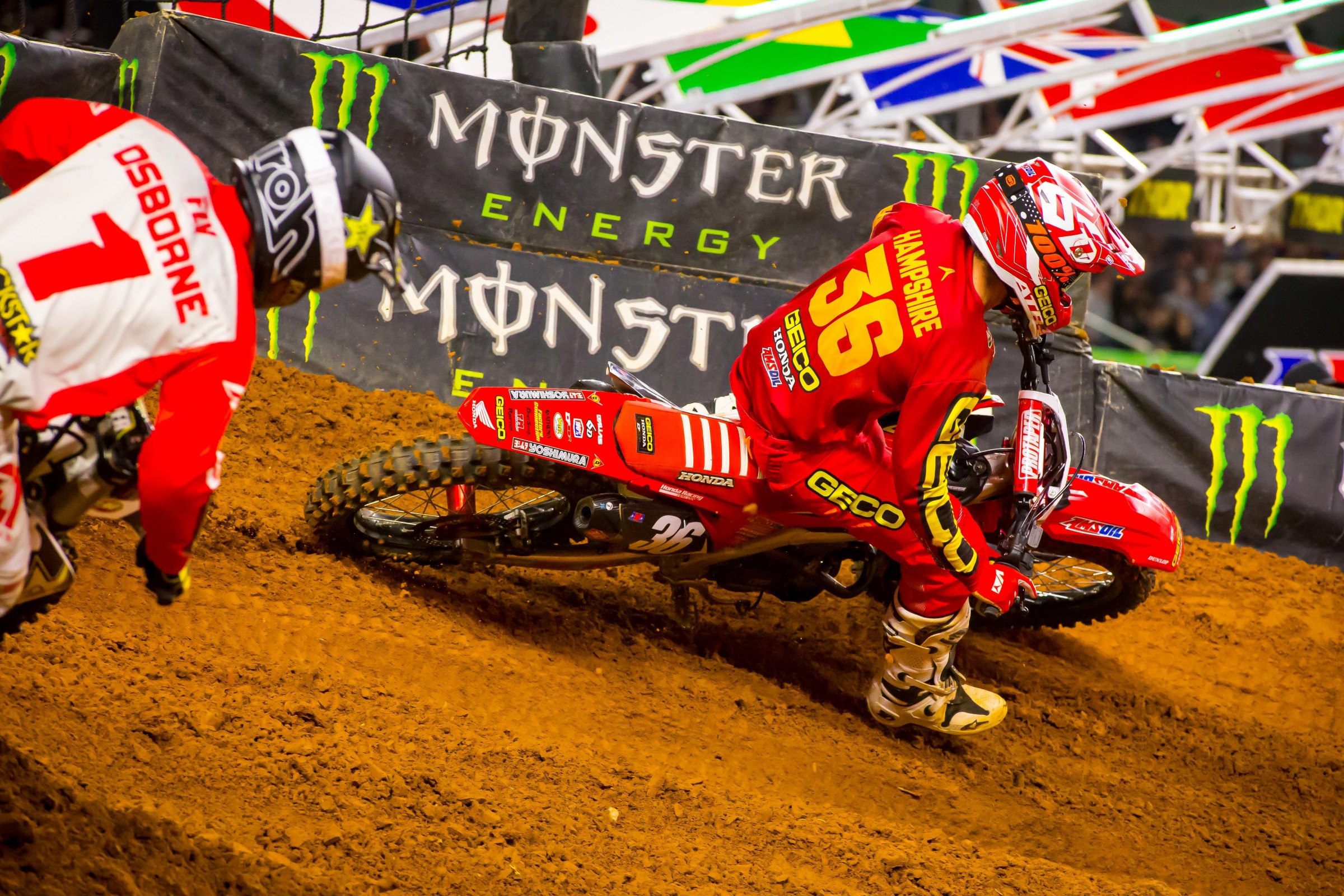 What was the difference today? Just nerves?
I hadn't crashed through the entire off-season and then I come out here and crash four times. So what does that tell you? Bike was good today, we struggled in the heat race a little bit, trying to front wheel traction. Track dried out a lot for the night show. I couldn't really turn, just kept tucking it, tucking it, and then finally went down. Just too many mistakes.
Next time you're up front, will that be better?
We're going home next weekend. I live 25 minutes from the stadium. I'm from Hudson, Florida, which is 30 minutes away; now I live 25 minutes.
Been to that stadium before?
Yeah, for Monster Jam! But I'm bummed on tonight. To lead 14 laps or whatever and now be at a press conference talking about finishing fourth? That's really a bummer. I'm excited for next weekend.
---
Austin Forkner | Monster Energy/Pro Circuit Kawasaki | 7th in 250SX Main
I wasn't in the first-turn crash, I was just settling in. There was even more carnage on the first lap. It was just after the second rhythm, and I was like sixth or fifth, and I was thinking of just picking guys off. I was like, "Perfect." I knew some of the fast guys went down in the first turn. I didn't know who was up there, but I knew I was fifth or sixth, and then I just get blindsided by Osborne in the turn before the start straight. Two laps later, the turn after the start straight, I just stalled it. You're in fourth going down the start straight, I needed to get down to second and I only got down to third and just stalled it. I was almost last at that point.
You were behind guys who were down in the first turn!
I know! I came back to seventh. I think that turn before the start straight, I think, if I passed 13 guys tonight, I passed 10 guys in that corner.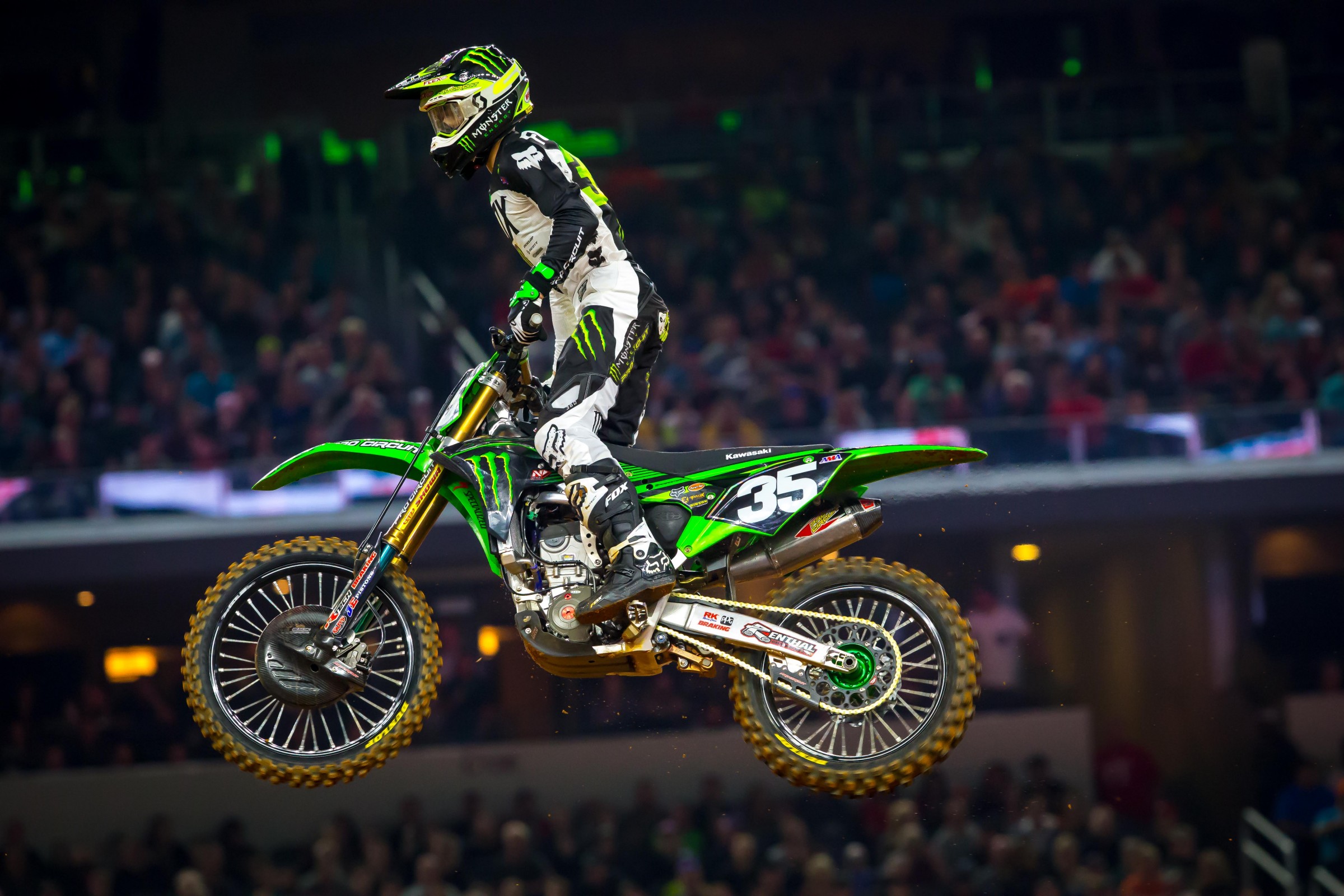 Every lap?
Yeah, every lap! I think I passed two guys in that corner at one point. Eventually, I was just like, "Why even waste energy trying to pass guys anywhere else? I'll just wait for that corner and get them there." Every lap, it wasn't an exciting pass, it was just the same thing as the lap before, just go in there, shut him off. It was alright. Not how I wanted to start it, but I feel like I rode good and had some pretty good lap times. I wanted to pace myself off of some of the front guys, so I was watching them in the other lanes and it seemed like I was staying pretty close to them. It's good; just come back, try to get a better start, and not get taken out next time.
How was the injury?
I've been on the bike a little over a month now. Started with outdoors, then went to supercross. First three weeks was not 100 percent at all. Was just trying to get time on the bike, and my wrist was so weak and it hurt so bad. Last couple of weeks have been better, but basically I haven't been able to do a 20-minute moto until last week. We've just been doing sprints. The longer we would ride, the more my wrist would fatigue, and I didn't want something bad to happen. So I hadn't even done a moto until last week, then I came and raced. I got tired in the main, but I think everyone got tired in the main. I was actually pretty surprised; my wrist felt pretty good compared to where it was a few weeks ago.
---
Sean Cantrell | Troy Lee Designs/Red Bull KTM | 8th in 250SX
Racer X: You had a little of everything in your first race.
Sean Cantrell: Yeah, unfortunately I had a bunch of lows and a few highs. Started out pretty timid today and really slow. Pretty much forgot how to ride a dirt bike for a little bit. We picked up the pace and got more comfortable. Still didn't qualify that well, but I felt better. We softened the bike for the main because we felt the track would get pretty beaten up, and it did. I missed the (first turn) carnage. I lined up all the way to the right, way outside. There was no rut there, so I thought that was the best gate. Ended up with a great start, was behind RJ [Hampshire] and was trying to make the pass a couple of times. Just rode with him. Eventually Osborne tried to get around me and I did a little slice and dice with him. He got away, of course, and I just tried to stay in his pace. Then Colt Nichols came by at the halfway point, then I ended up in the Tuff Blox in the whoops. But I was happy with my speed and I'm happy I got to experience everything today, highs and lows. Onto Tampa—we made it out of here safe.
Where you pretty calm when you were in second? You seemed relaxed.
I was extremely calm. In outdoors, I almost threw up a few times in the first few rounds.
Not just the first race, but the first few races?!
Yeah, the first two tracks were my home tracks in California. I'd say it was through High Point that I just wanted to puke! Today, I didn't have that feeling. I don't know if that's because I was so comfortable with my bike and my ability or what, but I was happy with the way I was riding and the way I felt. We came here and accomplished everything we wanted to today. Life's good.