San Diego, CA
San Diego
Monster Energy AMA Supercross Championship
Kyle Scott also contributed to this report.
Momentum. When you've got it, things that are in your control, and even those that aren't, just seem to go your way. The pendulum swings the other way too—when things aren't going well there just doesn't seem to be any card you can play that will get you back in the game. Tonight, both were especially true. Let's dive right into it with the San Diego edition of Saturday Night Live.
Although Eli Tomac hasn't been mathematically eliminated from this championship, it's pretty safe to say he's out of it. The hits started at A1 when he crashed out while leading and they haven't stopped since, and tonight was no different. In fact, Tomac didn't even make it a full lap before the trouble started. As the pack rounded the first turn, Tomac, along with Weston Peick, Malcolm Stewart, Ken Roczen, and Josh Grant, found himself hitting the dirt. He remounted, went to the mechanic's area briefly, then motored back to the pits. Afterward we learned he'd ripped most of his grip off and the bike itself was pretty twisted up. If things weren't bad enough after Tomac's thirteenth last week in Oakland, he's now seventy-seven points back of Jason Anderson. When it rains, it pours.
Speaking of Anderson, things couldn't have gone better for him tonight. The Rockstar Energy/Husqvarna Factory Racing rider got out of the gate well in second place, stalked Cole Seely for a while, and eventually passed him before racing off with the win. He now has twenty-eight points on Justin Barcia in second place, but says he doesn't want that big lead to affect the way he approaches the races every weekend.
"I'm just going to keep trying my best," Anderson said afterward. "That's what I've been doing and I feel like I've put myself in good positions. I'm just going to try to keep a level head through it all. My riding has been good and my starts have been so-so, but I've been making it work."
A better weekend for Marvin Musquin this time around. The Red Bull KTM rider took second place, and at one point it even looked like he might close on Anderson and challenge for the lead.
"The start was great," Musquin said. "I was pretty far outside and all the gates were pretty rough, after the gate, but I made it happen and that was the key tonight, to get a good start. Those guys were faster than me at the beginning but I tried not to panic and tried to be consistent and get better. I'm really happy because all day I was a little bit off, especially in the heat race, so to get a second place tonight is, after the heat race, is huge."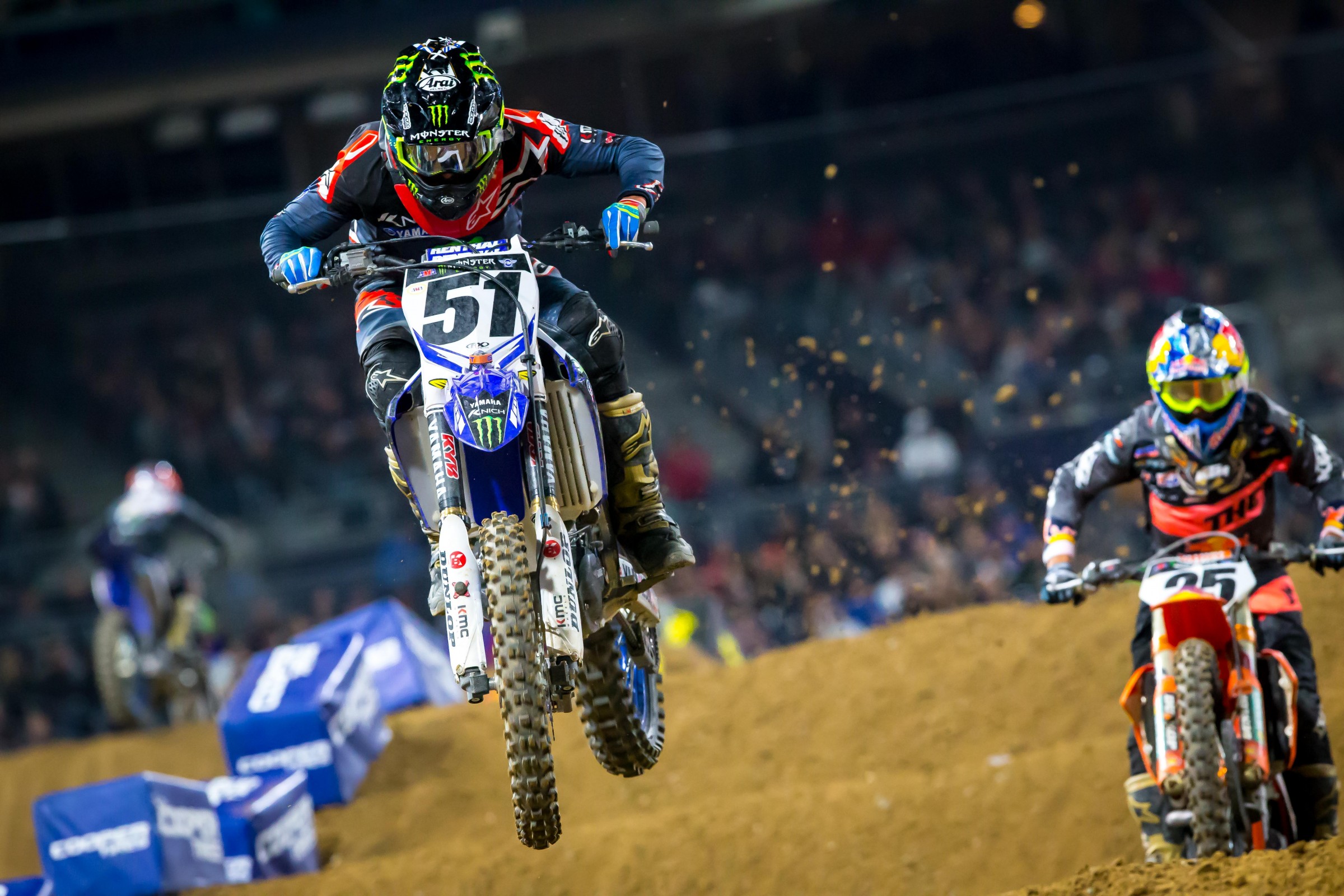 Another week, another great race for Blake Baggett, who earned his second third-place in a row. In the post-race press conference Baggett said there was so much stuff going on out there he couldn't even really remember all the details.
"I can't even remember there was so much chaos going on out there. The track was gnarly, but in a different week than last. Last week it was rutted and super technical and you had to be on your toes. This weekend it was super moist and slick and you were always getting wheelspin, so you were always on your toes with that. You had to be on your A-game."
Heartbreak for Cole Seely, who for the second week in a row, led a good portion of the race but was unable to turn it into a win, or even a podium. Seely saw Anderson, then Musquin, and finally Baggett go by him in the main. It wasn't due to a lack of effort though—Seely's battle with Baggett was fantastic and had the crowd on their feet at times. Seely was trying so hard he even jumped off the track in an effort to get back around Baggett.
Benny Bloss was better this week, finishing twelfth overall, and was excited about his night.
"The day was a huge improvement for me. I was good in practice and I was consistent, which is something I've been trying to work on. I was solid, smooth, and I never fell."
Of course, there were plenty of riders whose nights weren't great.
"Tonight was horrible. From my crash last week I bruised my lungs and broke a bunch of ribs and bruised my shoulder really bad," Tyler Bowers told us afterward. "I broke my pinky and sprained my wrist and have a black eye now too. I was just happy to be out there this weekend."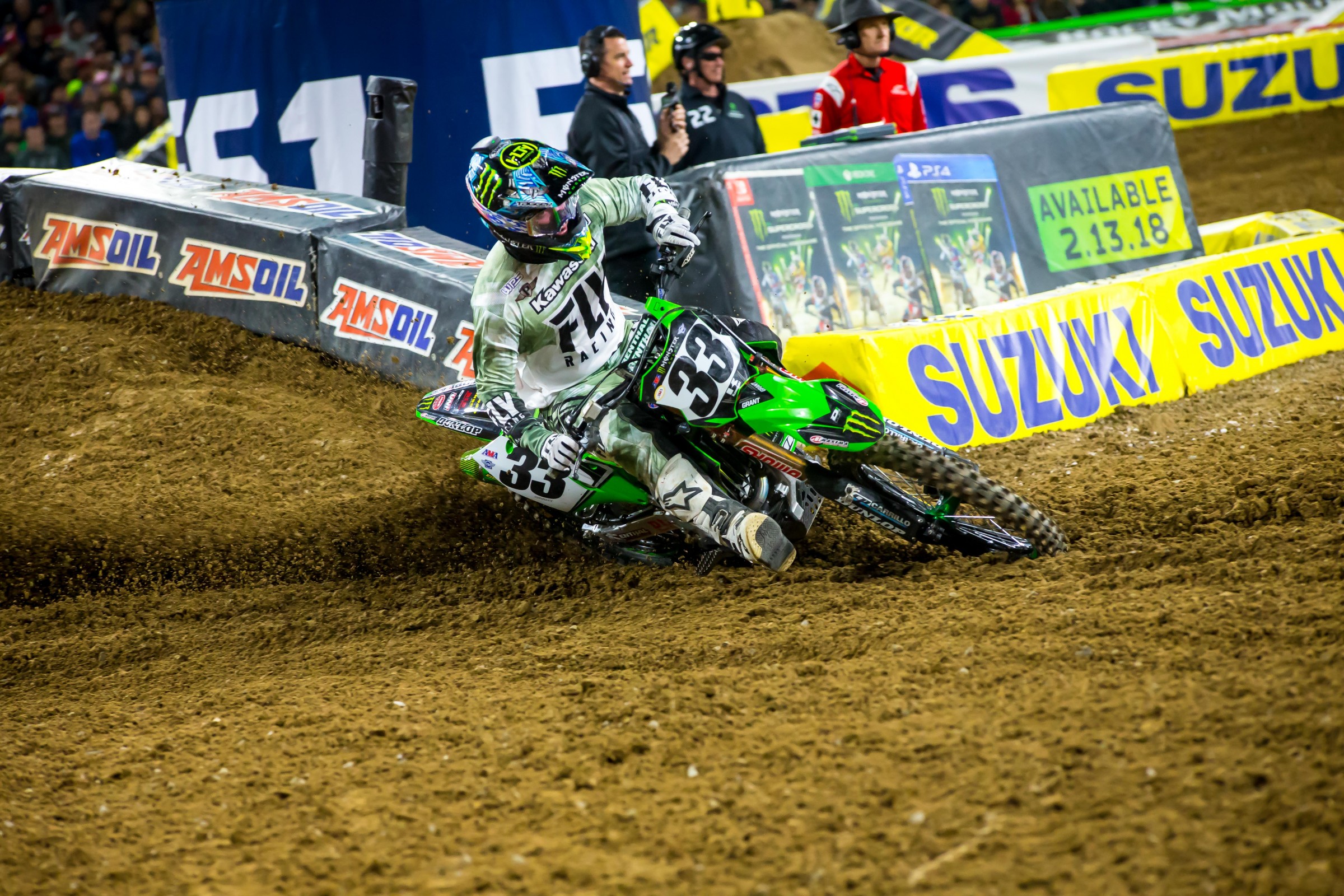 Cooper Webb had some issues in the main too, pulling into the mechanic's area on the first lap. His clutch lever was pointed all the way down and he and his mechanics also spent some time adjusting his brake lever. He spent two laps kicking the front end of his bike trying to straighten the front end before going back on the track. He ended up nineteenth on the night.
As bad as things were for Webb, they were much worse for plenty of other riders, Roczen being one of them. After going down in the first turn, Roczen was making a move on Webb in a corner when it looked like he somehow looped out. He and Webb both went down, with parts of Roczen getting sucked into Webb's rear wheel and swingarm area. Initial evaluations suggest a fractured metacarpal, but he'll get it looked at again on Monday to verify his condition. He's also sporting some road rash on his arm.
Justin Bogle had a bad night too, crashing in his heat race and sustaining some sort of fracture to his arm in the process. Alex Ray crashed out of his heat when he attempted to triple into the sand section. He came up short and gashed his shin so bad blood was pouring out through his pants. If for some reason you enjoy the sight of blood running over a fresh pair of white motocross boots, you can check out Ray's injury here.
Supercross
| Position | Rider | Hometown | Points |
| --- | --- | --- | --- |
| 1 | Jason Anderson | Edgewood, NM | 356 |
| 2 | Marvin Musquin | La Reole | 347 |
| 3 | Eli Tomac | Cortez, CO | 318 |
| 4 | Blake Baggett | Grand Terrace, CA | 285 |
| 5 | Justin Brayton | Fort Dodge, IA | 275 |
Full Standings
The 250SX guys encountered plenty of their own problems as well. Aaron Plessinger, who was charging his way forward, went down and got whacked in the chest by his handlebars. The incident totally zapped his forward progress, relegating him to seventh on the night. He's still leading the points, but his cushion is now only five points over Joey Savatgy, who finished fourth. Alex Martin's problems were even worse. After crashing in his heat race Martin was dealing with pain in his hand. On the 250SX parade lap that pain proved to be too much for Martin, who later told us he was barely able to hold on. He wisely made the decision to pull off the gate mere seconds before it dropped.
Of course, it wasn't all bad in the 250 Class. The fans were treated to a superb battle for the lead between Justin Hill and Adam Cianciarulo. After leading for eleven laps, Cianciarulo was no longer able to hold off a charging Hill, but that didn't stop him from trying. When Hill went by, Cianciarulo immediately started fighting back, coming in hot on the inside a few turns later. Hill anticipated the move expertly though and cut down to retain the lead. Several corners later, the exact same thing happened and the crowd went nuts. Afterward Hill said he actually had no clue where Cianciarulo was going to go a few times and simply guessed. With this win Hill now moves to twenty-nine points out of the lead.
A great ride from Sexton too, who notched his second podium in his rookie supercross season. Afterward he said he could see the leaders and was waiting for a mistake he could benefit from, but that it simply didn't come.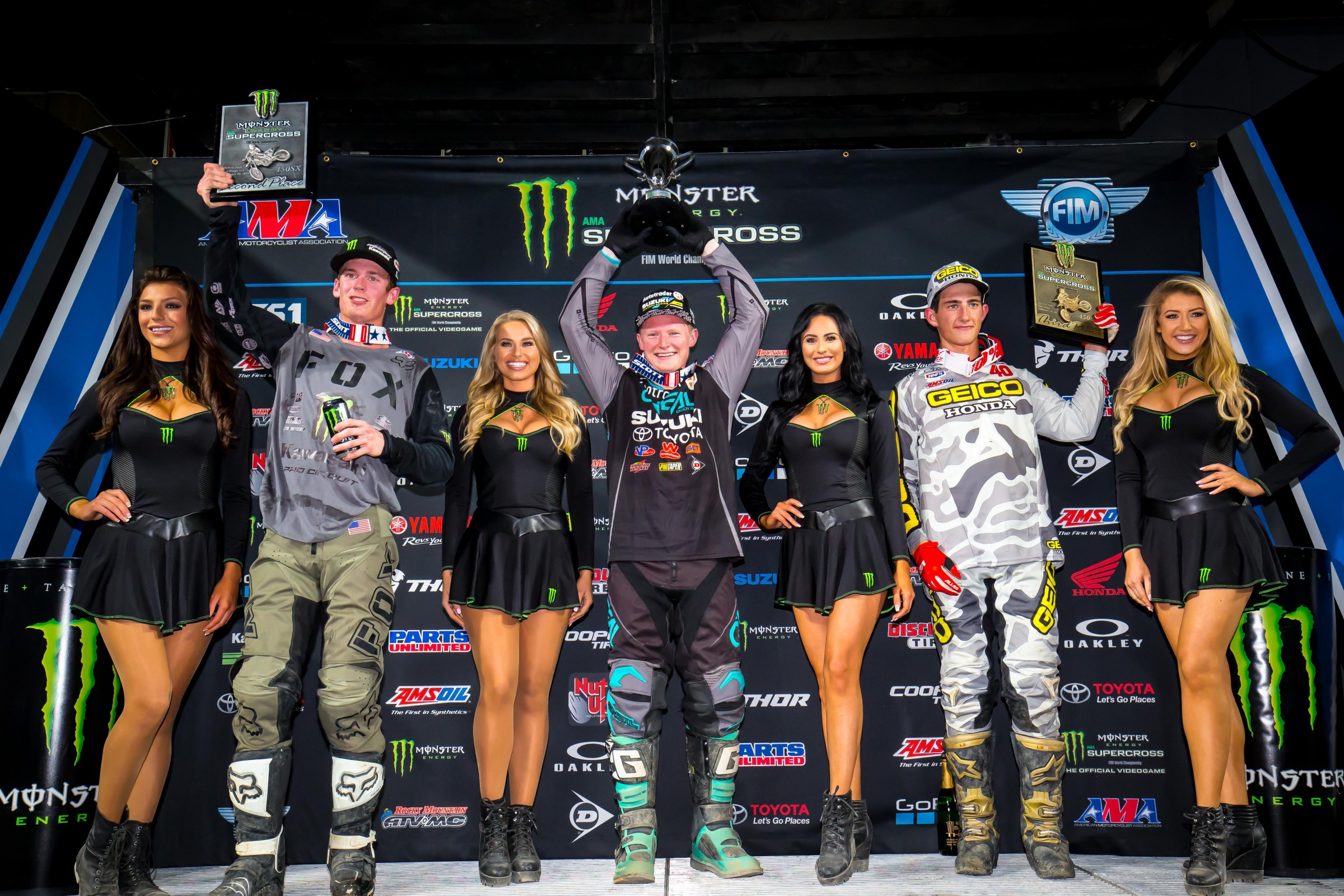 Supercross
| Position | Rider | Hometown | Points |
| --- | --- | --- | --- |
| 1 | Aaron Plessinger | Hamilton, OH | 212 |
| 2 | Adam Cianciarulo | Port Orange, FL | 209 |
| 3 | Shane McElrath | Canton, NC | 193 |
| 4 | Joey Savatgy | Thomasville, GA | 193 |
| 5 | Chase Sexton | La Moille, IL | 167 |
Full Standings