Anaheim, CA
Anaheim 2 (A2)
Monster Energy AMA Supercross Championship
In 1978, a popular movie by the name of National Lampoon's Animal House was made, where a group of ragtag college fraternity members lived together in one house and caused all sorts of mischief for the college dean. Present day, there is a house in Southern California where a group of privateer supercross racers live together under one roof and look to cause mischief of a different sorts. No, not actual trouble-laden mischief, but in the sense that they're dedicated racers who look to disrupt the salary-based riders who make up Monster Energy Supercross and put their privately backed machines in the night program's main event(s).
Previously we conducted interviews with Theodore "Bubba" Pauli and Michael "MBA" Akaydin, and they made mention of their friend and fellow privateer Brice Klippel, who would be living and traveling with them as well. Alas, an idea transpired. Let's get the three of these dudes together in a group text and find out what a handful of "ragtag" privateer supercross racers living together under one roof is like from their point of view.
(While reading, please keep in mind that this is a transcript from an informal group text. It has been lightly edited for clarity.)
Racer X: First thing's first, where are you guys?
Brice Klippel: I'm at the house. [Michael,] Bubba and I are driving through Texas with my mechanic Sebastian headed westward.
You guys are still in Texas? How'd that happen?
Michael Akaydin: Hold tight, Bubba's typing a book while driving.
Bubba Pauli: Haha yeah, Michael and I drove to Houston and right upon arrival, we discovered my driveshaft was about to explode, so we had to wait for the parts, which didn't get in until Wednesday morning. Luckily, Vann Martin was nice enough to help us out for a few days with a track to ride Monday, beds to sleep in, and some extra transportation. If it wasn't for him, we really would have been struggling.
Good grief. Brice, it sounds like you dodged a bullet traveling on your own this week!
Pauli: He flew to the race like a rockstar! ?
Klippel: Lol yeah, I was super thankful with someone to haul my bike and I was able to fly.
So anyway, we recently discovered that you dudes are all living together and wanted to gain some insight into what this is like. So, spill it. Paint us a picture of three racers, mechanics, girlfriends, etc., all living under one roof.
Akaydin: It's cool. You know, we all push each other during the week at the track and at the house. We get along MOST of the time, haha. Our coach Bryan works with us all week and weekend and rents this house with his family, so we are all under the same roof. We watch footage from practice during the week or from the races and Bryan goes over quite a bit of mental preparation each morning and evening.
Klippel: It's pretty cool. Just what he said; we've been living together, we've trained and ridden together for several years now. It's a very focused environment and we all get along really good for the most part.
Pauli: Haha, sorry! Those guys pretty much nailed it! It's a good place to be! The only thing I would change if we could is a little more garage space and a place to wash bikes so we didn't have to go to a car wash every day, but other than that it's perfect, haha.
*in retort to Bubba's answer*
Akaydin: Ha, yeah, it gets cozy in the garage and we don't even have A-Ray and all his junk here this year!
Klippel: Yeah, a lot of moving stuff around when you're done with bike work for the next guy up, haha, but it's all good, it works out.
So, there is some voice of reason or person of guidance living with you? This isn't just Privateer Island anarchy running amuck in SoCal?
Akaydin: Yessir, the structure of the program is a big thing for me. I enjoy having to wake up at a certain time and leave the house by a certain time. This type of planning allows you to get everything done in the day, from stretching, riding, washing, training off the bike, bike work, and reviewing the riding from the day. Structure is important for any athlete.
Pauli: Yeah, the structure is awesome. Something to be valued, for sure. You have to be very self-disciplined in this sport to become anything, but a little extra guidance never hurts.
Klippel: Absolutely, what Akaydin said. Being a part of this program allows me to expand how I see myself as racer along with the other guys in the program. We literally evaluate every aspect that goes into improving our ability as a racer.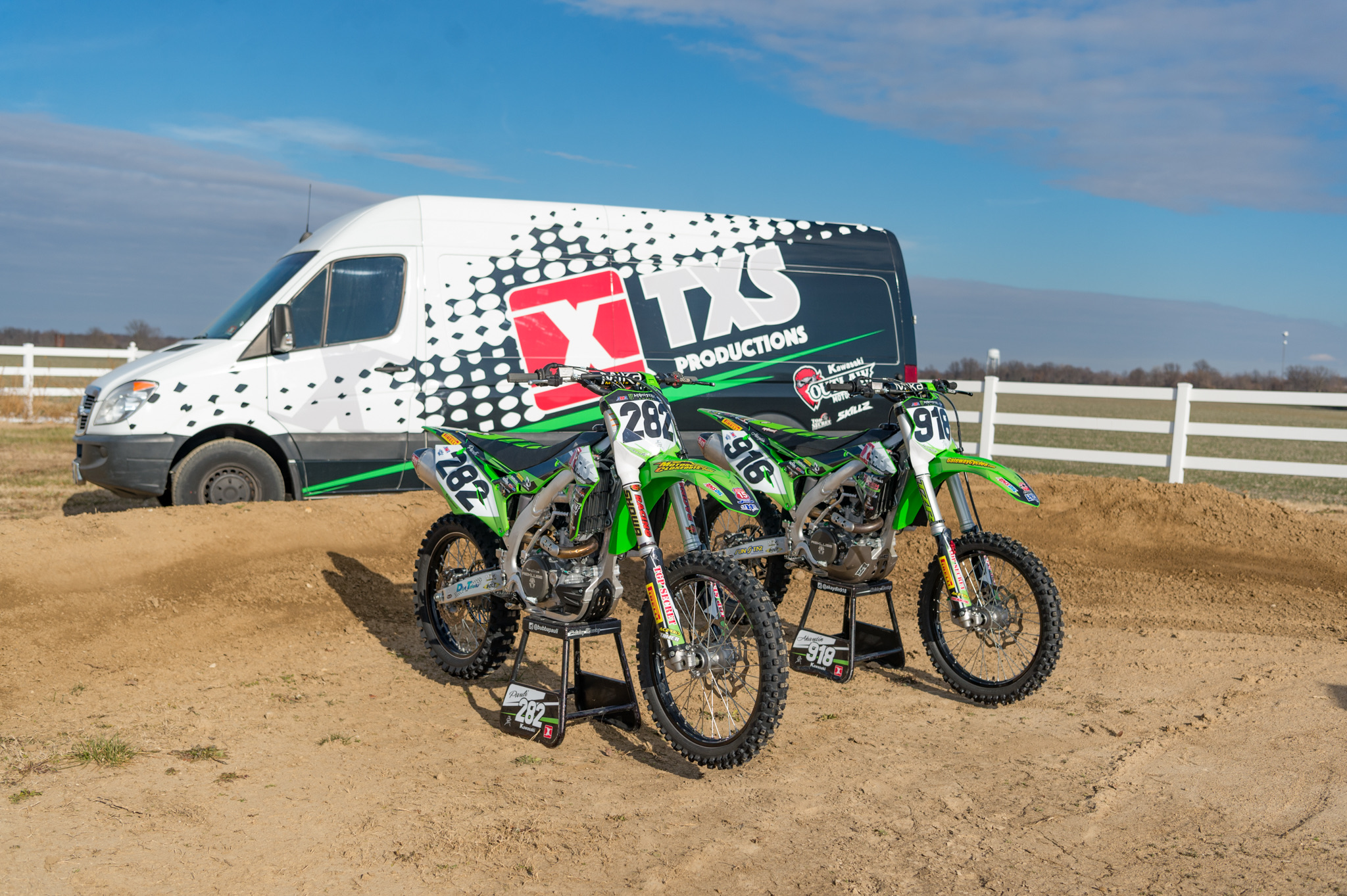 Before we get too into the excitement of living together (we'll come back in a second), this question is for Brice. Brice, last weekend in Houston, Eli Tomac's misfortune turned out to be your fortune. Tell us a little about that. Was it nerve-racking not knowing whether or not you were going to race? Did you even know? How'd you find out? What's the "alternate" process like at a supercross?
Klippel: I had a bad crash first practice and could hardly move throughout the day and was just surviving with how I was feeling with my back. Unfortunately I came up little short from really qualifying but Tomac couldn't race with an injury, so I was able to race. Yeah, it's a little nerve-racking when you're on that bubble, but it all worked out and it was good to get some racing in.
Did you know he was out, or did you just get dressed as if you're racing and find out at the gate? What's the process here?
Klippel: I knew right after practice, but I would have went up there anyway. You never know what can happen.
Unfortunately, neither of you made the main this week, but you were all still able to eat though, right? Bubba—did you get any sort of holeshot award for that LCQ start? Haha.
Pauli: I have a few small bonuses for holeshots, but I actually need to check in on those and make sure I'm good for that. Regardless of the extra pay, I want to do better. Main events are the objective at this point.
Klippel: Haha, yeah, we're not starving! Bubba might be after repairing his van.
Pauli: I'm gonna be on a really tight budget for a bit after the van repairs, for sure.
Akaydin: I was closer this weekend than last, but we want to be in the main. I have to use the first several races to play catch-up, but am happy with where I'm at.
Back to the house situation. How big is this pad, and how many people are actually residing there?
Klippel: Nine people, about 2,600 square feet on Canyon Lake.
Pauli: It's a three-bedroom house. Bryan and his family take the master room and the riders share the other rooms. We throw up bunk beds to fit everyone. It ends up being pretty full on bed space. It's just riders, for the most part. Not much room for other guests, unfortunately.
Akaydin: It's a good-sized house that Bryan rents. Some mechanics stay with us on the weekends and my wife is able to come for a week or so, but it's a tight-knit house for sure.
That said, are you limited on bathroom time? Is there a line to use the shower?
Klippel: Yeah, about 10-15 minutes and the door is getting beaten on, haha. Mostly for the water.
Akaydin: One shower for all the guys! You'd better lock the door or someone's coming in, haha. No, we are all pretty respectful and quick.
Pauli: Haha it's definitely better this year with two fewer guys, but yeah, sometimes you have to wait.
Who takes the longest to get ready?
Akaydin: Brice.
Pauli: I'm gonna say Brice ?
Klippel: Oh come on guys just put me blast ?
Akaydin: ? Bubba and I are driving together so we can pick on #914.
Klippel: I take my time sometimes.
Who's the messiest? I know Bubba well; you ever see inside his motorhome? It's spotless!
Klippel: I'll go ahead and say between the two of them, it's me, lol.
Pauli: Come on, sorry, it's Brice! But who's gonna claim that for themselves?
Akaydin: The Brice is right, Bob.
Pauli: A-Ray won that award last year though, by a mile.
Akaydin: Landslide.
Who even does the cleaning in the house? Is there a vacuum or mop to be found?
Pauli: We all kinda take that roll, but Bryan's wife does a better job. Mainly on the weekends when we're gone, she'll tidy up for us.
Klippel: We just clean up after ourselves and I don't know, Bryan's wife does the major cleaning when we're gone to tracks and stuff.
Akaydin: Dude, we got lucky there. Bryan's wife Liza enjoys cleaning, and on the weekends when we are gone, she cleans a lot! But we clean up our own stuff pretty well... maybe better than you'd think for a bunch of moto dudes.
Do you do your own cooking too? Or do you all eat together as a group?
Klippel: We cook for ourselves a lot and Liza also cooks meals for the group on certain days of the week.
Akaydin: A mix of cooking for ourselves, then Liza picks certain days to cook and we pitch in to pay for it. We definitely clean up the leftover Tupperware too, haha.
Does it ever get tense in the house? You're always together. Are there ever those, "Bro, really?" moments?
Klippel: Oh yeah, no doubt there's been some of those moments through the years.
Pauli: Haha, yeah, all guys have bad days here and there and some dudes can be annoying, but this year we have a smaller group and everyone is pretty level-headed, so it's good now.
Are you guys able to enjoy downtime at all? Or is it all structure all the time? If so, what do you guys do to relax?
Pauli: Running our own race programs doesn't really allow for much downtime. I wish we had some more free time. I would definitely hit the mountain bike trails more!
Akaydin: Sundays after a close race is the best chance for downtime, and then we may have a little time in the evening if the day goes well. But all it takes to ruin that is breaking one part that day or something that we have to go track down and take care of.
Klippel: So true, but it's sick that everything is around here so you can just go and get new parts and don't have to ship things and all that hooha.
Well, it sounds like you all have a solid crew together, and support for each other. Anyone you'd like to thank before we end this?
Pauli: Oh yeah! TXS productions / Outlaw Motorsports. St Louis Tattoo. Top Secret Designs. Motorcycle Closeouts. BSM. Skillz Racing. PRL. JH2. Route15 Cycles. Ryno Power. Pirelli MX. JM Racing. Arai. Novik Gloves. Sidi Boots. AMSOIL. Ruralube. Yoshimura. Tamer Holeshot. Rekluse. Dirt Tricks. Dragon Goggles. Moto Hose. Dozer Dave Tracks. No Toil. Mika Metals. Works Connection. Bolt Hardware. Burromax. DirtSquirt. Dove Technologies. Be Free Ride Bikes. Holiday Mowing. Mom and Dad.
Akaydin: Sure dog. My wife, Maggie. TXS Productions. RL Vuckson Excavating. Embree Racing. Gateway Cycles. Skillz. Top Secret Designs. St. Louis Tattoos. Shoei. Sidi. Pirelli. Rekluse. Dragon. PRL. Tom Zont Racing. SunStar. Braking. Atlas. Works Connection. MotoSeat. No Toil. FCA MX. Engine Ice. Acerbis. Yoshimura. IronTribe. BigO Tires. Mika. Bolt. Novik. LYD MX. MotoHose.
Klippel: Yeah it's solid! I have some great people supporting me. My mechanic, Bret Hooper! BWR Engines. SSI Decals. FXR. Arai. Shamrock Property Management, LLC. Bob's House Of Honda. Ankle Savers. Tamer Holeshot Hookup. No Toil. PRL. Rekluse. Bills Pipes. Dirttricks. Sidi. RK Excel. Brian's Motorsports. Bolt. Nine6nine. Vertex. Moto Seat. Evans Coolant. Asterisk. Vortex. Parents. Girlfriend. Also, a huge thanks to the Ray family with Powerline SX for all they have done for me, along with letting me have access to an SX track and resources to maintain it during pre-season!