There is no normal, established path that leads to employment in the world of dirt bike racing. Be it factory mechanic, PR person, or media member, most everyone here has a pretty unique and often wandering story of how they ended up in this traveling circus. Daniel Blair, co-host of Race Day Live, is one of them.
Racer X: Before you were an arenacross TV analyst and part of Race Day Live, you were a racer. Fill us in on that background.
Daniel Blair: There wasn't much racing, as far as minibikes go, in my area [Northern California], so I ended up turning pro before I was 16. I just kind of jumped in and raced arenacross when I was 15. I made some main events, but ended up getting protested and was told I couldn't come back without a birth certificate to prove I was 16. I, of course, didn't come back because I wasn't old enough! From there, when I was old enough, I jumped into supercross while continuing to do the occasional arenacross race. When my supercross career was coming to an end, I went back to arenacross and ended up getting about four more years of being able to make money and have fun racing a dirt bike. [Note: Blair won the AX Lites West championship his final year.] I also, even when I was a privateer, did a lot of track reports and TV interviews, and I always tried to do press day.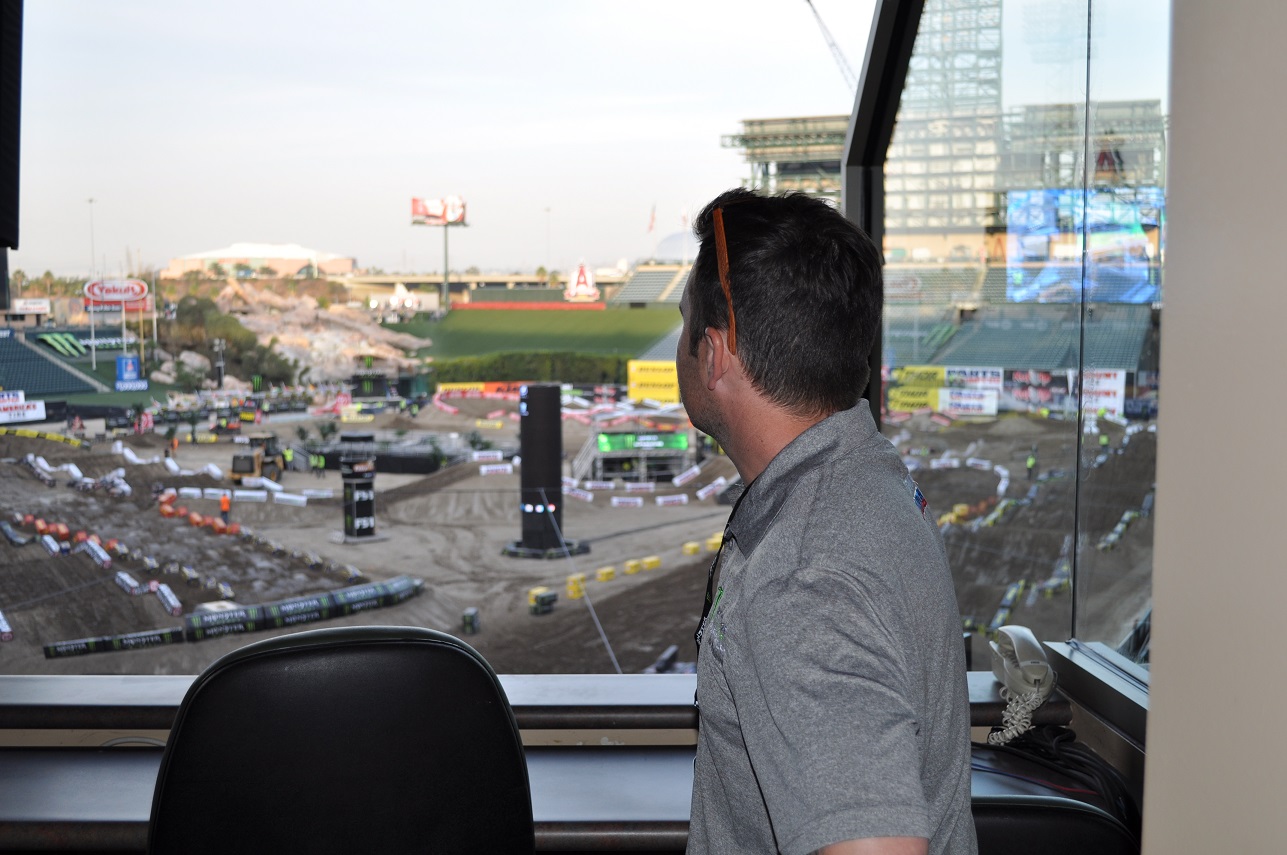 What made you seek out interviews and that kind of thing?
I don't know if it's just my personality, but I like to talk and I like to engage. I'm very outgoing as a person. Probably because of that, they'd frequently ask me to do track reports, rider reports, or even when I'd do press day, I'd always do the TV interviews. I liked that stuff, whereas a lot of the other riders would avoid it. But I liked it, which probably comes from my background a little bit. I did competitive speech and debate in high school, so I had no problem getting in front of people and talking. I only took those classes for the extra credit so I could graduate early—my parents made me go to school—but they helped prepare me. Those last four years of arenacross, I was always offering myself to do whatever they needed. When the opportunity [to become an arenacross TV analyst] opened up, they said, "Hey, why don't we give Daniel a chance?" So, I did a rehearsal and a tryout and ended up getting the job. It was kind of a lucky transition because I never really intended on doing what I'm doing now. It wasn't part of a plan; it just kind of fell in my lap. Luckily I had the experience from my career, which made the tryout much easier. From there, my new career kicked off.
So, you never actively pursued that role?
I got a call asking, "Hey, would you like to come out to Chicago and do a voiceover and audition to be an arenacross commentator next year?" I said I'd love to, but I already had some deals in place to race. They said we could worry about it after the audition, so I flew out to Chicago, did the tryout, and got the call about a month later telling me I got it. I said, "Let's rock 'n roll!"
Is that what led to where you are now with Race Day Live?
Well, I did arenacross TV for two years and never really thought about it being anything beyond that. It was just something fun to do. Of course I worked hard at it, but I loved it, too, and it allowed me to stay in the sport. Then last year, I got a call about halfway through the season and they said, "Daniel, you're doing pretty well in arenacross and we want to give you some more opportunity. Would you like to do Race Day Live?" I said, "Wow, that'd be great," to which they responded, "Actually, we're not asking. You're starting next weekend." I watched some video, learned what to do, and went for it. I showed up at Indianapolis, I think it was, and here I am.
So, how's it going? Are you liking it?
I love it. It's been the most incredible blessing to still be involved in the sport I love and am so passionate about. Even better, I now have something I think I can do for many years. As a rider, you know there's going to be an end date; you're kind of always running out of time. With this, I'm just getting started. As a commentator, I'm still young. I'm going to keep working hard and take any opportunity they give me. And this year, they're giving me even more opportunity—I'm joining the Fox Sports 1 broadcast as the floor commentator in Ricky Carmichael's position on the weekends he's not there. I'm probably working harder at this than I ever did at racing. Maybe it's because I'm more mature and realize there's a career sitting in front of me, as long as I work hard and take it. It's very exciting and I'm looking forward to wherever it leads.
What's your advice to anyone who's looking to get a job in this industry?
Whatever it is you would want to do, be it a mechanic, TV commentator, a reporter, or whatever, you just have to go for it. You have to have patience and know that things aren't going to happen right away. That's one thing I've learned. I never really thought, "Hey, if this or that doesn't happen right away, I'm out." I'm committed to this sport and to this industry, and you have to have patience and know that your hard work will pay off. Whatever you want to be, you can be; it just takes time, and you have to seize every opportunity you're given and do your best.
Follow Daniel Blair on Instagram and Twitter @danielblair125.