Former factory rider, and minicycle and arenacross god, Buddy Antunez, decided to make a big life-change this off-season. A popular coach and figure in Southern California, Antunez answered Autotrader/Yoshimura Suzuki's offer to be the 250 team manager for 2018 and with it, a move to North Carolina where the team is based. After the chaos of round one, I asked Budman for his thoughts on why he made the move.
Racer X Online: New gig, new year. Talk about the process of thinking about taking this job, becoming the 250 team manager and all the things that came with it.
Buddy Antunez: Well, the process was a process because the family had to get involved because there was a move involved with joining up with JGR Suzuki. The process was, I've been doing the coaching thing for going on seven or eight years now and built a good business. But I felt like when I talked to Jeremy [Albrecht, JGR Suzuki team manager], this was an opportunity that may not pop up again. Sometimes I felt like in life and in this industry, you need to maybe take some of those moves and see where they go. It was something that also interested me as well, working with Jeremy and the JGR crew and knowing they were going to be Suzuki, which I've been a longtime fan of. I've ridden their bikes for a lot of years. Then realizing what I was still going to be doing, which was really connecting with the riders that wanted help and still doing that part of it because that's part of the job that I really enjoy. Then also learning from Jeremy on the manager side. If anybody knows Jeremy, and all the managers, it's a big job and responsibility.
Being able to learn underneath him and figure out how to do things on the level that he has done for these years to be successful, that was a big thing for me as well—to be able to somewhat have on my resume moving forward with anything in life. Really stoked on the move. Pumped on the job and the team synergy and all the new faces, riders. It's been really fun and cool to see, because I've been around the team for some years working with the riders and sometimes there were some eggshells. There's no eggshells. Everybody's positive and it's really good.
You're going to move the entire family? Not yet, but in the fall, I understand?
So, I'm just moving in May. My son still has two years of high school, so we really didn't want to uproot him. But he's big into theater, acting, Broadway-style shows and those things. He actually found a performing arts high school in Charlotte, so he's going to try now to audition and see what it all is. So maybe if that happens, that would be something he would really be into. So, that might happen sooner than later. There's still some things. But he actually found it on his own. That was pretty cool. Did a little research into it a little bit. I'm excited about the move. The time I spend back in Charlotte, it's really beautiful. It's nice to see seasons. Us being on the West Coast, we don't see the seasons very much. That was cool. I'm not a fan of the cold; I won't lie to you. But according to them, there's only a few weeks, days, whatever. At the end of the day, to be a part of a company like JGR, that is something that is very cool in the scope of it.
What's one thing that you've had to do that you maybe had no idea was on a manager's resume?
I kind of knew the role a little bit, but I guess the main thing that kind of shocked me a little bit was how deep that Jeremy has to go into everything, which is T-shirts, the design of the truck, which then the design of the bike matching up. The sizing of the stickers for sponsors on the bike. That's a huge deal. Sponsors want this size versus that size. And the time it takes to confirm with all of them and approve everything. That was probably the biggest shocker.
Out of the four guys you have for the 250 truck, do you work with some of them a little more one-on-one? Are there one, two, three, four guys that you're like, "This guy's a little more open to teaching?"
They've all pretty much been in a group most of the time, but obviously Phil's [Nicoletti] gravitated towards it and has really seen a lot of progression through it and a lot of improvement across the board. Hill is already such a talent. He's real analytical of himself. So, we almost just jive off each other. Like hey, I see this. Yeah… It's more of a jive. [Jimmy] Decotis is working with Swanny [Gareth Swanepol]. So, obviously, if he's with us, I'm going to give him a pointer here and there, whatever I can. Kyle Peters is full-on program, in it. He's crushing it right now. I fly back after Houston here to work with him a couple days. Actually, Jimmy D ended up going back there, too. It was scheduled to be Peters' time. They've all been real open to it, and the thing is with anything, interjecting yourself at the right time, right place. Also, it's a big trust thing, too. They got to trust what you're doing. To be honest with you, with Weston [Peick] in particular, I've been around him for years. Now, getting the team together and him having Justin to race around with, the whole team and putting him more in a simulation.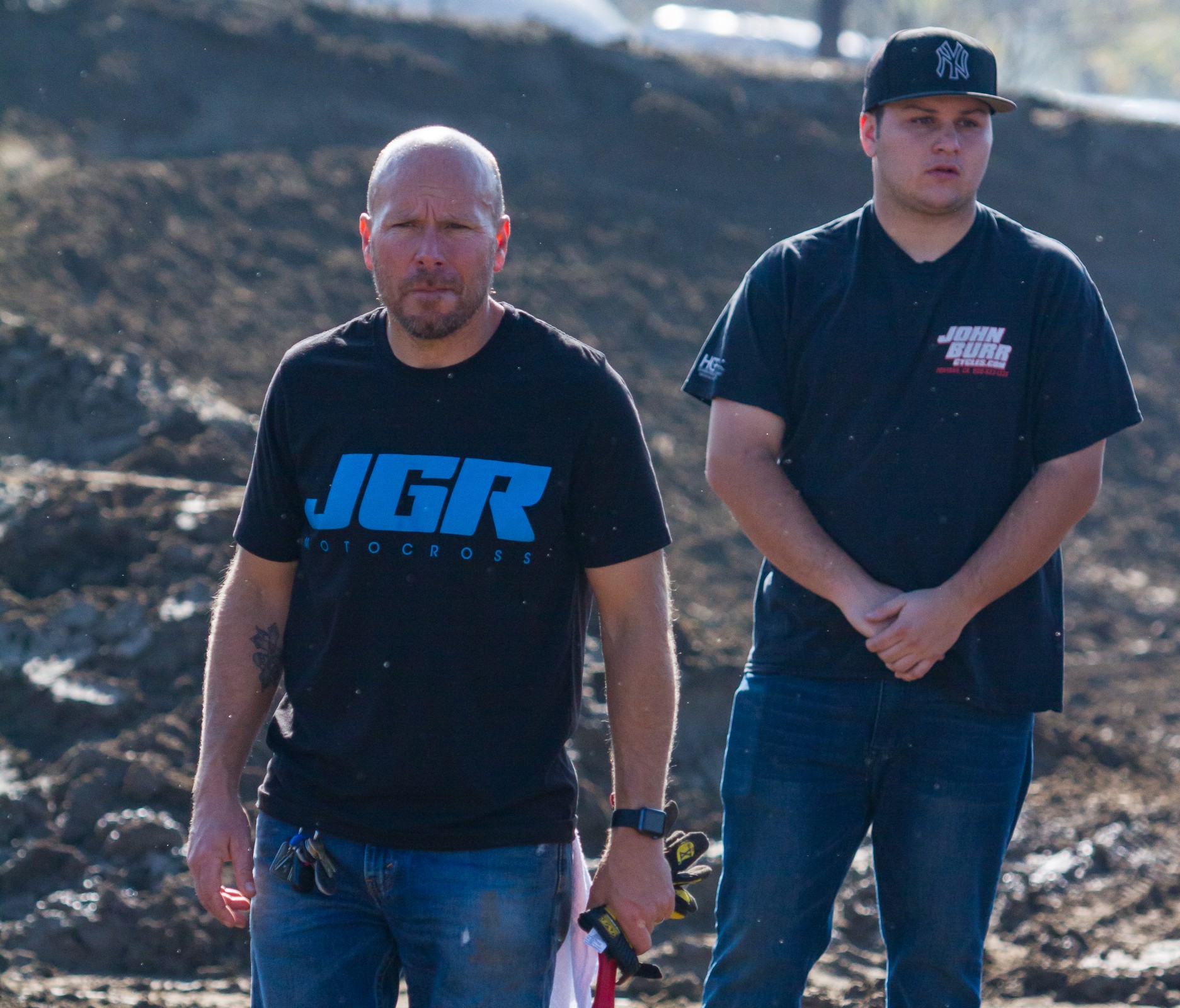 So when the 450 guys are out on the track and you're back here, vice versa, are you radioing to Jeremy kind of what's going on, or you're making calls? How's that dynamic work?
I'm staying out there through 450. So, we'll stay out there. Get everything, all the information I need and come here. Go 250 guys, then circle over to Weston and Malcolm [Stewart] after that. Some of that's still getting a little bit worked out, but so far last weekend, with all the chaos of A1, everything went really, really well.
So you're a little bit more than just the 250 guys, as far as that goes?
Yeah, just as far as riders' end of it. I'm still going to help the 450 guys if they want it, need it here at the races. Obviously, Weston is a no-brainer. So, I've still been doing all Weston's moto programs, as far as on the bike, all his technical stuff and all that. I'm circling around. Jeremy's thing to me is there's no job description, it's just "get it done." Whatever needs to get done.