Anaheim, CA
Anaheim 1 (A1)
Monster Energy AMA Supercross Championship
What year is it again? I don't have my Old Farmer's Almanac handy, but I'm almost positive that it's 2018. In a year that had so many question marks about the future, most of the things I saw reminded me of the past. They say history repeats itself, and I don't even know who "they" are, but "their" idea seems to have some merit. For Eli Tomac, Dean Wilson, Blake Baggett, and Shane McElrath, 2018 was a mirror image of times gone by.
For Eli Tomac, his main event couldn't have started much smoother. He nailed the start, and with a gap to his assumed rivals (Ken Roczen, Jason Anderson, Marvin Musquin), it looked like he would run away with the win. After all, he won over half of the races last season and it seemed any time he got to the front, he was history. As he began to check out on the pack, I remember thinking, "The only one who can beat Eli tonight is Eli." This same scenario played out in the much-talked-about East Rutherford round of last year's series. With all of the series momentum, he jumped out to the early lead and everyone in the stands was already assuming he would win. That wasn't meant to be, however. He would make a costly mistake (see: millions of dollars) and throw away valuable championship points. There was no apparent reason for the mistake other than just rider error. He wasn't pressured, wasn't out of control, he just put his front wheel in the wrong spot and crashed.
Fast-forward to Anaheim on Saturday night and we saw almost the exact same scenario unfold. Tomac was poised to run away with the first main event of the year in a series where many had picked him as the favorite. He didn't have any pressure, no one was closing on him, and there were no real outside influences to attribute the mistake to. Just like in East Rutherford, he just lost traction in a spot that he couldn't afford to. He remounted and in a weird series of events, tried to get back in the fray before stopping several times and finally riding back to the pits. Now he looks to have a shoulder issue to contend with on top of losing a race-worth of points. If we remember back far enough, that was the same situation we saw in 2014 leaving an Anaheim round, too. Hopefully his shoulder is in a better situation than three years ago, but it didn't look great slumped over on Saturday night.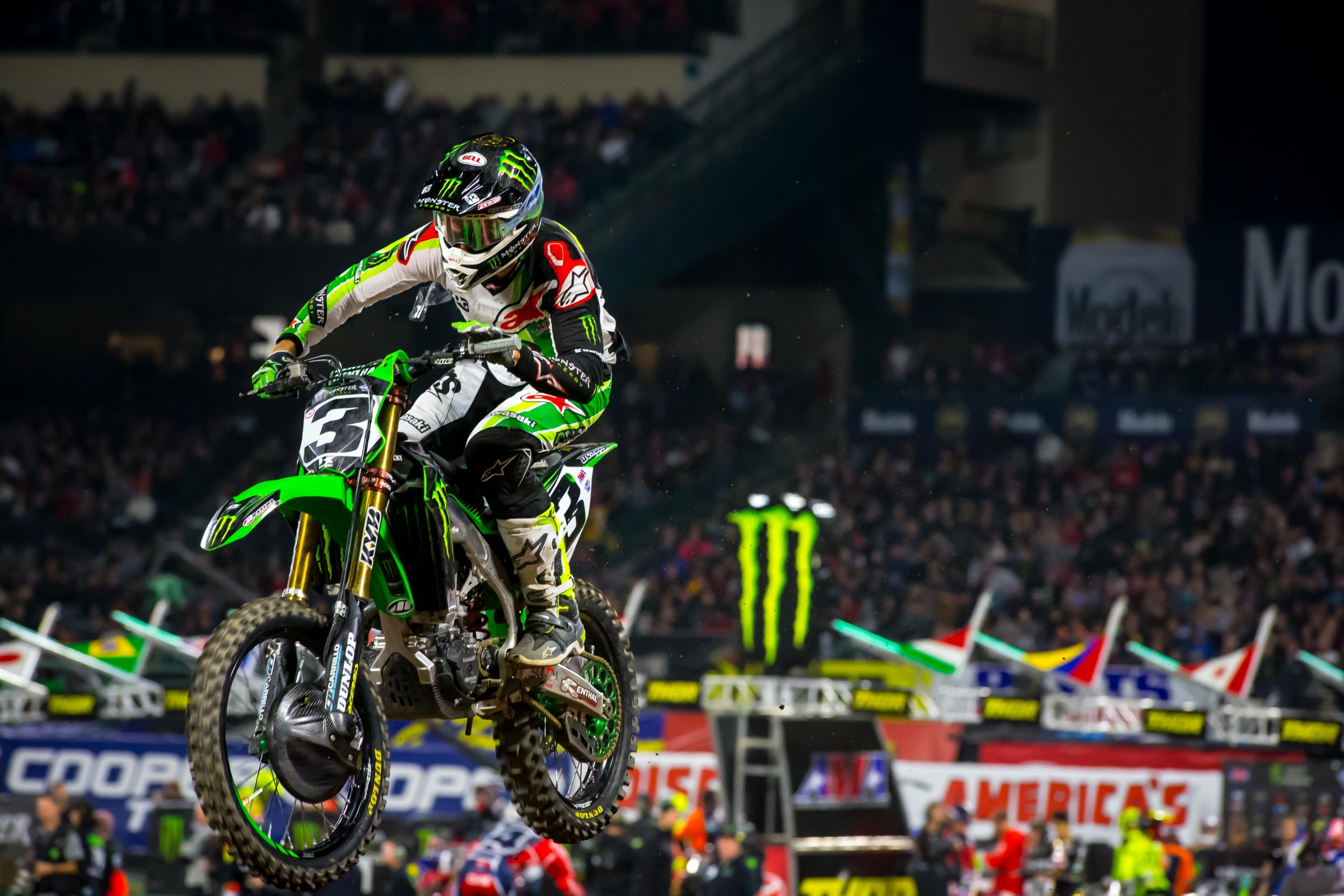 For Dean Wilson, the unfortunate series of events that Anaheim dealt was similar to 2016 in a sense. Dean Wilson was coming in with a new factory contract and hopes were high. Everyone knows he has the talent to be a real player in this class, and in a perfect world, that will happen sooner than later. As we saw on Saturday, though, Anaheim has a nasty mind of its own, and Deano wasn't able to escape. As he was charging forward in the heat race, he attempted to wheelie down the backside of a small double in order to scrub the next double. He had a chance to pass Blake Baggett, and with his elite skill set, I can see why he went for the move. Things went awry, unfortunately, and instead of scrubbing forward, his front end dropped into the second jump and sent him endo-ing into the triple face. It was a brutal crash to watch and left everyone thinking the worst on impact. His shoulder took the worst of it, and like Tomac, we'll have to seek answers on the extent of the damage before Houston. Hopefully Deano's 2018 Anaheim crash will be much less impactful than his 2016 Anaheim crash that left him with a torn ACL and a missed season. If he can battle through, he will be a threat for the top five all season.
Blake Baggett was another rider who seemed to be dealing with yearly Anaheim struggles yet again. In his last six Anaheim races going back to 2015, he has an average finish of 10.8. While some might say that isn't a horrible stat sheet, we also have seen Blake produce much better results on a regular basis. In fact, after the second Anaheim round of 2017, his average finish was 6.9 over the course of the next 14 rounds—that's even including a 17th-place finish in Arlington, which, if removed, would take his average finish down to an impressive 6.1. While that may not be a good enough average to be in title contention, it certainly sheds light onto his struggles at Anaheim. Whether it's first-race jitters, missing the correct setting for the opener, or simply bad juju in Orange County, Blake is systematically digging himself a hole to start every series.
Shane McElrath is the shining example of how everyone wants to start the series at Anaheim. For all of the struggles from the above riders, Shane has somehow figured Angel Stadium out. His last three finishes in this building are now 1-3-1. He was the points leader leaving Anaheim 2 last year, and if you eliminated his mechanical failure in Arlington (which most likely would have been another win), he had a great chance to be your defending West Region champion in 2018. He is doing everything right at Anaheim, and it's setting him up for the rest of the championship.
"They" say you can't win the championship at the first round, but you can certainly lose it. With a minimum of two Anaheim's on the schedule each season, what do "they" say about Anaheim being the barometer for the rest of the season? Tomac was able to turn it around last year and nearly win the title. Dean Wilson bounced around a bit but found himself with a factory Husqvarna ride last season after mediocre Anaheim results on his privateer Yamaha. Blake Baggett improved dramatically after leaving southern California. Then we saw McElrath come out with guns blazing, but one misstep cost him the whole enchilada. As we swing through Texas and back to Anaheim in less than two weeks, will the same trends continue for these riders? Will Tomac and Deano be able to fight through their round one crashes? Will Blake be able to buck the Anaheim downtick and get himself to the front? And, finally, if Shane can indeed rack up more early round wins, will it be enough to seal the deal this time around?