Angel Stadium
Anaheim

,

CA
Anaheim 1 (A1)
Monster Energy AMA Supercross Championship
Weston Peick | AutoTrader/Yoshimura Suzuki | Fifth in 450SX
Racer X: Can you walk me through your day?
Weston Peick: A1, first round, I felt pretty good. I didn't start off that well in practice. I qualified 15th and I felt comfortable, which is the most important thing. I knew racing is 100 percent different than practicing. My new RMZ Suzuki was working really awesome. I can't complain with that. We got off to a really good start in the main event. I think I was top four, top five, and just kind of was stuck in a good groove and got passed by a couple guys. Learned some stuff, some new lines, and tried to settle back down and finished it out strong with a fifth. Can't complain about that at A1.
So you weren't worried about where you qualified? You felt fine?
The last three years I've been racing, it's like qualifying means nothing. These guys can throw down heaters all they want, but when it comes down to 20-minute races, you see where they finish at every single time. It's just how it goes. I do what I do and I'm not the best qualifier. So, when it comes down to more about gate drops, that gets me fired up for when it counts.
You picked up right where you left off at your last supercross race at A2 last year, where you also finished fifth. Is this where you want to be?
Every year starting off with top-fives is the way to go. If I can stay in that area with top fives and podiums, anything can happen at the end of the year. I could be in a championship chase. It's just one of those things where I've just got to be consistent and not make stupid mistakes and keep my head on straight. With the backing this year with everybody we have on the team, it's how I think it's going to go.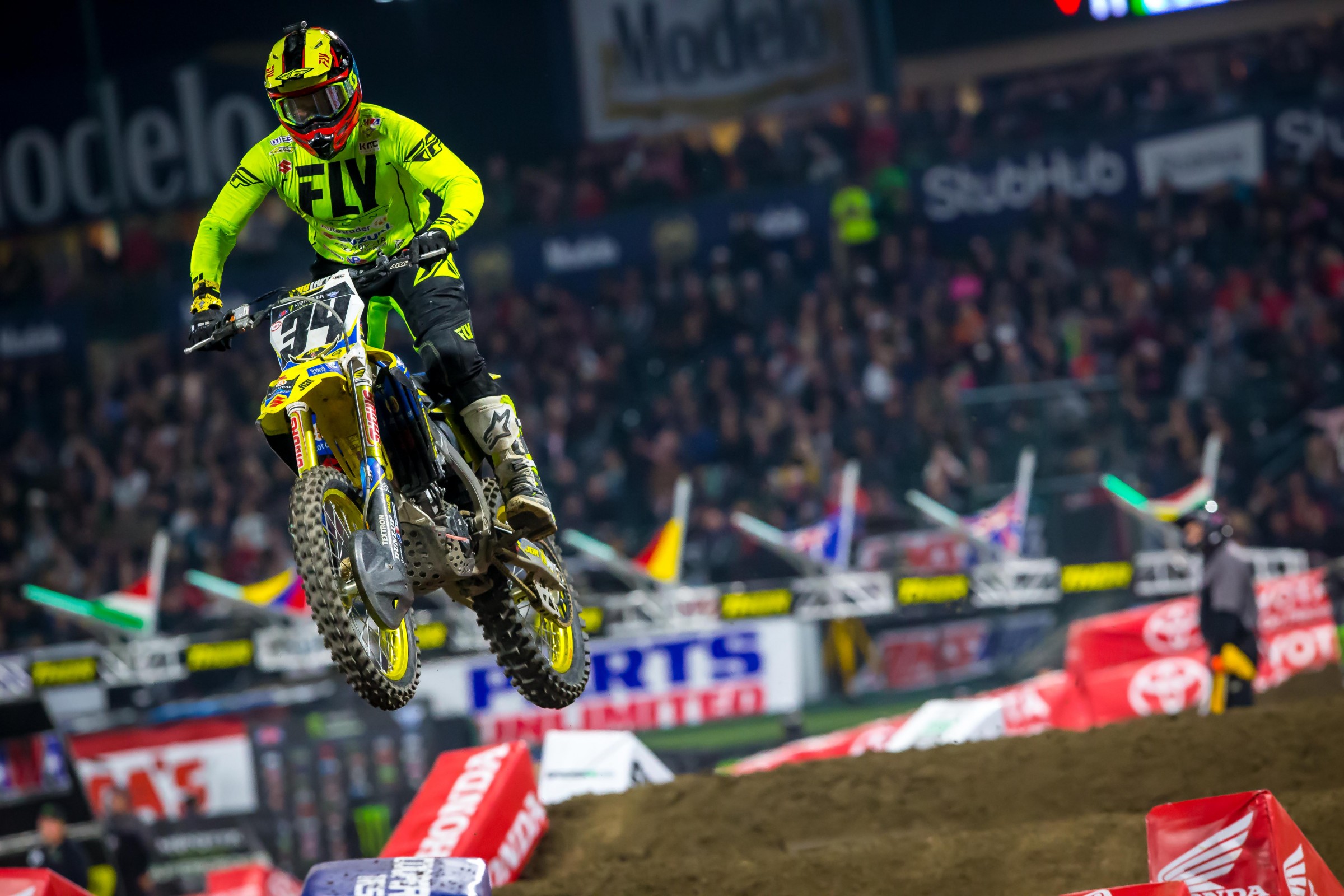 Do you feel like with Justin Barcia leaving the team there's a little bit more focus on you this year?
Yeah, of course. I took the role of the top guy on the team. As well as that, we have so much more support now by Suzuki. They've came in and brought in people that are making our team more advanced with the personnel, with the mindset. They know how to win. It's so good to have those people behind you to do the right things and make a bike. It's all so many things that fall into play. It's kind of been awesome.
What'd you think about the track tonight?
The track is what it is. We all got to race the same track. I think it was pretty easy. There wasn't a lot to separate anybody's times. It was a second a lap, or two-second spread. Obviously, it's A1, but hopefully when it starts going, we can get some more interesting tracks to separate people. If we're going to race all year on the same stuff, it's pretty basic. It's going to be not ideal, but it is what it is.
What'd you think about the metal start grate?
I kind of like it. It works a little bit better for me. It makes it more consistent for everybody, besides, obviously the front of the gate was pretty damn chewed up tonight. I like it. It's something different. We've been racing dirt to dirt forever, so to get something different. I like it. Change it up.
Have you been doing much practice on them at the test track?
Yeah, at the test tracks we have our own grates. I've been doing grate starts for the last three months just trying to figure out a technique that's going to be better than everybody else.
Are you going to work on anything next week?
Just putting in more motos, man. Trying to fix what we struggled with tonight, which wasn't much. Just a few little small things. That's pretty much it. — Kyle Scott
Joey Savatgy | Monster Energy/Pro Circuit Kawasaki | Fourth in 250SX
Yeah, I felt good all day, honestly. Track was relatively simple; not a lot of separation. A start goes a long way. My gate wasn't the best, but I didn't want to go on the outside of the three guys that finished in front of me [in gate selection]. So, process of elimination, the only gate left that wasn't to the outside of them was the one to the inside, but I had a pretty big hole about five feet out of the gate. So, I caught a little bit of air coming out of the gate and didn't get a good start. I mean, we made passes. Made some moves and we were maybe eighth, tenth coming around on the first lap. Came all the way back to fourth, so I felt really good today. Fitness is night-and-day better than last year, bike is a lot better. I think all of my weak points from last year, we've improved. My whoop speed is way better. A start, I think, would have improved the outcome. One of those tracks—nothing to separate. — Jason Weigandt
Justin Cooper | Monster Energy/Yamalube/Star Racing Yamaha | Ninth in 250SX
The night started out pretty well. I qualified ninth, I think. I had a bit of a rough go in the heat and had to go to the LCQ but I was able to win that. I didn't have the best gate pick, got a pretty bad start, and had to pick my way through in the main, but I had fun out there. I didn't push anything and I let the race come to me.
What were your expectations?
I just wanted to keep it in the top ten. I think I have the potential to be up on the podium, but we have plenty of time for that. Just going to take it slow in the rookie season, play it smart, and stay safe. That's the main thing.
What was it like lining up for your first supercross? It's got to be something else.
Oh yeah, it's wicked. There are so many people in there. I've done some arenacross, so I've been in that type of environment before, but you kind of just have to block it out and do your own thing. It's cool under the lights; there's nothing that really compares to it.
What was the biggest surprise for you tonight, if there was one?
How the racing worked, the schedule and all that. It wasn't really that big of a surprise, but it was definitely cool to get this one under my belt and move on to the next weekend.
Did anything catch you off guard, having to learn the track that fast? The pace? Anything?
It's pretty hectic during the day, but the team helped me after every practice. They helped me with lines; and they filmed me so I know what to do after each practice to better myself. It was a good start and it's something to work on. –Aaron Hansel
Bradley Taft | CycleTrader.com/Rock River Yamaha | Eleventh in 250SX
It started off a little rough. I got a bad start, but I put my head down and started coming through the pack. I kind of linked up with Mitch Oldenburg and I think we were eighth and ninth. We actually were catching [Justin] Hill and [Chase] Sexton and those guys. We were ripping. But I made a little mistake and ended up having the front end wash out. I got up, ended up crashing again, and my bars were a little bent. I struggled, but I'm happy with my speed and I'm looking forward to next weekend.
Compare it to one year ago when you'd just had your first supercross.
I'd say I was a lot more confident tonight. I've been riding really well at the practice tracks and my fitness has been really good. Last year was my first race, but I only got to do two races last year, so it's still kind of like my rookie season. But confidence—that's been the biggest difference this year.
I've heard rumors the CycleTrader.com/Rock River Yamaha engines improved a lot this year. Is that true?
We started working with Yoshimura this year. Scott Rabon, our crew chief, has been working with them and they built a solid motor. It's leaps and bounds better than it was last year. The bike this year, it is just as good, if not better, than any of the factory bikes out there. I'm able to do rhythms others can't. On press day, I was doing a rhythm nobody else was doing. Our bikes are definitely competitive, and they might actually be faster than the factory bikes. That's not a rumor; our bikes have come a long way since last year. — Aaron Hansel
Jeremy Martin | GEICO Honda | Eleventh in 450SX
It was a good night. I was pretty happy with the day, other than how the last couple laps of the main went. I got freight-trained pretty hard. But I learned a lot and the guys are going really, really fast. I think it was a good day. Like I said, I'm bummed how the end of the main went, but I had good speed. I was in seventh forever, but unfortunately, I just made a few mistakes. Hopefully next weekend I can improve on that.
Do you think losing the spots at the end was a matter of not having the experience in the longer, 450SX mains, or the pace?
I think it's more of a bike thing. It's a lot faster. Those guys are really good, too. And you're going longer, so I have a lot to work on and get better at. We'll go to the test track this week and try a couple things, and we should be able to be better in the main at the end.
You seemed quicker in the main than in qualifying and in the heats. Were you?
For sure. I got better as the day went on and I got more comfortable. Just all-around better. We'll work on getting a little bit more comfortable so we can last a little bit longer in the main. — Aaron Hansel
Kyle Cunningham | H.E.P. Motorsports | Sixteenth in 450SX
It was pretty gnarly. You get comfortable at the practice tracks, the bike feels good, and this weekend I felt like we were making a lot of changes. But it's going to be a bit of a learning curve with the 17-round season. We got it in the main, and I felt like I rode good. I've really been working hard but a few things didn't feel comfortable, and that's something I just have to go back and work on. But you need a starting point, and we got out there in the main event tonight. And man, that field is stacked; there are so many fast guys. They're all going really fast, from one to 20. So, we just have to go back and work on a few things. The guys on the team, H.E.P. Motorsports and Suzuki, have been awesome. It's a new thing for them, and I think we're going to build every weekend.
The end of your heat race looked intense!
[Laughs] Like I said, it was pretty gnarly. When you're in there, the top nine—man, it was a pretty intense battle. I made a few mistakes on that last lap that kind of put me in a bad spot, but fortunately I made some smart decisions and ended up getting it in still with an eighth. We need to work on getting out of the gate better; the metal grate is quite a bit different. We need to get up there and start running that speed and getting faster every weekend. — Aaron Hansel
Ben LaMay | TPJ | Seventeenth in 450SX
The night was great. Qualified eighteenth out of practice and was seventh in my heat race; it was great. Then I was 17th in the main. It was my first supercross in two years. I've been riding a 250 in arenacross for a while, so it was a big change. But I'm just trying to keep a level head and plug away for 17 rounds with TPJ Racing. Ted Parks has really stepped up his game, and I've got a great program behind me and a great bike under me. I want to show these guys what I'm about. I have a lot more in the tank, and I'm pumped to start out this way. Seventeenth is not bad, and I expect myself to do a lot better.
What was it like adapting back to supercross after being in arenacross for so long?
Well, corners are corners and a jump is a jump, but it is a lot different. The intensity is so high in arenacross and the corners are so tight—you literally almost come to a dead stop. In the main events the ruts get so deep, it's so tight, and the jumps are different. But today, it was difficult. The track got pretty beat up with a lot of ruts, and there were a lot of different rhythms and configurations. The main event is long, too. So yeah, it's a big change.
Compare the whoops today to arenacross whoops. I heard a few riders saying they felt the whoops were maybe a little too steep today after practice.
Going off of today, they were nothing compared to arenacross whoops. Arenacross whoops are way bigger than that. If those were too steep, they have no idea of what arenacross whoops are like. Those were honestly a cakewalk for me. I'm really good at whoops, so I loved them in arenacross. And out here, I loved it. In arenacross, you're coming straight out of a flat turn into a long set of whoops, you have no run, the lane is tiny, and you have lappers. Out here, the track is double the width and you've got big bowl corners. It feels like freedom out there when I'm riding. — Aaron Hansel