Angel Stadium
Anaheim

,

CA
Anaheim 1 (A1)
Monster Energy AMA Supercross Championship
For just a moment, all the hype and buzz surrounding the always-tense Monster Energy Supercross season opener at Anaheim was about to cease. Eli Tomac jetted into the early lead on his Monster Energy Kawasaki and slowly began to distance himself from the field. For the man that had won nine races last year and came so close to the title, this looked like a shot across the bow, an early statement to show that maybe he had things under control in a season that was supposed to be so unpredictable. Then, such calmness ended abruptly. Tomac went over the bars, and Anaheim, and the 2018 season, went back to full crazy.
How crazy? Tomac lost a few positions and then stopped on the track completely to fix his broken pants, which were nearly falling down. His bars were also bent. Most of all, though, his shoulder hurt—his team says he suffered a shoulder contusion (a bruise). After rolling around the track for a few laps, he eventually pulled off and went to the pits, his race was over. For the second year in a row, Tomac has the speed but will face a huge points deficit in the early season standings.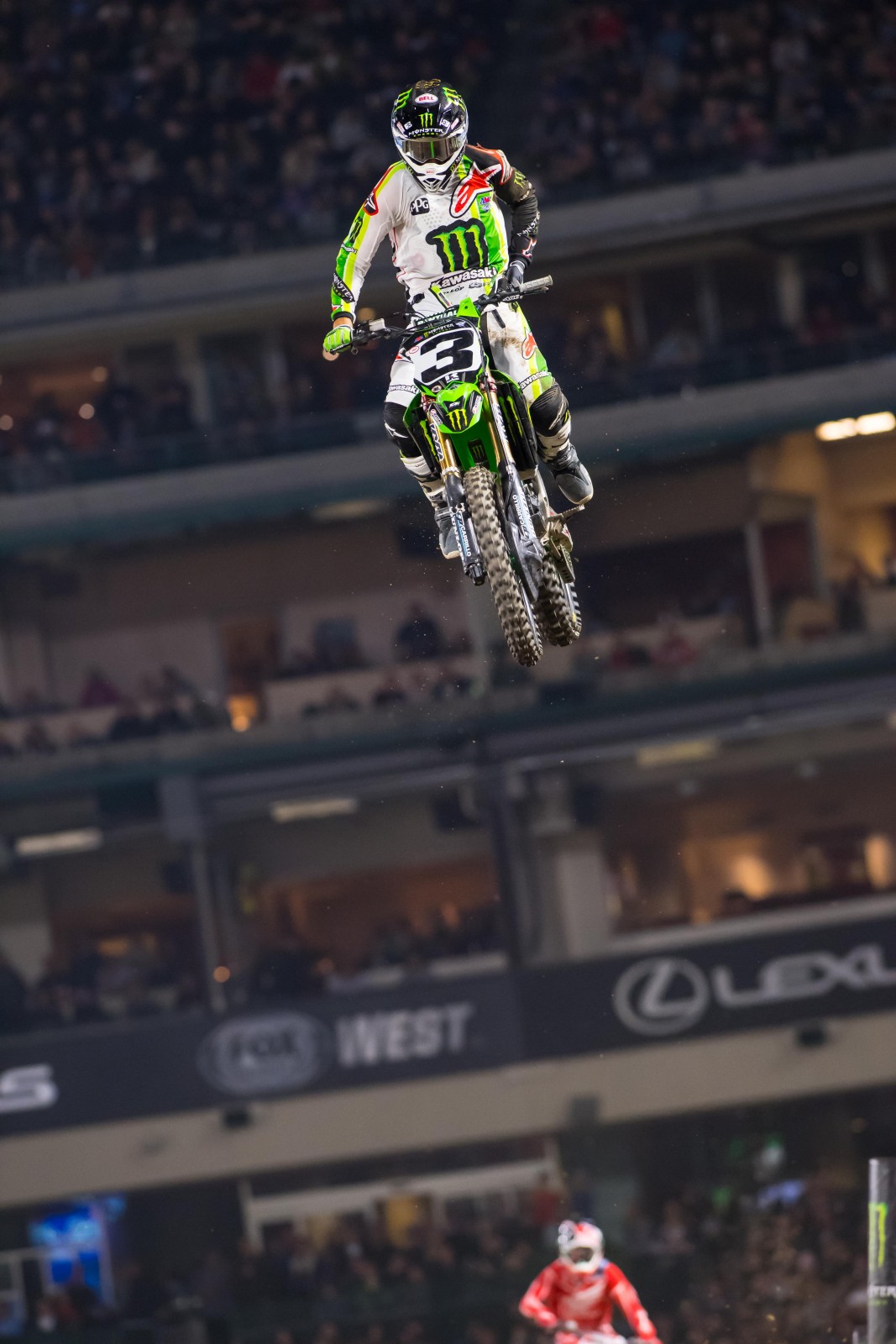 The man who took over the lead from Tomac was not Marvin Musquin or Jason Anderson or Ken Roczen but…Justin Barcia. Barcia, absent from the factory rosters just a few months ago and absent from the 450SX podium for three years, found himself in position to win the race on his Monster Energy/Knich Factory Yamaha. He started right behind Tomac and logged some good laps, then inherited the lead with Tomac's crash. Marvin Musquin then showed up on his Red Bull KTM, worked Barcia over a bit, and went on to take the lead and the win. While Musquin was certainly a pre-season favorite coming in, even his victory seemed a bit surprising. Marvin has been carving up the races as of late, including his Million Dollar sweep at the Monster Energy Cup during the off-season. He didn't look the same this time, though. In practice and in his heat race, he had not shown much magic. In the main event, he methodically worked his way forward, though, and took a rather clinical victory, even surprising himself.
"It was definitely unexpected," Musquin said. "We tried to stay calm and I guess we made it happen. We got a bad start but we were able to stay consistent. It was a long main event."
Rockstar Energy Husqvarna's Jason Anderson followed Marvin through, eventually passing Barcia to take over second. In practice Anderson looked very smooth and fast, but in the main event he tried to hunt down Musquin but they stayed in check with each other, each gaining and losing small tenths here and there.
"When I felt like I would close it up a little, I would push it too hard and make mistakes," Anderson said. "I feel like the pace we're going, we're going close to 100 percent the whole time. When you're going 100 percent and you're trying to catch the guy in front out you and you make a mistake, it's tough. I felt like I was inching up here and there, but wasn't enough to get him at the end."
Barcia hung tough for third, an amazing turnaround for a rider who thought he would be racing the season as a privateer. This was his best supercross in years—and the first Anaheim 1 he'd made without injury since 2015.
"When I got the call from Yamaha it was exciting but I was also scary because I've struggled with the Yamaha in the past," Barcia said. "But they did a good job on the new bike. People have a hard time believing that coming into the season, like "Oh, you didn't like the Yamaha." It wasn't like I didn't like it, I just struggled, I didn't adapt, I had a lot of injuries and I couldn't get comfortable. I felt like I had a solid month and a half on this bike just rebuilding. Getting comfortable, getting the speed back up. It was good at the test track because I got to ride with Cooper [Webb, teammate] and the Star Yamaha guys. We don't have the Aldon Baker training facility but we do have our little Yamaha test track, and it's good."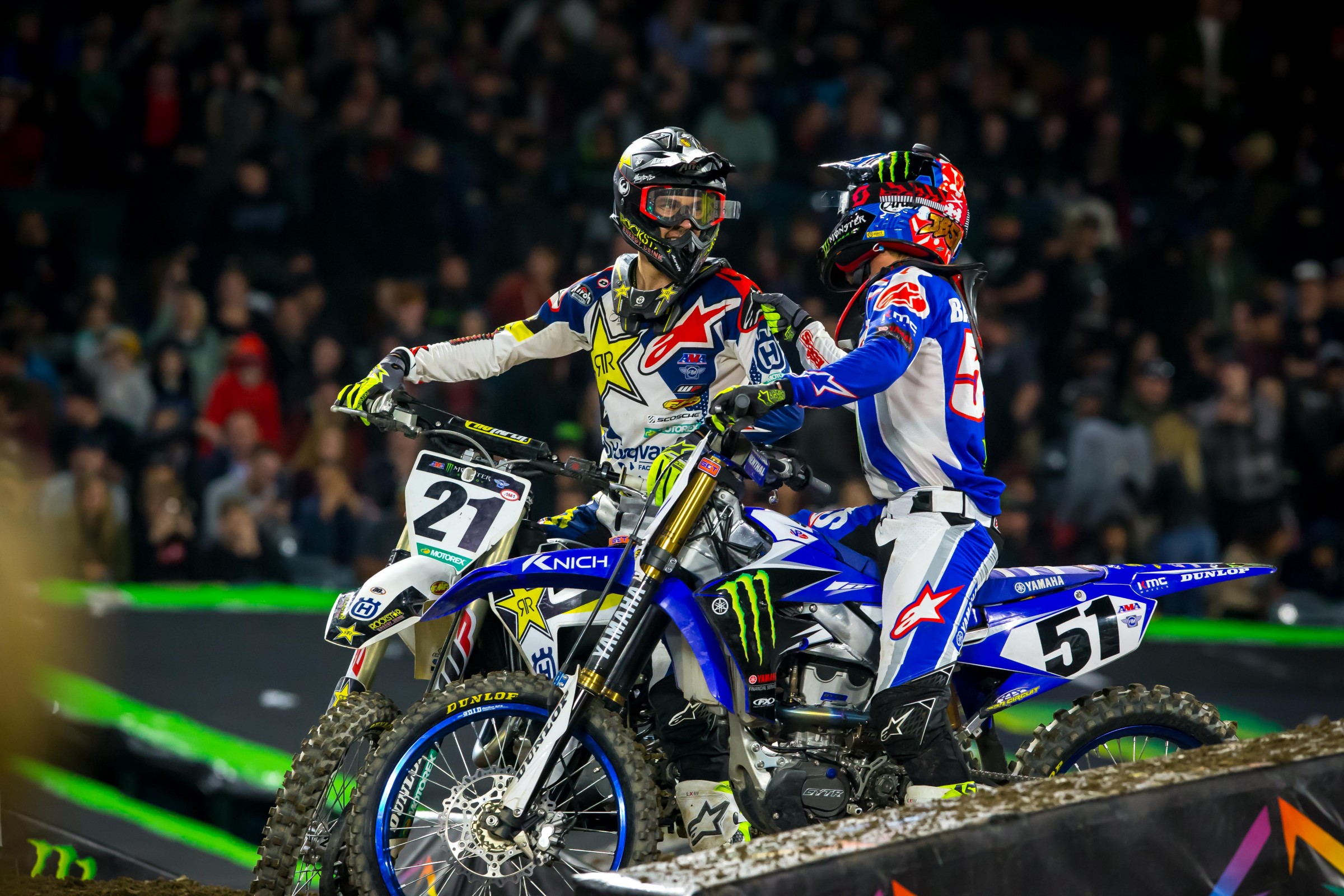 Barcia's rise from the career ashes to third could have been the story of the night had Ken Roczen not already captivated everyone with his return from a potentially career-ending arm injury. He was the talk of the pre-season, the talk of the press conference, the talk of the day. In fact, when Roczen ended up with the fastest qualifying time in the final qualifying session, the crowd erupted in applause. In the main event, he started in mid-pack and worked his way to fourth by the finish. He was patient while getting into some huge battles in traffic.
"I feel pretty good. I got fourth," Roczen said. "I'm a winner and I want to at least be on the podium, but all in all, I got a little tight in my right (non-injured) arm, and I just have to clean up a couple of things. I just kind of stood there and I had one big mistake, my foot came off and I almost crashed. After that I put together some good laps. I rode pretty good all and all. I think if I hadn't made a mistake I could have made the podium. It's good to have a purpose again, be back out here again working with the team. It was good, though."
Solid night for Autotrader.com/Yoshimura Suzuki's Weston Peick, who started third in the main behind Tomac and Barcia and stayed steady, taking fifth behind Roczen.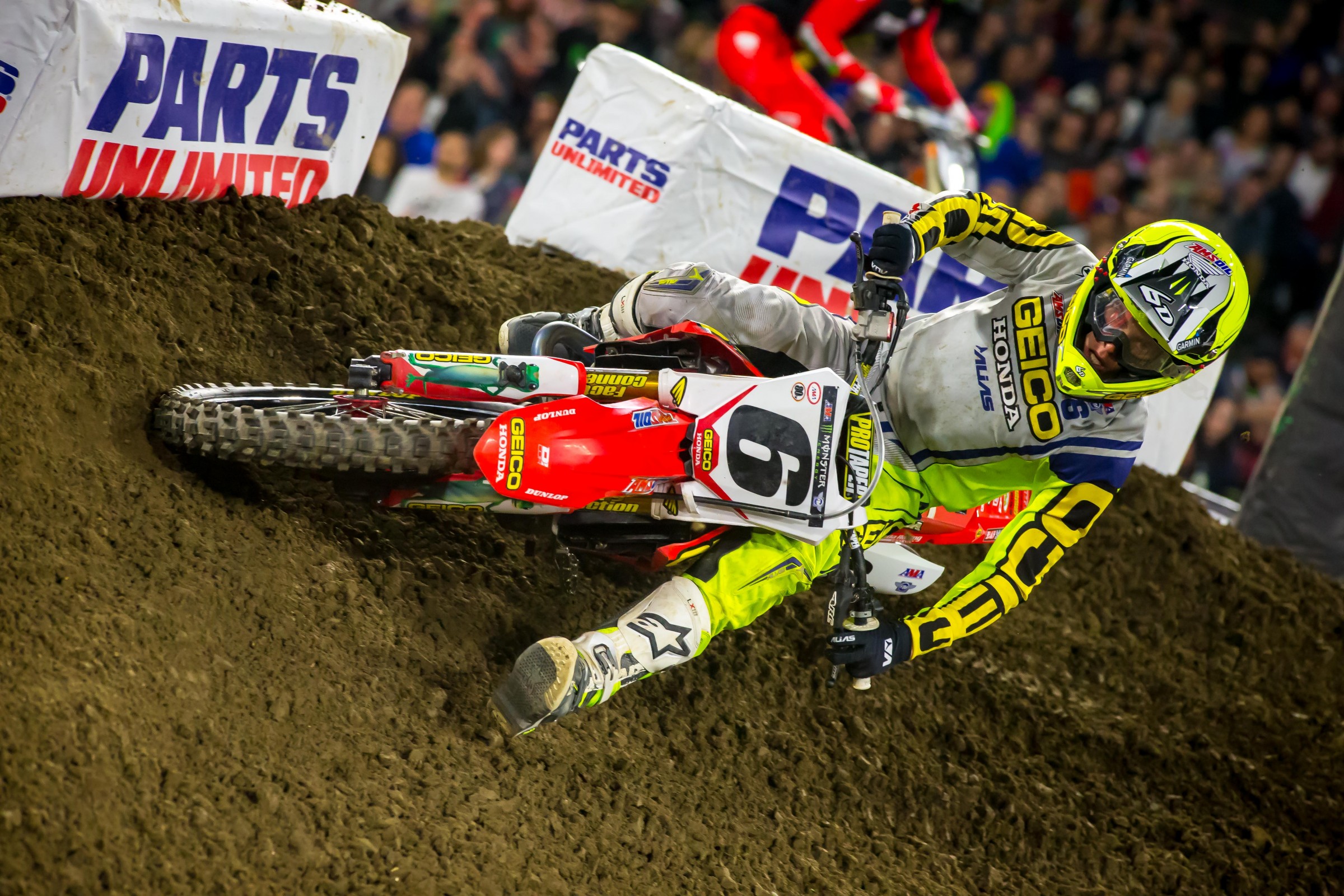 Unfortunately there were more riders than just Tomac whose nights were affected by nasty crashes. Dean Wilson for example, didn't even make it to the main. The Rockstar Energy Husqvarna rider, celebrating finally making it through last season without a big injury, went over the bars and crashed hard while running well in his heat race and was absent for the rest of the night. Afterward we went over to his pits, but all his team knew was that Wilson had hurt his shoulder, and that they won't have an idea of the severity of the injury, if there even is one, until later this week. So if you're a Wilson fan, don't get down in the dumps just yet, he might be back next week!
Benny Bloss also exited the night early due to a terrible looking crash in a short rhythm lane. Bloss was leading the 450 LCQ when came off his bike and slammed extremely hard into the ground, literally bouncing to a stop. He left the track in obvious pain. We tried to learn more but his team was in the midst of a long meeting afterward.
The expectations on Jeremy Martin were probably pretty high, considering the ridiculously awesome second-place 450SX ride he put in last year at the Daytona Supercross. Then again, that's a supercross unlike any other, so to expect him to come out and do it again wouldn't be fair. That said, he still had a pretty good night, running in seventh, then eighth place for a good portion of the race. There was a massive battle between Martin, Cooper Webb and Blake Baggett for much of the race. Afterward he told us he wasn't happy about getting freight trained at the end of the race and admitted he'd gotten tired, which he attributed mainly to getting used to riding the bigger, more powerful machine. The good news is he got progressively faster from practice to qualifying, and to the main event, which he said was because he was simply getting more comfortable on the bike due to more seat time.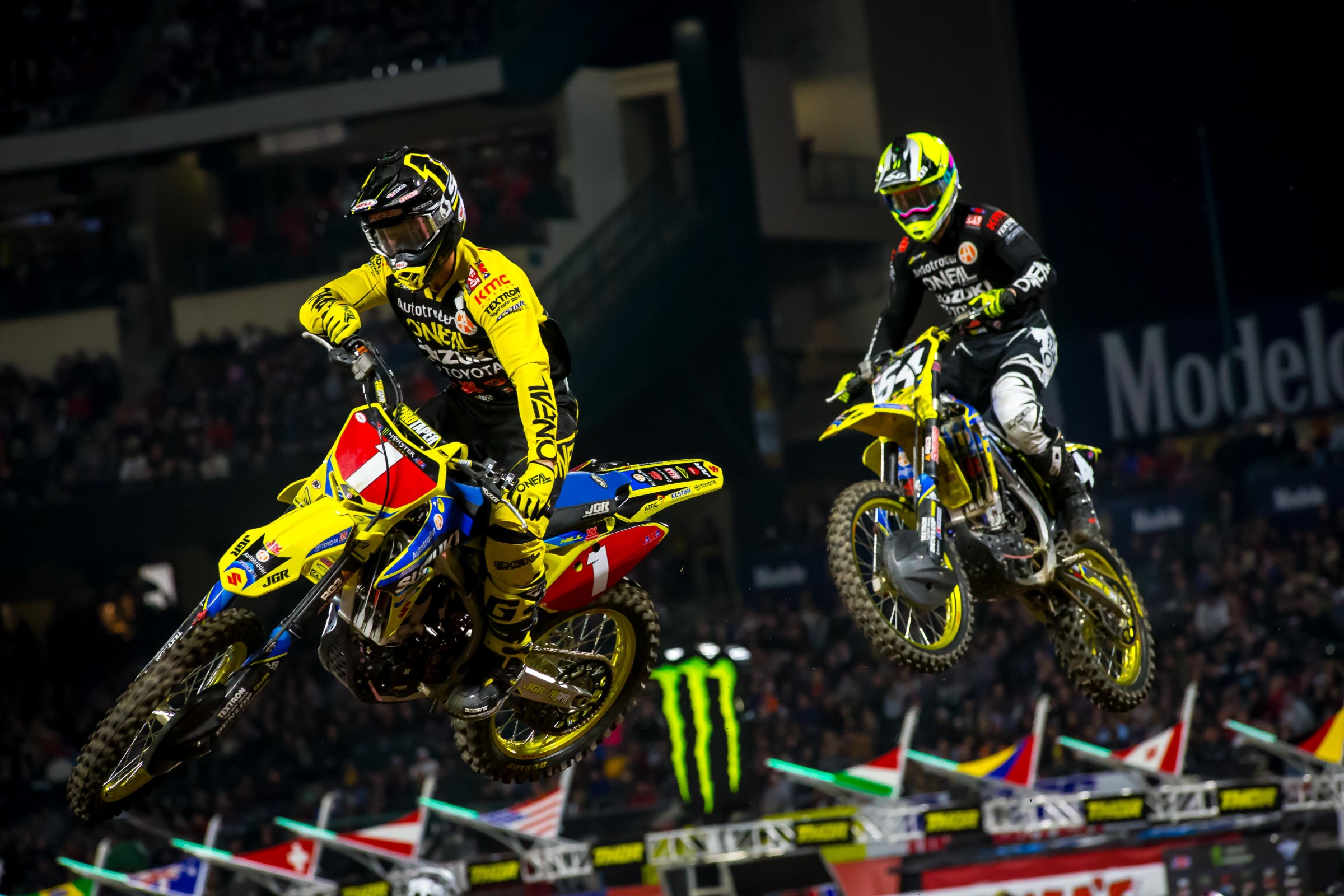 Cooper Webb and Blake Baggett are both going to be looking for do overs at round two in Houston. Webb came into the year with high expectations but never looked comfortable all day or night. He got into a big battle at mid-pack in the main and blew a rhythm section for two laps in a row, sending him back to 12th. Late in the race he started putting laps together and came back for tenth. His new mechanic, Grant Hutchinson, told us the team was encouraged by his late lap times, which put him in the speed range of Cole Seely, who finished sixth.
As for Baggett, he went backwards late in the main event and ended up 12th—Jeremy Martin was sandwiched between Baggett and Webb and those riders were dueling for most of the main event. The Rocky Mountain ATV/MC-WPS-KTM rider looked fast in spots but definitely not as comfortable as he should be. Expect more from Webb and him soon.
In the 250s, Troy Lee Designs/Red Bull KTM's Shane McElrath is the king of Anaheim 1 now, taking the win for the second year in a row. He topped Monster Energy/Yamalube/Star Racing Yamaha's Aaron Plessinger and Monster Energy/Pro Circuit Kawasaki's Adam Cianciarulo.
"Like Adam [Cianciarulo] was saying, this is a big year and the West Coast has a lot of competition," McElrath, who nailed the start in his heat and the main and took off, said. "I had never really felt this nervous [before], but it was just for the heat race and I got that out of the way. It's been a good off-season and I really learned a lot. Now we're just move forward. I actually feel aggressive. That's the big difference to last year. Last year I was halfway through the race and Aaron was behind him and I was like "I can't believe this is real." These guys, they were pushing, I was trying to not let them catch me, and I just feel more in control and less star struck than last year."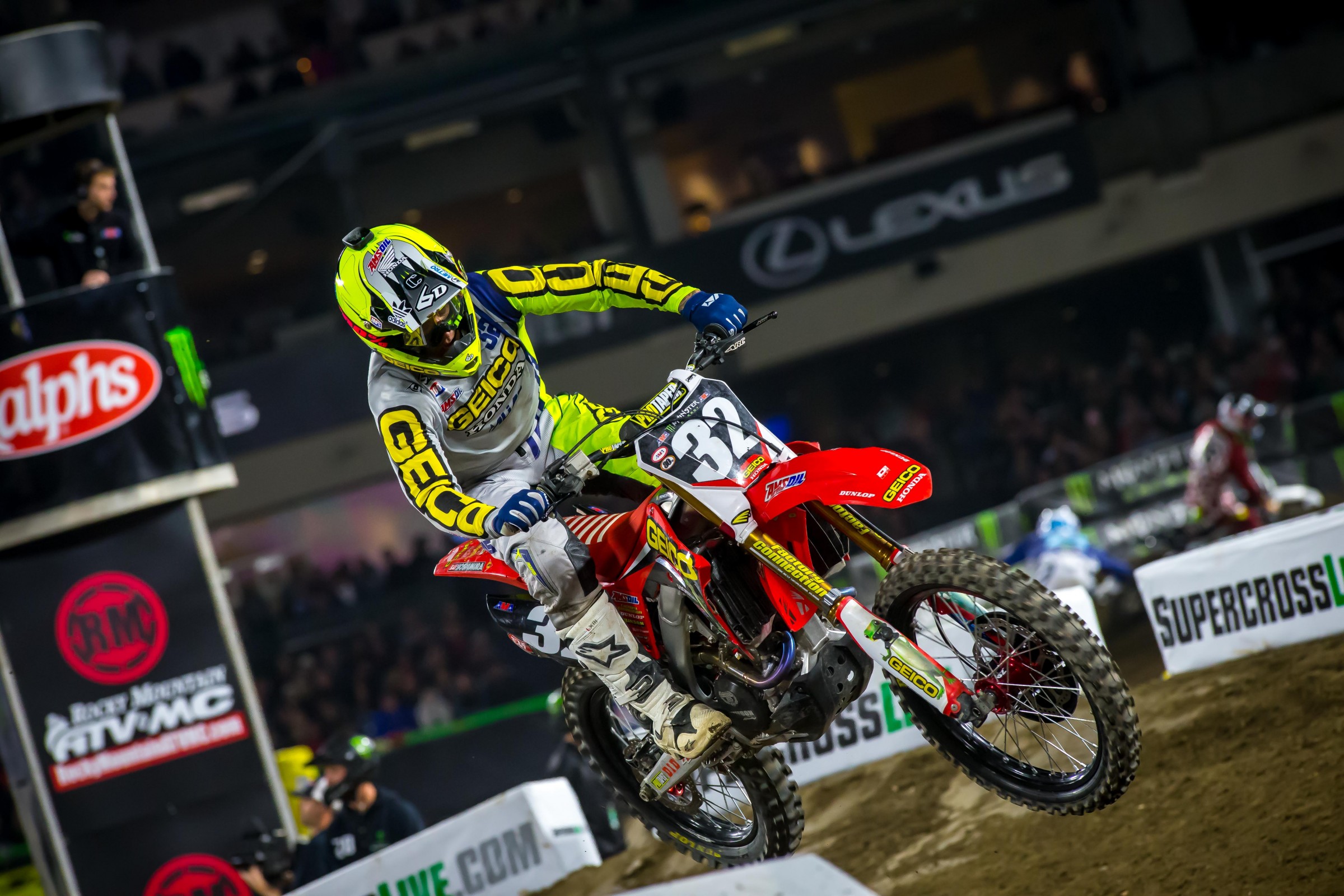 Cianciarulo and Plessinger battled in both their heat and the main. In the heat Cianciarulo made the pass, but in the main he couldn't get Plessinger and they stayed in lock step the whole way.
"I definitely felt him he was right there, but I just stayed consistent and kept my eyes forward," Plessinger said. "Didn't look back and got second."
"It was nerve wracking for sure," said Cianciarulo of his first Anaheim. "For me, rolling out of the tunnel for the heat race, man, I didn't expect it to be completely sold out. I've been coming to Anaheim every year since 2008, 2009, I didn't expect it to be this packed. I was so nervous in that heat race, and even in the main event. I think this whole year, too, the whole year seems bigger, the sport seems bigger, the moment seems bigger. It's exciting to be part of it."
Cianciarulo's teammate Joey Savatgy looked like he might be the fastest of all in his heat race, but he told us he bounced a bit off of a rut a few feet out of his gate off the start and found himself way back. He came through for fourth. GEICO Honda's Christian Craig was fifth.
Struggles for defending 250SX West Champion Justin Hill in his debut with Autotrader.com/Yoshimura Suzuki. After the race he quickly made it clear it wasn't anything wrong with the bike, but that he wasn't very happy with the way he rode. Justin said he made a bunch of mistakes in the main that hurt him. He's rode tight and got bad arm pump, which is very untypical for Justin, who says he's usually a pretty relaxed guy.
"I feel terrible about it," Hill said. "Didn't ride very good. I did a little lock up deal, and you can't ride like a bozo when there's so many good guys out there. I'm normally like a top-five guy at the opener and get out clean kind of guy, but this year there were a few more good guys. I don't expect the world out of myself at the first round but I expected to do better than that. I'm extra fired up. There's no reason to be doing that."
His teammate Phil Nicoletti didn't finish the 250SX main event after crashing and getting absolutely hammered by the front wheel of another motorcycle. He then found himself trapped underneath a motorcycle for several long moments. When freed he was slow to get up, and like Wilson and Bloss, the team had nothing concrete yet on his condition.