Anaheim, CA
Anaheim 1 (A1)
Monster Energy AMA Supercross Championship
Yesterday afternoon, a couple of hours after the big 2018 Monster Energy Supercross press conference inside the clean, well-lit Diamond Club at Angel Stadium (and long after all the moto reporters had fired all sorts of interesting questions to the riders at the front of the room), Cooper Webb came wandering into the Monster Energy/Knich/Factory Yamaha pit area and, ultimately, grabbed a seat.
"Yeah, I'd like to win races," he said to this reporter. "I think my goal this year is to be a title contender. Whether that's being on the podium or being top five or whatever that is, that's the goal and I think it's doable and achievable."
About to begin his second year in the fiercely competitive 450SX classification, Webb, 22, is ready to get things rolling. Never one to say much more than what needs to be said (which is part of his totally unique charm), Webb, while being honest with himself, radiated a quiet, simmering confidence about tonight's race and all that will come after it.
Racer X: Cooper, it's time to go racing. How are you feeling about everything?
Cooper Webb: I'm really excited. It's been going really well. It's definitely been going a lot better than years past and especially last year. I wasn't quite sure what to expect coming into the off-season because of my thumb injury. I wasn't able to actually ride until early November. In fact, November sixth was my first day on the bike. I was a little nervous about how I'd feel and how the thumb would be and all that stuff, but it worked out really well. I was able to train pretty normally through October and I was able to get right back on the bike and we rode outdoors for a week and everything started out really well. We had a really good base setting coming into supercross that I was stoked on. I'm stoked on how everything has been. Another year with the team to learn those guys has been good and they've learned me and they know what I like. It's been good all across the board. The riding has been good and I feel my fitness level is the best it has ever been. My fitness tests have been showing that too. I'm excited, man. I really am. I'm ready to just see where I'm at. I'm not sure whether that's a first or a tenth, but it's exciting going into the season fully prepared. I'll see where it goes.
With your rookie 450SX season now behind you, I'd imagine your mindset as well as your overall confidence in everything is markedly different. I mean that feeling of being thrown to the wolves is probably gone. What do you think?
Yeah, it really is different. Coming off of what was a pretty hard loss for me at the des Nations [in 2016], I took some time off just to let my body rest and recover and by the time I got going again it was already November and I just wasn't ready for 2017. I didn't have testing done. I didn't have enough fitness in me. Everything was really crammed in, you know? I didn't have as many motos as I needed and I didn't quite know the bike. I really hadn't spent too much time with the team to really get that connection going, so yeah, it's a complete 180 from last year. I did think I was ready last year and looking back now, I wasn't even close. It's really good to see all the progress we've made and thinking, "Okay, I'm twice as good, if not three times better than I was last year." It's an exciting time. Like I said, I got the rookie year out of the way and I feel like I learned a lot. I know what to expect. I know who I'm racing with and I know how the 450 class works and I now know about those longer main events. I think I'm sitting in a good position to improve and to try and do well this year.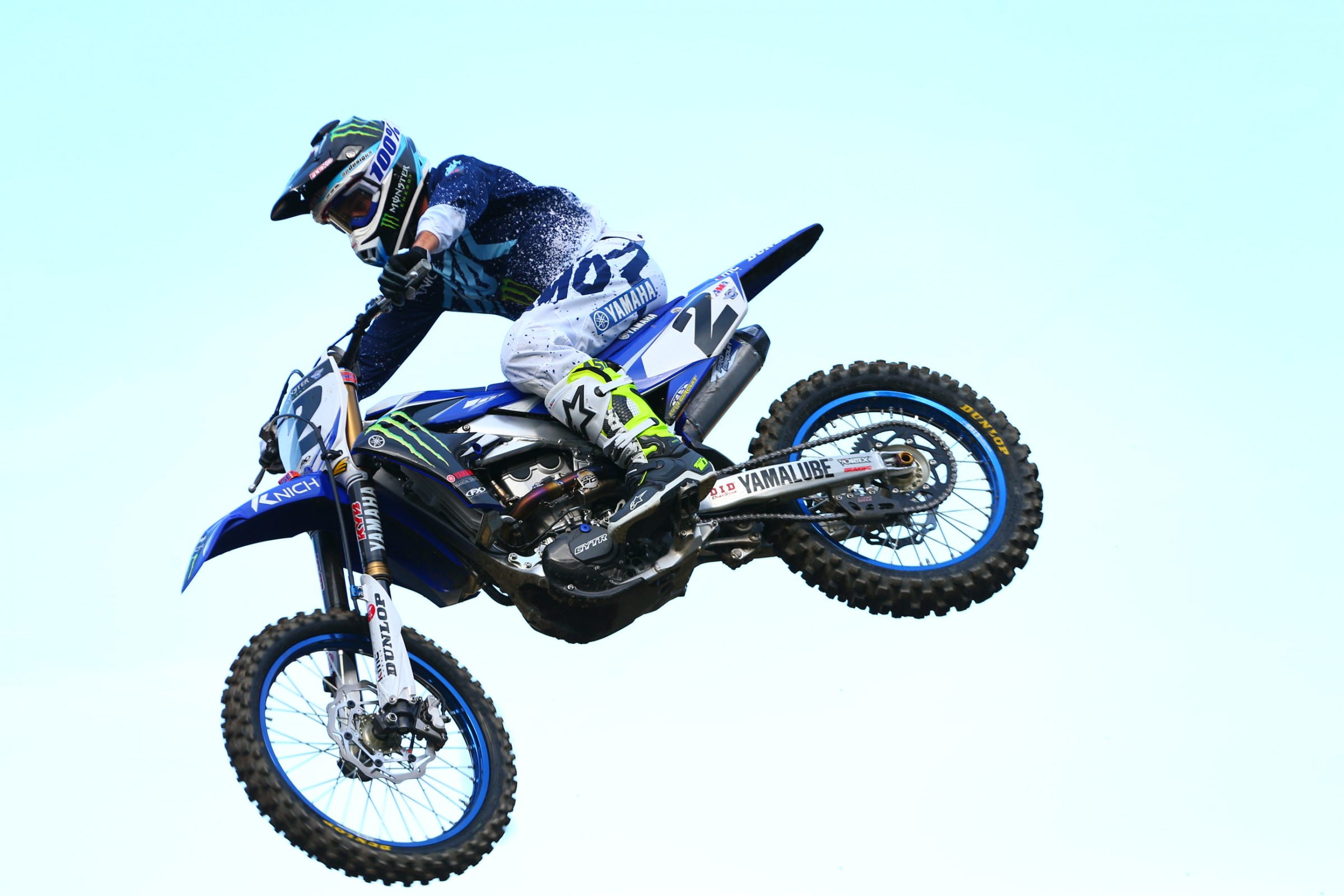 As you just alluded to, was the gap from 250SX to 450SX more expansive than you may have thought?
It was. For me, on the 250, I always did really well and I would always try to compare my times to the 450 times or compare what those guys were doing compared to what I was doing. When I was in the 250 class it didn't seem like those guys were doing things that much differently than I was. It was pretty comparable. However, it really was a much bigger jump than I expected. Maybe it was because I was just so comfortable on the Yamaha 250F or because I had all the confidence in the world or whatever the case may have been. I always wanted to compare myself and judge myself against the 450 guys, but it's an entirely new ballgame when you get a completely new bike. The competition level is much higher. It's not just two or three guys that can win. All of a sudden you have ten guys that can win. The competition level and the experience level were much higher. The passes or moves that maybe I would make in the 250 class, the 450 guys, they know those kinds of moves are coming. And I was trying not to be intimidated by guys, the guys I was racing. These were guys I had been looking up to my whole life and then I was lining up next to them. It was a big adjustment.
Even so, you looked relatively confident for a 450SX rookie. You never really appeared to get shook by anything.
Yeah, I don't really get intimidated or flustered by anybody. The first couple races I was definitely a little bit nervous, but once I got a good finish at Anaheim 2 and was able to race with those guys, I felt more confident. Then a few weeks later, when I was on the podium with those guys at Oakland, I think that's when it kind of hit for me. I'm not really intimidated as a racer when I'm out on the track, I guess it was Anaheim 1 and then the next round, I was still kind of getting used to, "Hey, I'm racing Ryan Dungey and Chad Reed and all these guys." I didn't know what to expect. It was like, "Am I going to run with these guys? Am I going learn from these guys?" It was just that unknown stuff. But like I said, I don't back down from anyone when I'm on the track.
As far as the 2018 Yamaha YZ45F, is it a radically improved race bike…
Yeah, it is. It's all-new. Everything on the motorcycle is different. The only things that they were really able to use from last year were levers and wheels and little stuff like that. It's an all-new frame and new engine. It's a lot thinner and a lot lighter with new little tweaks to the chassis. Yeah, it's an all-new bike. It was pretty awesome to be able to hop on it at the end of last summer and ride it and see how good it was and how well I gelled with it. I mean, the first time I rode it, and with it being stock and off the showroom floor, I could totally feel the difference. It was pretty funny because right off the bat I was faster on that stock bike than I was my race bike. That was a pretty good feeling.
Justin Barcia has recently told me that you two guys get along well as teammates. Any truth to that?
Yeah, I've known Justin a long time from back when we were both on Red Bull Jams as amateurs. Back in my rookie year I actually stayed at his house for motocross part of the year. Yeah, I get along well with him. It's cool having him around and actually being able to ride with him and stuff. Chad [Reed] was in Florida a lot last year, so I didn't really get to ride with him too much. Yeah, it's nice. For outdoors last year I didn't even have a teammate, so it's kind of cool to have a teammate. I've never been in a situation where I didn't have one and coming from Star Racing where it was typically four or five different teammates, it's actually pretty cool when you do have teammates!
Anaheim 1, it's such a big deal and it's so hyped up, but you don't really strike me as a guy who gets too caught up in that sort of stuff. Seeing that it's about to be race day, what do you think about all that?
[Laughs] It's a unique one. For me, it's really more of a gauge. It's such a long series and everybody goes in wondering. I think that's what makes it so unique. I mean you honestly have no idea, especially now that all of us 450 riders are spread out across the country. I haven't seen a handful of 450 guys even riding. I think that's what makes it so special and so unique. You truly don't know what to expect. It's usually a wild night. You either have a guy that wins that race and goes on to win the series, or most of the time it's a spoiler that wins that race and might not even win the rest of the season. The biggest thing is the gauge. I know everybody says the same thing: that you don't want to go in and do terrible. You just want to see were you're at. For me, I'm taking it as a full gauge. Like I said, I feel like I'm capable of doing real well and my goal is to be in the top five. If I'm there, then great. If I'm not, I know what I'll need to do to improve. I think that's what's so cool about the race. You can see, "Okay, I'm lacking fitness. I'm lacking speed. My bike set-up is a little off." Whatever it is, you can kind of pinpoint your flaws and you have 16 more races to figure it all out.
A lot has been made of the fact that Tomac and Roczen and Musquin will be the three riders fighting for this title. To that end, what do you think about those three as well as the rest of the competition?
I think it's an open year, for sure. Chad's the only rider coming back who has ever won a championship in the class. I think it's open and I think it's kind of returning to that young man's generation of guys. It's a lot of younger guys who are hungry to prove a point and maybe establish themselves. I also think it's going to be pretty open for grabs. Obviously, I think Musquin and Tomac are the two main guys to beat, just from their track record. Other than that, I think it's pretty open and it's nice coming in under the radar and not having much hype.
Can you win races this season? Can you make a run at that title?
Yeah, I'd like to win races. I think my goal this year is to be a title contender. Whether that's being on the podium or being top five or whatever that is, that's the goal and I think it's doable and achievable. That was the goal training and riding this whole off season. The goal was to go after those race wins and be on the podium and be a top five guy all year. If that gets me the championship or not, I don't know, but that's the goal. I'm just more anxious than anything. It has been a long few months of really pushing myself and this is, by far, the fittest I've ever been and the best I've ever felt on a 450 and I feel like my confidence is back to where it used to be in the 250 class. Yeah, I'm excited and I have a point to prove this year so that's definitely extra motivation.