Welcome to Racerhead, coming to you from the Diamond Club at Angel Stadium in Anaheim on the eve of the 2018 Monster Energy AMA Supercross Championship. The press conference is quite literally happening behind us, and Jason Weigandt will fill you in below on what all is being said and done at the big table. Ken Roczen is here in his suit, looking dapper and happy to be back. Chad Reed admits that he feels a little rusty and overweight. Eli Tomac, Cooper Webb, Marvin Musquin, Jason Anderson, and more—they are all here and looking ready to get back on it. Not so ready are the Ryans, as both Dungey and Villopoto are here—the last eight championships if you add them up—and they also look happy and content with being retired. In fact, both are in the back of the room, just relaxing and taking it all in.
If my math is right, tomorrow night will be the 71st Anaheim SX, but it honestly feels a little different from previous ones. With the Ryans not out there, James Stewart absent without explanation, Trey Canard sitting at a table in the pack and enjoying his retirement, Mike Alessi no longer doing SX, and Chad Reed admittedly not coming in the shape he wants to be in what will be his 16th AMA Supercross season, this one feels truly wide open. I know that everyone has their favorite, and they range in numbers from 3 to 25 to 94, but also 21, 2, 4, 15, and more. It's like we're having a big paradigm shift. The sure things aren't really there like they used to be; the "haves" have grown away from most those named Ryan to a half-dozen, maybe even eight true contenders now…
At least it feels that way on Friday, January 5, 2018, before we've seen a single back out on the track. By midnight tomorrow, that may be all out that window and someone may just start a new reign of terror atop the field that looks like a lot of these other years. Though one thing's for sure: If the first night of SX racing turns out like the last night of 2017 back in May in Las Vegas, there's going to be a whole bunch of happy fans in Anaheim!
Daniel Blair and Jim Holley will kick things off with Race Day Live at 3:50 p.m. EST, and Fox Sports 1 will carry live coverage beginning at 10:00 p.m. EST. Here's our guide for everything you'll need this weekend.
Here's Racerhead.
GLORY DAYS (Jason Weigandt)
I'm writing this from the pits at Angel Stadium. Matthes is right next to me. Weston Peick spotted him and immediately started pushing him around. Jeremy Albrecht asked if Weston was mad because of something Matthes said on a show, and Peick replied "I don't listen to his crap." Matthes then asked that if Weston wanted to go, would he be okay with starting the season with a broken arm?
Matthes and friction with the riders. Some things never change
There's nothing quite like that annual feeling of A1, and we're fortunate as a sport that our signature event even gets to have a cool name like that—A1—and that it also falls on the first weekend after the holidays. It's the perfect cap for Christmas and New Year's. A whole new season!
No one talked crap in today's press conference, and I know it's a long tradition for people to complain about that. Why don't the rider's talk trash? Why don't they say they're going to kick everyone's ass? The answer lies in just how nerve-wracking this race is for the riders. They're under extreme pressure and there's literally a term around here called "opening round jitters." No one is quite sure what's going to happen. I asked Blake Baggett about that today and he told me that until Dirt Wurx builds a track at some guy's house and 22 top supercross riders all agree to go ride it at the same time, you'll never replicate the feel of racing at home. Everyone hopes they're dialed in, but no one is so sure that they're willing to make bold claims. About the only shade we heard was Cooper Webb saying he's much more prepared this year, saying he would like to "humble some people." But he said it softly—and like most of the riders, seemed a bit nervous. These guys really just want to get out there and stop talking and start riding.
Ken Roczen was the focal point of today's press conference. Not only did he wear a suit for the second-straight year (while everyone else worse riding gear) but the media was relentless with questions about his arm. Ken looked a little nervous under the lights—uncommon for him, but I wouldn't read too much into it. He explained, quite simply, that if he was worried about the arm being fragile, he wouldn't be lining up on Saturday.
KTM and Husqvarna have new bikes this season and both Jason Anderson and Blake Baggett explained that they spent more time than usual on the West Coast to get them dialed in. Anderson rode in California for a long time before finally heading to Florida for more Aldon Baker boot camp. Of course, training partners Marvin Musquin and Broc Tickle have new bikes, too, but they stuck with Florida. Anderson says it was a nice refresh to his program, but he was still putting in the same training and work he always does while staying west.
Baggett, also, got back on the bike from his thumb surgery in November and based himself in California the whole time. He hasn't even seen his El Chupacabra Ranch property in months and figures by now his outdoor track is totally grown over with grass.
I talked to Justin Barcia today, too. When Barcia got the call to fill in for Davi Millsaps at Monster Energy/Knich Yamaha, the team asked him to stay in California the whole time. So the normally Eastern-based Barcia rented an apartment and based himself here. I went to the Yamaha race shop yesterday and even saw his bicycle parked inside, because he doesn't even have a garage at his place. Barcia was hurt for Anaheim 1 the last two seasons. He says the last time he felt this good, he was very competitive.
As for Millsaps, retirement rumors have been swirling around Davi since his big crash in October. We talked to him today for an upcoming video and he said while he was planning on making 2018 his final season, now he's not sure because he doesn't want to go out like this. Davi suffered a big concussion when he crashed right before Monster Energy Cup. He also injured his elbow, and that required surgery. Once the elbow heals and he can get back on the bike, he'll see if he has any ill-effects from the concussion. That will determine if he can make it back to the races or not—but he absolutely wants to keep racing if he's physically able.
It's so crazy how fun this race is—we get to talk about #deepfield and how the title might go down to the wire in Las Vegas, how everyone is healthy and ready and has never felt better. In some ways, the anticipation for this race outstrips the reality. We might find out that someone isn't as good as they think, and the field isn't as competitive as we'd hoped. But tonight, for one last night, everyone is tied and everything is awesome. A1—there's nothing quite like it.
IT'S HERE (Steve Matthes)
Well, Anaheim 1 is tomorrow. Can you believe this? It's an exciting time of the year for sure, and all of us "experts" will have a much better idea of who stands where after the race. The possibilities are wide open for the riders and teams right now. Everyone has never felt better than now. The bikes they've been riding have never worked better, and life is great. For some this will stay true, but for others, it's back to the drawing board on Monday after A1.
I've been there, folks. Anaheim 1 2005, the mudder, my guy Tim Ferry didn't qualify. Being a factory rider, this isn't good. Yeah, it was way muddy, but still. Things were tense at the shop that next week.
Anyhow, one of the more interesting riders going into this weekend is, of course, Chad Reed. The Two-Two is showing up there on a Husqvarna he paid for, he's got KYB suspension on it, and he's supported by Pro Circuit. Oh, and he's barely been riding due to the injury suffered at Straight Rhythm. Never count the guy out, but I think the first few weeks of the series will be rough for the champ. He'll come around and ride better as he gets more time with the new bike and gets in better shape, but for now, I'm not sure what we're going to see. Reed's faced long odds before to get back on the box, but these might be the toughest ones yet. Still, it's great to see a guy who loves racing his dirt bike. This can't be easy for him and his wife Ellie, and it goes to show you, I think, just how much the dude wants to race.
If Reed's one of the more interesting riders going into the weekend, then Monster Yamaha is perhaps one of the more interesting teams out there. Cooper Webb, by his own admission, had an underwhelming 2017 and is looking to get back to where a multi-time 250 champion should be. Justin Barcia has got a six-race deal to fill in for Davi Millsaps (I think it'll go longer) and is looking to rebuild his career. Barcia's coming into Anaheim, as far as I know, injury-free for the first time in a while and can get some momentum going with a good finish or two. This two-man team is full of interesting subplots for 2017.
As usual, we'll be covering Anaheim 1 inside and out right here on the site, and you can follow me @PulpMX as well. Let's get this going!
The Riders Riding (Aaron Hansel)
As Weege said, the press conference featured plenty fluff questions that prompted predictable, robotic answers, but there were a few good ones in there too.
For example, when Ken Roczen was asked if he'll have the same speed after the injury he suffered last year at A2, he initially, whether he meant to or not, failed to answer the question directly, instead opting to talk about what a great job his doctors and physical therapists did in helping with his recovery. In response, the reporter asked the question more directly, asking Roczen if he'd be physically limited in any way. Roczen eventually came out and said he didn't think his arm would ever be the same, and that it's possible that he is riding differently because of it, but that he's been riding the way he's been riding for so long now that nothing feels different. Oh, he'll also be sporting a wrist brace tomorrow.
Chad Reed, if you're wondering, is here, and is racing tomorrow, which is good news. The bad news, at least for Reed fans, is that he's had very, very little time on the bike and by his own admission, is coming in out of shape and below his normal baseline. But, always the competitor, he was quick to point out that he had even less riding time coming into 2004 due to an injury (suffered playing pool!), and still won. He even went so far as to say it was one of the easiest victories of his life! He said he's not expecting that to happen this year, but one thing's for sure—you just never know when it comes to this guy.
After the press conference the guys took to the track, but with no pressure, and no whoops, it's was impossible to get a gauge on who'll be ripping up front tomorrow night. Good thing is, it's only a few hours away!
THE LIVES THEY LIVED (DC)
We got a few notes about "The Lives They Lived" and we wanted to include them here:
"I don't write in - I'm an older guy and not a social media person. However, I was touched by this article and noted that there are quite a few young ones lost: Dylan, Jamison, Jaisaac, Igor and more. We lost our son, Patrick Marchbank in August this year a vintage race. Had all the proper gear and it was a relatively slow crash, yet everything happened just wrong and he died from a head injury. He had just graduated high school and was weeks away from starting at MMI to be a mechanic - his goal was to work on a pro MX team. I started a website to tell some of his story: hobomotorsports.com. Please feel free to take a moment to read about him.
"While I didn't know him, there was also another young man in Colorado lost to MX: A.J. Archuleta. It is a great sport and many wonderful people involved but my heart aches for those who lost their boys this year. — Jim Marchbank"
"Was reading through the article and thinking just how sad it was that so many of our brothers have passed away. It's too many. It was nice that you mentioned Mark Hucklebridge, as not too many people outside of the U.K. will have known his name. Then I saw that you mentioned my father and it brought a lump to my throat. He was indeed a good man and a great motocross dad. Wise, and knowing just what to say and when, despite him not being a motorcyclist, let alone a racer himself. (Although Cycle News did erroneously write that I was the 'son of a famous racer' when I did the Golden State series!) That was most unexpected and a kind gesture. Ron would have been stoked! Thank you. — Rob Andrews"
Hey, Watch It!
The Dakar Rally is underway in South America. Check out this video of the Rockstar Energy Husqvarna team, which features Andrew Short.
The Perfect Partnership: Jeremy McGrath a Maxxis Athlete
Introducing, Ty Masterpool
Head-scratching Headlines of the Week
"Mike Tyson is building a huge 40-acre marijuana ranch in California" Yahoo Sports
"JUSTIN TIMBERLAKE IS REBRANDING AS A WHITE MAN" Theoutline.com
"Some parts of US may be colder than Mars by weekend" CNN.com
Random Notes
For the latest from Canada, check out DMX Frid'Eh Update #1.
Boyko Racing is happy to announce a new service to go along with the new year: full crank shaft rebuilds. No need to replace your crank when you can service them for a fraction of the cost. Boyko Racing's goal is to keep you riding without breaking the bank. Most full crank kits cost $400 or more, and the quality of parts are substantially less than the originals. Send us your cranks for service instead.
With our new 30-ton pneumatic press, we are able to split the cranks, fully clean, rebuild, true them within one thousandth of an inch, and then press them back together, all in-house. Not only are our crank shaft rebuilds precise, but they're also fast and affordable; when you send us your crank we'll get it done within three days for an $85 service charge, plus parts. Most of crank rebuild kits run between $80-100.
We service all major dirt bike manufactures, including: Honda, Yamaha, Kawasaki, Suzuki, KTM, and Husqvarna. Send us just your crank, your whole engine, or your entire bike, we'll get you back riding in no time. Drop it off or drop ship it; faster turnaround available upon request. Dealer pricing and inquires welcome.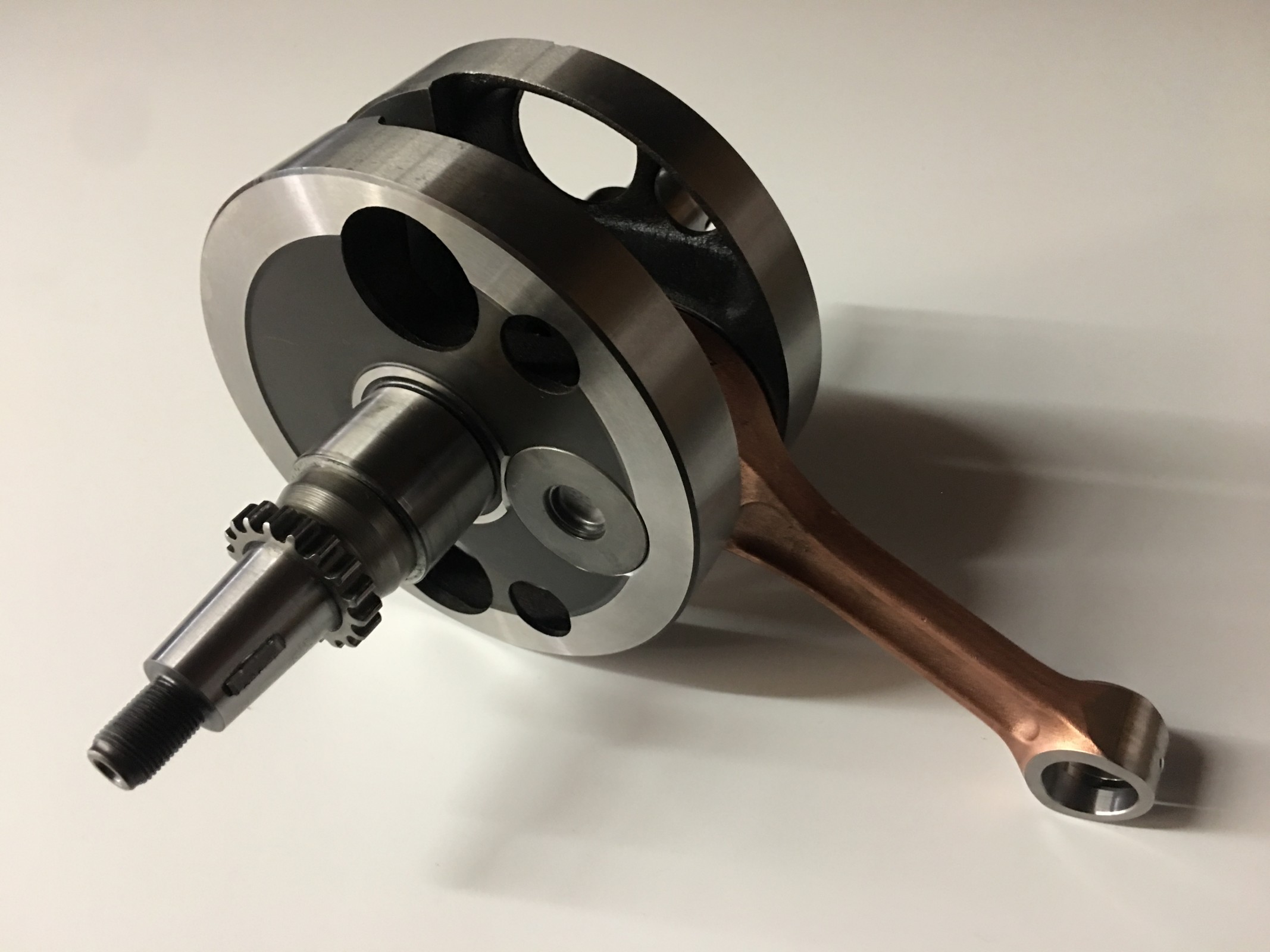 Subscribe now for as low as $9.98 and receive a FREE 2018 "Through the Decades" Calendar plus access to our digital edition.
Thanks for reading Racerhead. See ya at A1!