We close our eyes and another year goes by….
On the last day of every year we take time to remember some of the friends and fellow motorcycling enthusiasts we've lost along the way. With a nod to the New York Times' annual requiem about the lives others lived, we offer our thoughts and condolences to all of those who lost someone special in 2017.
Tim Hart prevented his nemesis Marty Smith from a perfect season in the 1975 AMA 125cc National Motocross Championship, winning the muddy Hangtown opener at the old Plymouth track. Hart raced as a professional from 1972 through '76, riding first on Maico, then for Yamaha, and finally for Can-Am. Those were the nascent days of professional motocross in America, the sport evolving quickly. Hart would win two AMA 125 Nationals and one 250 National, but like many riders in the mid-seventies, he was eclipsed by the star power of fellow Californians Marty Smith and Bob "Hurricane" Hannah. Here are Tim Hart's results from the Vault.
When his professional racing career ended, Hart, born and raised in Torrance, became a longshoreman, going from operating the clutch and throttle of a works bike to using the levers of a heavy crane to load and unload shipping containers. Hart was 67 years old when he was placed on a waiting list for a liver transplant. Sadly, he was still on that list when he passed from liver failure just a week later.
Jamison Minor started riding dirt bikes almost as soon as he could walk. His first bike was a Suzuki JR50 which he could ride at the age of two. He soon found his way into motocross racing and later flat track, and that's where he excelled. Minor was working his way up through the ranks in Pro Singles and Pro Twins when he found himself racing on The Dirt Track at Charlotte, North Carolina, on April 2. A multi-bike crash on the half-mile track left him in critical condition; he died the next day at a nearby hospital, his family at his bedside.
"Jamison exemplified the spirit of the sport and the entire American Flat Track community is in mourning today," Michael Lock, CEO of AMA Pro Racing, said upon his passing. "He was impressive on and off the race track, with a positive, upbeat attitude that showed the markings of a future star. Our thoughts and prayers are with his family and friends during this difficult time."
Minor's family and friends began a "pay it forward" campaign, selling Jamison Minor #27u bracelets and donating the proceeds to Flat Track Live, which helps amateur flat trackers get the nationals. There was also a Jamison Minor Memorial Race at Wachusett Valley Riders Club. The race was 27 laps long.
Born during World War II outside of Moscow, Victor Arbekov was exported from the Soviet Union in 1965 to take on the Western motocross powers from Sweden and Great Britain in the 250cc World Championship. Arbekov raced a CZ against reigning champion Torsten Hallman, who described the Russian as a "powerful and very stylish rider. His riding performances when he was at the top were distinguished by distinct and perfect control of the bike. He was smooth in the saddle; few mistakes, if any at all." Arbekov took the title from Hallman, much to the delight of his Soviet bosses, so they decided to turn him into an even stronger rider, putting him in an off-season training program that changed him entirely, according to Hallman, and it was all very curious.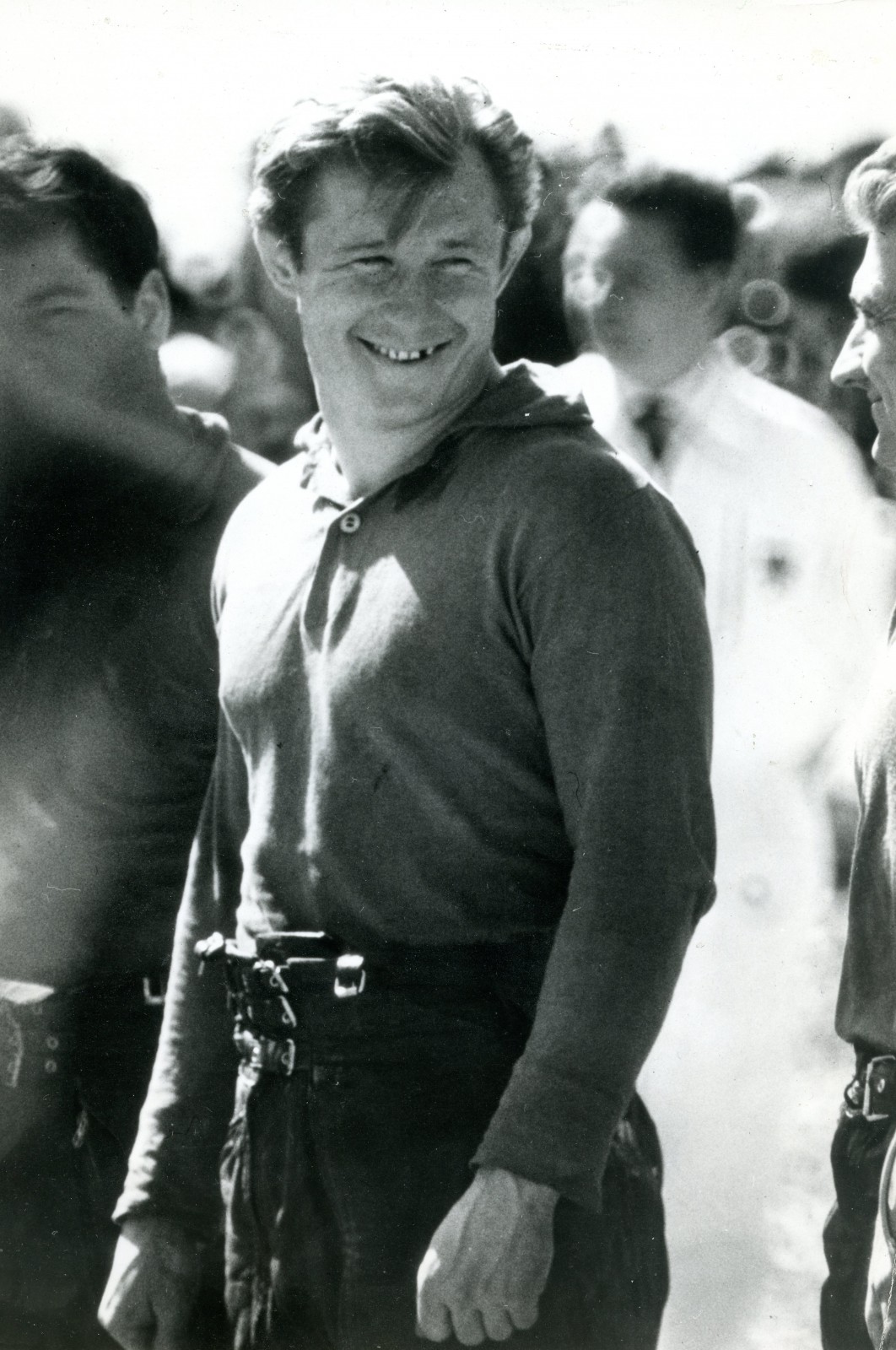 "He was an entire new human being," wrote Hallman of seeing Arbekov at the '66 opener in Spain. "In the first place, he had gained weight by about 40 pounds which is quite a lot during six months' time. Then he was tired of riding and had no spirit whatsoever. The Russians had forgotten that there is something called psychology. Victor didn't even want to win, knowing that he then would have to go back to the training camp. His smoothness in riding was gone and Victor never became the same rider after that."
His best races behind him, Arbekov disappeared back into the Soviet system. He was said to be living on a government pension and battling cancer while living in a small, high-rise apartment in Moscow when he fell out of a window. He was 74 years old.
Tom White knew he was going to die. Given a diagnosis of aggressive intestinal cancer, his doctors told him in the spring that he might have just a few months left. Having lived a great big life to that point, building and then selling a huge aftermarket parts company, Tom decided that he would make the most of his time and continue doing the things he loved: riding and collecting motorcycles, caring for his loving family, and to keep trying to make a positive difference in as many lives as possible. His friends at Glen Helen, where he long announced and helped organize races like the White Bros. Vet World Championships that he founded, held a party for him on the eve of the Glen Helen National. They dedicated a statue to him on their Walk of Fame, with the inscription "Non-Stop," which summed up all of Tom's 68 years. He bought himself a brand-new KTM and did some REM races even while undergoing terrible chemotherapy treatments. He even got back to his steel-shoe roots, riding a brand-new Indian scrambler around a perfectly-prepped Perris Auto Speedway. He took advantage of every moment he could, ensuring that his charitable foundations continued and his Early Years of Motocross Museum would go on.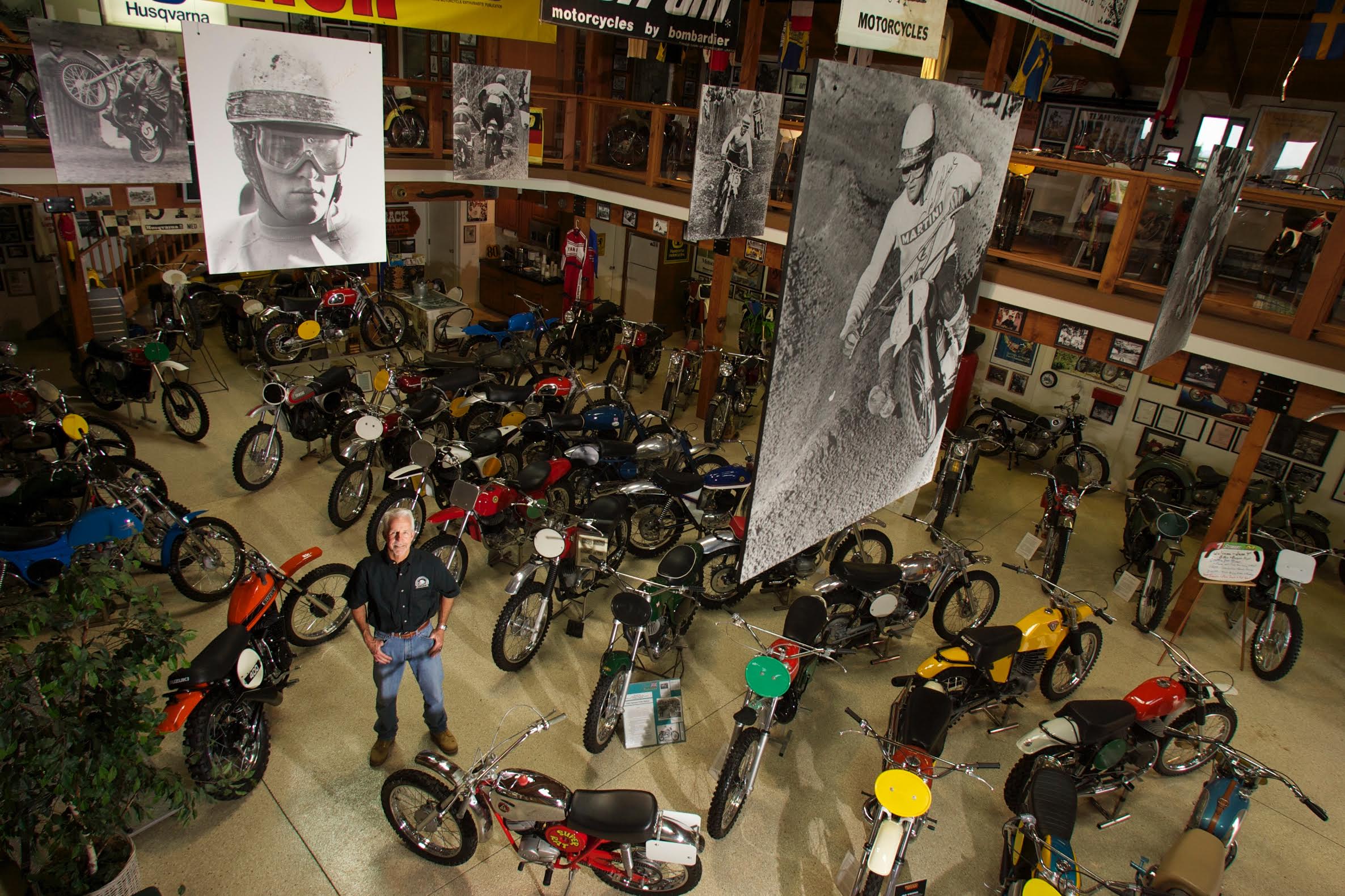 "I've had a lot of good years, and I'd like to have a few more," said White of his situation. "But we all get what we get."
In early November, he finally came to the end of the race track that was his life, surrounded by his family and a few of his favorite motorcycles. Tom White truly lived a life less ordinary.
Al Amatuzio was a fighter pilot and squadron commander in the U.S. Air Force, twice honored as the nation's top pilot. That's quite a success, considering that he grew up selling newspapers and collecting scrap iron in order to help his family make ends meet. Amatuzio, who was born in 1924, was always something of an entrepreneur, and when he came up with a great big idea—the fact that automobiles and motorcycles might run better with synthetic oil, just as the jet engines on his airplanes did—he went into business. By 1966 he had formulated his first synthetic motor oil; by 1972 he had begun building a brand called Amsoil. In time, the brand would become globally known and employ thousands of people. They would have competition because all of the major oil companies used Amatuzio's idea to develop their own synthetic motor oil. So Amatuzio kept his Duluth, Minnesota-based brand in the public eye by sponsoring motorsports racing activity all over the county. Al Amatuzio's original idea changed the lubricant industry forever. He was 91 years old.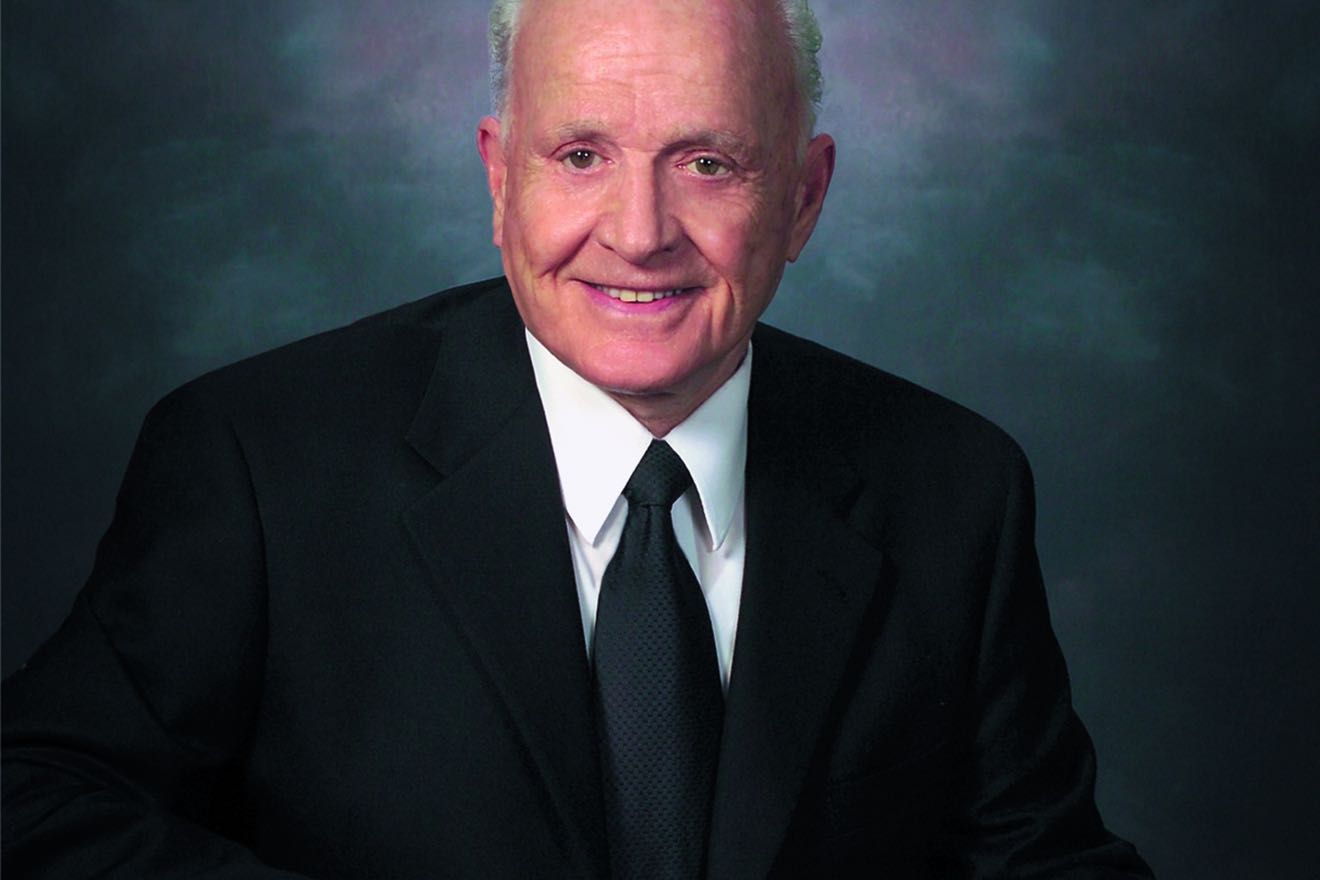 As a kid, Jaisaac Sloan was a promising young rider from Phoenix, his profile boosted from a series of popular videos of races and road trips from a crew hired by his father and can be seen on his website www.jaisaacsloan.com. Unfortunately, Sloan's rise to the professional ranks was derailed by injuries.
On a June afternoon, Sloan and a friend and fellow rider from Missouri named Austin Bruckshaw were visiting Tuscon's northwest side when they were found shot and bleeding in a car in Phoenix. According to the Arizona Daily Independent, "Deputies learned the victims were in a camper trailer with other people when the shooting took place. The suspect pulled a gun from a backpack and began to fire." By the time police arrived around 4 p.m., Sloan was dead. Bruckshaw, who was seriously injured, was taken to Banner-University Medical Center Tucson.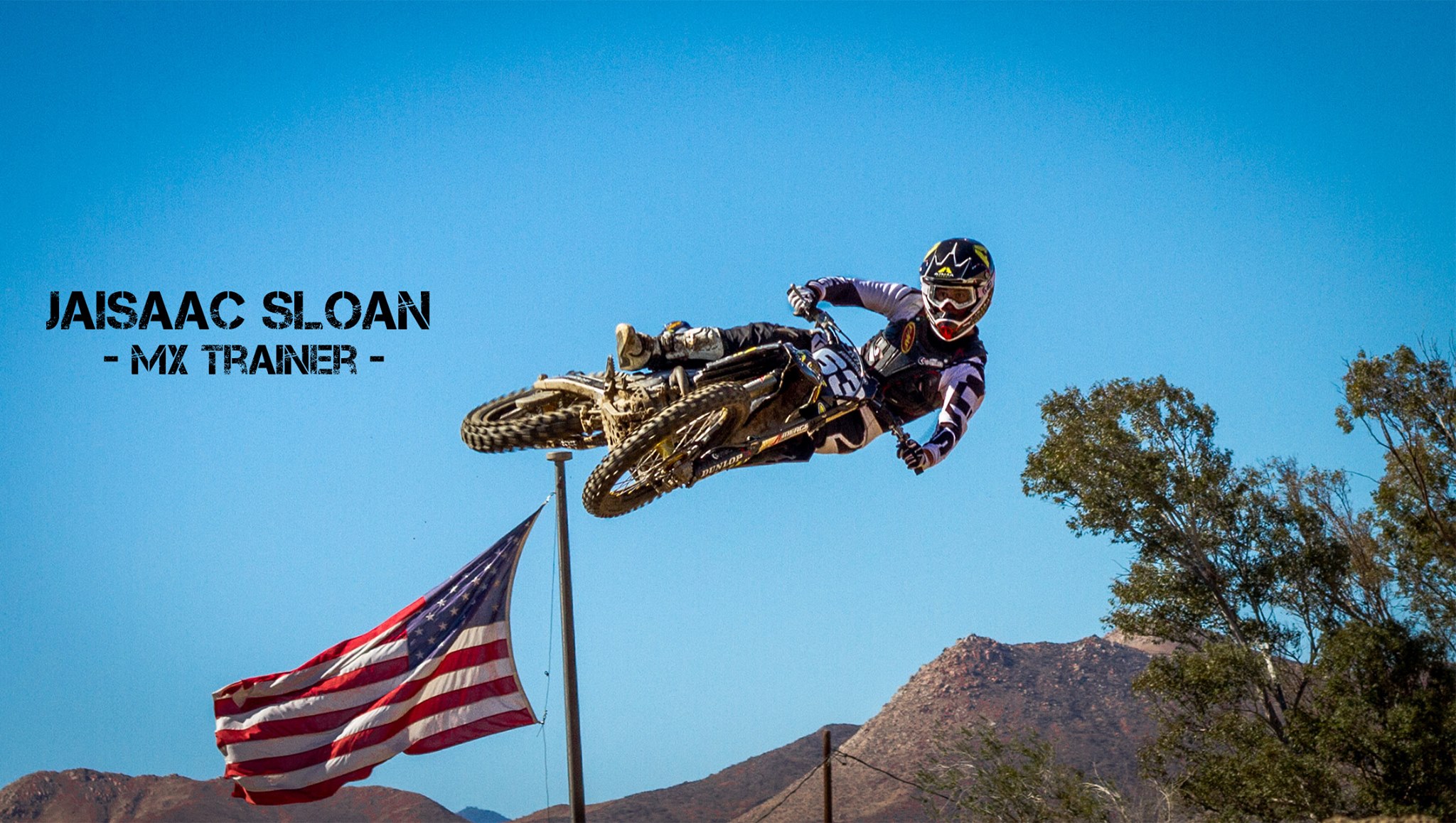 During the incident, which appeared to be a botched robbery, the shooter was injured and checked himself into a local hospital. After recovering, 16-year-old Anthony Maldonado was booked into the Pima County Adult Detention Complex. He was charged with murder and deadly assault.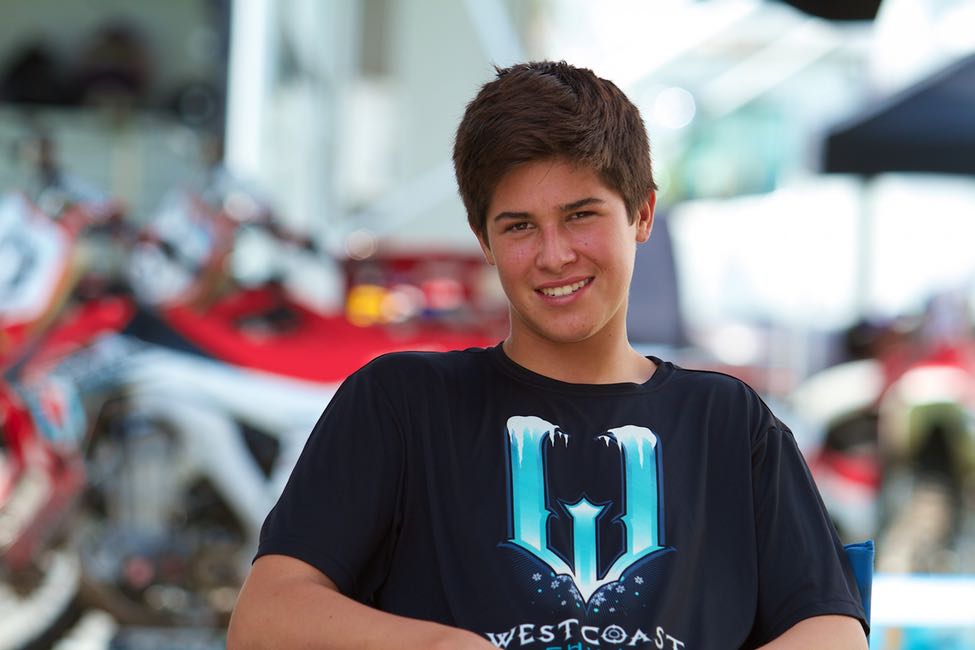 On Saturday, June 3, hundreds of Jaisaac Sloan's friends and family members gathered at Perris Raceway for a ride day to honor and celebrate his life. They even painted a tribute to him on one of the rocks that hover above the track. Transworld Motocross' Donn Maeda was there and made this video of the event:
They called Gennady Moiseev "the Major," and for good reason: he was an officer in the Soviet Army, even while racing to three FIM 250cc Word Championships in the seventies. Moiseev was a mysterious figure, a Russian with cold eyes and cutthroat competitiveness. He was a soldier because pretty much everyone was behind the old Iron Curtain, before the fall of the Soviet Union in 1991. But it was as a soldier that he showed his prowess on a motorcycle after seeing the success that Victor Arbekov had in the sixties, which brought great pride to the nation's Communist leaders. So Moiseev was dispatched after Arbekov was done, and he immediately showed world-class speed. The problem was that the CZs he was forced to race were well-below the standard of the new Japanese bikes that were being developed, but the Soviets were reluctant to ride anything other than an Eastern European brand.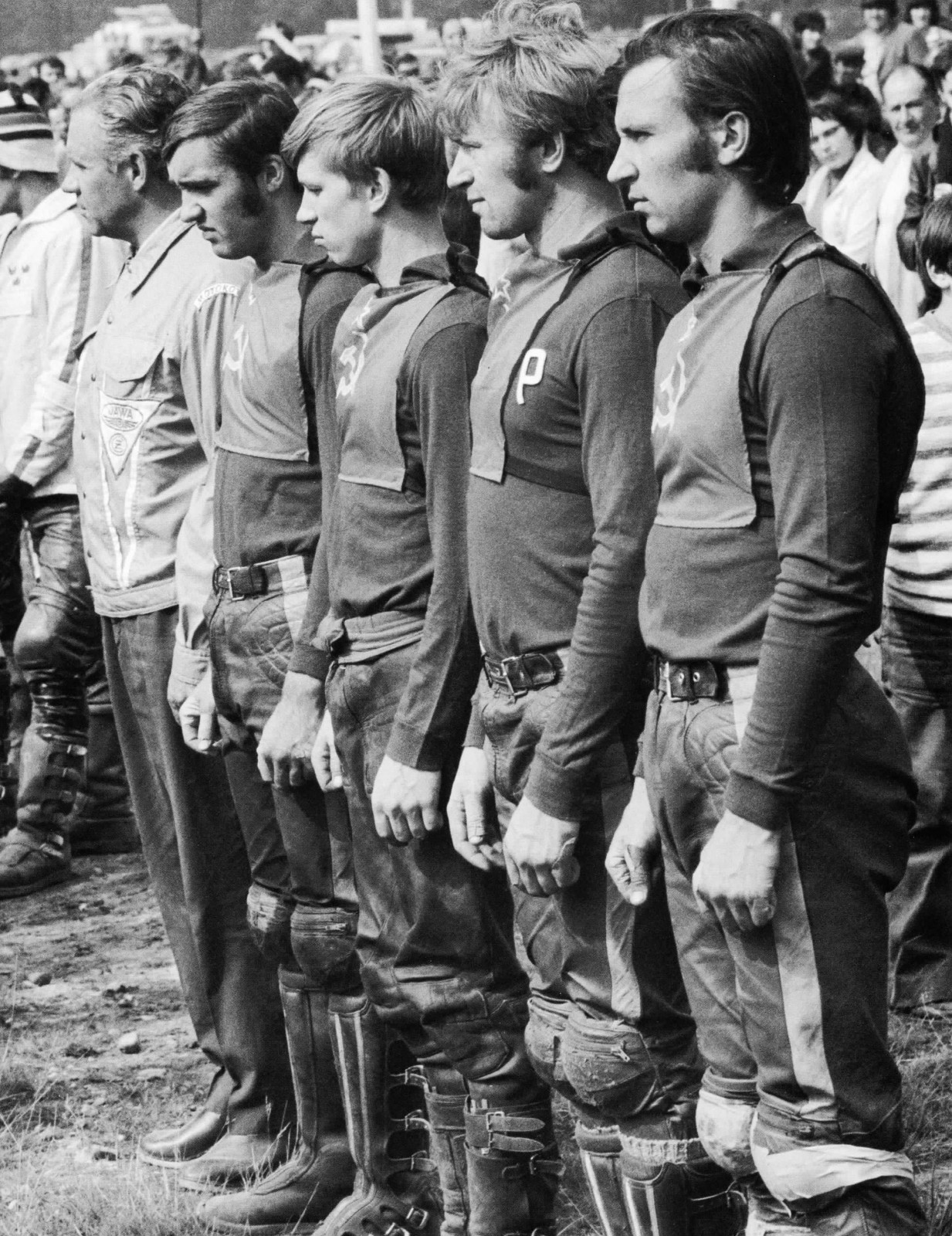 After a summer of breakdowns, they changed their minds. But rather than allow Japanese motorcycles into their country, the Russians decided to make a deal with the Austrian-made KTM brand, which had been developing small, lightweight two-strokes ever since American entrepreneur John Penton went into business with them in 1968. Moiseev was given a red 250cc motorcycle for the August 27, 1972 Grand Prix of Switzerland in Wohlen—the last race of the GP season—and Moiseev immediately rewarded the brand with its first-ever 250cc Grand Prix moto win.
Two year later, the Major made motocross history when he won the 1974 FIM 250cc World Championship. Needless to say, his Communist Party bosses were thrilled that he had put it to the Western European powers (as well as an American named Jim Pomeroy). But the title did not come without controversy. At the final race, again in Wohlen, Switzerland, Moiseev and his Soviet teammates rode offensively to try to knock Czech rider Jaroslav Falta out of the race.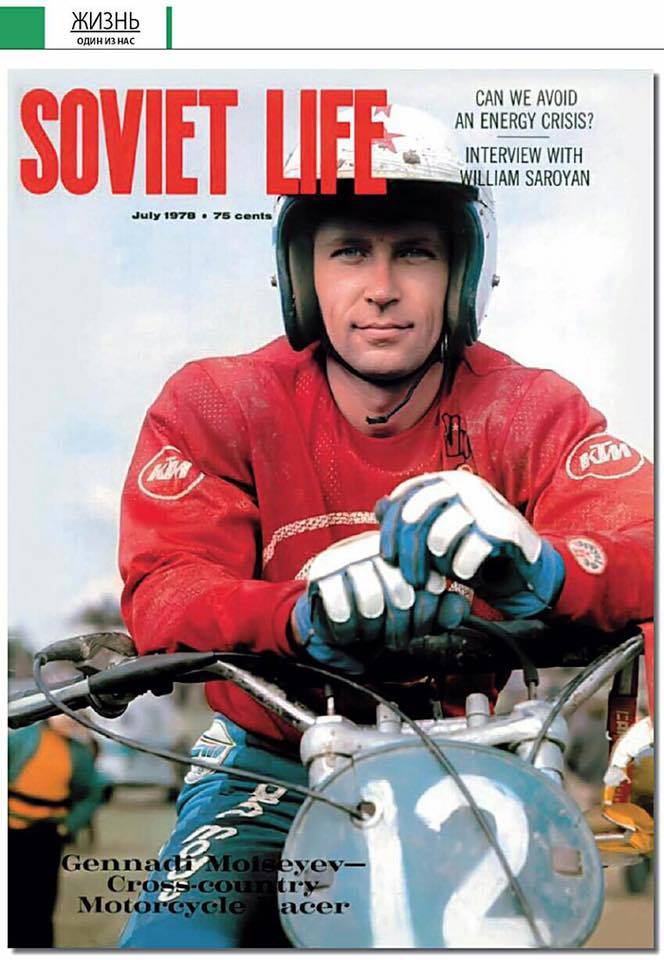 In 1976, Moiseev would came up one point short of a third world title when Finland's Heikki Mikkola beat him; Moiseev would take two more titles in '77 and '78. He would also win the 1979 Motocross des Nations in a rare appearance on a 500cc KTM. Unfortunately, that was the Major's last race on a KTM, as the brand and the Soviet Union had a falling-out and ended their partnership. Moiseev had to go back to racing a CZ, which had by now fallen well behind the Japanese bikes. He finished 17th in the final standings in 1980, then 36th in 1982. Gennady Moiseev was soon finished.
"The interest in motocross has been there, and the desire, but without new equipment or new parts for the old equipment, there was nothing we could do," Moiseev said to famed Los Angeles Times sportswriter Shav Glick years later. "I won my last race in 1979 but the trouble started right after that between KTM and the federation."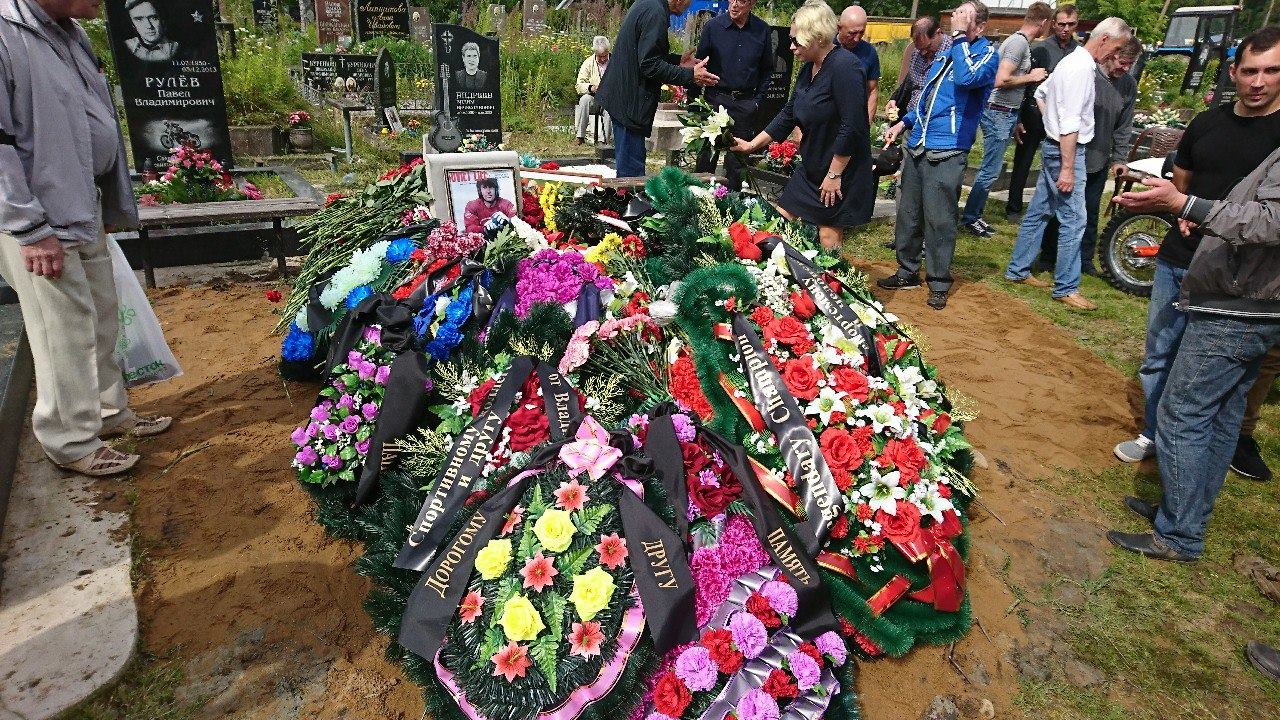 Moiseev stayed around motorcycling for many years, first as team manager for Russia in the MXoN and later as president of the Russian Motorcycling Federation. When he passed away in July at the age of 69 in the town he was born in—St. Petersburg, though it was called Leningrad when he was born in 1948—he was given a state funeral.
To have a profound effect on the growth and popularity of a sport is a huge achievement. To have such an effect on two sports is remarkable. Bruce Brown was a documentary filmmaker who made the most influential movies of all time for both surfing and motorcycling. In 1964, Brown directed The Endless Summer, which followed two young surfers as they traveled around the world in search of the perfect wave. Five years later he made On Any Sunday, which followed the motorcycling exploits of Malcolm Smith, Mert Lawwill, and Steve McQueen. Both movies introduced a generation of new enthusiasts to their respective fields, bringing a boom to the surfing and motorcycling industries and cementing their lifestyles into the culture.
"There has never been a movie that captured the life and love of motorcycling since," wrote Jeff Ward of the film in which he made a memorable cameo appearance riding a wheelie on a minicycle.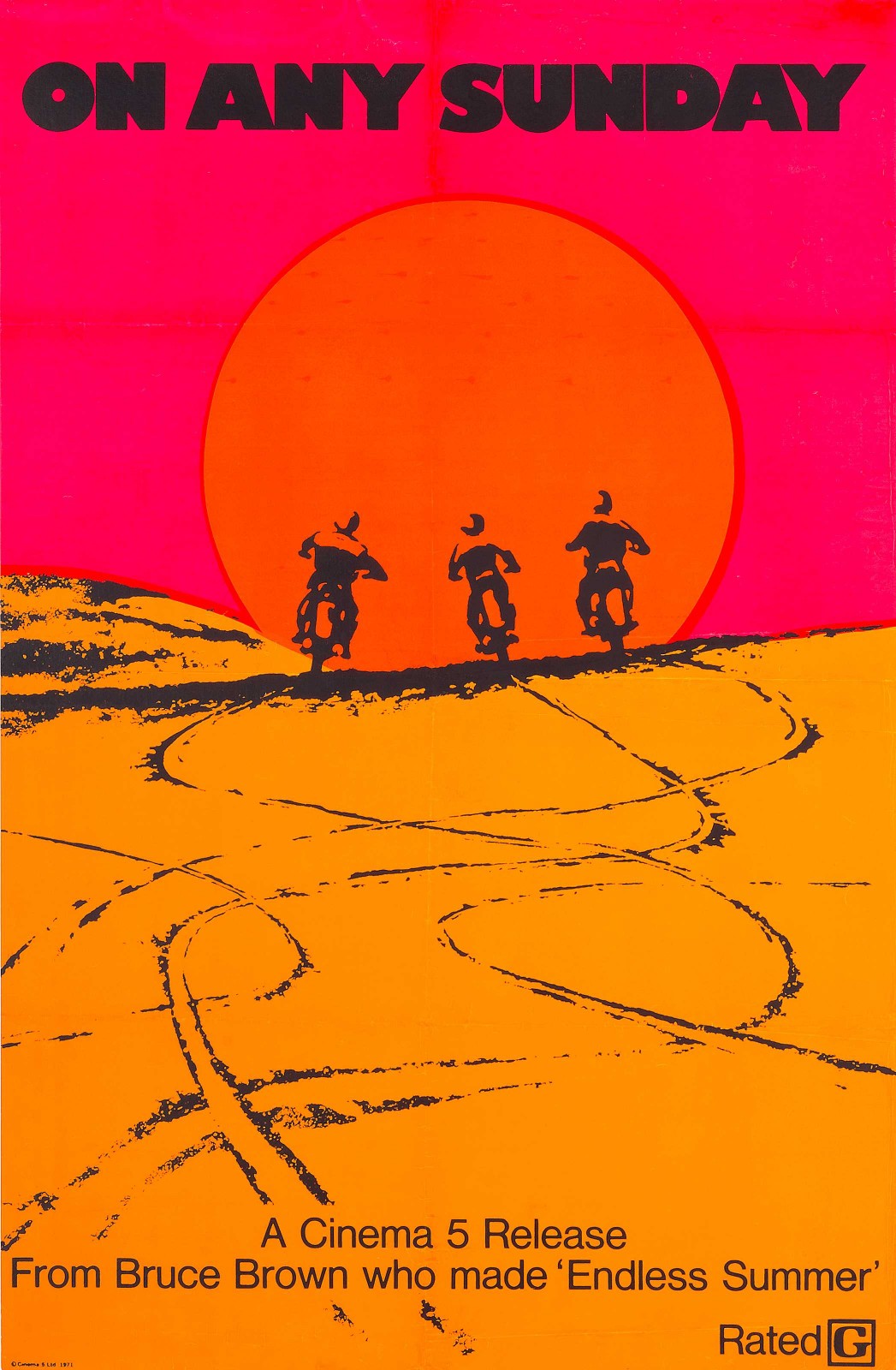 "He left us all with some timeless material and great memories," wrote David Bailey. "Really good times when life seemed more simple and things were still new and undeveloped."
Somewhere in the surfing world, people of equal stature to Ward and Bailey in motocross are saying the same things about how Brown influenced their lives. On December 10, Bruce Brown passed away at his ranch in Santa Barbara, California, a crossroads for both surfing and motorcycling. He was 80 years old.
David Grimes was a lifelong motocross racer, and a good one too. Way back in 1975, when Grimes was a teenager, he finished 15th in his first-ever AMA Pro National, the Appalachia Lake round, aboard a Monoshock Yamaha YZ125. For decades Grimes was good, racing the Expert classes, then the Vet classes. He also worked at an auto garage along with his family in Vestaburg, Pennsylvania, but moto was his passion and he spent his entire life around the sport. In late November, Grimes suffered a fatal heart attack. He was 61 years old.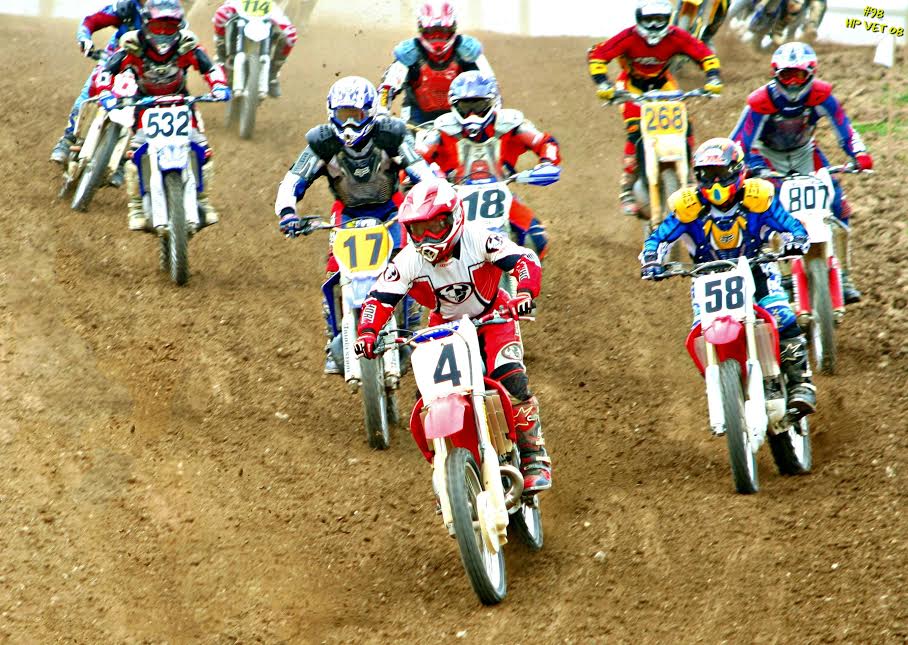 Wayne Scarborough, Sr., was born in Georgia but built a home and business in Jacksonville, Florida. He was the owner and operator of a successful car dealership called Murray Hill Motors, and he collected cars for much of his life. He kept them on a huge farm he bought outside of town and called it WW Ranch. He and his wife Roberta had a son named Wayne Junior, and when his passion took into motocross, Wayne and Roberta went with him. He eventually opened a track on the WW Ranch, a popular practice and training facility that was soon hosting races. In a flurry turn of events, WW Ranch ended up hosting the 2017 Monster Energy MXGP of the USA, bringing more people and attention to his ranch than Wayne Scarborough Sr. ever dreamed possible. It was a proud moment for the entire family.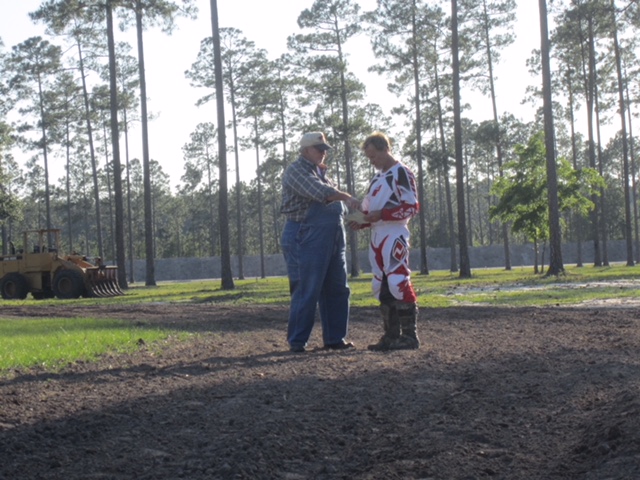 In November, Mr. Scarborough passed after a long illness. He was 78 years old. A celebration of his life was held on the same racetrack where just a couple months earlier, the FIM World Motocross Championships were taking place—WW Ranch.
Mark Hucklebridge was dealt a bad card in 2010. Told that he was terminally ill with cancer, he faced the challenge like any other motocrosser would by rolling up his sleeves and getting to work, raising tens of thousands of dollars for cancer charities while also advocating for awareness and early testing. Once a top minicycle prospect in the U.K. who went on to become a Grand Prix racer, and who also won the notorious Weston Beach race, Huck was also raising a racer of his own in his nine-year-old son, Charlie. He was also running Hucklebridge Events, a promotional company he shared with his wife Emma, who herself was a form racer. Mark was at a race in March with Charlie and Emma when his old nemesis finally caught up to him again. He was taken to Royal United Hospitals Bath where he was receiving long-term treatment and care and for which he had been raising charitable funds. He passed away there. He was 39 years old.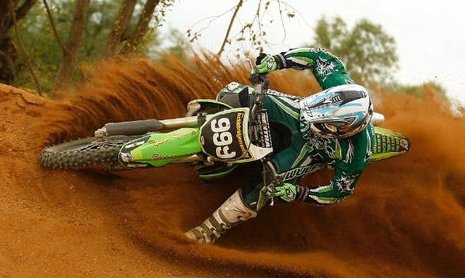 Bill Baird could make a claim to being the GOAT of enduro racing almost from day one. A late-starter who didn't buy his first motorcycle until the age of 19, Baird quickly excelled in the AMA National Enduro Championship beginning in 1962, one year after the series was formed. He won aboard a Triumph TRX 650cc twin-engine off-road motorcycle, then successfully defended that crown over each of the next six years. After that seventh consecutive championship season, Baird went into semi-retirement from racing. His record would eventually be eclipsed by Dick Burleson, who won every AMA Enduro title from 1974 through '81, but for the first generation of AMA National Enduro competitors, Baird was the greatest of all time.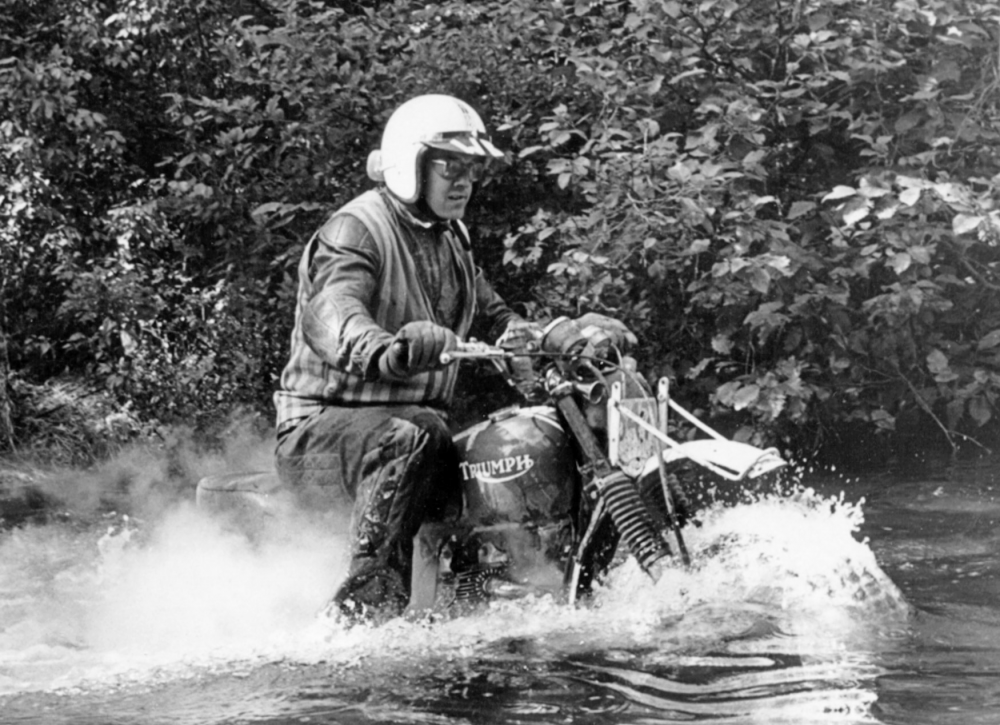 After he quit racing, Baird, who worked as a machinist throughout his life, got involved with the American Motorcyclists Association as a member of the Board of Trustees, serving the AMA for 21 years in that role. A vintage motorcycle collector, he was also active in the American Motorcycle Heritage Foundation. Late in his life, Bill Baird suffered serious injuries after falling down. He succumbed to those injuries in July at the age of 88.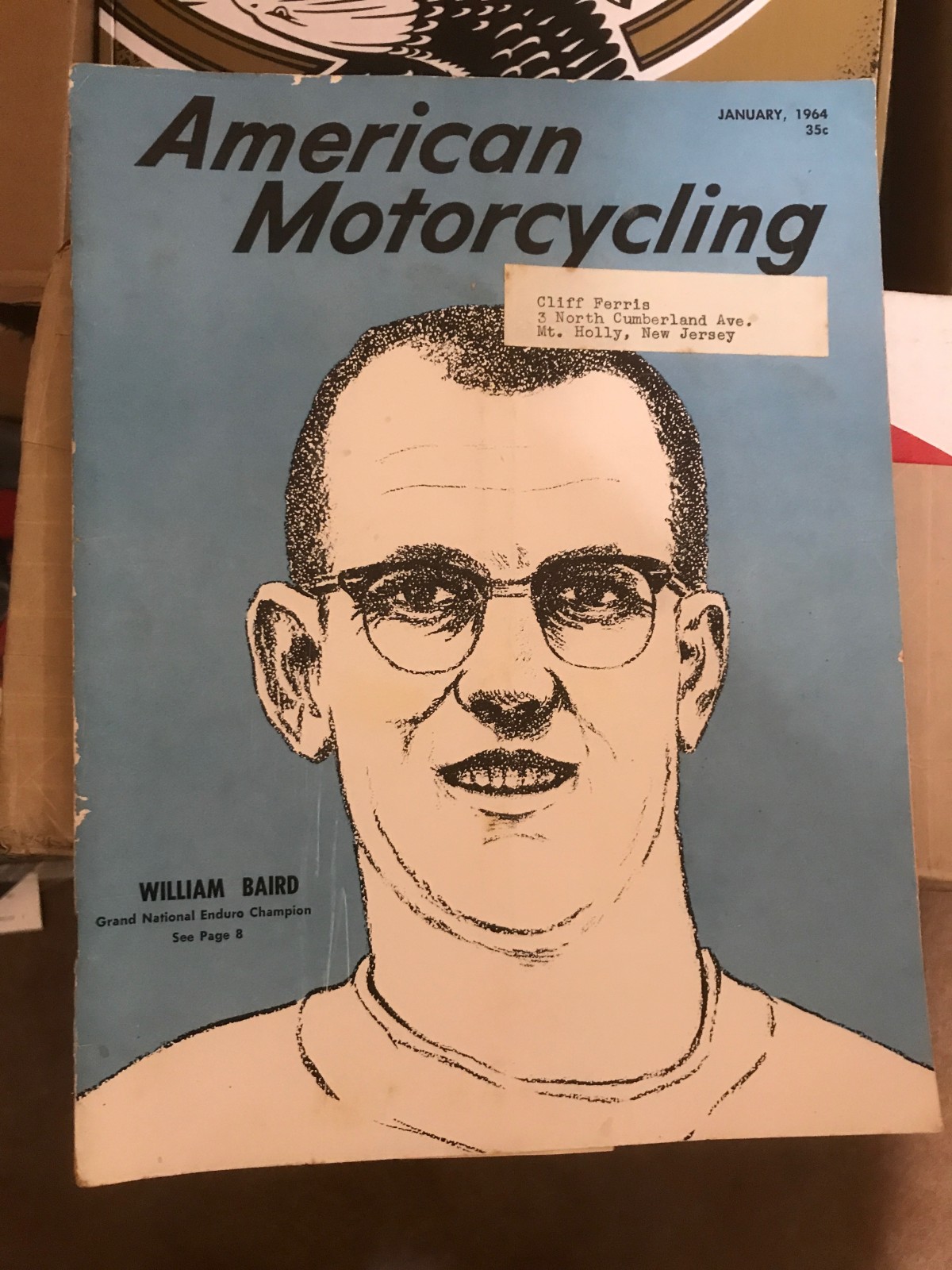 Igor Cuharciuc was a kid from Moldova chasing his motocross dream, no different than a kid from Missouri or Montana. He was hoping to follow in the footsteps of other recent Eastern European talents who became top professionals, like Slovenia's Tim Gajser and Latvia's Pauls Jonass. Cuharciuc was already competing in the 85cc European Motocross Championships, a youth series that often races as a support division in the FIM World Motocross Championship. It was at the Loket round in the Czech Republic that Igor crashed on a downhill double known as the Loket Path during Saturday's qualifying race, sustaining serious injuries. He was quickly attended to by the medical team and helicoptered to a nearby hospital, but the injuries proved to be fatal. He was 14 years old.
Like Baird, Skip Van Leeuwen was an AMA Motorcycle Hall of Famer, coming from the TT and dirt track circles as well as road racing. A product of Ascot Park in Southern California, Van Leeuwen excelled most at TT (Tourist Trophy, or Steeplechase), which, unlike flat track racing, included at least one right-handed turn and a jump. TT races were like a precursor to supercross, and they even used to be featured at the Houston Astrodome before giving way to AMA Supercross. Van Leeuwen won one of the biggest TT races ever there at the "Eighth Wonder of the World" in front of 47,000 fans. And when Van Leeuwen won the AMA National at Ascot Park in 1963, it was featured on ABC's Wide World of Sports.
Skip Van Leeuwen was also a friend of Evel Knievel's, having met back in Evel's brief racing days at Ascot Park. After his racing career ended in the early seventies, Van Leeuwen Enterprises became one of the bigger motorcycle accessory companies in the U.S. market, supplying parts to motorcycle dealerships all over the country. When he passed in June, Skip Van Leeuwen was 78 years old.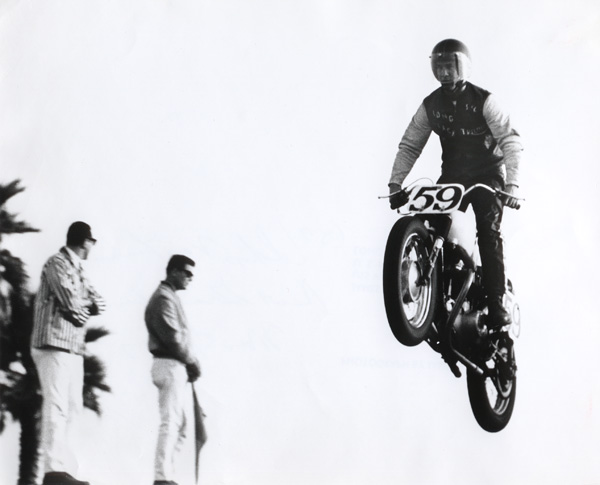 Steven Lenoir was a 25-year-old professional motocrosser from Paris, France. In 2010, he won the EMX2 European Motocross Championship. Lenoir's racing odyssey landed him in Great Britain, where he earned the 2015 MX2 British Championship. He was also vying for the '17 MX1 title and was holding second overall in the standings when he took an off-weekend in June to go back to Cassel, France, and race in an international that was being held in memory of Tim Potisek, which he had won in 2015. During the morning timed qualifying, Lenoir crashed heavily. He was airlifted to a hospital in Lille, where attempts to save his life failed. The race in Cassel was canceled, and the other attending riders gathered on the starting line and took a lap around the circuit in his honor. At the next round of the FIM Motocross World Championship, many of the MXGP competitors wore #685 decals in memory of Lenoir.
The HR Kawasaki team released this statement: "No words can express the sadness we feel hearing the heartbreaking news about Steven. Our thoughts are with his family for their loss of a truly special son. He inspired all of us by his dedication but it was his smiling face and humour that truly enriched our lives and he will be sadly missed by us all. We will never forget you Steve."
Steven Lenoir was 25 years old.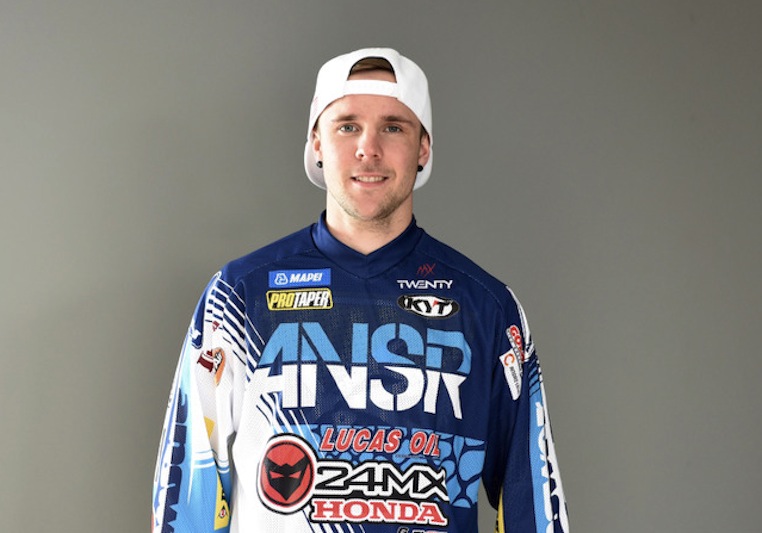 Before four-strokes reemerged as the bike of choice in AMA professional SX/MX, promoter Don Schneider was hosting a stand-alone Western 4-Stroke Nationals Series in the nineties and earlier this millennium. Sponsored by the White Brothers for a time, Schneider's series ran a total of 108 races in 18 states over the years, with riders like Paul Carpenter, Spud Walters, Lance Smail, Mike Young, and more regulars on the circuit. But when the big switch from two-strokes to four-strokes happened, it negated the need for Schneider's series, and it soon ran its course.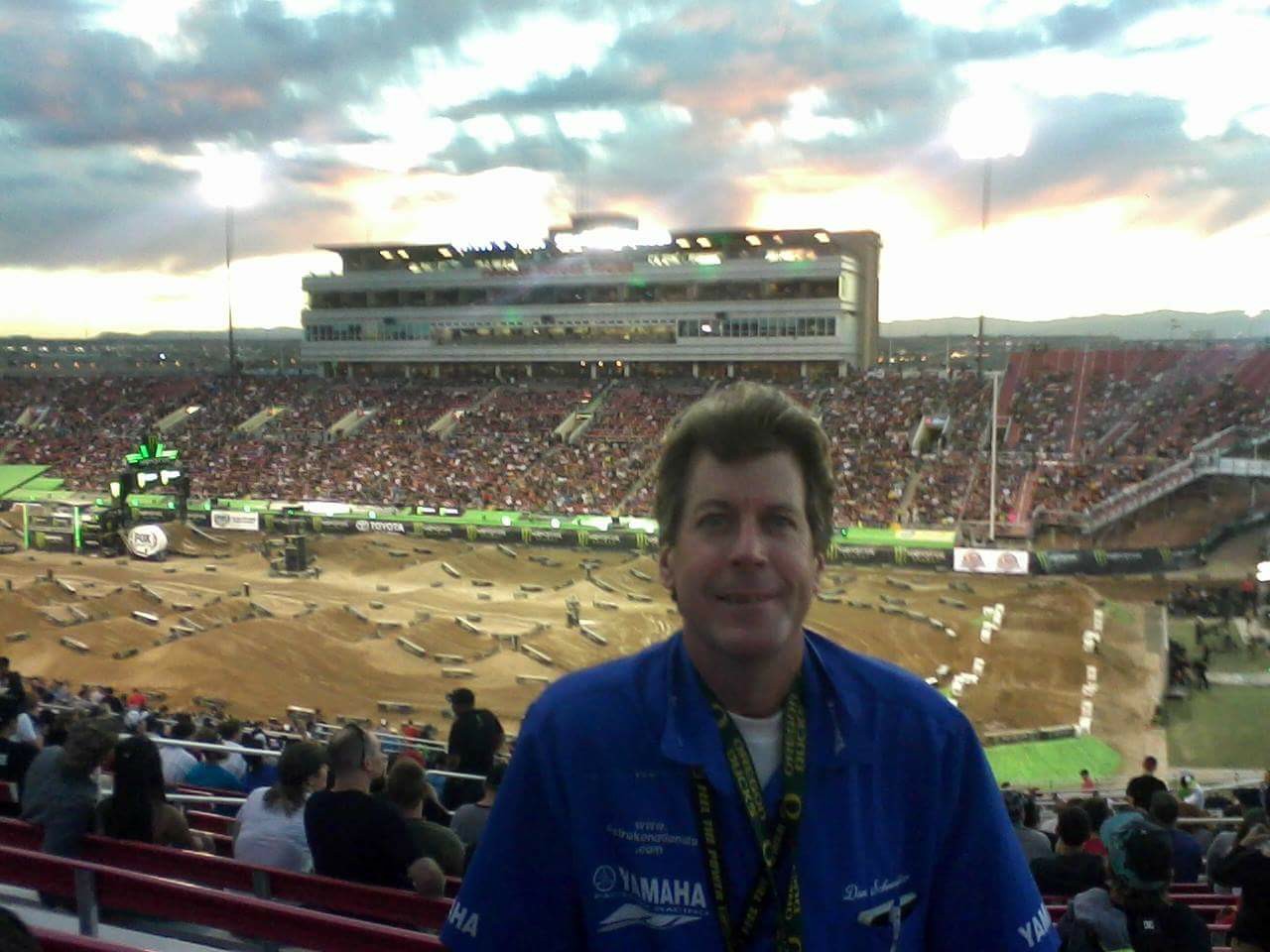 What exactly happened to Schneider, a former sailor in the U.S. Navy, in the years that followed is something of a mystery. He moved from Wyoming to Texas to manage an auto parts store for a time, and he would occasionally pop up at races or online with a fundraiser of some sort, including one for sponsoring him on a Senior Golf Tour. He also used Twitter and PayPal to solicit financial assistance shortly before Christmas 2016, and then posted a 2,600-word plea for assistance on Facebook before checking into the Tarrent County Military Veterans Homeless Shelter on January 9 of this year. Less than four months later, Don Schneider passed away. In July, the four-stroke pioneer and former sailor was laid to rest in Willamette National Cemetery in Happy Valley, Oregon.
Hakan Carlqvist was the last of the great line of Swedish motocross kings that began with Bill Nilsson in the 1950s and went on to include FIM Motocross World Champions Sten Lundin, Rolf Tibblin, Torsten Hallman, Bengt Aberg, and Hakan Andersson, as well as legends like Ake Jonsson, Arne Kring, Thorlief Hansen, Olle Petterson, and more. Carlqvist emerged on the global scene in the late seventies riding a Husqvarna, which were made in Sweden at the time. He captured the 1979 FIM 250cc World Championship, the last for the brand while the bikes were still being made in Sweden. When the bikes quit being competitive against the Japanese brands, Carla finally switched to Yamaha. But by 1983, their air-cooled YZ500 was nowhere near the liquid-cooled works bikes that Honda's Andre Malherbe, David Thorpe, and Graham Noyce were riding, yet he added the 1983 FIM 500cc Motocross World Championship to his mantle. For that, he was named Sweden's Sportsman of the Year for 1983.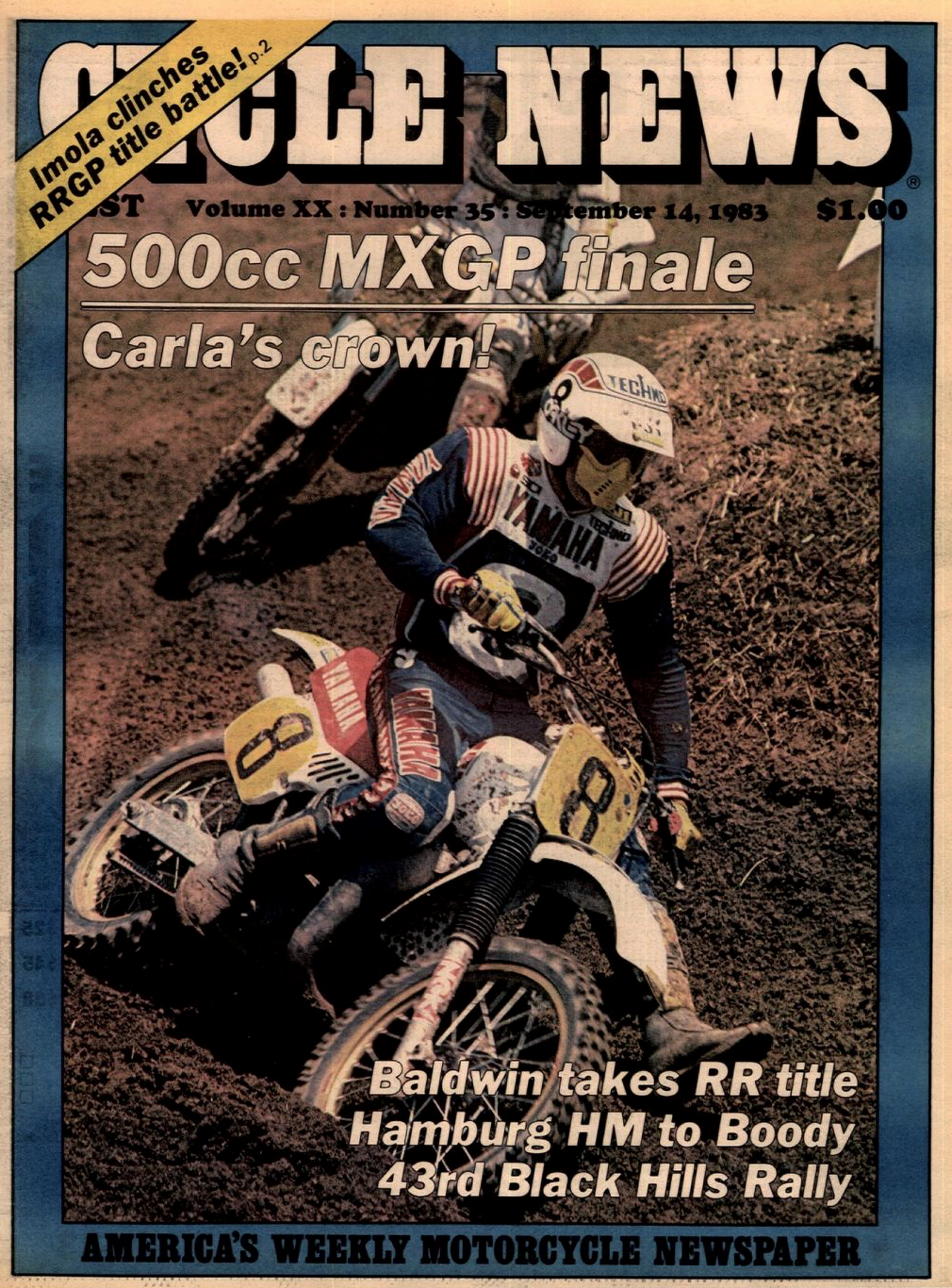 Carlqvist was a fierce competitor, but also a fan favorite. He won 20 Grand Prix races in his career as well as those two world titles. He retired in the late eighties, but was still an active motorcyclist. He was preparing for an adventure ride in the French Alps when he was felled by a stroke. He was 63 years old.
Jack Burnicle, the dean of British motocross journalists, told us recently, "We all felt the loss of Hakan Carlqvist keenly over this side of the Atlantic. He was my absolute MX hero. No one else even came close! Sweden gave him close to a state funeral in Stockholm. Can't resist attaching a snap of him in his humble Kawasaki awning after stopping for a beer at the Citadelle in Namur in 1988 while still spanking his factory opposition!! Great man…"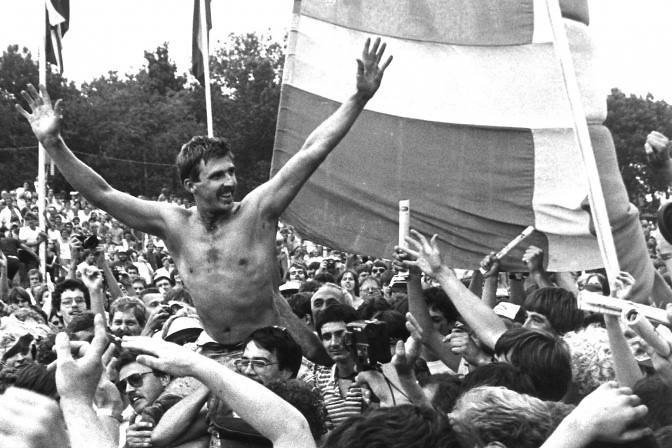 Burnicle was referring to what must be the all-time best victory celebration in motocross history, on the last lap of his last win of his career. Well out in front in the 500cc Grand Prix of Belgium, Carla stopped on the Esplanade while leading and downed a beer from the Monument Cafe. Watch it below:
Doug Longwell was a fun-loving privateer racer from Florida who qualified for a few AMA Motocross Nationals and supercross races on the national scene, and was something of a local badass down in Florida. Hailing from Palm Beach, Longwell was a true sand master, which one had to be if you were going to compete on Florida sand pits like Diamondback in Cocoa Beach, Orlando Sports Stadium, St. Pete, Brooksville, and more. Making the challenge tougher was the competition he faced on a weekly basis: Kenny Keylon, Karl Jordan, Kevin Foley, Mark Murphy, Keith Oelerich, Todd Hempstead, Steve Martin, Eric Yarnell, and many, many more. These were the days back when the Florida Winter-AMA Series was almost as big as the outdoor nationals, and the Sunshine State was the winter destination of pretty much every fast rider in the eastern United States. Longwell and his super-fast neighbors were always there, ready to greet them, and then beat them. He was just 53 years old when he suffered a stroke in April.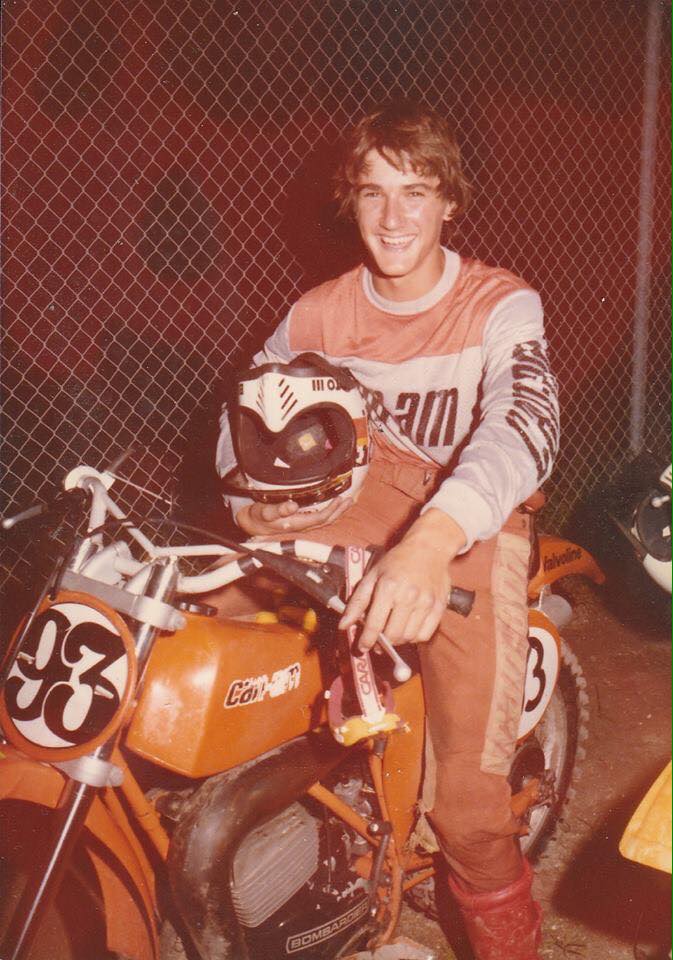 Mark Andredas was a longtime member of the AMA and MX Sports Pro Racing teams, working as part of the crew that helped officiate and flag Monster Energy Supercross and Lucas Oil Pro Motocross events. He was eventually joined on the team by his son, Craig, and they got to travel to races together all over the country from their home in Scenery Hill, Pennsylvania, and then enjoyed them from either right there on the infield or up in the officials' tower or press box. Not a bad way to spend for a couple of moto enthusiasts to spend a weekend! A retired member of Coal Mining Local 1197, Andredas turned his attention to being a master woodworker and cabinet-maker, having built a small business that grew from his garage into a full-blown professional wood shop and showroom. Married to his wife Barbara for nearly four decades, Andredas was finally starting to slow down a little and enjoy the fruits of a long life of hard work when he passed suddenly of a heart attack. He was 62 years old.
There are a lot of fast Australians who have come and raced in America. Some, like Chad Reed, Michael Byrne, and Brett Metcalfe, did exceptionally well and enjoyed long careers here. Others made quick cameo appearances and went back Down Under and enjoyed their careers at home. Peter "Perfect" Melton was one of the latter. He came to America and made the main event in a single AMA Supercross (San Diego 1993) finishing 18th in a race won by Jeremy McGrath. Back in Australia he fared much better, winning four Australian Supercross Championships, three Motocross National titles, a pair of Pan-Pacific SX titles, and whole bunch of state titles. He was still going fast when the aforementioned Reed turned pro, and Melton could also boast that he beat Chad Reed, the best Australian ever, even if it was while Reedy was only a junior on his way up through the ranks in 1998.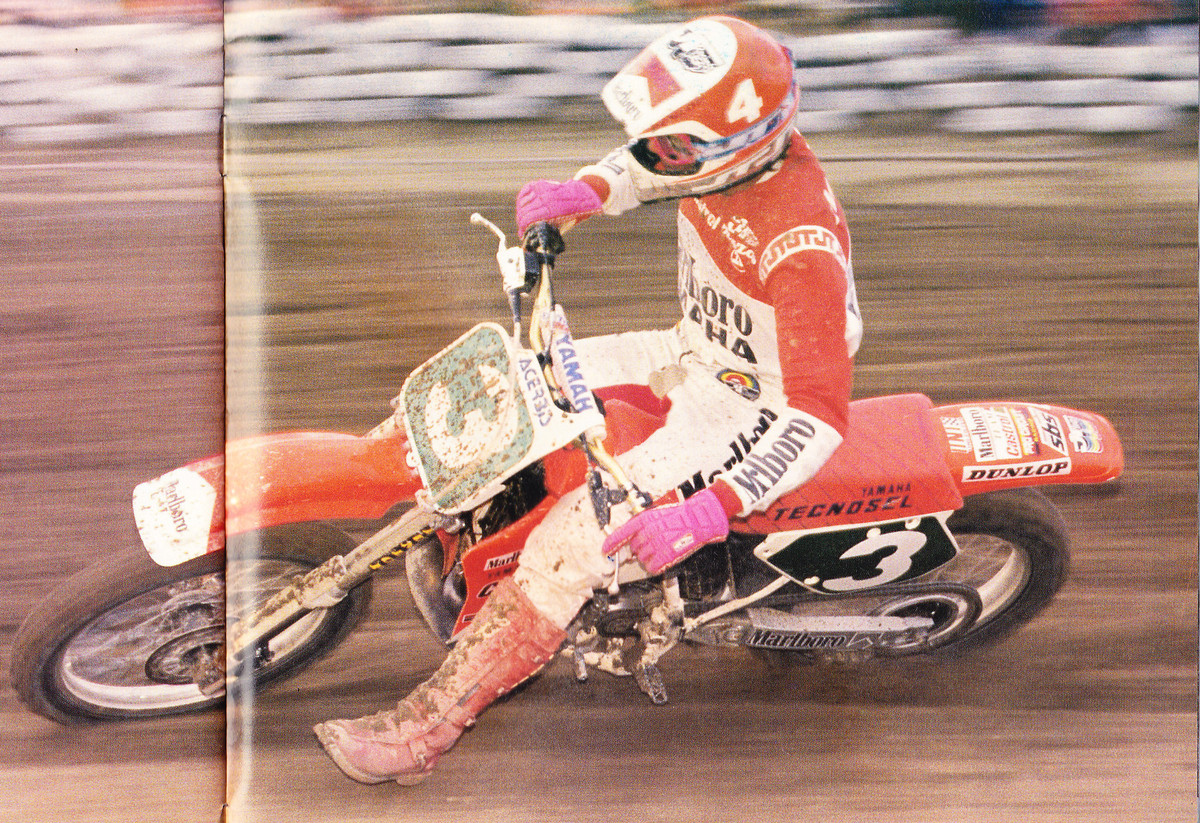 After Melton's professional career ended, he started a suspension business called PMR Suspension, and he boasted that he used his own suspension work to win all of those aforementioned titles even when he had factory support. A friend and customer wrote this of Melton online: "You would go to drop your suspension off quickly and end up having a decent 45-mins talk to him about riding/anything. Incredibly down to earth and genuinely enjoyed having a conversation with you."
Melton was still an active rider when he was out riding at a place called Willowbank MX Park and suffered a fatal accident on the track. On a list of the all-time best Australian SX riders by DirtAction.com.au, Peter "Perfect" Melton ranked ninth on the list.
Shawn Parro was living the motorcycle industry dream, following his love of dirt bikes into a role in the aftermarket industry in Southern California by working at Universal Engineering and ASV Inventions. He was a regular at Pala Raceway, Glen Helen, Milestone, Lake Elsinore, Perris Raceway, and all the other local hotspots. On Thanksgiving weekend, he was competing in a Stadium Cross event at Glen Helen Raceway and actually finishing the race, but as he went ahead and accelerated off the jump that followed, something went wrong. He landed hard and the bike came down on top of him. He was immediately transported to nearby Loma Linda University Hospital, where he passed away the next morning as a result of his injuries. His friend Thomas Dunn posted this photo of him on his Instagram moments before the start of Shawn's last race.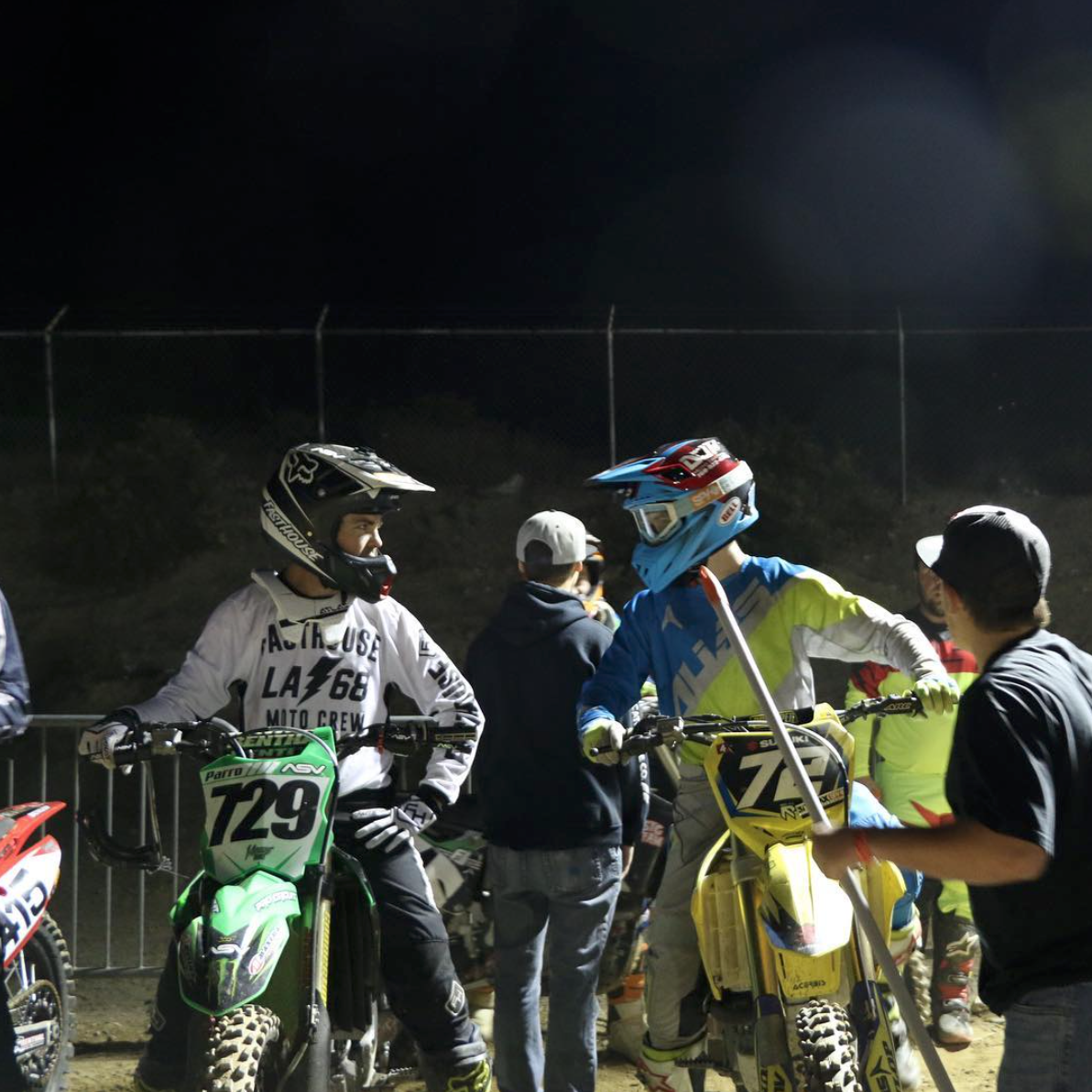 Shawn's girlfriend Morgan Sylvester wrote this: "Shawn Parro (was) a man that everyone loved. Always full of energy and life. He brought a smile to everyone's face with his smile and humor. If you ever had the chance to talk to him or meet you would know what I am talking about. Being the girlfriend of Shawn was a pleasure and always full of love, laughter, and smiles. Never a dull moment with him... Such a great man with such positive energy was taken away way too soon. There are no answers of what exactly happened and no one will ever know. Shawn Parro will forever be missed. Fly high! RIP 729 gone too quickly."
Former GP racer and Racer X contributor Rob Andrews' father passed away earlier this year. We did not know Mr. Andrews, but the eulogy his son wrote and posted describes what sounds like a typical, wonderful motocross parent.
"Ron Andrews — 1927-2017
"My father Ron passed away peacefully, at home, on 13th July 2017, two days after his 90th birthday.
"Ron was a great influence on me, not just in racing, but in business and many other aspects of life. He was never a motorcyclist of any kind himself, but to my amazement at the time, when I first encountered motocross at 15 he encouraged me to take it up 'properly' rather than pursuing my interest by riding round a local field. That was a decision that would change my life.
"He soon caught the motocross bug, and immersed himself in the sport, integrating himself into the schoolboy racing scene, and making many good friends along the way in the Severn Valley, Cotswold, Warley Wasps and other clubs. He used to keep a hand-written log from every race in the schoolboy days, which I had the pleasure of reading again not so long back. It was clear of his passion for the sport even back then.
"As I progressed to adult racing, and ultimately into GPs, he continued to be there for me, offering emotional support and dispensing shrewd advice when asked. He was the ideal motocross Dad – never pressuring me but always there and always knowing the right thing to say.
"I hadn't qualified for my first 500GP at Sittendorf in 1985. I called him afterwards and argued that there was little point in me driving over a thousand miles if I simply wasn't fast enough to even qualify. 'You'll never qualify if you don't go"' was his response, to which I had no reply. With his words still fresh in my mind I went to the French GP the following week and duly qualified. Twelve months later, after returning to Sittendorf I came away second in the world championship standings.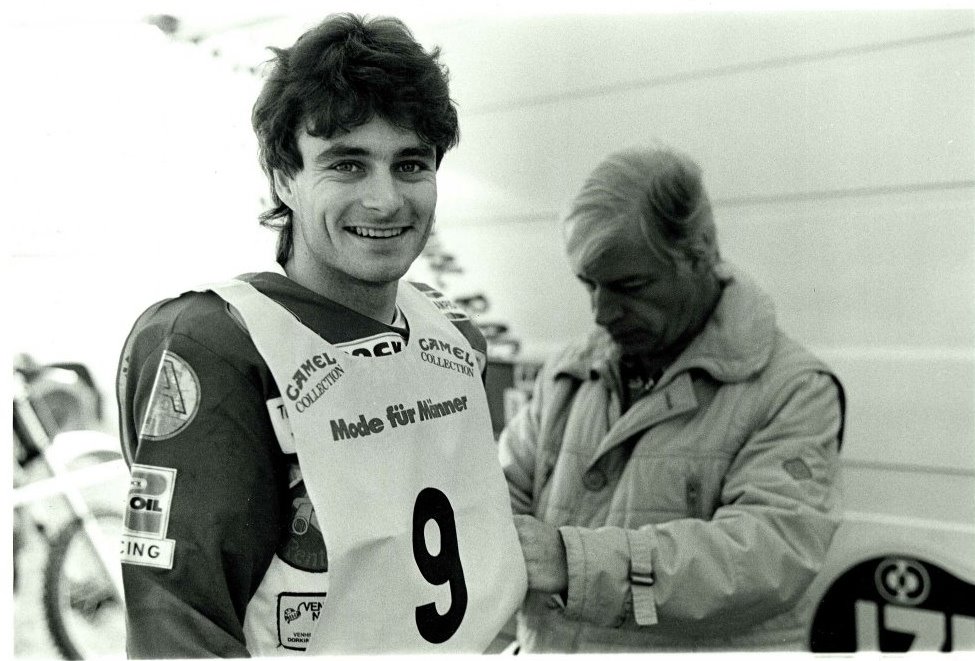 "He travelled to many parts of the world to support me when I was racing the grands prix and became well known, respected and liked within the 500 GP paddock. He enjoyed this period of his life, and especially used to relish his Saturday evening meals with Keith Thorpe, with whom he had become good friends.
"He was the first person that I know of to build an electronic lap time computer, (back in the days when the official timing used to be by stopwatch and note pad, for which the results wouldn't be posted for hours!). Riders and mechanics would crowd round him and his lap-top at GPs, wanting to know where they were sitting in the hectic, do-or-die qualification sessions. The officials even sometimes came to Ron for cross-verification if there was a dispute.
"In business he was an successful entrepreneur, who came from a humble background, but did well for himself in the plastic molding industry. He was also an accomplished photographer who, in later life earned the accolades of both Licentiate and Associate of the Royal Photographic Society – awards that he was very proud of. His interest in photography is something that he also passed down to his three granddaughters of whom he was also very proud.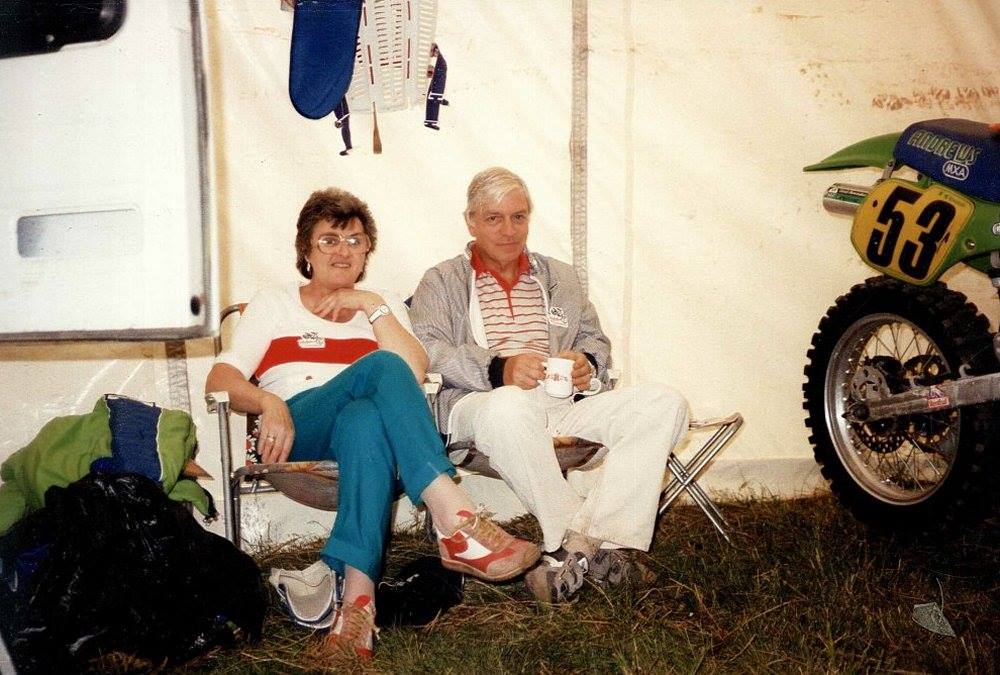 "He was a good, dignified and wise man. He always knew the right thing to say or do, even though on occasion it was only when I was much older myself that I realized that he was right all along.
"He was a man that I admired, respected and was proud of in equal measure. He shall be missed but never forgotten.
"Rest in peace Ron;." - Rob Andrews
If you've ever wondered who that guy was that got up well before dawn, unlocked the gates at the track, started a tractor and went to work grooming it for everyone else, it was probably someone like Tommy Eaton. He was a motocross dad who moved his family from California to Texas, and soon they were running the Compound 77 facility in Marietta, Oklahoma, a popular destination for riders all over the area.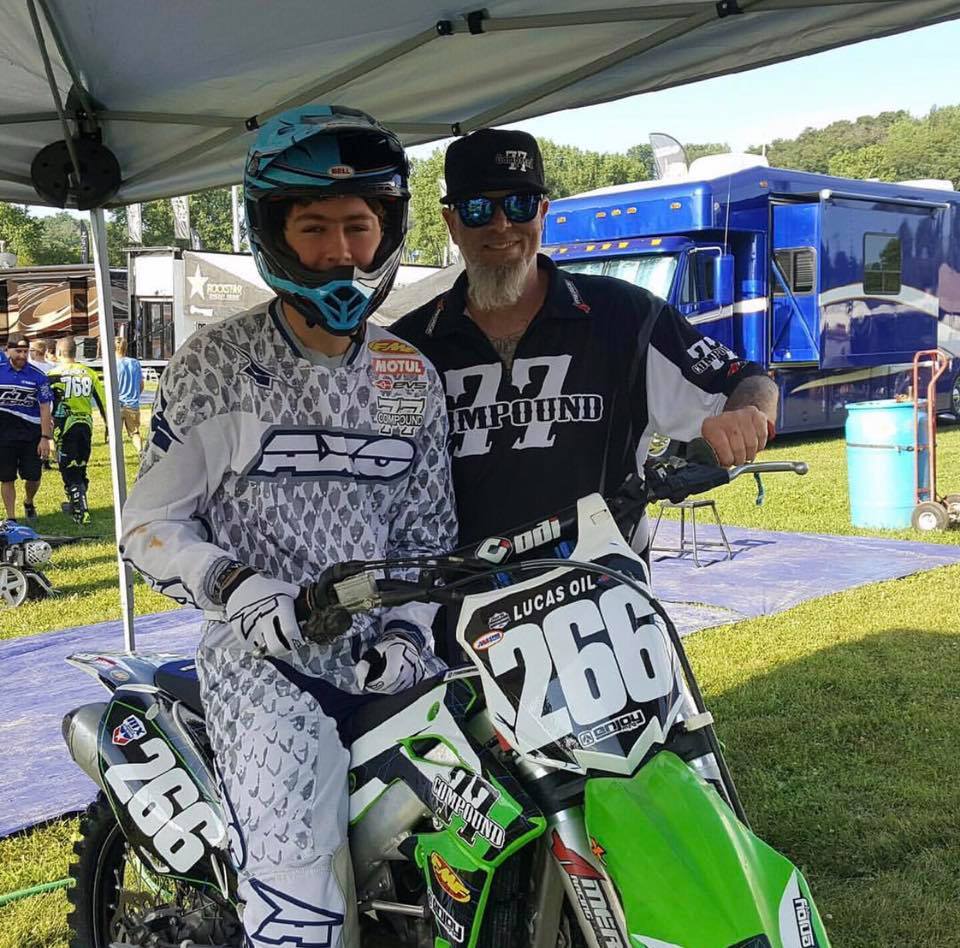 Wrote Jeff Alessi about Tommy Eaton's work at C77, "He was for sure diehard moto and everyday put a piece of his heart into that track, grooming it for the South Central riders. He loved it there and did great work." Even after Eaton was developing some heart issues, he kept working on the track, according to John Martini. He wrote, "Some would slow down, Tommy went from the hospital bed to the skid steer. He defined moto commitment."
Now that commitment has been passed on to Cody Eaton, a full-time Compound 77 rider who has also taken over the tractor and skid steer.
Mike Patrick was born 75 years ago in Lawrenceville, Illinois, an unlikely place for a top desert racer from which to emerge. But Patrick found his way out West, eventually going to work at Yamaha of Corona, and into desert racing in AMA District 37. He earned the #1 plate in 1968 in what was called the Heavyweight class (Desert Sled twins) and then the next two years in the Lightweight class (DT1 Yamahas). He won the Mint 400 twice, the Baja 1000 once, and even rode on the U.S. Trophy team in what was then called the International Six Days Trial. When he wasn't racing in the desert, Patrick liked traveling to Alaska to dredge for gold. He was married to his wife Annette for 58 years. As he got older Mike Patrick was quoted as saying, "Still love the sport, just wish I was twenty again so I could try to kick some butt!" He was back in the Midwest when he passed away in September at Good Samaritan Hospital, in Indiana.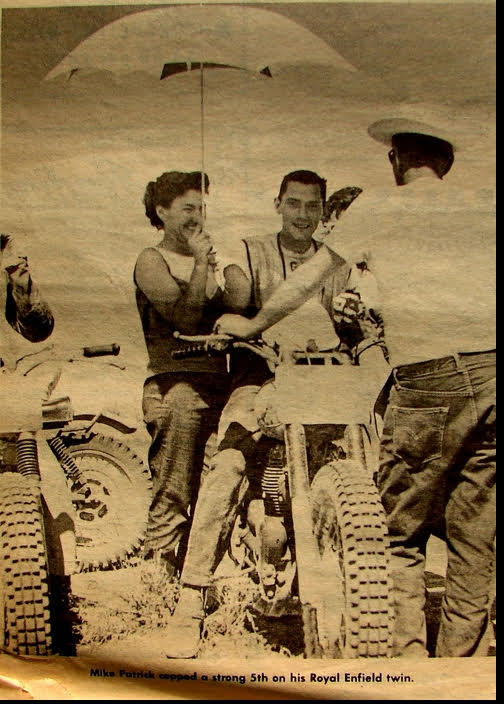 Hailing from Butler, Pennsylvania, Dylan Slusser grew up racing the D5/PAMX series from the age of seven. Hard-working, talented and charismatic, he was a natural-born leader and teacher; even as he was working his own way up to Lucas Oil Pro Motocross and Monster Energy Supercross, he was always trying to help others around him make it as well. Dylan was preparing for some upcoming East Region SX races when he made the drive to South of the Border, a practice facility in the Carolinas. But upon arriving, he developed a severe headache and began vomiting. He was taken to a hospital in Florence, South Carolina, where doctors discovered that he had suffered an aneurysm and had bleeding on his brain. Later that day, he passed away.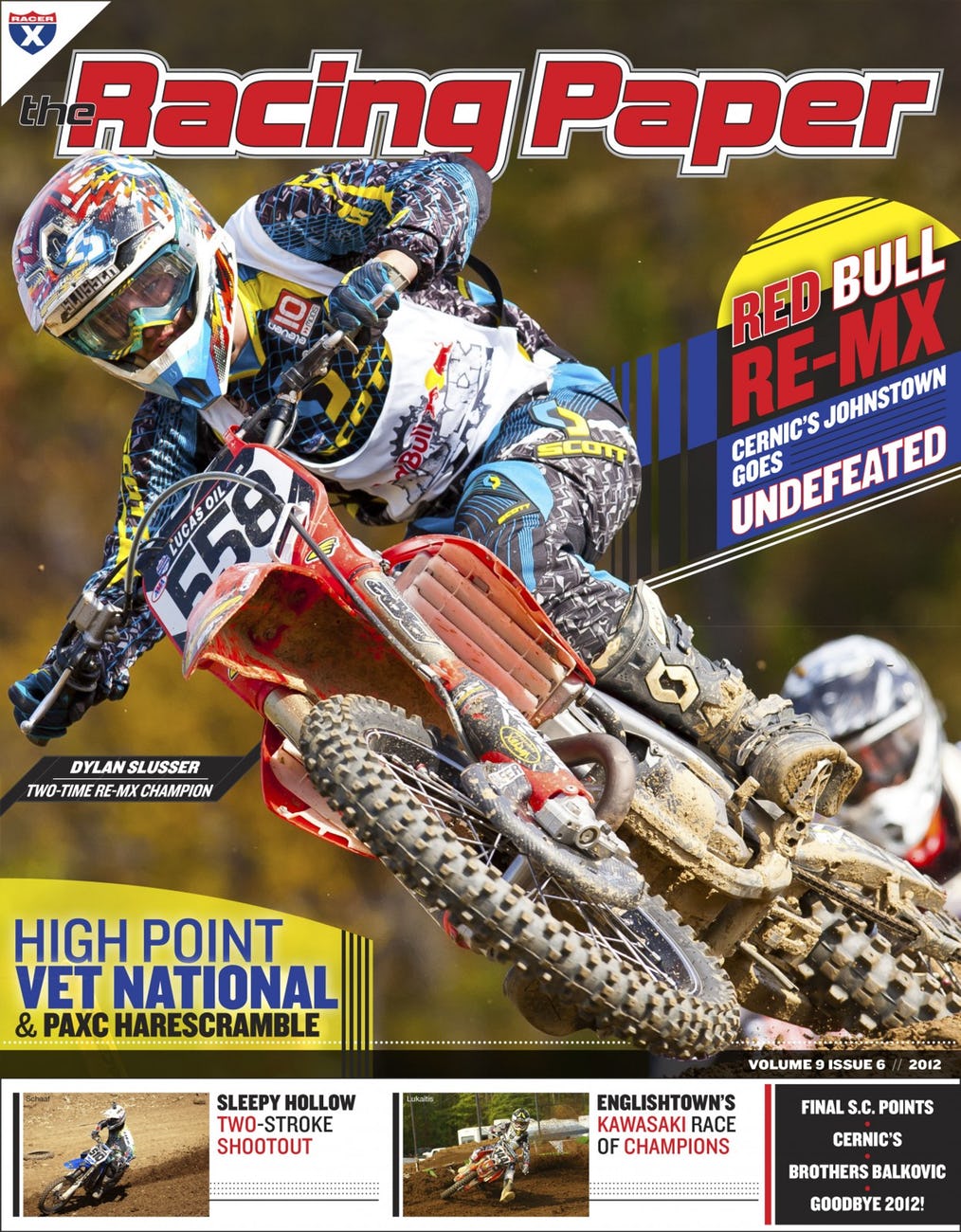 Dylan's parents, Bernie and Lori Slusser, were devastated by the sudden, tragic turn of events. So was the entire local motocross community.
"He would want all of you to rejoice in times he shared with each and every one of you!" wrote his mother on social media. "He could make the whole world laugh as soon as he opened his mouth and could charm everyone with his eyes and heart! Forever in my heart and each of yours, #558 my baby from birth to 25! You were and are the best kid a mother could ever ask for…"
Richard Ebbett was a mechanic from New Zealand who found his way onto to the U.S. off-road racing scene when he traveled to America with aspiring racer Paul Whibley, his longtime best friend. While here, Ebbett worked with AMA Motorcycle Hall of Famer Scott Summers for several years, living on the property in Kentucky while also serving as Paul's mechanic. Richard would also work with RG3 Suspension, as well as several of Suzuki's SX/MX support riders and race teams and riders.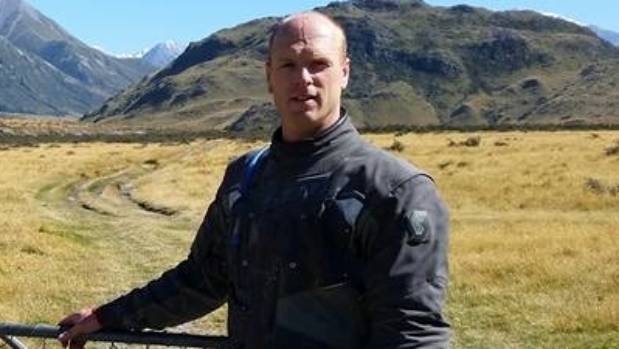 Ebbett, 39, was back home in New Zealand, where he owned the Moto SR motorcycle dealership, when he went on an adventure skiing expedition on Mount Ruapehu. He was alongside the Crater Lake at the top when he apparently slipped into the icy water. A search party had to scale the mountain to get up to the lake. His body was eventually found.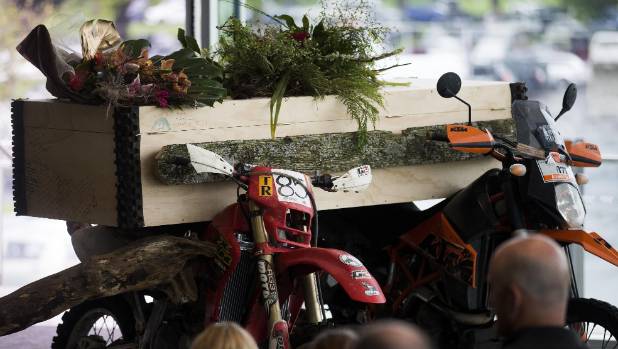 "We couldn't have lost a nicer, more helpful guy," his friend Nick Enstrom said. "Our MX community will have a huge missing piece."
Hundreds attended Richard Ebbett's funeral service in Palmerston North, his casket resting atop two motorcycles.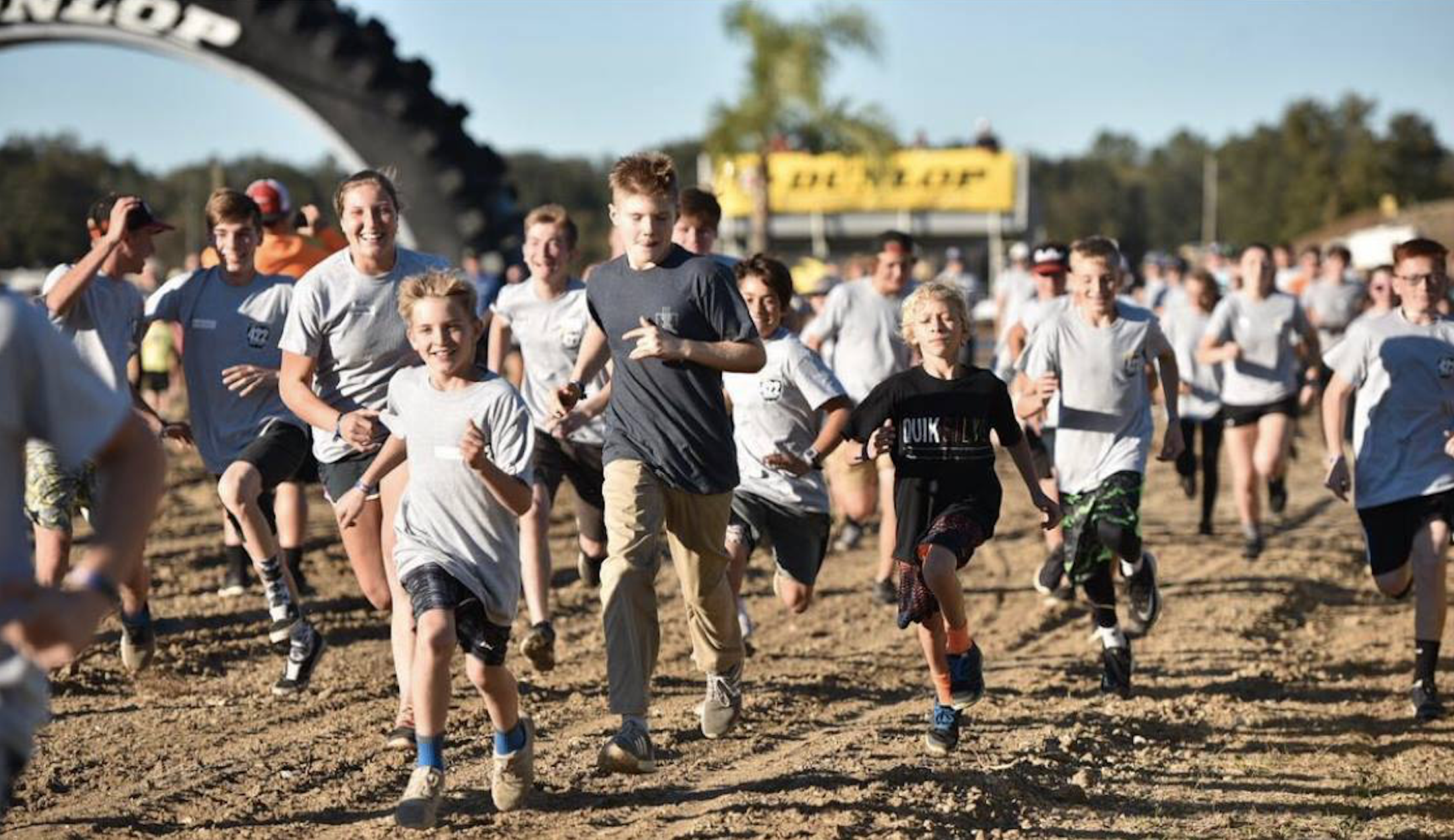 At the beginning of the 2017 Thor Winter Olympics at Gatorback, the track was opened and hundreds took to it, but this time they were on foot. They were participating in the Nathan Hall Benefit Run, held in honor of the 21-year-old rider from Lebanon Junction, Kentucky, who was a member of the Rock River/CycleTrader.com/Powersports team. Hall, who was just on the verge of joining the professional ranks, was mentoring some younger riders and helping them prepare for the Mini Os when he crashed while practicing at a track in Louisiana on November 4, sustaining fatal injuries.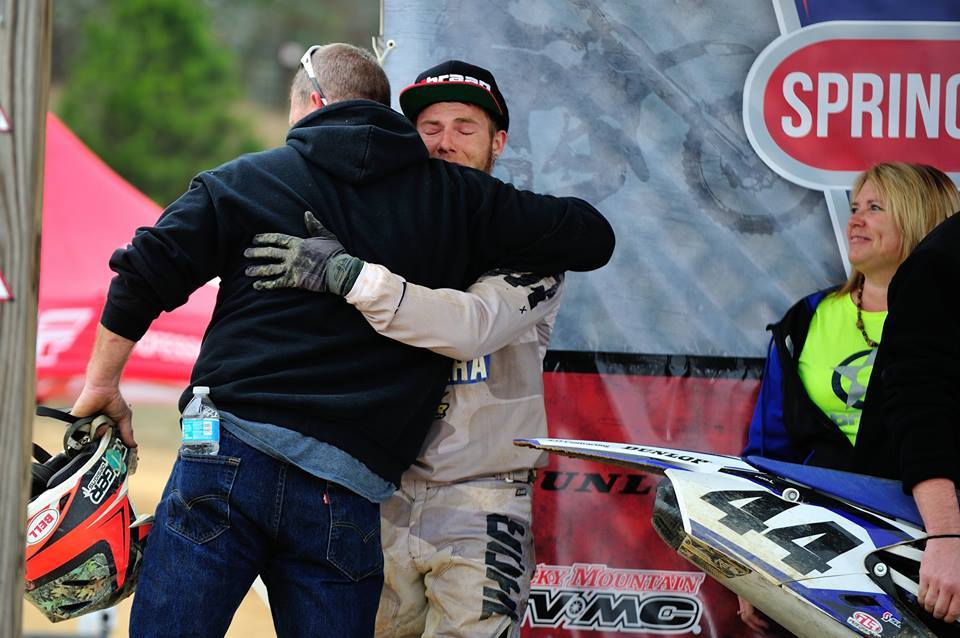 After the tragic accident, his hometown changed policy to allow a public event at its elementary school—Hall's funeral. More than 1,000 people attended, including riders from across the country who came to pay their respects to fellow competitor.
"I know for a fact that he was happy doing what he was doing, and he went out happy," Nick Wolfe, who raced with Hall, said. "I mean, what more could you ask for?"
"I'm glad he passed away doing something he loved," his friend Kory Havlin said. "There ain't no other way I'd rather see him leave us."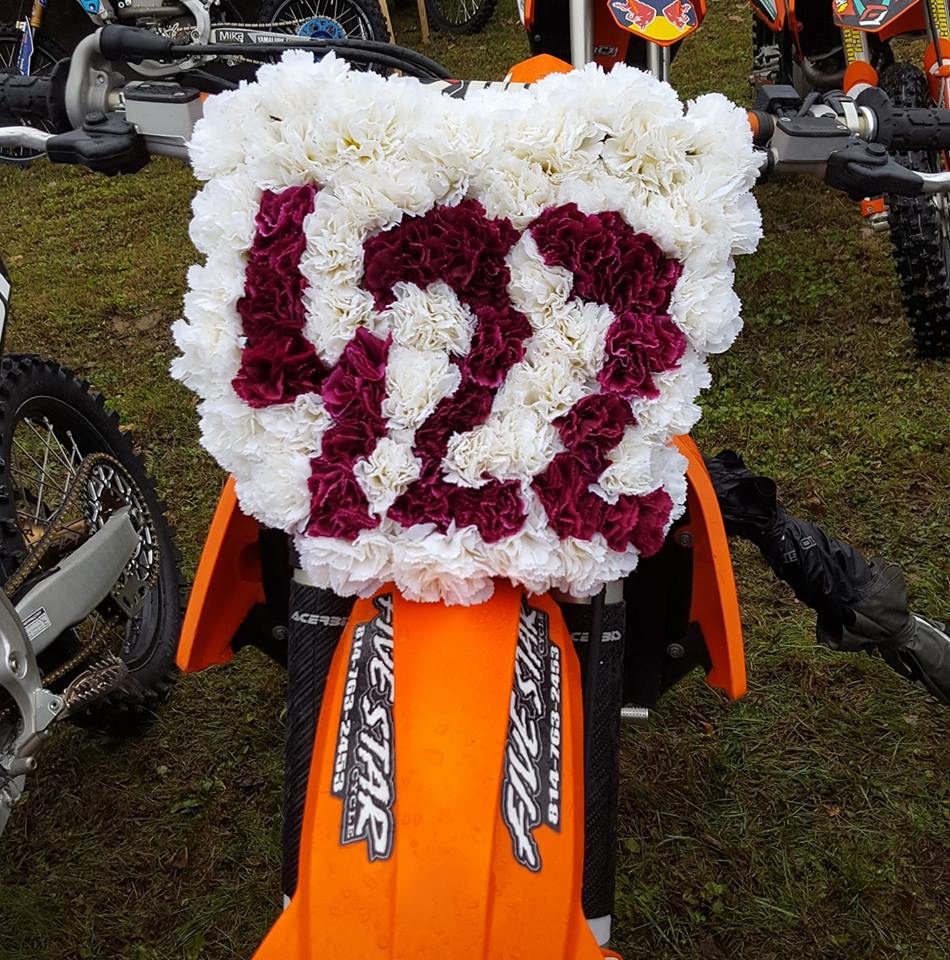 Steve Crowe, Sr., was a motocross dad who took his family on a racing journey that took two decades to complete. Living and working in construction in southwestern Pennsylvania, the Crowes were a fixture at tracks like Beaver Valley, High Point, The Challenger, Pleasure Valley, Steel City, and more. While Steve Jr. raced (at one point he was a KTM factory minicycle rider, right when the brand was first releasing 85cc motorcycles) Steve Sr. kept the bikes running, the pits secured and his son motivated. Wife Pat was also a constant presence at the racetracks, working sign-up and scoring while the boys did their thing. Even after the boy's racing days came to an end, the Crowes kept coming to the races because that's what they had always done, and moto friends became a second family, which must sound familiar to a lot of families. Even after Steve Crowe Sr. passed earlier this year after a tough bout with cancer, Pat and Stevie Crowe could be found at the races, only they were without that motocross dad.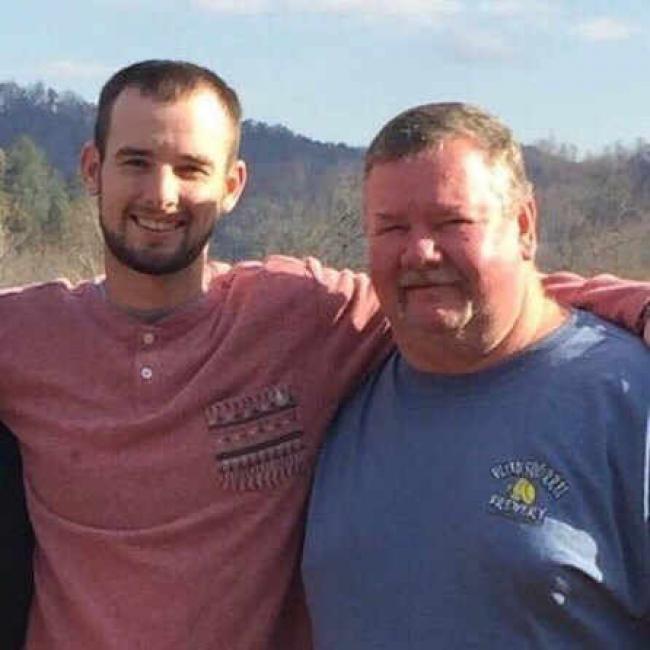 Cody Gragg and his father Chris were practically inseparable in life. They loved traveling to motocross and off-road events together all over the country, and they also enjoyed working together as firemen in their North Carolina hometown. In late March, the Graggs were on their way to the GNCC in Georgia, driving through South Carolina, when their motorhome's front left tire blew out just as they were approaching a bridge with a divide. The RV veered to the left and down into the gap that the bridge crossed. Upon impact, it caught fire. Both Cody, 23, and his dad, Chris, 53, perished. Needless to say, the news devastated several communities: their hometown of Collettsville, the GNCC Racing family, their Lucas Oil Pro Motocross friends and just countless fellow riders, race fans, and enthusiasts.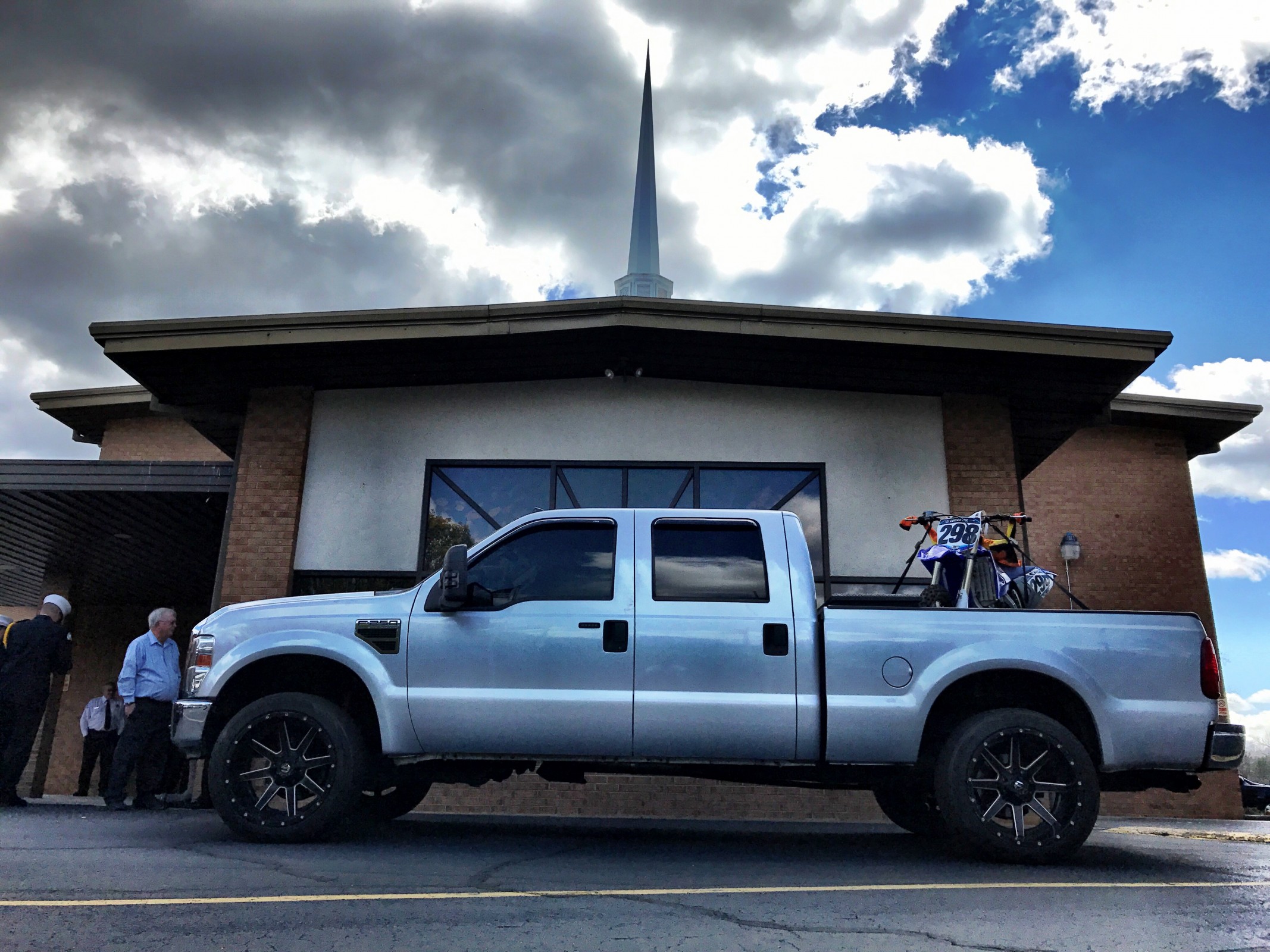 It was in Lucas Oil Pro Motocross a couple years earlier that Cody Gragg had his best day as a professional racer. Riding a used YZ250 two-stroke in the 450 MX class on the hills of Budds Creek, Gragg was way underpowered, especially in the muddy conditions from an afternoon thunderstorm. Using his natural talent as a mud rider, Gragg somehow tiptoed around the treacherous conditions and finished an eye-popping 13th in the second moto, the best finish for a two-stroke rider in more than a decade. When asked how it felt to do so well afterward, Gragg said, "That's a childhood dream. I honestly thought that it would never happen. It looked like it was so far away. I never thought that I could do that well."
Two months after the accident in North Carolina, a two-stroke memorial race was held in the Graggs' honor during intermission at the Muddy Creek Pro Motocross National in June. Had Cody still been around, he probably would have won it.