Two thousand seventeen was simply too good to let pass by. We began our Year in Review last week and here comes the grand finale. Good luck topping all of this, 2018.
May
The Las Vegas Supercross was the craziest supercross ever. I know, this reeks of recency bias, so I will prove otherwise with these facts: 1985 delivered the most parity ever in a supercross season, the best supercross race ever was Atlanta 1990, and the most-hyped supercross was Anaheim 2005. Also, Bob Hannah was amazing. There, I've pulled from all generations.
People complain that Supercross: The Movie and Winners Take All weren't realistic, but if those movies includes a last-lap block pass/takeout for the championship from a guy who was once shunned to Europe, managed to return, but couldn't take the next step until he met this magical trainer, and then made the pass of his life to complete his U.S. comeback, win a title, and celebrated by crying on the track before going to the podium to accept the number-one plate while holding his little girl and hugging his wife, we'd all say, "Man, that's awesome, but too bad that would never happen in real life."
Mmmmkay?
Further, Eli Tomac outsmarted us all. When a championship is still in play before the finale, the collective "we" run through all manner of scenarios. Team tactics. Takeouts. Pressure. Mechanical failures. However, no one theorized that Tomac would purposely slow the pace at the front of the pack, bunching the field and putting pressure on Dungey to stay up and not get passed. It was brilliant and it turned Eli's scant chance at a title into a nearly-probable path. He had his teammate Josh Grant at his flank and an army of KTM/Husky riders who were not sure what to do. What did I say about movie-level stuff before? Yeah. Congrats, Zach Osborne, that's movie level stuff. Craziest ever. To top it, Dungey retired days after winning the title.
May also featured the Lucas Oil Pro Motocross opener at Hangtown. Tomac went 1-1 but didn't totally dominate—Marvin Musquin gave him a big fight in moto two. The next week, Tomac's front brake broke and Marvin walked away with a big points lead.
June
When is a big win not a big win? When Blake Baggett wins the Thunder Valley National. This victory ripped open all manner of opinions. Here's a sample:
It was a big deal because it was Blake's first 450 win, the first for his team, and he did it while coming from behind in both motos. To not treat it as a big deal is disrespectful to Blake.
It was not a big deal because Blake has always been fast, so treating it like a big deal is actually disrespectful to Blake.
It was not a big deal because Eli just had an off-day, so treating it like a big deal is actually disrespectful to Eli.
No other race this year entered this "big deal/not a big deal" vortex like this. Further, Blake poured gas on the fire with some smack talk in the post-race presser. This isn't Conner McGregor stuff, but it's all we have in this sport, so when he said, "The goal is to break Tomac like he has done to us before many times," it caught like wildfire. Blake was either being disrespectful to Tomac or respectful to himself. He later clarified that he never meant to disrespect Eli, but instead was aiming his comments on those in the media that disrespected his ability to win—in other words, both the win and the comments should not be a big deal because he has been capable of this all along and everyone should have known that.
Well, Tomac and company didn't take it any other way than to believe it was trash talk. This sub-plot made for a thrilling month of June, as everyone waited for Tomac and Baggett to battle again. While much of this rivalry was blamed on the media, I'll mention here that when Eli won motos, members of his Monster Energy Kawasaki team were seen making "breaking" gestures. Also, Jason Anderson went to Twitter to say that someone was talking a lot of shit. This was all great juice for the series, with Anderson, Baggett, and Tomac battling and Musquin trying to salvage some points with a knee injury. It all came to a head in July.
July
RedBuuuuud! Finally, Tomac and Baggett started close to each other and battled, Tomac passed Baggett but Baggett logged a late El Chupacabra charge to keep it close right to the finish. Tomac won a great fight, hopefully the first of many more. In the second moto, Anderson, um, hesitated slightly, so Baggett crashed into the back of him and jacked his thumb. Tomac went on to win and this drama was over way, way too soon. Baggett fought gamely through the thumb injury but couldn't pull off the miracle run.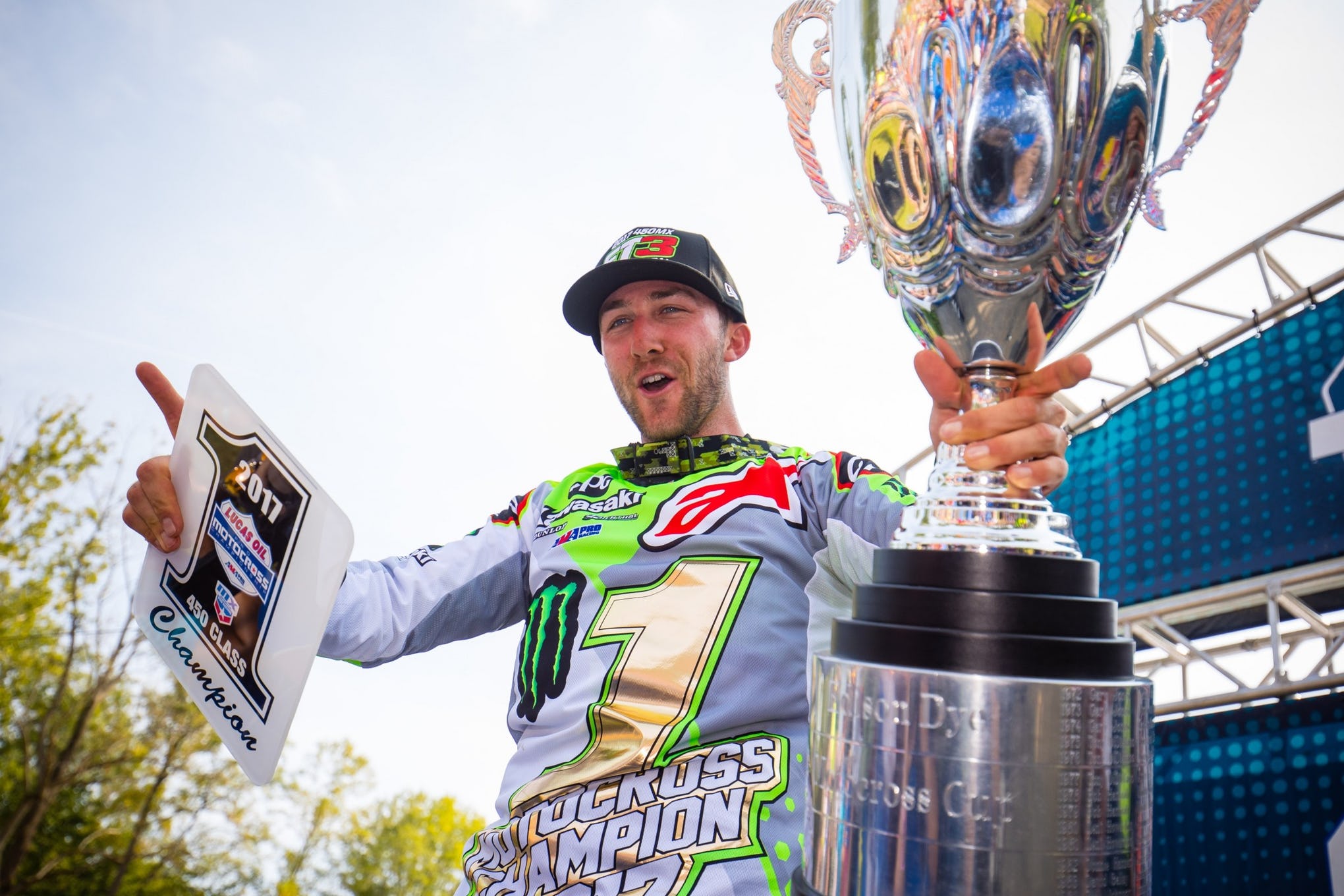 The championship was not over, though. Musquin got healed up, Tomac tried going into prevent-defense mode, and Marv started reeling off wins.
In the 250s, Osborne's competitors were waiting for him to have some bad luck. His bike started smoking at Millville, but it held on and he finished. When it's your year, it's your year.
August
Loretta Lynn's and the Rocky Mountain ATV/MC AMA Amateur National is an August tradition. It's also tradition for the event to produce a new star, so when Justin Cooper won two A classes and collected the Nicky Hayden AMA Amateur Horizon Award, it didn't seem that weird. Until Cooper revealed he graduated public high school in New York, never rode during the winter, and even attended college for a year. Sadly, this scenario is so rare that it merits mention in a Year in Review piece.
In the pro ranks, Marvin just kept winning, so the "Tomac can't handle the pressure" talk returned. It got really tense after 10-5 finishes in the mud at Unadilla and a ho-hum seventh in the first moto at Budds Creek. This slump was puzzling, but it ended suddenly an hour later, when he won the second moto. Through all of this, Justin Bogle won the Budds 450 overall, just one week before his RCH/Yoshimura Suzuki team would close its doors for good. Osborne clinched the 250 title and Adam Cianciarulo won a 250MX overall, four years in the making. Surely there could not possibly be any surprises left. Tomac was now in a good spot to seal the seal the deal and win the 450 title at the finale. I mean, what else on this earth could possibly happen?
Well, Jeffrey Herlings showed up for the Ironman finale. You know how that went.
September
Through the firestorm that was 2017, Eli Tomac was in the middle of nearly all of the drama. He emerged as the Lucas Oil Pro Motorcross 450 National Champion. Still, another showdown awaited against Herlings at the USGP at WW Ranch in Florida. (Herlings, by the way, went 1-1 at Ironman, in case you were living under a rock.)
At the GP, Tomac sucked on Saturday, then won the first moto on Sunday. Herlings and Tony Cairoli beat him in moto two, though, with Herlings completing a dream two-weekend run through the U.S. with two victories. This gave everyone the month of September to wonder if American riders were losing their edge.
October
Also, the month of October. Once again, the Motocross of Nations did not go well for Team USA. Cole Seely's bike broke in both motos and Thomas Covington tore his ACL. That was bad luck, but a win was never really in play for the team, with Osborne's heroic win from the back in Saturday's MX2 qualifying race the only highlight. France won, as they have again and again. Tomac wasn't even at the race, but was still in the center of the firestorm because he declined the invite.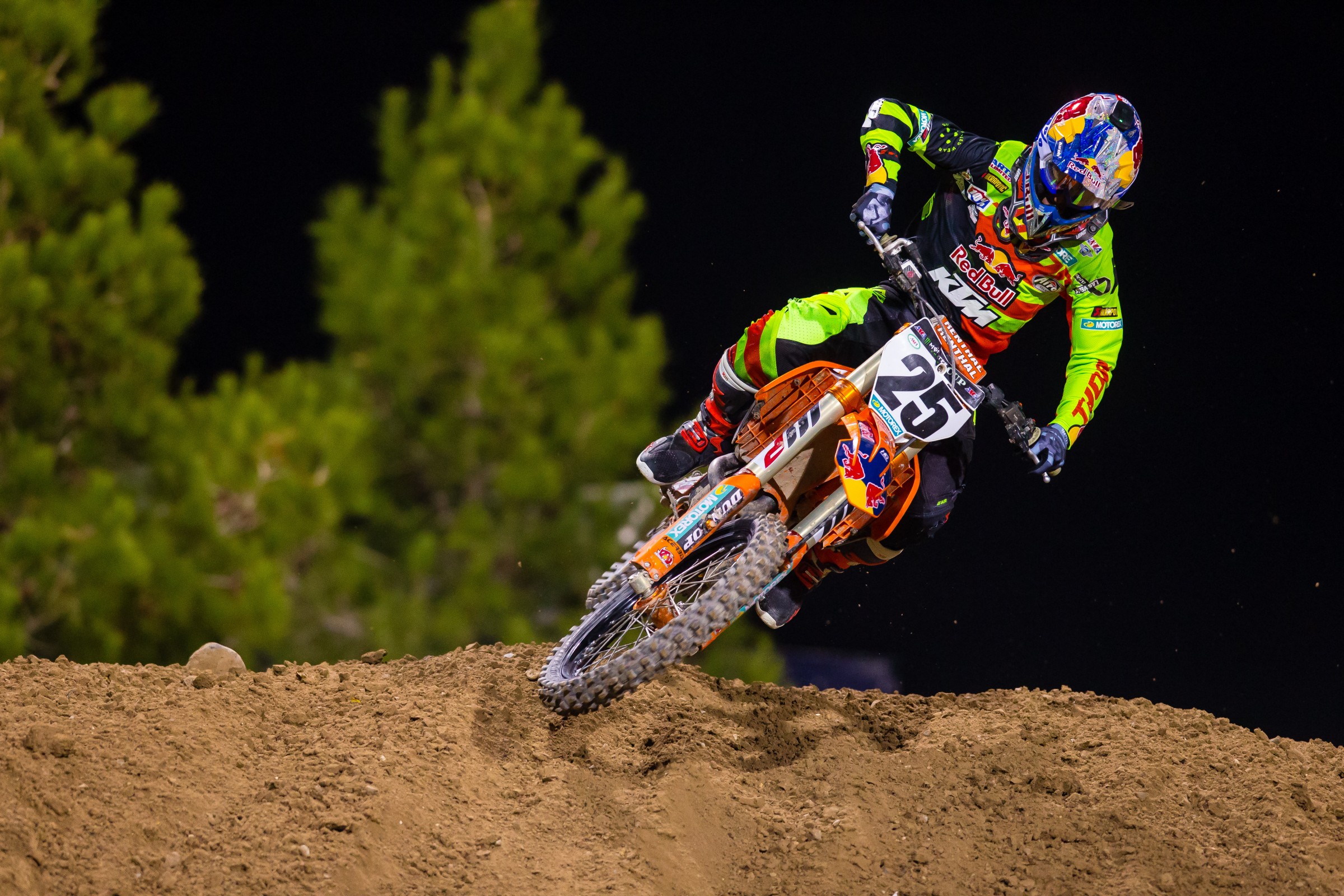 Tomac did race Monster Energy Cup two weeks later. He crashed out and Musquin held off Anderson to win all three races and the Monster Million payday. That was exciting and gave supercross a little mainstream play, but for all the seriousness that started October—another tough loss for Team USA and all these discussions about what it means and how to fix it, a million dollars for Marvin and how his riding might elevate further in 2018—October ended in the least serious way possible. Oh, and Marvin swept Red Bull Straight Rhythm but no one cared. The two-strokes class stole the show, led not by Ryan Villopoto and Chad Reed, but by Gared "Stank Dog" Steinke and Ronnie-freaking-Mac.
Yes, Ronnie Mac became a real thing, and for a few weeks in the fall, he and his two-stroke were the talk of the sport. About the only thing missing? He never had a run-in with Tomac. That was about the only drama Eli was able to avoid this year.