On December 6, Gannon Audette, via Instagram, announced his decision to retire from racing dirt bikes at a professional level. A couple of weeks have passed since the Minnesota native let the world know that he was "hanging up the boots," so we thought it would be a good idea to check in with him to hear more about his difficult decision, some memories throughout his career, and what his future has in store.
Racer X: Hey, Gannon, thanks for taking some time to chat. You recently announced that you're retiring from racing. Can you walk us through that decision? I'm sure it wasn't an easy one to make.
Gannon Audette: No, it was definitely a back and forth decision to make the call of racing next year or not, but I feel I have made the right decision. I have been riding a dirt bike since I was three years old and racing since I was four, so to make the decision of stepping away from racing professionally was a tough decision for me. It basically came down to a risk versus reward thing for me. I really enjoy racing and had a lot of fun doing it in front of everyone, but it comes to a point where everyone has to make that decision, and I felt it was the right time to make it. I have my health, which I am thankful for, especially after doing it for so long, and have only had one surgery throughout my entire career, so I feel fortunate for that. I am happy with the decision I made, although I will really miss being out there having fun racing my dirt bike.
Was this something that you had to decide on your own, or did you have a lot of support and advice from your family, sponsors, friends?
I had advice from family and then my sponsor Bobby from Kissimmee Motorsports and also a couple close friends. But at the end of the day, they all said it was completely my decision and they would support me either way. I just felt it was the right time to step away and move onto the next chapter in my life.
That's definitely respectable. What's also respectable is that you've scored a number of top-five finishes throughout your career and a podium (third place) in Indianapolis last year. What are some of the moments that you can look back on and be proud of?
Definitely the third place in Indianapolis would be the highlight of my pro career, I would say. Just being a privateer for however long and then getting the chance to fill-in on a factory bike and my first race getting on the podium was definitely a very exciting night…. It's something I will always look back on and cherish. After injuries that set me back two years in a row and then having a bad injury (lacerated liver, fractured ribs, bruised lung, and a separated shoulder) in my off-season of training for the 2016 season, and then going on to land on the podium that year just made it that much better for me on top of all other things.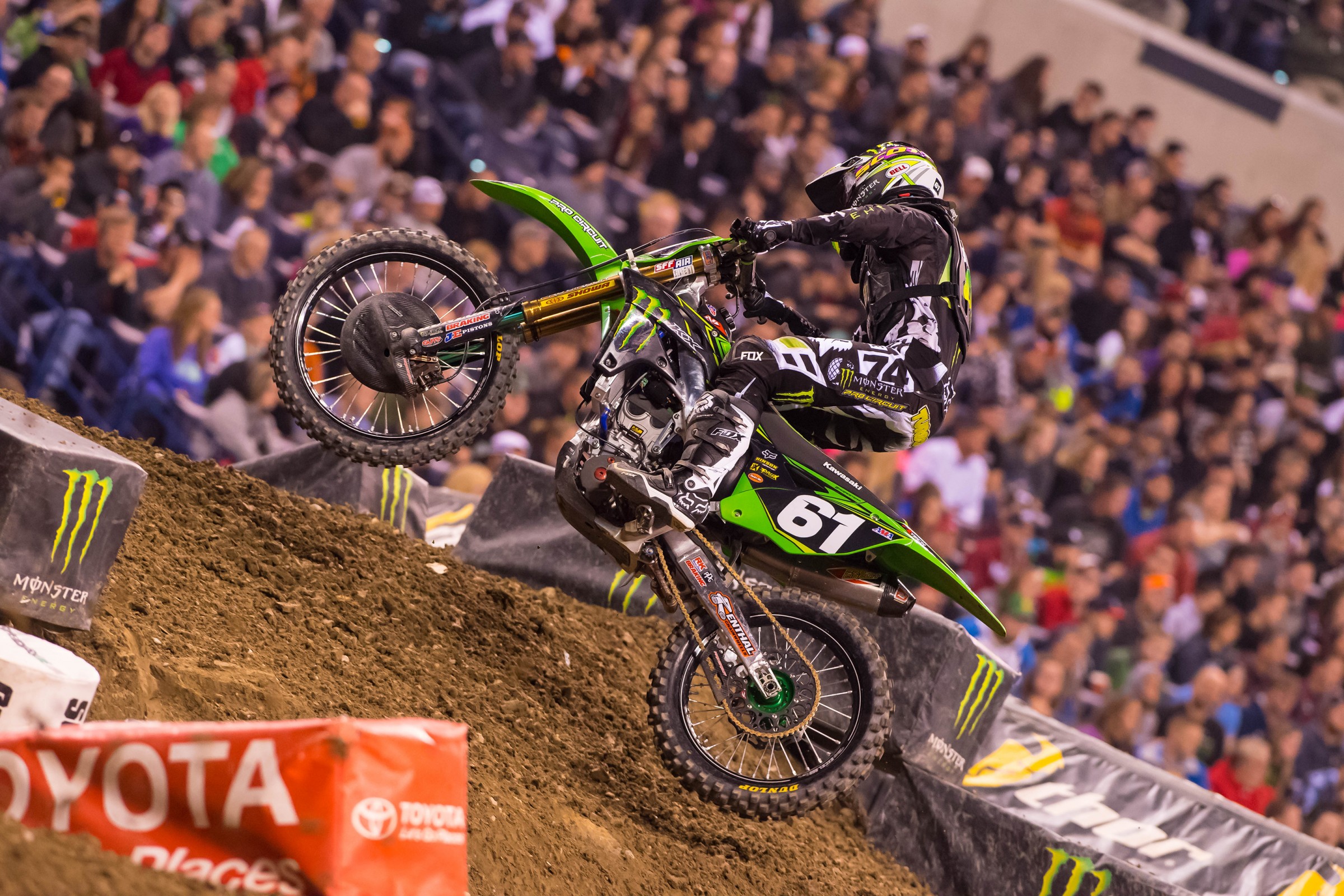 Sticking with the theme of memories for a moment. Among the years of traveling and days at the track, can you think of anything hilarious or fun that really sticks out?
Thinking back one that comes to mind would be Jade Dungey. He was my mechanic at Ponca and Loretta's in 2009 and was spoofing a bunch of random people on the phone and ended up getting caught by AC's dad and Zac Commans' dad, and they ended up confronting him about it. He was scared to death but they were just messing with him, and to see his face when it was happening was a really funny moment. Pretty much anything around Jade is always comical, but that would probably be the one that sticks out the most.
So, when you turned pro in 2011, you actually had a ride with Yamaha, right? And then you were a privateer throughout your career as well. Were you ever able to really have much of a personal life? Or was it basically all racing/testing/training all the time?
Yeah, I rode for Star Racing Yamaha my rookie year. Throughout my career, I didn't have all that much of a personal life, but I feel I'm a little quieter in general, maybe, or private, but I still had a personal life. Definitely not as much as I do now, but everything has its pros and cons in life so I can't complain too much.
That said, if a young amateur rider came up to you and asked, "Why did you do this for so long, is it worth it," how would you respond?
That's a tough question. Everyone has their own opinions on life in general and how they view things. For me, I love to travel, have fun, and I enjoyed riding my dirt bike. It was worth it, looking back, but if someone were to ask me if it is worth it, I would tell them to do whatever makes them happy in life and follow that and enjoy it.
What does the future have in store for Gannon Audette? You're retired from racing professionally, but do you still intend to ride for fun? Or, what's next?
Now I work for my dad full-time. I currently don't have a bike; I did this summer but only rode it a couple times. I will still ride for fun, but for now, I enjoy doing things outside of motocross, as motocross has been my whole life. It's nice to have a change of pace and do things that I never really did before. I will always be a big fan of the sport and will still be at some of the local races hanging out and enjoying the other side of the sport as a spectator.
Anyone you'd like to say thank you to one last time?
I'd like to thank everyone who was involved with my motocross career. There are a lot of people that factored into making my career what it was, and I couldn't be more grateful. But most of all, I'd like to thank my family, because without them, I would not be where I am today and wouldn't have experienced all that I have. Thank you!